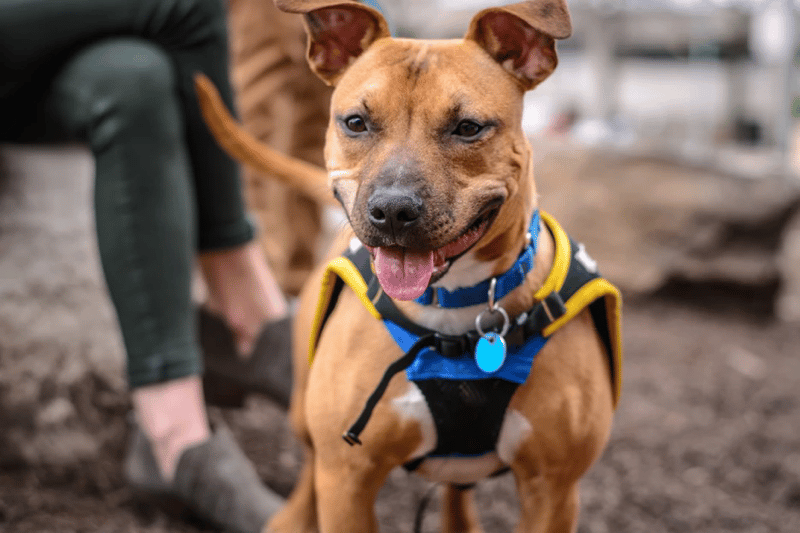 Training a dog is challenging, and depending on your dog breed, certain factors need to be addressed. Pit bulls, though receiving a bad reputation, they are friendly and loving family pets.
Sometimes they exude high levels of strength and energy, so they are not for every family, but if you have adopted a new pit bull into your home, you will find that they are intelligent and eager to learn. Well-trained pit bulls are obedient and exemplary family pets.
Pit bulls typically exceed with training. There are some tried and true methods to training a pit bull that you should start to utilize for a healthy and happy upbringing.
Socialization Around Other Animals
Pit bulls tend to act aggressively around other dogs, but they can learn and train for tolerance. Part of this method will involve training your pit bull to keep the focus on you and obey your commands without acting entirely on instinct.
If your dog is up to date with all medications and vaccinations, you can begin to socialize with other dogs. If you have the option, try to find a playtime class at a local pet store or a nearby dog park where the environment is controlled.
Walking is an excellent method to begin training. Walking your dog introduces it to the leash and all of the new sights around you. Your job when walking your dog is to stay calm and walk slowly so that it does not get too excited or pull too hard on the leash. With plenty of walks, your pit bull will learn to walk by your side and not try to break the leash.
If your pitbull is young, training can be easier than if it is older. That is not to say that if your pit bull is older that you cannot train it to listen. The best method to start with is by using repetition to train it with some basic commands: come, sit, stay, lay down, leave it. Rewarding the dog when it behaves correctly will reinforce the same action over time.
Working extensively with these commands, you should first use something like a treat or a dog toy for your pit bull to practice with before introducing new dogs. Practice having your dog leave it or come to you and ignore the object so that the sole focus lies on you, allowing the dog to go to it. Once you feel your dog is comfortable enough, then you can expose it to other dogs gradually.
Keep in mind that every dog is different, so exposure should happen in a controlled manner. When you first introduce your dog to other dogs, start with just one dog at a time and keep a very close eye on the behavior. Look for indicators if the pit bull is feeling upset or anxious.
Socialization With Other People
Since socialization is important all around, you should also work to expose your pit bull to other people. This method can start as soon as you bring your new dog home. If you live alone, invite friends over to meet your dog and allow your dog to take some time to become comfortable with their presence. Over time, add to the company you invite so that there are more people around.
It can be helpful also to create a variety of people for your pit bull to meet. Children tend to be more hands-on with dogs, and early socialization with your dog will be a vital component for its upbringing. If you have a pit bull that you wish to be a family dog, it will receive high exposure to the children within the home.
The more used to handling your dog, the less likely there will be any aggressive behavior to cause concern. Just ensure that you are taking proper precautions and identifying the pit bull's responses to the stimulation of being around people until you feel comfortable enough.
Advanced Training
With pit bulls being a more energetic breed, many of them will respond well to a high volume of activity. Agility Training might be something to consider to help your pit bull receive a greater level of training since these activities allow you as the owner to form a strong connection with your dog and reinforce good behavior.
Advanced training and dog sports also allow your pit bull to release energy and get some exercise, which is essential for their wellbeing. The added mental stimulation also allows your pit bull to exercise the brain as well as muscles.
Behavioral Problems
Owners need to become as familiar as possible with their pit bull's behaviors. Identifying any issues and swiftly getting online vet help can go a long way to preventing your pit bull's destructive behaviors from becoming regular.
Some problems to look out for include:
Obsessively digging to hide objects

The dog is housebroken but then creates a mess when left alone

Ignoring basic commands
Swallowing objects that could be harmful or dangerous

Persistently pulling on the leash during walks, not slowing down or walking with you

Grabbing food off the table or counters when you are not looking
If you are having trouble with your training or running into any of these problems with your pit bull, you should seek more assistance as soon as possible.
Train for Success
Training a new dog is a big undertaking, so you have to be willing to put in the time and effort. A well-trained pit bull will take its direct cues from you, the owner, and not react outright. If you feel that the task is too challenging to do alone, you should find a trainer who can assist you.
Trainers might also help you identify normal behaviors and what to look out for and provide you with guidance to work with getting and keeping your pit bull on track. The truth is, a pit bull isn't all that much different from other dogs, and taking the time to train your pit bull will help it develop into a healthy and happy member of your family.