When you're looking for a family dog, a Golden Retriever puppy is a common choice. A known, friendly and loving breed, it is one of the most popular pets in the country. However, it can be confusing to figure out where the best place to go to find reputable Golden Retriever breeders in Louisiana is near you. It's important to make an informed decision about the type of Golden Retriever best for you and where they come from so that your puppy will live a long, happy, healthy life with you and your loved ones. That's why we have compiled a small list of breeders below to help you make that crucial choice.
1. Brew Bayou Goldens
Brew Bayou Goldens is a special choice for golden retriever puppies. With 25+ years in the breeding business, exclusively with goldens, this breeder has learned that health and socialization matter. Each puppy grows up in a loving environment and is socialized with other dogs and children for the best temperament while the breeder also ensures their puppies are in the best health. They only breed dogs that pass all the health requirements established by the Golden Retriever Club of America. This includes hip and elbow clearances from the Orthopedic Foundation for Animals (OFA), eye clearance from a certified veterinary ophthalmologist, and heart clearance from a board-certified cardiologist. Brew Bayou is also known for its award-winning service dogs.
2. Southern Paw Goldens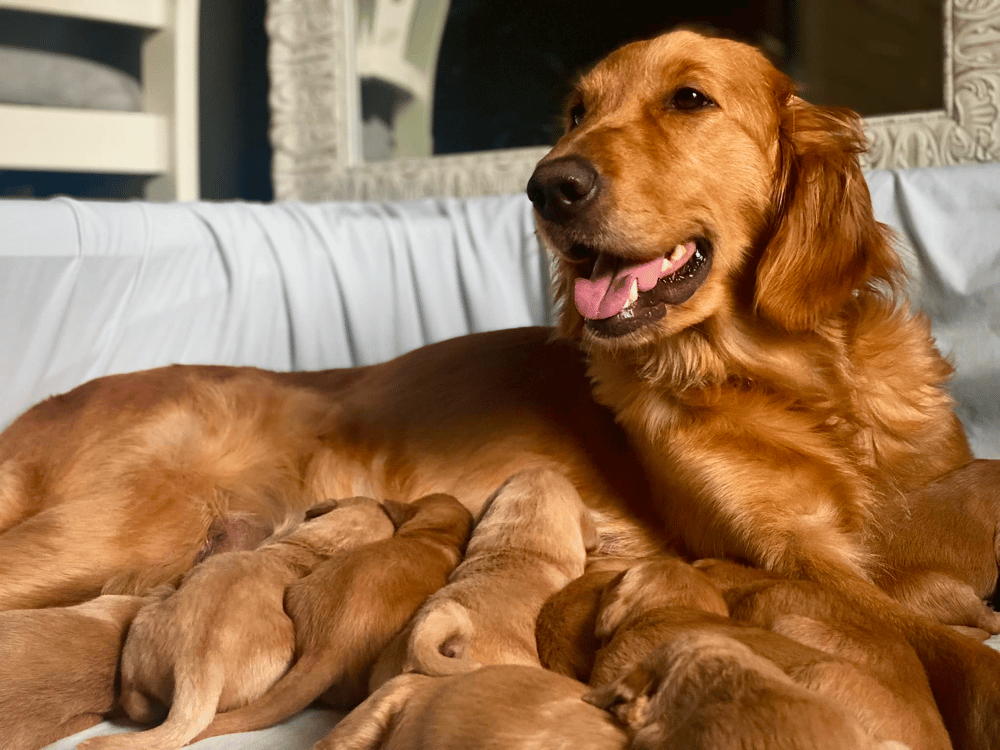 Southern Paw Goldens is a breeding farm that focuses on the health of their Golden Retrievers. The great health of their selected breeds is their strongest point. Souther Paw Goldens has separate farms to breed male and female Golden Retrievers. The separate breeding grounds account for distinct differences between both genders of retrievers. In addition to providing top-notch puppies, they also supply a health record of all vaccination and flu shots.
Many licensed veterinarians work closely with the Southern Paw Goldens to provide the best medical services to sick pets. Not only that, the breeding company itself provides all the necessary vaccines and health-related medical services. This makes the company a perfect choice for those looking to raise healthy Golden Retriever puppies. Their services are AKC-approved. So, their customers can breed with peace of mind.
3. Goldmine Retrievers
Goldmine Retrievers not only give customers a friendly and loving companion. It also will give a hunter which can help them outdoors. The retrievers from this farm are notable for winning many awards from notable hunting events. The puppies found here are brought up using the best resources to make them as healthy as possible. In Goldmine Retrievers, the breeders concentrate only on the quality of the puppies and not the quantity. To ensure this quality, OFA tests are done on every dog. These OFA tests include tests on hips, eyes, heart, thyroid, etc. Genetic testing includes Ichthyosis, PRA 1, PRA 2, etc.
All this is to ensure customers get a companion who has adequate training. This is the best option for a person who wants an exceptional hunting partner. Only the best dogs are bred and trained and so there is a high guarantee that the puppy customers will receive will be highly disciplined and loving at the same time. As for the pet parent, he will be guided thoroughly through the process of taking care of the puppy.
4. Charolias Golden Retrievers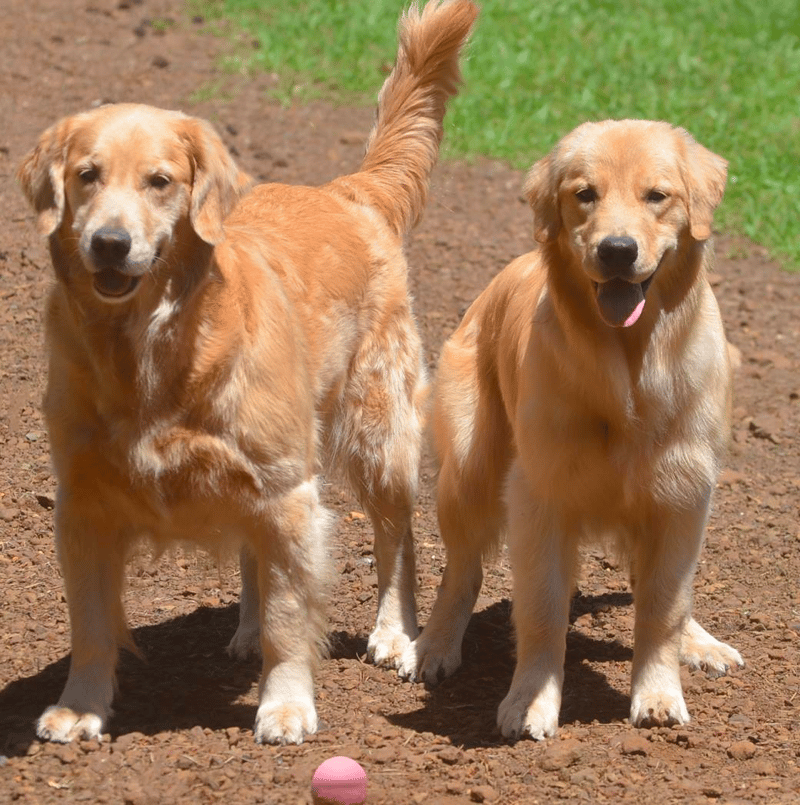 This farm particularly takes COI or coefficient of inbreeding into consideration when breeding retrievers. The dogs here are genetically analyzed and then bred accordingly. This thorough breeding ensures that the dogs get to live a longer life. The best part is that all of these puppies are limited AKC registered which brings about fewer expenses. OFA tests are done on all the puppies to ensure that they are healthy. The effort can be seen in the AKC events in 2020 and 2021.
The farms also provide free one-month health insurance for the puppies given to the pet parents. If customers want to buy a puppy from this farm then they should act fast because puppies here are sold fast. These puppies are also calm and intelligent and so training them is very easy. The best part about these puppies is that if a customer is not compatible with the puppy he or she has, he can choose to send the puppy back to the farm.
5. Big Lake Golden Retrievers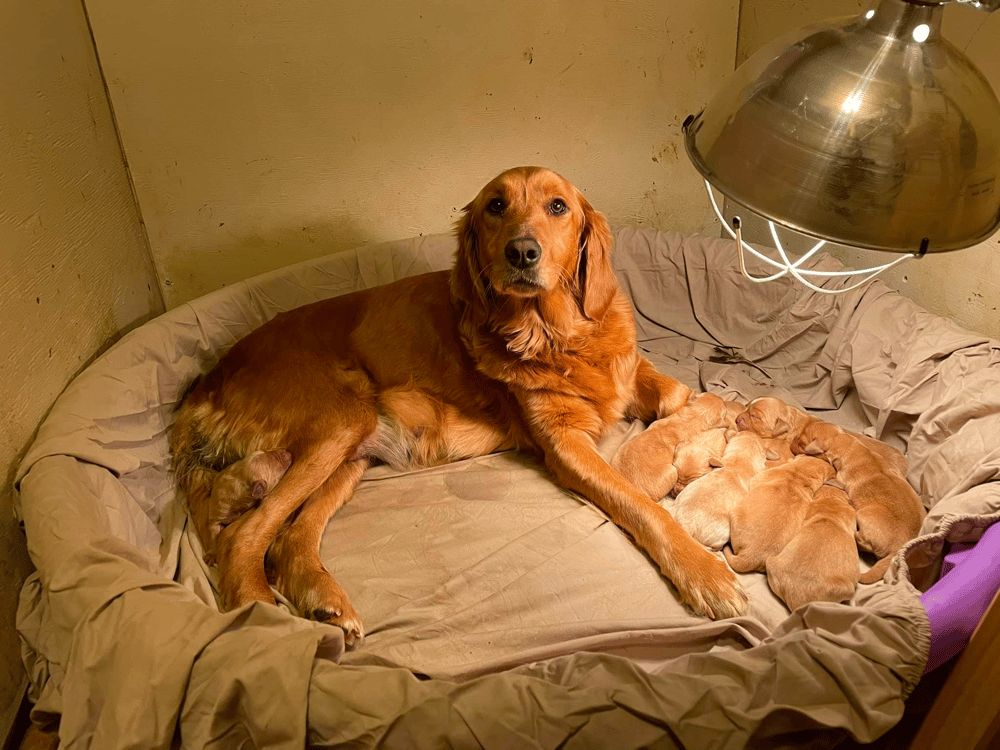 Big Lake Golden might be the optimum choice for selecting high-quality American Goldens. This is not a big corporation but just a small family farm that supplies the best American retrievers according to reviews. This farm started out as breeding Field Goldens and Show Goldens which produced 100% pure Golden Retrievers. The pure and top-notch American retriever has become their pride and joy. As a result, they became one of the biggest golden breeders in the states. Hailing from LA, Big Lake Golden has now spread across multiple states and it is a recommendation for any golden breeding enthusiasts.
6. Hunnington Farms
One of the oldest breeders in Louisiana, Huntington's Goldens is home to quality AKC golden retrievers as well as Goldendoodle puppies. The property that these puppies grow up on sits on I'm 10 acres of the country surrounded by fields and trees. Healthily bred, trained, and played with on this large property, this family-owned business operates by creating your best friend in mind.
With a love for goldens, this family farm focuses only on this beautiful breed out of love for it and treats the puppies as such. Their website states that they follow all AKC breeding requirements and that all puppies are OFA certified. You can trust that when you choose to buy your next canine companion from Hunnington Farms that you're getting a well-bred friendly dog with a long life ahead of him or her.
The reviews that are glowing full of love are further proof that Hunnington Farms is one of the best choices for golden retriever puppies.
7. Gambel's Goldens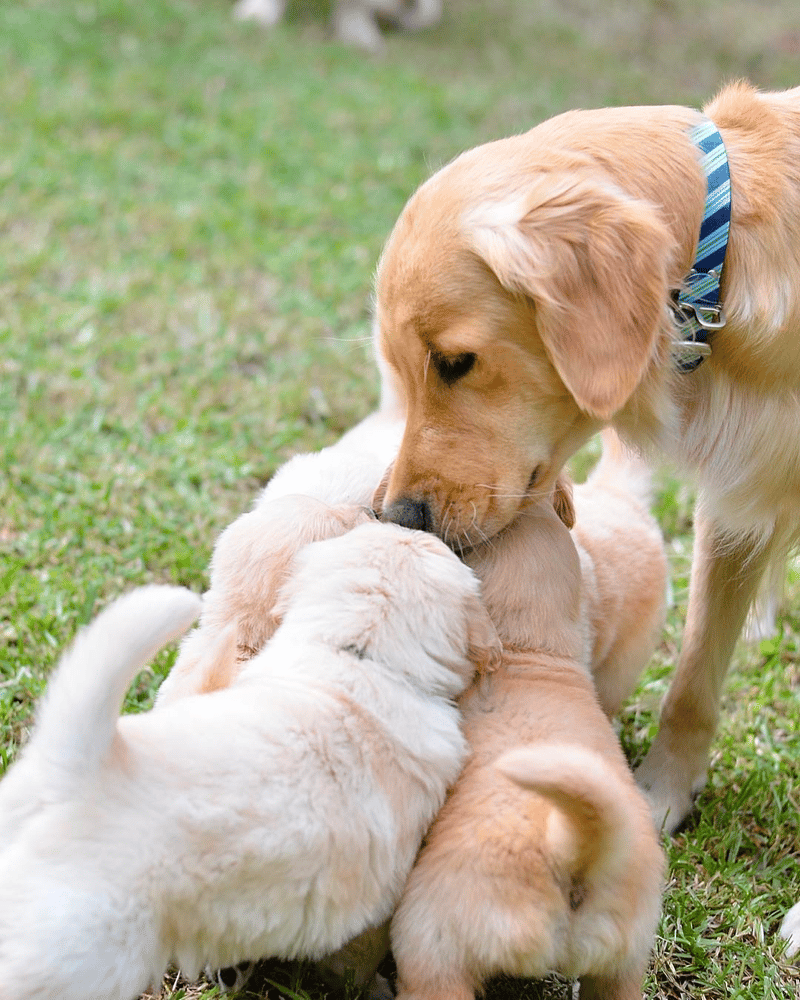 Gambel's Goldens is a golden retriever breeder priding itself on their award-winning stud who is both beautiful and has a gentle personality. With many titles, this breeder searched the entire country in order to find him. With one litter produced a year, you could be certain that all of these puppies are not just well-bred but healthy and cared for. The breeder takes extra time raising the puppies inside of their home so that they are fully trained, housebroken and socialized before they ever find a forever home.
Golden retrievers are not only beautiful to look at but also fun to have around. The aforementioned description of each breeder farm shows the diversity of both male and female golden retrievers and their breeders. Always be sure to do a thorough investigation into a breeder and the living conditions before you agree to buy a puppy from them.
Golden Retriever Breeders in The Other States Near Louisiana
Golden Retriever Resources and Tips
We provide all the necessary information on everything about the Golden Retriever breed profile, and what would be needed in raising a Golden Retriever puppy. You also get to learn in detail, the 5 stages of Golden Retriever Puppy Growth (from baby to adult), and what to expect with your pup in each stage of its growth.