If you're a resident of Indiana looking to get a new dog, specifically a Golden Retriever, then you're in the right place! We're here to share with you some amazing rescues that have Golden Retrievers available right now for you to adopt.
Rescues are an amazing place to get Golden Retrievers because you know they're in need of adoption, they've been taken care of, and you're going through an amazing organization to adopt them. We've compiled a list of the best rescues in Indiana to adopt a Golden Retriever through.
These rescues are trustworthy, educated, certified, and overall have left a great impact on their community of Goldens. If you're looking to adopt today, then this is the place to start!
If you want to buy a Golden Retriever Puppy, here are the top 12 most reputable Golden Retriever breeders in Indiana.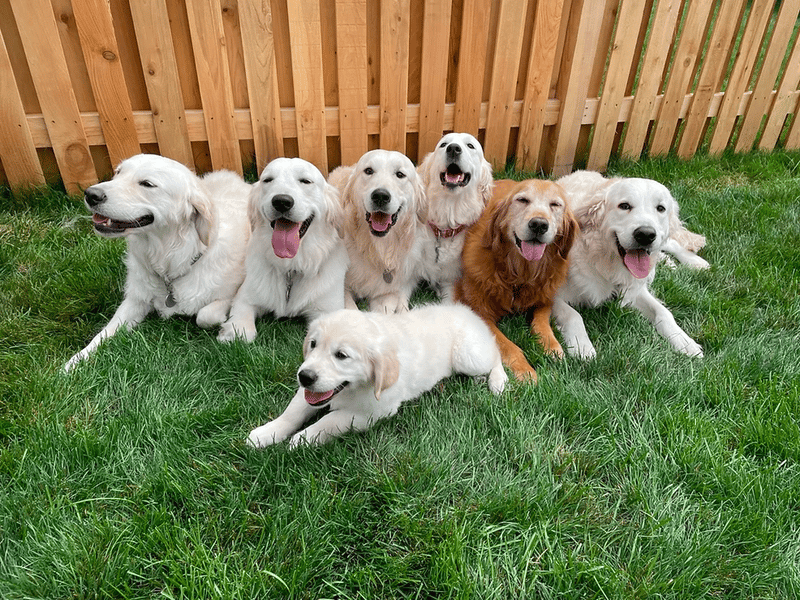 Where Can I Adopt A Golden Retriever In Indiana?
We've gathered a list of these amazing rescues in Indiana where you can adopt your Golden Retriever. These rescues are trustworthy, have a great track record, friendly, and overall provide amazing service.
1. Golden Retriever Rescue & Community Education
The Golden Retriever Rescue & Community Education, or GRRACE, was founded in 1997 and is a non-profit organization fully run by volunteers whose mission is to find loving homes for all Golden Retrievers. This rescue takes in strays that are abandoned or surrendered dogs who can no longer be cared for by their owner. GRRACE provides amazing care for the Goldens while they stay in the rescue. They provide any medical attention needed, and they feed and care for them while assessing any behavioral issues present.
The mission of this rescue is full to help the problem of pet overpopulation by tackling the Golden Retriever breed. They are making a huge difference in their community by helping the Golden retriever population get into loving and caring homes. This organization is also extremely active and is a part of events, fundraisers, and other community activities.
This rescue can be contacted by using the information listed below.
Address: P.O. Box 513, Plainfield, IN 46168
Phone: (317) 767-4095
Website: https://grrace.org
Golden Retriever Clubs In Indiana
There are other places to find a Golden Retriever and one of our favorite places you can find them is in Golden Retriever clubs. We have three trustworthy Golden Retriever clubs that are here in Indiana to help you find and train your Golden Retriever.
1. White River Golden Retriever Club
The White River Golden Retriever Club is based in Indiana and was created in 1970. This club was created because of the common interests of everyone involved who love Golden Retrievers. They are an AKC licensed club and they are a member of the Golden Retriever Club Of America. They put on specialty shows, do excellence tests, agility tests, tracking tests, and more at this club. They are a very involved club that has been moving very quickly since it began in 1970.
2. Southern Indiana Golden Retriever Club
The Southern Indiana Golden Retriever Club was founded in 1978 and since then they have dedicated their time to promoting the well benign of Golden Retrievers all over Indiana. Their club focuses on dog showing, breeding, and training. Their goals and missions include promoting quality inbreeding as far as temperament, soundness, and appearance.
They encourage members to accept the standards as approved by GRCA, plus they do everything in their power to protect and advance the interest of the breed. They are also working on building a rescue mission too.
3. Backwater Retriever Club
The Backwater Retriever Club was founded in 1991 by a group of people who wanted to improve their retrievers' abilities. This club takes part in many different activities such as breeding, agility, obedience, and conformation to help achieve an improved breed of Golden Retrievers.
They are a very active club with many opportunities for Golden Retriever owners and Golden Retriever dogs that will help owners to learn about their dogs while also giving them a great community to join.
Golden Retriever Resources
If you want to learn more about the Golden Retriever breed. Here are a few amazing articles you can check out:
Conclusion
Overall, there are a few trustworthy Golden Retriever rescues in Indiana to choose from when it comes to adopting a Golden. These rescues will give you a great place to start looking for your next adopted furry friend. We love these rescues and are sure you'll find a dog to adopt through them. If you're looking to get into contact with any of these rescues be sure to reach out via the information listed under it. If you aren't satisfied with the results above or still can't find your perfect dog, then you can check out this post to see local Golden Retriever breeders in your area.