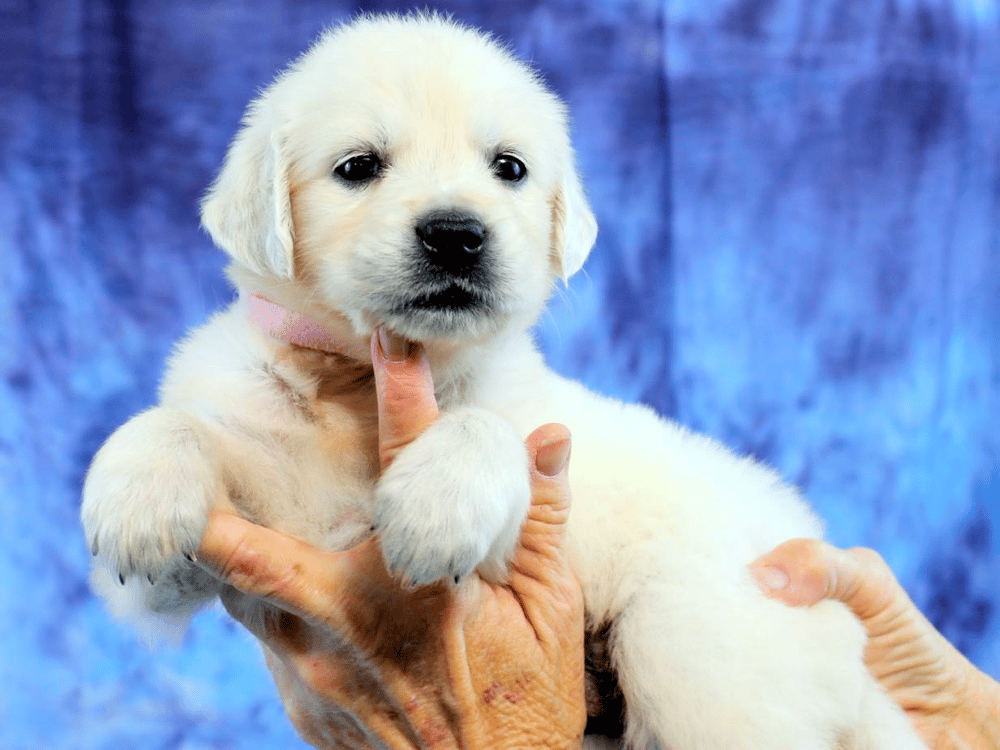 So you've done your due diligence and have successfully selected a reputable breeder that you are willing to work with or patronize. Congratulations, after contacting them and getting on their waiting list, all that's left to do, is to pick a Golden Retriever puppy from the litter.
But simply picking a Golden Retriever from the litter might not be quite as easy as it seems, remember, this pooch would be with you for the rest of its life, so you have to be sure that the Golden Retriever pup you are selecting is just right for you and your family.
There are a lot of things to consider, and lots of questions to be answered: What color should I pick? What temperament would I want? Should I pick a male or female Golden Retriever? Lots of questions that require answers.
Well, lucky for you, that's what this article is all about. We are committed to helping you locate the best Golden Retriever that's suitable for you. Your experience with the beautiful Golden Retriever should be enjoyed. So get a glass of something chill, and let's get straight to it.
First off, is Golden Retriever the right dog for you?
I assume that you probably did a lot of research on the Golden Retriever breed before picking a reputable breeder to patronize or work with. But if for some reason you didn't then this question really needs to be answered before any other step or process is taken/done.
Although the Golden Retriever is quite popular in the United States of America, being loved by so many people, we however still need to be honest with ourselves by admitting and accepting the fact that the Golden Retriever simply isn't for everybody.
The Golden Retriever is quite energetic and clingy, and as such does require a lot of time and attention. It requires a lot of exercises to keep from being destructive and for an adult Golden Retriever, an average of 1-2 hours would be required daily to properly exercise the breed.
And for those allergic to dogs or dog coats, the Golden Retriever might not be the best breed for you. This is because the Golden Retriever is a moderate to heavy shedder (during shedding season). So, if you've got allergies, this is definitely something to consider.
All in all, determining your lifestyle is quite important, if you are an outdoor person, with a lot of time to spare, and don't seem to be allergic or show allergies when around dogs, then the Golden Retriever might be the best breed for you if you find that you aren't or can't be any of these, then get a different dog because the Golden Retriever simply isn't for you.
You might want to consider a Labrador Retriever, checkout our comparison for more detail: Golden Retriever Vs. Labrador Retriever: Complete Comparison
What sort of Golden Retriever are you searching for?
Now that you've double-checked and decided that the Golden Retriever is indeed the dog for you you and your family, the next question you definitely would need answers to would be "what sort of Golden Retriever are you searching for?"
Understanding what your preferences are and what sort of dog you are searching for is quite important and is a crucial step towards picking your very own Golden Retriever puppy. When trying to decide what sort of Golden Retriever is best for you, answers to these questions would be needed.
Male or Female Golden Retriever?
This sort of decision might be quite easy for some and incredibly difficult for others. This is because to some, any gender is good enough (they have no preferences), while for the rest, specific reasons or purposes could cause them to favor a particular Golden Retriever gender over the other.
For puppy Golden Retrievers, there aren't that many differences between both genders. Both the male and female Golden Retrievers are very lively and equally playful at this stage of their lives.
The only slight difference, however, that might occur or might be noticeable between both breeds might be size, as the male Golden Retriever is only slightly bigger or larger than the female when looking at the same litter.
But of course, pups won't always be pups, so in the long run, considering both genders might be the right or smart thing to do.
As both Golden Retrievers approach their individual sexual maturity, you might begin to notice a lot more differences. For a male Golden Retriever that hasn't yet been neutered, he might tend to run off or roam freely, while for a female Golden Retriever that hasn't yet been spayed, do expect it to come into heat
You might decide to spay your female Golden or neuter your male Golden Retriever, either way, you should note that both processes and procedures differ in cost, spaying is more expensive and could generally be invasive.
A lot of generalization is done between both, the male and female genders of the Golden Retriever breed. Some might say that the male Golden Retriever is a lot more hyperactive and could be harder to train than the female Golden Retriever, or that the female Golden Retriever matures quite faster than the male Golden Retriever, but again, these are all generalizations and speculations.
Another popular generalization or myth is that the female Golden Retriever is a lot more independent and affectionate than the male Golden Retriever, again, it could still just be a myth.
Whatever gender you decide to pick, I do ask that you make it YOUR reason, don't go for a male Golden Retriever because people generally pick male Golden Retrievers. Pick the male Golden Retriever because you've done your due diligence and have decided that the male Golden Retriever is the right dog for you, likewise the female Golden Retriever.
What Size of the Golden Retriever should I pick?
As we already stated earlier, the gender of the Golden Retriever has a huge impact on the size of the Golden Retriever. Golden Retriever males are bigger than Golden Retriever females when comparing two Golden Retrievers from the same litter.
What style of the Golden Retriever should I go with?
Deciding on what Golden Retriever style you would like is equally important. Are you looking for an athletic Golden Retriever or a slim Golden Retriever, or are you in search of a more stocky and blocky-headed Golden?
What Color of Golden Retriever should I go with?
Of course, the Golden Retriever has a variety of different coat colors that you could be interested in. Some of these colors are; red-gold or dark gold, or perhaps, maybe a cream-colored Golden Retriever. Either way, there are some interesting Golden Retriever colors to choose from.
What sort of personality should I look for?
This is yet another decision that can only be made by you. The personality of the Golden Retriever you choose is quite important, so you definitely need an answer to this question.
Are you looking for an energetic Golden Retriever dog or a calmer and more gentle companion? You might be searching for a friendly and outgoing Golden Retriever or perhaps a shy or reserved Golden Retriever.
Whatever decision you intend to take, just know that the decision is all yours and no one else's, just be sure to consider your lifestyle and family when making such decisions.
Speak to Your Breeder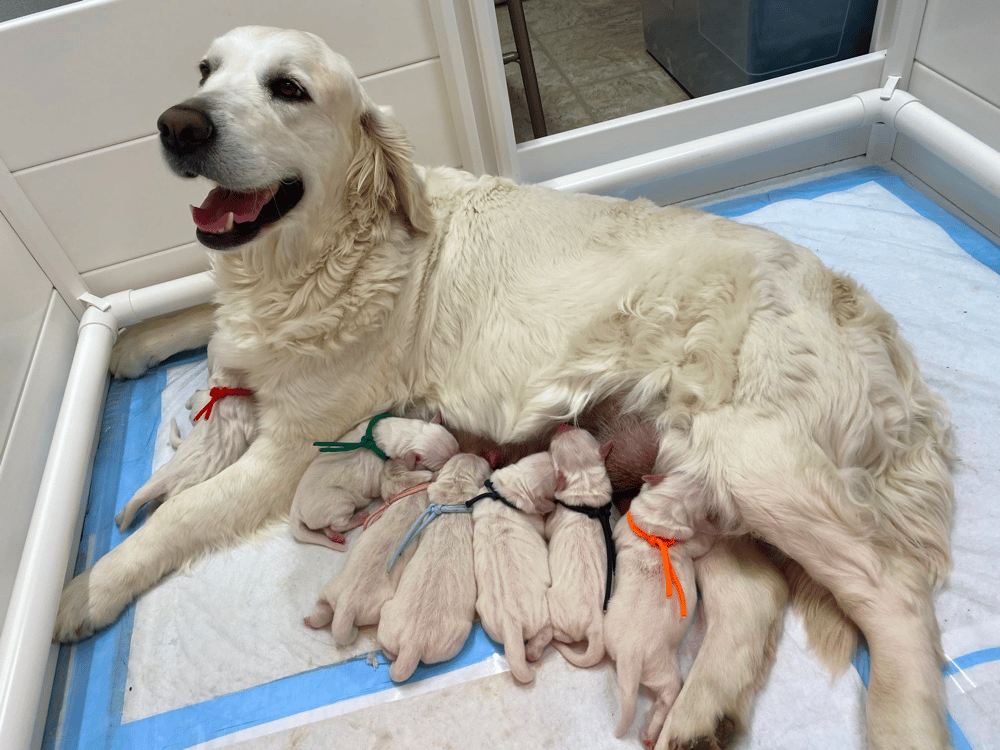 After answering all those questions and figuring out exactly what sort of Golden Retriever you are searching for, the next step would be to contact the breeder and discuss with them. The breeder should know them best, being that they have spent approximately 8 weeks with the puppies.
The breeder should be able to tell in each litter which of the Golden Retriever puppies is more dominant, which is shy, which is, which barks a lot, which is calmer, and of course, which of the Golden Retriever pups is most energetic. So, by simply telling him what exactly you are looking for in a Golden Retriever, he should be able to make helpful suggestions and recommendations.
This is quite common in breeders today, they usually do the picking for you based on the requests and information you give them, which I personally feel is better. But let's assume that they instead let you make the selection or decision for yourself, what do you do?
Picking A Golden Retrievers from the Litter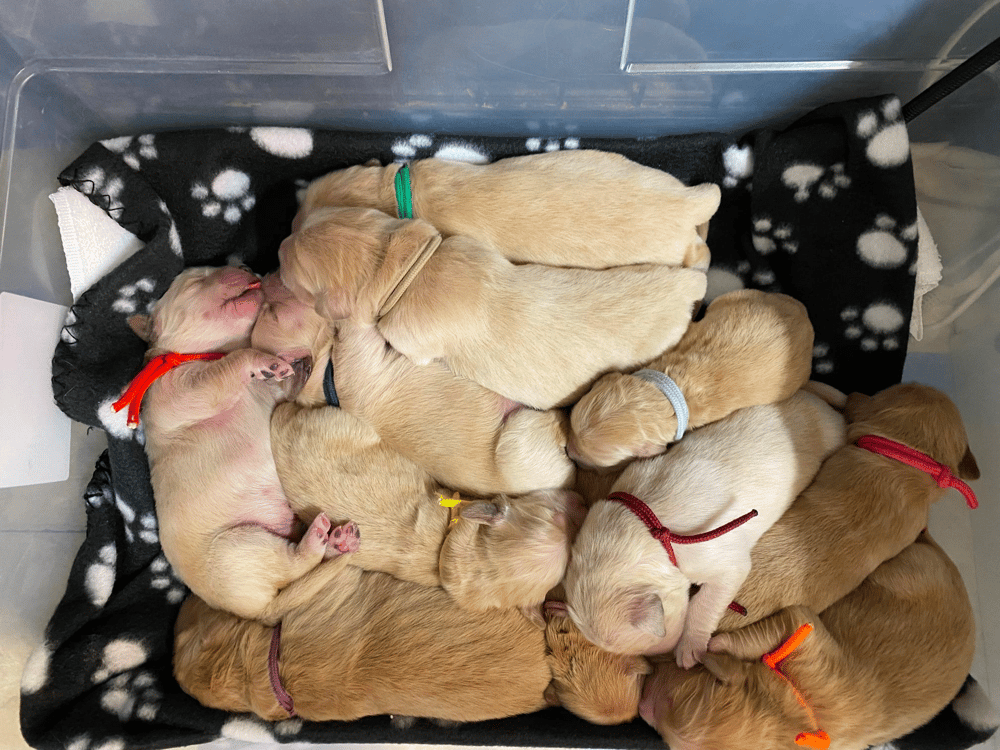 If for some reason, you are left with the decision of selecting a Golden Retriever puppy from the litter yourself, there are a few things you should look at. These 6 tips would be quite beneficial in deciding which Golden Retriever puppy is best for you.
1. Watch the pup's reaction to its littermates
When the pup you intend on picking reacts with its littermates, what do you notice? Does it dominate the other Golden Retriever puppies or is it a more submissive puppy? Noticing this might be helpful in gaining some insight into the Golden Retriever's personality.
2. Try to notice the energy levels of each Golden Retriever pup
A great way to figure out the temperament of a Golden Retriever pup would be by checking out their energy levels. A Golden Retriever pup that spends half its time barking and the other half running around is a clear indication that it is anything but calm. So if what you are searching for is a calm dog, then that wouldn't be the best dog for you.
3. Notice how your chosen pup reacts or interacts with people
In addition to watching how your pup reacts with other littermates, you also have to watch how they react with people. When you interact with them, how do they react, also watch their interaction with the breeder and basically strangers?
Do they react in a curious manner? Are they quite fearful? Or are they the outgoing and friendly type that seems to be quite interested in interacting with humans?
4. Try tossing a toy or your keys at the pup
This is a great way to identify how alert your Golden Retriever puppy really is. Once you toss your keys or a toy at the pup, try to notice how quickly your Golden Retriever reacts to it. Does your pup run after it? Or does it follow the toy or keys with its eyes?
5. Try putting the Golden Retriever pup on its back
As you pick and cradle the Golden Retriever pup, you could try placing it on its back while in your arms or placing it on its back while on the floor. For a dominant Golden Retriever pup, it should squirm or struggle a bit, while for a more submissive and calmer puppy, it should also struggle for a bit but shortly relax.
6. Try Caressing your Golden Retriever puppy
You could try caressing your chosen Golden Retriever pup by gently rubbing its ears, tails, paws, and mouth. A calm Golden Retriever puppy should be cool with it.
Note: Be sure to check the health of your chosen pup before choosing. You should ensure that their eyes are clear and bright, that their fur is soft and fluffy, ensure that their nose isn't runny and that they walk properly (with a spunky bounce).
Also, your Golden Retriever might pick you. This is not new, as some dog owners have shared their various experiences. Some pups could run up to you all sweetly and cute looking for a cuddle, some could pee on you while others might even go as far as peeing on you, but all in all, when a puppy picks you, you would know.
Final Thoughts
Picking a Golden Retriever puppy that is just right for you and your family is not an easy task, but it is quite important as this dog would be with you for a huge part of its life. So do ensure you stay attentive when choosing.
Ensure that your chosen pup is quite healthy, ensure they are well tested and strong. Following all the steps listed above should be enough to help you when selecting a Golden Retriever pup.
In all you do, please ensure that you shower your new Golden Retriever with so much love and care. Drink a lot of water, eat well and of course, always stay devoted to dogs.
What's next
If you love this article, you'll also want to learn more about what would be needed in raising a Golden Retriever puppy from baby to adult, and what to expect with your pup in each stage of its growth.