Everyone knows what a Golden Retriever is and how adorable they are! They are one of the most popular breeds of dogs in the USA and are known to be loyal, loving, caring, and just a bundle of joy! Besides the obvious golden color of a Golden Retriever, they also come in dark golden, cream, and lightly golden. They are full of energy and make the best companions especially if you love the outdoors. Since they are Retrievers, naturally they love the water so bring them to lakes and oceans for a nice swim!
To bring home the perfect Golden Retrieve means that you need the perfect breeder. It is important to find a breeder who focuses on the health, longevity, and temperament of their dogs. The Golden Retriever puppies should also be well socialized before going to their forever home and be screened for genetic hereditary problems including hip and elbow problems. Make sure their Goldens are also AKC registered as well!
Top 13 Reputable Golden Retriever Breeders in Oregon
1. OC Goldens
Established in 2012, they are in Oregon City and their goal is to raise healthy and well-balanced Golden Retriever puppies. The parents are PAW PRINT Genetic Tested, and OFA tested on eyes, heart, elbows, and hips. The Goldens are AKC registered, and they raise their Goldens like they are part of their family and want you to have the best companion and friend forever.
When you have picked your puppy and it is time for them to go home with you, the puppy would have had age-appropriate de-worming done, first set of vaccines at 6-weeks of age, be vet certified health checked, come with AKC registration, parents' pedigree, and genetic testing, microchipped, and each puppy will come with a 30-day Trupanion Trial.
They are well-loved in the Oregon community and have 5-star ratings on Facebook and on Google! Everyone loves Mike and his wife and they care deeply about the quality of life they give their dogs and pups. They are always available to help you and answer any questions you have and are known to be honest and knowledgeable.
| | |
| --- | --- |
| Name of Owner | Mike & Desiree Heppner |
| Breeder since | 2012 |
| Address | Oregon City, Oregon |
| Phone Number | (503) 839-1089 |
| Website | oc-goldens.com |
2. Timberland Goldens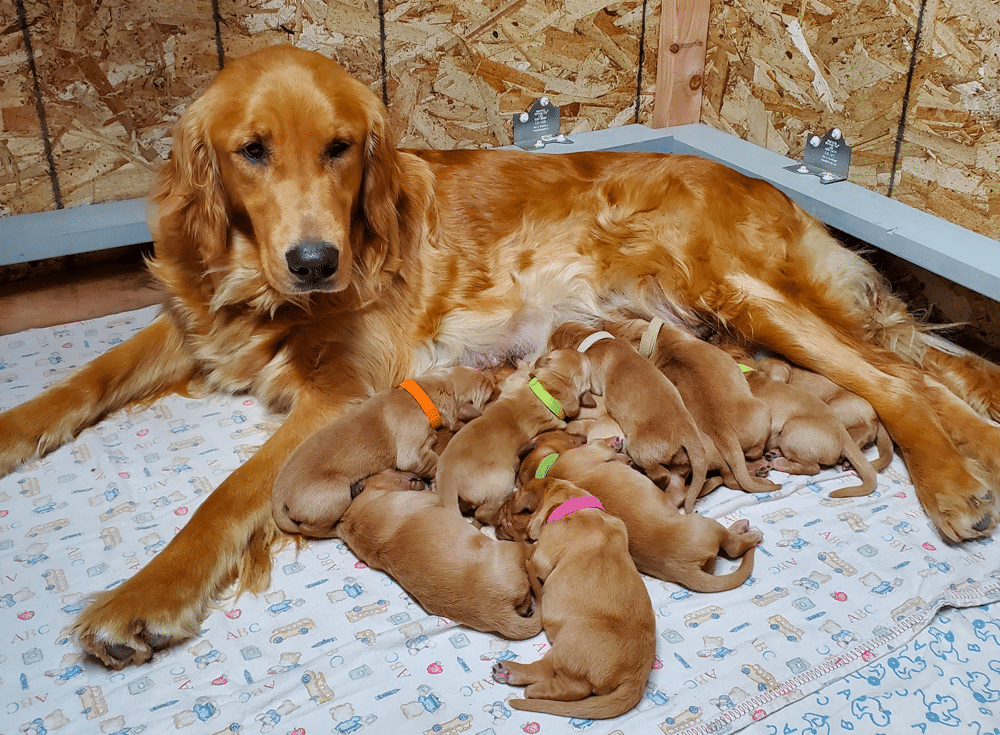 Located in a gorgeous area in Oregon with a great view of Mt. Hood, there lies Timberland Goldens. They have quality bloodlines of show Goldens and European English Cream Goldens. They put a lot of effort and care into each Golden puppy they raise, and they believe because of that, their Goldens are superior to most other dog breeders. Because of how attentive they are with their Goldens; it pays off in the end with great health and overall well-being.
Besides the exception of a few required vaccines, they have chosen to raise their Goldens in a more natural way. They have visited many other kennels where the mindset was to overmedicate every problem which they think is a problem itself. They spend lots of time grooming their dogs and focusing on great nutrition with an emphasis on not just dry dog food but other ingredients as well such as pumpkin and mackerel. The dogs are also well exercised on their 3-acre lot and once they are out roaming and playing, they have a lot of time to clean their kennels with good hygiene practice.
3. White Fire Golden Retrievers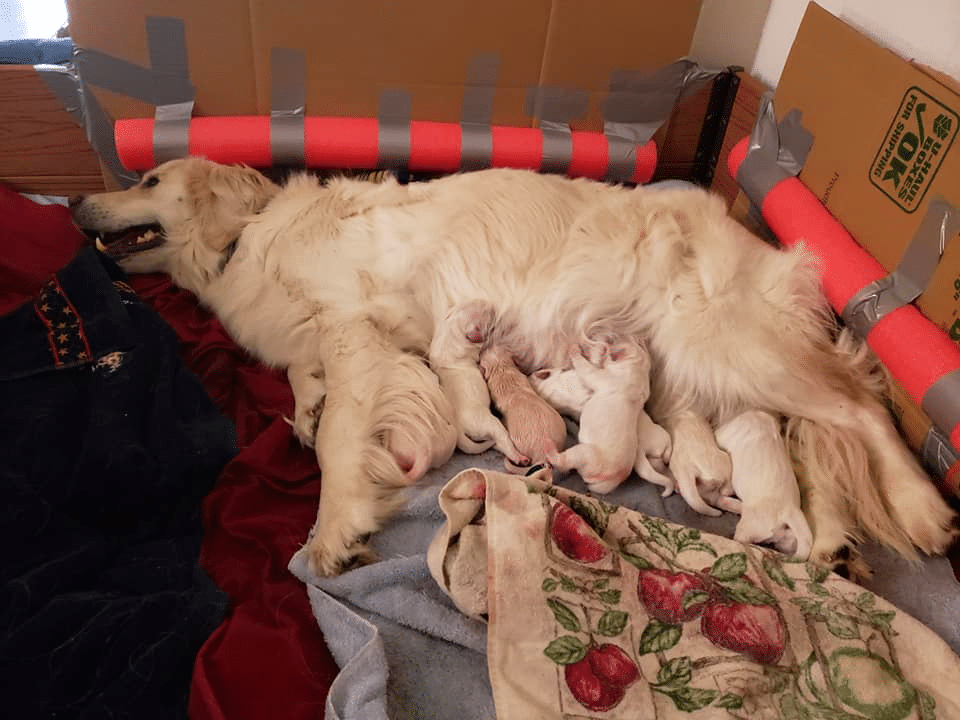 Carol Benning has been a trainer for more than 30 years and brings her experience to White Fire Golden Retrievers to train and breed beautiful English Cream Golden Retrievers in Corvallis, OR. They only breed English Creams because they are beautiful and have the least amount of health problems. She has applied her training skills to dogs for more than 3 years now and took her first puppy to retirement and assisted living homes for the enjoyment of the residents and to help socialize the dog.
All the puppies are AKC registered and have used a champion Golden Retriever along with their breeding female to provide the best possible quality litter of puppies. The puppies are ready to go home at 8-weeks of age and at the age of 2, they will have to go through clearance tests for hips, elbows, eyes, and heart.
Although Carol is a newer breeder, she has a lot of experience with dogs and many other animals to back up her credibility. Check out her Facebook page and website for more information.
4. Hill Haven Kennel
Hill Haven Kennel is a small, family-run kennel located in Southern Oregon. They have AKC registered males and females from championship lines meaning you will get a quality dog if you purchase from them. Their 10-acre estate provides a lovely setting to raise their extraordinary English Golden Retriever puppies. Their AKC and EKC confirmed English Cream Golden Retrievers are raised in the home with them and are used to being around families. They focus on helping their dogs enjoy being around children, family members, and other dogs.
Before leaving to their forever homes, they are vet examined and only will leave after receiving their appropriate age vaccinations, and complete records will be sent with each puppy. They are not a puppy mill so they will only have about one litter a year or one litter every other year! Because of this, they are recognized as one of the top English Golden Retriever breeders in the United States.
5. Golden Melodies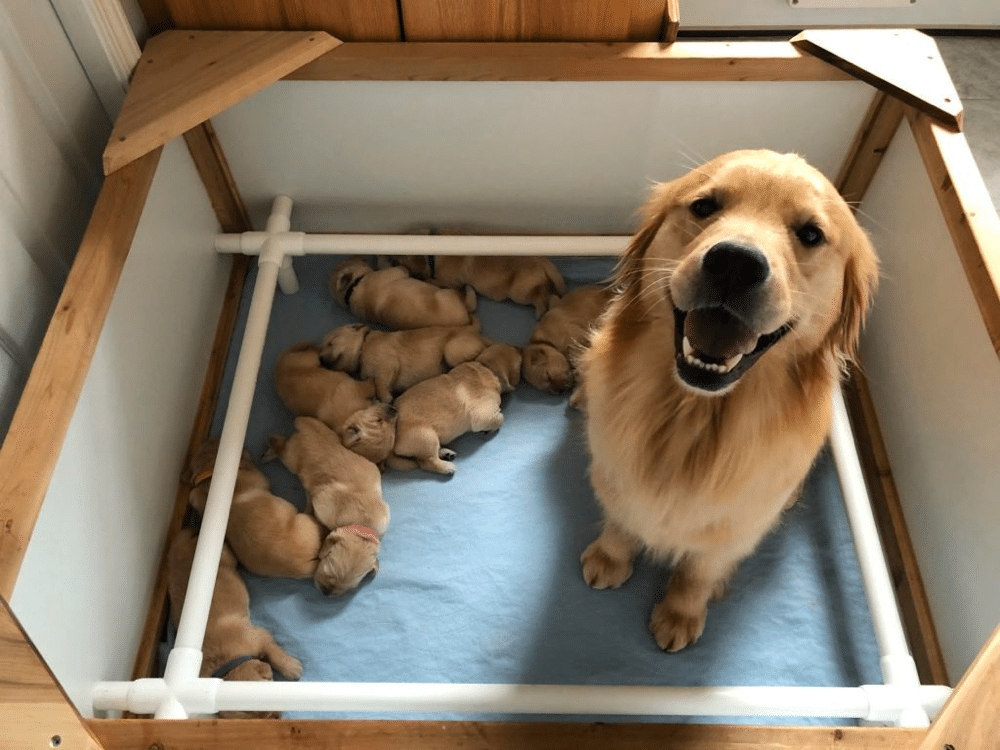 Val Haack is the person behind the breeding at Golden Melodies. The kennel is located near Eugene, Oregon, and is located on 6-acres of wooded property. She has owned and raised Golden Retrievers for over 30 years, and she started out in the early 80s with a female who was full of spunky energy! At Golden Melodies, they strive to maintain a high standard for producing healthy, productive, Golden Retriever puppies. All her Goldens are AKC registered and meet the breed standards.
The Goldens are cleared for eyes, heart, thyroid, hips, and elbows. She is a member of The Golden Retriever Club of America and is adamant about keeping up with new news about Golden Retrievers.
6. Oak Grove Goldens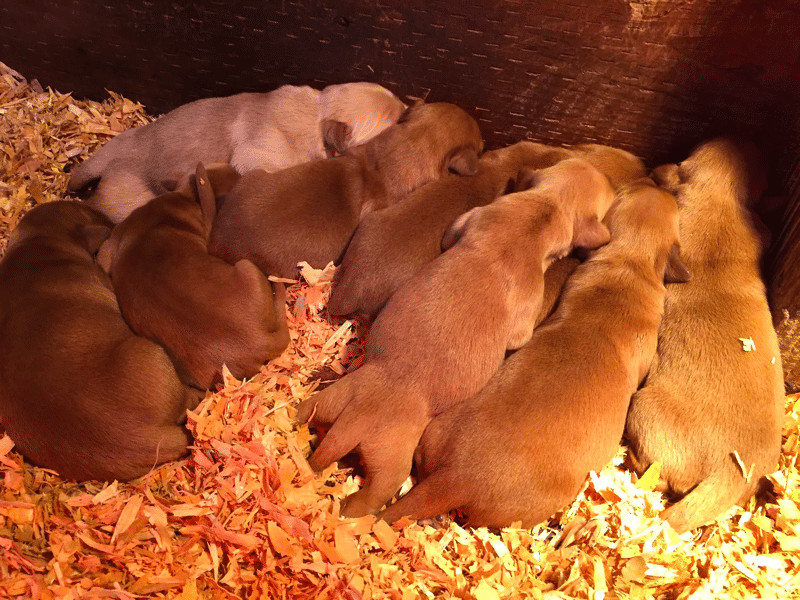 With over 38 years of experience raising Golden Retrievers, Oak Grove Goldens is one of the best Golden Retriever breeders in Oregon! Cindy and Terry live on a 90-acre ranch so there is lots of room for the dogs to run and play. The Golden Retriever puppies all come with AKC limited registration and on their website, you will be able to find the parent's lineage and registration information. All their Goldens have their Eyes, Hip, and Heart Certifications from an Ophthalmologist, Cardiologist, and have their hips checked by PenHip. They have a range of colors from light to dark red! Their granddaughters and grandson live on their property and they are always around to socialize with the puppies!
Before the puppy goes home with you, each puppy will have had their dewclaws removed and will have their first set of vaccinations and 4 deworming sessions. They will also provide you a collar, leash, bag of dog food, Puppy Book and Health Record, microchip, a copy of the parents' eye, hip, and heart certification, and the 6-week check-up at the veterinarian. They provide a one-year guarantee for their dogs for genetic issues.
7. Amber Meadows Goldens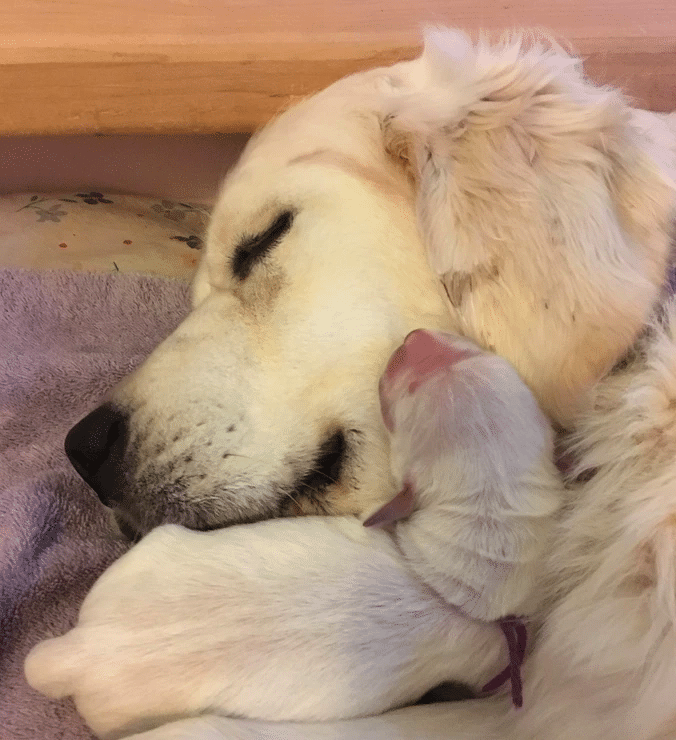 Amber Meadows is a small family kennel located in Bend, Oregon and they focus on quality, not quantity. Their main goal when it comes to breeding Golden Retrievers is to produce an optimal healthy and calm temperament puppy. They raise their Goldens with love and care and are treated as part of the family. They breed AKC Registered English Cream Golden Retrievers, and they only produce a small number of litters each year. Their sires and dams come from Champion European Bloodlines and were carefully assessed for both physical soundness and disposition before being bred.
The puppies can go home at 8-weeks of age and the puppy would have been dewormed and have received age-appropriate vaccinations. Their contract includes a health guarantee for all their puppies. Their website is full of good information on them and what you need to know before owning a Golden Retriever! They are well-loved by the community and are very reputable breeders with many previous clients.
8. Leading Goldens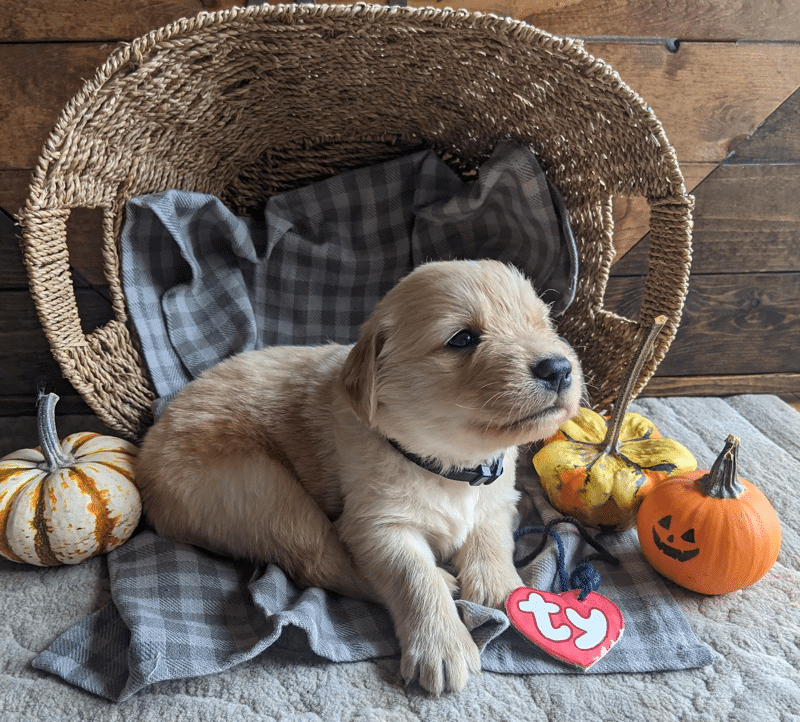 Located in Eastern Oregon, they are known to be a trusted dog breeder of Golden Retrievers. They breed for exceptional quality and ensure they always maintain the highest possible standards. They breed AKC-registered Goldens, and they make sure they are healthy and happy before going to their new forever home.
Every puppy will go home with their first round of vaccines, a care package, and a one-year health guarantee from hereditary faults. To ensure that the puppies are healthy, both parents they have right now are AKC registered and OFA health certified. They offer both limited registration and full registration if you are also interested in breeding Golden Retrievers.
9. Sunset Goldens of Oregon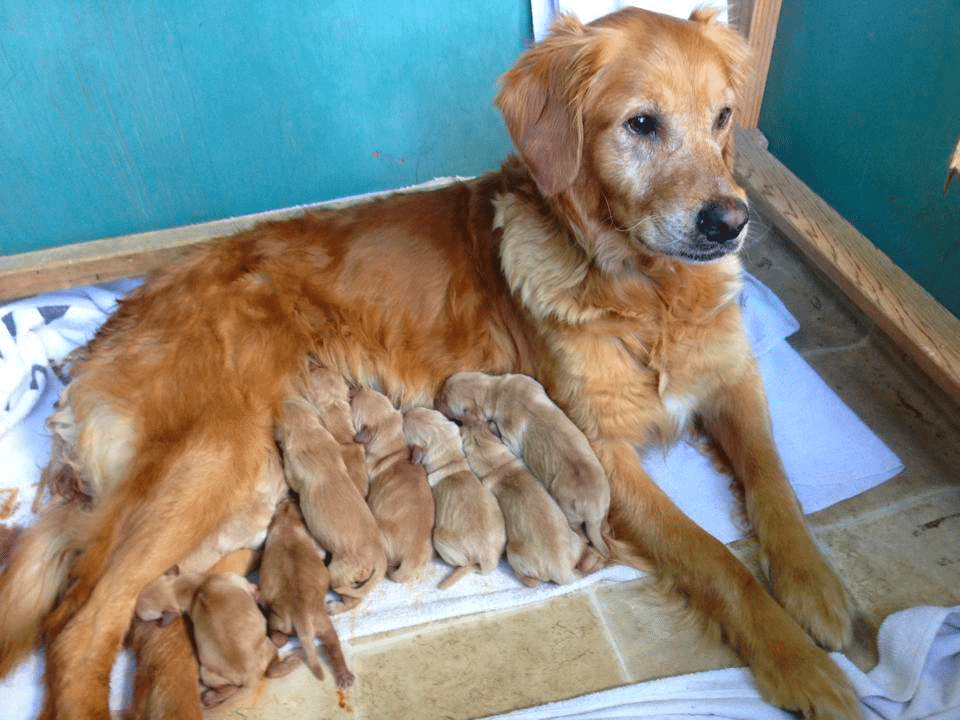 Sunset Goldens of Oregon is an AKC Breeder of Merit and offers beautiful and healthy Golden Retriever puppies. Besides providing the best puppies, they also provide training as well! They mainly breed Golden Retrievers for show, obedience, rally, agility, hunting, therapy, service, and of course, the best family pets! Currently, their website is down but on Facebook, they have a lot of great reviews and post photos of their dogs consistently. People have said that Trisha is the most generous and careful breeder in Oregon! Head over to Facebook for some cute photos and more information!
10. Oregon Mist Goldens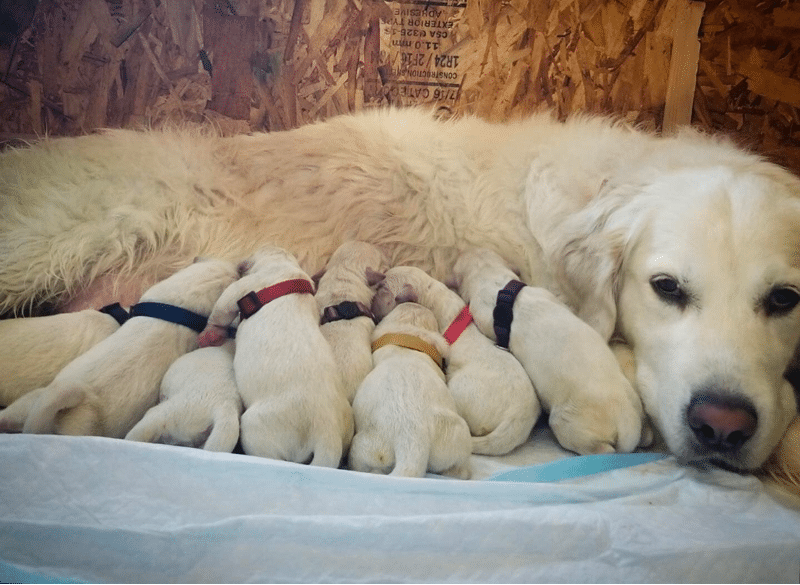 They are a family-operated hobby breeder of English Golden Retrievers. Doug and Judy are very passionate at Oregon Mist Goldens and believe that their dogs are the best of the best. They pride themselves on being one of the finest English Cream Golden Retriever breeders in Oregon and want to give you the best service possible. The puppies are raised in their home, and they make sure the puppies are well socialized from day one! They have a breeding Program Manager named Lini who works with them on when and who to breed providing you with a safe and healthy puppy. The dams and sires all come from English Champion Bloodlines, and they are all AKC registered as well.
They will provide you with a 2-year hep guarantee against genetic moderate or severe hip dysplasia and retinal eye disease on every Golden puppy if you keep the puppy on Life's Abundance Pet Food and Wellness Supplements for the first 26 months of life. When the puppy goes home with you, they will come with limited AKC registration, vaccinations, deworming, microchipped, and lifetime support from them!
11. Timber Pine Golden Retrievers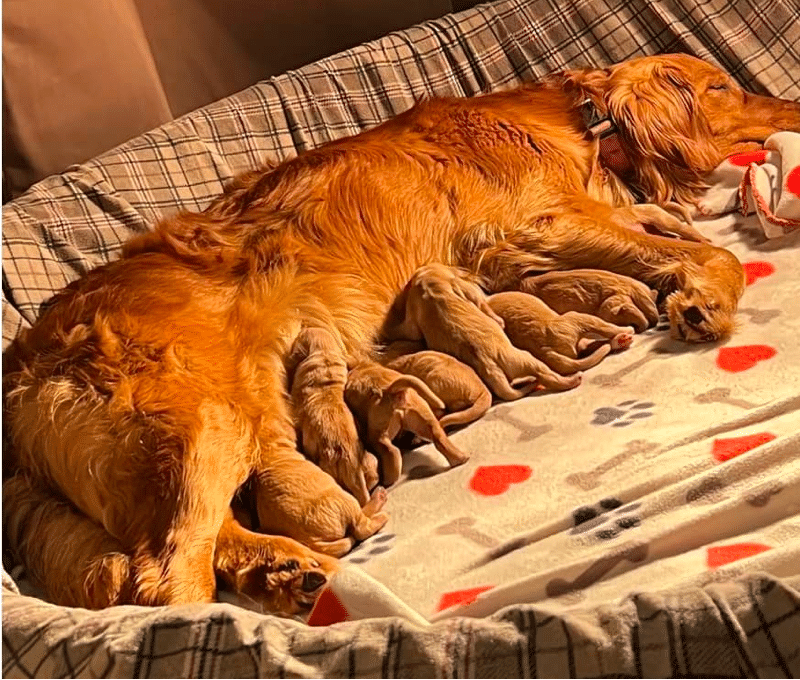 Starting in 2019, John and Cathy Jirsa started their breeding journey and have been able to give the joy of Goldens to many families. They breed AKC registered Golden Retrievers and absolutely love what they do.
How they raise their puppies is a big deal for them and they train them via the Puppy Culture program. It is a great program that many breeders use because it will expose the puppies to the right amount of early neurological stimulation, socialization, developmental and overall problem prevention strategies. The puppies are allowed to go home with you at 8-weeks of age and there is a 12-month health guarantee. When the puppy goes home with you, it would have received the proper vaccination and worming, and a detailed health and vaccination status is included in your puppy pack.
12. Trilogy Goldens
They are an AKC Breeder of Merit and are located on 5-acres of land in the beautiful Pacific Northwest. They treat every dog like a part of the family and the breeders have been involved with Goldens for more than 42 years. They are active in the local Golden club as well as The Golden Retriever Club of America. All their dogs have their health clearances for hips, eyes, heart, and elbows. Many of the dogs that Trilogy Goldens have bred are doing search and rescue, therapy, obedience, field, and conformation, as well as being loved as family pets!
Their website has every sire and dam history and pedigree available for you to look through. They seem like a very transparent breeder which is something you want since it makes them more reputable and trustworthy. Go to their website today and check out the parents and past litters!
13. Whiskey Creek Goldens
The breeders at Whiskey Creek Goldens have a deep love and passion for Golden Retrievers. Their goal is to breed Golden Retrievers free of major genetic health issues, as well as promote responsible dog ownership while maintaining the integrity of the Golden Retriever breed. They mainly breed Golden Retrievers as family pets but also for a good hunting partner or a show dog. All their dogs are AKC registered to means you will get a quality puppy.
They have been in the business for quite some time it seems with over 30 reviews on Google. People have praised Christa for giving new owners a great experience with the whole process of picking out their new friends. She is also known to be kind, welcoming, and passionate about the dogs she raises. Check out her website for the latest litter information or reach out to her today!
My Pick
Golden Retrievers I think are one of the best dogs ever and obviously, you do as well if you are here reading this list! They are loyal, lovable, and make great pets for a growing family or a party of one. To make sure you are getting the perfect puppy do your research on which breeder will suit you best. They should be AKC registered as well as health tested before breeding. Out of all the breeders on this list, I think OC Goldens is the perfect breeder to contact first. They are well-loved in Oregon and they breed quality dogs that will produce quality puppies! To find the best breeder, reach out to them and see if they answer all your burning questions. You can also message previous buyers and see what the process was for them.
Golden Retriever Breeders in The Other States Near Oregon
Golden Retriever Resources and Tips
We provide all the necessary information on everything about Golden Retriever breed profile, and what would be needed in raising a Golden Retriever puppy. You also get to learn in detail, the 5 stages of Golden Retriever Puppy Growth (from baby to adult), and what to expect with your pup in each stage of its growth.
Other Dog Breeds: