The Great Dane Golden Retriever Mix has the stature and builds to be a mighty guard dog; however, its loving and gentle nature makes them better suited to be a companion dog. This gentle giant of a dog has a heart of gold which makes them more apt to lick someone crazy than to scare them away! Although their sheer size and eagerness to be petted may scare a non-dog lover away!
If you are considering adding this gentle and loving giant to your family, continue reading to learn more about what you can expect living with a Great Dane Golden Retriever Mix.
Great Dane Golden Retriever Mix At a Glance
| | |
| --- | --- |
| Parental Breeds | Great Dane & Golden Retriever |
| Breed Group | Hybrid |
| Height | 25 to 30 inches |
| Weight | 70 to 150lbs |
| Size | Large |
| Temperament | Intelligent, friendly, loving, & loyal |
| Coat Type | Short, smooth, and single coat OR straight or wavy double coat |
| Coat Color | Cream to golden, black, or grayish shades |
| Amount of Shedding | Sheds a lot since both parental breeds are shedders |
| Eyes | Brown |
| Nose | Black |
| Ears | Long and floppy, can be prone to ear infections |
| Life Expectancy | 8 – 10 years |
| Hypoallergenic | Probably not |
| Kid Friendly | Yes, very |
| New Owners Friendly | Maybe |
| Daily Exercise | 60 to 120 minutes per day |
| Food Requirements | 4 to 6 cups of food per day served in several feeding, not all at once |
| Breed Recognition | ACHC (American Canine Hybrid Club), DRA (Dog Registry of America Inc) |
History of the Great Dane Golden Retriever Mix
The designer dog breed, the Great Dane Golden Retriever Mix, is an intentional crossbreed between the Great Dane, the ever-friendly and dependable giant, and the Golden Retriever, the ever-faithful and active dog breed. Let's look at the history of both parental breeds to learn a bit about the Great Golden Dane.
The Great Dane has been bred for about 400 years and is believed to be the descendant of the cross between the Irish Wolfhound and the English Mastiff. They were bred to hunt a savage and dangerous prey, the European wild boar. They became prevalent in Germany in the early 1500s, and they then became popular in the United States in the late 1800s. The American Kennel Club first recognized the Great Dane in 1887.
The Golden Retriever was first developed in Scotland during the mid-1800s. They were created as hunting dogs that could retrieve game birds while handling the cold and rainy climates of Scotland as well as the rugged terrains. The Golden Retriever was a cross between a Yellow Retriever with a now-extinct breed called the Tweed Water Spaniel, the Irish Setter, and the Bloodhound.
The Golden Retriever became popular in the US in the early 20th century and was first recognized by the American Kennel Club in 1925.
The Great Dane Golden Retriever mix is known for their loving disposition, friendliness, and gentleness with children and other family pets. This designer dog breed makes a great addition to the homes of all who lead an active lifestyle.
Great Dane Golden Retriever Mix Appearance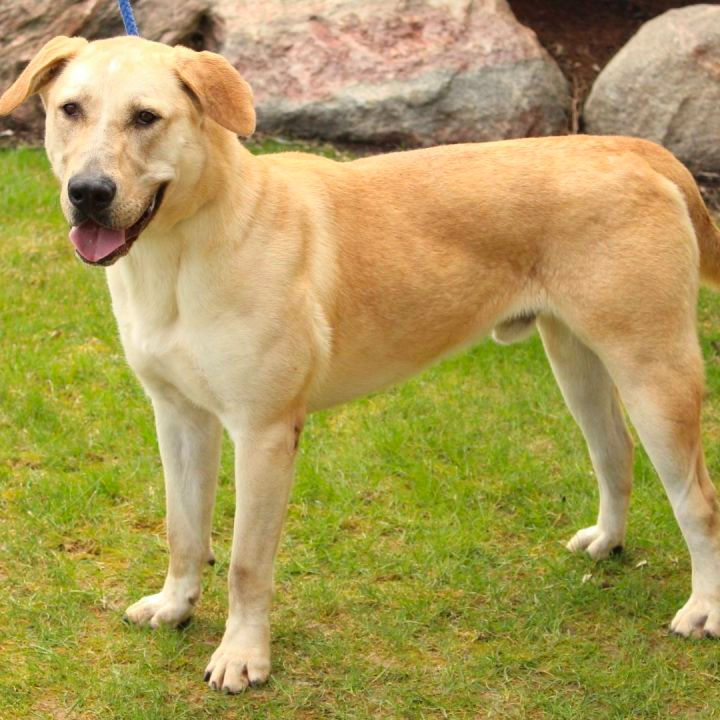 What will your Great Golden Dane look like? Well, they will have a mixture of their parental breed, but it is rarely 50-50! So, it really depends on genetics which parent it will favor the most.
However, you can expect the Great Golden Dane to have a long body with a solid and athletic appearance. The puppies will generally be larger than the typical puppy. And as adults, they usually weigh between 100 to 190 pounds – the male being on the larger side.
They are tall dogs standing between 25 to 35 inches. They are lean dogs with very long legs and large chests, and they have broad heads.
The Great Dane Golden Retriever mix has a long and deep muzzle, and their eyes are generally brown almond-shaped with the friendliest, most gentle expression. Their ears are medium-sized and floppy, which makes them prone to ear infections if not checked and cleaned regularly. Their tail is broad at the base and usually slightly curved at the end.
The Great Golden Dane can have varied coats, which range from the short, single-layer coat of the Great Dane to the short, dense undercoat with a weather-resistant outer layer of medium-length glossy fur of the Golden Retriever. The color of their coat ranges from black, white, blue, or brindle.
Great Dane Golden Retriever Mix Temperament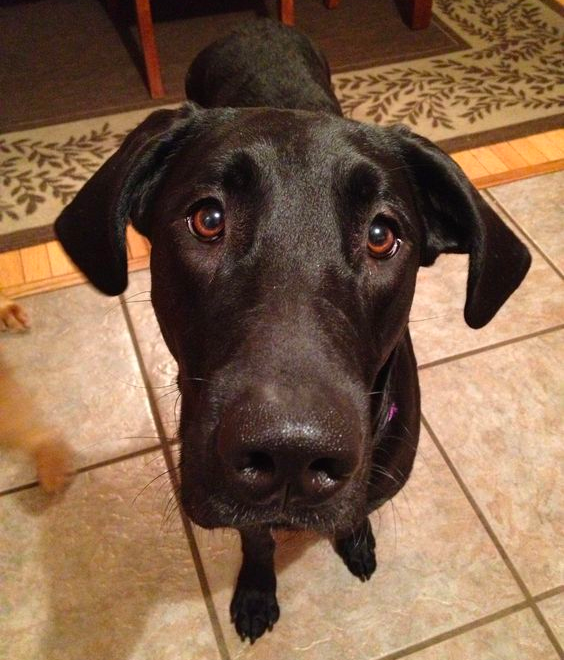 The Great Golden Dane is a very friendly and social dog breed, but some protective instincts might be passed down from the Great Dane's parental side. As with any dog, interactions between the Great Golden Dane, young children, and other dogs should be watched to ensure the safety of all those involved in the exchange. That said, both the Great Dane and the Golden Retriever are great with children, so there shouldn't be any problems. However, just because of their sheer size and overfriendliness, the Great Golden Retriever can be pretty intimidating and fearful to small children and other dogs. So, it is better to be safe than sorry than to have regret after something happens. Therefore, supervision is always recommended.
While this breed loves to run, play, and be active most of the day, they also love to lounge and be on the couch with you. They seem to be oblivious to their large stature and strength, and you will see them display many of the same behavioral patterns you would expect to see in a 10-pound dog! So be forewarned – be ready for plenty of petting and cuddles every time you sit or lie down. And, oh, by the way, the Great Golden Dane thinks they are lap dogs, so be prepared to share your lap while sitting as well!
Because of their gentle and easygoing nature, the Great Golden Dane is sometimes known as the gentle giant. While they are brave and alert, they are never considered to be aggressive.
Great Dane Golden Retriever Mix Care and Grooming
While your Great Golden Dane is a natural-born beauty, both parents of this mixed breed are shedders. So, it is safe to say your Great Golden Dane will also be a shedder as well. You probably can't go wrong with brushing your pet daily to preserve and encourage their beauty to shine through.
Also, it would probably be a good idea to invest in a robotic vacuum cleaner to help keep up with all the many fibers of joy and love in addition to the hair they emit. And while you are at it, you might also want to have a few lint rollers around to remove your pet's fur from your clothing to keep your beauty shining through as well!
The amount of shedding also depends on the type of coat your dog has. The coat will be short and straight if your dog has more genes from the Great Dane parent. Then you might get away with brushing every two to three days.
However, if your dog has more genes from the Golden Retriever parent, the coat will be somewhat longer and wavier, so it is best to brush your day daily.
No matter which parental breed is dominant in your pet, the Great Dane Golden Retriever Mix is sure to have long, floppy ears. If left unchecked for long periods of time, these types of ears can be prone to yeast infections. Therefore, checking and cleaning your pet's ears every few days is essential.
At the same time, it is also a good idea to check their teeth. Regular proper teeth brushing will save you money in the long run! This will prevent many trips to the vet for teeth cleaning when your dog needs to be put to sleep.
Consider having a spa day once a week with your pet where they get their usual brushing in addition to an ear and teeth cleaning.
And speaking of their teeth, you might consider giving your pet a Greenie daily. Your dog will think it is a yummy treat. It is in the shape of a toothbrush and will help keep your dog's teeth clean and white and their breath smelling fresh. And since your pet will always want to be close to you, you will want their breath to be smelling fresh!
Consider bathing your dog, at a minimum, once every three months. Always make sure to use a gentle shampoo formulated just for dogs. You can wash your dog as frequently as every other week. But you want to be careful. Too frequent bathing leads to dry skin, opening up a whole other can of worms for your pet. Let your pet be the deciding vote – if they are smelly – bathe them!
Training Your Great Dane Golden Retriever Mix
Training is vital with all breeds of dogs but especially important with a large breed like the Great Golden Dane. The last thing you want is an unruly, hyperactive large dog thinking they are the alpha dog and taking over your household! Or worse, an aggressively friendly dog that scares your neighbors and terrorized their children.
The good news – the Great Golden Dane is easy to train – they come from two very trainable parental breeds. Socialization and positive reinforcement are the keys to the successful training of your pet. They love to be rewarded either with yummy treats or verbal praise from their owners.
Be consistent with your training and be aware of the tone of your voice. Never yell at your dog when you are working on training them.
Crate training is essential with this breed, as with most breeds of dogs. You do not want your Great Golden Dane to have free roaming rights of the house as a puppy, especially when you are not home. So, start crate training at an early age, and make their crate a safe haven for them to enjoy retreating to. And be prepared to get the largest crate available. You want their crate to be as welcoming and comfortable as possible.
Great Golden Danes are extremely intelligent. Combine that with the eagerness to please, and you can teach your pet tricks throughout most of their life, proving the adage "you can't teach an old dog new tricks" incorrect!
The Great Golden Dane learns new tricks and commands very fast at any age and will eagerly perform for you for treats or affection!
How Much Exercise Does the Great Golden Dane Need?
Exercise is a must for any breed of dog. While the Great Golden Dane is not as hyperactive as their parental breed Golden Retriever, they are not as laid back as their parental breed Great Dane – they lay somewhere in the middle.
You should expect to provide at least two daily walks and some playtime with your dog.
Keep in mind this breed is highly playful as puppies, and because they grow very quickly, a strenuous activity that involves a lot of jumping and leaping should be kept to a minimum during their first year. Strenuous activities during their puppy phase can cause a lot of stress and damage to their joints. Walks should be shorter as a puppy, maybe two walks of 20 to 30 minutes, and avoid any roughhouse type of play. The gives their body mass time to catch up to their bone development and hopefully delay or stop any joint problems later on.
The Great Golden Dane craves human companionship, so this dog does not do well if they are left alone for long periods. You might want to consider hiring a dog walker or enrolling your dog in doggie daycare if you must be away from home for long periods.
Since the Great Golden Dane is a large dog, they also need to roam around and investigate, so they do best in homes with a large fenced-in yard versus apartment living.
Prepare yourself to walk an average of 10 miles per week with your pet and strive for a minimum of two 30-minute walks per day and some playtime with your pet.
Possible Health Concerns of Your Great Golden Dane
Hybrid vigor is one of the reasons mixed-breed designer dogs are becoming popular. It is believed that the offspring of mixing two purebred dogs will be healthier than the parental breeds, but this is not always the case, so it is good to be familiar with the minor and major health conditions that might occur in the Great Golden Dane.
Fortunately, or unfortunately, whatever the parental breed's health, these traits will be passed down to the puppy. So, if both parents were in excellent health, the odds are the mixed-bred puppy would be healthy. That is why it is essential to ensure you are dealing with a reputable breeder.
Minor Health Conditions to Look For
Diabetes
Hypothyroidism
Bone & Joint Deterioration
Most of these conditions can be treated with medications and or supplements while under your vet's care.
Serious Health Conditions to Look For
As with all large dogs, bloat is always a significant health condition to look for. Bloat is gastric dilation-volvulus, and it is the twisting of the stomach. This is the number one killer of Great Danes, and sadly it can be easily prevented by watching how fast your dog eats. Because of their size and ferocious hunger, large dogs tend to inhale their food in one gulp! There are special dog bowls designed to slow down their eating, and this helps to prevent bloat! Bloat is one life-threatening condition that all dog owners should be on the lookout for as it is preventable!
As mentioned before, this disease is common in large and giant dog breeds. If there aren't any parental carriers of this disease in your pup's bloodline, they have a much lower chance of not developing it. Reputable breeders will test for congenital conditions like this to have healthy litters.
While genetics is a primary factor in determining if your Great Golden Dane will have hip dysplasia, proper nutrition, and supplements can aid in decreasing the odds also. And be mindful that over-exercising in the puppy stage can also increase the odds of this disease.
Heart Disease and Cancers
These can be some serious congenital health concerns for your Great Golden Dane. With regular vet checkups, proper nutrition, and exercise, these conditions should be caught early if they exist and can be treated.
It is essential to have regularly scheduled visits with your vet and get all the required vaccinations in a timely manner to ensure your pet's health.
Generally speaking, this breed is relatively healthy, and their lifespan ranges between 8 to 10 years.
Is A Great Golden Dane Right Dog For You?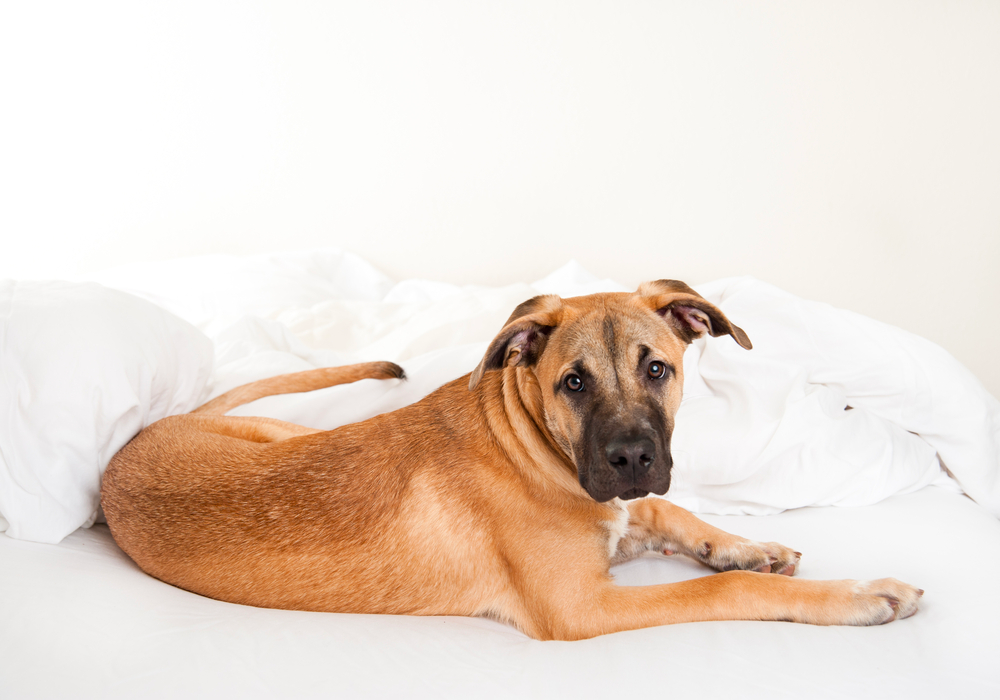 These dogs are big, devoted, and smart. Their parental breeds are very popular, so it isn't surprising that the Golden Great Dane is also popular. They are receptive to most people, both adults and children, and pets.
But are they the right dog for you and your family?
If you can answer YES to the following questions, then YES, they will make the perfect addition to your family:
Do you have a nice-sized fenced-in yard?
The Great Golden Dane is a big dog, and they need time outside to explore and play. Having a nice-sized fenced-in yard that allows your pet to "be a dog" and go out to sniff, roam, and investigate while remaining safe.
Are you active?
It was mentioned before that this breed needs lots of exercises. Preferably two 30 to 60-minute walks a day plus some additional play time like catching a ball or frisbee or running an agility course. But remember, since this breed can be prone to hip dysplasia, keep strenuous exercise to a bare minimum during the puppy stage and opt for gentler activities like walking them.
Are you home most of the time?
Are you able to spend time with your pet? This breed does not like being left home alone for long periods of time, and they like to be with their family. If you have to work away from home for eight or more hours and you really want this dog breed, be prepared to enroll them in doggie daycare so as not to be alone all day.
This large breed dog loves being around people so much they think they are lap dogs!
Conclusion
The Great Golden Dane is a hybrid of two wonderful parental breeds. Some might even consider them to be canine heroes. How could they not be – they are loving, energetic, and loyal. They love to be around their human family and treat each family member equally, loving from the smallest child to the oldest adult.
That one quality can also be a "con." Because of their loving and playful energy, they don't quite understand that they might be a bit rough with a toddler. So please, while they would never intentionally harm a child, they accidentally could hurt one just due to their sheer size and energy levels, so never leave them unattended around young children.
These dogs make an excellent addition to a very active family. They would love to jog, hike, run, and walk right alongside their owners every day. And they can be creatures of habit. If you run every morning to jumpstart your day, be prepared for your Great Golden Dane to remind you it is time for your run in the morning. And if you like to spend Saturdays going for an all-day hike, be prepared for your pet to remember it is Saturday Funday and time to go for that hike.
These dogs have a status of a relatively rare designer mix breed dog, so it might be challenging to find one for adoption. But please, take the time to check out the breeder and make sure they are reputable, and that your dog comes from two healthy parents. Ask to see the dog's health records.
This breed is certainly worth the effort to find for anyone who loves the qualities the Great Golden Dane has to share with you!
Other Golden Retrievers Mixes