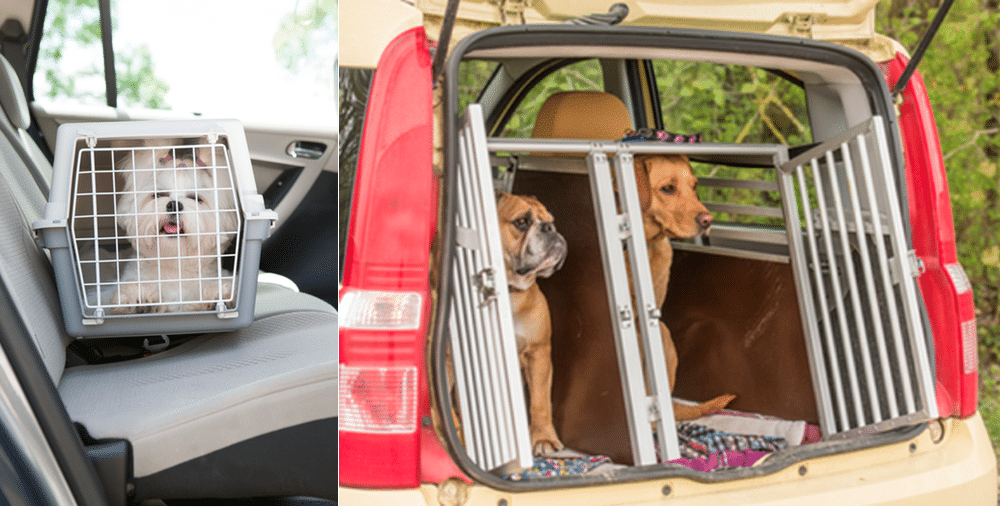 If you travel with your dog in the car, you more than likely know the hassle of trying to get your dog to sit still when you are driving. Dogs may pace around, have trouble standing find themselves falling in between seats, or even worse, trying to take your lap over while you are in traffic. While you may want to take your pooch to different places, it is important to make sure they have a safe trip in the car, while still enjoying the ride. There are a lot of options to pick from when introducing safety measures into your car, so it is easy to get overwhelmed by choices. In this article, we will cover everything you need to know about having a safe trip with your dog, from crates, car harnesses, and general tips to get them to their destination, so get ready to check out the best dog crates for car travel and general transportation.
If you have not decided which one is best for your need yet, take a chance to see our detailed comparison table below:
| Products | Best For | Crash-Tested? | Collapsible? | Read Reviews |
| --- | --- | --- | --- | --- |
| | Small dogs (up to 15 lbs.) | Yes | No | |
| | Small dogs (up to 20 lbs.) | No | No | |
| | Medium Dogs (up to 30 lbs.) | No | Yes | |
| | All dog sizes (15 lbs - 125 lbs.) | No | No | |
| | Large dogs (up to 90 lbs.) | No | Yes | |
| | Large dogs (up to 70 lbs.) | No | Yes | |
| | Large and Giant Dogs | Yes | No | |
READ MORE: Top 14 Best Dog Ramps and Stairs for Car, SUVs, and Trucks
What Are My Choices?
If you are going to use a travel crate, which is a great idea for smaller and medium-sized dogs, sizing is important. Like many other aspects of sizing your dog, the weight matters less than the height and length. A thirty-pound dog can be shorter than a twenty-pound dog, depending on the breed and age. A good rule of thumb for any dog or animal is to allow them to both stand-up and turn around comfortably in their crate. Both plastic and wire crates should have a liner, bed or even a towel along the bottom of them to prevent sliding or pain. Once you have gotten the height and length of your dog, you can find the dimensions of a crate that will suit your needs. You do not want to oversize the crate either, as smaller dogs may attempt to relieve themselves in one side if they can get far away enough from it. Finally, make sure that you have each animal in its own crate. Unless you are transporting very small dogs, such as a litter of puppies, you never want to have dogs sharing a crate during travel due to space limitations and stress.
If you will be removing the crate from the vehicle regularly, a wire crate can be an excellent choice. As these crates fold in and collapse easily for storage, it is easy to remove them from a car when you are done. They also can be tied down easily through the wires to secure them into place. If the crate will remain in the vehicle, a solid-sided plastic crate can be useful. These crates come with spots to tie them in place, and the solid crate gives your dog a safe, secure feeling inside of their enclosed space. Either of these types can be easily sized with a pad or a bed to make the crate more comfortable for the dog inside. For smaller dogs, soft-sided crates are an option, but they are more difficult to keep in place due to their more malleable materials. Soft-sided crates typically do not come for pets that are 25 pounds or more and are not as durable as hard-sided crates. Lastly, car harnesses that attach the dog directly to a seatbelt are a choice, and while they are incredibly easy to set up simply by clicking them in place, they can be less reliable in a crash or accident. There are many different choices, so keep reading below to see what may be best for you.
Do you have a small dog breed like a Dachshund, and you don't want to have to put them in a crate? Instead of using a crate, visit my friend Holly's blog at dachworld.com to find the top 10 best dog car seats for smaller breed dogs.
Best Dog Crates and Carriers Car Travel (From 15 lbs. to 125 lbs.)
1. Sleepypod Mobile Pet Bed and Carrier
For those with a new puppy or a nervous small dog, a cozy and secure travel crate can help make travel fun and easy. This little crate also comes with a comfortable shoulder strap so that you can go from car to your destination with ease. It is important to socialize your young puppy, but you don't want to expose her to anything that other dogs might carry until she has finished with her vaccinations, so a convenient carrier like this is important to let you bring puppy along while keeping her safe from contagious disease.
The domed top can be removed, turning the carrier into a comfortable bed for your dog. This can greatly reduce the stress of traveling since your dog will already be accustomed to the crate as a bed.
This carrier is made of durable luggage-grade nylon outside and is ultra-plush polyester inside. A padded shoulder strap and handle are included so that you can easily carry your pup however you like. The bedding that comes with this crate is washable, and the foam liner is water-resistant, so you know you will have this crate until your pup is grown and much longer.
Pros:
Crash-Tested Passed
Natural round shape will entice your pet to enjoy sleeping in it
Domed screen top can be removed so that your dog can enjoy it as a normal bed
Durable fabric in a range of fun colors
Washable bedding and water-resistant liner
Straps into any car's seat belt
Cons:
Small size is very small, too small for most dogs, so many puppies will outgrow it
Not a lot of ventilation
2. Pet Gear Carrier & Car Seat for Cats and Dogs
The Pet Gear Carrier & Car Seat is a good example of your typical soft-sided travel crate. It is great for smaller dogs and cats, and can be secured via seat belt to keep it in place. While a more frantic dog may not do well in this carrier, new puppies and calmer dogs will find themselves comfortable and cozy inside of it.
Pros:
Easy transportation
Attaches to seat belts
Comfortable and secure
Cons:
Soft-sided means less durable
Sharp teeth or claws can tear mesh
Tougher to clean
3. K&H Pet Products Travel Safety Carrier
Does your dog love to soak in the smells and sights of the road, but can be a little overly energetic in expressing her enthusiasm? This effective carrier straps very securely and safely into your car using your car's seat belt and also has a secondary strap to go around the headrest for extra security.
The entire face is mesh, so that your dog will have an unhindered view and a great breeze. You can easily fold this carrier flat so that storing and transporting the carrier without your pet is a breeze. There are multiple entries, allowing for versatile use.
A one-year warranty can make you feel good about your decision to purchase this carrier. While it isn't heavy-duty enough to stand up to a very destructive dog, this is a secure carrier that is appropriate for the average family pet.
Choose between three sizes to get the ideal sized carrier for your pet. The bottom pad of this carrier can be removed, making cleanup after messes easier.
Pros:
Full mesh front gives your dog plenty of visibility as well as lots of airflows
Clip in place using your seat belt and the separate neck strap
Easily washable removable bottom
One year limited warranty
Cons:
Large size barely fits in the average back seat
Top bar is fragile
Top strap is too short for some cars
4. Petmate Sky Portable Airline Approved Travel Dog Crate Kennel
The Petmate Sky Kennel is a great example of your standard hard-sided kennel. With good ventilation, the ability to tie it down in a car, and solid construction, this crate is a fantastic choice for medium-sized dogs. The vents on the side are covered in a thicker metal, and allow for more air to come in with less chance of escape. The Sky Kennel is also recommended for travel on planes, either with you or in a luggage area.
Pros:
Durable construction
Easy to assemble
Good ventilation
Fits well into most cars
Cons:
Cannot be broken down easily
Requires a bed or pad to be comfortable for the dog
Heavier construction makes it tougher to move
5. MidWest Side-by-Side Double Door SUV Dog Crate
If you have an SUV or van that opens from the back and dogs that aren't always clean when they get in the car, you may want a dog crate that lets you load your dogs directly into the back. This effective crate is designed to fit two crates in the back of your vehicle so that two dogs can travel in comfort and safety, while enjoying the view out the back.
This is a collapsible wire crate that can be conveniently stored when not in use. You can even collapse the crates in the back and store your groceries and other stuff on top of them when you aren't transporting your dog.
There is both front and rear door access, so that you can load your dog in this crate from the back when your dog is dirty and let her out from the front if you are camping in your van and want to share the space with your pup.
The wire design allows plenty of airflow and won't rust, due to the durable e-coat. A plastic pan is included as well for easy cleanup.
Pros:
Lets you load dogs from front or back
Sized to fit two in the back of your van or SUV
Includes plastic pan and carrying handle
One year manufacturer's warranty
Cons:
Not crash rated
Won't handle a severely destructive dog
Doesn't contain mess as well as some other crates
6. A4Pet Soft Collapsible Dog Crate and Kennel for Indoor or Travel Use
One of the few large soft-sided crates, this travel crate fits into the back of most SUVs or hatchbacks. It pops up and folds out quickly, and the durable outside makes it suitable for camping or rougher environments. The stronger material makes it good for rougher dogs or puppies who may be teething, and it has both a side and a top entrance for ease of use.
Pros:
One of the few larger soft crates
Great for traveling in a car
Can be used in home or outside
Easy to clean and put away
Cons:
Very low top, forcing larger dogs to lay down
Not as sturdy in a crash
Not suited for standard cars
7. 4×4 North America Variocage Single Crash Tested Heavy Duty Dog Cage
The Variocage is more of a machine than just a crate. Although it may have a slightly off-putting appearance, this powerful crate is designed to take the harshest punishment imaginable without a scratch. With hydraulic locks, thick metal bars, and even an emergency escape hatch, this crate is an impressive bit of handiwork. It has been proven sturdy in all different types of crash tests and comes in sizes for any size dog.
Pros:
Wildly durable
Sized for any animal
Made for all types of travel
Cons:
Wildly heavy
Very expensive compared to others
Hard to move once set up
Why Do Dogs Need To Be Secured In The Car?
Most dogs love to ride in the car. The wind rushing by carries all kinds of interesting smells that your dog just can't take in quickly enough, while every stop gives your dog a chance to take in an interesting scene. Add to this the fact that usually going in the car means your dog is going to a fun destination, and it makes perfect sense that being in the car would be a very exciting thing for your dog.
Why not just let your dog enjoy the run of the backseat, taking in the sites from every angle she can? Well, if you've ever had this experience, you probably know that there are good reasons to contain your dog in the car.
Mess and Wear and Tear
Your dog will do a lot of damage to your car seat, doors, and windows over the years. Your dog will dig her nails into the upholstery when the car moves and stops, scratching or even piercing it. whether you have leather or fabric upholstery, it will show damage soon enough.
If your dog tends to drool, which many dogs do as they get excited and pant in the car, you will soon have white gunk on your windows and the door of your car. The dried on drool is very difficult to clean, and can affect the functioning of window controls, locks, etc.
Distraction and Discomfort
Your dog can distract you as she jumps around in the back of the car, and if she jumps into the front seat, she can create a dangerous situation for herself, you, and everyone else on the road. Even if your dog is generally very calm in the car, an unexpected new site or sound may cause her to behave uncharacteristically.
If you have anyone else in your car, they may not appreciate your dog jumping all over their laps to get the best angle on whatever is going on outside of the window. Your dog can quickly turn a pleasant car ride into a very uncomfortable one for your guests. While they may be nice enough to not say anything about it, they may not want to go with you and your dog on your next outing.
Safety
Your dog's safety is in jeopardy when she is not strapped into your car in some way. If you were to get into an accident, your dog would likely be thrown from the vehicle. Secured safely in a crate or harness, however, your dog will stay in the car in the case of a collision. A crate can also offer some protection from impact and debris. You love your dog, and you don't want to take the risk that she could be injured or killed while you remain safely in your seat, held in by your seatbelt.
Harness Vs. Crate – Which is Best?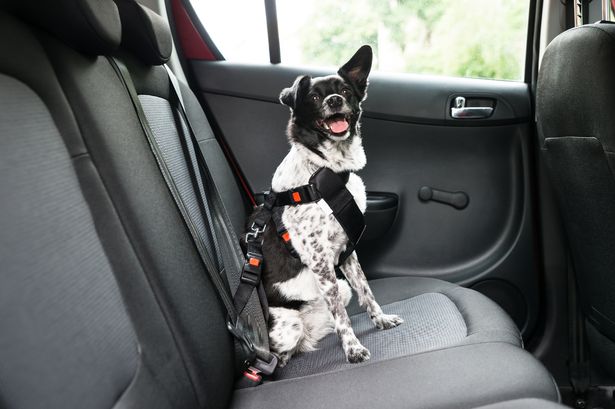 There is more than one way to keep your dog firmly in one spot. Harnesses offer your dog more freedom, acting more or less as seat belt attachments for your dog. Harnesses do nothing for your upholstery, windows, or door. If you keep your dog firmly in a middle seat you may be able to prevent drooling on the windows and doors, but this won't protect the upholstery, and your dog may be able to reach into the front seat.
If you get into an accident, a harness can hold your dog in place and offers as good of protection as a crate does as far as keeping your dog in the car. If the harness isn't fit well, it is possible that it could hurt your dog, but a well-fitted harness should safely keep your dog in the seat.
For most dogs, a crate offers a good compromise between safely containing your dog and letting her enjoy the ride. A crate lets your dog brace herself against comfortable padding that offers good traction. Your dog will feel more secure, and your upholstery will be saved.
All car crates on this list offer good ventilation so that your dog can still enjoy the smells of the breeze while keeping heads and bodies safely in the car and drool off of your doors and windows.
Quite a Few Choices, So Which To Take?
Depending on your dog, you will want to pick a crate that best suits your needs. For a smaller dog, pick a soft-sided crate or a car seat that fit them better. For a larger, stronger dog, picking a hard-sided or wire crate is a better choice. All of the crates listed in this article are some of the best of their types, and there should be a choice for any dog on the list. Always remember to add beds, pads, or calming aids when picking a crate, and measure your dog first before trying to get them sized for a crate. If you are still unsure, try to get a crate that you know your dog can stand up and turn around in, as previously stated, and make sure that it is not oversized for your dog, either. Hopefully, this article will give you all the insight you need on which dog crate will be the best for you and your dog.