This is a gentle dog and if you get your Golden Retriever puppy, you'll see that this is an easily trainable pup due to its intelligence.
Your new puppy will be a loyal family member and love to hunt and be in the water. Golden Retriever breeders breed puppies that when grown are also used for the blind, deaf, police, search and rescue, and used as comfort dogs.
Arizona Golden Retriever breeders will provide you with a beautiful puppy, easy to potty train, and will be active with lots of energy to burn.
Find a reputable Golden Retriever breeder in Arizona, such as the ones reviewed here. Your puppy should have undergone a thorough health assessment so that you know when you buy your puppy, he or she is happy and healthy. Be sure to check the breeder's business reputation, character, health guarantees for the puppies, and genetic testing.
1. Valor Golden Retrievers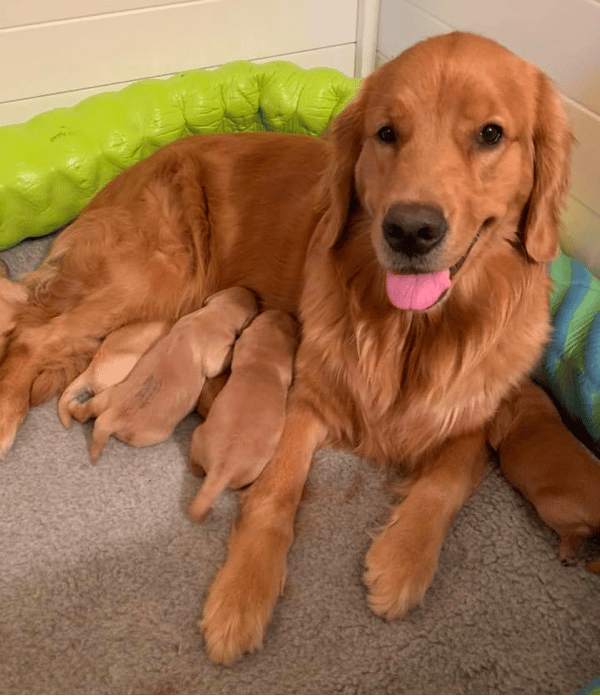 Valor Golden Retriever breeders are in sunny Phoenix, Arizona. They take pride in being an American Kennel Club (AKC®) Breeder of Merit yielding gorgeous, healthy puppies, conforming to the breed standard.
For over 25 years, the owners have participated in AKC® sports and are members of the Golden Retriever Club of America®.
They've had many show dogs and all of their puppies and dogs are beautiful, intelligent, and eager to please.
Valor's next litter is scheduled for the summer of 2022.
The puppies by Valor are meant to be a member of the buyer's family and the puppies will not be sold for service dogs, for those needing a dog for emotional support, or to be a surprise gift for someone.
Facebook post by Neomi: "When we picked him out he was rambunctious and now he's still the same and a little mischievous as well. He keeps us on our toes. And he loves going for walks!"
*Valor states: "Pet/Companion Puppies will be sold on Limited Registration. Limited Registration means that the dog is registered but no litters produced by the dog are eligible for registration. Dogs with Limited Registration may not be entered in breed competition at dog shows but may compete in all other AKC® events."
Valor Golden Retrievers Contact Details
Owner
Bill and Barb Thornberry
Breeder Since
1998
Address
1234 West 56th Avenue, Glendale, Arizona 98765 USA
AKC® Registered
*Yes, sold with AKC® Limited Registration
Email

[email protected]

Phone Number
(620) 571-7539
Website
valorgoldens.com
Facebook
ValorGoldenRetrievers
2. Golden Angels Kennels
The Golden Angels Kennels puppies, teenagers, and grown-ups are family companions and the breeder is passionate about her babies.
The Golden Retrievers are AKC® Registered and OFA Certified for their eyes, elbows, heart, and hips.
This breeder offers delivery to Tucson and Phoenix. Golden Angels Kennels is located in Douglas, Arizona,110 miles southeast of Tucson, and 220 miles southeast of Phoenix.
Douglas is a small town near the U.S. and Mexico border. They are located on 2 acres of tranquil desert with stunning views of mountains.
Golden Angels go on getaways with their Goldens at their 63-acre scenic ranch near their home. Everyone relishes being indoors and outdoors at different times. With their very large fenced kennel with grass and misting methods, the pups and dogs are most comfortable.
The puppies have met people, mingled, and have become socialized by being raised in the home of Golden Angels Kennels, rather than in a cage.
The health of your new puppy will be guaranteed for 2 years and he or she will have a microchip before leaving the kennel to be sound, easy to train, and with superb nature and personality. Your puppy will have its AKC® Registered documents, having been dewormed at 3-, 5-, and 7-weeks; current vaccinations for appropriate age; pictures; and Purina® Pro Plan® Puppy food.
The parents of the puppies are AKC® Registered and have their hip, elbows, heart, and eyes certifications by the Orthopedic Foundation for Animals (OFA). The puppies can go home with you at 8 weeks old and they are familiarized with water, different sounds, textures, surfaces, people, kids, dogs, and toys.
Facebook post from Jen: "Oh my goodness getting our golden from you was the best thing that's happened to us. We're over the moon with our boy! You breed the most gorgeous dogs I've ever seen!"
3. Anasazi Golden Retrievers
Anasazi Goldens website will tell you everything you ever wanted to know about their dogs and their philosophies breeding them.
Their comprehensive information will assure you of the nature, personality, and disposition of the dogs they enter into the AKC®, UKC, and/or the Certificate of Conformation Assessment program (GRCA). The structure of Anasazi Golden Retrievers is an important element in their breeding process.
See the Championships Anasazi Goldens have received at their website and view the beautiful Goldens there. These gentle and loyal companions will be a member of your family for years to come.
Facebook post from Rita: "Our Aspen, from the 'A' litter, is so steady and confident around all sorts of noises and experiences. She doesn't notice thunderstorms, or fireworks—big deals for most dogs. She doesn't even blink when I take out the vacuum. This can all be credited to the incredible work Laura does with her puppies. Thank you!"
4. Wildfire Golden Retrievers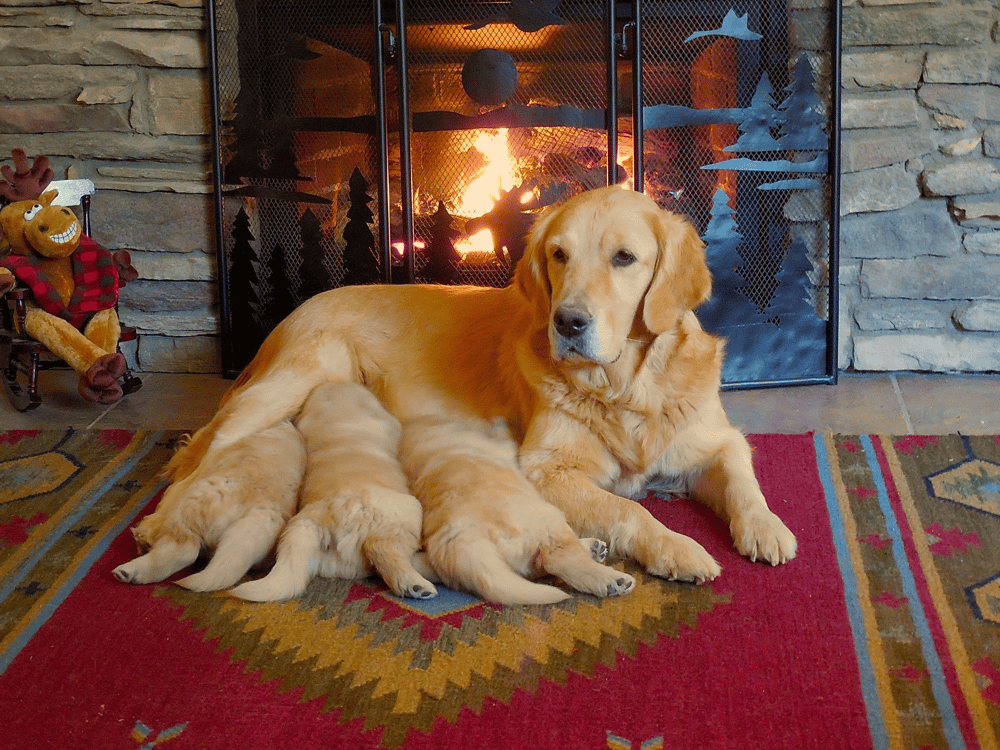 Wildfire is one of the best quality Golden Retriever breeders in Arizona.
All of the newborn puppy's parents are OFA Certified for their hips, elbows, eyes, and their hearts are certified by a cardiologist. They've been DNA genetic tested for the disorders that seem to afflict Golden Retrievers. They are bred to the Golden Retriever conformation standard and are healthy with superb temperaments.
These Goldens are created to be beautiful and possibly will do great in showings with a co-ownership contract if going to be shown. You will need to complete a spay for females and a neuter for males contract.
5. Xanadu Golden Retrievers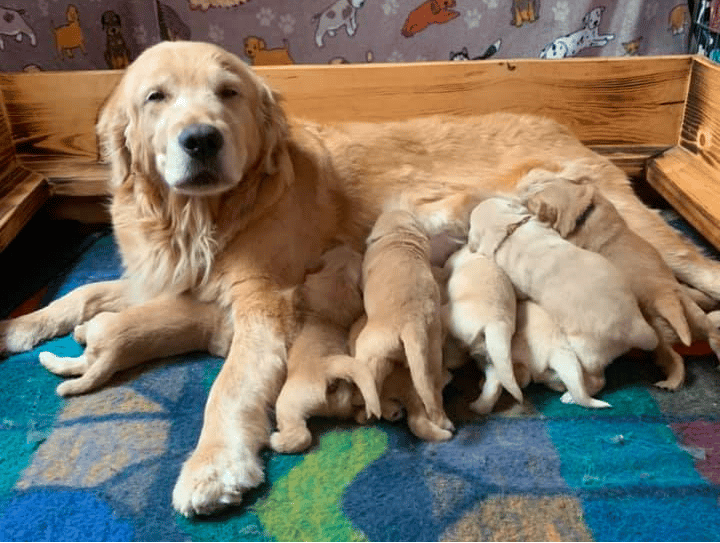 As an American Kennel Club® (AKC®) Breeder of Merit, Lara has a profound interest in the health and longevity concerns of this dog breed. She won quite a few titles and an understanding of the trainability and versatility of Golden Retrievers.
Puppies from her kennel have developed and been trained into service, therapy, search and rescue dogs. Puppies are family members in their home giving their love, loyalty, and great companionship continually as the joyous Goldens do.
Xanadu does not over-vaccinate and does not expose pregnant dogs with fetuses to X-rays, which are ionizing radiation. Food is natural and raw for puppies and older dogs. They do not want the puppies to be exposed to chemicals of any type.
The puppies are born and raised in Xanadu's home and are never put into kennels. They are a part of the family's life and have had involvement with kids, other dogs, noises, and are groomed consistently.
Being a member of the Golden Retriever Club of America®, guidelines are adhered to for avoiding inherited conditions so inherent in Golden Retrievers. To that end, their pups and dogs receive an annual eye exam with certification, heart, hip, and elbow clearances by the Orthopedic Foundation for Animals (OFA).
Bonnie at Facebook recommends Xanadu Puppies. "These pups are bred from parents that have health clearances, good temperaments, high-quality health care, and amazing pre-and post-natal nutrition. Raised in the bedroom where Lara sleeps. All pups are well socialized by fine people."
6. Arizona Golden Treasures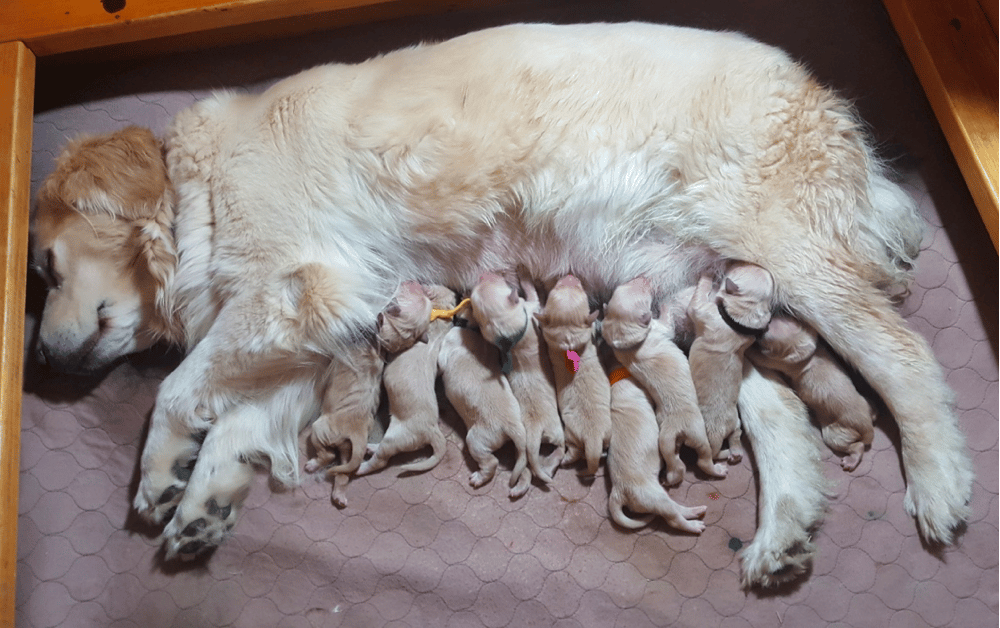 Arizona Golden Treasures endeavor to provide you with the finest puppy they have bred to the highest standards for indeed, these Golden Retriever golden treasures. You can feel assured with the knowledge that all of this breeder's dogs have had all of their hips, elbows, heart, and eyes certified by the Orthopedic Foundation for Animals (OFA) before breeding.
Even more, they also do genetic testing through Paw Print Genetics for Ichthyosis, PRA-1, PRA-2, PRA-prcd, and Degenerative Myelopathy in order to prevent Arizona Golden Treasures from producing affected offspring.
The test for Myelopathy is important to know and is a disease that is believed to be caused by a genetic mutation found in some dogs. To develop this condition your dog must have two copies of a particular mutated gene; however, not all dogs with a double mutation will necessarily develop this condition. Dogs with a single mutation of the gene are carriers and could pass the condition on to puppies if bred with another carrier. German Shepherds are the dog most often to have this condition, and this writer's dog had to be put to sleep at age 14 due to this disease.
Dawn at Facebook recommends Arizona Golden Treasures. "Arizona Golden Treasures are the best breeders I have ever known. Their line is pure, they go over and beyond to do safety checks on their line. Hips, eyes, elbows, etc. Their pups are beautiful and have the best temperaments. We have one of their pups Rowdy, and we love him with our hearts and souls. Please if you are thinking of adding a new member to your family, contact Arizona Golden Treasures. You will never regret it!"
7. Ambient Golden Retrievers
Ambient Puppy and Stud Services, located in Phoenix, Arizona, wants to be contacted by phone or email if you are interested in a Golden Retriever, or complete the questionnaire at their website.
They compete in dog shows and are zealous in educating other dog owners about the accountability they have for owning dogs.
When breeding their dogs, they consider the structure, temperament, and approving qualities and characteristics and always, the lack of genetic problems that could be inherited. Clearances include the hips (good), elbows, eyes, and heart.
The Horsley breeders express that anyone interested in buying a puppy or dog to ask a lot of questions and never settle for the cheapest puppy who might be inferior for the 10- to 15-year investment you will have in the animal who will be your family member.
You will feel confident with this breeder that will offer you support for any problems and questions you might have.
Ambient Golden Retrievers Contact Details
Owner
Phil and Kathy Horsley
Address
Phoenix, Arizona USA
AKC® Registered
Yes
Email

[email protected]

Phone Number
(602) 978-2940
Website
ambientgoldens.com
8. Tall Pine Goldens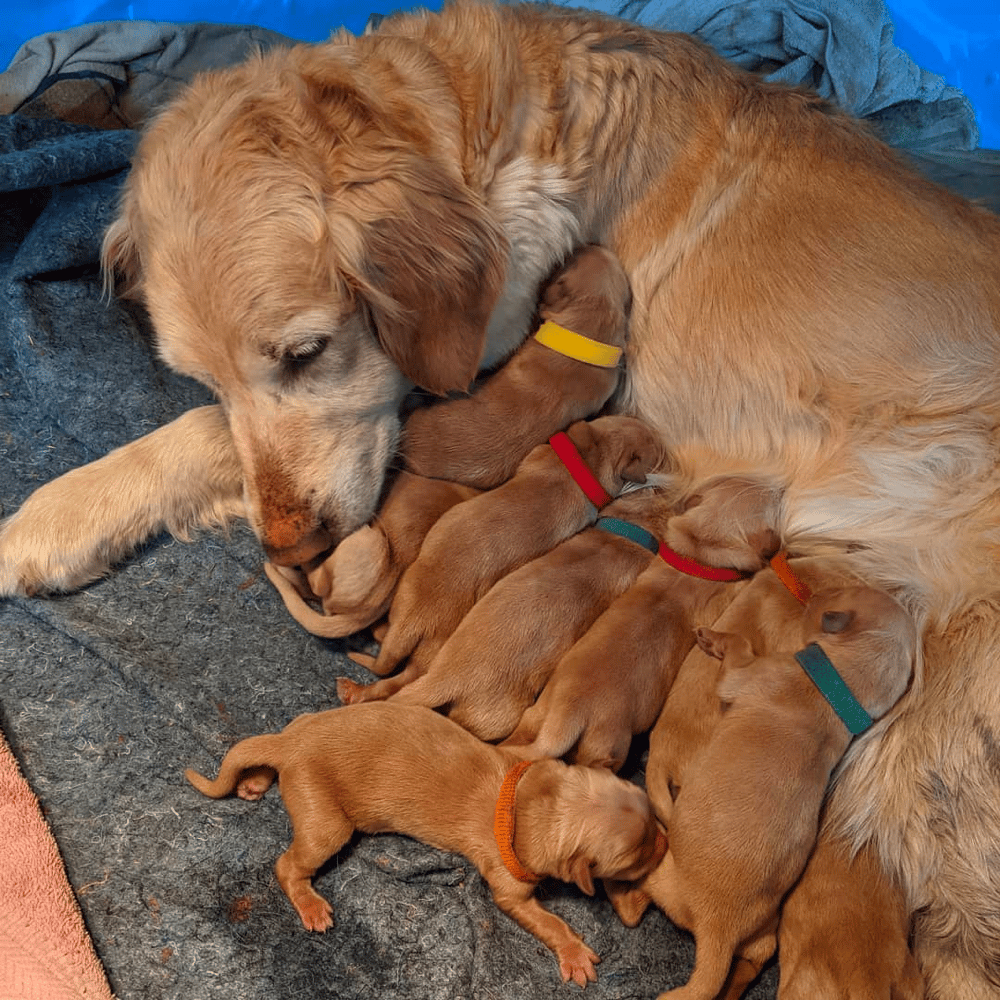 Raising purebred Golden Retrievers is what this small home breeder accomplishes along with breeding Goldendoodles, a blend of Golden Retriever and Poodle.
Choose your fur-ever Golden Retriever from Red, American, or English Cream puppies that will be microchipped, have been dewormed, are current for vaccinations, and are AKC® Registered.
Their dogs are genetically tested for superior health, and Orthopedic Foundation for Animals (OFA) is Certified for their eyes, elbows, heart, and hips.
Testimonial from Rhea at Tall Pine's website: "This little fluffy boy is amazing! He is so great with my two young boys and is the BEST puppy I could have ever asked for! He is healthy, happy, and just all-around amazing. We are so happy to have him join our family. I would definitely recommend Tall Pine Goldens! They are so helpful, kind, and very patient with all of my questions. Thank you all so much!"
9. Concho Flats Golden Retrievers
Living on almost 40-acres, the family has been raising Arizona Golden Retrievers for 3 generations in the White Mountain area. They breed and raise English Creme Golden Retrievers, and American Golden Retriever puppies, and in the last few years, added Dark American Golden Retrievers to their program.
Maria Bills and the family find tremendous joy in breeding the Goldens to raise to an age to be adopted by a loyal and loving family.
To purchase one of their puppies, click on the "Contact Us" page at their website and complete the form; complete the form on Facebook; call, or send an email. You will make a deposit for the puppy you love with a Puppy Agreement that covers veterinarian visits, parasites, and more.
Testimonial from Mike at the website: "Happy as heck thanks to Maria Bills! Our puppy is doing great and Maria was awesome in answering questions and accommodating us!"
10. Westwing Golden Retrievers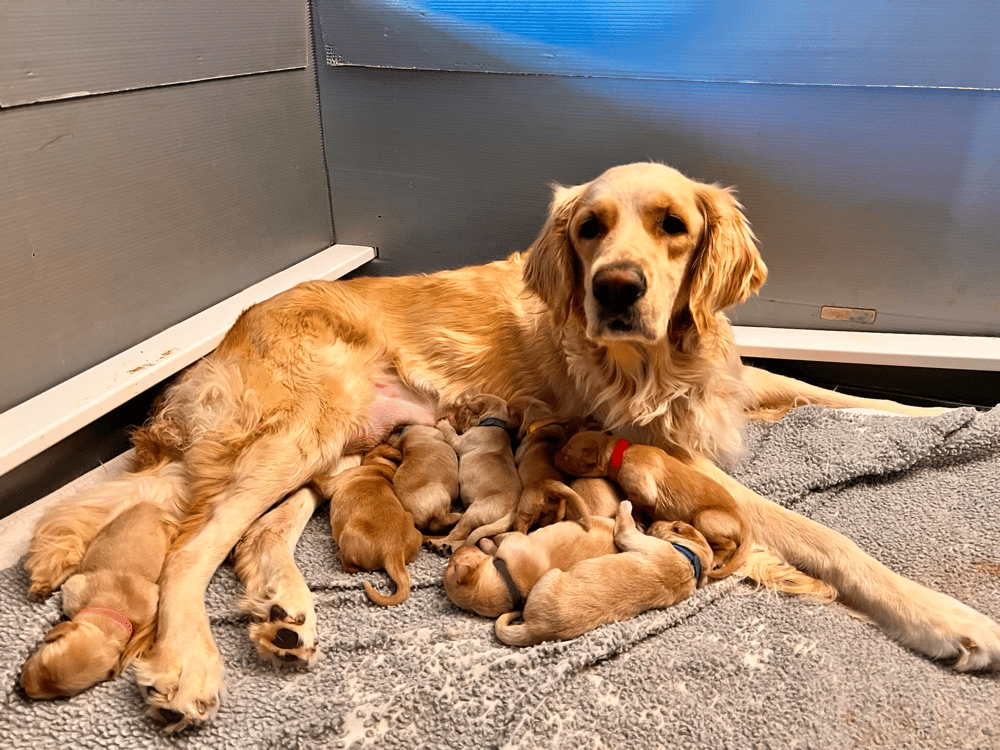 You can't ask for better credentials than these: Cindy and Megan are both graduates of Bergin College of Canine Studies. Bergin University is located in the famous Sonoma County region of California, in the comfortable city of Penngrove, an easy hour's drive north of San Francisco.
Cindy is the founder of Westwing Retrievers and Megan is the founder of Ashrose Kennels located near Phoenix, Arizona.
Breeding, rearing, nurturing, and quality training for a family companion and service dog is their devoted aspiration. The pups and dogs are raised in-home to be around people, kids, noise, and textures.
Their dogs are loved and treated the same as family. The dogs are bred from bloodlines for health and structure.
Your puppy will be microchipped and have age-appropriate vaccinations.
They have achieved the Puppy Culture program. Westwing Retrievers are the first Certified Puppy Culture Golden Retriever breeder in Arizona.
11. Polar Paws Pups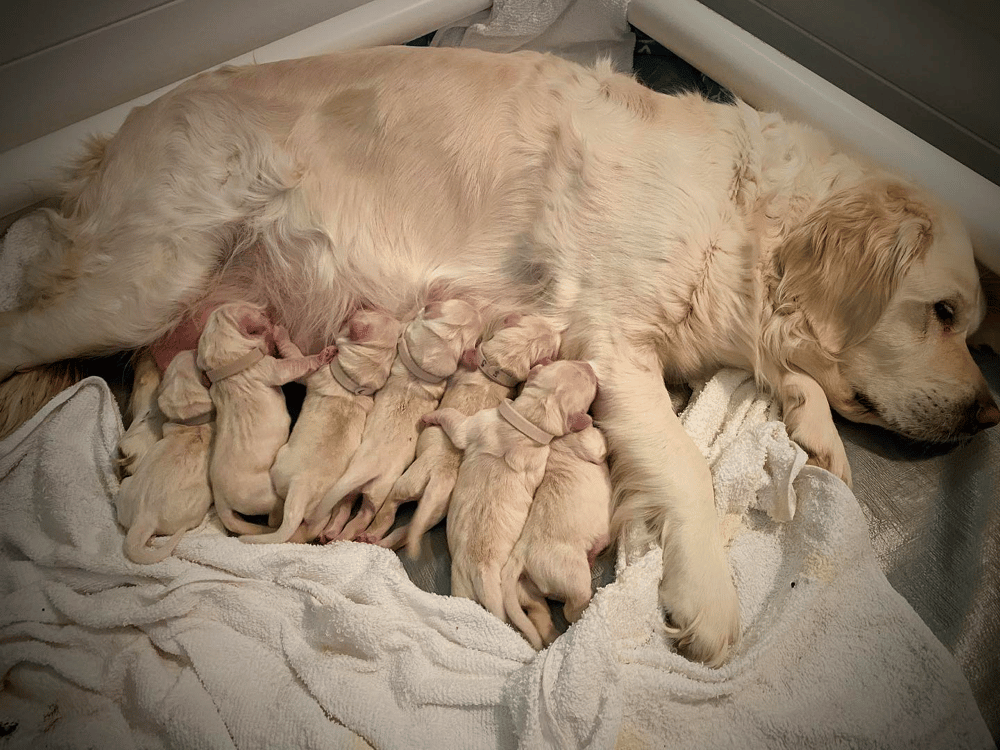 English Cream Golden Retrievers have been raised by this family since 1986. Dori and Paul had their children and then bred their first Golden litter in 1990. The puppies have an acre for running and playing. Your puppy will have AKC® papers and be healthy in mind, body, and spirit.
Polar Paws puppies are socialized with kids, adults, and other animals and are familiar with noises, textures, surfaces, water, and an assortment of toys.
Known for their relaxed, fun-full play, and mild temperament, English Golden Retrievers are loyal, intelligent, and excellent swimmers if you hunt for waterfowl. These are perfect companions for a single person, or family with kids, and are a great watchdog.
These dogs with sturdy strong body makeup seem to always be smiling and laughing!
Facebook review from Abigail: "Polar Paws helped my lifelong dream of owning a golden retriever become a reality! They had wonderful communication throughout the process, gave plenty of opportunities for playdates, and even assisted in matching the right pups to their families. They truly gave so much love, attention, and care to my little Avery girl! Thank you so much!"
12. Talini Golden Retrievers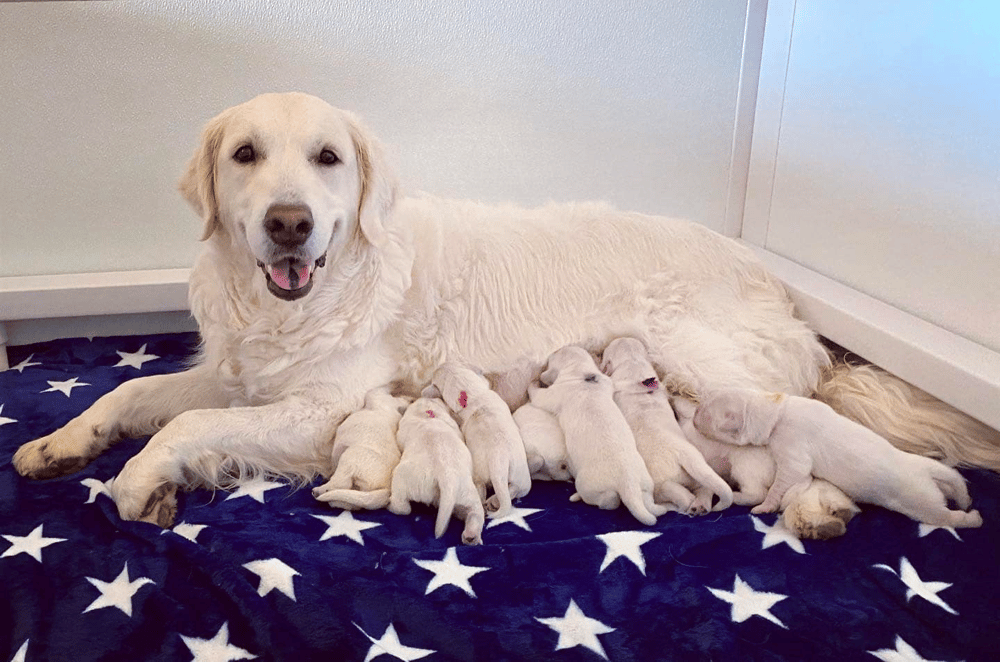 Talini Golden Retrievers is a small family-centered breeder in Tucson, Arizona, in stunning Tanque Verde Valley (Spanish for 'green tank' or 'green pool').
The Talini location is a 2-hour short drive from Phoenix or Scottsdale, Arizona; 6-hours from San Diego, California; and 6- to 7-hours away from most of southern California.
Their English Golden Retrievers are imported from Denmark, France, Hungary, Spain, and The Netherlands with many beautiful champions in their bloodlines. The dogs are a huge part of their family.
The McMahon family treasures the dog members of their family. Their dogs have taken part in AKC® shows, International Shows, NORCAL GRC Conformation Assessment, NORCAL GRC Field Training Day, and AKC® Canine Good Citizen events.
Many of their puppies have gone on to be therapy dogs. Their goal is to produce healthy, good-looking dogs with the ideal Golden temperament. They only breed about 1 to 2 litters a year, so it is best to contact them early.
The McMahon's tell us: "Golden Retrievers have the sweetest temperaments and have a heart of gold. To us they are the premier family pet. Goldens will be as devoted to you as you are to them. In the U.S., these dogs are often mislabeled as English Creams, European Creams, British White Retrievers, and Rare White Golden Retrievers. The bottom line is that a Golden Retriever is a Golden Retriever."
The McMahon's go on to say, "They all originated from Scotland with some slight differences between the English style and the American Goldens. All of our dogs are imported from Europe and considered English Type Golden Retrievers."
Facebook review from Linda: "I would, and have, recommended Talini Golden Retrievers. We love our Chase with all our heart, and we owe that to Stacy's amazing breeding program and her love of the breed!"
13. Heavenly Sunsets Golden Retrievers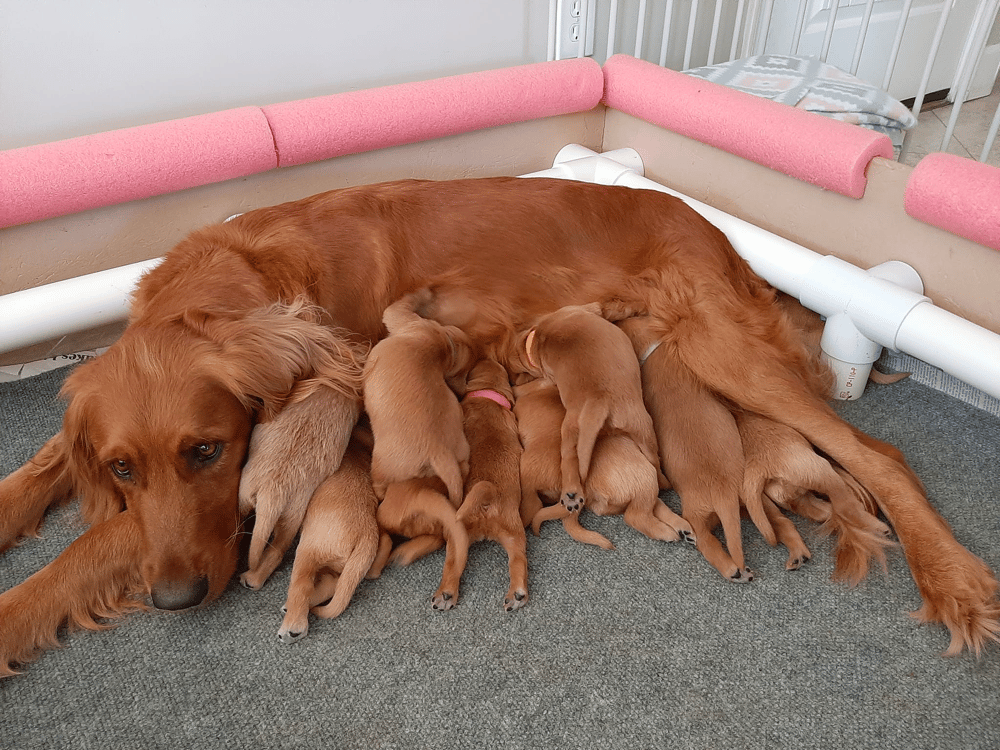 Owned by Laurie Riley, D.C., she not only breeds Goldens, but she is also a Doctor of Chiropractic.
Laurie is a member of AKC® Bred with H.E.A.R.T. program; the acronym means values of Health, Education, Accountability, Responsibility, and Tradition. Breeding Goldens for pets, hunting, service, therapy, and facility, all health certifications that are advocated by the AKC® for Goldens, have been completed.
Orthopedic Foundation for Animals (OFA) genetic testing for 200 diseases is performed ensuring perfect puppies have hips, elbows, heart, eyes, and DNA analyzed. Moreover, the same health certifications are done for Heavenly Sunsets chosen breeding sires too.
Laurie is not the typical breeder—she not only breeds the best of the best, but she also trains the puppies if they enter service work, or not, to have a quality unsurpassed advantage in living.
The pups are socialized by meeting people, kids, other animals, textures, noise, water, and more to be the sweetest calm puppies you can own.
Testimonial from the website by Leonardo's mom (service dog trainer): "Quality parentage and conscientious breeding standards… everyone is impressed at the training studio! He is beyond eager to learn."
14. Golden Reflection Kennels
This Ethical Golden Retriever Breeder Award winner is impassioned about breeding and rearing the English-type Golden Retrievers that are not only calm, intelligent, and beautiful but have the singular temperament of Goldens.
Golden Reflection Kennels continuously breed their dogs to improve the English Golden Retriever type.
The dogs have had OFA tests for hip, eye, heart, elbow, and PRA1, PRA2, and Ichthyosis status done to be clear. At about 2 weeks old, the puppies are dewormed, and the first vaccination for puppies and veterinarian checked at 7.5 weeks of age.
Puppies at Golden Reflection Kennels are born and reared inside their home and are embraced and loved dearly until they are adopted at about 8 weeks old only to families that have been approved by the owners.
Each day the puppies are weighed for about the first 2 weeks to know if they are getting enough milk from their mom. Subsequently, they are again weighed for the time remaining with the kennel.
Before going to their forever home with you, the puppies have been partially or totally crate trained to be potty accomplished.
The puppies will be social creatures by having been exposed to noise, water, slides, ramps, a variety of toys, textures, people, kids, and more.
Please read Buyers Beware at their website for the valuable information you might not be knowledgeable about when buying your puppy.
15. Western Outlaws Ranch
Western Outlaw Ranch is family-owned and operated in the magnificent White Mountains of Arizona.
The Ranch raises English Cream Golden Retrievers. And, if you have an interest in other exotic and rare breeds, you will find 4 dog breeds by viewing the 'Our Breeds' on their website. Other animals are fowl, horses, pigs, goats, rabbits, and more—and all are registered.
Their English Cream Golden Retrievers are trained to many commands and are raised to be social with people, kids, other animals, and farm equipment.
The Goldens are OFA and health tested, go to their fur-ever home with free pet insurance for 30 days; microchipping is optional; current vaccinations and deworming docs; and dewclaws removal is available. The puppies are underway with potty training and dog door teaching.
For those unfamiliar with dewclaws: Look at a dog's feet. How many toenails do you see? Most dogs have 4 nails on each rear foot and 5 on their front feet. That extra nail on the upper, inner part of a dog's foot is the dewclaw. Some dogs have dewclaws on their rear feet or even double dewclaws. The dewclaw is comparable to our thumbs on the front feet and the same as our big toe on their rear feet.
Dewclaws serve a purpose and should not be removed. They provide traction when the dog is running and turning fast, and dogs can hold objects better with dewclaws.
Western Outlaw Ranch states: "*Limited AKC® Registration: breeding rights only available to approved homes with an additional fee."
16. Goldminer Goldens
The Goldminer Goldens are an AKC® Breeder of Merit. They have won many Championships with their Goldens.
The puppies have been tested by the Orthopedic Foundation for Animals (OFA) and Certified for their eyes, elbows, heart and hips, and are genetically tested for excellent health.
You will receive with your puppy a health report from Goldminer's veterinarian, deworming dates and records, a training leash, a puppy toy, and food sample. You will also receive the clearances for the puppy's parents and the AKC® Registration papers.
Sharon will be your friend and your dog's friend forever and you can ask her questions anytime. She will also dog sit for you for a small fee each day.
Goldminer Goldens states: "*All the puppies come with AKC® Limited Registration meaning the buyer has no breeding rights and that the dogs will need to be spayed and neutered by the new owners. This will need to be done for females by 12 months old and males by 18 months old."
Joyce at the website said: "You always have the most beautiful Goldens."
Goldminer Goldens Contact Details
Owner
Sharon Rattler
Breeder Since
1985
Address
Sun City, Arizona
AKC® Registered
*AKC® Limited Registration
Email
[email protected]
Phone Number
(843) 861-1658 or (623) 466-8139
Website
goldminergoldens.com
17. Golden Child Kennels
Golden Child Kennels are a hobby breeder and limit the amount of breeding they do and their philosophy is raising show-quality puppies to be companions in their forever homes.
Each one of their dogs is AKC® Registered and each has all of their hip, elbows, heart, and eyes OFA clearances that are required by their membership in the Golden Retriever Club of America®. Their dogs do not have inherited genetic weaknesses and neither do the studs they are bred with.
As a part of their family, the puppies and dogs love and are given love, play, and sleep in the family's beds, and are the ideal family companions. The Goldens raised are of all sizes and colors and each are matchless in themselves.
Your puppy will have its own AKC® Registration papers, a 24-month Health Guarantee, deworming at 3-, 5-, and 7-weeks, age-appropriate vaccinations, microchipped, ID pictures, Certifications, Pedigrees of parents, and more.
Having been familiarized with water, toys, noises, and textures, kept inside in air-conditioning, these pups are then permitted to romp and play outdoors and can go home with you when they are 8 weeks old.
My Picks
We don't choose specific pet breeders; we only write about the best breeders we think will be good for you to choose from for your new puppy in your state. The hallmark Goldens are absolutely the best dogs! The dogs discussed here are not rescued dogs; they are puppies exclusively from breeders.
Golden Retrievers are loyal, lovable, and make great pets for a growing family or a family of one. To make sure you are getting the perfect puppy, do your research for which breeder best suits you. They should be AKC® registered as well as health tested before breeding.
Of all the breeders shown here, I think #10. Westwing Golden Retrievers is the ideal breeder to contact first. They breed quality dogs that will produce quality puppies. To find the best breeder, reach out to any of them listed here and see if they answer all of your questions. You can also message previous buyers and see what the process was for them. Check breeders out on Facebook and other social media for what people are saying.
Golden Retriever Breeders in The Other States Near to Arizona
Golden Retriever Resources and Tips
Other Dog Breeds: