There are so many things to love about both the Golden Retriever and the Irish Setter breeds. These are both lovely hunting and working dogs that were bred to love their families, be good with kids, and have a great attention span for training. Companion dogs need to be able to wear so many hats in life, and your Golden Retriever or Irish Setter can do so many different things to make your family feel like a complete unit.
Wondering which breed of dog is right for you and your loved ones is common. There are always lots of things to think about when you are dog shopping. Knowing more about these two breeds can help you to pick the right dog for you. These are both lovely breeds, so knowing more about each of them can help you to figure out which dog is the right one for you.
If you are ready to learn more about the comparison between the Golden Retriever and the Irish Setter, you need to keep reading.
Golden Retriever and Irish Setter Comparison
These two breeds have many things in common, but there are some key differences. Each breed has a long history as a hunting dog that started before there ever were dog shows. This makes these breeds higher energy and also very athletic. However, both breeds were also bred to be kind and sweet to their families. This is a little different than some of the other hunting dog breeds, and you will get a really reliable and excellent temperament when you choose these dogs.
Comparing the two breeds side by side can be really helpful, and the table below will help you to do just that. There are many commonalities as well as differences, and this can help you to make the most of your choice to find the right family pet.
| | | |
| --- | --- | --- |
| Items | Golden Retriever | Irish Setter |
| Breed Group | Sporting | Sporting |
| Origin Country/Year | 1854/Scotland | 19th century/Ireland |
| Height | 20-24 inches | 22-26 inches |
| Weight | 25-75 lbs | 53-71 lbs |
| Life expectancy | 10-12 years | 12-15 years |
| Personality | Kind, happy, energetic, playful | Happy, kind, eager to please, loves family |
| Intelligence Level | high | high |
| Is Hypo­allergenic? | no | no |
| Family Friendly? | yes | yes |
| Kid Friendly? | yes | yes |
| Pet Friendly? | yes | yes |
| Stranger Friendly? | yes | yes |
| Exercise Required | moderate | high |
| Grooming Needs | high | high |
| Barking Tendencies | low | moderate |
| Trainability | high | high |
| Prices | $1,000-$3,000 | $800-$1,500 |
Golden Retriever vs. Irish Setter: History
The Golden Retriever breed originated in the Scottish highlands, where the breed was used for hunting. This is a dog breed that also needed to be family-friendly, so these dogs were bred to be fowl hunting dogs that were also kid-safe and sweet and gentle. As the breed developed, it was improved to have longer and silkier hair and to be heavier-bodied and sturdier. This meant that another offshoot of the breed was developed to be more suitable for hunting. This means that the breed has developed in two unique directions depending on the goal of the breeder in question.
The Golden Retriever came to the US as a hunting dog and companion in the 20th century. They were recognized by the American Kennel Club in 1925. This is a dog breed that has also been known for generations as a great agility and obedience dog, so you will get a lot of great natural traits from this breed.
The Golden Retriever needed to be sturdy to hunt in the Scottish highlands, and this dog is still a strong and supple, and athletic hunter. Scottish hunting dogs were used for fowl hunting, and they needed to be able to guard the property as well. This is a dog that was also bred for hunting on land as well as in water since the highlands have both conditions mixed together in most hunting areas.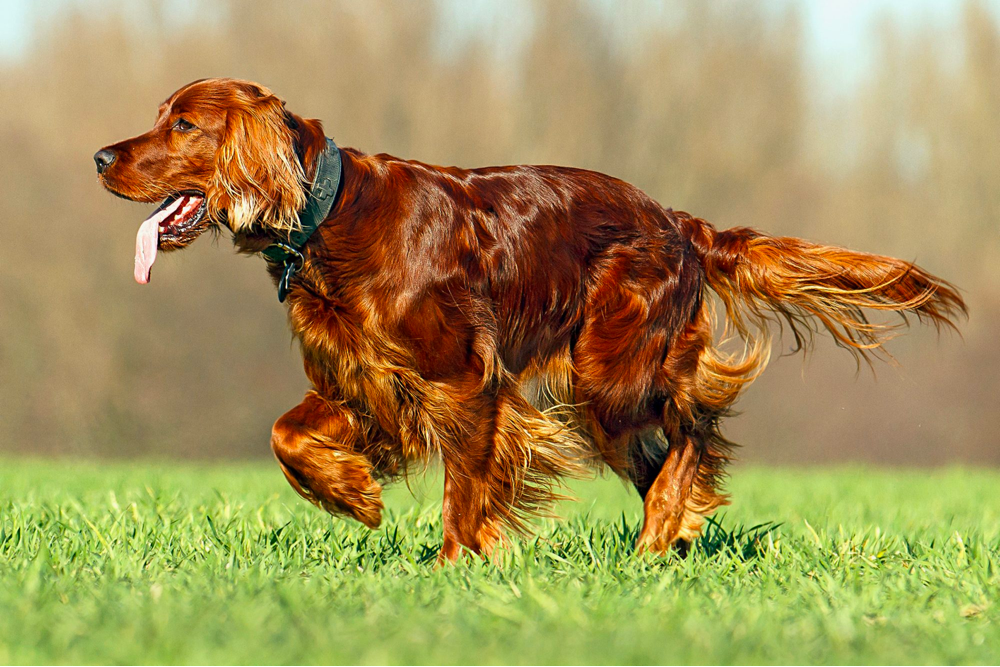 The Irish Setter is a game-hunting breed that was developed for its strong sense of smell and is used for hunting fowl. This breed was developed in Ireland in the 1800s. Red Setters were crossed with other setter breeds to make a dog that had an uncanny hunting ability as well as a kind nature and family-friendly temperament. This dog has been the preferred bird-hunting dog for years and years, and competition breeders love developing dogs that offer improved skills and even better temperaments.
This breed has also developed its own show animal that is slightly different from the working dog. These are dogs bred for longer and silkier coats and elegant builds. The hunting dog will have shorter hair and be more athletic as well as lighter in body. The Irish Setter was also originally red and white, more like other spaniel breeds, which surprises many people who have only seen the red and solid-coated dog.
The AKC has a breed standard for the ideal dog for each breed. These standards were created when the breeds were first recognized by the AKC, and the standards have not changed significantly since. These breed traits are meant to preserve the health of the breeds as well as their appearance. There is also a belief that the appearance of the dog is not enough, and the temperament is also listed for each breed in standards.
Golden Retriever vs. Irish Setter: Appearance
Golden Retriever dogs are about 55-75 pounds and 20-24 inches tall. These dogs have long coats that are silky, and their tail hair is long and luxurious. The show Golden Retriever has a larger head and thicker build, and they are not as lean and tall as the working dogs. Working Golden Retrievers might be leaner and lankier and have shorter coats as well.
The Irish Setter is about 22-26 inches tall and about 55-75 pounds. This dog has a long and silky coat that is red. They have a larger hound-style head and a feathery and long-haired tail. The breed is meant to be a hunting dog, and even show dogs have lean and lanky body that is athletic.
The coat of these breeds was always long and luxurious in part to protect the dogs from getting injured crashing through brush when picking up fowl that their owners felled while hunting. This trait was made more prominent in the show dogs within the breed, but that does not mean that the original appearance of these dogs with their long coats was not intentional.
There have been other changes to these breeds to fit with the standards for the show reality. The longer tail hair for both breeds is really just for show, and the change of the build of the Golden Retriever to a heavier body type was also done for the show reality. These are the things that the AKC always struggles with when maintaining a breed type that is healthy and strong. You have probably noticed that there are breeders for both kinds of dogs, and you might want to choose to work with a show breeder or a working dog breeder, depending on your preferences.
If you want to be sure that you will have a dog that is athletic, less likely to have joint problems, but might have a higher drive, you might want to work with a hunting dog breeder for your purchase. If you want a beautiful dog that has a lovely coat, is a little less energetic, and might require a little less entertainment every day, a show dog breeder might be right for you.
The breeder that you work with will be able to tell you more about the temperament of each of their dogs and the crosses that they use to create litters. You should be prepared for the personality that you are hoping to get for your family if you ask the breeders that you are chatting with to inform you about the personality of their dogs.
Golden Retriever vs. Irish Setter: Temperament
Golden Retrievers and Irish Setters are both very kind, loving, and sweet. You can count on having a lovely family dog join your family when you get a Golden Retriever or an Irish Setter. That being said, both of these breeds were created to be hunting dogs. This means that they can be very high energy and high drive as young animals and that they can need a lot of entertainment to be happy. As they age, they settle down quite a bit, but during the first three years of their lives, these dogs can be a lot of work.
You will want to be aware as well that the Irish Setter can be prone to digging and climbing over fences, particularly if they are not spayed or neutered. You will need to be sure that you keep either breed of dog busy and active and work on training and recall so that you can keep them at home if they want to stray. These dogs can be trained really easily as well, so you can teach them tricks, work on obedience training, or even just go running or biking with them to keep them busy with ease.
Golden Retriever vs Irish Setter: Life Expectancy
Golden Retrievers are likely to live for about 10-12 years. An Irish Setter can live for 12-15 years. These are breeds that are prone to cancers and hip and elbow dysplasia which can impact their ideal lifespan as well. You will need to be prepared for the chance that your dog might get a serious illness at a young age, particularly if you are not buying from a recognized breeder.
As big dogs go, this is a really long lifespan. You will not get this many years of time with other large breeds. You might expect about 9-10 years from most large breeds, so these added years are important if you are worried about this part of large dog ownership. Large dogs are always more likely to age quickly, and you will need to be sure that you are prepared for this part of large dog ownership. Choosing a dog from a skilled breeder is really important so that you do not have to deal with issues related to your dog's health.
Golden Retriever vs. Irish Setter: Energy Level
Golden Retrievers are not as high-energy as the Irish Setter, but both breeds will need to be kept busy to be happy. These are hunting dogs that were bred to be busy and active all the time. You will need to be sure that you are keeping your dog hard at work on training work or busy with fetching and other kinds of play. These dogs can get into trouble by digging to chewing on things if they are not kept busy as puppies, so you will want to be sure that you are ready to work with a dog that is high energy.
The energy level of these breeds can be hard for some new dog owners. Make sure that you are very prepared to be able to attend to your dog's energetic needs so that you and your dog can have a happy and healthy relationship. There are resources like dog trainers, dog parks, and doggy daycare as well that can help you and your dog to attend to their energy needs. This is often a source of joy for most owners of these dog breeds, so you should consider the time that you spend with your puppy time well-spent that might help you to get outside and get active. You never know what you have been missing out on when you get an energetic dog and learn some new fun skills and activities from spending time with them.
Golden Retriever vs. Irish Setter: Potential Health Risks
Golden Retrievers are prone to atopic dermatitis, hip and elbow dysplasia, hypothyroidism, cancer, and various smaller coat and skin health concerns like hot spots. Irish Setters are prone to hypothyroidism, hemophilia, OCD, epilepsy, and megaesophagus. You might also see conditions like panosteitis and cancer in this breed.
Both of these breeds should be purchased from really responsible breeders. You will be much less likely to have to worry about major health issues in your dog if you buy from a responsible breeder. This is one of the key ways that you can help to prevent major health problems with your pet.
Golden Retriever vs. Irish Setter: Shedding and Grooming Needs
Both of these dogs will need a lot of grooming. You will not be able to do much of the groomer yourself in most cases, either. People who own Golden Retrievers and Irish Setters will usually have a professional groomer work on their dog at least a few times a year. There are many skin issues that can come from not caring for these dogs' coats properly. You will need to be sure that you are ready to deal with this kind of coat and its needs.
Both Irish Setters and Golden Retrievers are grooming-intensive dogs. This is a big commitment to the care of your dog, and you need to be certain that you are ready for this work and expense when you pick one of these dogs to be your canine friend. You can do some of the groomers on your own, and engaging in regular brushing is necessary to make sure that your pet is comfortable and healthy every day.
You will need to be willing to do some regular maintenance for your dog with this kind of coat, or else you will need to be sure that your dog sees the groomer on a very regular basis.
Golden Retriever vs. Irish Setter: Trainability
Both of these breeds are easy to train because they are passionate about making their trainer happy. These dogs also have a long attention span and a high drive to learn and work on skills. These are dogs that are high energy, so training is a good outlet for all their energy. You will want to be sure to tap into the trainability of these breeds to keep them happy and sane.
The trainability of both of these breeds is legendary, and you will not have to struggle to teach either breed to do a whole host of fun things with you. Many people use these dogs for all kinds of different competitions besides showing, and you do not have to be a hunter to love working with these breeds. You might need to find lots of different ways to keep your dog busy, but you will have just as much fun with these new skills and activities as your dog will.
Golden Retriever vs. Irish Setter: Friendliness
These breeds are both friendly, happy, and loving. They love other people, usually, get along great with other dogs in the house, and are nice to smaller animals like cats. These are all-around family dogs that can be trusted to be willing to make the most of all of the challenges of life and come out happy and friendly. You will have no trouble with these dogs being rude to other animals at the dog park or being aggressive when off-leash.
Golden Retrievers and Irish Setters are both very popular breeds for family dogs for a good reason. You will find that they are among the first choices for most people with small kids and with other pets in the house that might not be easy to integrate with a big dog. There are other breeds that are great with children, like Labradors, but these dogs are sometimes not a great fit for families because of their high energy level and sometimes stubborn personalities.
Friendliness is one of the biggest benefits of making a choice for either of these breeds, but some people think this is offset by the high energy needs and intensive grooming needs of these two breeds. You will find that the love that these dogs can show your family is usually well worth the trade for some hair on the furniture and some hours spent exercising and entertaining a puppy.
Remember as well that you do not always have to get a dog that is a puppy and that there are older dogs that sometimes need to find homes as well. Many breeders will also be willing to train your dog for a set period of time before you come to get it, so you might want to select this option if you are worried about getting your puppy established in its training.
Golden Retriever vs. Irish Setter: Which one is right for you?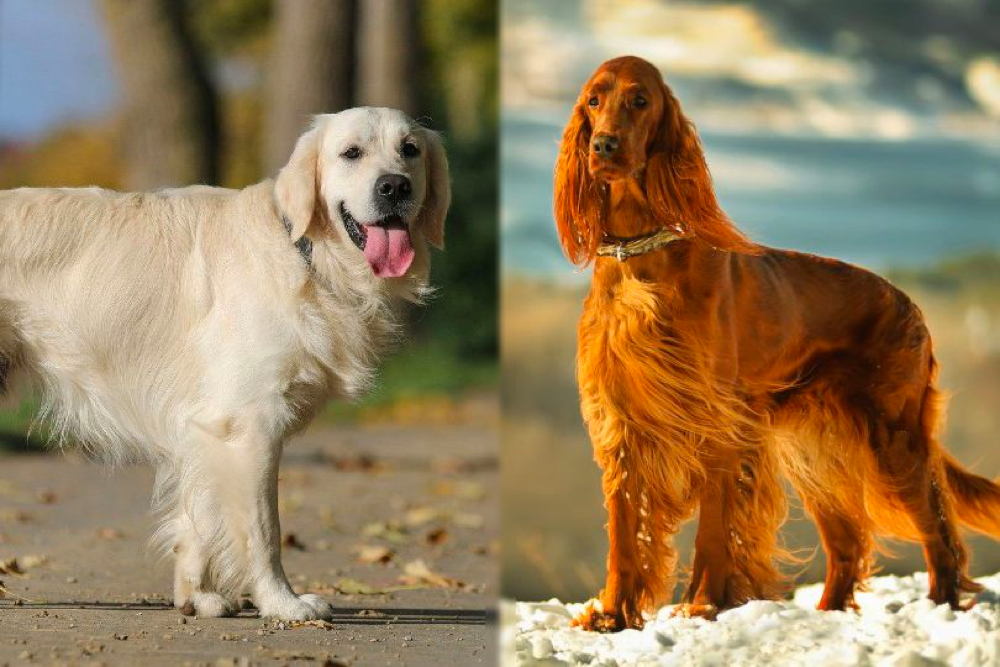 If you are trying to decide between the Golden Retriever breed and the Irish Setter breed, you will have all the facts that you need to help you to make this decision for your family in this guide. You will love both of these breeds for many of the same reasons, and you might just pick the right dog for you based on the appearance of the breed or the color of their coat. You could also choose the dog for you based on the higher drive of the Irish Setter.
There is nothing not to love about both of these breeds, and you will be making a great choice with either of these dog breeds. There are few breeds that are as ideal as these two breeds for families, and you will love either dog in most cases. The biggest difference will be the energy level of the two breeds and the color of their long and silky coats. You can expect a full, fun, and lovely life with both breeds, and this guide will help you to get paired up with the right dog for your unique needs.
Golden Retriever Vs. Other Breeds