Golden Retrievers are a gentle breed and if you get your Golden Retriever puppy in Minnesota, you'll see that this is an easily trainable pup due to its intelligence.
Your new puppy will be a loyal family member and love to hunt and be in the water. Golden Retriever breeders in Minnesota raise puppies that when grown are also used for the blind, deaf, police, search and rescue, and used as comfort dogs.
Golden Retriever breeders will provide you with a beautiful puppy, easy to potty train, and will be active with lots of energy.
Find a reputable Golden Retriever breeder in Minnesota, such as the ones reviewed here. Your puppy should have undergone a thorough health assessment so that you know when you buy your puppy, he or she is happy and healthy. Be sure to check the breeder's business reputation, character, health guarantees for the puppies, and genetic testing.
Top 8 Most Reputable Golden Retriever Breeders in Minnesota
*American Kennel Club® (AKC®) Limited Registration means that the dog is registered but no litters produced by that dog are eligible for registration. Read more about the AKC® here.
1. Sharptail Ridge Golden Retrievers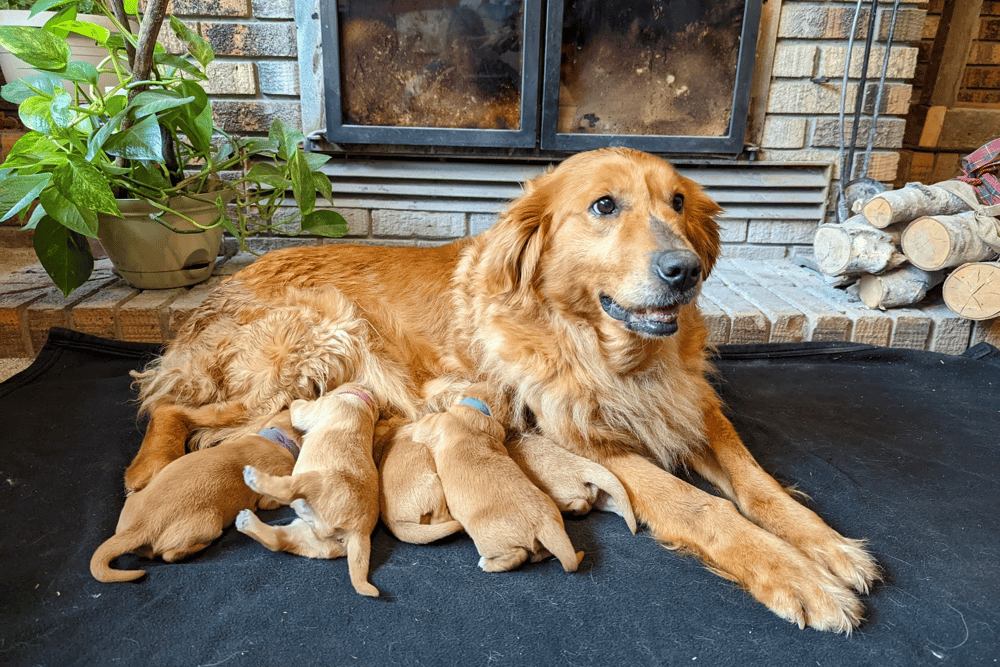 This is a family-owned business of 7 people, located in Northwest Thief River Falls, Minnesota. Everyone has a role in the business with customer contact, and of course, the 'dirty' work! Raising, training, and boarding puppies and dogs is a pastime for this family. They get to revel and delight in their Goldens and have adventurous hunts with them.
With the kids now in their 20s and some still teenagers, they have competed in dog shows, and have won several awards at the county fair.
The Sharptail Ridge pups are socialized with kids, adults, noise, textures, water, animals, and more.
Hunting is one of a dog's natural instincts. The dogs are terrific birders bringing ducks back gently in their mouths to one of the family hunting the birds.
Having gone into dog therapy, two of their dogs are certified for nursing home visits along with visiting college campuses.
Their puppies and dogs have exceptional care, checkups at the veterinarian, health certificates, and spend lots of time with others.
Several of this family's dogs originated from and are descendants of field champion dogs. Offering training for your dog to develop obedience and hunting skills will prepare your dog to be a field ready on those duck hunting days. Inquire about this service at their website.
When your puppy goes home with you, he or she will have been checked by the family's vet; dewormed 2 times; given its first set of vaccinations; be microchipped; have dewclaws removed, and be crate trained.
You will also be given comprehensive information and documentation of the vet's records and health warranty.
Additionally, a nice item is a puppy cloth with the mother's scent that might make your puppy happy or homesick for her, Life's Abundance® Puppy food, a training packet, and information about the microchip your puppy has.
You will also receive a *Limited AKC® Registration packet.
2. Goldfeather Run/Center for Canines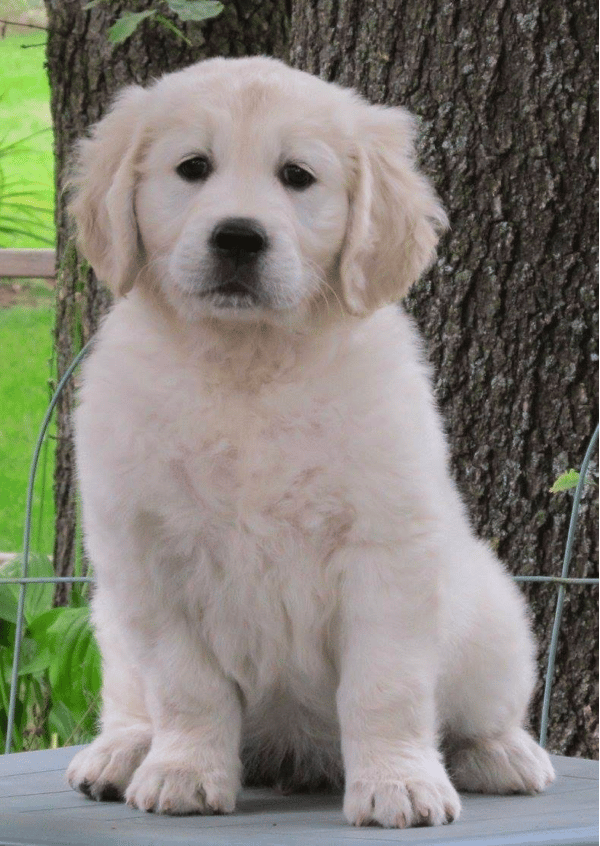 Goldfeather Run/Center for Canines is an AKC® Breeder of Merit utilizing the utmost lines of Golden Retrievers globally. They focus on producing the best puppies that are not only healthy but are fine-looking, easy to teach and train to be birdy, comply with the breed standard, and live a long life. Eliminating cancer from these glorious dogs is their goal now along with eradicating genetic disease with the availability of new testing technology.
Currently, their dogs' conformation champion titles are through the German-based International All Breed Canine Association, (IABCA).
All of their breeding dogs are tested for PRA, PRA 1, PRA 2, Degenerative Myelopathy, NCL, and ichthyosis by the use of DNA.
Their Goldens are from cream to light honey in color. Concentrating on the Golden's home environment and the food they eat is an important consideration for the breeder and the owner of these dogs.
Goldfeather Run is available to answer your questions and concerns after you take your puppy to its forever home.
3. Ottertail Golden Retrievers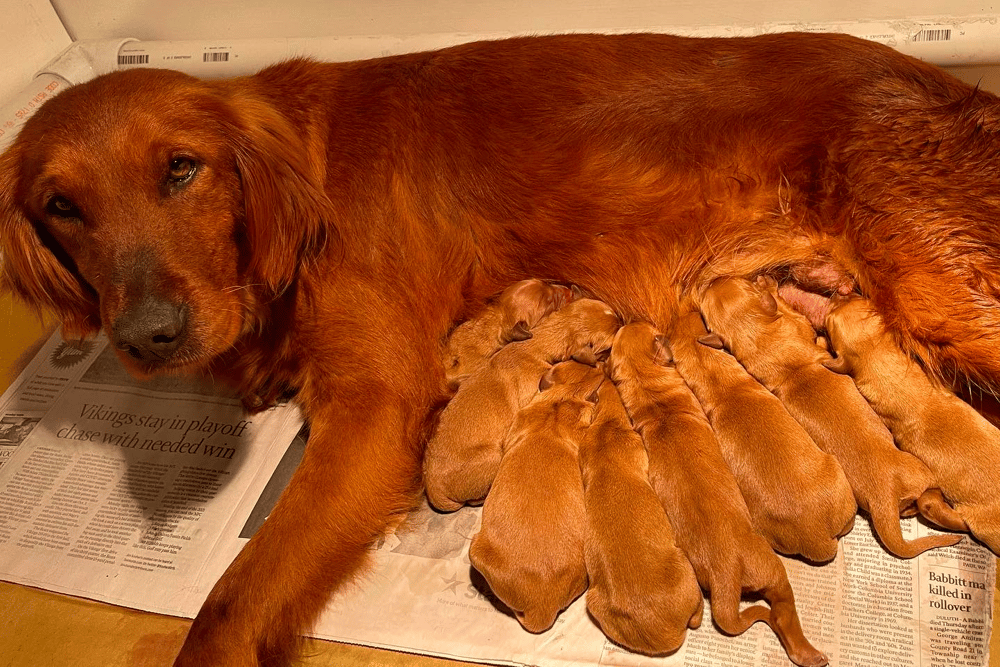 Ottertail Retriever kennels are situated in Central Minnesota near Battle Lake, about 30 miles north of Alexandria on 33 acres with a pond covering 8 acres. This family-owned breeder loves to raise Retrievers, so take a look at their AKC® Golden Retrievers and AKC® Fox Red Labrador Retrievers at their website. Gorgeous!
Your puppy will be AKC® Registered and go to your forever home with a 26-month health guarantee. All puppies are dewormed with their first vaccination when they are 6 weeks old.
Reserve your new beautiful puppy with a modest deposit and take him or her home at 8 weeks of age.
All of their breeding dogs are tested for PRA, PRA 1, PRA 2, Degenerative myelopathy, NCL, and ichthyosis by the use of DNA.
4. Old Oak Retrievers and Kennel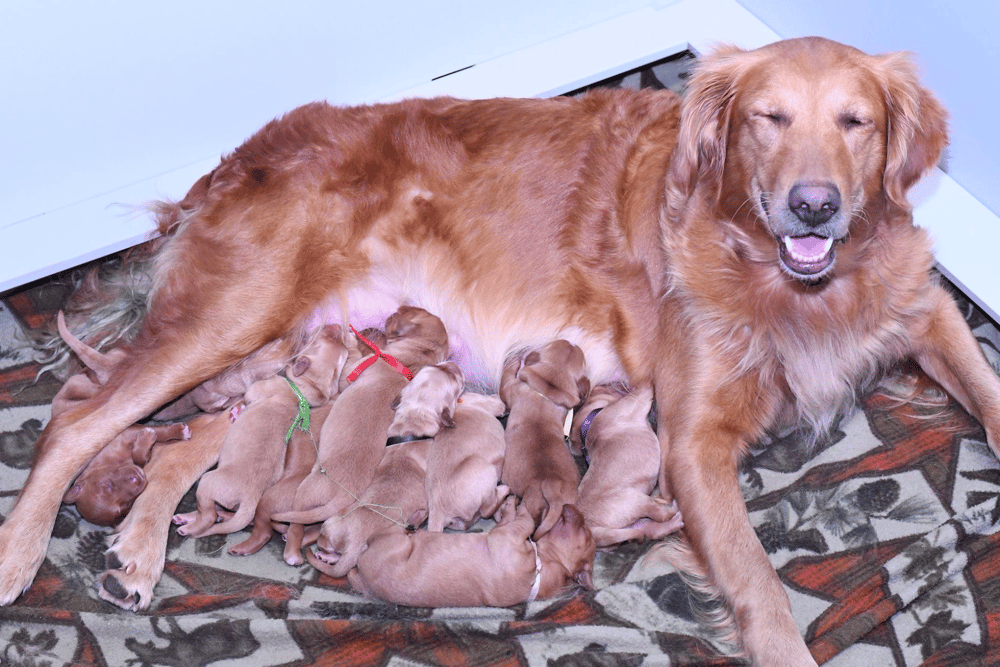 Old Oak Retrievers raise and breed Champion British Labradors and Golden Retrievers and are located in Southern Minnesota.
These folks have a multiplicity of talents offering training for young dogs, including hunting dog training from across the U.S.
Available for breeding is their highest titled British Lab Field Trial Champion Studs.
You know that your puppy will have been well cared for after all the running in and outdoors. The runs indoors are air-conditioned and heated for the cold Minnesota winters where the family lives on site.
Rick, an avid hunter all his life, understands the distinctive need for training British Labs, Labrador Retrievers, and Golden Retrievers. And, Rick has Master Hunter titles along with International Field Trial Champions. Just ask Rick when you need good pedigrees and his savvy breeding these dogs.
Curious about their training? Explore videos here.
If you need a pet sitter, this is the place to go.
Old Oak Retrievers and Kennel Contact Details
Owner
Rick McConico, Head Trainer
Breeder Since
1992
Address
15647- 29th Ave. SE, Blooming Prairie, Minnesota 55917 USA
AKC® Registered
Yes
Email

[email protected]

Phone Number
(507) 572-1234
Website
oldoakretrievers.com
Facebook
Old Oak Retrievers
5. River Birch Goldens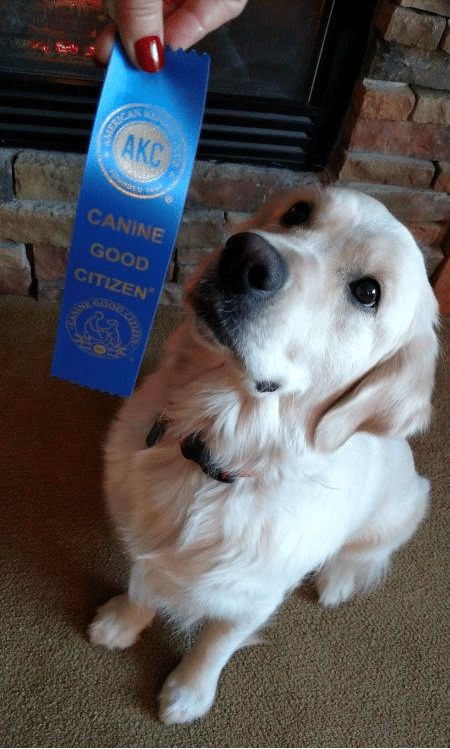 As a small family-owned English Golden Retriever breeder, raising healthy puppies and the Golden quality of temperament, the Pritchard family has had Goldens most of their lives and Brenda decided one day that she wanted to breed them.
Females, Kona and Meg, and the studs used have had regular, complete examinations for their health including hips and elbows OFA certified at age 2. Their eyes are certified by an ophthalmologist yearly, and their heart is also certified by a cardiologist yearly. The pups are DNA genetic tested after being born.
The puppies have been socialized and won't be a scaredy-cat around other people, kids, noise, textures, water, dogs, and the like.
Their dogs have been in many obedience classes and both Kona and Meg have succeeded in their Canine Good Citizen sessions. Through Therapy Dogs International (TDI), Meg is now certified to be a therapy dog. Congrats Meg!
Family is everything and these puppies and dogs are family members. Pet sitting is available if you cannot be home for some time.
6. Wildfire Goldens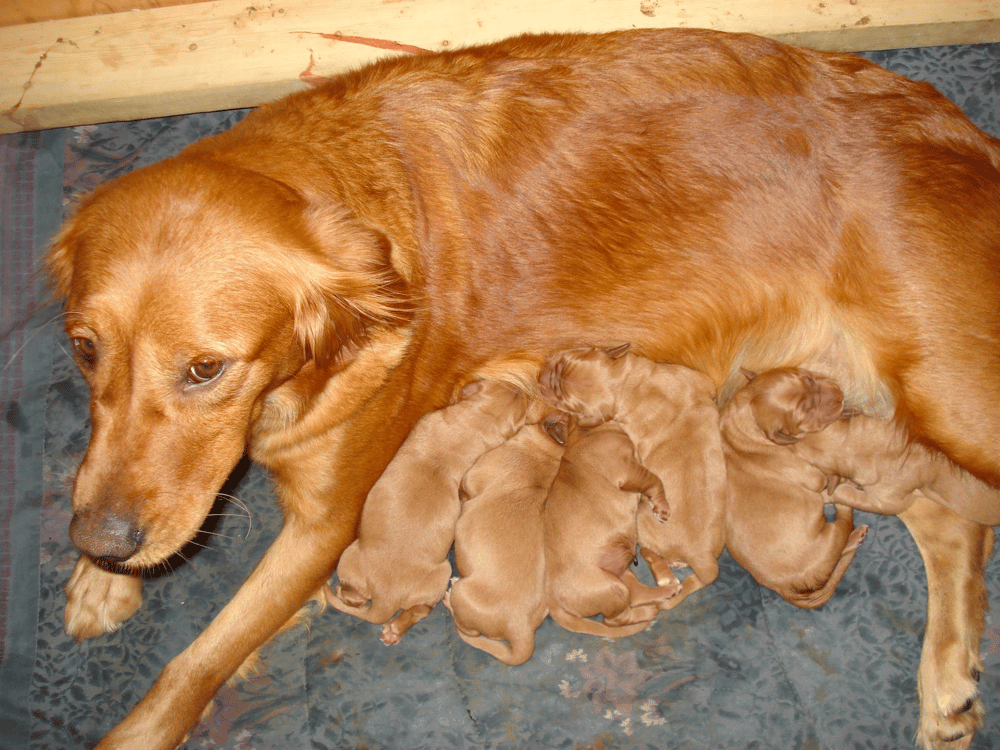 The Wildfire Goldens kennels are situated in a scenic area having a view over a small lake that is regarded as a resting spot for migrating and local waterfowl near the Department of Natural Resources (DNR).
The puppies are bred, loved, and raised in-home. They have been around people, animals, kids, noises, water, and other everyday situations to be very social. Your puppy will have had its dewclaws removed, dewormed, and have been checked by their veterinarian with the puppy's first shots at the appropriate age.
For the most part, Wildfire Goldens breed field Goldens as hunting dogs. They have bred many AKC® Master Hunters with other awards as well.
The males and females used for breeding have had regular, complete examinations for their health including hips and elbows OFA certified. Their eyes are certified by an ophthalmologist yearly, and their heart is also certified by a cardiologist yearly. The pups are DNA genetic tested after being born.
For the past 17 years, Roselyn has participated in the judging and running field trials with Goldens.
Wildfire Goldens Contact Details
Owner
Roselyn 'Roz' Wilson
Breeder Since
1982
Address
33469-137th Lane Montgomery, Minnesota 56069 USA
AKC® Registered
*Yes, Limited Registration
Email

[email protected]

Phone Number
(952) 540-7901
Website
wildfiregoldens.com
Facebook
Wildfire Goldens
7. Havana Golden Retrievers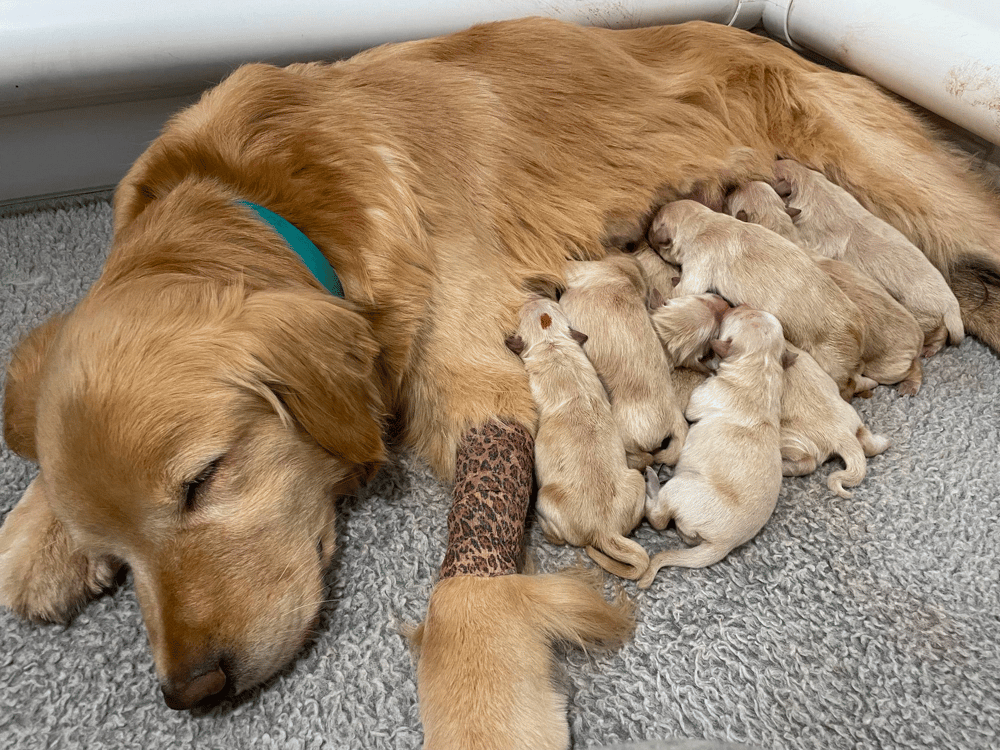 Havana Goldens is a small kennel located about 65 miles south of Minneapolis on a 6-acre hobby farm. Having a total of 4 dogs, they breed to raise loving family members for a single person or folks with kids.
Their puppies and dogs are well-loved and a part of their family too. Their breeding dogs have OFA clearances and are examined on a regular basis by their veterinarian.
When you get your puppy, he or she will have a 24-month health guarantee and all puppies will have been dewormed, first age-appropriate set of vaccinations, and be examined by their veterinarian.
All of the puppies will have been started with crate and potty training. They will be socialized with textures, surfaces, noises, water, other people and kids, and animals and live in their home. They will be the typical hallmark of Goldens by being devoted, intelligent, and friendly.
Have your puppy be what you want it to be—a sports dog, used for therapy, hunting, or simply a family member for its lifetime.
8. Ramblin' Gypsy Ranch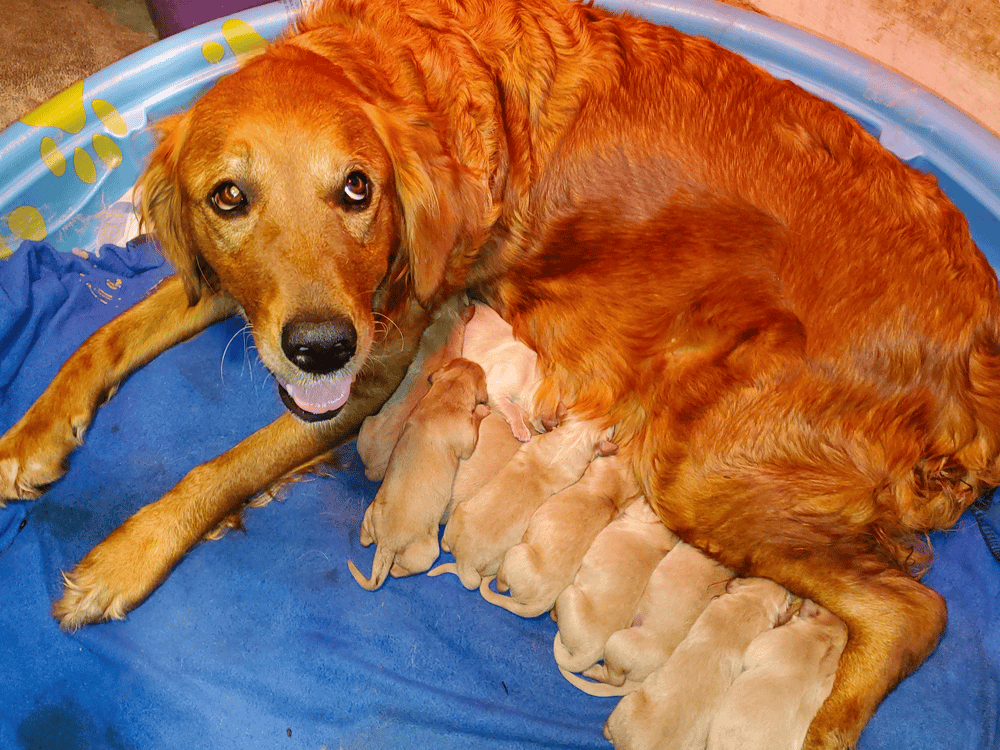 Ramblin' Gypsy Ranch LLC, located about 50 miles south of Minneapolis, breeds and raises AKC® Golden Retrievers, and accomplishes horse training and breeding, and beef steer sales—a diverse assortment of talents indeed!
All of their Goldens can be AKC® Registered. They have been dewormed many times, microchipped, and have had vaccinations appropriate for their age. The pups and dogs are well socialized being around other dogs, cats, horses, cattle, noises, surface textures, water, people, and kids.
For added protection and safety concerns, their breeding males and females are tested and cleared being negative for Brucellosis before every breeding. Their dogs are fully vaccinated for Rabies; DHPP; Leptospirosis as well as Lyme; and kept on heartworm meds, and internal parasites to include flea and tick preventatives over an entire year. Their dogs are all kept at peak health with great support from their qualified, local, professional veterinarians.
A number of their puppies have gone on to be service dogs including helpers for those with disabilities, veterans, great hunters, and devoted companions.
With your puppy, you will go home with puppy packs to include AKC® paperwork, AKC®-issued pedigrees, veterinarian records, medical, training, records, and ID documents. And, you will receive Diamond® brand puppy food, treats, toys, tags, and a blanket.
My Picks
We don't choose specific pet breeders; we only write about the best breeders we think will be good for you to choose from for your new puppy in your state. The hallmark Goldens are absolutely the best dogs! The dogs discussed here are not rescued dogs; they are puppies exclusively from breeders.
Golden Retrievers are loyal, lovable, and make great pets for a growing family or a family of one. To make sure you are getting the perfect puppy, do your research for which breeder best suits you. They should be AKC® registered as well as health tested before breeding.
Of all the breeders shown here, I think Ramblin' Gypsy Ranch is the ideal breeder to contact first. They breed quality dogs that will produce quality puppies. To find the best breeder, reach out to any of them listed here and see if they answer all of your questions. You can also message previous buyers and see what the process was for them. Check breeders out on Facebook and other social media for what people are saying.
Golden Retriever Breeders in The Other States Near Minnesota
Golden Retriever Resources and Tips
Other Dog breeds: