Golden retrievers are so active and sociable that they love to follow you anywhere, indoors and out. If you take your golden retriever out for walks, you need to get your pooch a good, sturdy harness. Collars are great for style and for keeping ID tags on your dog, but they shouldn't be attached to a leash for a walk. Instead, you'll need a harness to keep your dog secure and comfortable. Anywhere you need a leash, you also need a harness.
Harnesses can provide other benefits, too, including support for lifting and carrying. We'll break down why you need a harness and then include our reviews for the best harnesses for golden retrievers for a number of different situations. Then we'll take you through how to fit your golden retriever for a harness and answer some frequently asked questions. We're confident you can find the right harness for your dog.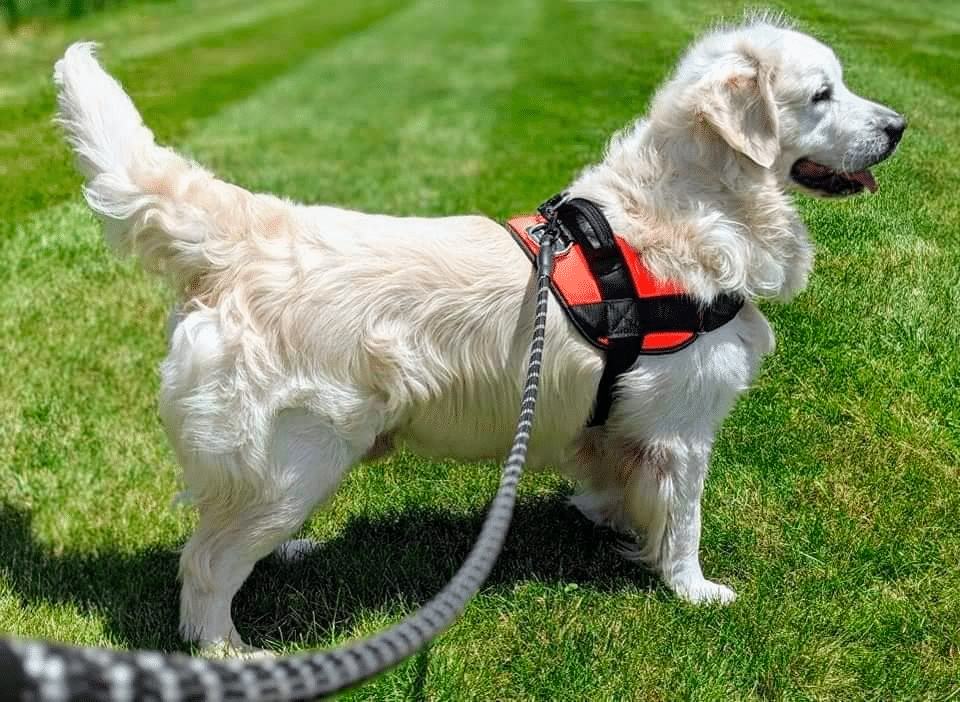 | | | |
| --- | --- | --- |
| Products | Best for | Descriptions |
| Ruffwear Front Range Dog Harness | Best overall | The best combination of value, function, and style, this harness is tough enough for regular use but light enough for comfort. |
| PoyPet No Pull Dog Harness | Best for golden retriever puppies | With maximum adjustability, this harness can grow as your puppy does. |
| PetSafe Easy Walk Deluxe Harness | Most lightweight | This harness has only two lightweight straps, protecting your dog's throat without trapping body heat. |
| EzyDog Quick Fit Adjustable Dog Harness | Easiest on/off | This harness keeps its shape even when not on your dog, making it the easiest to put on and take off. |
| Barkbay Reflective Harness | Most fashionable | Available in multiple colors and patterns, you can customize this harness to your dog's personality. |
| PetSafe 3-in-1 Dog Harness | Best no-pull harness | Designed specifically to discourage pulling, this simple harness also offers maximum adjustability. |
| Doggie Stylz Full Body Lifting Harness | Best lifting harness | With a detachable vest and two lifting handles, this harness provides the most stability for safely picking up your goldie. |
| Ruffwear Doubleback Dog Harness | Best outdoor adventure harness | For hiking and even rock climbing, this heavy-duty harness makes it easy and comfortable to keep your dog by your side. |
| Puppia Soft Dog Harness | Best budget pick | This soft, padded harness does everything you need it to for a very low price. |
| Ruffwear Flagline Dog Harness | Best luxury pick | Lightweight yet highly durable, this high-end harness gets high marks for its versatility and adjustability. |
Harness vs. Collar: Which is Better for Golden Retrievers?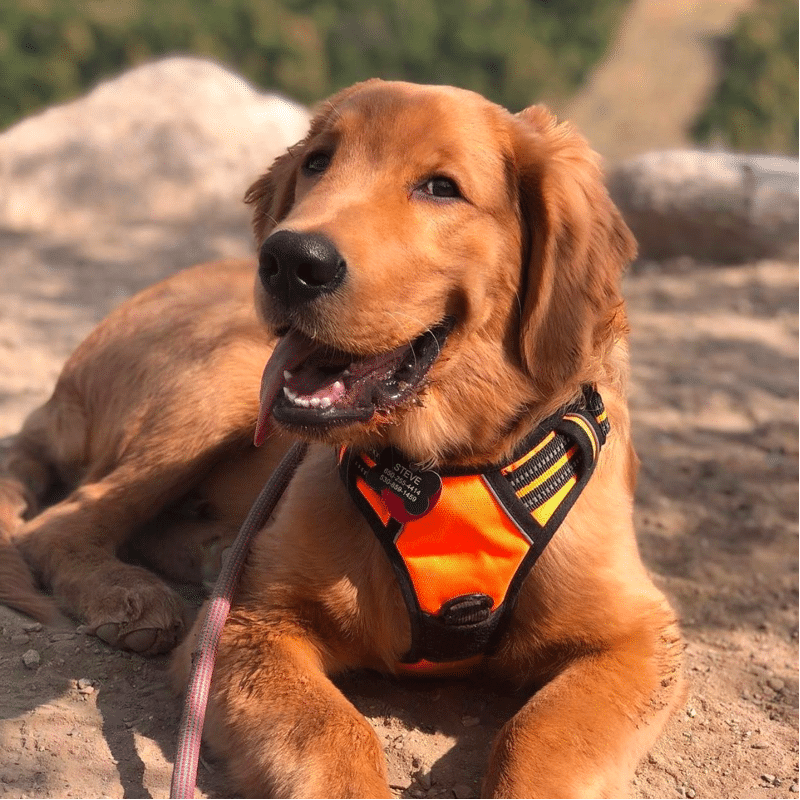 Most dog collars come with a heavy-duty steel ring to which you can clip a leash. However, that doesn't mean it's a good idea to use the collar this way. While it might be okay for very short on-leash trips in your yard, you really need a harness for taking your golden retriever on walks. Goldens are friendly, outgoing, and energetic dogs, which means many of them are leash-pullers. If that leash is connected to their collar, all the force of that pull is directed onto their necks and throats.
Sadly, this can cause substantial physical damage to your dog, especially over time. Although golden retrievers are fairly robust dogs, they can also pull quite hard, potentially forcing the collar to put pressure on their trachea. This can cause a fractured hyoid bone, breathing problems, and more. Instead, you should invest in a harness for your golden retriever. They aren't necessarily expensive, and while they take an extra minute to put on before a walk, they're more comfortable for your dog to wear, since they spread any pressure out over the dog's chest and shoulders.
Golden retrievers are strong dogs, so if you're concerned about pulling, you can get a harness with a leash clip in the front, over the dog's chest. That means any pulling force they exert will be redirected to the side. Most harnesses don't require you to remove your dog's collar, either, so all their tags can stay right where they are. You'll just protect your dog's health by keeping pressure off their throat.
Top 10 Best Harnesses for Golden Retrievers
At 55-75 pounds, golden retrievers are large, active dogs who need harnesses that fit their size and lifestyle. Here are our picks for the top ten best harnesses for your golden retriever.
1. Ruffwear Front Range Dog Harness
You'll notice that the Ruffwear brand makes several appearances on our list, and that's no accident. Although its products aren't the cheapest, they're reasonably priced considering how long they last. Even the Ruffwear Front Range, the company's least expensive harness, is made to last for years. Its reinforced webbing and reflective stitching will help keep your dog safe, and its foam-padded straps and buckles ensure maximum comfort.
You can attach a leash to either the back or chest, and there are four points of adjustment for the best fit. There's even a pocket where you can store your dog's ID and tags. Although it's not perfect for every situation – for example, the foam padding can hold in body heat, which isn't ideal in hot weather – we find that it's the best harness for the widest variety of conditions. You'll even have your pick of colors.
Pros
Great balance of value and quality
Both durable and comfortable
Available in 10 colors
Cons
A bit higher in price than some harnesses
Padded straps may be uncomfortable in hot weather
2. PoyPet No Pull Dog Harness
Any harness you buy for a puppy needs to be able to grow as they do. It should also be relatively inexpensive since no matter how adjustable it is, you'll likely need to buy a new size as your puppy gets bigger. Thus, the PoyPet No Pull Dog Harness is ideal for golden retriever puppies. It comes in sizes from XS to XL and boasts multiple points of adjustment. There are leash attachment points on both the top and front to discourage pulling, and there's a neoprene handle for picking your puppy up.
The padded mesh body of the harness is both flexible and comfortable, and the buckles are lockable to ensure your puppy can't pop out once strapped in. It's easy to put on, remove, and adjust for a snug fit. It's not the most durable harness out there, but if you'll be replacing it every few months as your dog grows, that may not matter.
Pros
Highly adjustable for growing puppies
Lockable buckles for extra security
Available in 25 color combinations
Cons
It May not be durable enough for an active adult dog
Some reported customer service difficulties with returns
3. PetSafe Easy Walk Deluxe Harness
If you live in a hot climate or if your golden retriever simply doesn't like bulkier harnesses, the PetSafe Easy Walk Deluxe provides the essentials of a no-pull harness without extra material. It consists of two lightweight nylon straps: one that goes around your dog's torso, and another that sits across the front of their chest. You clip the leash to a D-ring that sits on your dog's chest, keeping them from pulling on the leash as you walk.
This minimalist harness won't trap body heat as you go for your walk, and while its straps aren't padded, they are lightweight and comfortable. Because of the somewhat unique Martingale Loop design and the flexible straps, there can be a bit of a learning curve when it comes to putting the harness on, particularly if your golden retriever doesn't like to sit still. However, once you get used to it, the simple design works well
Pros
No extra padding or bulk
Easy to fit your dog
Chest leash attachment prevents pulling
Cons
No leash attachment on the back
Can be difficult to put on at first
4. EzyDog Quick Fit Adjustable Dog Harness
In contrast to the Easy Walk's flexible straps, the EzyDog Quick Fit Adjustable Harness has a more rigid design in the chest strap. This makes it slightly less adjustable, but once you find the right fit for your dog, it's the easiest harness on our list to put on and take off. That's because it retains its shape when it's not on your dog, so you won't be fumbling with a spaghetti-like tangle of straps every time you take your golden retriever for a walk.
This is another relatively lightweight harness, though the chest strap does have some neoprene padding for extra comfort. The leash attachment sits on your dog's back, so while it's not a true no-pull harness, it will protect your dog's throat by redistributing pulling force across their chest. The material of the harness is water-resistant, and the stitching is reflective for safety in low lighting conditions. It's even available in a variety of colors, though not all colors are available for the size that is likely to fit an adult golden retriever.
Pros
The rigid design makes for easy on/off
Padded chest strap
Durable construction
Cons
Not a good fit for some broad-chested dogs
Not all sizes are available in all colors
5. BARKBAY Dog Harness
Available in 13 different colors and patterns, the BARKBAY No-Pull Dog Harness is sure to offer a look that fits your style and your dog's personality. The body of the harness is made from breathable mesh, and the straps are rip-resistant nylon to contain even the strongest leash pullers. Fortunately, there is a leash clip on the chest as well as the back to discourage your golden from pulling, though the leash clips might not be strong enough for the strongest pullers.
The BARKBAY harness is reasonably priced, and many customers report it's a high-quality product considering the price point. It can be machine washed, but you'll get better results from hand washing. The four adjustment points ensure plenty of adjustability for the best possible fit, and the sturdy nylon straps sport reflective stitching.
Pros
Many patterns and colors to choose from
Washable
Padded for comfort
Cons
Leash attachment points are not as sturdy as on some other harnesses
May trap body heat in hotter weather
6. PetSafe 3-in-1 Dog Harness
If your golden retriever is a problem puller, a simple front leash attachment clip might not be enough to discourage them. The PetSafe 3-in-1 Dog Harness is similar to the company's Easy Walk harness in that it's got a reinforced chest strap with a built-in D-ring. This is called a Martingale Loop design and discourages pulling by redirecting the force of the pull to the side. However, the 3-in-1 also offers a leach attachment point on the back if you want it. The control handle on the back can double as a seatbelt loop, making this a car-safe harness as well.
There are five adjustment points on the harness to help you get the best fit, and the lightly padded straps can ensure comfort and reduce chafing. As with the Easy Walk, it can be difficult to put on your dog at first, but it's cool enough to wear even in the hottest weather. PetSafe even makes a two-point control leash that clips to both the chest and back rings, though this is sold separately.
Pros
Designed by experts to reduce pulling
Comfortable even in hot weather
Control handle/seatbelt loop for car safety
Cons
Can be difficult to put on at first
Can chafe if not properly fitted
7. Doggie Stylz Full Body Lifting Harness
Going on walks isn't the only reason why a golden retriever might need a harness. As dogs get older, they can have difficulty running, jumping, and doing other things they once enjoyed, and you might need to give them a hand. Golden retrievers are large dogs, so if you're going to be regularly lifting your furry friend, you need a harness that gives them the support you both need. Doggie Stylz Multifunctional Full-Body Harness has two parts: one to support your dog's chest and the other to support their hips.
There's a handle on each part for two-handed lifting. The parts of the harness are also separate, so you can use the vest as a regular walking harness. Similarly, if your dog has hind leg problems including hip dysplasia, you can support only their rear end with the hip harness. Customers report that the wide straps are durable and the harness is easy to clean. Because of the number of straps, putting it on and adjusting it can take some work, but once you've got it figured out, it's easy to use.
Pros
Full-body harness for two-handed lifting
Front and back can be used separately
Sturdy and durable
Cons
A little complicated to put on
Some customers reported difficulty with fit
8. Ruffwear Doubleback Dog Harness
Golden retrievers are ideal companion dogs when it comes to outdoor activities like hiking, rock climbing, and rappelling. If you're an avid adventurer and want to bring your goldie along with you, you need a harness that can keep up. The Ruffwear Doubleback Dog Harness is a full-body belay harness complete with a lifting handle and leg loops to help you carry your dog over terrain they can't traverse on their own. The lifting handle even doubles as a tie-point for climbing ropes to help you hoist your dog up steep terrain.
There are seven points of adjustment for the best possible fit and a padded belly strap for maximum comfort. The straps distribute your dog's weight across the length of the harness so they don't experience uncomfortable pressure when lifted. The leg loops can be retracted and tucked away so the rest can be used as a regular harness, but be aware that the substantial surface area of the harness may trap body heat. Because this harness is so specially designed, it's substantially more expensive than other models, and it's more than you need for everyday walks. However, if you want to bring your dog with you through the great outdoors, this is the harness you need.
Pros
Heavy-duty harness for extreme sports
Strength-rated to 2,000 lbs.
Comfortable for movement and lifting
Cons
Very expensive
Maybe too bulky for everyday use
9. Puppia Soft Dog Harness
If you're a dog owner on a budget or you want a low-cost harness to keep in the car or take on trips, the Puppia Soft Dog Harness is a great choice. It's low on the bells and whistles – for example, there's only one leash attachment point and one point of adjustment – but it's inexpensive and will serve the purpose of keeping pressure off your dog's throat. You simply slip it over your dog's head and fit the buckled strap around their chest.
The polyester vest and straps are machine washable, though the company recommends hand washing and air drying. Because there's only a single adjustable strap, it's easy to put on and easy to adjust. Please note that some customers say sizing runs small and is inaccurate to the online chart – an adult golden retriever will almost certainly need a size XXL.
Pros
Very inexpensive
Easy to put on and take off
Available in 15 colors
Cons
Not as sturdy or durable
Some customers report online sizing chart is inaccurate
10. Ruffwear Flagline Dog Harness
If you've got a little extra to spend on a golden retriever harness, consider the Ruffwear Flagline Dog Harness. This full-body harness boasts three leash attachment points – one on the chest and two on the back – and a reinforced lifting handle. With six points of adjustment, you can ensure a good fit that can adjust as your dog ages. Although it's sturdy enough for hiking and rock climbing, it's lightweight enough for everyday use, and it's so well-made that it should last for years.
Although this is a more expensive harness, it's manufactured by a trustworthy brand and made of high-quality materials. Even if you don't need the extra support for lifting, one added benefit is that this harness is nearly escape-proof. It is extremely difficult if not impossible for your golden retriever to wiggle out of. This can give you added peace of mind, and the front clip makes it a no-pull harness. Overall, customers tend to say it's well worth the extra money.
Pros
Extremely adjustable for a great fit
Sturdy and supportive enough for lifting
Lightweight for everyday wear
Cons
Pricey
Only comes in three colors
What to Consider When Choosing a Harness
With so many different types of harnesses, it can be difficult to know which one is best for your particular golden retriever. Here are some questions to ask yourself.
What will I use this harness for?
This is perhaps the most important question, as it can help determine what features you need and how much money you'll need to spend. If you're like most dog owners, you take your dog out for a moderately-paced walk once or twice a day. If this is the case, you probably don't need a harness designed for taking your dog rock climbing. A simple, lightweight, durable harness is probably enough.
However, if you're going to be taking your dog out for more intense activities or in inclement weather, make sure you take that into account. Additionally, if you anticipate needing to lift your dog while they're in the harness, make sure you get one designed for this purpose. A lifting harness can make your life much easier, particularly with a large dog like a golden retriever.
Is my golden retriever a leash puller? Are they escape artists?
If your dog is a leash puller, you need a harness with an attachment point on the chest. And if your dog is a particularly strong leash puller, make sure you get a more sturdy harness that's less likely to rotate while they're wearing it. Soft, padded harnesses may be comfortable, but they can twist around when your dog pulls, making them less effective.
If your dog is an escape artist, you may need a harness with an additional strap or one that can be adjusted for a closer fit. You need something they can't wiggle out of without it being too tight or too bulky. You may also need one that's easier to put on and take off if they don't like to sit still.
Is overheating a concern?
If you live in a cold-weather climate or have a dog with short fur, the thought of overheating may not come into the picture. However, golden retrievers tend to have long, thick fur, and while they're not overly sensitive to heat, they're not terribly well suited for it either. If you're going to be outdoors in the heat for a while, make sure your dog has access to water and look for a harness that doesn't trap body heat. You'll usually want something with less padding and more breathable mesh.
What is my budget?
You'll notice a wide variety of price points when it comes to dog harnesses. Of course, you can pick a cheap one if you need to, but it may not last very long. Be sure to balance price against durability, particularly if your dog is a leash puller or you need the harness for lifting.
How to Measure a Dog's Neck & Chest for a Harness
Most harnesses aren't sized by breed or weight but by neck and chest measurements. Even if your golden retriever is purebred, you'll need to measure them to get the best fit. Taking these measurements is usually fairly simple as long as you've got a tape measure. However, you may need a human assistant if you have a particularly wiggly dog.
For the chest circumference, loop the tape measure around the widest part of your dog's chest. This is usually right behind your dog's "armpits" (their front legs).
For the neck circumference, loop the tape measure around the widest part of your golden retriever's neck, down by the shoulders. This will be a bit lower than wear a collar would sit.
Make sure the tape measure is snug but not tight when taking your measurements.
Most companies will include a sizing chart telling you how to match measurements to sizes. The actual harness will typically be an inch or two larger than the measurement to allow some slack. Keep in mind that if your dog falls between sizes, you'll want to opt for the larger size.
Frequently Asked Questions
Do I need a harness just for going on walks?
Even if you and your golden retriever aren't engaging in strenuous activities like hiking or backpacking, you do need a harness for walks. It doesn't need to be a fancy or expensive harness, but a collar alone just isn't sufficient. Even if your dog doesn't typically pull on the leash, they can sometimes lunge. Golden retrievers in particular are so friendly that they may lunge after another dog to say hello, and this puts strain on their throat. It's worth it to protect your dog's health by investing in a harness.
What is a no-pull harness?
Many harnesses advertise as "no-pull," but not all of them are. Simply putting the leash attachment point on the back of the harness can actually allow the dog to pull harder, although it does take the pressure off their throats. In order to actually discourage pulling, the harness needs to have some mechanism that keeps the dog from lunging forward. Usually, this takes the form of an attachment point on the chest, which will redirect the force of the dog's pull.
Can a walking harness double as a seatbelt harness for the car?
Some walking harnesses can. Usually, these are models that have a large lifting or control strap on the dog's back, like the PetSafe 3-in-1 or the Ruffwear Flagline. If a particular harness is safe to be used with a seatbelt, the packaging or marketing materials will usually state this. If not, don't attempt to use it with a seatbelt.
Conclusion
You have plenty of choices when it comes to choosing a harness for your golden retriever. Make sure you choose one appropriate to your lifestyle, the local climate, and your budget. Take measurements before picking a size, and always follow the manufacturer's instructions when it comes to adjusting the harness for a proper fit. A poorly fitted harness can cause chafing and discomfort, so make sure you adjust it properly. Your dog should get many years of use out of a good, well-made harness.