Everyone knows what a Golden Retriever is and how lovable they are. According to the AKC, they are the third most popular dog breed in the USA! Besides the obvious golden color of a Golden Retriever, they also come in dark golden, cream, lightly golden, and red. They are full of energy and make the best companions especially if you love the outdoors and have an active lifestyle. Since they are Retrievers, naturally they love the water so bring them to lakes and oceans for a nice swim! They are expected to live from 10-12 years old which means plenty of time for love and cuddles. Males and females will also have some distinct characteristic traits, if interested in the difference, check this article.
To bring home the perfect Golden Retrieve means that you need the perfect breeder. It is important to find a breeder who focuses on the health, longevity, and temperament of their dogs. The Golden Retriever puppies should also be well socialized before going to their forever home and be screened for genetic hereditary problems including hip and elbow problems. Make sure their Goldens are also AKC registered as well!
1. Windmill Farms Golden Retrievers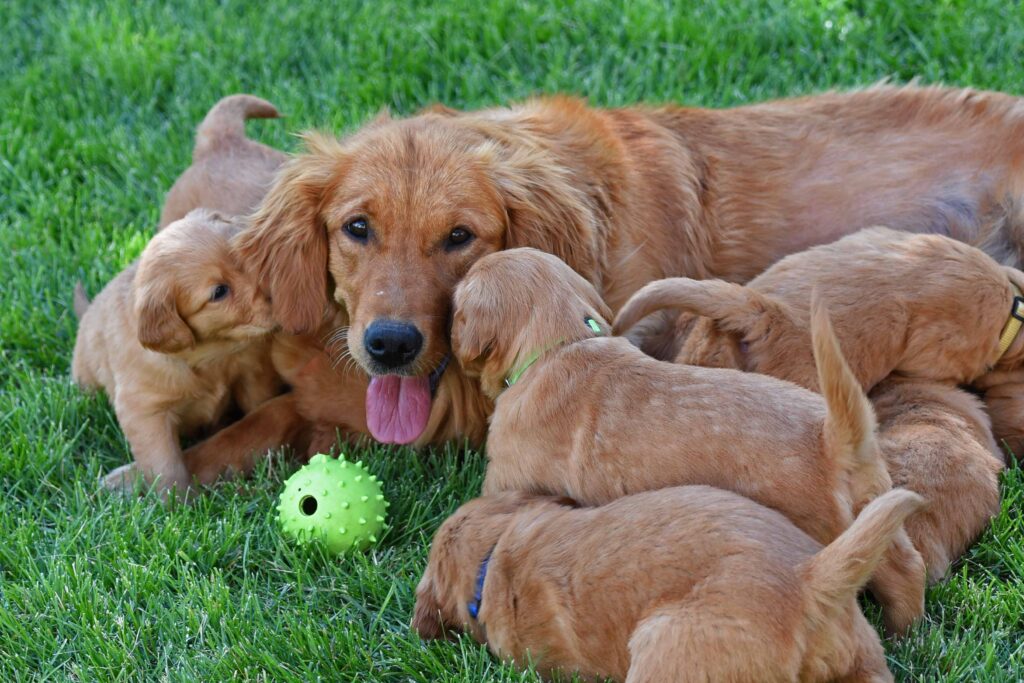 Their Golden Retrievers are bred to be the best of the best. Many of their dogs are trained to hunt and train on their 800-acre farmlands. Their program is versatile and produces a healthy and optimal Golden Retriever. All their dogs are AKC registered and on their website, there is a tab that if you click on it, will provide you with the dams and sires information pertaining to overall health and genetics. They take the quality of life of their Goldens very seriously and will only be giving their Goldens away to the right people.
All puppies will be sold with limited AKC registration and with WM Farms kennel name requirement for tracking purposes. A thorough 6-week exam and first vaccines will be conducted before you receive your puppy.
There is a lot of information on their website from their training programs to how they started this business. I suggest contacting them directly for more detail as they are extremely professional and care about their dogs.
2. Southern Utah Goldens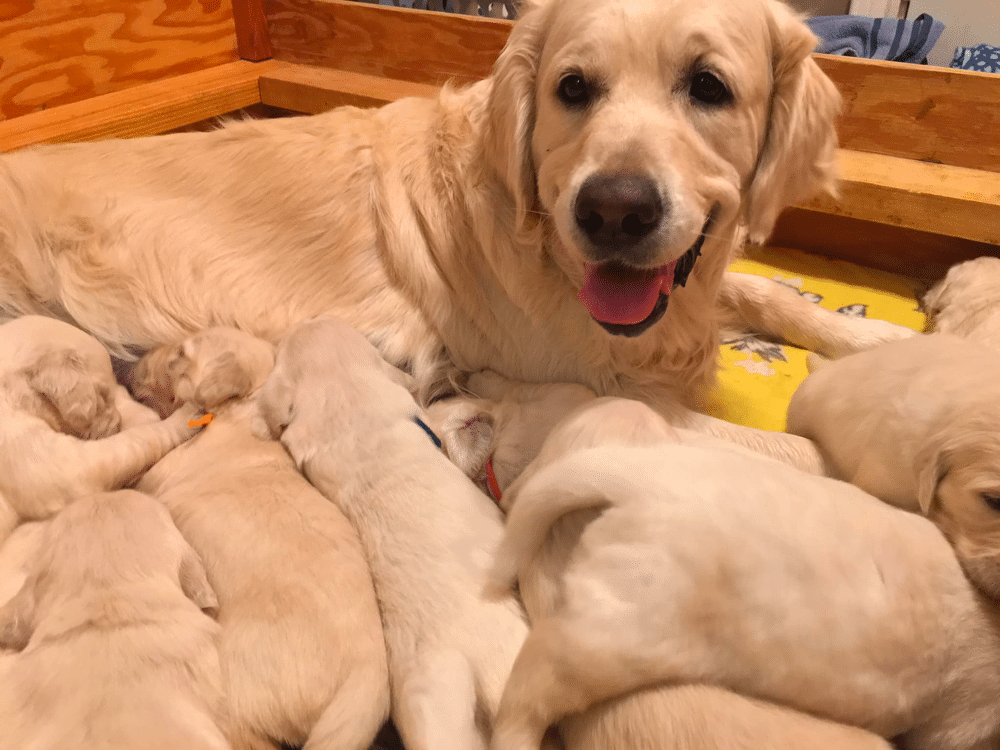 Marsha Nielson is the breeder behind Southern Utah Goldens located in St. George, UT. The puppies are raised in their home and can play in the yard with a loving family. They breed English/European Cream Golden Retrievers because they are known to be beautiful, calm temperament, and are a wonderful family companion. They use Puppy Culture principles in their training to develop the best puppy.
When the puppies are ready to be picked up at 8-weeks of age, they will be microchipped, vaccinated, and dewormed. They also go home with a blanket with littermates' scent, AKC registration, Certificate of Health, and Volhard Personality test. They offer a 1-year health guarantee, and it covers eyes, heart, and any genetic conditions which are the breeder's responsibility.
3. Red Canyon Retrievers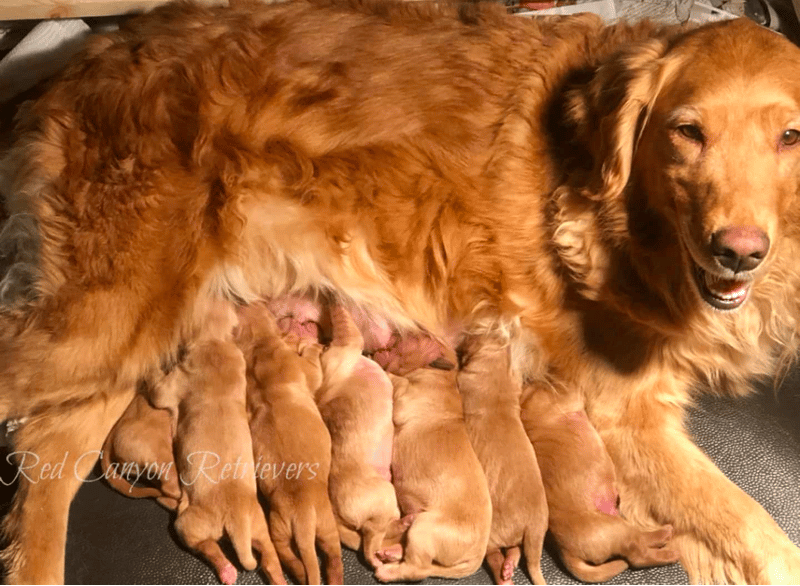 Paul and Janie are the breeders at Red Canyon Retrievers and their mission is to breed happy, healthy, beautiful Golden Retrievers that will live a life of adventures and give joy and love to all those that love them back. Janie has a background in the medical field and has used her knowledge to provide a clean environment, health checks, good nutrition, and good grooming and ensure that every puppy is well taken care of. Each dog lives with them in their home or the homes of their daughters and their families.
Each puppy comes with an AKC limited registration and pedigree as well as the puppy's first set of vaccinations, dewclaws are removed, dewormed at four weeks of age and at seven weeks of age, and food and vitamin recommendations.
They love watching their puppies grow up to be the best dogs possible. They love placing their puppies with other loving families and seeing the faces of their new family is one of the best gifts possible.
4. Field Bred Golden Retrievers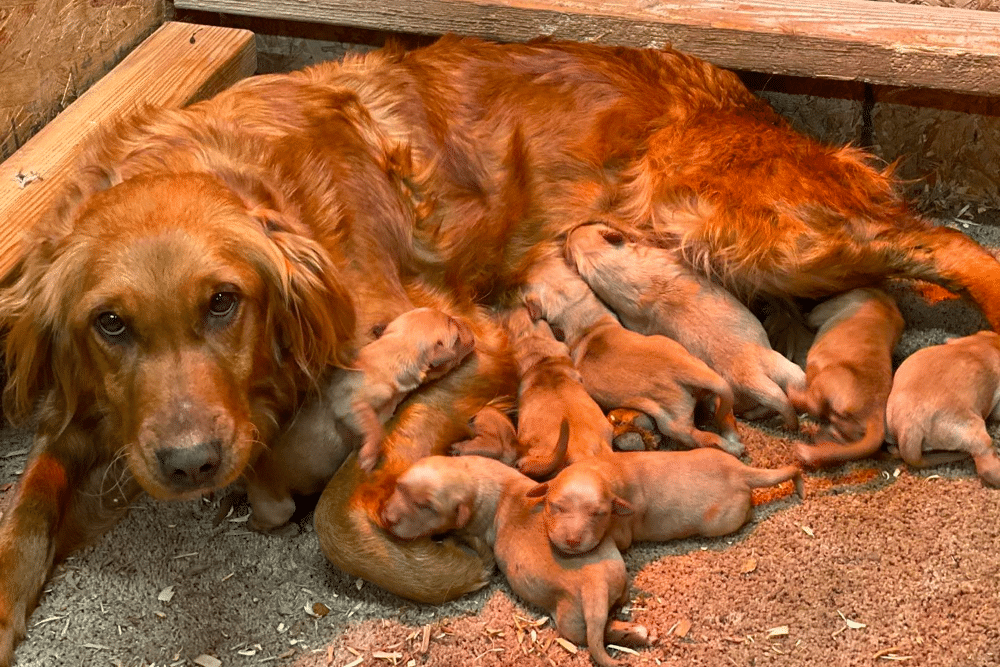 Tyce and Rachel Erickson love their Golden Retrievers. Located in West Mountain, Utah. They live at the base of the mountain on a little farm and enjoy taking their dogs on hikes or hunting. They have five kids that the puppies can play with, and they love the outdoors. They strive to produce dogs that your family will love for years. All the necessary genetic testing is done to produce a happy and healthy dog. Tyce is a professional Gun Dog and Obedience trainer and has a lot of experience with dogs.
On their website, they have photos of their sires and dams including their pedigree info attached to the photos. Their puppies will come with AKC limited registration and full registration is available only on a case-by-case basis for an additional fee. They warranty their puppies up to 28 months of age for any life-threatening genetic and/or inherited condition.
5. Golden Heaven Puppies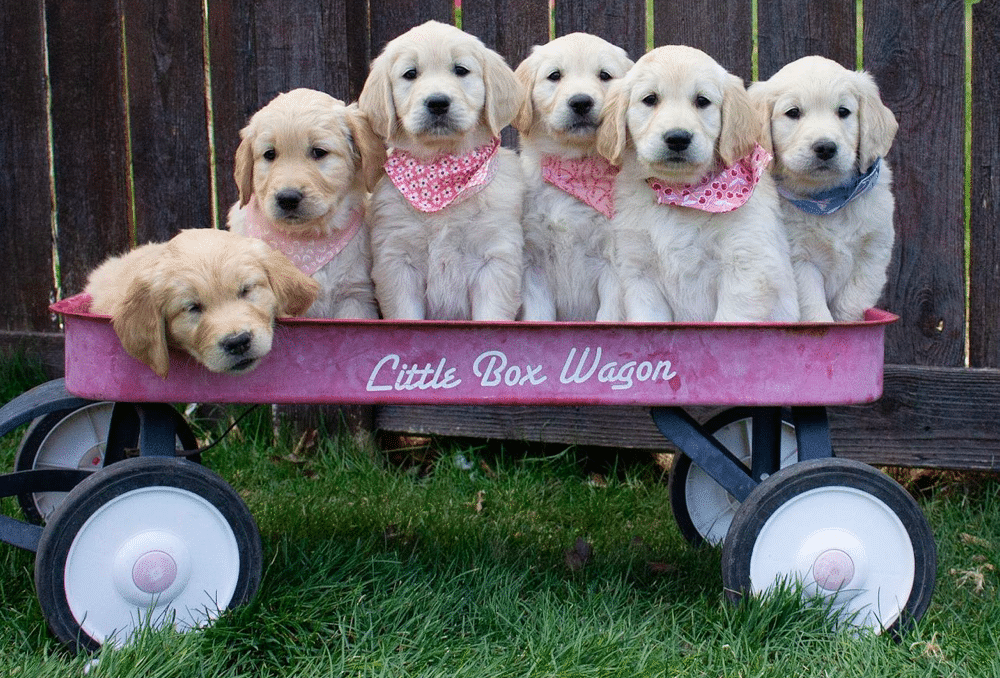 Each puppy is raised inside their home and each puppy is played with daily by their children and friends. Their Golden Retrievers are treated with the utmost love and care and you will be receiving a top-quality puppy. They believe that Goldens are the best breed, and they are beautiful, friendly, intelligent, fun, and very playful!
All puppies are sold with a minimum of one-year health guarantee against genetic hip, heart, and eye defects and they are happy to go an additional two years if the families continue to provide the High Quality food they started on their Goldens. The puppies will also go home with a microchip, a health certificate from a veterinarian, receive recommended immunization by a veterinarian, be up to date on deworming for parasites, and a written health guarantee.
6. Red Fern Companions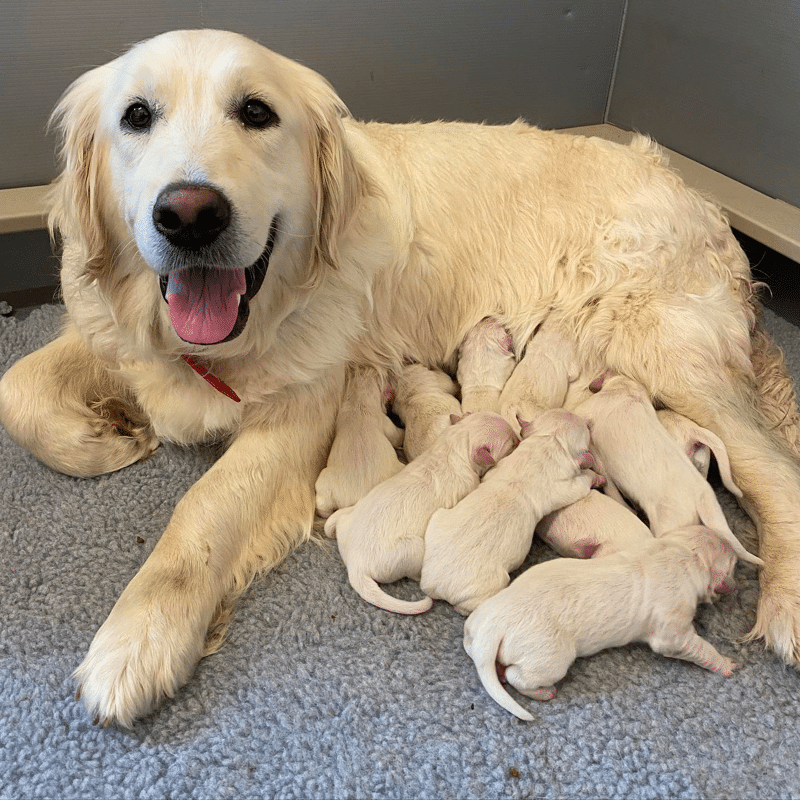 Richard and Melanie Daybell at Red Fern Companions, strive to provide the healthiest puppies to those interested in English Golden Retrievers. They are the nation's leader in English golden Retriever Trained puppies. Before breeding any dogs, they ensure the health of both the male and the female dog. They want to share the love of the English Golden Retriever breed, but their top priority is the health, wellness, and safety of the parents.
They provide a one-year health guarantee for elbows, eyes, and heart and a two-year warranty for hips. They will also provide the buyer with AKC limited registration paperwork for the puppy as well as the appropriate vaccinations and worming protocols.
On their website, they sell many snacks and treats as well as merchandise for their company. They have a lot of great information online and if you would like to have a further read on their warranty or just look around, have a look today!
7. Soaring Goldens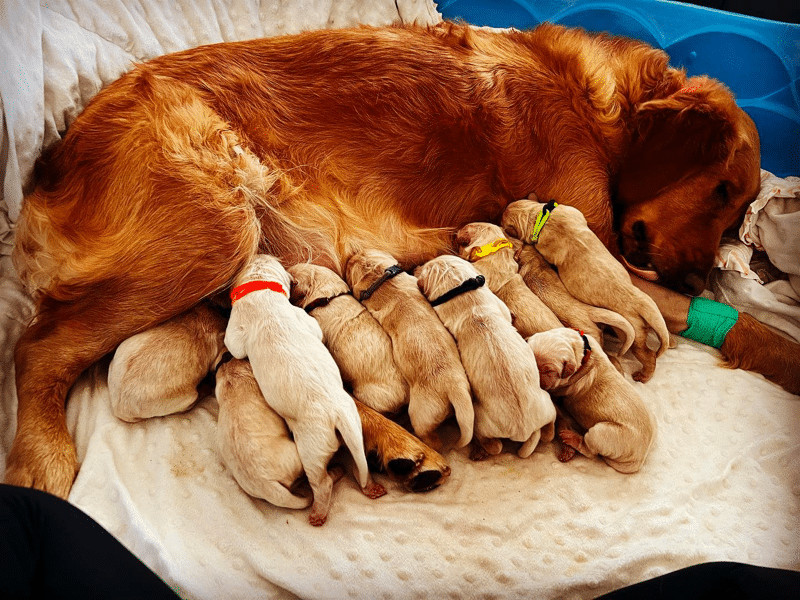 2015 was the first time Soaring Goldens had their first litter of puppies with their much-beloved Golden, Arial. They make sure to wait until their dogs are at least two years old before breeding and they do OFA testing on their hips, elbows, eyes, and heart. They also do genetic disease testing for Ichthyosis, DM, PRA-1, PRA-2, and PRCD. They see that all their dogs are treated like family, and they live indoors with them. They have recently started raising their puppies with the Puppy Culture method which helps prepare them to be amazing dogs!
The puppies go to their new homes at around 8-9 weeks of age and are dewormed at 2 and 4 weeks of age. Once they reach 6-weeks of age, they receive their first dose of Heartgard. They also will vaccinate your puppy at 6-weeks of age and they only vaccinate at a vet clinic with regulated vaccines. Then they would like you to vaccinate your puppy at 9, 12, and 16 weeks of age. They offer a two-year health guarantee for inherited genetic diseases.
Their website is full of great information on what you need to know before your puppy goes home with you. They are very responsible breeders with a background in veterinary medicine and I suggest emailing them or browsing their webpage today!
8. Dewbury Dream Goldens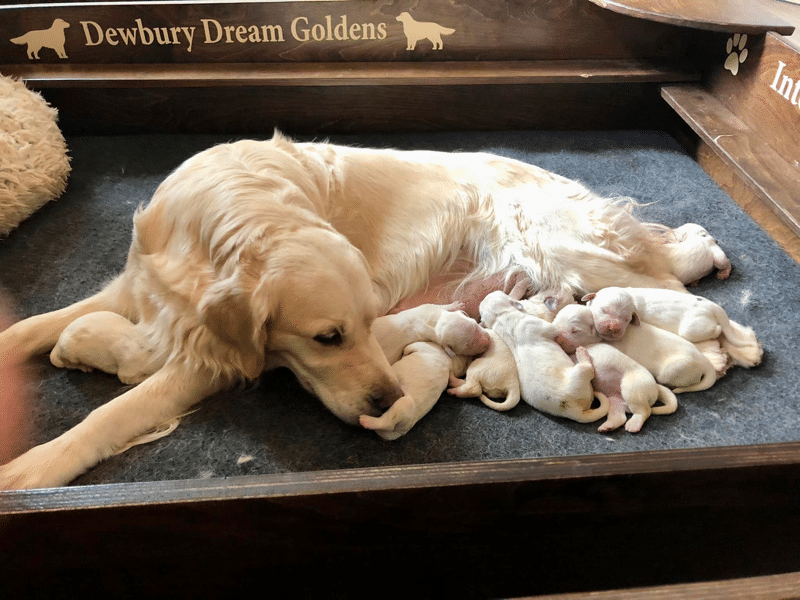 With a family of two that lives on 1-acre of land, they live right next to BLM land on which they do extensive training with their dogs and there is an abundance of hiking trails scattered all around Southern Utah. The dogs live in the home with them and are taught not to chew on their belongings and the mother of the breeder is always home to make sure the puppies have looked after. They have some great dogs to breed with, including Connor who has a great health score meaning the puppies he has will most likely be very happy and healthy!
They feed quality dog food such as Acana, Orijen, and Fromm and give them daily supplements like NuVet Plus. They also raise their puppies on the Puppy Culture Method and the breeders are proud members of the Golden Retriever Club of America, AKC Breed with HEART, and The Better Business Bureau.
9. Grantsville Goldens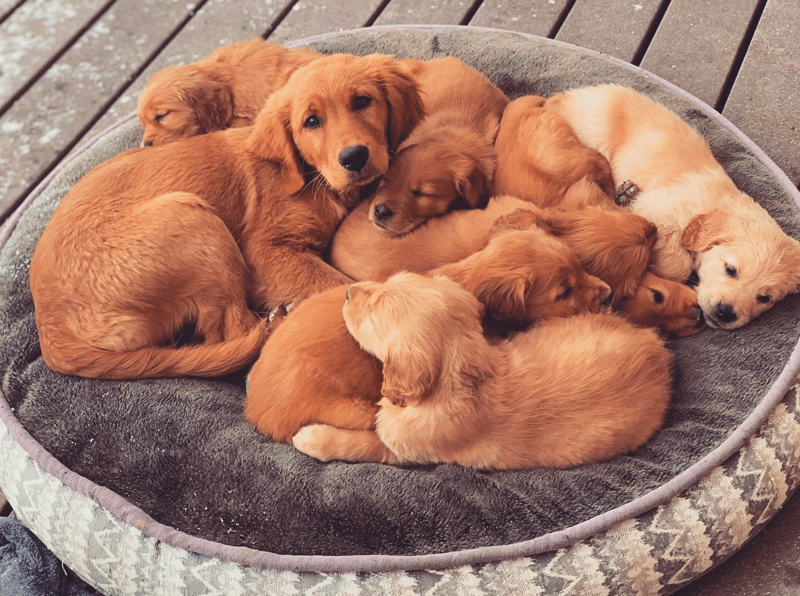 The breeders at Grantsville Goldens got their first Golden Retriever back in 2000 and immediately fell in love with the breed. Their puppies are socialized and stimulated from birth to ensure a loving, calm temperament. They are raised like their own in their home with their family. Their main priority is ensuring the health and well-being of their animals from birth.
Once it is time to bring your new friend home with you, the puppies would have had their dewclaws removed within the first week of birth along with a wellness exam at 6-weeks old and their first round of vaccines and deworming. They do both Limited AKC Registration and Full AKC Registration if asked.
10. Lifetime Goldens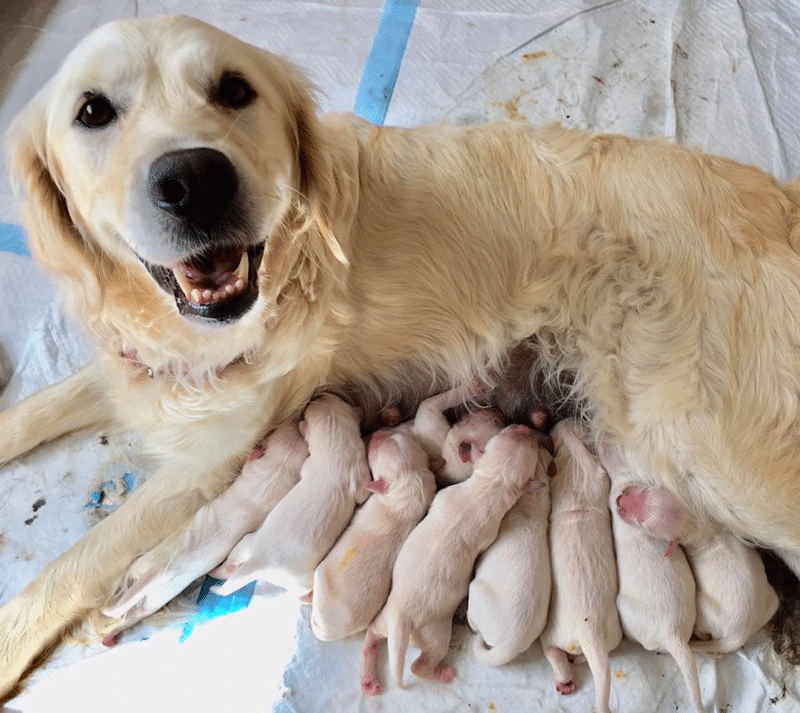 Their family fell in love with English Cream Goldens Retrievers when their child was hospitalized and needed life-saving surgery. The breeders at Lifetime Goldens are dedicated to raising healthy, confident puppies well suited for companionship and therapy. They begin working with puppies a few days after birth with early neurological stimulation in their puppies' first exposure to any type of stress and stimulation.
All their puppies will come with: AKC registration form, two deworming protocols, two vaccinations, a two-year health guarantee, a puppy packet, and lifetime support for you and your new family member! They are partnered with the American Kennel Club, and Bred HEART and all dogs are OFA tested before breeding.
11. Castle Country Companions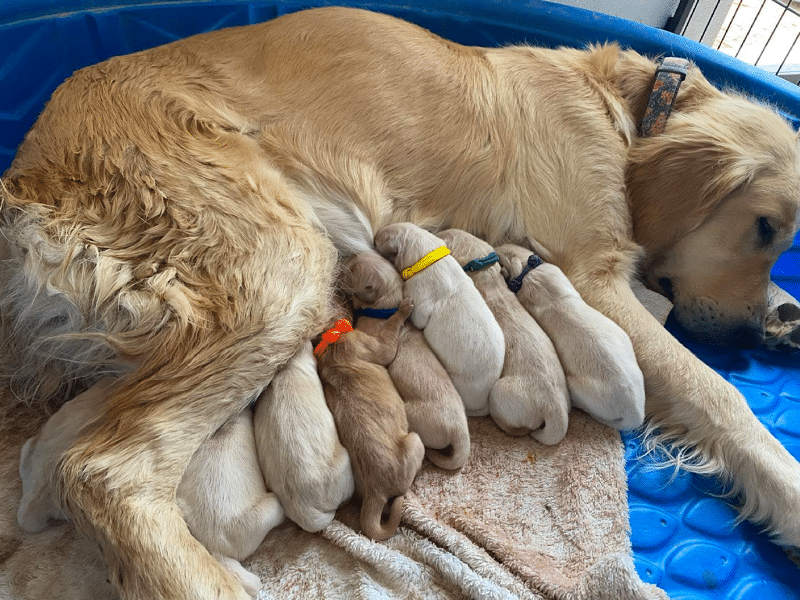 Jeremy and Kara Jewkes are the breeders at Castle Country Companions and their goal is to share the love and happiness of Golden Retrievers with you and your family. They seek to guarantee a puppy that is happy and healthy and will continue to spread their love from their family to yours. Their kennel is not very large by choice, so they are able to focus on the quality of their dogs, not quantity. They ensure health-checked bloodlines as well as temperament and trainability. They go through extreme lengths and expenses to assure their dog's physical and mental health is taken care of as well as litter.
The puppies can go to their new home at 8-weeks of age, and they offer a one-year health guarantee. The puppies are vaccinated and examined by a veterinarian before going to their new home as well as microchipped, AKC registration, a puppy starter kit, and a puppy leash. They make sure to stimulate the puppies at a young age to introduce them to different sounds and smells.
12. J-R Farms Goldens
The puppies are raised in their home and played with daily with their large family! The puppies go through a three-set series of training which first starts with Early Neurological Stimulation (ENS Training. This training is used to improve Cardiovascular Performance (heart rate) stronger heartbeats, stronger adrenal glands, increased tolerance to stress, and greater resistance to disease. They will also crate/kennel train the puppy for you as well. They also will perform an aptitude test that determines whether a puppy is more of a pack leader or more of a follower, so you are able to choose what puppy fits your family's needs.
13. Black Ridge Goldens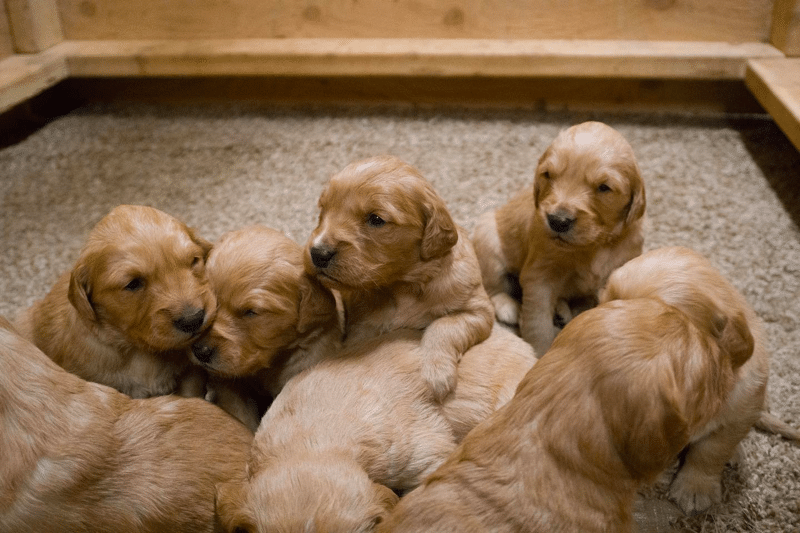 First starting in 2019, their mission is to breed high-quality working Golden Retrievers through outstanding pedigrees, health clearances, genetic DNA panels, and low COI. They breed great hunting Golden Retrievers as well as great companion dogs. Through selective breeding, they focus on producing working Goldens with energy, drive, desire to please, biddable, and athleticism. They want to focus on the quality of their puppies, not the quantity, so they only have a small number of litters each year.
The puppies will come with Limited AKC Registration at first then after the dog turns 2 years old, Full AKC Registration will be given at no additional cost once the dog has genetic panels and health certificates.
14. Dry Canyon Goldens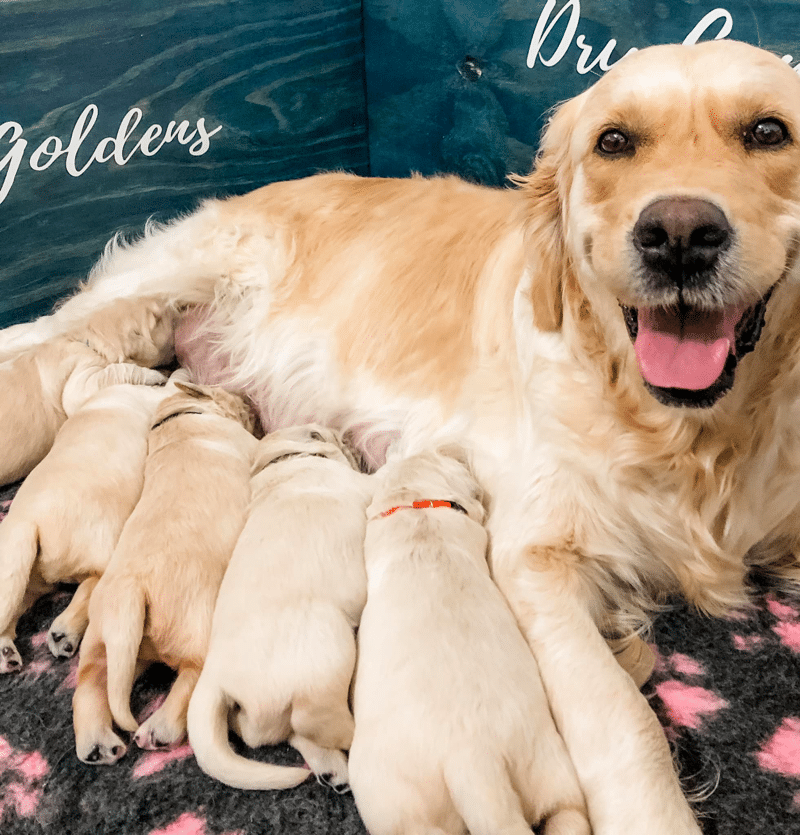 Jo Bailey is the breeder behind Dry Canyon Goldens located in Logan, UT. They only bred with health-tested European bloodlines and the main priority in their dams and sires are temperament, health, and structural conformation. They focus on laying the foundation for a happy, curious, and confident dog you will find joy in living with. They believe raising a puppy involves art and science and takes their breeding responsibility very seriously.
Puppies will go to their new homes at 9-weeks of age and will come with a one-year health guarantee which covers genetic conditions that they test for. They are also willing to take a dog back for any reason at any time. The puppies will also go home with AKC registration, vaccinations, Volhard personality test, certificate of health from the veterinarian, puppy starter kit, and more!
My Pick
Golden Retrievers are loyal, lovable, and make great pets for a growing family or a party of one. To make sure you are getting the perfect puppy do your research on which breeder will suit you best. They should be AKC registered as well as health tested before breeding. Out of all the breeders on this list, I think Soaring Goldens is the perfect breeder to contact first. Although they are a newer breeder, they seem to really care about their Goldens and do all the appropriate testing that is needed to provide you with a healthy puppy. They breed quality dogs that will produce quality puppies! To find the best breeder, reach out to them and see if they answer all your burning questions. You can also message previous buyers and see what the process was for them.
Golden Retriever Breeders in The Other States Near Utah
Golden Retriever Resources and Tips
We provide all the necessary information on everything about Golden Retriever breed profile, and what would be needed in raising a Golden Retriever puppy. You also get to learn in detail, the 5 stages of Golden Retriever Puppy Growth (from baby to adult), and what to expect with your pup in each stage of its growth.
Other Dog Breeds: