The most requested information from a new puppy owner is – how much do I feed this little dog, and how many meals per day do they require? This is what we will cover in this article.
Knowing the amount of food your Golden Retriever puppy requires, does away with guesswork and provides a complete diet for health and wellbeing.
But How Much Food is Enough?
Golden Retriever puppies are like a sponge, they are always looking for food and will gobble it up without seeming to even taste it. Of course, no two puppies are the same. One could be a dainty eater with impeccable manners, the other can walk past and inhale the food in one mighty sweep and still look around for more.
As a rule, Golden puppy needs to feed three meals per day until they reach the age of 6 months.
But let us break this down on the chart below, into the more definitive stages of their development.
How much to feed a golden retriever puppy by age
| | | | |
| --- | --- | --- | --- |
| Age of Golden Retriever puppy. | Gender | Amount of food | No meals per day |
| 2 months | Male and Female | ½ cup of food/day | 3 |
| 3 months | Male and Female | 2 cups of food/day | 3 |
| 4 months | Male and Female | 2 ½ cups of food/day | 3 |
| 5-6 months | Male and Female | 3 cups of food /day | 3 |
| 6-7 months | Male | 3 ½ to 4 cups of food | 2 |
What Are the Variables When Feeding a Puppy?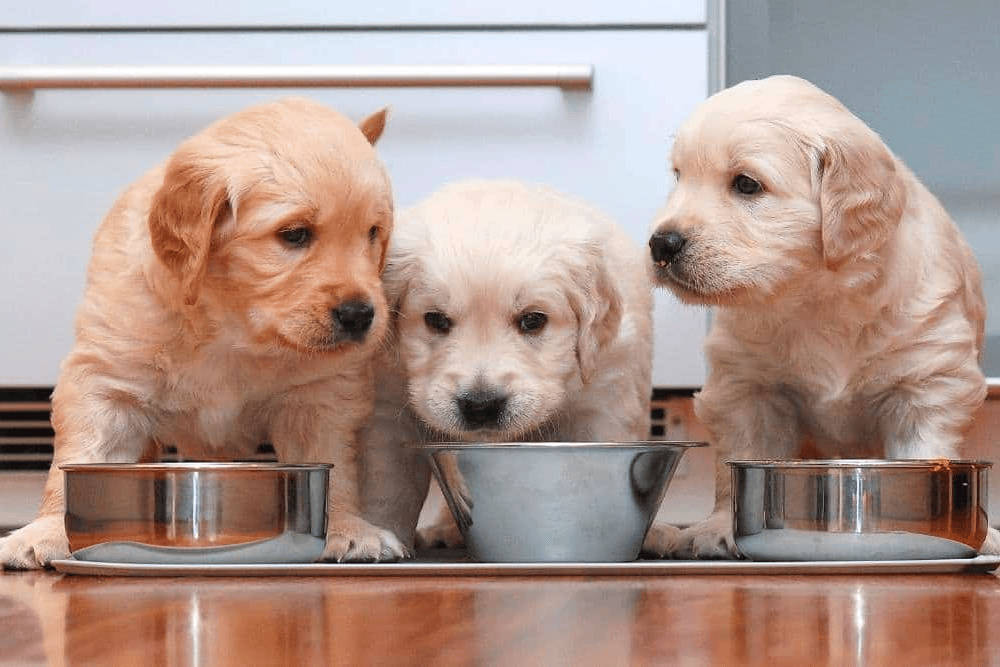 The chart above is a good guideline, but the exact amount depends on what you choose to feed your puppy and their physical build and energy output.
The quality of the food makes a difference, and a better-quality meal keeps a young pup more satisfied than a cheaper brand of food that often use fillers to bulk out the serving.
An energetic Golden Retriever puppy will require a bit more food than your average pup, and the size of the puppy makes a difference. The bigger they are, the more energy (food) they require.
A strong, bulky male puppy will need more than a quiet small puppy, so talk with your vet or the breeder to understand their feeding pattern for your puppy. Ask the breeder what they have been feeding them.
The type of diet will also affect the volume of the meals. A dry food diet will vary from a wet food/natural diet food.
Talking about Wet Food …How Much Does a Puppy Need?
Puppies require more food as they are so active. Not only that, but a Golden Retriever puppy has a small tummy, which is limited to how much the puppy can eat at one meal. So, they need smaller meals more often than mature adult dogs.
If you are considering feeding your golden puppy a natural or wet food diet, you will need to weigh your puppy and determine their level of activity.
A puppy who is into everything and never stops except to eat, toilet, and sleep, will need more food to sustain that energy. A quieter puppy who is a finicky eater and is not so active will need less food.
The chart below was based on cup measurements per meal per day.
| | | | |
| --- | --- | --- | --- |
| Weight (lbs) | 2-4 months of age | 4- 8 months of age | 8 – 1-year-old. |
| 10 | 1 ½ cups of food | | |
| 20 | 2 2/3 | 2 ¼ | |
| 30 | 3 2/3 | 3 cups | |
| 40 | 4 ½ cups of food | 3 ¾ | |
| 60 | | 5 ¼ cups | 4 ¼ cups |
| 80 | | 6 ¼ cups | 5 cups |
What is Wet or Natural food?
It varies between producers of the product, but a natural diet food consists of protein-rich food from real chicken and turkey, duck, lamb, and salmon, mixed with chunks of vegetables and formulated by nutritionists and is often veterinary approved.
The food can be in cans or packs depending on the makers. They are free from artificial colors, flavors, or preservatives.
The food has a tasty sauce or gravy that puppies love.
Golden Retrievers love their food, and variety will keep them healthy. You can make one meal dry, one meal natural, and add a mixed bowl of food. But introduce new foods carefully. And if you are changing foods, do it very gradually as it may upset your puppy's tummy. A quick word with your vet to confirm your plan is always advisable.
If your puppy is already on a strict diet when you get them, keep them on that then if you want to change it, do so very slowly, one teaspoon at a time.
When Should You Feed a Golden Retriever Puppy?
In the chart below, you will see the stepping stages in a Golden Retrievers' life, and how their diet and nutritional needs vary. These are general guidelines; this is not set in stone and needs to be adjusted in amount and servings to suit your dog.
| | |
| --- | --- |
| Age | Food required |
| Two-month-old puppies | 1 ½ cups of food per day |
| 6-month-old puppy | 3-4 cups per day |
| Adult Golden Retriever | They need from 1,200 to 1700 calories per day |
| Senior Golden Retrievers | They usually are not as active; therefore, they require only approx. 1,000 calories per day. |
A Golden Retriever puppy has a small stomach to start with, but as they grow, their nutritional needs grow with them.
They will require three meals a day to keep their tummies full and keep in mind that they will be highly active, and always are looking for food. It is as important not to overfeed a puppy as it is to get the mix right for their continuing growth phase.
All puppies are not a 'one size fits all type of dog, they vary in size, weight, and the amount of activity they enjoy. Therefore, mealtime and the amount they require varies greatly. But it is safe to say that the average three-month-old golden puppy will eat two cups of dry food per day.
Breaking the meal into three meals will keep your youngster going during the day. Serve meals in the morning, midday, and evening.
An average six-month-old puppy will eat three meals per day.
A male puppy needs more food due to their size and weight which is usually more than the average female puppy. The male can eat up to four cups per day.
Then at six months of age, the meal should be served once in the morning, and again in the evening.
Content of the Food
New puppy needs to continue the diet that they were on by their previous owners/breeders so that they do not get stomach complaints due to a drastic change in food.
If they ate dry food but you want them on a wet or natural diet, make sure you introduce new food to them slowly.
Just because a Golden Retriever puppy will gobble anything you put in front of the that does not mean that it is good for them. Change a set diet very slowly, allowing your puppy to adapt to the food. A teaspoon added of new food over a period of several weeks is best, rather than just dishing up an alternative food.
You can feed your puppy dry food, wet food, or wet and dry food, but please talk to your veterinarian as to what is best for your puppy to grow into a healthy mature dog.
Puppy food is best for their digestion during the first year of their life.
Conclusion
Let us just say that the Golden Retriever puppy loves their food. In fact, they love their food, your food, your neighbor's food, and the dump's food.
They have no common sense; they just love anything that fills their bellies. You must be their guide and be aware when you are out with your golden puppy that they will be looking for treats as they walk.
A good, managed diet will help your golden puppy to grow up with good strong bones, and a healthy weight.
Let them adjust to regular meals per day, in the right proportion, and you will find your young Golden Retriever blossoming before your eyes.