Massachusetts rescues are a great place to find adoptable Golden Retrievers, but you might not know which rescues are best to go with. Researching for the most trustworthy and reliable rescues can be time-consuming and tedious, so we decided to do the work for you!
We've found three great options for adopting a Golden Retriever in Massachusetts. One is a Golden Retriever-specific rescue, while the others are two amazing reliable animal rescues in Massachusetts. Let's take a closer look at these rescues to help you find your new Golden Retriever pal!
Where Can I Adopt A Golden Retriever?
We've found three great rescues that you can adopt a Golden retriever through and we're here to share all the information about them to help you choose where you'll get your furry friend from. These rescues should give you a place to at least start when on the hunt for your new dog.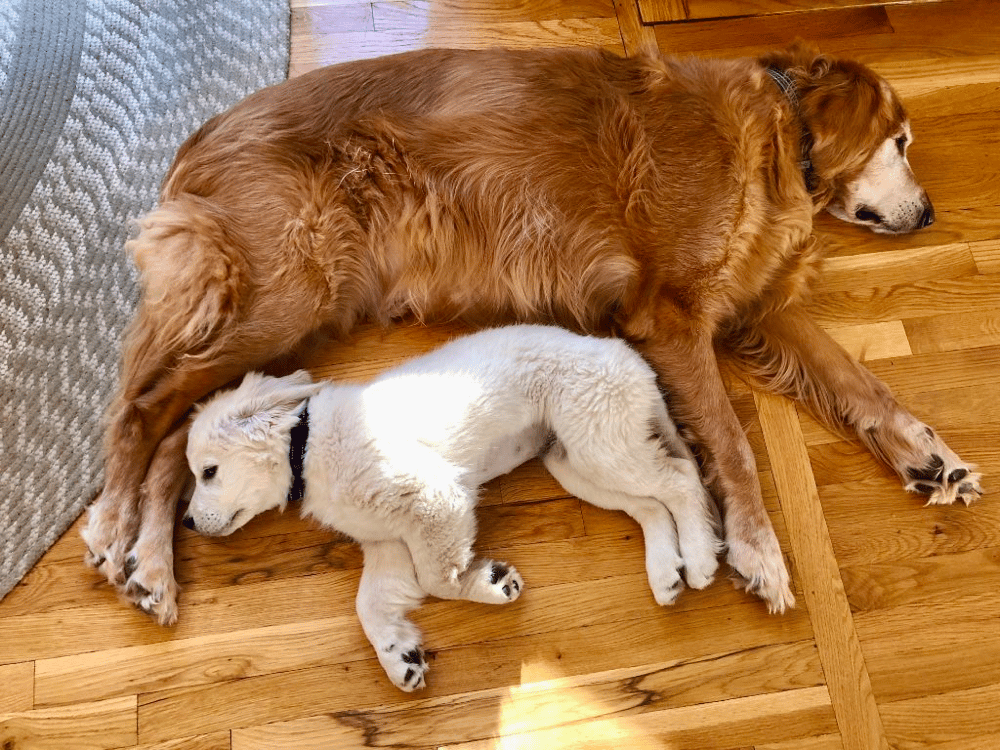 1. Yankee Golden Retriever Rescue
The Yankee Golden Retriever Rescue is a rescue based in Massachusetts that began in 1985 and has saved over 5,000 Goldens. This rescue works specifically with Golden Retrievers and they are working to help the homeless Golden Retriever issue in New England by getting all of their adoptable Goldens from New England. This organization helps to pair up needy dogs from New England with adoptive owners looking for a new addition to their family.
Their mission is clear as they are here to save homeless Goldens and provide them with medical care, care for them, and do behavioral assessments. Joan Puglia and Susan Foster are the co-founders of the organization and they started with very limited resources to get this program started. With the help of fundraisers and volunteers, they were able to bring this organization to where it is now.
2. LazyDaze Farm
LazyDaze Farm is a kennel that's located near Boston, Massachusetts that makes it their priority to have and raise the best Golden Retrievers for pet owners. This kennel isn't necessarily a rescue, but it does give the opportunity for a new owner to find and adopt a Golden Retriever if you're in the market for one. This kennel has been in the dog business for over 20 years and they have since then raised many different Golden Retrievers.
Their goal is to raise Golden Retrievers that are great for showing, training, and breeding. Having these amazing quality dogs gives reassurance to anyone looking to get a Golden retriever that they are getting a great dog that has been trained well and bred to be a champion-style dog.
If you're looking to get into contact with the LazyDaze Farm then you can use the contact information below.
3. Forever Home Rescue New England
The Forever Home Rescue New England is a rescue located in Massachusetts that has many breeds of dogs up for adoption including Golden Retrievers. This rescue has all types of breeds from ages 12-week-old puppies to older dogs for adoption. They also take care of any necessary things for the dogs such as spaying/neutering, veterinarian fees, and other vet care needs.
They work with both foster and volunteers to help keep this organization running. They are consistently updating their website to give tons of information on how many dogs and which dogs they have available for adoption. They also have extensive pricing information available too. Overall this rescue is a great place to look for a Golden Retriever.
You can use the information listed below to contact the Forever Home Rescue New England.
Adopting A Golden Retriever In Massachusetts
The best places to get a Golden Retriever in Massachusetts consist of the best three options above. Golden Retriever rescues and kennels are a great place to get a Golden that you know is ready to be adopted and has been properly taken care of before adoption. These Goldens are great for showing, training, or just an adorable addition to the family.
Overall, these rescues are a great place to start in the hunt for your perfect Golden Retriever in Massachusetts. You can contact any of these rescues using the information we provided, or you can look on their website to get more information and see their available dogs.
If you aren't finding any luck with the rescues listed above then you can check out this post to find available Golden Retriever breeders to buy a puppy, but the price ranges from about $2,000 to $3,000 per puppy.