A Golden Retriever Pitbull Mix can be your best friend. They are loyal, friendly, and fun-loving. These canines fall in love with you quickly. No matter what breed of dog you bring home, once they come into your life, they devote themselves to you. These little companions will cheer you up when you feel down, dance with you when you are happy, and hug you when you cry. They are the best friends you can ever have.
But their love for you burdens you more with their responsibility. You need to care for them the same you do for little kids. They want love, respect, and appreciation from you. As they can sense your behavior, they can also measure how much you love them.
But your responsibility does not end after giving them, love. You need to keep your eyes open regarding their health. Giving them a healthy diet should be a priority. They also need training in many things, such as good behavior and dealing with other furry friends. Moreover, pups also need a sense of protection. You need to protect them from others, which means no one should ever be allowed to disrespect your dog or hurt their feelings.
If you are ready to take up all responsibilities, you can keep a golden pup at home. Here are the things you need to know about this lovely dog.
Golden Retriever Pitbull Mix At Glance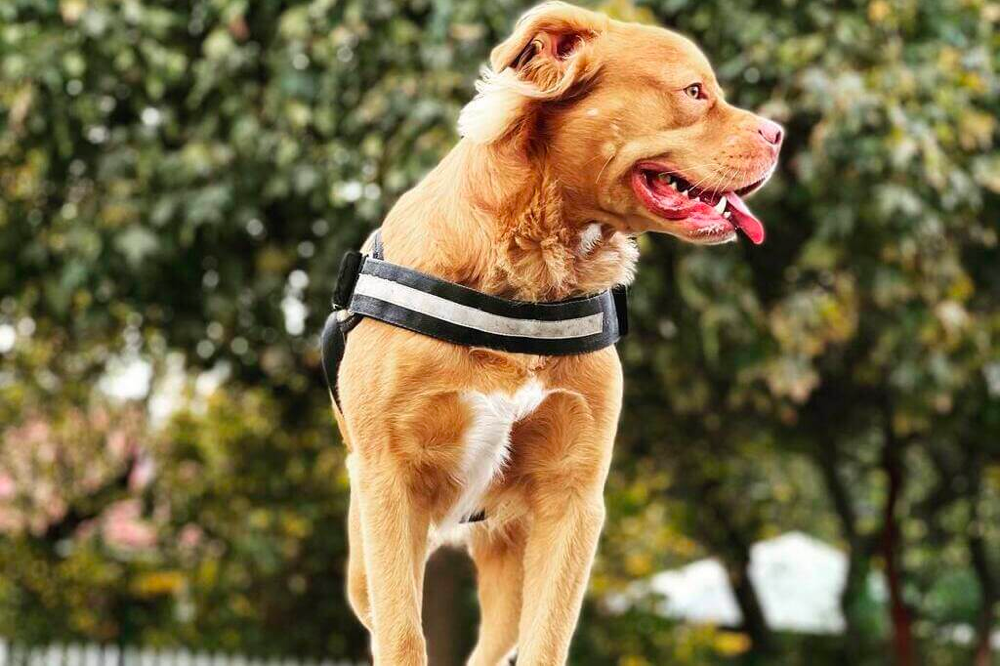 The Golden Retriever Pitbull Mix is a strong, energetic, and muscular dog. They are sometimes aggressive too, but this is controllable through training. As puppies, they have a golden shade and can be 17 to 25 inches tall. Their weight falls between 45 pounds and 90 pounds.
This hybrid has a broader head than the Retriever, but it is smaller in width than a Pitbull. This breed also has long pointed ears and can have both, short and long hair. This energetic golden dog loves to eat and play. They are the best dogs for people who need a companion for adventures.
| | |
| --- | --- |
| Breed | A mix breed of Pitbull and Golden Retriever |
| Popularity | Most popular race in America, according to the AKC. |
| Weight | 45 to 90 lbs |
| Height | 17 to 25 inches |
| Purpose | Companionship |
| Appearance | Strong, powerful, and active |
| Temperament | Loyal, intelligent, friendly, and social |
| Training Status | Highly trainable |
History and Origins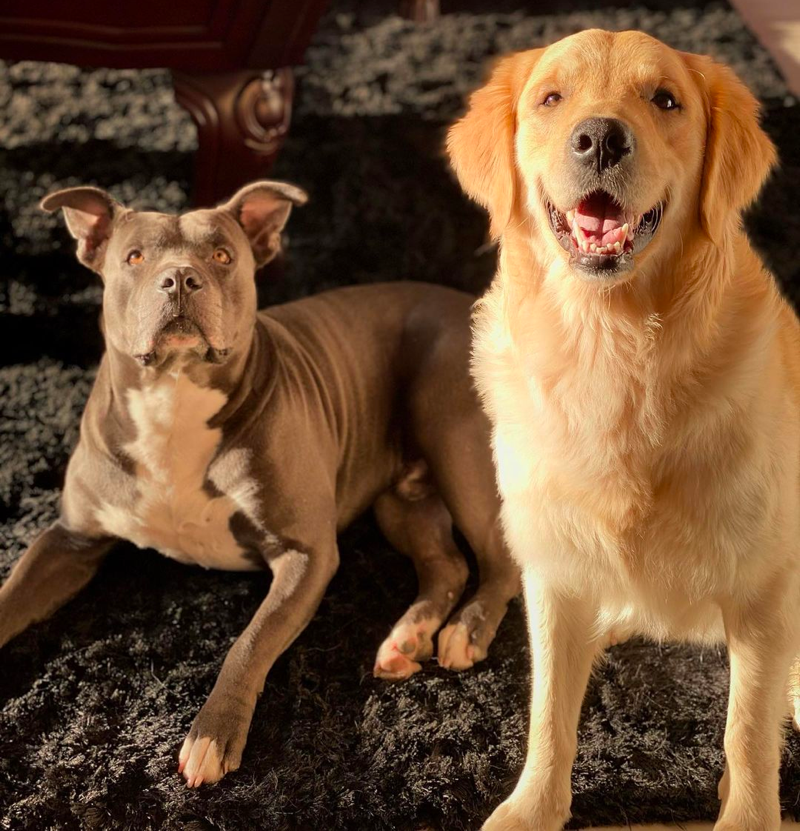 This crossbreed of dogs has been common for the past few decades. Crossbreeding is usually used to generate a new breed of canines. However, testing labs for dogs are mostly used in this method. Introducing new kinds of dogs in the world has become popular, but has also created controversy. In many cases, the loss of human life and lasting physical and emotional scars has been the cause.
Most people are uncertain about the reason for breeding. They argue that knowing every single aspect of a pure breed is easy, but it is impossible to determine the behavior of mixed breeds. While others think that hybrid breeds have a wonder gene pool, and they are not prone to inherited diseases and are considered far healthier than their parent dogs.
The Pitbull Golden Retriever Mix is also one of the healthiest crossbreeds. It is a result of mixing a loyal Pitbull Terrier and a humble-natured Golden Retriever. Unfortunately, like other mixed breeds, it is almost impossible to pin down their origin and why they were even created.
However, if we look at the history of both, the Golden Retriever and the pitbull, we can see how these dogs influenced the mixed breed. You can find the roots of the pitbull at the start of the 19th century, in England, created from English Bulldogs for bull baiting. Later, this inhumane game was banned. These dogs were infamous for their aggression. After they got popular, people started using them as their companions and as farm dogs.
The Golden Retriever has an older history than the Pitbull, and has its origins in the Scottish Highlands, during the mid-1880s. The retriever was primarily a hunting dog in those parts. These canines are comparatively less aggressive than Pitbulls.
In short, because of the popularity of these two dogs, the golden retriever, and the pitbull, people may have thought of producing a hybrid that could have a concoction of their best qualities together. So, the intended outcome may have been to have a friendly dog capable of aggression when needed.
Golden Retriever Pitbull Mix: Appearance and Temperament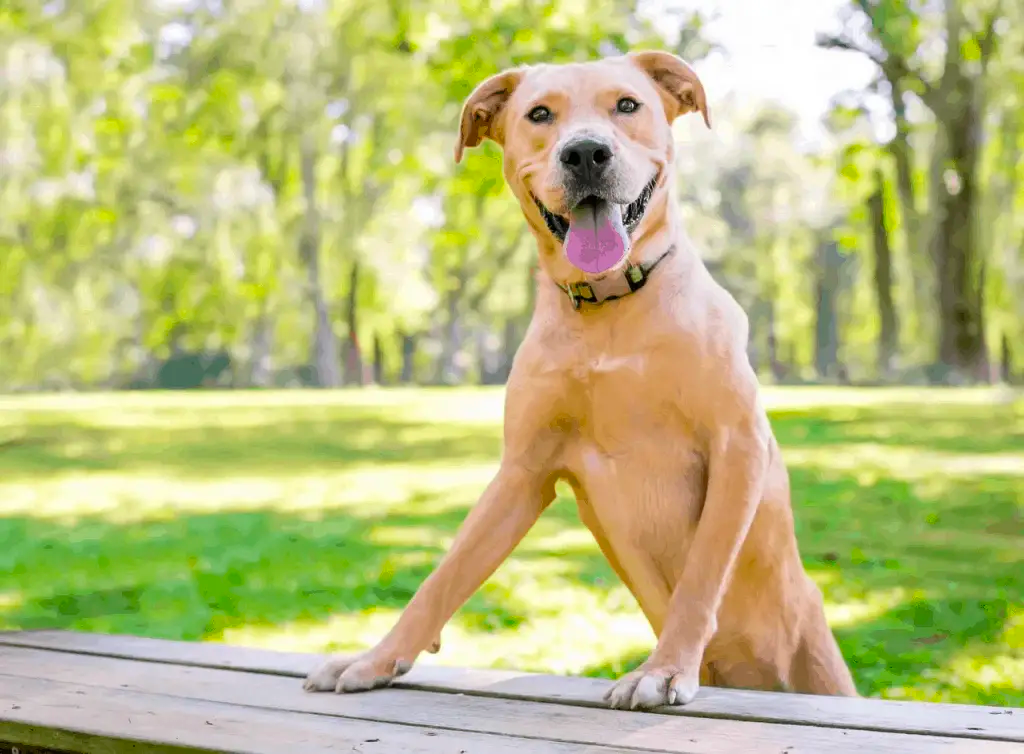 Appearance
It is quite hard to predict the exact appearance of this hard-to-find hybrid, but you can see some positive traits of their parents, one way or another. These dogs seem to have an appearance like one of their parent's (breed) or a perfect mix of both parents. Their looks can vary, and many totally depend on gene expression.
All of them usually have a large and muscular physique that stands up 24 inches tall. However, they can be thin, broad, or a completely muscular build.
Height and Weight
The male can be 18 to 24 inches tall, whereas females can be 17 to 22 inches tall. They are mostly heavy and can weigh 30 and 75 pounds.
Coat and Colors
Another unique personality trait of this dog is that you can find some of them in various colors, all falling within the shades of golden.
This dog can have solid gold colors, exactly the colors of a golden retriever, or a combination of darker colors with a white base. Your Golden Retriever Pitbull Mix can have a solid color, bi-colored, or even tri-colored.
You will also find this breed with different types of fur coats too. This hybrid can be single or double-coated, with the fur of any length. A short coat tends to be thin, whereas, a long coat can be shady or wavy. Some dogs of this breed also have attractive curls in their fur.
Dogs with short to medium coated fur, don't shed too much, and you can brush them once or twice a week, while dogs with long fur can shed their coats more frequently and need regular brushing.
Temperament
Because of the mixture of two dogs, this breed has some pretty unique personality traits. These strong companions have friendly and confident personalities. Unfortunately, this dog's temperament and personality are hard to predict like many other mixed breeds. Sadly, their un-predictable nature can cause you difficulty in training and managing them.
But one thing that never changes in this breed is their highly dynamic nature and love towards social interaction. This hybrid of a sporting dog and a terrier gives this breed extraordinary energy and strength. You have to create an environment where they can exhaust their energy without doing any harm to your property. Your dog will also let you know when it needs this type of surrounding.
Because of their fun-loving nature and love for meeting new acquaintances, they have a desire to step out for a walk every day. They usually don't cause any trouble, but can get excited when they meet their friends. They always need something to feel active; due to this, boredom frustrates them. Even if you encourage them to have fun all by themselves, they will end up trashing your property.
They also take some time to adjust to your other pets. It is impossible to know what your dog will inherit from their parents and hard to predict their behavior. But no matter what they get from their genes, they are surely a devoted friend to you and your family.
Golden Retriever Pitbull Mix vs. Other Breeds: What's the Difference?
Although the golden retriever is somewhat the same as any other dog, they have some characteristics that other pups don't usually possess. This golden companion is highly sociable and friendly compared to other dogs. The Golden Retriever Pitbull Mix is also more active than their furry friends.
The most amazing thing is that they are aggressive, but you can train them. Through training, they transform into the best family dogs. The personality of a golden furry creature makes them different from other breeds.
How to Train Your Golden Retriever Pitbull Mix
Good training is always your responsibility as a dog owner, and it should be considered your top priority. These pups are very intelligent and are always ready to learn from you. It is best to give them their first training when they are young.
Because of their active nature, they respond well, and you can provide them with food as a reward after training. They are willing to agree with you for praise or rewards like toys. Moreover, don't ever try to punish these pups, as it can lead to aggressive behavior and other problems.
The tarnished reputation of these Pitbulls tends to make people forget that these dogs are highly trainable. American Pitbull Terriers are the best service dogs for this reason. These four-leg companions have a natural desire to help people. As they are intelligent dogs, they become bored easily and always need mental stimulation. They also crave for their owner to build a relationship with them.
When your dog is young, invite people over to tell them how to behave in front of your dog and give your guest treats so that they can feed your dog for good behavior. This way, your dog will feel happy, and your guests can have a good experience with your pup.
Exercise: Learn to Take Care of Your Golden Retriever Pitbull Mix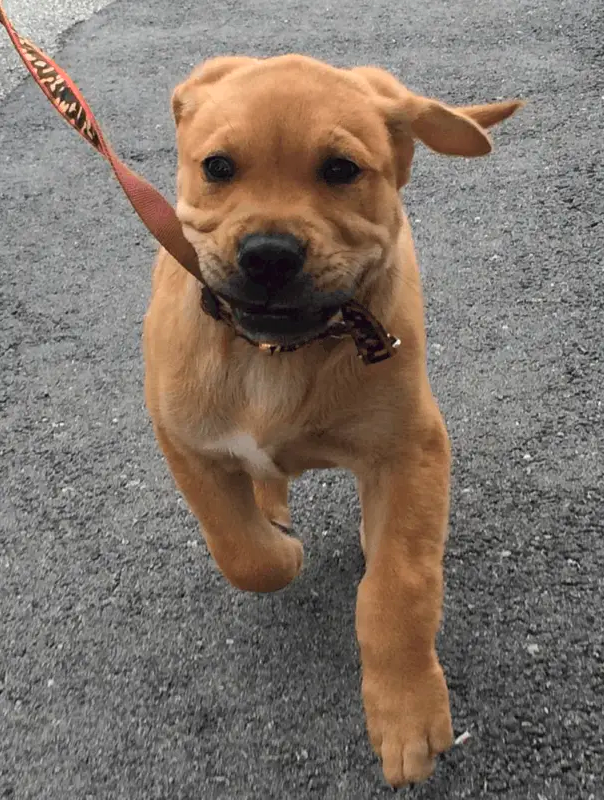 While your Pitbull Golden Retriever mix is strong and full of energy, they need plenty of exercises regularly to remain fit and exhaust their energy.
This canine is best for active people or people who love outdoor activities, such as hiking, cycling, or running. These dogs are perfect partners for people who are active and love workouts.
You may know that both the Golden Retriever and Pitbull have an undeniable love for swimming. This means that your hybrid pup will also love it. So, add swimming to their exercise curriculum. You can also take them for long walks and to play games involving a Frisbee.
Moreover, it is vital to have large and secure backyards if you have a canine this big. This is because they are great climbers, so you need to prevent them from running or jumping outside your confines. A high fence is, therefore, a must. And stay close to them, if you are letting them run free without a leash, they can easily run off and be hard to catch.
Why Families Love a Golden Retriever Pitbull Mix
Easily trained and loyal, this canine can be the best pet for the right people. They easily make bonds with their owners and always remain faithful to their families.
They are energetic compared to other dogs, and this ability makes them best for homes where they can have an area for exercises and playing regularly. They flourish in homes where they can have the company of someone during the daytime, especially someone who can workout with them and play with them.
The social nature of this dog makes it a perfect dog for big families. They are great for older families too. Moreover, these canines also love to play with children, but it is better to consider the safety of your children if you have one, as these dogs can bite and can inflict some serious damage.
Never leave your pup alone with your children, and also teach your children to treat your dog with kindness. Moreover, teach your puppy to play with your children. They can be good friends with your children.
Giving these golden pups time, love, and attention will pay you off. You and your family will surely enjoy their presence in your home.
Benefits of Getting a Golden Retriever Pitbull Mix
There are so many benefits of having a Golden Retriever Pitbull Mix. The following are some benefits of having a beautiful and fun-loving dog:
They remain loyal to you always.
They have a loving nature.
These dogs are good friends with children.
You will feel amazed by their intelligence.
You can train them easily.
These canines are perfect for active and big families.
People who want a companion for outdoor actives will fall in love with this pet.
Healthy Diet for Your Golden Retriever Pitbull Mix
Managing their diet should be one of your daily tasks. These dogs are prone to obesity because they consume a high amount of food.
Wondering how to manage their diet? It's easy. How much you can feed them depends on their weight. A good way is to make calculations of their food by comparing their weight. You can do this by giving them 30 calories for each pound of their body weight. For a 60-pound dog, approx 2.5 cups of kibble will be necessary for regular daily intake.
Moreover, if you are feeding your dog the kibble with wet food, this changes the quantity of food they need. The most vital thing to consider is the protein content in their diet. Opt for foods that have high-quality ingredients, and that are high in fats and proteins. You should avoid food that is high in carbohydrates because they don't need them.
What do You need To Look for In Good Food?
To give your Golden Retriever Pitbull Mix all the nutrients it needs, you need to choose a large-breed dog food, who can give them a long life span.
Here are some things you need to look at for your pup's food.
You should make their food from wholesome, natural ingredients, which don't contain any artificial content, by-products, and fillers.
Pick up foods that are rich in protein from an animal source such as meat, fish, and poultry.
Limit the fat and calorie content in their foods. This will help you control their growth and maintain mass in adults.
Their food should be nutritionally complete according to AAFCO standards.
Moreover, when you are considering all the above factors, also find food that has a bigger kibble size. Bigger kibbles provide you a way to feed them smaller portions sizes, which give them all nutrients. Large breeds like golden Pitbulls have chances of bloating because of overeating.
Should you be Worried about Any Health Issues?
The Golden Pitbull Retriever Mix can suffer from various diseases, which can be mild as well as chronic. They are prone to joint problems, heart, eye, skin, ear, and hypothyroidism conditions as well as cancer.
Because of their large and wide physique, they can also experience bloat, which can lead to death. These pups need health screening that is appropriate for both, Golden Retrievers and Pitbulls. The following are some screening needs for your canine:
Hip Evaluation
Elbow Evaluation
Cardiac Exam
Ophthalmologist Evaluation
L2HGA DNA Test
Hereditary Cataracts DNA Test
Ophthalmologist Evaluation
NCL DNA Test
These dogs have an average age of 12.5 years. However, this is a fair guess for your pup. This life span is for the medium to large size breed.
You need to ensure they consume the right food. Help them get lots of exercises to digest the extra calories they eat. Always keep an eye on your puppy's health so that you can make the right decision at the right time. On top of this, check the ears and teeth of your Golden Retriever Pitbull Mix. They can have infections in these places, and these areas of the body usually indicative of some abnormality or disruption in your pup's body.
How to Raise an Adorable Golden Retriever Pitbull Mix Puppy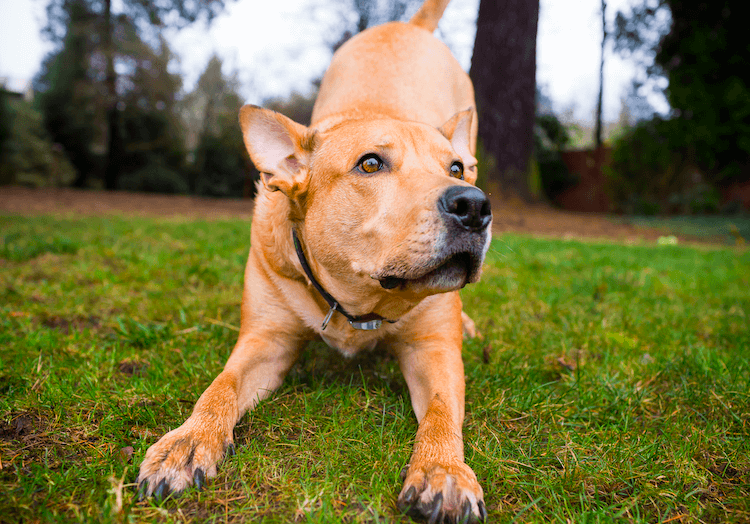 As you have learned, you need to work on every aspect of your Golden Retriever Pitbull Mix. In short, here are the things you need to raise and groom them properly:
Give them a good diet.
Play with them regularly.
Make them exercise or walk every day.
Give them an environment where they can interact with other people.
Clean them up regularly.
Train them with good behaviors.
Teach them to deal with guests and kids.
Keep an eye on their health.
Take them to doctors for screenings.
Built a relationship with your pup.
If you do all the things mentioned above, you will raise an adorable Golden Retriever Pitbull Mix.
How to Socialize with Your Golden Retriever Pitbull Mix
Pitbulls have a bad reputation, which is not wholly solely true, but there is little truth to it.
They tend to bite more than any other dog Moreover, Pitbulls can be territorial and have some typical guarding characteristics. So, when you have a puppy in your home that has a Pitbull parent, you need to make sure the puppy gets to socialize sufficiently. This way, your dogs will learn to deal with situations without being aggressive.
Make sure you have visitors in your home at least four times a week. Also, it would be great if your family comprises adults and children. Ask your family members and guests to give your pup a treat as a form of praise when they come home.
Take your intelligent companion everywhere you can, and make sure your pup meets with people there. If possible, they can give treats to your dog too. Also, supervise the situation in which your dogs meet with other dogs. This will teach them to get along with their furry friends.
Conclusion
You may have heard a quote that, "If puppies could talk, I would never even try to make human friends."
This is true, pups are real friends. Once you get a puppy like a Golden Retriever Pitbull Mix, you will feel like an extraordinary friend in your life.
Other Golden Retrievers Mixes