Like their owners, most dogs love a comfy bed to settle into for a nap or bedtime. But what makes a good dog bed? Does it matter what type you get? In this list, we will list out the best dog beds for Golden Retrievers and why they are good options.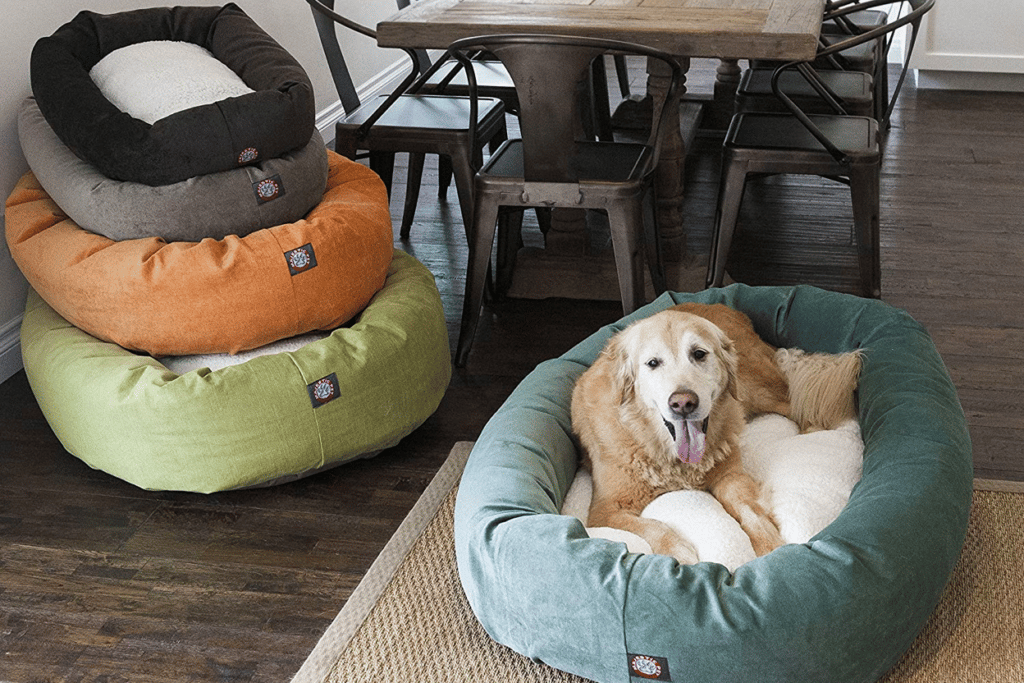 What to Look for in a Dog Bed
Golden Retrievers, like most large dogs, are prone to joint problems. A supportive bed is essential to maintaining their joint health. Another important aspect of a potential dog bed is making sure it is the right size for your dog. They should be able to comfortably stretch out if they want to without falling out of the cushions. A durable dog bed is especially important if your Golden Retriever is a chewer or digger. Waterproof is also a good quality to have for a dog bed.
| | | |
| --- | --- | --- |
| Product | Best For | Why It's Good |
| Big Barker Orthopedic Dog Bed | Best Overall | Supports with memory foam, tear and water-resistant, large enough for a big Golden Retriever. |
| Furhaven Pet Dog Bed | Best Budget | Very affordable, egg-crate orthopedic foam, soft fabrics. |
| Veehoo Elevated Dog Bed | Best Chew-Proof | Durable, textile-mesh, easy to clean, aluminum frame, non-skid feet, off-the-ground. |
| Better World Pets Orthopedic Dog Bed | Best Orthopedic Dog Bed | Memory foam, great for joint health, waterproof, removable, and machine-washable cover, great value, one-year guarantee. |
| Carhartt Duck Canvas Dog Bed | Best Indoor/Outdoor Dog Bed | Machine-washable, durable, lightweight, water repellant. |
| The Dog's Bed Orthopedic Dog Bed | Best Waterproof Dog Bed | Waterproof, durable, low-profile, perfect for dog crates. |
| Chuckit! Travel Pillow | Best Travel Dog Bed | Breathable fabric, machine-washable, fold up into travel bag. |
| Coolaroo Cooling Elevated Pet Bed | Best Cooling Dog Bed | Cot, supportive, mildew-resistant, elevated, can hose down to clean. |
| K&H Pet Products Heated Dog Bed | Best Heated Dog Bed | Outdoor or indoor use, steel wrapped electrical cord, orthopedic foam base, internal thermometer. |
| Villa Bagel Dog Bed by Majestic Pet Products | Best for Dogs that like to Curl Up | Polyester fiber interior, machine washable, durable. |
1. Big Barker Orthopedic Dog Bed
The Big Barker Orthopedic dog bed is the best overall bed for your Golden Retriever with generally five-star reviews. In a study done by a veterinarian at the University of Pennsylvania, it was found that dogs who used the Big Barker Orthopedic bed experienced reduced joint pain and stiffness as well as significantly improved joint function, gait, and quality of life. These life improvements can happen in just twenty-eight days!
The Big Barker uses three layers of OrthoMedic™ Foam to fully support your dog while also allowing them to sink into the bed. It keeps your dog from hitting the floor through the bed.
This bed is made specifically for large dogs and comes in large, extra-large, and giant so you can surely find one that will fit your Golden Retriever.
2. Furhaven Pet Dog Bed
This bed is a great option for budget shopping. They aren't too expensive but are still a great purchase. They have a few different sizes including sofa style, classic cushion, oval, and hideaway beds so you can get the one your dog enjoys most. If your dog loves burrowing, the hideaway bed is great. If your dog likes the be propped against something, the sofa style is fantastic. If your dog likes to curl up, a cup bed will be great.
The beds are supported with egg-crate orthopedic foam to support your dog. This will keep them happy and comfy when they sleep. Be warned, though, the covering material is not strong so chewers may dig through the fabric to make a hole.
The company gives free shipping and has a sixty-day warranty to you can be sure that if there are any issues you can return it!
3. Veehoo Elevated Dog Bed
Is your dog a big chewer? Then the Vehoo Elevated dog bed is a good option. This elevated bed is made with a rustless aluminum frame and durable Textilene mesh fabric. This will keep your dog from rining the bed by standing up to their chewing. It is also very easy to clean!
The elevated bed will also help cool your Golden Retriever which will give them relief from their long hair, especially in the summer. It also comes in a few different sizes so you can easily find one to fit your dog's size. Be sure to get one big enough for them to spread out on.
No need to worry about the bed sliding across the floor. The legs have non-slip and floor-friendly rubber feet that keep the bed sturdily in place even when your dog jumps on and off. It's also easy to assemble and can be quickly set up and taken down to use on camping trips, picnics, training, or to move inside or outside for the different seasons.
4. Better World Pets Orthopedic Dog Bed
An older Golden Retriever needs good support for their joints. The Better World Pets orthopedic bed is a great option with five inches of memory foam that fully supports your dog. This thick foam helps dogs with arthritic and hip dysplasia feel better. It has a perfect amount of support and softness.
The cover of the bed is waterproof and can be easily removed for machine washing. The waterproof aspect protects the bed from messy dogs and also from bedwetting. As dogs get older, they may have accidents and a bed that is waterproof and easily washable is a must.
Another great aspect is that it comes with a one-year money-back guarantee if you aren't completely happy with the bed. That's how sure the company is that you'll love it! This truly is the best bed for older Golden Retrievers.
5. Carhartt Duck Canvas Dog Bed
Is your dog a digger and a chewer? Are you looking for a bed that they can use outside? The Carhartt Duck Canvas Dog Bed is great. It is made of very durable material that is virtually impossible to destroy.
You can use this bed inside or outside with the assurance it will stand up to the weather. It is water repellant which is great for any time of year. It also is machine washable so when it does get dirty you can easily clean it.
6.

The Dog's Bed Orthopedic Dog Bed
A great waterproof bed is simply called The Dog's Bed. If your dog likes to play in the water or if you live in a damp area, this bed is fantastic. The waterproof outer layer keeps the memory foam mattress inside nice and dry so it stays in good condition. The outer layer is easily removed for washing in a washing machine and replacement covers can be purchased if needed.
The bed also is orthopedic so it will help support your Golden Retriever's joints. This will help prevent future problems and give dogs who are suffering from arthritis some relief. It also helps with elbow calluses that commonly develop in older dogs that lie on hard floors.
The bed comes with a limited one-year warranty so if there are any manufacturer defects you can be assured they will be fixed.
7. Chuckit! Travel Pillow
If you commonly travel with your Golden Retriever, you probably want a good bed for them to relax on during camping or in hotel rooms. This travel bed is soft and durable. It easily rolls up fits into a storage bag for easy storage. It is also machine washable!
This really is a great and easy option for traveling with your Golden Retriever. It's like their own personal sleeping bag!
8.

Coolaroo Cooling Elevated Pet Bed
The Coolaroo Elevated Pet Bed proudly claims the original elevated pet bed. This bed is great for golden retrievers because it specializes in keeping a dog nice and cool. A Golden Retriever easily gets hot with its thick and long fur. This bed is made of breathable fabric that allows air currents to get under our dog.
The fabric is also easy to clean and can be wiped or hosed off. It is safe to use outside and can withstand the elements. The fabric comes in many different colors and has a one-year warranty that the fabric will stay intact.
9. K&H Pet Products Heated Dog Bed
Heated pet beds are very nice for dogs that have joint issues. A nice warming bed can help relieve their stiff joints. A good thing to note is that these beds regulate their temperature so they won't get too hot for your Golden Retriever.
They have an orthopedic foam base to assist with joint issues and to keep your dog comfortable. Some of these beds can also be used outside if you have a dog that spends any time outdoors.
There is an electrical cord that is wrapped in steel that provides the power. However, if your dog is a known chewer, it may not be a good idea to get them this bed as they could injure themselves if they d manage to chew through the cord.
10. Villa Bagel Dog Bed by Majestic Pet Products
Some dogs like to curl up with sleep. If that is the case, this bed is a must. It allows your dog to feel comfort on all sides while they curl up to sleep. It is made to be soft and comfortable with a polyester fiber fill and premium upholstery fabric that reduces wear and tear.
The bed has a water-resistant cover. The cover can be removed and is machine washable.
Frequently Asked Questions
What size of bed do I need for my Golden Retriever?
This depends on the size of your Golden Retriever. If you are able to measure the length of your dog while they are sleeping and then add about a foot that should give you a good ballpark of the size to get. Most will need a large or extra-large bed.
What type of bed should I get my Golden Retriever?
Every Golden Retriever likes to sleep in different ways, much like their owners. Some like to sleep curled up, some like to sleep sprawled out. Find out how your dog likes to sleep and buy a bed that suits their sleeping style. If in doubt, flatbeds that lie on the ground are a good place to start.
What are the best beds for older Golden Retrievers?
Older Golden Retrievers need joint support so a supportive bed is a must. They may have trouble stepping high, so beds that are not elevated are a great choice as well. In general, a bed low to the ground with orthopedic support is a great option.
Final Thoughts
Dog beds for Golde Retrievers are highly recommended to keep their joints healthy. Your dog will love a bed all their own that they can cuddle in. This will also help keep your dog from using your furniture to find a comfy spot to sleep. When looking for a dog bed, be sure to consider those on our list.