Golden Retrievers are one of the most popular breeds of dogs in the USA! They are very friendly, loving and often make great family pets. There are three types of Golden Retrievers – English, Canadian and American with colors ranging from golden, lightly golden, and dark golden. To bring home the perfect Golden Retriever from a breeder, it is important to find a breeder who focuses on the health, longevity, and temperament of their dogs. The Golden Retriever puppies should also be well socialized before going to their forever home and be screened for genetic hereditary problems including hip and elbow problems.
Best Golden Retriever Breeders in Tennessee
1. Southern Shades Kennel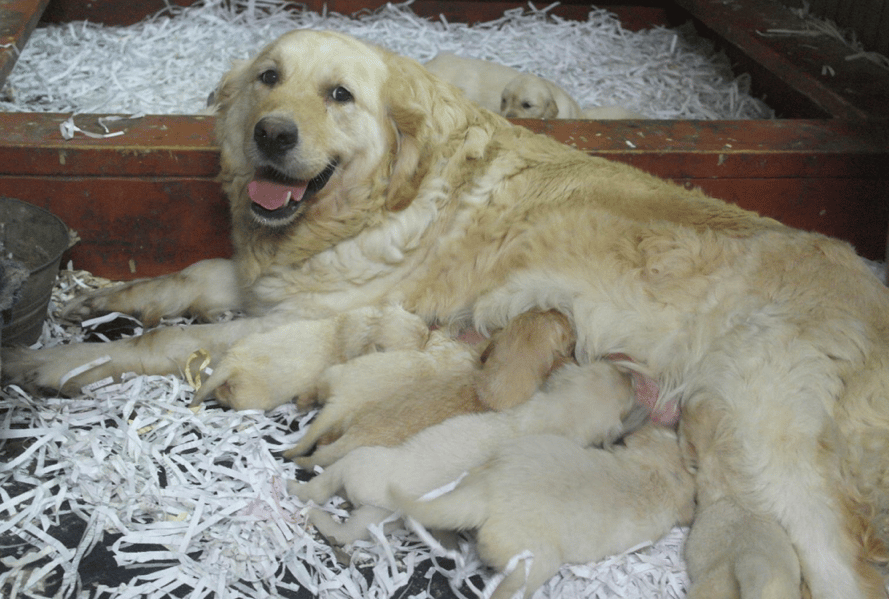 They are a small hobby breeder located on 5 acres of land. They strive to provide healthy quality puppies with calm temperaments! They carefully select Goldens from top Multi-champion European import lines which they feel are some of the best bloodlines available in the United States! They raise their puppies around their grandchildren to make sure they are socialized and great around children. They are constantly posting photos on Facebook and are updating their website with the latest news on new litters.
2. MidSouth Puppies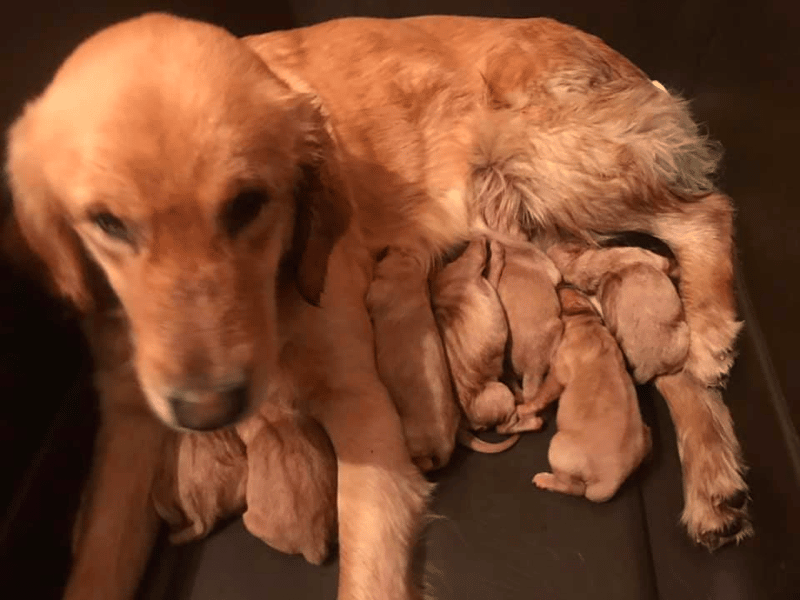 Their goal is to breed and raise healthy puppies that conform to the breed standards as much as possible while simultaneously trying to improve the breed. The dogs enjoy over 130,000-cubic feet of natural wooded environment where they can run and play to their heart's content. They have both indoor and outdoor facilities with delivery and maternity care rooms as well as emergency care capabilities. They want to make sure the puppies are loyal, loving, and socialized before going to their forever homes. The Golden Retrievers available come in all shades, from light to blonde to strawberry blonde to dark red.
They are a very reputable breeder of not just Golden Retrievers but also Siberian Huskies, Lab Retrievers, German Shepherds, and Malinois X. They have over 24,000 likes on Facebook and 28,000 followers on their page. They are posting often to both their Facebook and website so if interested, go check them out!
3. Goldenway Retrievers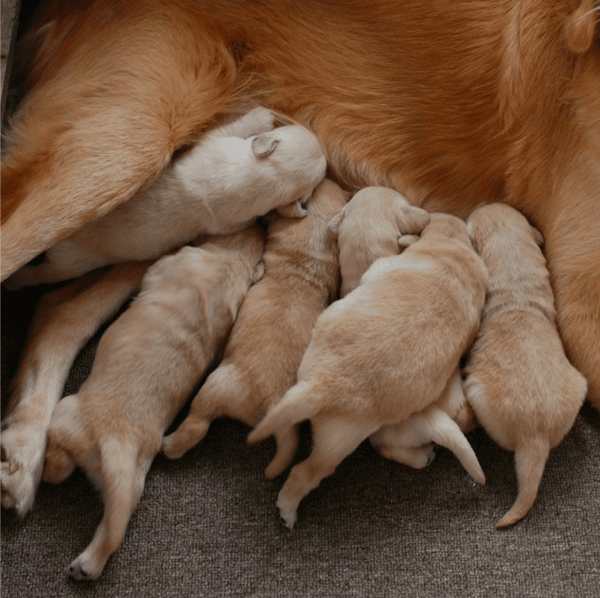 With over 35 years of exceptional high-quality breeding experience, they claim to be one of the best Golden Retriever breeders in Tennessee! They have both American and European Golden Retrievers and take great pride in the careful, thoughtful choices in each breeding to ensure the best health, beauty and even temperament. Their Goldens come from outstanding lineage and Champion bloodlines with direct imports from Poland, Columbia, and Canada.
Each parent is properly health tested and OFA Certified on their hips, elbows, heart, eyes, and additional DNA clearances. The puppies are affectionately raised with their family to provide proper socialization, so they are ready for their new home. The puppies are exposed to common noises and sounds such as children playing and crying, vacuum cleaners, thunderstorms, and fireworks which helps to produce a calm dog.
When your puppy is ready to go home, they would have been vet checked, the first round of vaccinations, and dewormed. They do provide a health guarantee and the details are provided on their website.
4. Charming Acres Puppies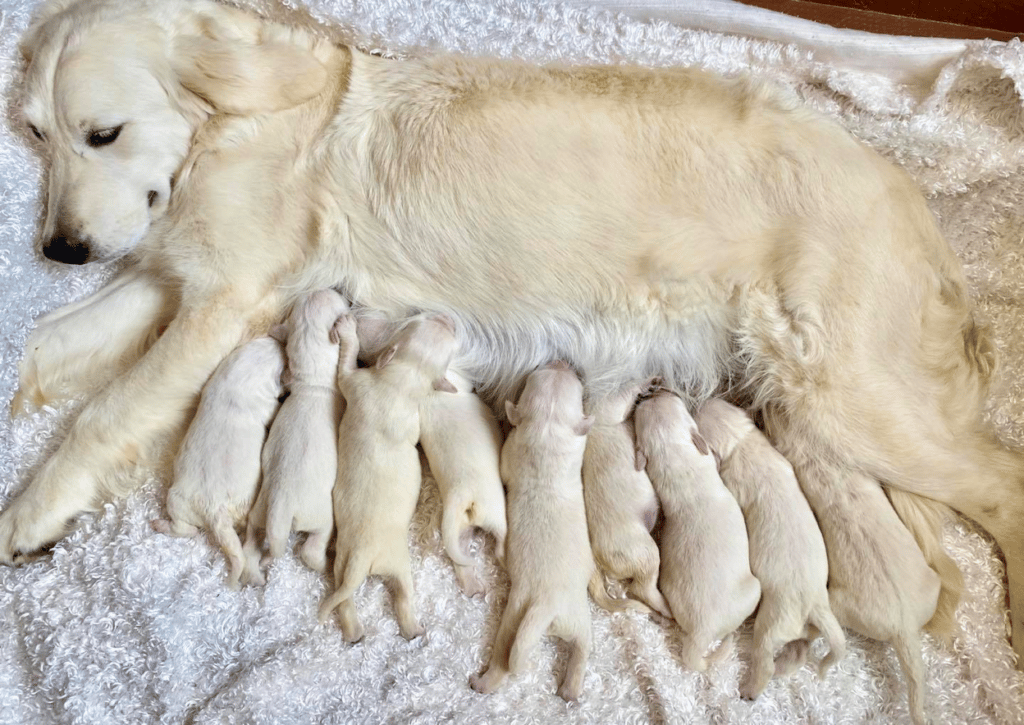 Ed and Kathy Coblentz are the breeders at Charming Acres Puppies, and they breed English Cream Golden Retrievers. They are located on 10 acres at the foothills of the Smoky Mountains in East Tennessee. They strive to rise above the ordinary with well socialized, happy, and healthy puppies for their clients. They love to place their beloved little friends in your hands and watch the bond form right before their eyes.
They strive for excellence in all they do, and it shows through their puppies. If interested head over to their website or Facebook where they post the latest details of puppy availability!
5. Mountain Laurel Goldens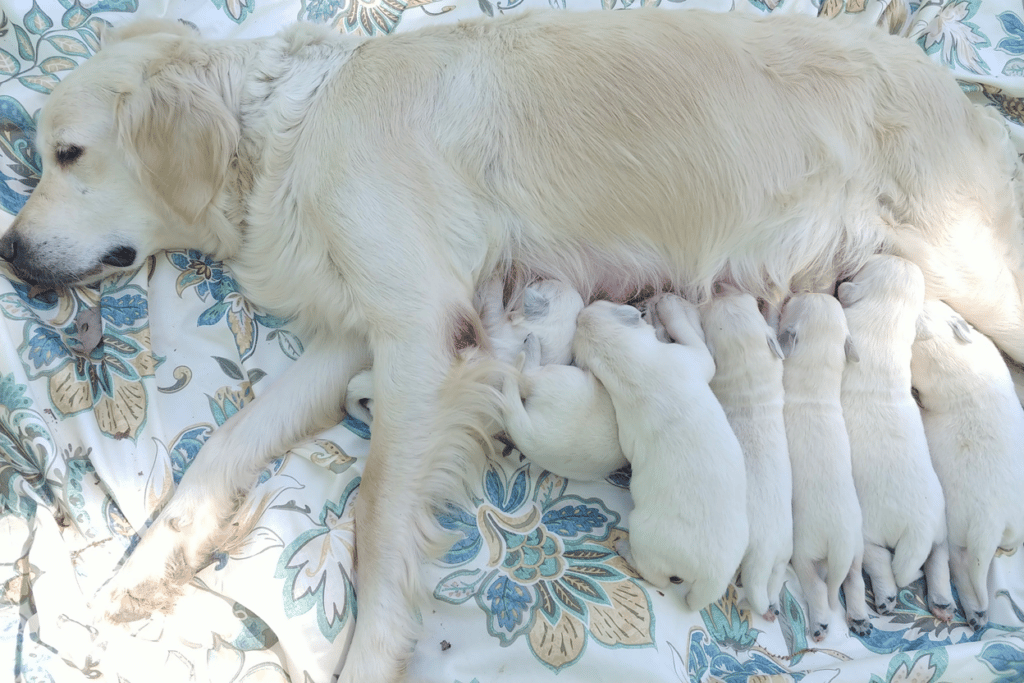 Located on a 13-acre farm, Elizabeth Easterly gives her Golden Retriever puppies plenty of space to roam and play for hours. The Golden Retriever puppies live in the home with her and her 4 children. She makes sure that all her dogs are health tested before breeding such as testing for hip dysplasia, elbow dysplasia, cardiac evaluation, thyroid conditions, and an eye test. She performs neurological stimulation on all puppies from day 3-16 to help desensitize them. Every puppy is crate, leash and potty trained by the time the puppy is ready to go to its forever home.
The price of a puppy is $3,500 which includes a $500 deposit. Within the price the puppy is has a 5-year health guarantee, AKC paperwork, and 30-day health insurance. The puppies are vaccinated with the first round of shots, dewormed, and microchipped by 7-weeks old. They are ready to go home with you at 8 weeks of age.
6. Back's Golden Retrievers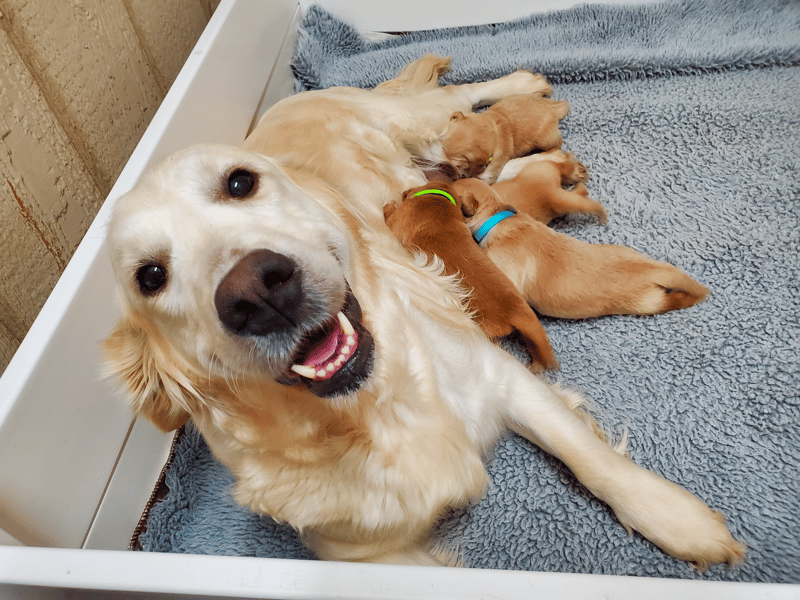 At Back's Golden Retriever's, they primarily breed English Cream and American Golden Retriever puppies. The puppies are very well socialized and live in a calm and loving environment. With their own playroom, they can socialize with one another with lots of playtimes as well! The people at Back's Golden Retriever's are constantly posting pictures and videos weekly, sometimes daily to make sure you are up to date with how the puppies are doing.
They strive to be as transparent as possible throughout the entire process and make sure they are with you every step of the way. After the puppy goes home with you, they are still there for you checking in to see how things are going and to give you advice when asked. There is also a private group page where everyone can connect with owners and share photos of their puppy.
7. Brooks' Golden Blessings
James and Karen Brooks are the breeders at Brooks' Golden Blessings! They have more than 18 years of experience with breeding Golden Retrievers and absolutely love each one of them. They are AKC approved, and vet recommended from the community. They breed for great disposition, intelligence, and obedience. They have Goldens from very light to dark golden color, depending on the parents.
Once you have picked your forever friend, they go home to you at around 7-8 weeks of age with their AKC papers, vet checked with first series of puppy shots and dewormed. The puppies come with AKC limited registration for $1000 (non-breeding rights) or AKC full registration to approved homes for $2000 (breeding rights). Deposits will hold your place in the pecking order of your puppy.
8. Cold Spring Mountain Retrievers
At Cold Spring Mountain Retrievers, they strive to go beyond any business and to provide quality Golden Retriever puppies. They are serious hobby breeders based out of East Tennessee and they breed for health, temperament, conformation, and beauty. They only offer European English Crème/White Goldens because they believe that they are the best of the best. When you purchase a puppy from Cold Spring Mountain Retrievers, they want you to feel satisfied with the purchase and will work with you to resolve any issues that may come up.
The puppies come with a 2-year guarantee and cost $2,500 to purchase with a $500 deposit which will secure your puppy. They can ship puppies across the all the states, and it will cost usually another $600 if the client wishes. The $600 includes a vet health certificate, nice shipping crate and airline cost. By the time the puppy is ready to go to its forever home it would have had age-appropriate vaccines and regular deworming as recommended by the vet. A record of all vaccines and deworming will be provided at the time of release.
9. Young Ridge Goldens Kennels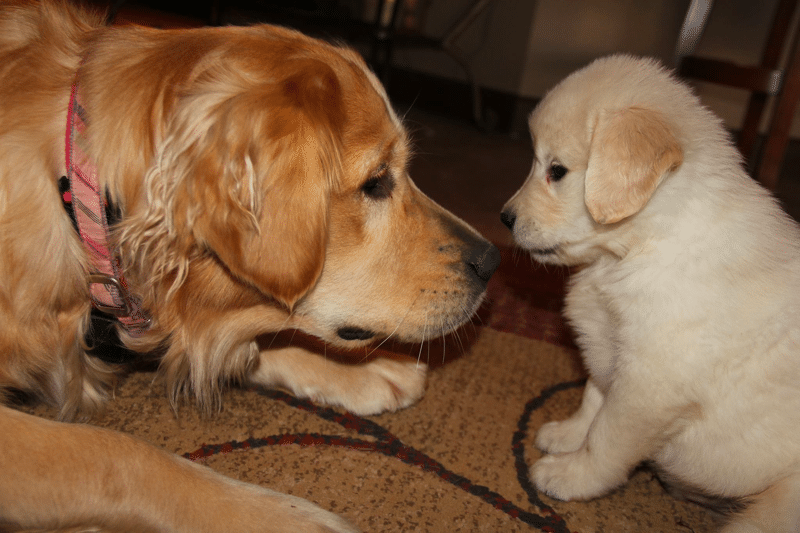 They breed AKC registered Golden Retrievers and they strive to better the breed through testing and conscientious breeding practices. They began breeding in 2014 and have never looked back! Each dog is certified against genetic diseases before breeding and they also do DNA testing as well. They have chosen their breeding dogs very carefully to give you the healthiest puppy. Since they put a lot of money and time into each dog, they want to make sure they go to the right home through careful screening of all applicants who wish to purchase one.
The price for a puppy is $1,800 with a deposit of $200 which is non-refundable. They require cash for the final payment of $1,600. You will pick up your puppy at 7 weeks of age and they will come with a record of health from the vet, AKC registration packet, some food to help them acclimate to your feeding program, and a goodie bag.
10. Radiant Goldens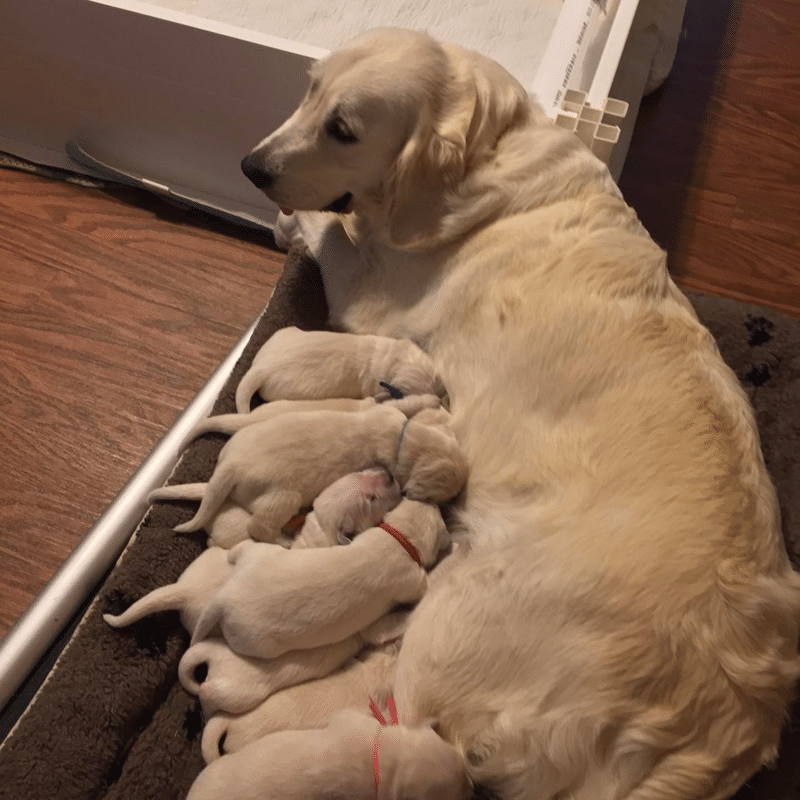 Starting in 2010, they are a small breeder of AKC English Golden Retriever puppies in Middle Tennessee. They live on 26 acres an hour south of Nashville surrounded by beautiful rolling hills. All their dogs are chosen with high standards for health, temperament, intelligence, and exceptional European championship pedigree's. They practice with a holistic approach such as limiting exposure to toxins and carcinogens found in most dog products.
All adult dogs receive DNA testing including, degenerative myelopathy, dystrophic epidermolysis bullosa, brittle bone disease muscular dystrophy, and many more! Radiant Golden puppies are born in their home surrounded by love and family. Each puppy receives individualized care with a puppy training protocol that prepares them to be integrated into your family with ease.
11. Tri-Star Goldens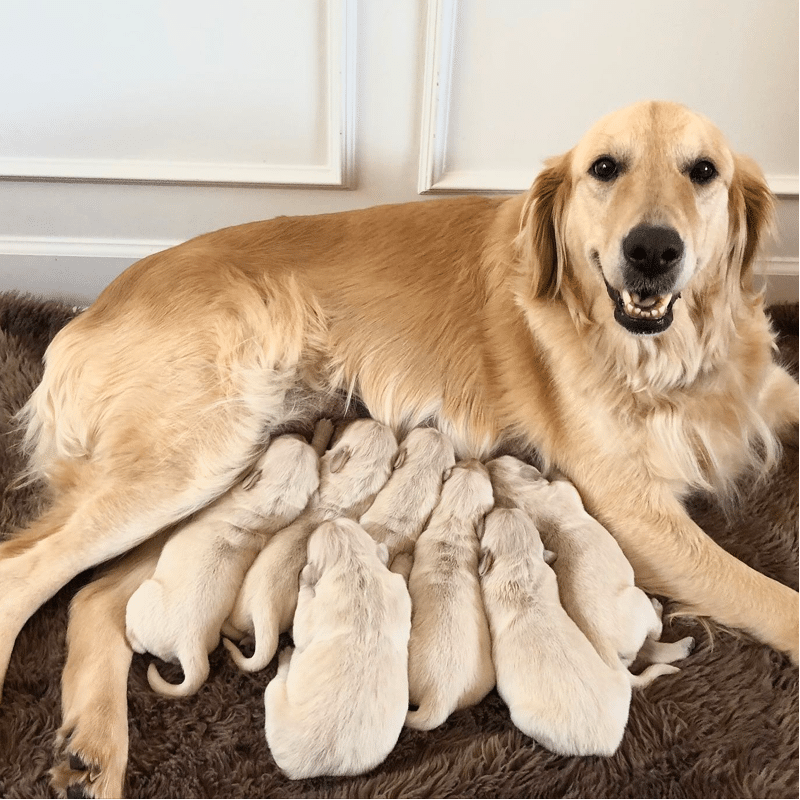 Located in Columbia, Tennessee they breed English Cream Golden Retrievers! The family in charge of breeding sees these puppies as family pets and friends, first and foremost. They live in their home, sleep in their rooms, and share life with them! Having grown up with Golden Retrievers, they believe that they are the best dog to have and want to share their experience with you. They have lots of time to play and socialize with one another and they give each dog the love and care that they deserve.
12. Ethos Golden Retrievers
Ginny and Aaron Kincer are the breeders at Ethos Golden Retrievers. They have more than 25 years of experience and are passionate about what they do and believe in raising the happiest and healthiest Golden Retrievers possible. They are members of the Golden Retriever Club of America and adhere to the Code of Ethics. Their dogs excel both in and out of the show ring and are excellent representations of the breed. The puppies will go home with you at 10 weeks old and they make sure to test the parents for hip dysplasia, elbow dysplasia, cardiac evaluation, patellar luxation, and a DNA disease panel.
13. Dale Hollow Goldens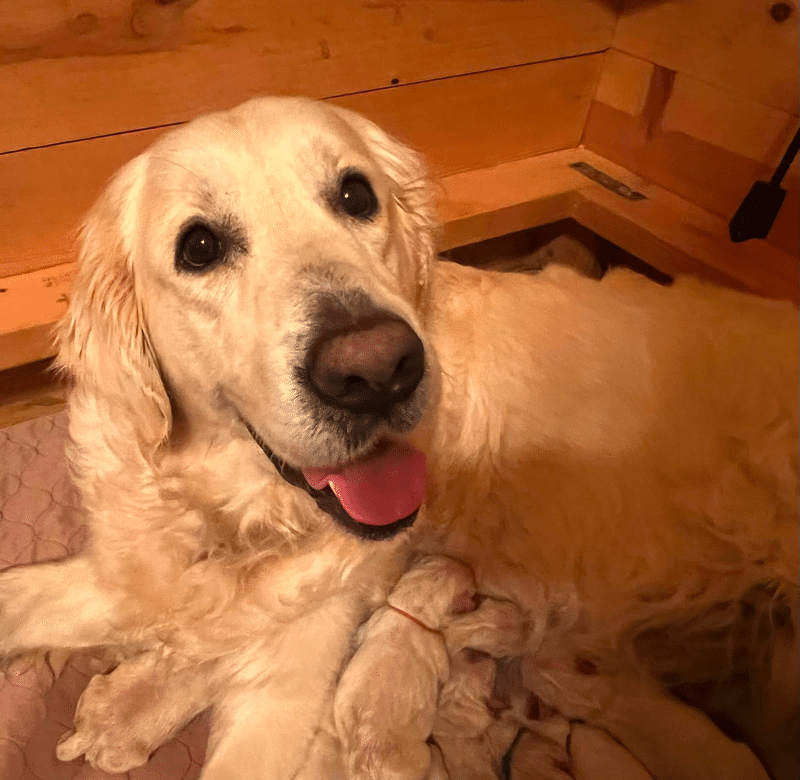 Jenny Smith is the breeder behind Dale Hollow Goldens located in Monroe, TN. They are a small hobby farm that has had Goldens since 2001! Their goal is to provide loving healthy family additions while maintaining breed standards. All their pets are AKC registered and health certified and test the parents first for genetic diseases before breeding.
They make sure to stimulate the puppies at a young age and try to expose the puppies to a large variety of sensory experiences. Their puppy goes home with you after 8 weeks of age and comes with a vet record and their vaccinations. They offer a 1-year health guarantee and send the puppies home with food started to bag, microchip, blanket with littermates' and mom's scent, and Volhard personality test.
The price of a puppy ranges from $2,500-$4,000 with a non-refundable deposit of $500. That deposit is counted towards the total price of the puppy.
Golden Retriever Breeders in The Other States Near Tennessee
Golden Retriever Resources and Tips
Final Thoughts
The Golden Retriever is a great dog to have and is one of the most popular dog breeds in the world. They are loyal, lovable, playful, calm, and just a gorgeous dog to have in your family! There are plenty of other breeders of Golden Retrievers in Tennessee but listed above are who I think are the best breeders in this state.
Before committing to a puppy and breeder, please make sure to do your research on both to make the right decision. It is best to find a breeder that is both ethical and reputable to have the best experience possible.