This may come as some surprise to know that the Golden Retriever is not hypoallergenic because they are so soft and cuddly. But this breed sheds that thick, soft hair often, which is why they are not a suitable choice for allergy sufferers.
Come spring and fall, you will notice clumps of dog hair rolling around your backyard and in your home. You can gently grab a handful of their fur and pull, and you will have a handful of fluff! In fact, you may panic when they have the first shedding of hair and wonder if they are going to be bald!
Don't worry though, their new layer of new hair pushes out the old, so they are never without their luxurious coat.
While the Golden Retriever is a great breed to have as a pet, the constant shedding of their thick coat can be a problem for someone who sneezes at a little dust. The irritation of one's sinuses can almost drive a sensitive person crazy.
But let's set the record right. What is the definition of hypoallergenic? The term is borrowed from the Greek word 'hypo' which means low. In relation to a dog, it would mean that they were a dog that releases a low number of allergens, and sadly – that is not true for the Golden Retriever.
The Real Culprit is not the Hair, but the Dander!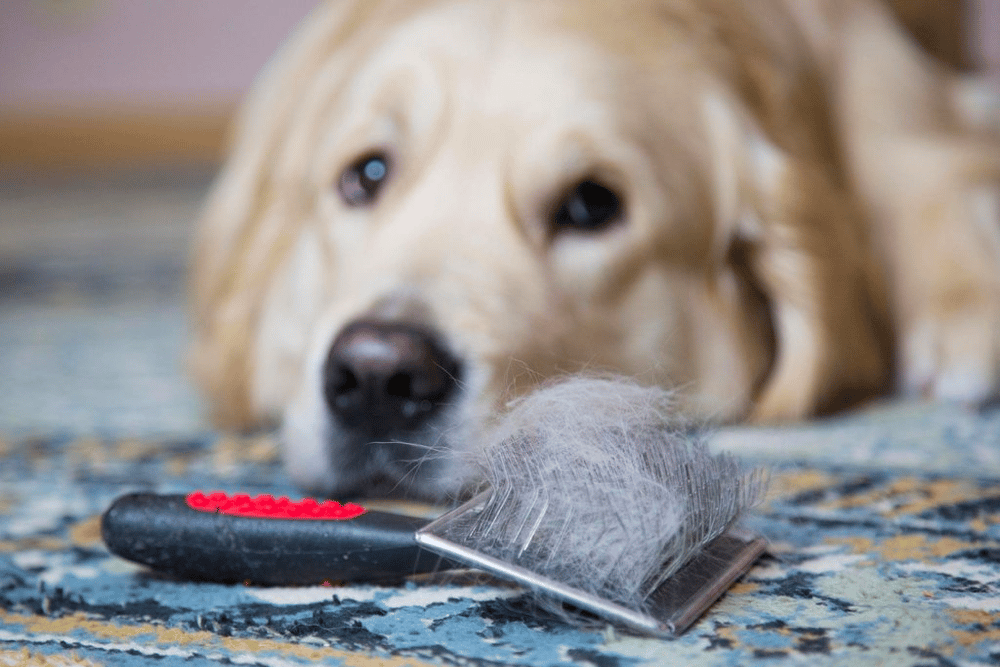 What is dander you may well ask?
Well, the best way to explain it is as follows.
When your Golden Retriever sheds their hair, it also sheds a tiny bit of its skin as well. This tiny skin sample is called dander and that is what causes an allergic reaction in some people.
The thing is that dander is not visible as is fur or hair, and it blends into the environment and can become airborne and spread throughout the home.
The more your dog sheds, the worse the aggravation from dander if you are sensitive to it.
But before eliminating the adoption of a Golden Retriever, know that not all dogs create the same reactions. Every dog in every breed has some or all the six different allergens that dogs can produce. But each dog is unique, they don't all have the same allergens.
Spend some time with the dog or puppy that you would like to adopt and see how severe your reaction is to them.
For example, some of the male Golden Retrievers can produce an allergen known as Can F5 which is a protein made from within their prostate. This allergen can produce an allergic reaction. However, the female Golden does not have this protein, so you are less likely to react to the female dog.
Therefore, you may be able to keep a female dog with no allergic reactions. But note the following … neutering your male dog as soon as they are of age to have this operation can help reduce or eliminate the Can F5 problem.
When it comes down to it, it is not the dog hair that causes an allergic reaction, but that you are allergic to the proteins that the dog produces either in their skin, urine, or saliva.
The extent of your allergies also plays a role in the decision as to whether you get the Golden Retriever of your dreams. Everyone is unique; some people will react to a certain dog more than another human. If you react to a male Golden Retriever, try a female dog, and see whether you react to them.
While the Golden Retriever isn't hypoallergenic, there are many things that you can do to lessen the effects your new pet has on your allergies.
We will go into that a little later but first, let's discuss the symptoms that you may have if you are allergic to them.
What are the Symptoms of an Allergy to a Golden Retriever?
The following list contains the types of reactions you may have to the dog dander. Some people will only suffer one or two of these, while others less fortunate may suffer from them all.
Every dog is also very different even within a litter. While there are six different allergens that dogs can produce, not all dogs make the same allergens. Many dogs and not just the Golden Retriever can cause an allergic reaction, but it is about the severity of your reaction that is in question, and it is wiser to work this one out BEFORE you get any dog breed.
Here is the list of symptoms you may encounter:
Sneezing and watering of the eyes. Often the sneezing can be quite violent, and you may do a series of sneezes, not just the one. The power of your sneezes can cause your eyes to water.
Itchy eyes – the itching can be so severe that you will have to rub your eyes which in turn only makes them red and itch more.
Some people suffer from hives, which are itchy raised welts on the skin that usually sting.
Your nose may run continuously and may become tender due to excessive wiping.
Shortness of breath or wheezing can be a common reaction to dander.
Coughing as your body tries to oust the invader.
An itchy skin rash.
Trouble sleeping at night, often due to a blocked nose and/or itching.
Some people only have a slight allergic reaction, but if you lean towards the severe end of the scale, it may pay to check it out with your doctor before you get a dog.
And there are many things that you can do to minimize your allergies if you do go ahead and get your forever friend the Golden Retriever.
Overcoming a Reaction to Your Golden Retriever
It can be heartbreaking if you react to the Golden Retriever, but all is not lost. First and foremost, talk to your doctor about managing your allergies.
There are many antihistamines and other products that can help your body to block the histamines which are the cause of the trigger an allergic reaction.
There are also nasal sprays that can reduce inflammation.
If you are mildly allergic, you may still be able to adopt a Golden Retriever, but you will just have to be a bit more careful than others.
Luckily there are measures that you can take at home that can make the worst months of your dog's habitual shedding more bearable.
You may have to keep your dog from sleeping on your bed, or even keep your dog out of your room and clean the room thoroughly to avoid a build-up of allergens.
Get some short pile carpet if you can't bear to have hard timber floors in every room. The shorter the pile, the less the allergens can get trapped within the pile.
Keeping your dog off soft, fluffy furnishings would be advisable as the hair and dander can stick to these fabrics.
Vacuum the home often to get rid of the fur and allergens. If you have carpet, steam cleans them often to remove saliva and dander.
Change your clothes often when you have been playing with your dog.
Use HEPA filters throughout the home, especially in your bedroom or where your dog spends a lot of time. These filters remove dog allergens floating in the air which reduces the chance of an allergic response.
Additional Steps You Can Take to Reduce Allergens
We have touched on what we can do in the home to reduce an allergic reaction to your Golden Retriever. But here are some additional steps for your pooch's bed.
Pets love lazing on their bed, although the Golden Retriever is more active than most and will probably wander around after you as they love to keep you company. But here are a few things we can do to make life more bearable for all.
Give your Golden a bath every week and groom them outside to reduce the airborne allergens.

Perhaps you may want to use a groomer or ask a family member to do this so that you don't breathe in the airborne allergens. At least wear a mask to try and minimize any reaction you may have if you wash and comb them yourself.
Use a dog bed protector cover on your Golden Retrievers bed. Choose one that zips right up and is dust mite proof. Wash the cover every week to keep it fresh and clean.

Wash the dog's bed weekly

in hot water and dry it in the sun if you can.
Use silk which is not only cool and comfy, but some silk beds or covers are allergy-free.
Wash their toys often, as they will drool all over them during play.

Vacuum their bed often

. Talk to your vet. They may be able to suggest a spray-on anti-allergen concoction that will help.
And again, keep your dog's bed out of your bedroom … if you can.
If your dog travels with you in the car, remember to vacuum the inside, and wipe down the seats regularly to avoid any allergens.
Are There Hypoallergenic Dogs Options?
Some dog breeds are referred to as hypoallergenic dogs, but in reality, there is no such breed that is 100% hypoallergenic, but there are breeds that produce less dander and saliva than others.
All dogs produce to some degree, dander, saliva, and urine, and contribute to dust and pollen. Even a hairless dog still has saliva and urine and brings in dust and pollen. And to be clear, the Golden Retriever doesn't cause allergies, but they can trigger an allergic reaction.
Allergy suffers may want to explore whether another breed is more compatible with their allergies than the Golden Retriever.
These dogs include the Poodle, Afghan hound, Bichon Frise, American Hairless Terrier, Chinese Crested, Maltese, and more. These dogs have shorter, thinner hair and shed less than The Golden Retriever.
But any dog breed can wake up an allergy, so it is not a given that you will be better off with another breed. A lot depends on the person and the dog.
Can a Golden Retriever Still Be Part of Your Life?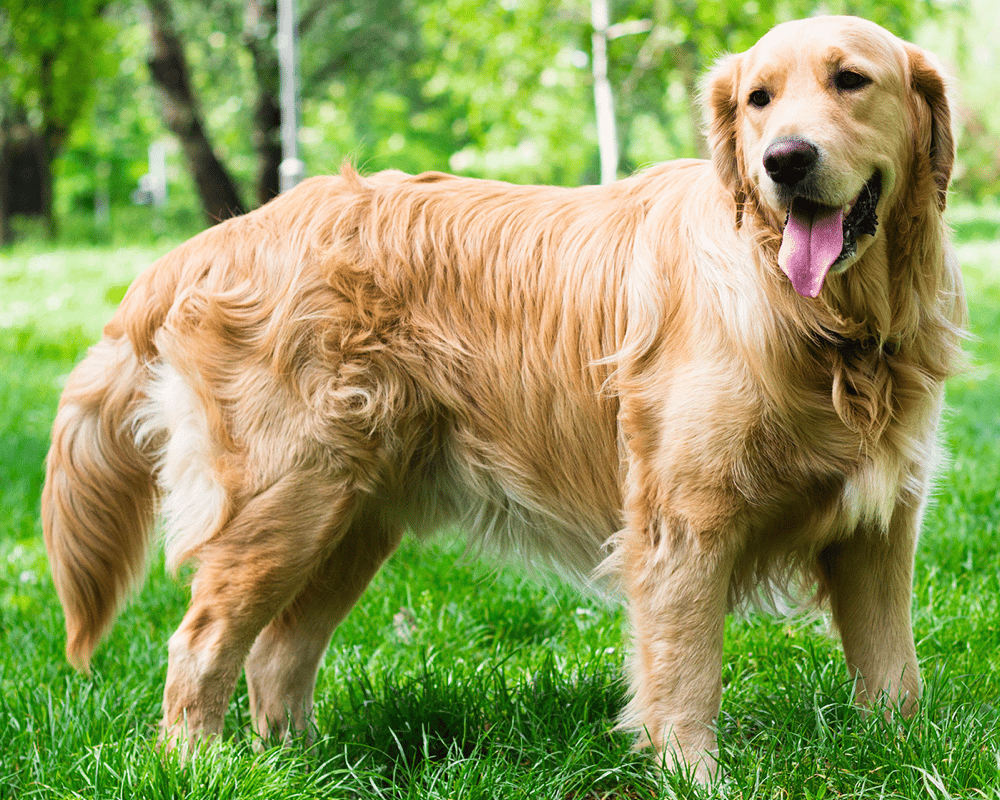 If your allergies are manageable and you are prepared to spend more effort keeping your home and your dog clean and groomed, you should still be able to enjoy the company of the Golden Retriever.
When you choose a puppy, sit with it for a while to test whether you get a reaction. You may have to do this several times to get a conclusive test. Getting a female dog may cause less of a reaction as they don't make the Can F5 allergen.
Asthma and other allergenic responses have caused a wide range of products and treatments to become available for the sufferer. Nasal sprays, inhalers, and other products can make life more bearable along with a health management system for the individual.
The dander from the Golden Retriever may only affect you when they are at the worst stage of their shedding cycle. Take steps to have someone take over the grooming of your dog which will help you avoid the worse of it.
A large part of the Golden Retriever's popularity is in part their long fluffy coat, along with their lovely caring nature.
Having a Golden as your friend means you will never be lonely. They will walk with you, sit with you, and try to eat with you if they can. They are funny and adorable, true companions till the end.
Before you make any decision, do your homework. Your health is important too. Talk to the professionals like vets, doctors, and specialists before making your decision.
And if you decide getting a Golden Retriever will work well with your health and your lifestyle, then go and bring an adorable dog home.
A Golden Retriever only asks that you love them back and that you will share your life with them. They need your company, and in turn, you will never have a truer, more loyal friend than a Golden Retriever.
Golden Retriever Resources and Tips
If you would like to have a Golden Retriever for your family, check out all the necessary information on everything about the Golden Retriever breed profile, and what would be needed in raising a Golden Retriever puppy. You also get to learn in detail, the 5 stages of Golden Retriever Puppy Growth (from baby to adult), and what to expect with your pup in each stage of its growth.