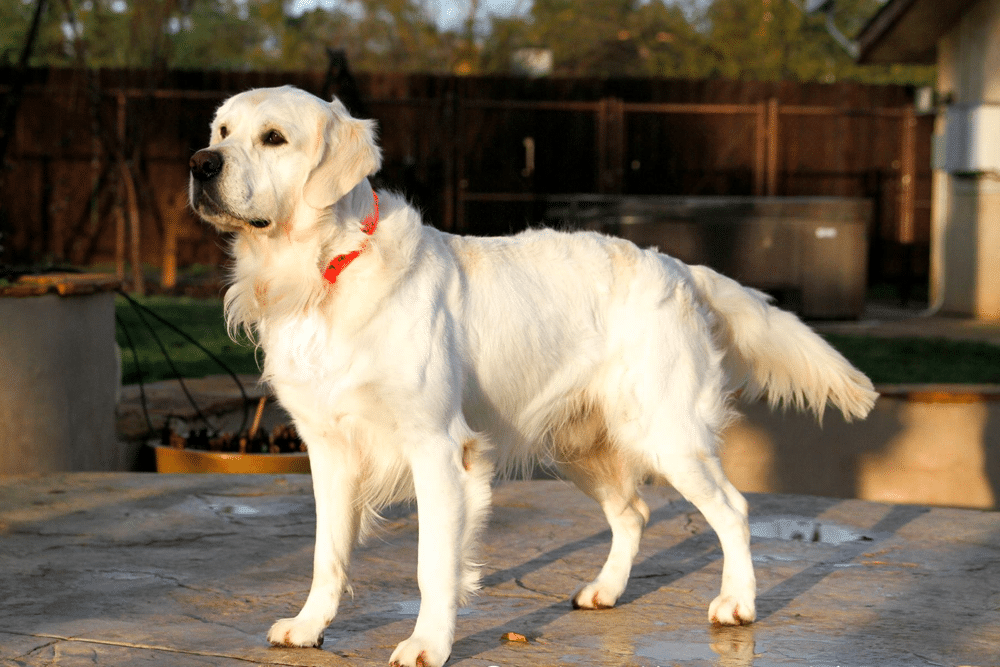 Golden Retrievers are one of the best-known dog breeds. The American Kennel Club lists Goldens as the top three popular breeds in America, and for good reason! They are an intelligent, beautiful, and friendly breed that is a great family dog. They are good for almost any age and can adapt to almost any living situation.
Read on to find out more about temperament, care, grooming, and more about Golden Retrievers. All of the commonly asked questions can be found here, as well as a few you might not have thought to ask!
Golden Retrievers at a Glance
| | |
| --- | --- |
| Popularity? | 3rd out of 200 Breeds According to AKC |
| Lifespan? | 10-12 Years |
| Temperament? | Friendly |
| Height? | 21.5-24 Inches |
| Weight? | 55-75 lbs |
| Coat Type? | Double, wavy, or straight |
| Color? | Cream, Gold, Red |
| Hypoallergenic? | No |
| Grooming Needs? | Moderate, Daily Brushing, Seasonal Groomer Appointments |
| Shedding? | High |
| Good with Children? | Very Good |
| Stranger Friendly? | Stranger Friendly |
| Good with Dogs? | Very Good |
| Good with Other Pets? | Very Good |
| Good in Heat? | Okay if Shade Available, No Heavy Exercise in Heat |
| Good in Cold? | Yes Down to About 40 Degrees Fahrenheit |
| Energy Level? | Moderate |
| Apartment Friendly? | Yes with Proper Training and Exercise |
| Exercise Needs? | About an Hour a Day |
| Barking Level? | Low |
| Trainability? | Very Easy |
| How Healthy? | Some Big Health Concerns |
| Price? | $1,000 to $3,500 |
Pros and Cons of Golden Retrievers
Pros
Friendly with children, seniors, other dogs, and other pets
Great family dogs with a mellow and positive temperament
Easily trained for tricks or obedience
Intelligent to quickly learn how to behave
Does not have a habit of barking or biting
Cons
Shed a lot, so they would not do well for a person who wants a constantly neat and tidy house with low upkeep
Multiple health issues such as cancer, joint issues, and allergies
Prone to obesity because they love to eat
Known to chew and dig if they are bored or have pent up energy
Types of Golden Retrievers
Golden Retrievers are generally grouped into American Golden Retrievers and English Golden Retrievers. The main difference between English and American Gold Retrievers is their physical appearance. English Goldens are generally lighter and a bit stockier. They also tend to be a bit calmer than American Goldens.
There are also different types of builds within the Golden Retriever breed. Sportier hunting dogs usually have less fringe on their coat and will be lankier in build. Typical show dog lineage demonstrates a larger head and stockier body with fringe along the neck, stomach, tail, and back of the legs.
History of the Golden Retriever
Golden Retrievers were developed during the mid to late 1800s in Scotland. They were bred by the first Lord Tweedmouth, named Dudley Marjoribanks, to be bird dogs. Tweedmouth was bred for the golden color in a time when yellow or gold-colored hunting dogs were unwanted. He picked the yellow unwanted puppies from Flat-Coated Retriever litters and bred them with other breeds to get the desired appearance. Their unique breeding also means that they have a soft mouth, or rather a mouth that will not bite hard, which allows them to carry a bird without injuring the body. A good demonstration of this can be seen in videos where Golden Retrievers carry eggs in their mouth without cracking the shell. Since their development, they have quickly become a popular breed across the world.
Golden Retriever Temperament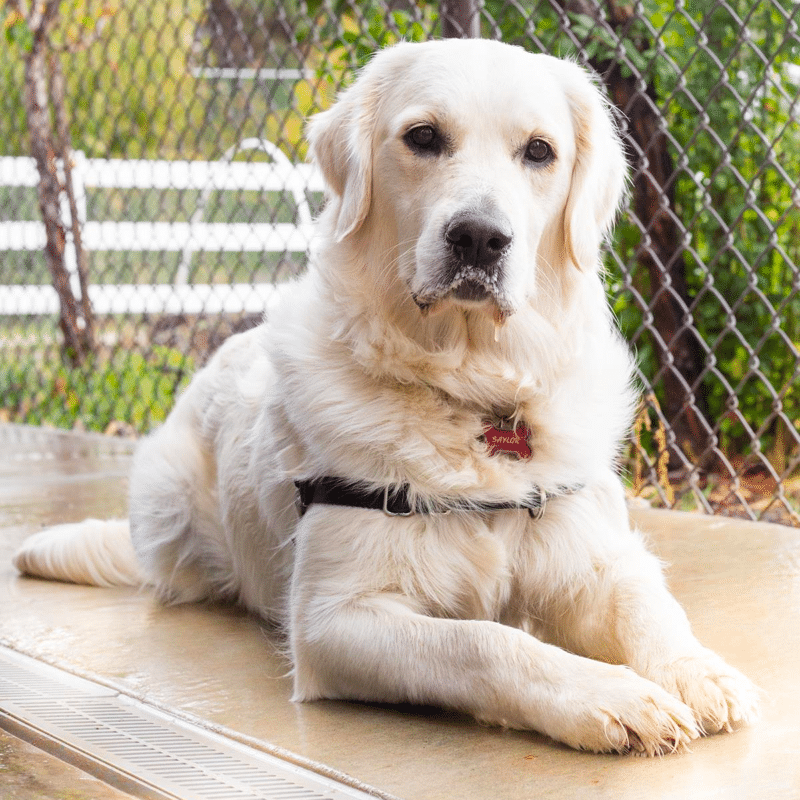 Golden Retrievers are known for being friendly and playful. They have great personalities for families and do well with other pets as well. This does mean that they are not great guard dogs since they treat even strangers like friends. They are gentle and love to be involved in what the family is doing. They are motivated to please their owners and enjoy working to learn new tricks. Goldens are very affectionate and most enjoy cuddling. You can expect to find your Golden Retriever nearby if you are at home. They are very nice and mellow. They do well in most situations and adapt well to family life whether in an apartment or on a farm. They do well in single-person households or with big families. Their cheerful and overall positive disposition gives them great patience with children. They love to be around people and other animals. You rarely find an antisocial Golden Retriever. They are very much lovers and not fighters. Do not expect your Golden to be a guard dog. They are more likely to try and make friends with an intruder than attack.
Golden Retriever Appearance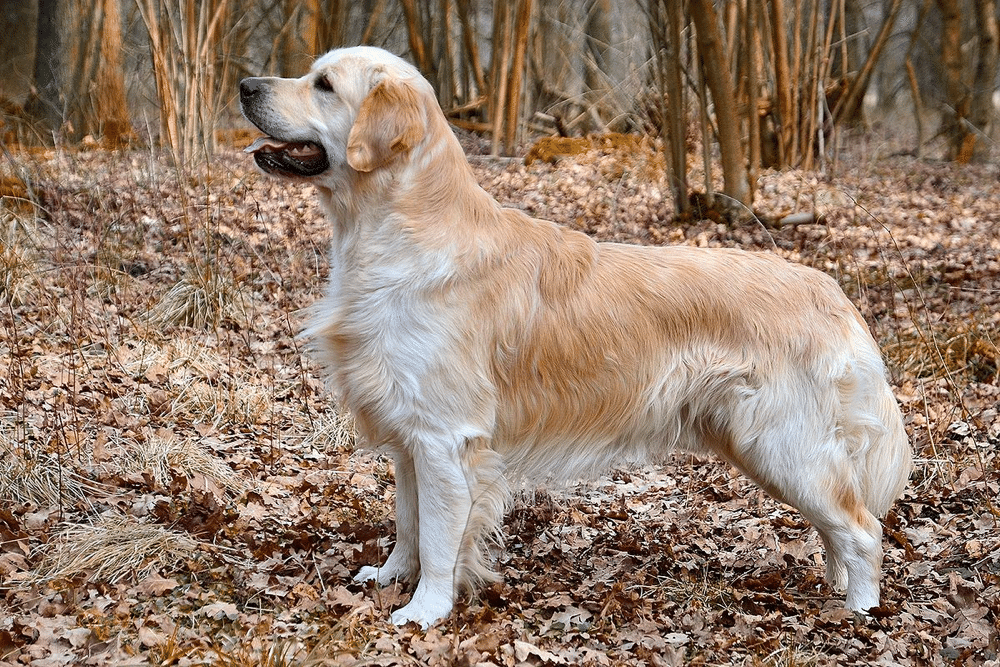 Golden Retrievers are mostly known for their golden coloring. The breed standard is gold, but they can range from light cream to darker red. Goldens do not have spots or any patterns. They have a medium-length double-coat, which means they have an undercoat covered by slightly coarser outer hair. The undercoat thickens changes depending on the season and how much time the dog spends outside. Their coat can be wavy or straight. Most Goldens also develop "feathers" along the back of their legs, chest, and belly which is longer, fringe-like hair. Their tail is long and flag-like.
Goldens generally have square muzzles with large heads. Their eyes are expressive and dark. Their noses are also dark.
Size-wise, Goldens are medium-sized dogs. Males weigh from 65 to 75 lbs while females usually weigh 55-65 lbs. They are similar in height at around 22 to 25 inches tall when fully grown. Goldens grow the most in the first six months and are about as tall as they will be by one-year-old. They will gain a bit more weight and reach full size by two years old.
Common Health Problems of Golden Retrievers
Golden Retrievers are prone to quite a few health problems, most of which are genetic.
Cancer is one of the main health problems Goldens develop and is a leading cause of death.
Hip and elbow dysplasias are also common issues and can cause pain in your dog's joints making walking and moving painful and difficult.
Liver shunts can occur which can cause toxins to rise in the blood.
Heart conditions like subaortic stenosis also occur, though rarely develop into severe forms.
Eye conditions such as cataracts, rolled-in eyelids, and uveitis are common eye issues that can occur.
Skin issues like ichthyosis can cause rough and scaly skin that can be uncomfortable for your dog, though not dangerous or contagious.
If your Golden Retriever develops any issues, treatment costs can quickly grow and can even be lifelong. Early detection is imperative for most of these diseases and routine vet visits are a necessity. Make sure you are aware of the potential health issues and are prepared to handle them before getting a Golden. If getting a puppy from a breeder, there are genetic tests that can be done to determine the likelihood of parents passing on genetic issues to their puppies. Make sure that your breeder does the appropriate tests and is breeding healthy dogs. Even though there can not be a guarantee your Golden won't develop any of these issues, genetic testing can lessen the probability.
READ MORE:
How Long Does a Golden Retriever Live?
Goldens generally live 10 to 12 years. This is due to the multiple health issues the breed has. Careful breeding and health testing paired with regular veterinary visits can help Golden live years longer. The oldest Golden Retriever in history was 20-years-old when she died.
Golden Retriever Grooming Need
Due to their double-coat, Golden Retrievers do need regular brushing. They are major shedders and daily brushing can help reduce the amount of hair found around the house. During the changing of the seasons, it can be a good idea to get them professionally groomed and get their undercoat blown out. This can help reduce the shedding at home. Regular tooth brushing is ideal and helps maintain a dog's oral health. It is also important to regularly clean a Golden's ears, especially if they go swimming. Monthly nail trims should also be done.
READ MORE:
Golden Retrievers Feeding
Golden Retrievers are very prone to obesity. They love to eat and will nab any extra food they can get. Make sure to feed your dog the appropriate dog food in measured amounts. Try to limit treats and stick to healthier options when treats are given, such as carrots.
You might want to read this guide:
Is it Easy to Train a Golden Retriever?
Golden Retrievers are motivated learners. They want to please their owner and are quick to pick up on tricks. Enrolling in a puppy class is a great option to help your puppy learn manners and easy tricks. Consistency and patience are key to training any dog and Goldens are no different. They are motivated by treats, but toys can also be motivation for learning different ticks. One thing to remember is that Goldens can be sensitive, so positive reinforcement is better than constant reprimands.
How Much Exercise Does a Golden Retriever Need?
Goldens are sporting dogs designed for hunting. Because of this, they do need to be exercised or they will expend energy on destructive habits, such as chewing or digging. Good exercise can be throwing a ball, going on a walk, or swimming. A good forty to sixty minutes of activity a day is great for your Golden. If you are unable to walk your dog or play outside due to weather, you can also work with them on learning new tricks to expend some energy.
How Much Does a Golden Retriever Puppy Cost?
If you are going to buy a puppy from a breeder, expect to spend anywhere from $1,000 to $3,500 depending on the location and the breeder. If you are looking for a specific color, such as an English Cream, you can expect to pay a little more. The lineage of the puppy can also influence the price. If the parents are Champion show dogs, the puppy will probably be more expensive. It is important to remember that health testing should be completed and this can also make the puppy more expensive. Paying a little extra when buying the puppy is worth having more confidence that your Golden will lead a long, healthy life.
Where Can I Find a Golden Retriever Puppy?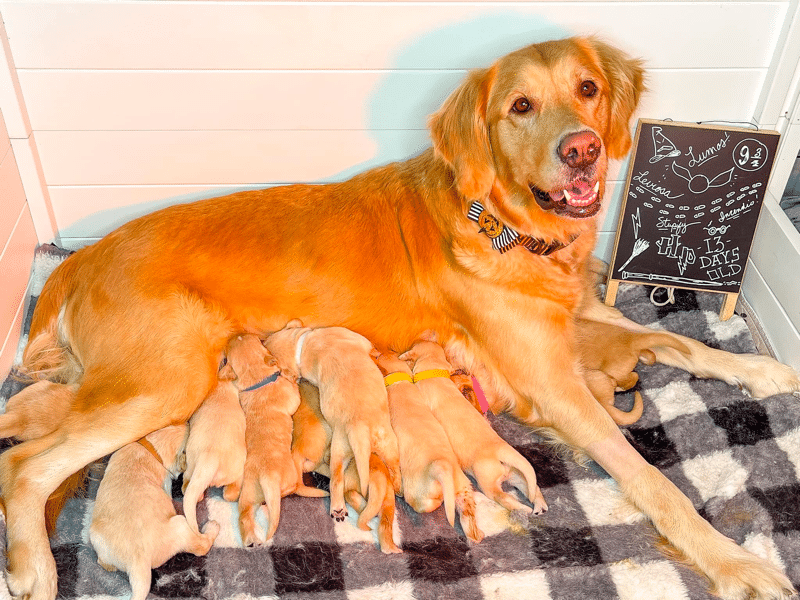 Golden Retriever breeders can be found pretty much everywhere. They are a common breed. Special care should be taken to make sure that the breeder is reputable. Don't buy puppies from people who do not take care to test their dogs for genetic issues and who overbreed their dogs. You can also adopt Goldens of any age from rescues.
FAQs
Do golden retrievers bark a lot? No, usually only to alert when they see something outside.
Can Golden Retrievers be left alone? Yes, though not for longer than eight hours and they prefer to be with you.
Are Golden Retrievers lazy? Generally no. They are sporting dogs and need exercise. They love to play but will cuddle and sleep next to you if it is quiet. They are calm and obedient but will express their energy in destructive ways (such as chewing or digging) if not appropriately exercised.
Do golden retrievers sleep a lot? Yes, especially as they get older.
Are female or male Golden Retrievers better? Some say that male goldens are more affectionate and females are more independent, but that is generally not true. Both genders are great. The individual dog's temperament is more of a deciding factor than their gender on how they act.
Are Golden Retrievers big chewers? Yes, Goldens were bred to carry things in their mouth and are known to chew if they are not appropriately trained.
Are Golden Retrievers high maintenance? Goldens are generally moderate maintenance. Their temperament and trainability make them very easy to manage and even out the higher maintenance of their shedding and health issues.
Are Golden Retrievers clean? Goldens are known to love water and may go swimming if you have a pool or a pond. Because they like to dig, they can also be muddy if not trained to avoid that habit. They also shed a lot. If you are looking for a dog that will never make a mess in your house, a Golden may not be the right choice for you.
Are Golden Retrievers big? They are generally medium-sized dogs. Some can grow up to 100 lbs, but they usually weigh around 60 lbs no matter the gender.
Are Golden Retrievers good with children? Yes, they are very gentle and good with children. Just watch because sometimes they are not aware of their size and might knock children over.
Is a Golden Right for You?
Golden Retrievers are a perfect fit for most families. They are loving, even-tempered, and playful. They are good with children of all ages and almost all pets. They are good for large families or single individuals and are adaptable to any situation whether it be apartment or farm living. The downsides are their multiple health issues and their shedding which won't work for anyone with allergies. Besides that, it is hard not to recommend a Golden Retriever for anyone wanting one.
Related posts: Golden Retriever Vs. Labrador Retriever: Complete Comparison