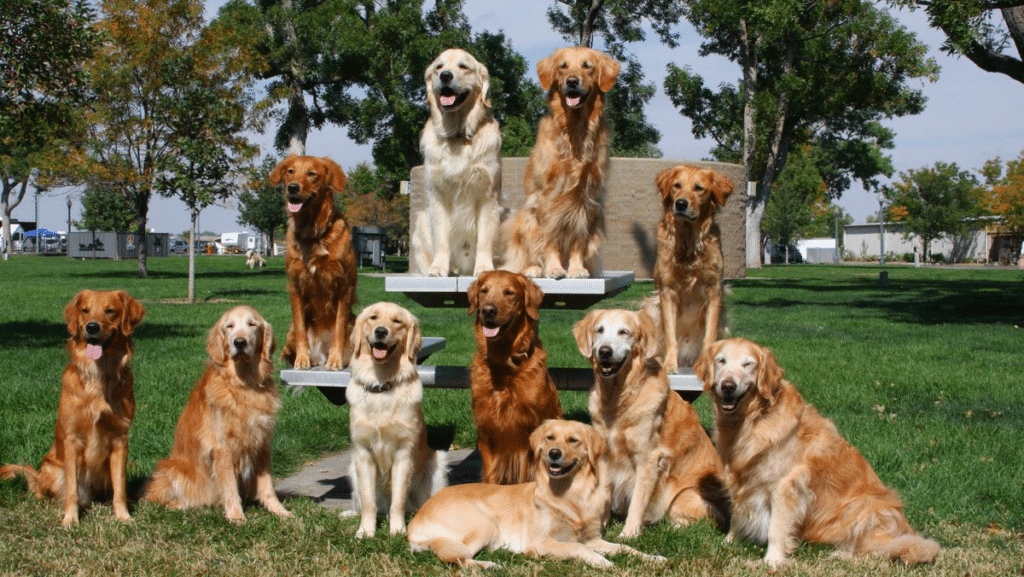 If you have ever thought about getting a Golden Retriever, you probably have a lot of questions about the breed. You might want to know what you should be prepared for before you get a Golden Retriever, and you might also want to know if this is the right breed for you. You might also want more information about the history of the breed and if there are various types of Golden Retrievers that you can choose from.
This article will provide you with a complete guide about the breed so that you can make an informed decision about whether or not this is the right dog for you and your family. We will cover everything from breed traits to breed health and grooming as well. You will feel prepared to make the decision to get a Golden Retriever once you have finished reading this guide.
If you are ready to learn more about the Golden Retriever breed, you need to keep reading!
Golden Retrievers at a Glance
| | |
| --- | --- |
| Popularity? | 3rd out of 200 Breeds According to AKC |
| Lifespan? | 10-12 Years |
| Temperament? | Friendly |
| Height? | 21.5-24 Inches |
| Weight? | 55-75 lbs |
| Coat Type? | Double, wavy, or straight |
| Color? | Cream, Gold, Red |
| Hypoallergenic? | No |
| Grooming Needs? | Moderate, Daily Brushing, Seasonal Groomer Appointments |
| Shedding? | High |
| Good with Children? | Very Good |
| Stranger Friendly? | Stranger Friendly |
| Good with Dogs? | Very Good |
| Good with Other Pets? | Very Good |
| Good in Heat? | Okay if Shade is Available, No Heavy Exercise in the Heat |
| Good in Cold? | Yes Down to About 40 Degrees Fahrenheit |
| Energy Level? | Moderate |
| Apartment Friendly? | Yes with Proper Training and Exercise |
| Exercise Needs? | About an Hour a Day |
| Barking Level? | Low |
| Trainability? | Very Easy |
| How Healthy? | Some Big Health Concerns |
| Price? | $1,000 to $3,500 |
Golden Retriever Facts and History
The Golden Retriever traces its roots back to Scotland. This breed was created in 1864 when Lord Tweedmouth bought a so-called "yellow retriever" named Nous. This dog was bred to a liver-colored Tweed Water Spaniel that was named Belle. This was the foundational pairing that made the first dogs that would come to be known as Golden Retrievers.
Golden Retrievers are sporting dogs, and they can be very high-energy due to this. This can be charming and also frustrating if you have a small house or a small yard. This dog also is very good at swimming, hiking, and fetching due to its breeding history. This dog was originally created to fetch waterfowl that had been shot down by hunters and bring them back.
The Golden Retriever coat differs some between sporting and field dogs and show dogs, but both kinds of Golden Retriever are able to stay warm in cold weather and when wet due to their double-layered coat. This coat requires a lot of care, but it is one of the most beautiful features of the breed and one of the things that many people are very attracted to about the Golden Retriever.
This dog breed makes a great companion animal, and they are very good with kids. They can also be great service dogs, and many companies that place dogs with people who need a service dog choose Golden Retrievers over all other breeds for this purpose.
Types of Golden Retrievers
There are six types of Golden Retrievers. Many people are shocked to hear this and are stunned that this could be the case. When you think of a Golden Retriever, most people just think of the light-colored, silky-haired Golden Retrievers they see at dog shows. There are other variants of the breed, and some of these are not technically recognized versions of the Golden Retriever by the AKC.
1. English Cream Golden Retrievers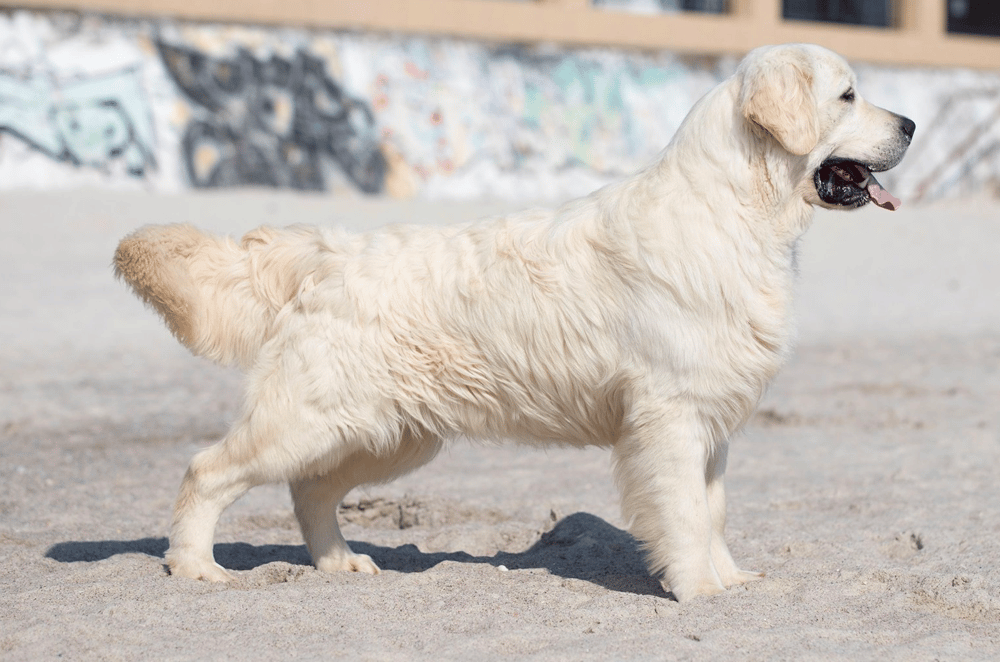 The English Cream Golden Retriever is one of the most popular variations of the breed, and they are well-known for their light-colored and very soft and silky hair. This is the English variant of this breed, and this dog is sometimes called a "European Platinum". They are a bit smaller than the American dog, and they are a little more elegant than the American breed standard as well. Their coats tend to be shorter in length, and they can also be shorter in stature than the American Golden Retriever. Their hair is thicker, so they have to be groomed very regularly, or they will get mats and other issues related to a lack of grooming care. This is the most expensive variant of the breed, and most people have trouble getting them in the US because there are not many breeders, and the litters are spoken for years into the future.
2. Field-Bred Golden Retrievers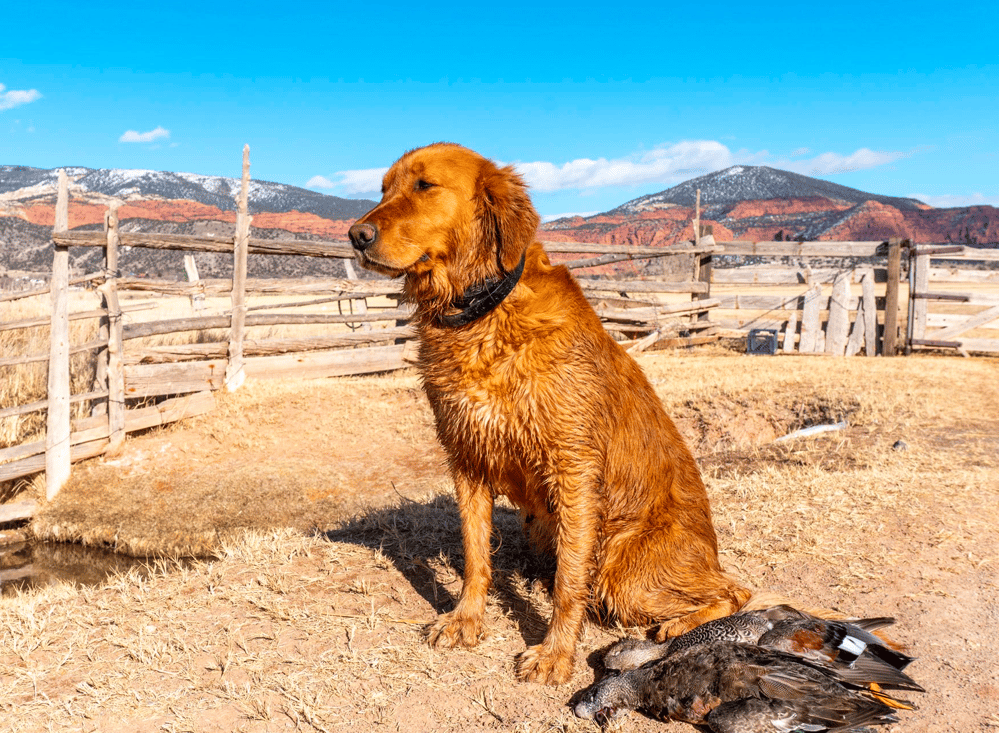 The field-bred Golden Retriever is the working dog version of this breed. These are the dogs that are bred to work hard in the field and be used for hunting and other activities related to sports. These dogs look the most like the original animal that was first bred for this need, and they are very high energy as well as very high-drive. This is a smaller dog than the show American Golden Retriever, and even the males weigh less than the other males of the show varieties.
This is the right choice as well if you love the red-gold coat that these dogs are known for. The light-colored and wavy-haired dogs that people are used to seeing do not have the right coat style to be easy to care for when you are using your dog for hunting or other work. The field-bred Golden Retriever has a double-layered coat that is shorter, thicker, and easier to care for than their show dog counterparts.
3. Red Golden Retrievers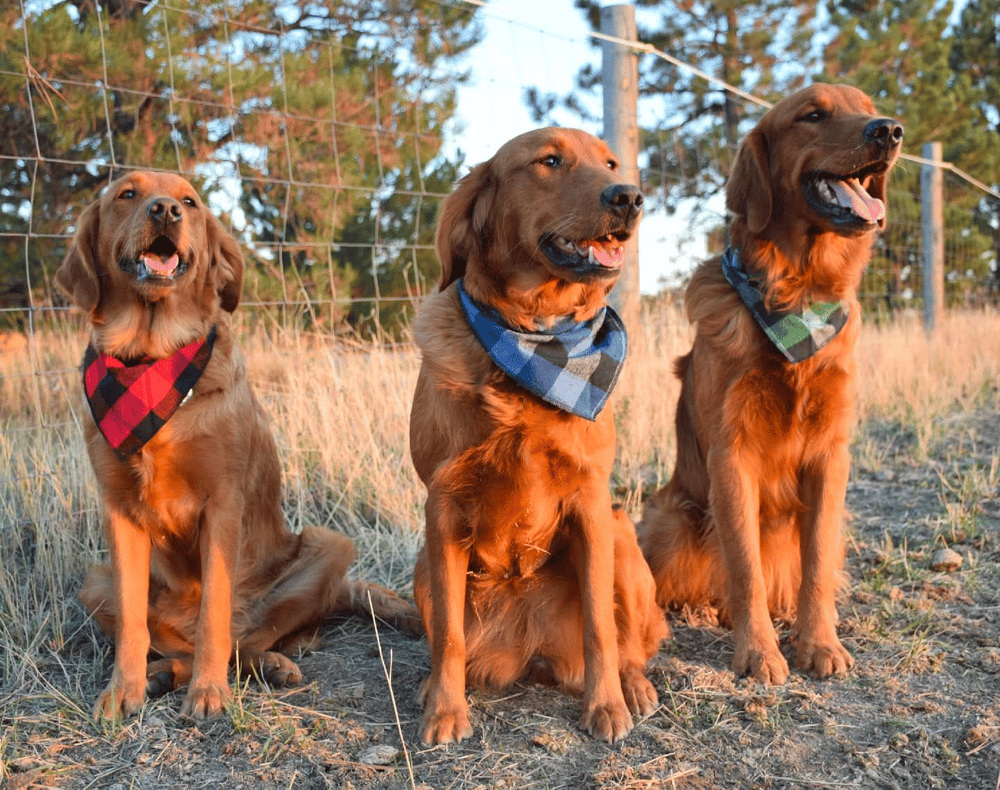 This version of the Golden Retriever looks a lot like the Field—Bred Golden Retriever, but they have a thinner and shorter coat than all the other varieties of this breed. These dogs can almost look like a long-coated Labrador Retriever. This is a shorter dog that weighs less than other Golden Retrievers and is usually lankier and longer-limbed.
The Red Golden Retriever variant is very high energy and loves to play, and they tend to carry almost everything that they care about around in their mouths. They are high-energy but sweet and do well in smaller homes and with smaller yards than some of the other Golden Retriever variants.
4. Show Golden Retrievers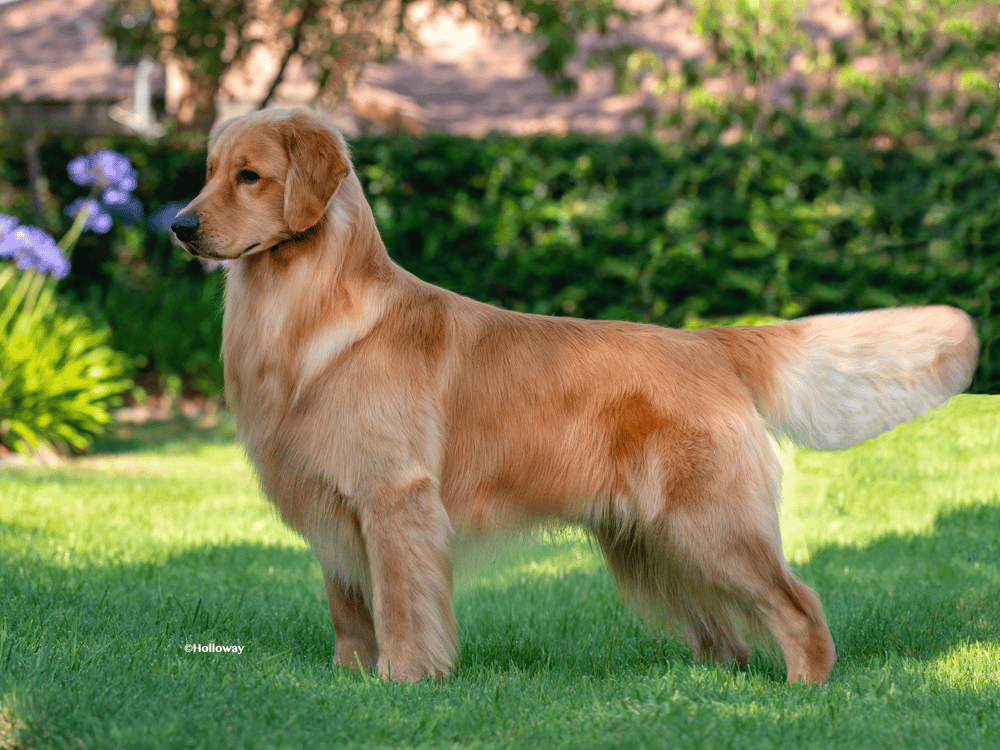 The show Golden Retriever is bred to meet the expectations of the breeding standard. This means that they are bred carefully for the right golden color, the right coat length, the right confirmation, and the right head shape. These dogs also need to show the right kind of gaits when they are shown to judges.
This is an expensive dog to own and invest in, and if you are not going to compete with your dog, you probably do not need to spend the money to get a show Golden Retriever just for a pet. Most of the dogs that you can buy that are pet quality are dogs that were not correct enough to be shown successfully. Breeders often breed for show dogs and then sell the puppies that are not quite up to standard to pet homes.
These are loving and fun dogs that are a bit lower-energy. They do tend to be stockier and heavier than the other versions of the breed, and they can require quite a lot of grooming to keep a healthy coat.
5. Miniature Golden Retrievers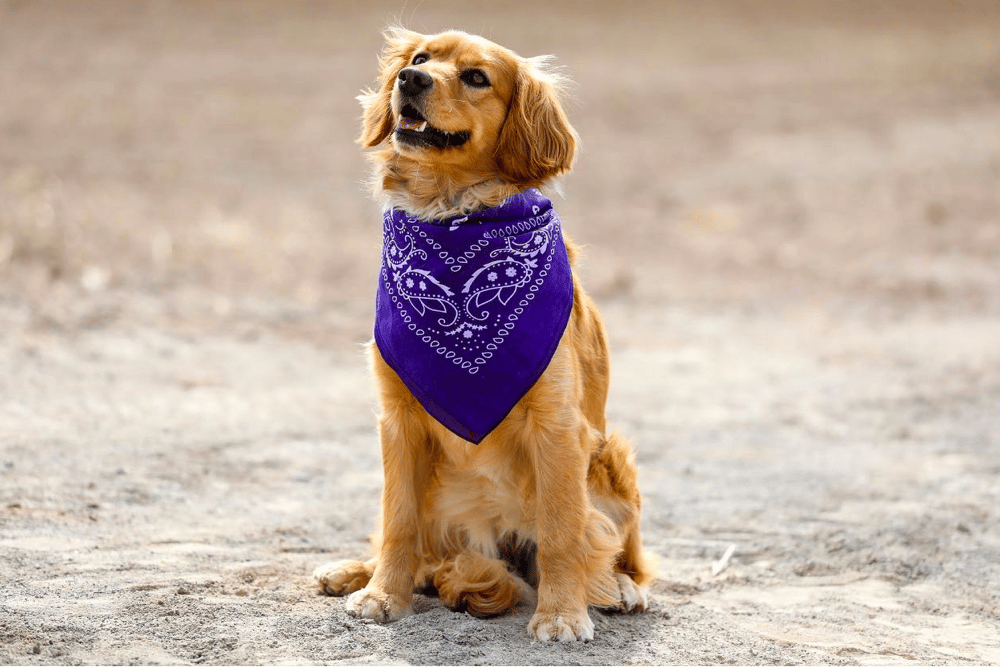 The miniature Golden Retriever is the same dog but in mini form! You will get all the same breed features of the Golden Retriever in a much smaller package. These dogs are crossed with a Cocker Spaniel or a Miniature Poodle to get a smaller dog with a soft coat and the unique coat of the Golden Retriever.
These are sweet and slightly more mellow dogs that can be anywhere from 30-50 pounds. This is a great choice if you don't have room for a bigger dog but want to have a Golden Retriever anyway. You will love that these dogs are still sweet and playful and that you can count on them to be up for lots of activities like running, hiking, and more.
6. Black Golden Retrievers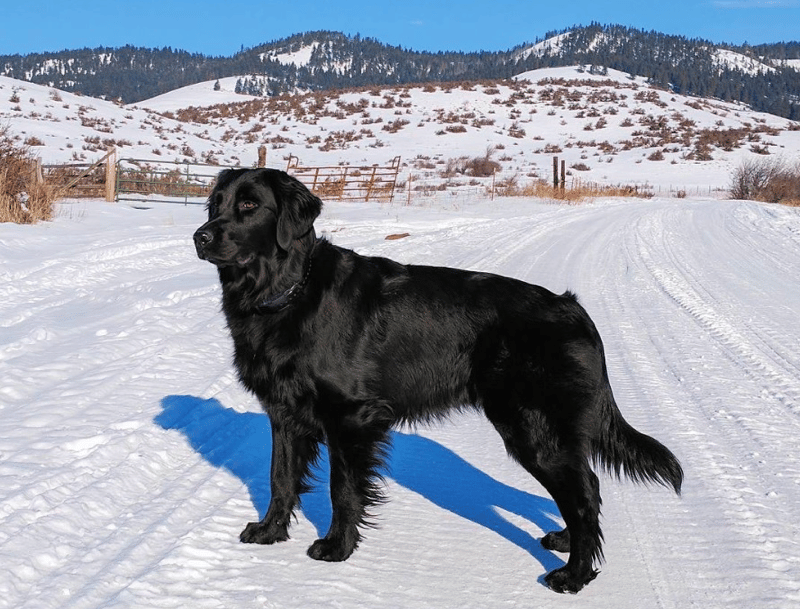 Black Golden Retrievers cannot be registered with the AKC due to their coloring. This off-shoot of the breed typically has Black Labrador, Newfoundland, or another black-coated dog mixed into its pedigree. This is not a color mutation, and it is instead the result of cross-breeding that created an off-shoot version of the Golden Retriever.
Despite the difference in coloring, this version of the Golden Retriever reminds most people very much of their golden-colored counterparts. These dogs still have long and silky hair, and they are very good at hunting and fetching, and playing games. They can be a little smaller than the regular Golden Retriever dogs, but if they have been crossed with something large like Newfoundland, they might be much bigger.
There is more variation in the appearance of this version of the Golden Retriever due to the unique breeding that created this additional version of the Golden Retriever breed.
Golden Retriever Temperament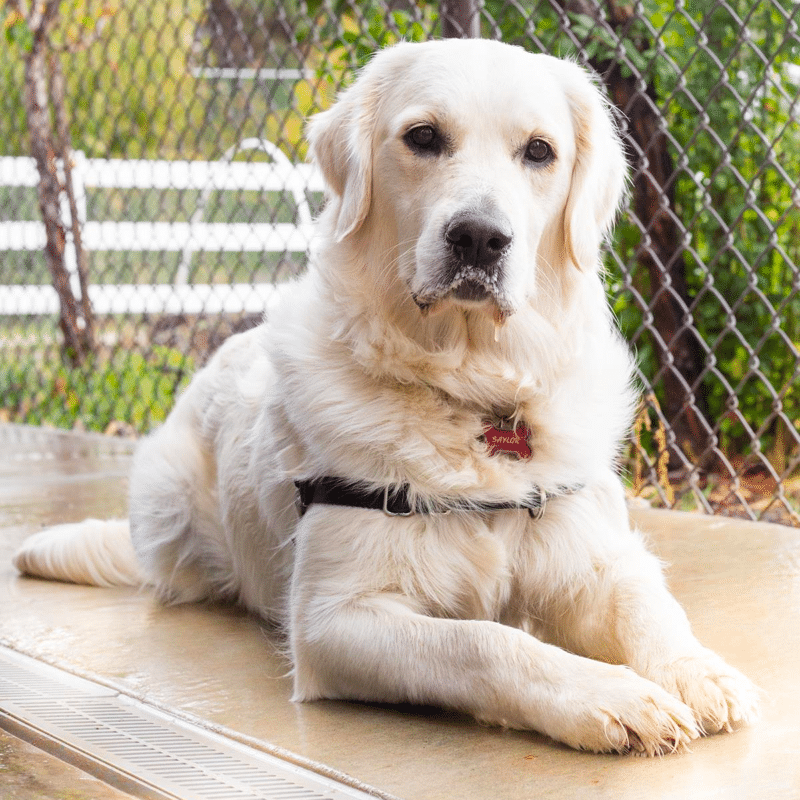 This is a dog that is very friendly, and that loves people. They can be high-drive when they are young and very high energy, but they are often quite gentle with children, and they love to be included in family activities like hiking, running, or riding bikes. These dogs are the most energetic when they are puppies until they are two, but they are not the kind of dog breed to get into things or destroy items around your home.
This is a much easier dog to have in an apartment or indoor-living situation than a breed like a Labrador Retriever. These dogs are high-energy but can also be willing to sleep and hang out so long as they have company. The Field Retriever is more likely to get into things due to their very intense sense of smell, and they are the most likely to wander or jump the fence and get loose. Most Golden Retrievers are more than happy to play in the backyard if they have some excess energy, and they do not have to have a job like other working dog breeds just to be happy.
Golden Retrievers are suitable for people who are prepared to exercise a dog daily and who are willing to groom their dog regularly. You should never take on a Golden Retriever if you are not willing to commit to weekly brushing and bimonthly grooming by a professional groomer. You simply cannot neglect the Golden Retriever coat and not run into issues. This is a large dog, but they are not as big as something like a Great Dane. If you have a very small apartment, that might be an issue, but otherwise, Golden Retrievers are fairly happy in most houses, even small ones.
Golden Retriever Appearance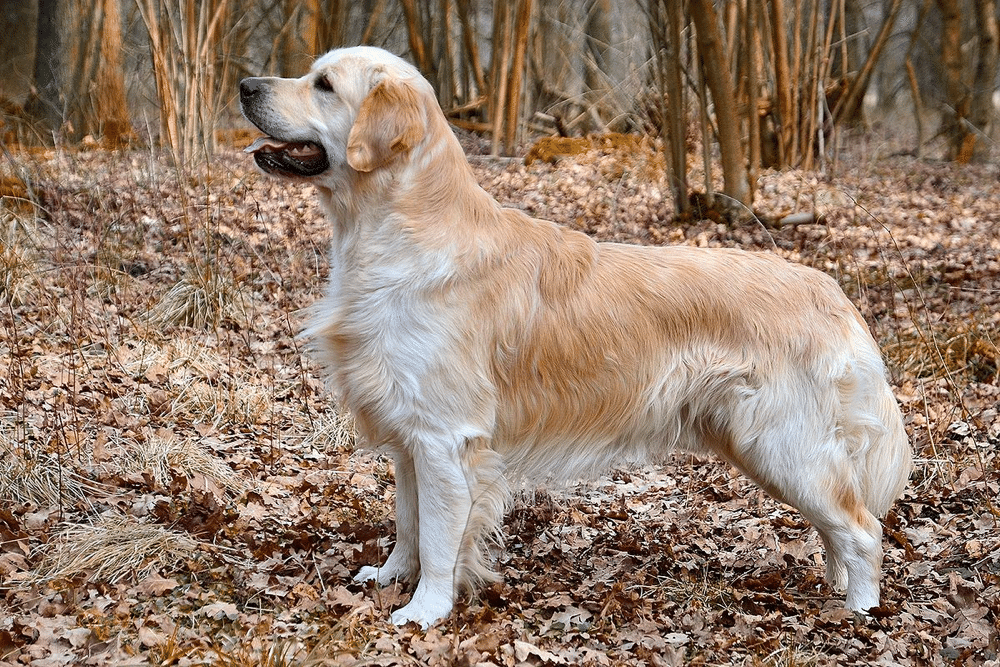 What size is a fully-grown Golden Retriever? Well, the answer to that can vary somewhat depending on if you have gotten a mini Golden Retriever or one of the other smaller variants of this breed. The average standard for this breed is that female dogs will be 55-65 pounds and about 21-22 inches tall. Male dogs will be 65-75 pounds, and they will be about 23-24 inches tall.
This is a smaller dog than many of the other working breeds, but there is some variation in the sizes of these animals as well. The miniature dogs can be half the size of standards, and field dogs might be ten pounds lighter and somewhat shorter. You can pick and choose the size of dog that you end up with and know that if you steer away from show animals, you will get a smaller dog overall that is lighter-boned. The show dogs from the UK and from America are the biggest of the bunch overall.
Golden Retrievers will be full-grown at about two years of age, but they can fill out some as they age. Dogs are considered fully grown at this age, and for show purposes, this is considered a mature dog. This is the standard growth chart for this breed in case you were wondering what the average heights and weights will be for dogs of each age.
How Long do Golden Retrievers Live?
This breed is not as long-lived as some breeds, but for a large dog, they can enjoy a pretty long lifespan. Most Golden Retrievers will live about 10 to 12 years. There have been a few Golden Retrievers over the years that have lived to be as old as twenty, but this is very abnormal. Large dogs are prone to heart failure, and this is usually what ends up being the biggest concern for pet owners as large dog breeds age.
This breed is considered geriatric when they are about eight or nine. This is in keeping with other working dog breeds, and Golden Retrievers hold their own in the long lifespan category for larger dogs. This breed can be prone to cancer and bone issues like hip dysplasia, so you do need to be prepared for this to be a possibility in your younger dog. This breed does have a very high rate of cancer when compared to other dog breeds, and this is a reality that could cut your dog's lifespan quite short.
Always make sure that you feed your dog quality food and that you exercise them, and keep on top of their vet visits. The better you are about providing supportive care to your Golden Retriever, the more likely they are to have a long and healthy life.
Golden Retriever Common Behavioral Issues
This breed is really easy to care for overall, but there are some common behaviors that can trip up owners who are not used to Golden Retriever quirks. You will want to know about the common behavioral issues that this breed displays so that you are sure that you are prepared to care for this dog and train it. Golden Retrievers love to please, and they are, therefore often quite simple to train. This makes behavioral issues no big deal overall.
1. Chewing
Not all Golden Retrievers chew, and this breed is actually well-known for being gentle with their mouths. This is because retrievers are bred to pick up fowl that have been shot down and bring it back without damaging them to their owners. This does not mean, however, that puppies that are teething and younger dogs that are bored will not chew.
This can be an issue that happens with a dog not getting enough exercise or when they are feeling neglected or frustrated. Chewing is not common in older dogs, so once you have made it through the puppy phase, this will likely no longer be an issue. Make sure that your dog is getting enough exercise so that you can trust them not to bother your things or chew up your furniture.
2. Making Messes in the House
This should only be an issue when you are housebreaking a puppy, but older dogs can sometimes become incontinent as well. Making messes in the house is not a common issue for Golden Retrievers, but they can have issues with territorial marking in some situations. Intact male dogs might mark the house to prove that this is their territory, and some females can show this behavior when they feel unsafe in their homes.
Make sure that your dog is getting outside enough so that they don't have to make messes in the house, and make sure that you are able to identify reasons for stress that might lead to marking behaviors. Your vet can help if you have concerns that your dog is making messes in the house due to a medical condition.
3. Jumping on People
This is more common in younger Golden Retrievers that are really energetic and forget how to contain their excitement. Make sure that you are firm in telling your dog that you do not like this behavior. You can easily discourage this kind of problem by having your dog sit and wait before it can be touched. Often Golden Retrievers jump on people out of excitement and not out of a desire to hurt anyone or knock them down.
As your dog ages, this should be less of an issue, and you should be able to relax your rules about human contact.
4. Digging
Digging can be a big problem for some Golden Retrievers. Dogs with a very high hunting drive might be inspired to investigate sounds that they hear in the yard or on the other side of the fence. This can lead to all kinds of digging behaviors that no one wants their dogs to display. You can try and break the habit of digging by giving your dog toys to play with when they are outside and bringing your dog inside when you cannot supervise them.
Digging is an unfortunate behavior because it is hard to discourage, and you will need to be very vigilant if you want to break the cycle of this behavior showing up whenever your dog is bored.
5. Jumping out of the Yard
Golden Retrievers are very athletic, and they are often very good at jumping over tall things. This means that it can be easy for your Golden Retriever to jump the fence and go exploring if they are bored with being in their own yard. This can be tough behavior to prevent without a very tall fence around your yard. Make sure that you are paying attention to your dog and that your intact male or female dog is not allowed to wander around the neighborhood.
Hunting dogs can be prone to exploring, driven to follow interesting smells and interesting events going on over the fence. Making sure that your dog is not left unattended can make a big difference in fence jumping behavior.
Do Golden Retrievers Shed A Lot?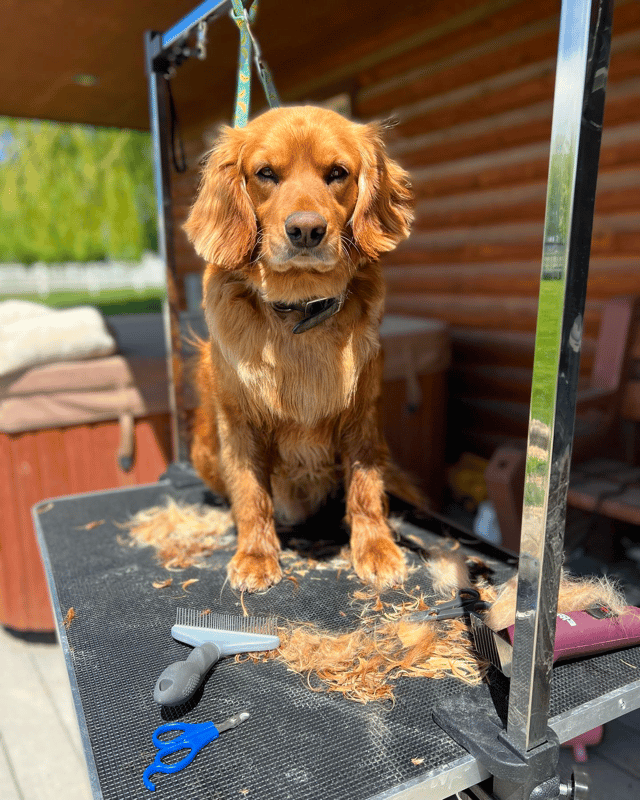 Golden Retrievers do shed a lot. This is just one of the things that you cannot get around when you choose this breed for your pet. You will need to be aware that your dog will shed all year long to some degree and that they will shed quite a lot at the beginning of the fall and at the end of winter.
Your dog should be professionally groomed at least every other month. Some dogs might need to see the groomer more often than this if they have really long or silky hair. You can groom your own dog in between these grooming visits if you feel confident. This can help to keep their hair silky and tangle-free and can also help to control shedding somewhat.
Make sure that your dog gets bathed once a month and that you also have the right brushes on hand and the right shampoo. You will need to do a little research to find out which brushes and shampoos are the breeder's favorites, but there are many quality dog products on the market that are perfect for grooming your Golden Retriever. Make sure that you never try to cut out mats in the coat if you are not feeling secure about using scissors near your pet's skin. You can leave those mats for the groomer if you are not sure that you can safely remove them.
You should never shave your dog's coat as this can ruin their haircoat for good and make it hard for your dog to regulate their temperature. The double layers of this kind of coat are essential for your dog's comfort and well-being in every season.
What Health Problems Are Golden Retrievers Prone to?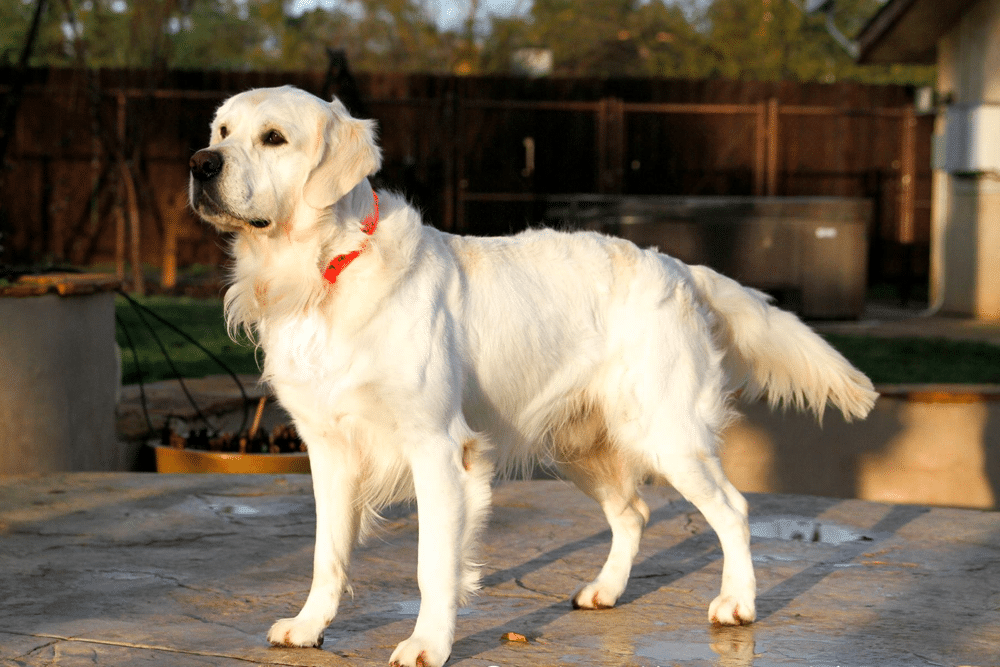 Golden Retrievers are prone to a few common health conditions. Getting a dog from a breeder who certifies their pet-quality animals can make a big difference in the overall well-being of your dog. You will always run an increased risk of these health conditions being a concern when you don't buy from a reputable breeder.
1. Cancer
Golden Retrievers are sadly very prone to getting cancer. As many as 60% of Golden Retrievers will end up getting cancer. This is an unfortunate reality of choosing this breed. You will always have to face that cancer, particularly bone cancer, could be in your dog's future. Most young dogs do not have this condition, and this is typically something that shows up in older age. Cancer therapies in dogs have come a long way, however, and you will be able to provide your dog with some level of cancer treatment that might prolong their life.
2. Hip and Elbow Dysplasia
This is another unfortunate condition that is common to Golden Retrievers of all kinds. Breeders will often certify that their dogs will not experience this condition due to the careful breeding that they have maintained in their group of animals. This is a very tough condition to deal with as it does not always respond to surgery, and animals can end up with broken limbs, soft tissue damage, and incontinence related to it as well.
This is a debilitating condition where the joints in the elbows and the hips are not able to be stable and bear weight. This leads to dogs that fall down, drag a leg or limp, or cry in pain when their legs slip out of the socket. This is a leading cause of young Golden Retriever death, and you will want to be sure that the breeder that you are working with certifies their dogs as being free from this condition.
3. Luxating Patella
Another unfortunately quite a common condition in Golden Retrievers is the Luxating Patella. In this condition, the knee cap is not stable due to malformation of the leg or an injury to the ligaments that support it. Golden Retrievers are prone to knee injuries, and this can lead to a lot of pain, instability in the joint, and breakdown of the joint tissue.
This is another condition that many breeders will certify for, and you should be on the lookout for this benefit when working with different breeders to find the perfect puppy. This can be a condition that impacts the health of even very young dogs, and you will want to avoid this issue if at all possible.
4. Eye Problems
Golden Retrievers are more prone to blindness and cataracts than other breeds. This does not usually impact younger dogs, but aging dogs quite commonly lose at least part of their sight. Golden Retrievers do very well with reduced vision, however. If you have not moved in a while, your dog will know just where everything is in the home, and they will act as if they can see for the most part. You might have to cut back on some of the kinds of games your dog likes to play, but managing your dog's blindness can be a lot easier than you might think.
What to Feed Your Golden Retriever and What to Avoid
Golden Retrievers need to be fed quality dog food to support healthy joints, a healthy haircoat, and healthy skin. This is not a breed that will feel its best when they are fed grocery store dog food. Make sure that you are feeding a quality kibble or feeding raw from a recognized supplier. You will want your dog to get the best nutrition possible to ensure that they live a long and happy, and healthy life.
These are some of the best dog foods that you can invest in for your Golden Retriever. Your vet can also give you advice if you need help with an allergy-friendly diet or a specific diet for health conditions that your pet might have. Just make sure that there is not a lot of grain in the food that you are feeding and that there is some form of joint health support like glucosamine that is included in the food.
If you are not sure how much your dog should eat, refrain from using the bag for your guidance. These kinds of instructions can be quite incorrect for your dog's unique needs. You never want your Golden Retriever to be fat, so you should refer to your vet's advice if you are not sure how much food your dog should be eating in a day.
How Much Exercise Does a Golden Retriever Need?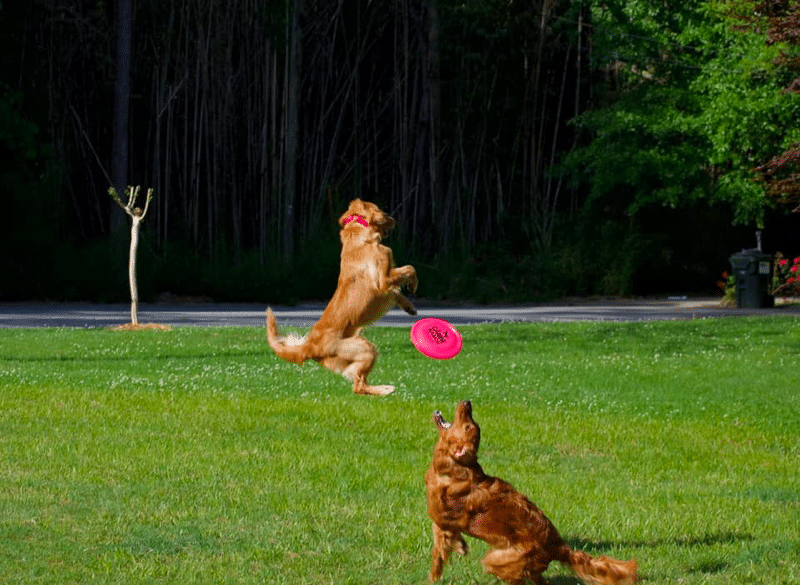 Exercise is very important to Golden Retrievers. This is a high-energy and very high-drive breed that needs to be kept busy so that they don't get into trouble. Make sure that your dog gets at least a half-hour of exercise once a day. You might need to be sure that your dog gets out on a walk or a run twice a day if you have a very high-drive puppy.
As your dog ages, they will not need as much exercise to be happy and healthy, but you will be able to adjust as your dog gets older and tells you that they need to slow down. Exercising a Golden Retriever is really easy in most cases because they love to fetch, they will happily go hiking or running with you, and they can also be trained to do agility and other kinds of sports training work. It is easier to exercise your dog than you might think, and you will have no trouble setting up a routine to be sure that your dog is getting the exercise that they need.
Is it Easy to Train a Golden Retriever?
This breed is highly trainable, and you will have no trouble at all teaching your dog tricks or training them to compete or do agility work. This is a breed that was bred to please its owners, and you will be able to tell right away that this is the case when you start working with your Golden Retriever on skills.
Make some time every day to train your dog. This will help them to get the attention that they crave, and it will also help maintain important skills that you want your dog to have locked down at all times. You can also consider leash training and walking your dog as part of your work. Even these skills train your dog to follow your lead, and you can use these times as a means to work on waiting, sitting, and staying as well.
You can start training your Golden Retriever to do all kinds of things from a very young age. These dogs are always ready to learn a new skill or trick, and even amateur owners can easily teach their Golden Retriever skills.
How Much Does it Cost to Buy and Raise a Golden Retriever Puppy?
This is a breed that is pretty expensive to buy, but the overall yearly care is not that much money for this dog. Obviously, as your dog gets older, they will need more specialized care, but younger animals are not that costly to train or care for.
You will need to expect that you will pay a minimum of $500 for a Golden Retriever puppy. Most breeders will charge anywhere from $1,000-$3,000 for a dog that is close enough to breed standard to be registered with the AKC. This might not matter to you, but you will find that this can be a reality when getting even a pet-quality dog from some breeders.
Adopting a dog is usually only about $200-$500, but you will not be sure that you are getting a purebred dog or one that is going to be healthy when you choose to adopt. If you want a Golden Retriever, you really should just work with a breeder so that you know that you will get a happy and healthy purebred dog that you can get certifications of health.
The first year of costs for your Golden Retriever will be about $2,000. This includes puppy shots and wellness visits as well as food and basic care like getting a dog bed, food bowls, and other first-time dog owner items. Your annual costs for an older dog will be about $1,500 at the most. This includes considerations for vet visits during the year as well as surprise costs like a new dog bed or something like a new dog coat.
If you want to see a more detailed breakdown of the costs of owning this dog breed, you need to check out this article. You will find out how we got these numbers and see a more detailed list of the costs of owning and caring for a Golden Retriever. Make sure that you really think hard about your budget before you get a pet. If you are not sure that you can afford this dog breed, it is better not to get a dog and then find out that you have to rehome it due to the costs of upkeep for it.
Where Can I Find a Golden Retriever Puppy?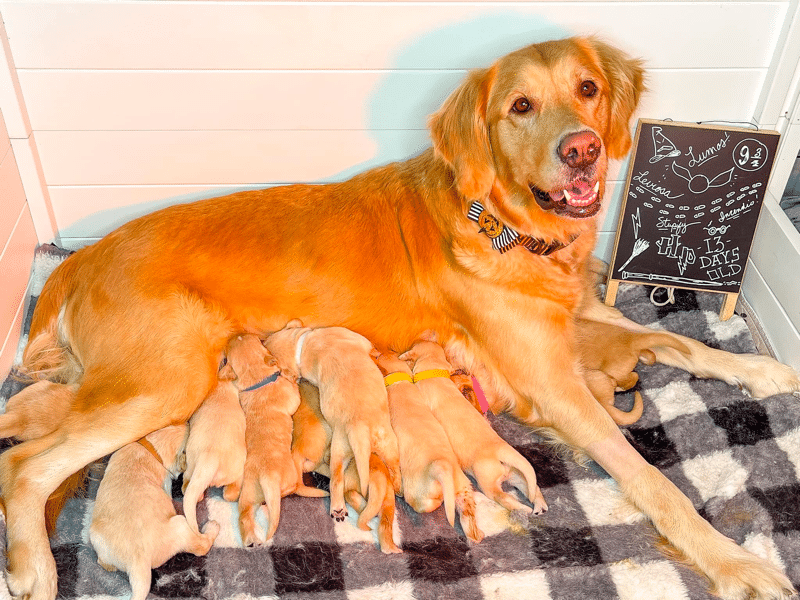 If you are sure that you want to get a Golden Retriever, you then have to figure out where to buy one from. There might not be many breeders in your area, and you might have to look outside of your state or local area to find dogs that are certified and that have been bred and handled correctly.
The big things that you need to look for when shopping for dog breeders are:
Does the breeder ship or deliver dogs out of state?
Are they a Kennel Club member?
Do they have a parent club membership?
Do they have any AKC registered babies on offer?
Is there a waiting list?
What is the cost of a deposit for a puppy?
How many litters for they have a year?
Is there a puppy guarantee?
Do they certify their dogs?
Will the breeder communicate with you about their process and their animals?
Will the breeder ensure that the puppies they have created will end up in the right homes?
Can you meet the parents of the puppies you are considering picking out?
Have you been welcomed to the property to see the dogs?
Are the puppies and older dogs healthy, clean, and well-fed?
Is there a clean kennel or living space for the animals that are used for breeding?
Have you been walked through the documents that are needed to order and secure your puppy?
Are the puppies microchipped and registerable?
Does your puppy come with insurance?
Do you have the option to leave your puppy for training?
Will your puppy be given their first puppy shots and be dewormed?
At what age are the puppies released to new owners?
Will you be given some food to use when your puppy is first at your home?
Does the breeder do health tests on all breeding animals?
If you need some help finding a Golden Retriever breeder in your area, you need to check out this article. Always look for how the dogs are treated and be concerned if the female dogs are bred more than twice a year. Make sure as well that you do not have to sign anything that says that you will take any dog that is offered without a refund. Puppy mills commonly make people choose between signing up for a puppy and agreeing to take any dog that they are given without any options.
Making sure that you are working with a legitimate breeder is essential to your overall puppy-finding experience. You will be glad that you took the time to find the right breeder when you get a happy and healthy puppy that has been certified and well-socialized.
Golden Retriever breeders can be found pretty much everywhere. They are a common breed. Special care should be taken to make sure that the breeder is reputable. Don't buy puppies from people who do not take care to test their dogs for genetic issues and who overbreed their dogs. You can also adopt Goldens of any age from rescues.
Where to Adopt a Golden Retriever and the Cost to Adopt?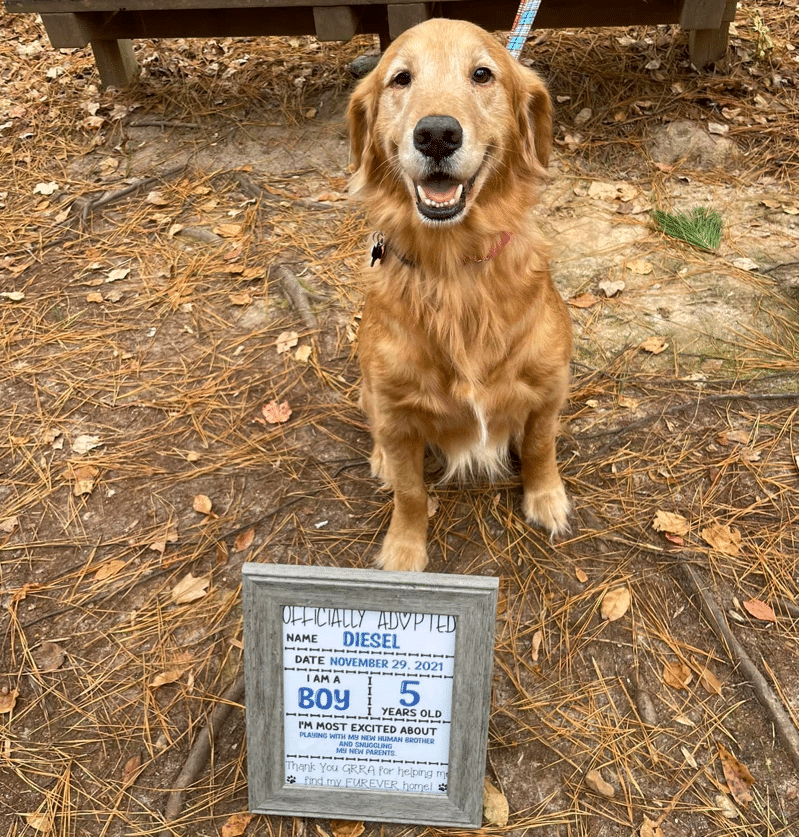 There are some adoption agencies that can help you to find a pet that needs a new home. These might not be purebred Golden Retrievers, but in some cases, they are. You will pay about $300-$500 for these animals, and you might need to consider that this dog could have lots of behavioral or health issues that you are not prepared to deal with. Adopting can be a great way to get a dog that you love for a great price, but there are some risks associated with the lower cost of this kind of pet.
You can look around in your local area to see if any of the shelters have Golden Retrievers, and there might also be Golden Retriever rescues in your area that take on dogs that have been involved in puppy mills or other unethical breeding situations. Make sure that you are prepared for the kinds of health risks and behavioral problems that can come along with this kind of dog.
What to Expect from a Golden Retriever Puppy
This is a high-energy breed, and the puppies can be very fun but also very tiring to take care of. You will want to be sure that you are prepared for all the stages of puppy development. If you have never raised a puppy, you will need to do your research to be sure that you are ready for this large responsibility. This is often the most time-consuming and tough part of the dog training and raising process, but puppies are well worth the time and trouble.
Here are some links to help you to prepare for all the stages of your Golden Retriever puppy's life. You will love being more prepared for the adventure that you are embarking on, and you will find that doing some research will make even the challenging days much more enjoyable.
FAQS
Is the Golden Retriever a good family dog?
A Golden Retriever is a great family dog. These dogs are kind and gentle, and they love people of all ages. This is a great dog to pick if you have other pets in the house as well. You will never have to worry about your Golden Retriever being kind to your children or new people in the home, and you can have peace of mind that your dog will be well-behaved even when there are guests over.
Are Golden Retrievers smart?
Golden Retrievers are very smart, and they can learn tricks and new skills rapidly with ease. These are dogs that love a challenge and love to learn, so you will be able to teach your pet to do all kinds of wonderful things with you. Make sure that you are using positive reinforcement and patience when you are teaching your dog, and they will love learning things from you.
Are female or male Golden Retrievers better?
The only difference between male and female Golden Retrievers is their size. If you have a preference for the sex of the dog that you prefer, then you can gravitate toward this choice, but you will not have to worry about problems with personality issues or differences in behavior. If you are looking to breed dogs, you will need to choose male versus female, depending on how you want to run your breeding program.
Do Golden Retrievers bark a lot?
Golden Retrievers are actually not at all prone to barking, and they are good citizens overall about being left home alone or out in the yard. This can be really nice if you live in an apartment or somewhere where a barking dog would be a big issue. You will love as well that your partner does not wake you up barking at things they see on the street each morning.
Can Golden Retrievers be left alone?
Golden Retrievers are good about being left alone when they have been properly prepared to be alone. You will find that your dog could have separation anxiety if you do not teach them gradually to be left alone. Make sure that you consider crate training or other forms of separation anxiety management before you leave your dog home alone for a long period of time.
Are Golden Retrievers aggressive?
Golden Retrievers are not aggressive dogs by nature, and this is not a common problem. This might rarely happen in unique dogs, but overall, you can count on your Golden Retriever to be kind and gentle with everyone and with other animals.
Are Golden Retrievers lazy?
Golden Retrievers as a breed are very high energy, but some show dog breeding lines are pretty mellow. This is a very different kind of job, and it necessitates a dog that can be patient while it waits for its turn to compete. This means that show dogs might be the most mellow of this breed.
Do golden retrievers sleep a lot?
Golden Retrievers love a good nap, and puppies sleep a lot since they are growing. You can expect your Golden Retriever to sleep a lot and play a lot during the early years of its life. This is normal, and there is no need to worry if your dog is sleeping all the time unless they are showing other signs of not feeling well.
Are Golden Retrievers big chewers?
Golden Retrievers can be prone to chewing when they are young and losing their teeth. This is a dog that likes to carry things in its mouth, so sometimes they will also just carry things around all day long. Make sure that your dog has their own unique toys that it can play with so that your furniture and shoes do not become their chew toys.
Is it True That Golden Retrievers Love to Swim?
Golden Retrievers almost all love the water, and you might find that you will need to avoid walking near water because your Golden Retriever will want to run and jump into the water immediately. Golden Retrievers are also drawn to water in swimming pools and ponds, so make sure that you are prepared for this if you have either of these options available to your dog in your yard.
When do Golden Retrievers have their first heat?
Female Golden Retrievers go into heat for the first time at about 10 to 14 months of age. They will then cycle every six months for about 2-3 weeks. The cycles can be closer together the first year and then should level out as your dog gets older.
When to spay/neuter a Golden Retriever Dog?
Most breeders and vets will tell you that it is easiest for your dog to be fixed when they are about nine months of age. You can still fix older animals as needed, but you will need to expect more risk of complications and more time laid up after the surgery. Getting your puppy fixed early is a good idea if you are not going to be breeding your dog.
Is a Golden Retriever Right for You?
The Golden Retriever is a really loving and fun breed that can engage in all sorts of exciting competition styles as well as be a pet that your whole family will love. By now, you will have learned a lot about this breed, and you should feel confident in your decision to get a Golden Retriever or to look for a breed that suits your needs better. Make sure that you remember that dogs do cost money to care for each year, and be sure that you can afford this investment.
Getting a Golden Retriever can change your life for the better, and you will love having fun with your new friend from the moment you get them home!
Golden Retriever Vs. Other Breeds