Golden Retrievers are one of the prevalent dog breeds for families. They are sweet and gentle pups who have the most beautiful dispositions. However, these dogs can be quite hyper during their younger years. Being able to gauge when your goldie calms down can be a challenge. Read on if you want some answers.
At What Age Do Most Golden Retrievers Calm Down?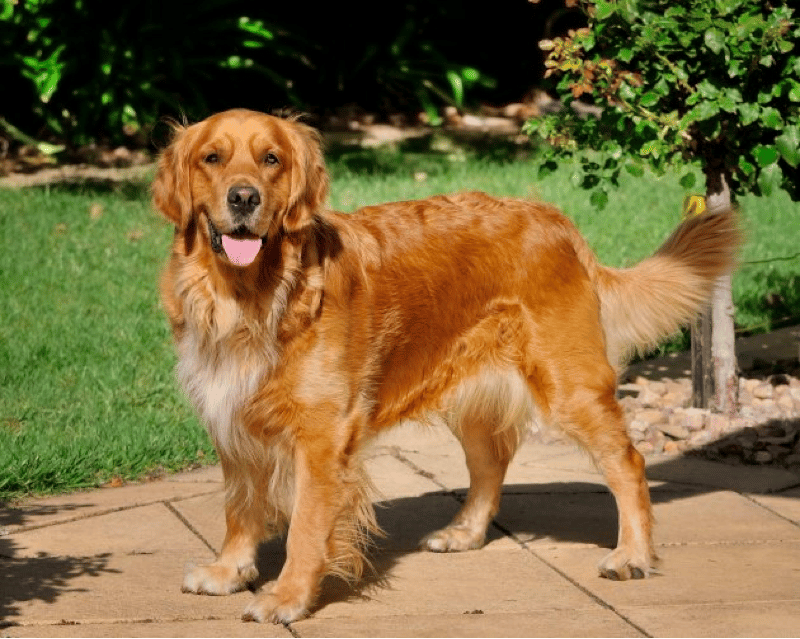 When a golden retriever is a pup, they are a bundle of energy. They are incredibly playful pooches who love adventure and excitement. However, sometimes they can be a handful. Golden Retrievers tend to calm down by about age 2. Before that happens, they have some growing up to do.
Golden Retrievers are a lot like toddlers. They will suddenly have all the energy in the world, and then once that energy has been expended, they will conk out and go to sleep. You should teach your goldie how to be obedient and restrained when they are about 2 to 4 years old. At this age, their brain is developing, and they are eager to learn new things.
Some indicators that your Golden Retriever puppy is too hyper:
They have difficulty paying attention
They fidget and move around a lot
They often demonstrate impulsiveness
They are mischievous and can be messy
When a Golden puppy is up to no good, they can get into household items, like chewing on your favorite shoes. You must learn how to teach your golden to calm down from an early age, or else this behavior may continue into their adulthood.
How to Train Your Golden Retriever to Be Calm
There is a misconception that the Golden Retriever breed was born calm. They may be easier dogs to train to be that way due to their innate desire to please their humans. However, training is not as easy as it looks. You must be patient and understanding with your puppy. You must have adequate training and parenting skills.
Training should start with puppy training classes that teach them basic obedience skills. Puppy training helps to meet their social, physical, and mental needs. You are just beginning to bond with your dog at this crucial stage. Golden puppies can be quite mouthy and need to learn their manners. It would be best if you focused on communication skills.
Teach them to communicate in a friendly, non-aggressive way. Teach them basic commands like" sit" or "come." Once they are about 18 months old, they enter the teenage phase. Your golden may exhibit crankiness due to their overactive hormones. Their exercise demands become more abundant as their energy becomes more bountiful. At this age, you want to teach your dog:
Tricks
Agility
Field-work
Scent work
Dock diving
Advanced Obedience
The above activities help your pup learn teamwork. They need these activities to expend energy and remember to be calm and respectful. You should also designate quiet time with your pup. Once physical activities are finished, pick a time of day to sit and relax with your goldie. Introducing a special time of day for the two of you will help your pup be calm.
Reward calm behavior. When your goldie chills out, give them treats, pets, and cuddles to reinforce the good behavior. Encourage your pup's relaxed demeanor by letting them know they are a good boy or girl. Have quiet time with them at the same time every day, and they will learn to calm down.
Goldies reach about 80 percent of their maturity at this stage, and their teenage rebellion tends to end. By age two, they will still require plenty of exercises. Play fetch, frisbee, and any other games your pup enjoys. At this age, they should be more well-adjusted.
How Genetics Can Impact Calmness
Genetics plays a role in the dog's baseline energy level. You need to remember what the dog was originally bred for. The Golden Retriever breed was initially established in Scotland in the 19th century as gundogs and water retrievers to help their masters hunt game birds. They were always excited to help and eager to please.
The genetic traits of the mother and father dog can affect the pup's ability to be calm. For example, if you have two working dogs breed, the result will likely be more energetic puppies. However, if you have two therapy dogs breed, they likely will be calmer and more subdued.
Golden Retrievers can be calm but require frequent exercise to achieve a zen state. Your goldie can learn appropriate behavior with proper training, including being calm when necessary. They are known for their sweet temperament, and since they are inherently loyal and want to make their humans happy, they will learn to calm down when you tell them to.
One of the defining characteristics of the Golden Retriever is their activity level. The breed is full of energy and appreciates a big yard to play. A genetic propensity toward excitability can trigger hyperactivity in dogs. The Golden Retriever can be more hyper than many other types of dogs.
Remember that these naturally energetic dogs can become hyper if your Golden Retriever does not get adequate exercise and sleep. It is essential to have a routine for your goldie. For example, you can teach them that if they are calm, they will be rewarded with a fun game the two of you can share.
The Role of Exercise in Helping Your Dog Be Calm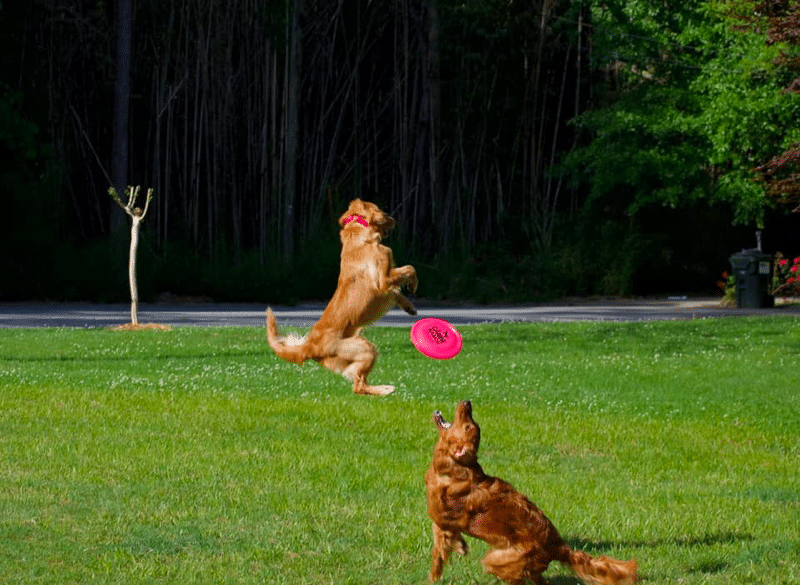 If you want your pup to be obedient and calm, you should start socializing with your dog early in life. Physical exercise is extremely important for your dog. Your puppy loves to run around outside and play.
The more your puppy gets to play fun games with you, like catch and frisbee, the better the chances they will:
Settle down when you tell them to
Not chew on household items
Learn basic commands
Do not jump on people
Introducing exercise, like taking long walks, can also help your pup. Once they get that pent-up energy out of their system, they will likely calm down. A relaxed demeanor and good sleep often follow healthy exercise and play.
If your Golden Retriever does not get the proper amount of exercise, they can become quite destructive. When they are too full of energy and do not have the opportunity to let it all go, they may resort to excessive chewing and digging and may even try to escape their home.
However, it is essential to note that when it comes to golden puppies, they should get no more than five minutes of exercise for each month it has been alive, which means if you have a two-month-old puppy, they should get ten minutes of exercise. A puppy's bones and joints may become damaged from the play that is too aggressive or excessive.
Adhere to these guidelines until your pup is one year old. Your goldie should get about an hour of exercise each day. You should consider certain variables. For example, if you have a golden that comes from a long line of working dogs, they will naturally have more energy.
A very active dog, such as a working dog, may require up to two hours of exercise each day to help blow off steam. If you have a senior Golden Retriever, you should talk to your vet about how much exercise they should get, especially if they have arthritis. You do not want to worsen your senior pup's pain by over-exercising them.
What Are Some Other Ideas For Exercise?
When you have a Golden Retriever, you do not need to worry about whether or not they want to play or exercise. If you love to be active and want to get creative about playtime, there are many other ways besides walking and playing fetch for your dog to release their energy:
Running when they are about one year old
Swimming at a dog beach or lake
Taking them to the dog park to play
Setting up an obstacle course for them
The Golden Retriever breed was initially bred to be a working dog, so it is in their nature to be more active. By exercising your goldie, you can train them to know when it is time to be calm and when it is time for some fun and frolic.
Why is Sleep So Important if You Want a Calm Golden?
Your Golden Retriever requires enough rest and sleep to remain a calm pup. Your dog needs to get the exercise and play they need. However, too much exercise can lead to your goldie biting, jumping, and barking excessively.
When you do not get adequate sleep, you are likely to feel off your game, and dogs are no different. Your Golden needs sleep for about 12 to 14 hours each day, which seems like a lot, but they are like babies, and babies need their sleep. Puppies and older dogs tend to sleep more. Your golden puppy integrates all the learning from the day through their sleeping habits.
Puppies learn better when they have good-quality sleep, which means they will be better able to listen and calm down. If they do not get good sleep, they may demonstrate behavioral problems. Sleep is essential to your goldie because bedtime routines help them relax and recharge. They also require enough sleep for their body's growth patterns to be effective.
Golden Retriever puppies can sleep 20 hours a day. Getting their beauty sleep helps them develop mentally and physically. If they do not get ample rest, they may become unfocused, demonstrate inappropriate explosions of frantic energy, and act temperamental. What you can do to help your dog develop a healthy sleeping pattern:
Give Them a Comfortable Sleeping Area
Your young goldie needs a comfortable place to sleep. It could be a crate or a dog bed. Give them a soft crate liner and a stuffed toy to help them feel secure. If you give them a crate, ensure it has all the best items to make them comfortable, such as a water bowl and a KONG toy. Anything to help them feel at ease.
Set Up a Routine
Golden Retrievers tend to do well with routines that make up their day. They will naturally feel more relaxed when they sense that it is almost time for bed at night. Establishing a routine early on will make it easier to sleep through the night. Try exercising them a couple of hours before bedtime to get them acclimated to going to sleep at a specific time.
Why Your Pup May Struggle with Calming Down
Golden Retrievers are naturally energetic dogs, as they can play all day. You may see that your pup is a bit on the hyper side, and you are wondering what you can do. There are several possible reasons why your golden may not be calm.
Boredom
Your golden needs mental exercise as much as they need physical activity. Training your dog is a great way to stimulate their mind. They love to learn and are open to anything their pet parent has to teach them. You can give them puzzles and games to activate their brain. You can also get them to participate in a fun agility class. They will get to mingle with other pups and put their energy to good use.
Lack of Exercise
Since golden retrievers are working dogs, their energy is naturally high and needs to be expanded through exercise and play. These pups require lots of walks, which is also great for bonding. Walking your pup makes them happy; the more fulfilled and happier they are, the calmer they will likely be. When your golden has finished their physical activity, they will be worn out and want some rest.
Separation Anxiety
Separation anxiety is difficult for pups. They may become hyper and anxious when they see you are going to leave them. Golden retrievers are dogs that do not like being left isolated, and they will let you know it. Some of the symptoms of separation anxiety:
Barking incessantly
Destroying household items
Going potty in the house
Pacing or walking in circles
Excessive drooling and licking may also be a sign of separation anxiety. Golden retrievers do not typically drool too much, so it can be surprising to see this occur. If your pup has extreme separation anxiety, it may become noticeably upset when you are not in the same space.
They Want Your Attention
Your golden retriever may be overzealous about getting attention from you, and they may try to initiate play by pawing or nudging you. They are trying to tell you, "It's time for fun!" You may also hear them whine or cry to try to express to you that they want something from you. They could also have energy for which they need an outlet, such as walking. Of course, they may just want cuddles from you.
Conclusion
Golden Retrievers are amazing dogs that need lots of physical exercise and mental stimulation to calm down. Your energetic golden will likely calm down when they are about two years old. Remember that your goldie was initially bred to be a working dog, so enthusiasm is part of their lineage.
Related Posts