Being one of the most popular breeds in the United States, the Golden Retriever is a beloved member of many households.
While they are valued and loved family members, it is unfortunate that dogs do not live as long as people do. The Golden Retriever is no exception.
So, it is important to do research on the breed to ensure that you give your Golden a long and healthy life. In this article you will find the life expectancy of a Golden retriever, common causes of death in Goldens, and what to look out for.
How Long Do Golden Retrievers Live?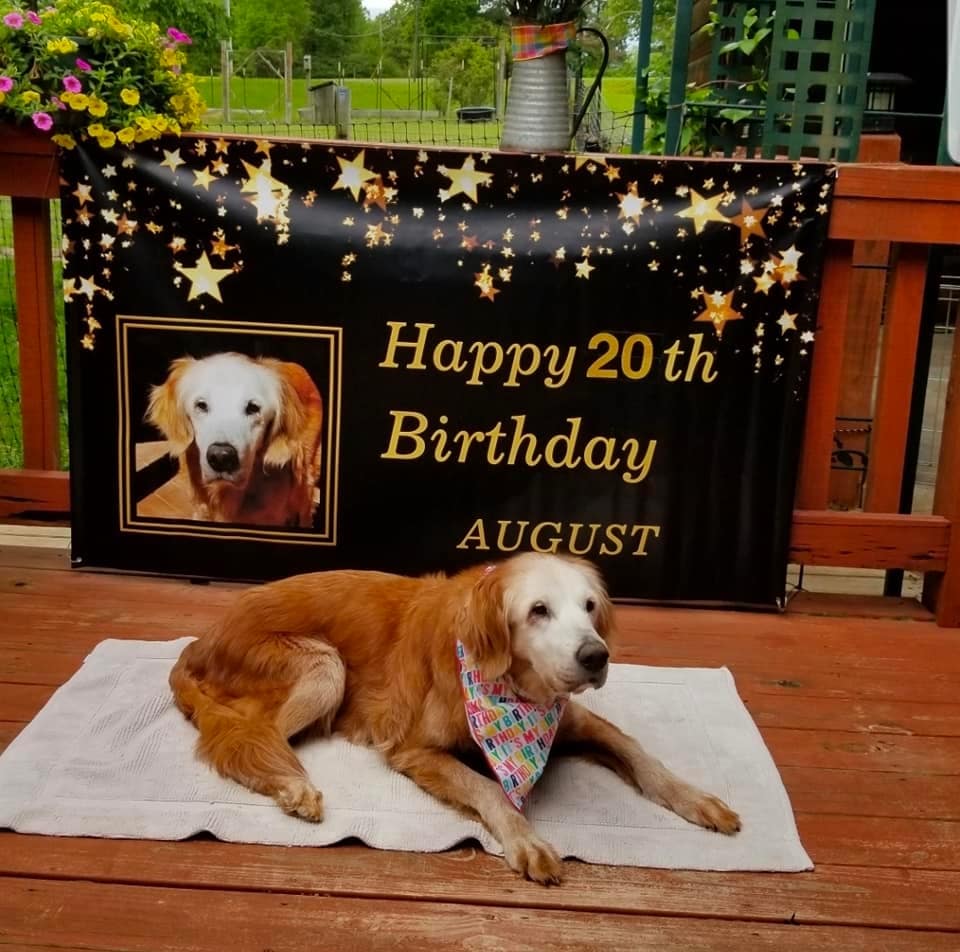 Golden retrievers typically live between 10 and 12 years, although there are records of some Golden retrievers that lived to be 18 or 19.
Goldens are considered geriatric between ages eight and nine. Although, if your Golden is well cared for and happy, they may still act like a puppy in these ages!
The Oldest Golden Retriever
With the average life span of a Golden being only ten to twelve years, it may be tough to imagine an eighteen or nineteen-year-old retriever. How old could the oldest Golden be?
August, better known as Augie, was the oldest Golden retriever in the world, who passed away at the age of twenty years and eleven months. Augie was adopted at the age of fourteen – past the average life span – and lived her remaining "golden" years in Tennessee.
This made Augie not only the oldest Golden but the nineteenth oldest dog in the world!
What Determines a Golden Retriever's Life span
While death cannot be prevented, it can certainly be delayed. Knowing what diseases and conditions that Golden retrievers inherit can be useful in preventing them, or preparing for them.
Cancer
Golden retrievers are prone to cancers more than any other breed of dog. The Golden Retriever Club of America (GRCA) recorded a study that identified some form of cancer as the cause of death in 61.4 percent of their dogs.
It is estimated that 66% of male and 56% of female Golden retrievers pass away due to some form of cancer.
Malignancy is found so often in Golden retrievers due to the fact that they are a modern yet popular dog breed. The strict registration standards set on pedigree breeding dogs in turn made it a closed community. Due to the breed being so popular, there was a high demand for puppies, but no genetic flow.
Nutrition
Nutrition plays a major role in the health and life span of your Golden, much like it does for humans.
Many Golden retrievers are prone to seasonal and nutritional allergies. It is important to feed your Golden a diet that works for them. Just like people, not all dogs can eat the same thing.
Feeding your Golden Retriever cheap kibble from the convenience store is like feeding yourself fast food day after day, meal after meal. It may meet all of the nutritional guidelines, but that doesn't mean it is good for you or them.
There are plenty of high-quality kibbles, canned foods, fresh foods, and raw foods on the market that can be found at just about any local pet store. Ensuring high-quality nutrition for your Golden means they will live a high-quality life.
Introducing fresh foods into your Golden's diet can also benefit their body. This doesn't mean table scrap, as that can cause further issues such as Pancreatitis. Blueberries are a great antioxidant for us and our dogs. Carrots can also be fed to promote healthy teeth and even prevent cancer!
Environment and Lifestyle
Much like nutrition, your Golden environment and their lifestyle also play a part in their life span. Golden retrievers are an active breed and were made to swim and fetch. Your pets' weight can make or break their senior years.
Overweight dogs have plenty more health issues than healthy dogs. Including, but not limited to osteoarthritis, high blood pressure, orthopedic conditions, and even death two and a half years sooner than a healthy weight dog.
While they are an active breed, retrievers both Labradors and Goldens alike, love their food. Many Golden retrievers will scarf down anything they can find. This can make it difficult to keep them trim, especially with their puppy-dog eyes!
Most Common Causes of Death
It has been discussed that cancer is the leading cause of death in Golden Retrievers, but the most common type of malignancy to look out for is Hermangiosarcoma, the most common form of cancer, Lymphosarcoma, and Osteosarcoma.
Golden Retrievers are also prone to cardiac and respiratory diseases. One heart disease commonly found in Goldens is known as Subvalvular Aortic Stenosis (SAS). This is when the aorta blood vessel responsible for taking oxygenated blood out of the heart narrows, making it increasingly difficult for the heart to push out the blood.
A common cause of death in Golden Retrievers is Gastric Dilation Volvulus or GDV. This is more commonly known as Bloat. GDV is a serious health condition that can cause death within hours if left untreated. This is when the stomach rapidly expands with food, gas, and/or fluid.
GDV often occurs when a pet eats too much trash or food. This is common in large breed dogs with deep chests such as Great Danes, Dobermans, and Golden Retrievers.
Do

Golden Retrievers

Live Longer Than Other Dog Breeds?
The Golden's life span of 10 to 12 years is fairly standard when compared to other breeds of the same size.
The Labrador Retriever is similar to the Golden and also has an average expectancy of 10 to 12 years. German Shepherds are said to live 9 to 13 years, Dalmations are listed as 10 to 13 years, and the German Shorthair Pointer is listed at 12 to 14 years.
Despite being the number one dog breed for cancer, they do share a similar life expectancy to other breeds around the same size. Smaller dog breeds have longer life spans, such as the chihuahua said to be an average of 12 to 20 years. Giant dog breeds have shorter lives; Saint Bernard lives an average of 6 to 10 years.
Do Male or Female Golden Retrievers Live Longer?
Golden Retrievers as a whole have a life expectancy of ten to twelve years. With that said, females live on average 11.3 years whereas males live 10.7 years. This isn't a major difference as both genders are prone to the same genetic diseases.
This doesn't mean there aren't differences in male and female Goldens. Males are larger than females; they can be anywhere from ten to twenty pounds heavier.
Male dogs also mature slower than female dogs do. A male Golden Retriever can also be much needier and more anxious than a female. This can make the females easier to train.
How Long Do Mixed Golden Retrievers Live For?
The Goldendoodle, a mixed breed between the Golden retriever and the Poodle, is an increasingly popular breed. The breed originated by Wally Canron, a member of the Royal Guide Dog Association of Australia. Canon crossed the Golden with the Standard Poodle in hopes of producing a hypoallergenic seeing-eye dog.
While only around for twenty years or so, the Goldendoodle has exploded in popularity. There are now different generations of Doodles. This is determined if the parents of the litter are a Golden Retriever and a Poodle, or two Goldendoodles, or one of each.
Originally crossed with a Standard Poodle, there are now Golden Retrievers crossed with Miniature Poodles, to create a miniature Goldendoodle.
The average life expectancy of a Goldendoodle is still understudied as they are still a developing breed, but mixing the Golden retriever's expectancy of 10 to 12 years with the Standard Poodle's expectancy of 12 to 15, many say to expect 10 to 15 years with a Goldendoodle.
5 Tips to Extend Your Golden Retrievers' Life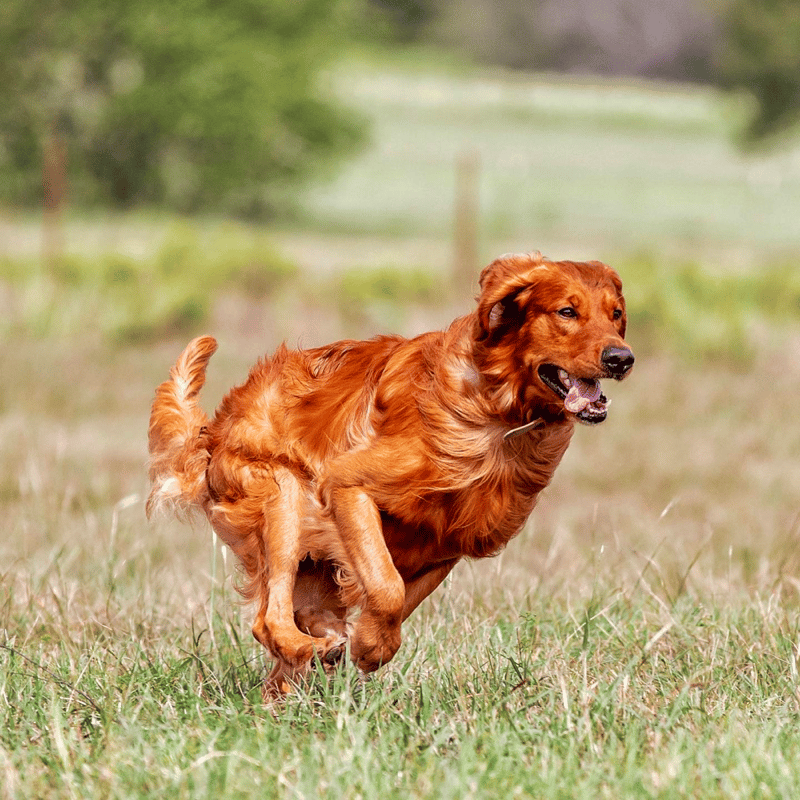 1. Regular veterinary visits are critical to making sure your Golden retriever is healthy. Yearly blood work should be performed to make sure everything is as it should be inside your pup's body. Once your Golden is considered geriatric, between ages eight and nine, they should get blood work done every six months.
2. A healthy diet and lifestyle are paramount to keeping your Golden fit and healthy. Adding fresh foods to your dog's food can aid in their health and development. There are plenty of supplements available for animals that can be used for longevity.
3. Provide mental stimulation in addition to physical exercise. We know that keeping your Golden active is key to keeping them fit, but keeping their mind active will also keep them sharp. Allowing your Golden to sniff on walks is an easy way to keep them occupied.
4. Walking a dog for ten minutes and allowing them to stop and smell what they want at their own pace can sometimes be more beneficial than running them for an hour. A dog's sense of smell is anywhere from a hundred to ten thousand times more powerful than a person's. They explore the world through their nose.
5. Regular grooming can also help longevity in dogs. Regular dental cleanings are important for your pet. Pets' dental health often goes unnoticed. Dental disease can affect more than just your Golden's teeth. The plaque left on the tooth's surface can infect the gums and in turn lower the dog's immune system. According to the World Small Animal Veterinary Association (WSAVA), periodontal disease is linked to cardiopulmonary diseases. Both the heart and liver are prone to inflammation from dental disease.
Final Thoughts
Golden Retrievers are valued members of the family. We want them around as long as possible. Death cannot be prevented, and it is important to know when to say goodbye.
Finding a trusted veterinarian is key to leading your Golden to have a long life. Keep up on annual examinations, blood work, and dental hygiene, as well as have the necessary vaccinations and heartworm prevention. A healthy diet and lifestyle are key for you and your Golden Retriever to have a long life.
There are many different pet insurance companies available to help in times of need. It is also worthwhile to maintain a savings account in case of an animal emergency.
There is a lot of time and effort put forth to give your Golden the best life possible. Find what works best for you and your pet, and make all their years "golden" years.