There are many things that you will need to consider when bringing home a new Golden Retriever puppy, and one of these things should be how you are going to train them. However, it can be stressful for new dog owners to figure out how and when to train their new puppy, let alone what they should teach their dog. Here we will be breaking down everything that Golden Retriever owners should do to train their puppy, and when in their dog's life they should introduce different training techniques.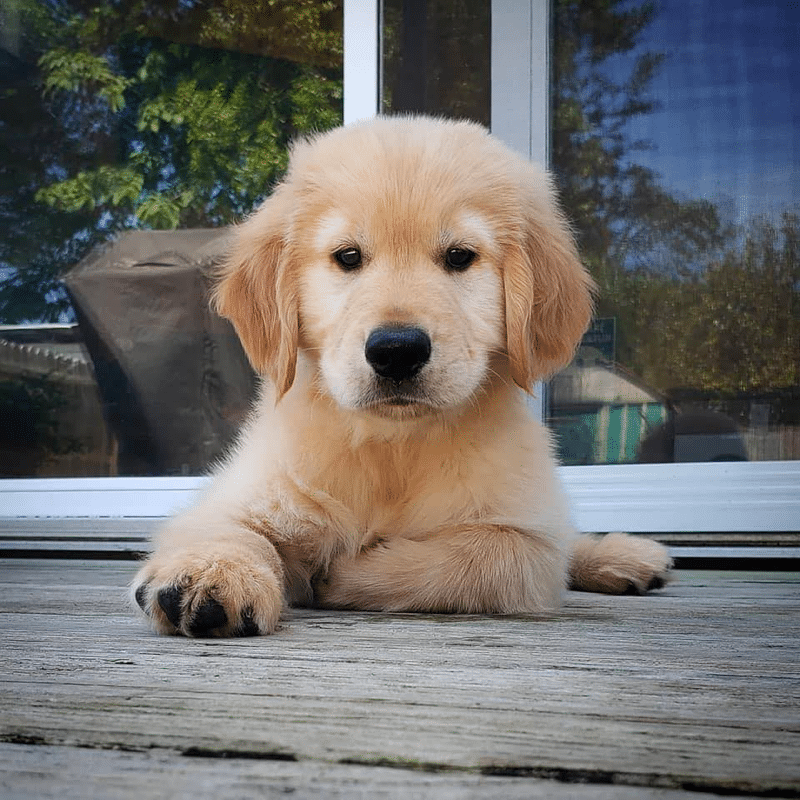 What Is The Best Age To Train Your Golden Retriever?
It is always best to start training your Golden Retriever puppy as soon as you bring them home, and this is usually between eight and ten weeks. It is best to start out with simple things like some basic obedience commands, working through potty training, and beginning crate training.
How Long Should You Train Your Golden Retriever Puppy?
Training for any dog is an ongoing process that generally lasts their entire life. Although it can seem like you are training your dog more often during their puppy stage, it only feels this way because you are working extra hard to introduce them to and teach them new things. Once your dog has been taught the things that you would like or need them to know, you should continue practicing these skills even when your Golden Retriever is an adult dog.
How Often Should You Train Your Golden Retriever Puppy?
It is best to work on training your Golden Retriever puppy a little each day. Although we do not all have the same amount of time to train our dogs for the same amount of time every day, it is always best to do as much as you can, even if it is just for five minutes on a particularly busy day.
What Are Structured Training Sessions And How Long Should They Be?
A structured training session is when you sit down with your dog to teach them something or practice a skill that they already know. In order to do this effectively, it is recommended that you have your dog on a leash for their structured training sessions. This way they will not walk away from you and you can regain their attention more easily. These structured training sessions should not last for more than fifteen minutes, and it is encouraged to take some small breaks.
Are Golden Retrievers Easy To Train?
Golden Retrievers are famous for their eagerness to please disposition, and this makes them one of the easier dog breeds to train.
What Will You Need To Train Your Golden Retriever Puppy?
There are some basic things that you will need to start training your Golden Retriever puppy. These things include:
Treats and toys
A collar or harness
A standard leash
A long line
A crate and/or playpen
Something to put treats in (a treat pouch, bag, or pocket)
Golden Retriever Puppy Training Timeline (8 weeks to 2 years)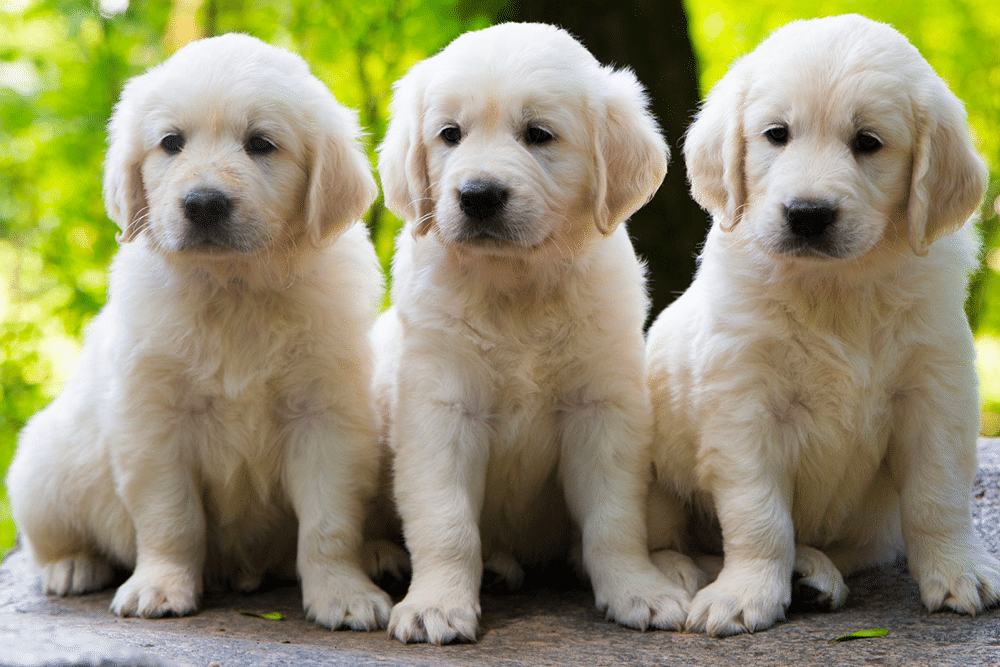 There are three developmental stages that new Golden Retriever owners will need to be aware of, and there are different things that you should teach your dog at each stage. These three stages are the puppy and socialization phase, the adolescent stage, and the stage that occurs between adolescence and adulthood. Here we will be breaking down what Golden Retriever owners should expect in each stage and what training they should introduce.
The Puppy And Socialization Phase (8 weeks to 6 months)
The following things are what new Golden Retriever owners should start working on soon after they bring their puppy home. During this time it is important to establish a routine and set boundaries with your puppy. Additionally, socialization and introduction training is also crucial during this stage.
Getting To Know Your Puppy and Create a Daily Routine:
The first thing that every new Golden Retriever puppy should do is to get to know their puppy and establish a daily routine. Doing things like playing games and exploring together does not only establish trust between you and your dog but also helps you understand what your dog likes to do. This is handy information because it helps you to streamline the rewards that you use during training into being extremely rewarding for your puppy.
During the first few days, you should also be establishing a routine with your puppy. This is very important because it can make things like potty training and having your puppy sleep through the night go much more smoothly. A great way to establish a routine is to feed your puppy their meals and take them for potty breaks at around the same time every day. Usually, when people do this, other parts of the daily routine like play and rest times also fall into place.
Socialization and Working Through Fear Stages:
Socializing your puppy is essential during this stage of your puppy's development because a well-socialized puppy will grow up to be a reliable and well-rounded adult dog. Although this stage does include introducing your puppy to other people and dogs, there is more to it than that. Introducing your puppy to a wide variety of sights, sounds, and environments will prepare them for the things that they will encounter throughout their lives. Things like loud noises, children, fireworks, thunderstorms, and other new things can be quite common and scary to a dog, so introducing them to these things early on is essential.
It is important to note that puppies can sometimes go through something called a fear period during this stage in their development as well. During this period your dog may be suddenly afraid of strange things that didn't seem to bother them before. Even things like just hearing the sound of a car or the sight of a trash can could potentially frighten your dog during a fear period. It is important that puppy owners continue to socialize their puppy during their fear periods. However, it is best to closely monitor and control interactions with new people and other dogs to ensure that they are positive.
Similarly, it is recommended that you turn things that are frightening to your dog into positive experiences during one of their fear periods. You can do this by giving your dog treats or toys when they are around things that make them feel nervous. If your dog will not take a treat or toy during one of these situations, then it may be best to seek some help from a professional dog trainer or animal behaviorist. This is because refusing to take food can be a sign that a dog has developed an extreme fear of something.
Introduction To Grooming:
Golden Retrievers are dogs that need to be brushed and groomed on a regular basis. As a result, it is best to desensitize your Golden Retriever puppy to being groomed as early as possible. Preferably, your Golden Retriever breeder has already started to introduce your puppy to being groomed before you have even brought them home.
Still, it is best to get your puppy used to being brushed and bathed. Additionally, your puppy will need to get used to having their teeth brushed and getting their nails trimmed. Preferably, brushing your puppy's teeth and brushing their coat every day will get them used to the sensation and keep their teeth and coats in good condition. Nails can be safely trimmed once a week, and bathing should be limited to about once a month for puppies of this age.
Touch Desensitization:
You will also need to get your puppy used to people touching them. This does not only include petting their bodies and heads, but also gently touching their ears, tail, and feet. This will not only make your dog more tolerant of people, but it will also prepare them for vet visits and grooming sessions.
Potty Training:
Preferably, potty training should be started as soon as you bring your new puppy home. The best way to introduce potty training at first is to take your puppy outside to use the bathroom on a schedule. If possible, starting out with taking your puppy out to use the bathroom every two hours is recommended, and as your puppy gets older you can slowly increase this amount of time. Having your puppy be fed on a schedule can help prepare you for when your puppy needs to go out as well.
When taking your puppy out to use the bathroom, you should just have them go to the bathroom and do nothing else. This means that you should not engage in any playtime until your puppy has used the bathroom. It can also be helpful to have your puppy on a leash when going out for potty breaks, even if you have a fenced-in yard. This way they will not get distracted.
If you cannot monitor your puppy and look for signs of them needing to use the bathroom, then crate training your puppy can help prevent them from having unwanted accidents.
Handling Problematic Behaviors:
Every puppy owner will encounter some problematic behaviors that they will need to work through. When it comes to Golden Retrievers, play biting, jumping, and destructive behaviors are the most common problems.
When playing with a Golden Retriever puppy, it is always best to play with toys and not your hands. This will prevent them from learning to bite people when they are playing and to bite on a toy instead. When play biting does occur, correcting them with a no or a time out can teach them that biting people is something that you do not want. Additionally, if play biting is a frequent bad habit of your puppy, then you can simply stop playing with them and ignore them for a few minutes every time that biting occurs.
Although a tiny Golden Retriever puppy jumping on you can be cute, a full-grown Golden Retriever jumping on everybody is not. As a result, it is best to teach your dog to sit and walk-up politely to people during greetings early on. You can do this by only allowing your puppy to greet others when they are calm and have four paws on the ground.
Golden Retrievers also love to carry things around in their mouths, and all puppies love to chew on things. This is partly because it soothes pain when they are teething and partly because dogs simply find it to be fun to chew on things. As a result, chewing can become a real problem for some Golden Retriever puppy owners. During this developmental stage, it is a good idea to always have age-appropriate toys on hand for them to chew on. This way you can replace items that your puppy really shouldn't be chewing on with something appropriate.
Basic Obedience Training:
Now is also a great time to get started on some basic obedience training. You can do these things on your own, but joining a group puppy training class when your puppy has been fully vaccinated is also a fun way to get some training practice in. Here is a great list of basic obedience commands that you can start to teach your puppy.
Sit
Lay down
Focus (look at me)
Leave it
Stay
Recall (come back to me)
Walking nicely on a leash
You can also add some tricks to this list and continue to advance their skills as your puppy progresses as well. The only thing that is recommended is to work at your puppy's pace and not add too much to their plate at once.
Crate Training:
Crate training is another excellent thing to teach your Golden Retriever puppy. This is because the crate can be a great tool for potty training, and it also provides your puppy with a safe place to relax at night and when you are not home. To crate train your puppy, it is best to associate their crate with good things like treats and toys, and you should always introduce your puppy to the crate slowly over time.
The Adolescent Stage (6-18 months)
Golden Retriever puppies reach their adolescent stage at around six months of age, and this developmental period lasts until they are about eighteen months old. Although most of the hard work when it comes to training has calmed down by this point, there are still some things that Golden Retriever owners will need to know for this stage in their dog's development.
Continue Basic Obedience Training:
It is crucial that Golden Retriever owners continue basic obedience training during this stage. This is because practicing basic obedience cues is a lifelong process, and puppies at this stage are not usually completely reliable with their obedience commands just yet.
Your Dog May Start Pushing Boundaries:
Dogs at the adolescent stage may start to push some boundaries and start getting into new problematic behaviors. You can think of this as your puppy turning into a rebellious teenager. Staying firm with your boundaries and continuing basic obedience training are key when it comes to working through this developmental stage.
Work On Getting Your Dog Enough Exercise And Mental Stimulation:
Many people picture the perfect Golden Retriever as lounging around the house and going for a nice, leisurely stroll with their owners. Although this perfect picture is definitely obtainable with a Golden Retriever, some people forget that these are active dogs that need plenty of daily exercises and mental stimulation. Golden Retrievers need about an hour of exercise each day on average in order to be healthy and happy. Providing your dog with mental stimulation is also a great way to keep them happy and occupied.
Working Through Fear Stages:
It is important for dog owners to know that a fear period can occur during this developmental stage as well. In order to get through fear periods, you can work through them in the same way that you would when your dog was a younger puppy. Make interactions as positive as possible and continue socialization.
Going Into Adulthood (18-24 months)
Most Golden Retrievers tend to reach mental maturity somewhere between 18 and 24 months. During this stage, most dogs tend to calm down a bit, and their puppy problems once causing their owner's grief are well in the past. Still, there are some things that owners will need to do in order to keep their dogs in top physical and mental shape even when they are fully grown and mentally mature.
Continue Practicing Basic Obedience Training
Dogs can fall out of practice and even potentially forget basic obedience cues if you do not practice training on a regular basis. As a result, it is crucial that you continue practicing the skills that your dog has learned, even if you do not teach them any advanced training. Of course, continuing your dog's training is always an option for those who desire it, but it is not always necessary if your dog knows the fundamentals well.
Uphold Your Dog's Care Requirements
Dogs are the happiest when all of their care requirements have been met. This includes medical needs, grooming requirements, and dietary needs. Some dog owners may be surprised how many behavioral issues are simply caused by an undiagnosed medical condition or poor diet. Luckily, these issues usually resolve themselves when corrections have been made and they feel better.
Keep Up With Your Dog's Exercise and Mental Enrichment Needs
A lack of exercise and mental enrichment is also an extremely common cause for dogs to become unruly, and this is especially true when it comes to active dogs like Golden Retrievers. As a result, it is crucial that Golden Retrievers continue to get about an hour of exercise a day and receive mental stimulation on a regular basis.
Training Methods And Techniques Used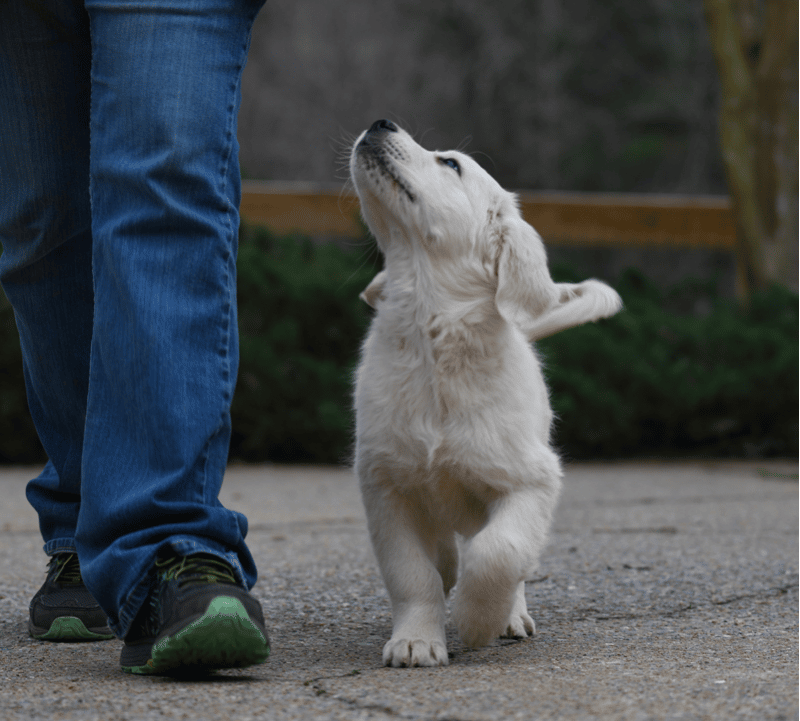 This Golden Retriever puppy training guide uses positive reinforcement training techniques. This involves rewarding your dog for things that you like or want them to do, and punishing using non-invasive techniques such as saying no when your dog does something that you do not want them to do.
Additionally, we also introduced teaching your dog to do an alternative behavior besides the behavior that is undesirable. A great example of this is to teach your dog to sit upon greeting people instead of jumping upon them.
What To Keep In Mind When Training A Golden Retriever Puppy
Golden Retriever puppies are incredibly intelligent, and they respond to training best when their owner makes the process fun for them. This makes the process rewarding for your dog, and it also makes them more willing and excited to learn. It is also important to remember that training is a process that can sometimes go slowly. As a result, it is important to keep in mind that your puppy is not likely to learn things overnight.
Common Golden Retriever Training Mistakes
Some of the biggest Golden Retriever training mistakes seen are potty training mishaps. Usually, this just occurs by accident when the owner forgets to take their puppy out or if the puppy got distracted when outside and they did not use the bathroom.
Another mistake that some Golden Retriever owners make is letting their dog jump up to greet people when they are small puppy. Although this is cute behavior in a tiny puppy, it can quickly become bothersome and even potentially dangerous when an adult dog does this. Plus, it is easier to teach your dog good greeting manners right off the bat when your Golden Retriever is a puppy than it is to correct a bad habit such as jumping when they are an adult.
Final Thoughts
Training a Golden Retriever is a relatively easy feat, even for first-time dog owners. This is because Golden Retrievers are intelligent dogs that are eager to please their owners. Following this Golden Retriever puppy training guide is sure to get you through puppyhood and adolescence unscathed, and your puppy is sure to grow into a well-rounded, happy, and healthy adult dog.