There aren't many things on the planet cuter than a 2-month old golden puppy.
Eight weeks is usually when owners take the pups home to their forever homes, so it's a great time to learn what to expect from eight-week-old golden puppies other than lots of adorable moments.
An 8-week-old Golden Retriever is a lot of work and it can feel overwhelming, but you'll enjoy this stage a lot more if you're prepared and know what to expect from your pup.
Some of the things you'll learn about in this article include:
What does an 8-week-old Golden Retriever look like?
How much does an 8-week-old Golden Retriever sleep?
How much exercise does your 2-month-old Golden Retriever need?
How to train an 8-week-old Golden Retriever puppy
How much to feed an 8-week-old Golden Retriever puppy
How to deal with 8-week-old Golden Retrieve biting
8-Week-Old Golden Puppies: Their Brains are Sponges!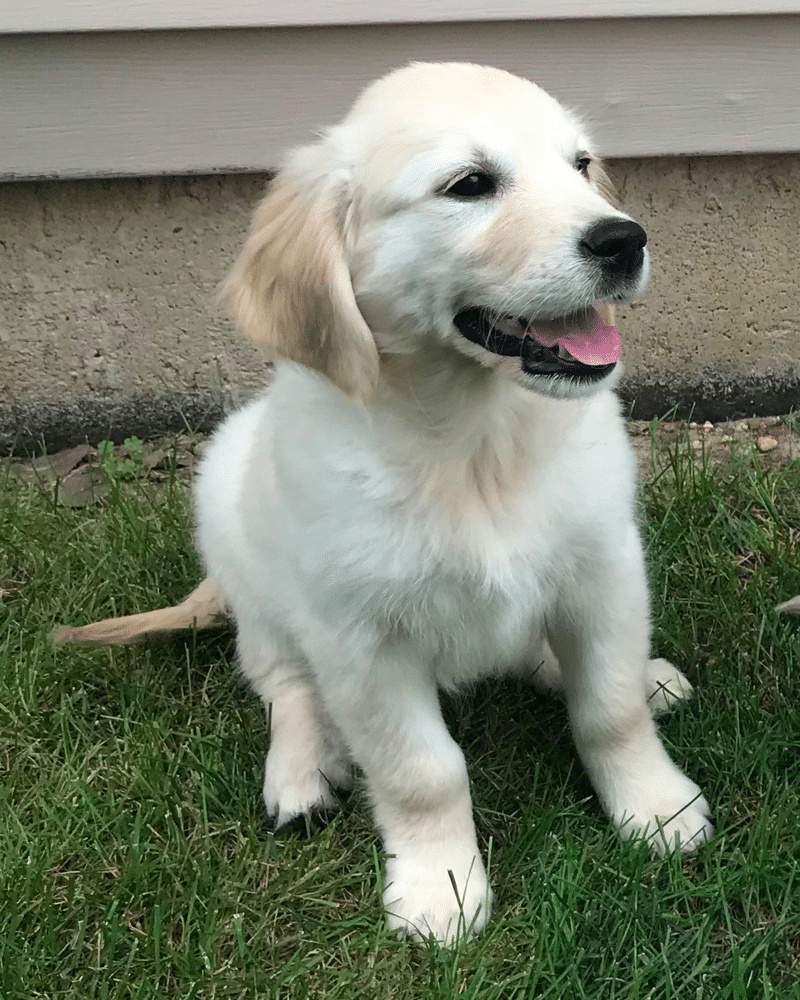 Two-month-old Golden Retriever puppies are learning a lot of things really quickly, and they've typically learned enough by this stage to leave their mom and littermates and go to their new home.
Eight weeks is typically when breeders allow puppies to be taken to their new homes, but some breeders keep them for a couple of extra weeks.
Eight-week-old goldens are curious and playful, and they're constantly using their sponge-like brains to learn about the world around them.
A pup may be a little shy or sleep more than usual when you first bring him home, but that's normal. It's a big change for a puppy to be brought to a new home and become acquainted with his new family. This shy, sleepy puppy will eventually get more comfortable with its new environment and come out of its shell in a couple of days.
Socialization is important for eight-week-old golden pups. This isn't simply allowing your pup around new people and animals, but rather introducing them to the sights, sounds, and things that he will experience as an adult. Getting your pup used to these things is a good way to avoid potential behavioral issues as the puppy matures because it allows them to learn how to feel and react to various stimuli and leaves you with a confident, well-adjusted pup.
You need to reinforce the idea that your puppy is safe and gain their trust during this time period. And you need to let them trust that you'll ensure their safety both while they're at home and in other environments. This is because puppies can experience a fear period when they're around eight weeks old. During this time, pups will be a little more fearful of things like strangers, sounds, and certain objects. It will pass, and usually only lasts a week or so. You can tell if your puppy is experiencing a fear period if they're doing things such as running away, growling, cowering, or barking.
It can be a little scary or discouraging for the owner of a golden puppy to see them go through this fear period, especially if they start exhibiting fear towards people. Goldens are known to be such friendly and social dogs, so watching them exhibit such antisocial traits can be off-putting. But, it won't last long.
Don't completely shelter your pup during this time. You can still get them outside and introduce them to new things, just remain mindful of their feelings. If they start freaking out about a person or thing, help them get some distance between them and whatever they're afraid of so that they can observe it and get more comfortable with it.
You need to be patient with an eight-week-old puppy. After all, they're an eight-week-old baby of a different species, so they're not fluent in your language. They're not going to understand what you're saying if you yell at them for chewing something up or going potty in the house.
These adorable balls of energy and fluff are completely dependent on you to meet their needs and there are a LOT of needs! (Check out our article on the Best Shampoo for Golden Retrievers so you can meet their hygiene needs!)
You need to be patient with them so that you can not only bond with your new pup, but also help him grow and learn about the world around him.
8-Week-Old Golden Retriever Puppy Size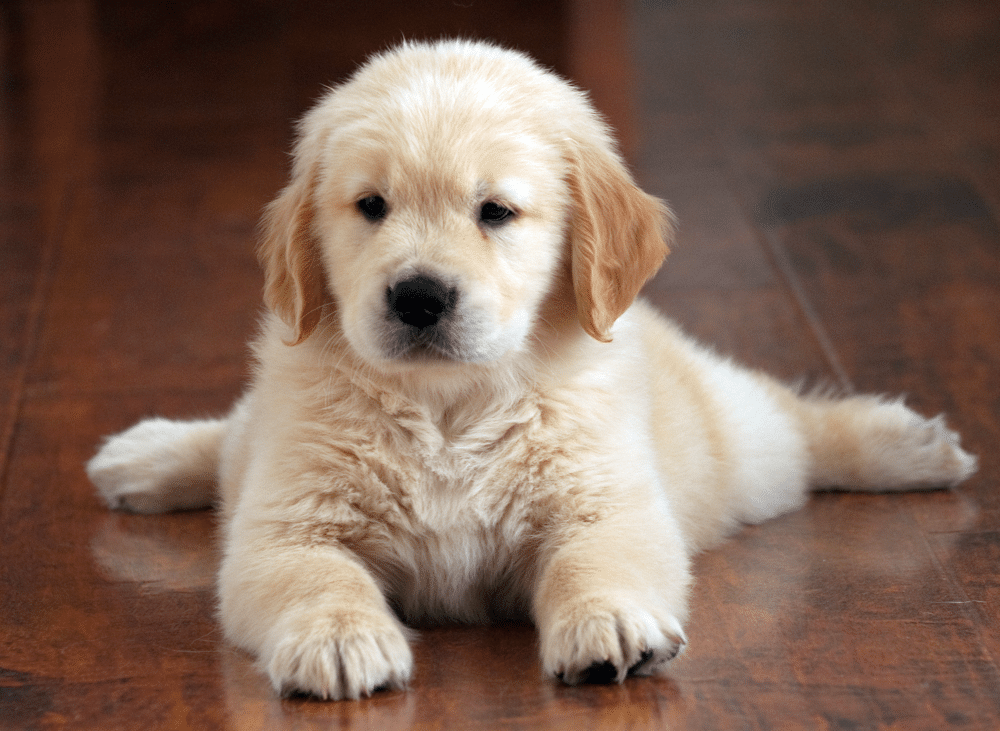 There's no set rule for how big an eight-week-old Golden Retriever puppy should be. They're usually between 8- 15 lbs, but they can weigh more or less.
Their size mostly depends on their genetics, and it's not always an indication of how big or small they'll be as an adult.
Sometimes the puppy that was the smallest puppy in the litter can grow and quickly become the largest. And the largest puppy of the litter may not always remain the largest.
As a breed, Golden Retrievers vary in size and weight. But if you're familiar with the size and weight of your puppy's parents, it can give you a good idea about how big your pup will grow to be.
Because some types of Golden Retrievers are smaller, and some are larger, your puppy's size will probably reflect that.
If you have any concerns about your pup's weight, your veterinarian can determine whether your puppy is the appropriate weight for his age.
One thing to remember is that at this age your puppy will be easy to pick up or carry around, but they'll grow quickly. So you should enjoy that before they grow too big to pick up and cuddle!
How Much Sleep Does an 8-week-old Golden Retriever Puppy Need?
You may be surprised to learn that 8-week-old Golden puppies require about 18 hours of sleep a day.
Of course, that's a lot of sleep and most of us envy their ability to sleep that long. But this massive amount of downtime is due to the fact that sleep allows them to grow and it's vital to the proper development of their little brains.
Usually, if you have a rowdy puppy that's acting up and getting bitey, it simply needs to sleep. This may seem counter-intuitive because most people would assume that if a puppy is full of energy it needs to run it off, but in all actuality what they really need is sleep.
You should use either pens or crates to make sure that your pup gets the optimal amount of sleep both through the night and during the day.
Because 8-week-old goldens are babies, they're usually not that great at putting themselves down for naps, so you'll likely have to help them a bit. Here are some things you can do to help your puppy nap:
Adorn their crate or pen with comfortable blankets or pillows. (Check out our article about the Best Dog Beds for Golden Retrievers.)
Learn whether your pup likes to sleep on a bed or on the floor, then set their crate or pen up accordingly.
Cover the crate or pen using a blanket or towel so that their visual stimulation is limited.
You can use aromatherapy products for dogs to lull your pup to sleep.
When you see your pup lying around and acting like they're settling in for a nap, move him to his pen or crate.
Get your puppy something like a stuffed Kong toy because licking and chewing are relaxing to pups. It's a bit like babies using pacifiers.
Classical or calming music can help your puppy get to sleep. There are plenty of "relaxing music for puppies" videos on YouTube.
You can expect that your pup should be ready for a nap after being awake for around an hour. So, you can get him to sleep easier using these tips.
How Much Exercise Does an 8-week-old Golden Retriever Puppy Need?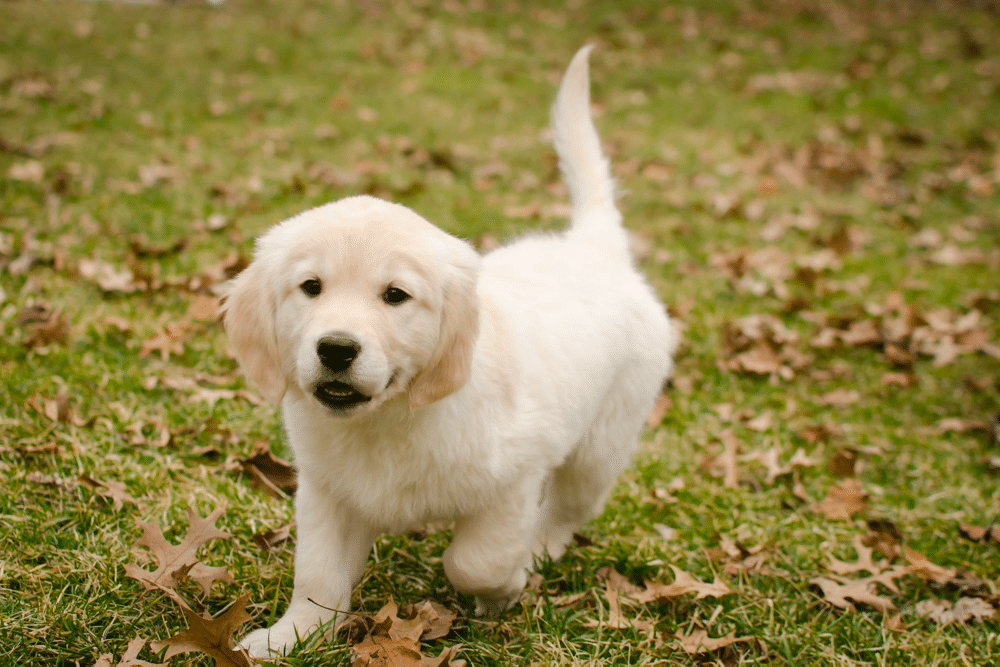 The good news is that you won't have to determine how much exercise your puppy needs. An 8-week-old Golden Retriever puppy is largely able to know how much exercise it needs all on its own.
If your puppy tries to lay down and sleep after taking a five-minute walk, you shouldn't force them to keep going. What you should do instead is either pick them up and take them home or give them a break and see if they get a second wind.
An eight-week-old Golden Retriever puppy's joints and growth plates are still growing and developing at this stage, so you shouldn't force intense and repetitive exercise on them.
It's easy to watch your puppy playing and lose track of time because they're being adorable, but you should frequently intervene and encourage your puppy to take breaks and make sure they aren't overdoing it.
Golden Retrievers excel at playing fetch, but you need to keep games short. The running and then suddenly stopping to pick the ball or toy up and bring it back is hard on their tiny bones.
People often adopt Golden Retrievers with the intent of getting a companion to exercise with (running, hiking, biking, etc.), and that's great when they're adults, but they aren't capable of it at this young age.
Allowing your puppy to play with toys in your yard or house can be a good, safe way for your puppy to exercise. Having a yard is ideal because you can let your pup run around the yard and explore, while also burning off some excess energy.
If you don't have a yard, pop a leash on your pup and take him for a walk around the neighborhood. Just make sure you choose a short, easy walk that your puppy can handle.
It usually won't take much exercise to make your puppy need a nap. However, some days they have more energy than others, which is normal.
Every Golden Retriever has varying exercise needs. Some are pretty chill and would rather lay around, while others are really hyper and active. You can see these differences in your puppy's energy levels, and this will be an indication of how active your dog may be later on.
How to Train an 8-week-old Golden Retriever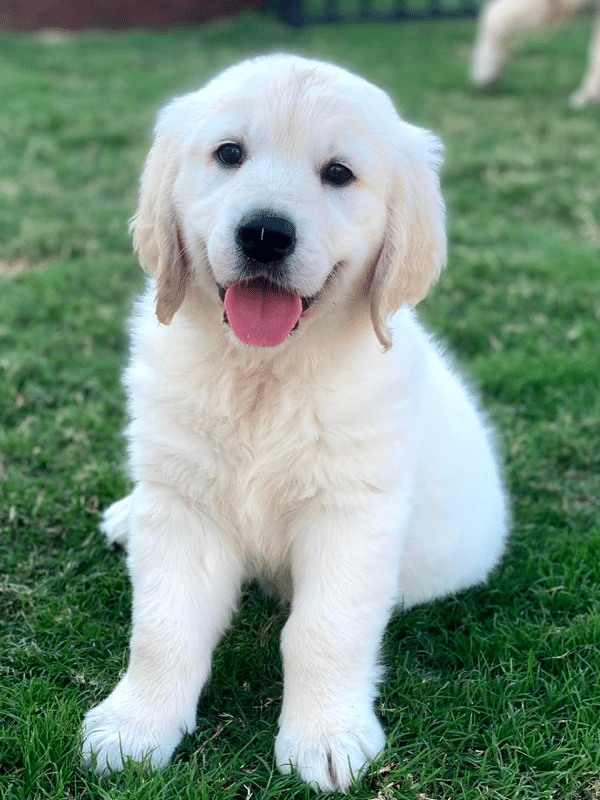 This is the best time to start training your Golden Retriever puppy!
You need to know that positive reinforcement works best for Golden Retrievers. You should avoid any sort of training that is based on punishment.
By training your puppy, you'll increase your bond with him and learn how to communicate with him.
There are also other training methods that can be beneficial to your pup. Group training is a good way to get your pup acquainted with other dogs and learn alongside them, while the trainer provides you with ways to better train your pup. You also have the option to hire a professional dog trainer, who will come to your house and give you customized tips to train your puppy.
Before hiring any sort of trainer, ask them about the methods they use to avoid distress for puppies.
It's important to start potty training your eight-week-old Golden Retriever pup. You'll need to make frequent trips outside with them because they have little bladders and need to go often. The more you take them out, the more likely they'll learn to go potty outside.
If you're going to crate train your pup, then this is the age to start this training, too. They need to learn about confinement early on.
Another important thing to teach your pup is their name, and to come to you when you call them.
Here are some other things you can teach your pup at this stage:
Holding still while you attach their leash or put on their harness
Walking beside you
Sleeping on a bed
Keeping calm while they're being groomed
Making eye contact with you
The most important thing you can teach your golden pup at this age is that you're a safe person to be around and that you're fun. The bond with your pup is vital to any other training you do with them.
You should pick up lots of treats for your pup because they're important during the training process. For more about the training process, check out our article about Golden Retriever Puppy Training.
How Much to Feed an 8-week-old Golden Retriever
It's important that you feed your pup the right amount so that they don't become overweight and develop health problems because goldens are prone to overeating. (Hey, food is good, okay?)
Most 8-week-old Golden Retriever puppies should be eating around half a cup of food three times a day.
This is dependent on a number of factors, such as your pup's activity levels and the food you're feeding them. So, talk to your vet for a specific amount.
There's no concrete rule about feeding puppies, other than that they need frequent meals.
You do need to make sure that you're feeding your puppy the right type of food. They need high-quality puppy food. Don't feed your puppy adult dog food because it doesn't contain the right nutrients to support growth and development.
For more about what to feed your pup, check out our article about the Best Puppy Food for Golden Retrievers.
Your golden puppy will probably quickly devour any food you place in front of them. It can be a good idea to buy a slow feeder bowl or toys that dispense food to slow them down a bit while also giving them some mental stimulation and making mealtime fun.
How to Deal with 8-Week-Old Golden Retriever Biting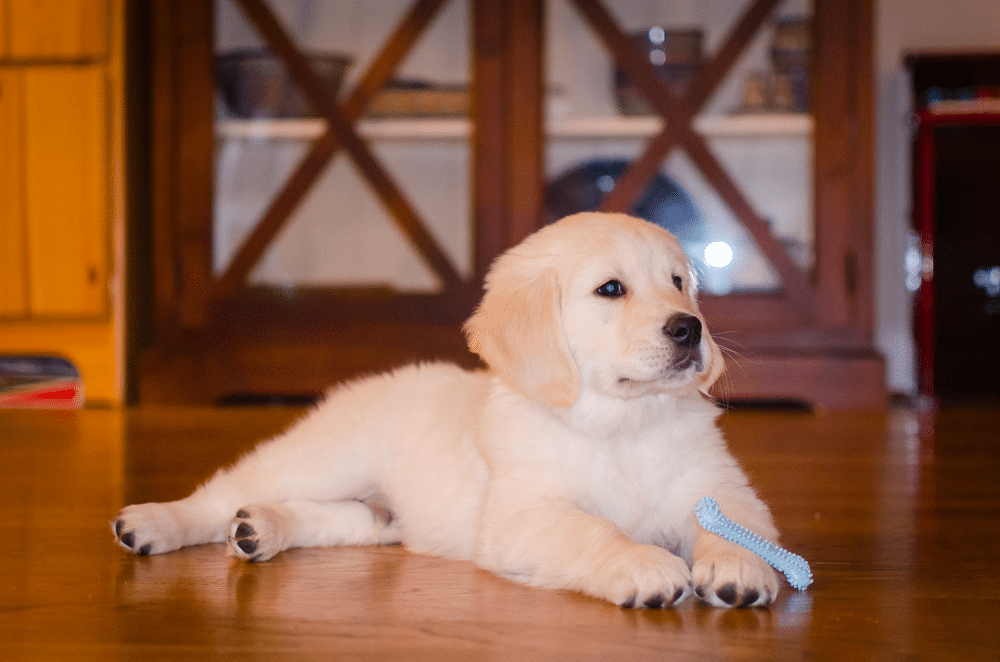 There's one thing that's universally true of all 8-week-old Golden Retriever puppies: they nip, bite and chew a LOT!
Just as infants put things in their mouths, puppies do too. They do this to both plays and learn about their world.
This can really suck for humans because puppies have sharp little teeth that feel like needles. But they don't do it to hurt you. It's all part of Golden Retriever puppy development.
The good news is that you can do some things to cut back on the biting and learn to deal with it.
The first thing right off the bat you should do is to make sure your puppy is getting enough sleep. Tired puppies tend to go into a biting frenzy, so if you want to make sure your puppy acts more like a puppy than a piranha, make sure they're taking frequent naps.
Secondly, scatter chew toys all over your house. You want them within arm's reach so you can grab one and redirect your puppy to a toy if they start biting you or something they aren't supposed to be biting. Sure, it'll look a little cluttered in your house, but it's worth it.
Third, give your puppy a break if they start biting. This is as easy as going on the other side of their gate or putting them in their crate. Once they've calmed down you can come back and resume play. This lets your pup know that when they start biting, the play stops, and access to you is denied.
Many people suggest yelping and making loud noises when your puppy bites. The idea is to try to make it sound like you're another dog and in pain. But this is actually pretty counter-productive because it can make the situation worse by scaring the puppy. The idea of training your puppy is to promote a safe, stress-free environment, so if you're freaking the puppy out that kind of does away with that whole notion. They may not even come to you when you call them after you've scared them this way, and it's quite understandable if they don't. Other puppies can get more excited by the noise and bite harder.
Biting is just something that puppies at this age do. You're going to want to learn how to manage it, but there's really no way to make it stop entirely.
READ MORE: How To Stop Your Golden Retriever Puppy From Biting and Nipping
Conclusion
It's both exhilarating and overwhelming to bring home an eight-week-old Golden Retriever puppy.
You're likely not going to get much sleep for the first week or so, and you'll definitely have some battle wounds on your arms from their sharp little needle teeth.
However, remember that getting through this trying time is going to help you establish a lifelong bond with your new family member.
If you haven't already found the ideal breeder or found the perfect puppy to join your family, check out our article about How to Find Reputable Golden Retriever Breeders.
If you'd like to know more about how long your Golden Retriever should be with your family, check out our article about Golden Retriever Life Expectancy.
If you've missed our other posts about the development of Golden Retriever puppies, you can check them out here: