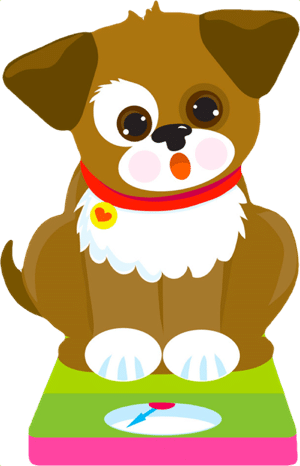 50.2 million American dogs are overweight. Is your dog one of them? Being overweight can lead to health problems and reduced quality and length of life for your dog. Furthermore, not getting enough exercise can lead to behavioral problems like over-activity and destructive behavior.
A balanced diet that follows veterinary recommendations, combined with an appropriate exercise regimen, can get your dog to her ideal weight and her happiest, healthiest self. Read our post to learn how much exercise your dog really needs from puppyhood into the golden years, by breed and type, and learn how to determine the exercise needs of your individual dog, no matter her breed or size.
Content
Research Facts and Stats About the Health of American Dogs
It seems a little strange to worry about your dog getting exercise. You might think: Doesn't my dog burn off calories playing in the backyard? I take her for a walk every day. It's not like she has to go to work and sit at a desk all day. In fact, according to the Association for Pet Obesity Prevention, an estimated 56% of dogs in the US are overweight or obese and the problem has been getting steadily worse.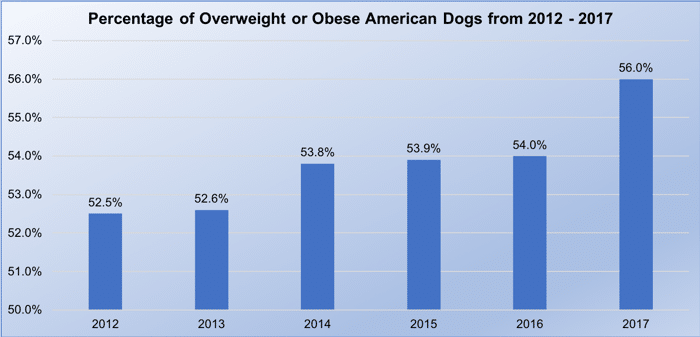 Over half of the dogs in this country aren't getting the most out of their life, or living as long, as they could be, and it is happening to more dogs every day. The ASPCA lists the many diseases that affect obese pets: heart disease, diabetes, liver problems and respiratory disease, as well as increasing the likelihood of joint, ligament, and tendon injuries.
When you consider that about 89.7 million dogs live in the US, that's a lot of obese pets. Unfortunately, 50.2 million dogs are above a healthy weight. The WALTHAM® Centre for Pet Nutrition found that overweight dogs live an average of 10 months less than dogs at an ideal weight. Even moderately overweight dogs suffered a reduction in quality of life due to chronic health problems.
Is Your Dog Overweight?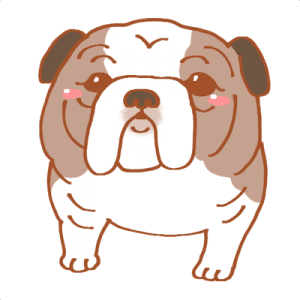 When you think about how important it is that your dog maintain an ideal weight, you are doubtless wondering if your dog is overweight. Your veterinarian can tell you if your dog is overweight and let you know how much to reduce her food to allow for weight loss. A good rule of thumb is that you should be able to feel your dog's ribs by running your hand lightly over her sides. If you'd like even more clarity, you can use this Doggy Body Mass Index Calculator by PetSci.
What are the Benefits of Exercise for Dogs?
Skip this to read: [Infographic] Why Should Your Dog Exercise?
The first and most obvious benefit of exercise for your dog is avoiding the obesity and resulting health concerns that I discussed above. Dogs that are exercised regularly and kept at a healthy weight are likely to live longer and less likely to suffer from joint pain and arthritis than dogs that are overweight. Chronically overweight dogs can also suffer from diabetes and heart disease.
Luckily there are lots of healthy snacks that you can give your dog in place of calorie-laden food or table scraps, and there are plenty of exercises that even the overweight dog can do to start getting back into shape.
Dogs that are well exercised are calmer and happier companions. Dogs that are engaged in mental activities with their owners will develop a deeper bond and trust, becoming more responsive and well-behaved family pets.
A dog that is tired out is more likely to rest during downtimes and is unlikely to be destructive or display behavioral issues. It is incredible how exercising a dog can eliminate or greatly reduce problem behavior. If your dog is anxious, obsessive, or even aggressive, try beginning an exercise regiment first to see how much of your dog's problem behavior is rooted in frustration and lack of exercise.
Mental Exercise VS Physical Exercise
Some dogs have been bred to run all day in single-minded pursuit of game and will go wild without the opportunity to run out their energy. Other dogs are driven to retrieve, sometimes more powerfully driven than your throwing arm can handle.
Dogs that are bred to herd will look to you constantly for engagement, and begin to make up their own rules and games if you don't provide it. Dogs that have been developed for hunting rats or small game may be happy occupying themselves hunting squirrels and moles in your yard, but you may not like the digging or yipping that also occurs.
When deciding what kind of dog you want or what kinds of activities will satisfy your dog's needs, it is important to consider her heritage. If you really don't know what kind of dog you are working with, you can try a few activities to see what works for your dog.
You will know that your dog has been mentally and physically exercised satisfactorily when she is displaying the benefits that I mention in the Benefits of Exercise for Dogs section.
How Much Exercise Does a Specific Dog Breed Need?
To calculate how much exercise your dog needs, I will break down mental and physical exercise needs by group and breed and suggest exercises for each type of dog.
Skip to read: [Infographic] How Much Exercise Does a Specific Dog Breed Need?
Breeds

Exercise Needs

Time

Herding Dogs

Cattle Dogs,
Shepherds,
Sheepdogs,
Collies,
Corgis
High mental and physical activity needs. These dogs need an activity that is engaged with you and thrives on continuously learning new things. They can excel in all kinds of disciplines, and can become highly responsive and obedient companions.



Activities:

 Herding trials, Agility competitions, Obedience training, Trick Frisbee, Flyball, Dog dancing.
At least 120 to 180 minutes of active, engaged exercise, indoor and outdoor.

Sporting Dogs

Pointers,
Spaniels,
Retrievers,
Weimaraner,
Vizsla
Moderate mental and high physical activity needs. These are dogs that are made to run all day, pointing out and/or bringing back feathered prey. These dogs need to be engaged by their person. They love to run and retrieve, but they will also excel at a wide variety of games and activities



Activities:

Fetch, Frisbee, Biking, Jogging, Dog park, Flyball, Agility, Hunting.
At least 120 to 180 minutes of active running, either retrieving, off-leash running, or on-leash running.

Hound Dogs

Greyhounds,
Afghans,
Coonhounds,
Foxhounds,
Dachshunds,
Rhodesian Ridgeback,
Wolfhounds
High physical exercise needs. These dogs need to run, but they don't necessarily need you to be involved. A long bike ride or a few hours romp in a wide open area will often be enough to satisfy, but don't let these dogs off leash without fencing unless you're prepared to chase after. Their instincts are powerful, and if they see or smell something, they'll be off.



Activities:

Biking, Jogging, Hunting, Earth dog competition, Dog park, Off-leash running, lure coursing.
At least 60 minutes a day solid running for large breeds, another 60 minutes off-leash romping. At least 60 minutes off-leash romping for small breeds

Rat and Small Game Terriers

Airedale,
Hairless,
Border,
Schnauzer,
Fox,
Rat,
Scottish,
Kerry Blue,
Lakeland,
Manchester
High physical exercise needs. Terriers are a vivacious, energetic group that was bred to think on their own to catch vermin or perform other duties. While they can be very engaged with their people, they are also very happy chasing a squirrel or de-stuffing a stuffed toy. Smaller breeds of terrier can usually run off their energy in the average fenced yard with a good ball.



Activities:

 Jogging, Earth dog competition, Lure coursing, Dog park, Off-leash running.
At least 60 minutes of off-leash outdoor exercise per day, and 30 minutes to 60 minutes of engaged play or training.

Large Terriers and Working Group

Staffordshire,
Bull terriers,
Boxer,
Doberman,
Great Dane,
Great Pyrenees,
Mastiff,
Rottweiler,
Mountain dogs,
Husky
Moderate physical and moderate mental exercise needs. This is a diverse group developed for functions from personal, home, or livestock protection to pulling loads and rescuing people. Researching the background of individual breeds will help you choose the right activity for your dog. All of these breeds require a good foundation of obedience training.



Activities:

 Pulling, dog park, jogging, biking, swimming, protection, obedience, long hikes.
At least 60 minutes of mental and physical exercise for most, with some, such as huskies and Dobermans, requiring up to 120 to 180 minutes.

Non-Sporting and Toy Group

Eskimo dog,
Bichon,
Shar-Pei,
Bulldog,
Dalmatian,
Poodle,
Schipperke,
Lhasa Apso,
Maltese
Moderate physical and moderate mental exercise needs. This is sort of a catch-all group, and the dogs in this group are extremely diverse, with very breed-specific characteristics. "Lap Dogs" like Lhasa Apsos, Bichons, and miniature Poodles need moderate mental exercise and light physical exercise. Dalmations, Poodles, and Schipperkes need more mental and physical exercise. Bulldogs are happy as your lazy companions, but should be pushed into light exercise and require obedience training to control their sometimes stubborn natures.



Activities:

Smaller dogs will thrive with indoor obedience and fun activities like dancing, along with a daily walk. Larger more energetic dogs benefit from jogging, fetch, and agility.
Smaller dogs: 30 minutes to 60 minutes of active engagement.
Larger dogs: 60 minutes to 120 minutes of active exercise and mental engagement.
Information about breed exercise needs referenced from https://www.pdsa.org.uk/
The dog walking company WAG has an exercise calculator to determine exercise need and the risk of weight gain by breed, which can help you further determine exactly how much time your dog should spend exercising, and even how far your dog should walk.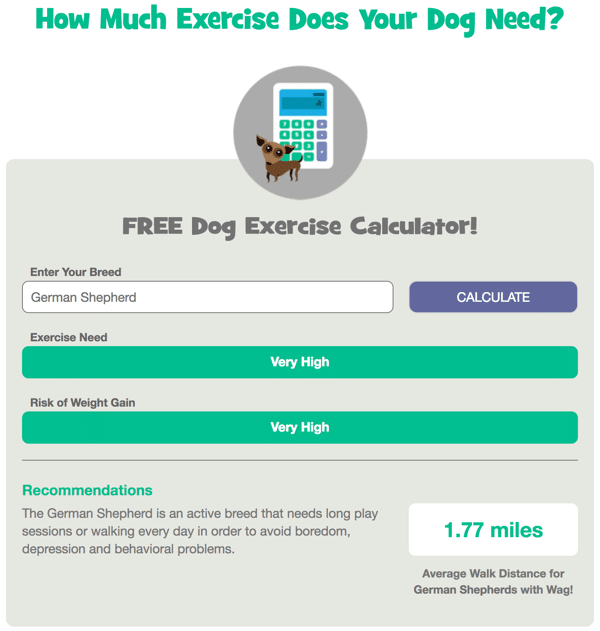 What if I have a Mixed Breed Dog?
If you don't know what breed you have, you can try a few activities to see what works for you and your dog. Even if you know your dog well, looking at her closely in a new light may open your eyes to an exercise opportunity that had escaped you before.
Figuring out just how much exercise will be needed for a dog that you are considering adopting from a rescue isn't always easy. The AKC lists exercise needs on a gradient from "Couch Potato" to "Needs Lots of Activity" so that you can get a sense of what a breed that you are considering might require. For instance, the American Staffordshire Terrier needs a regular amount of exercise and the Labrador Retriever needs lots of activity.
These calculations are moderately accurate with purebred dogs, although individual dogs will show variations in energy level. It can, however, be difficult to calculate how much exercise a mixed breed dog will have.
The Labrador and Staffordshire, or "Pitbull", the mix is one of the most common mixes in America. Will your Labrador/Pitbull cross need regular exercise or lots of it? If you are considering a mixed breed puppy or are thinking about adopting a rescue dog, how can you predict how much exercise your new dog will need?
Further complicating the issue is the fact that some dogs require more physical exercise, while others need more mental stimulation. The mismatched energy level is one of the primary reasons that dogs are rehomed, so finding a dog that will match your energy level is important.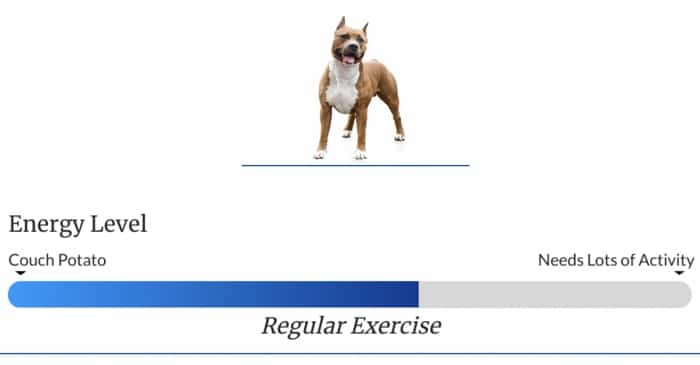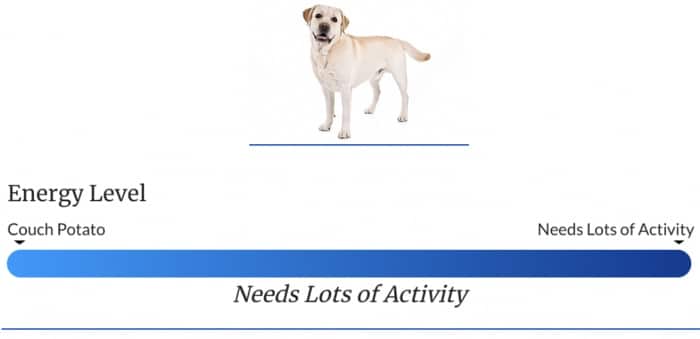 Watch Your Dog on a Walk
So much about a dog can be seen on a walk. Watch your dog's behavior closely and let her lead you on the walk. Does your dog lean into the lead in a determined way? Perhaps pulling would be a good activity for her.
Does she look every which way, wanting to chase and sniff? Try letting her run herself out at the dog park or another securely fenced area. Does your dog seem hesitant, looking to you for cues? Your dog may be a good candidate for obedience and confidence-building activities like agility or Frisbee tricks.
Look Closely at Your Dog
Your dog's body shape is another good clue to the activities that will work well for her. Tall, lanky dogs are usually built to run, and may enjoy biking with you or lure coursing.
Muscular, powerful dogs often enjoy letting their muscles really work in pulling heavy loads. Dogs with scruffy or wiry coats are likely terrier mixes, and will probably enjoy Earthdog or chasing squirrels at the dog park or in your backyard.
Do you see big, floppy ears? Does your dog spend a lot of time with her nose to the ground? If she bays as well as barks, you can be even more certain that your dog is a hound mix. Your dog would excel in scent trials, as well as in hunting, and will likely also enjoy off-leash playtime at the dog park.
How Much Exercise Does a Puppy Need?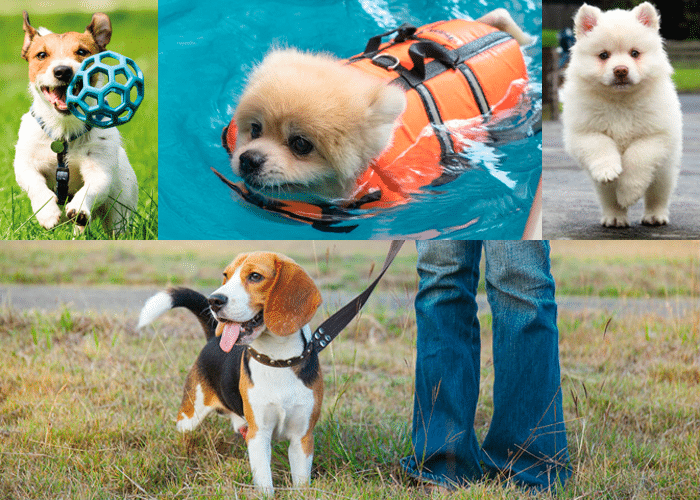 Age (in months)

Exercise (in minutes)

1

5

2

10

3

15

4

20

5

25

6

30

7

35

8

40

9

Small dogs can begin adult activity
Large dogs: 45

10

50

11

55

12

60

13

65

14

Large dogs can begin adult activity.
Like most babies, puppies alternate most of the time between constant activity and sleeping. When your puppy is very little she won't need much more exercise than playing in the yard and house. Basic obedience is important from a very early age, so start working on your puppy with commands like sit, down, and drop it as soon as possible. If your pup is of a breed that is likely to be powerful, have a high drive, or be a bit stubborn, it is even more essential to train early and frequently. According to the U.K. Kennel Club, a puppy should have five minutes of exercise per month of age until she is full-grown.
Once your pup is a couple of months old, and once she is done with her vaccines, she can begin going for short walks. Start slow, and let your puppy decide the speed and duration of the walk. Puppies can easily damage developing bodies with too much exercise or exercise that is too intense, so err on the side of caution. Exercising in water is a great way to get your puppy acquainted with water and offer an exercise that doesn't stress developing joints.
Small dogs generally develop quicker than large breed dogs. At about nine months of age, you can begin adult activities with your small dog and go on short jogs. If your puppy is a large breed dog, wait until about 14 months for adult activity. In the meantime, work on obedience training, play low-impact games, exercise in water, and take short walks.
How Much Exercise Does a Senior Dog Need?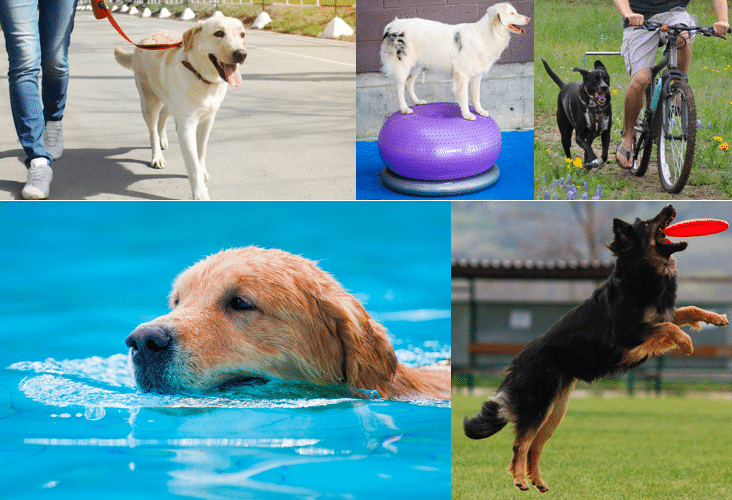 As your dog gets older, it is normal that she should begin to slow down a bit. Even the most energetic dogs may call it quits a little earlier as they move into their teens. You shouldn't push your older dog to perform to the level she used to, but it is important to keep your senior dog active.
Your older dog will benefit from water exercises that are easy on her joints. You can help your senior dog remain limber and comfortable by doing stretching exercises with her, as well as helping her build muscle mass with balancing ball exercises.
If your dog seems to be in pain, your vet can prescribe medication to lessen the discomfort from arthritis and other aches and pain of aging. Your dog may not be able to enjoy the activities that she used to enjoy as easily. Adapt with her by replacing long walks with car rides, games of fetch with games of bounce and catch, etc.
Your older dog will benefit from a 10-15 minute walk a day. If she is doing well, you can go up to an hour walking your older dog, but don't do it more than three times a week (Drs.Foster&Smith)
How Much Exercise Does an Adult Dog Need?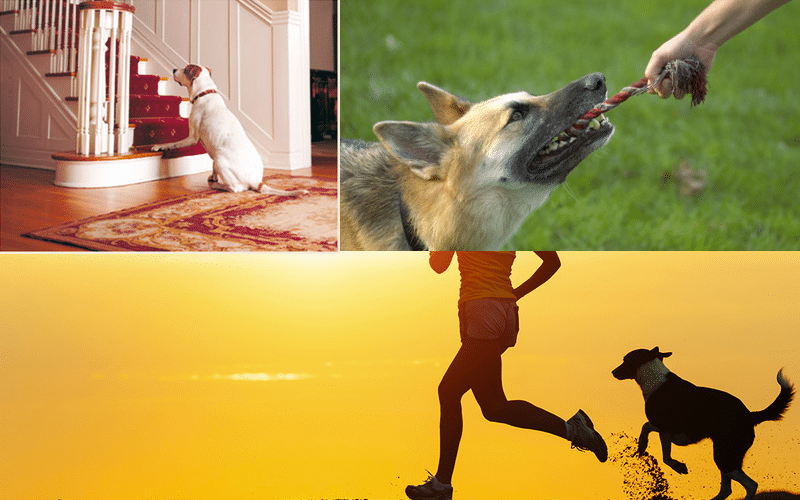 An adult dog in good health needs approximately the amount of exercise described in the above chart by breed. In general, your adult dog should exercise until good and tired every day. If she is still mischievous and seeking interaction from you after solid physical exercise, it is likely that she needs more mental engagement. A dog that has had enough exercise will be happy to lay around with you and chew on a toy during indoor time. If your dog is bouncing off the walls, chances are she needs more exercise.
Exercise needs vary dramatically by breed, so consult my list to find out how much exercise your dog needs. In general, the average dog needs at least an hour a day of some kind of exercise.
What if my Dog has Health Issues?
Working with a dog that has health issues but still has the energy to work off can be challenging. Mental exercise can do a lot to satisfy a bed-bound pup. You can teach your dog commands as look left, look right, paw, etc. You can also play little games like catch the ball or catch the treat.
Paralyzed dogs or dogs with mobility issues can be exercised in a wheelchair or using a sling. Dogs recovering from hip or elbow surgery can also be leash walked. Many dogs that are recovering from surgery or who are paralyzed can benefit greatly from swimming or wading in shallow water.
How Do Americans Exercise Their Dogs?
How do most Americans exercise their dogs? According to this data by the AKC, the vast majority of people exercise their dogs by taking them for a walk or playing outside. A few people use the dog park as a primary energy outlet, and for those in inclement weather conditions, indoor exercise is the go-to choice for clear reasons.
However, you want to exercise your dog, whether indoors or outdoors, with lots of owner participation or only a little, you can find activities that are perfect for you and your dog. Get all of the information that you need about walking your dog in: How Often Should You Walk Your Dog?
Below are some great activities for you to do with your dog indoors or outdoors. Choose activities that match your dog's physical capabilities and exercise level, as well as an activity with the amount of owner involvement that fits your needs. Remember that the best exercise routines include a variety of activities.
16 Outdoor Exercise Ideas To Vary Your Dog's Workout Routine
1. Fetch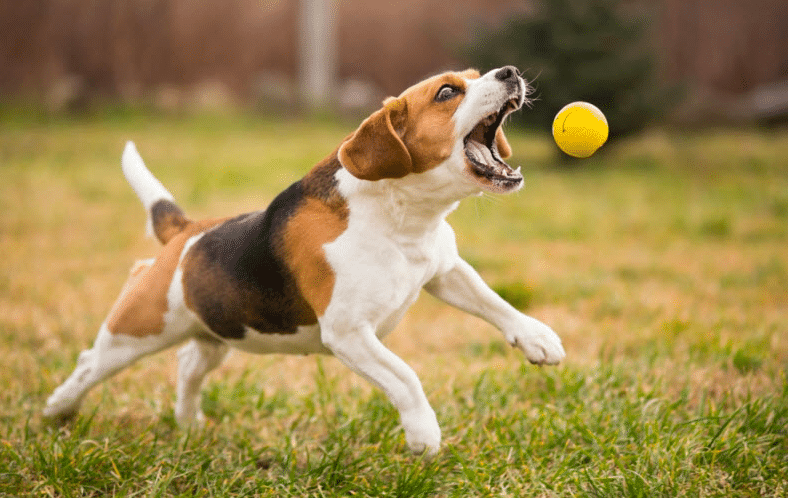 Fetch is pretty simple. Throw a ball, frisbee, or other toys for your dog and let her retrieve it. You can throw into water or over agility obstacles to intensify the activity. If you are getting exhausted, there are tools to throw the ball for you or make throwing easier.
Most dogs enjoy playing fetch on some level, but retrievers, pointers, and spaniels really thrive on it. This is a great activity for any dog bred to retrieve game during hunting. If your dog isn't thrilled about fetch, you can encourage her by rewarding her with a food treat for bringing back the toy.
Exercise Level: Moderate to high
Your dog can choose her own pace to retrieve, and exercise is not continuous. Dogs that run full out for long distances to fetch will get much more exercise than dogs who trot or walk short distances. Use a ball throwing device or throw a frisbee for longer runs for your dog.
Owner Engagement: High
You must throw the object for your dog unless you invest in an automated tool to do it for you. Some retrievers with very high fetch drive may figure out their own ways to play fetch, like dropping a ball at the top of a staircase or bouncing it off a trampoline.
2. Swimming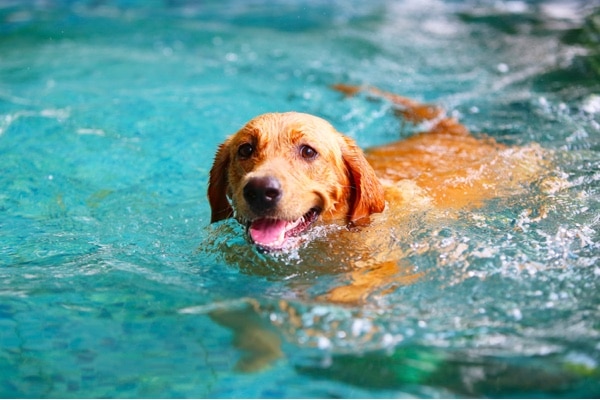 Swimming, whether retrieving a toy or just swimming with you in a pool, can be a great activity for your dog. Both deep water in which dogs need to swim to stay afloat and shallower water where dogs can wade are effective for helping your dog exercise. Swimming is especially useful in hot weather when other forms of exercise may not be safe.
Most dogs can benefit from swimming, especially as an exercise in hot weather. Since swimming is easy on joints it is a great activity for older dogs or dogs with joint pain. Any dog bred for the water, like Labradors, Poodles, Water Dogs, and Newfoundlands, will take to the water naturally, with webbed feet and water-resistant coats. Some individuals of heavy breeds like English Bulldogs may be unable to swim, so wading can be a good activity for them.
Exercise Level: High
Swimming takes more energy than walking, and vigorous swimming can work a dog out similarly to a long jog. Dogs must swim continuously to stay afloat, so a good swim is sure to get your dog's heart pumping, without overly stressing joints.
Owner Engagement: Low to High
Depending on your dog's desire to swim, she may choose to swim or wade around herself, she may be motivated by playing fetch into the water, or you may need to gently lead her along with you.
3. Frisbee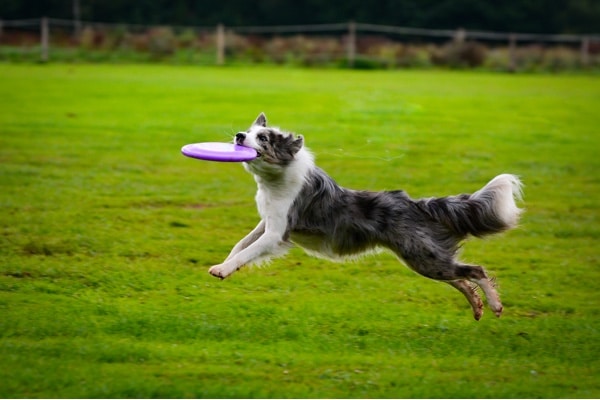 Frisbee can be a lot of fun to play with your dog. Frisbees can fly a long way, giving your dog a chance to really stretch out and run, and they can descend slowly, allowing for dramatic catches that let your dog practice jumping. Frisbees are easy to catch and carry, even for dogs with short snouts.
Athletic dogs excel at Frisbee since it lets them stretch out and run after a target. Whether you have a Boxer, Lab, Collie, Shepherd, or Terrier, Frisbee can be an awesome activity for your dog. The more athletic and energetic your dog, the more she will enjoy long chases and dramatic catches.
Exercise Level: High
Frisbee encourages dogs to run for long distances at a good clip, so it is good for all kinds of high energy dogs that need both mental and physical engagement.
Owner Engagement: Moderate to High
There isn't any other way to play Frisbee than to throw the Frisbee. On a breezy day, you can get your dog to run very long distances with minimal throws, so this can be a lower intensity form of fetch for you while wearing your dog out thoroughly.
4. Biking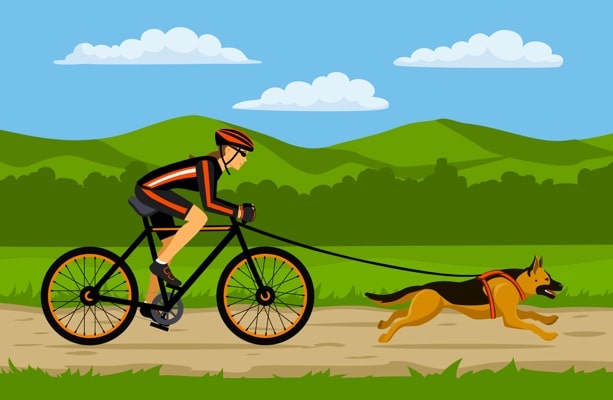 Biking can be a great activity for both you and your dog to get some exercise at a pace that works for both of you. Your dog can stretch out and run while you bike at a comfortable speed. Dogs that enjoy pulling can even pull you on your bike, for an added workout and sense of purpose for your dog.
Medium to large, athletic dogs benefit from biking with you. Your dog should be able to run at a comfortable pace, either trotting or galloping. Watch to see if your dog is tending to push ahead of you. If so, she is most likely enjoying the activity. Go slowly at first as your dog adjusts to the exercise.
Exercise Level: High
Biking with you encourages your dog to run steadily for some time, which raises her heart rate and gets her panting. Biking is a great go-to exercise for high energy dogs who need to run off some of their exuberance.
Owner Engagement: High
You will need to ride the bike and pay careful attention to your dog at all times to be certain that she is comfortable and not too tired or hot, and that she doesn't need to stop to use the bathroom. Be sure to stop and let your dog go potty soon after starting your bike ride. Many dogs are stimulated to go by the exercise.
5. Hiking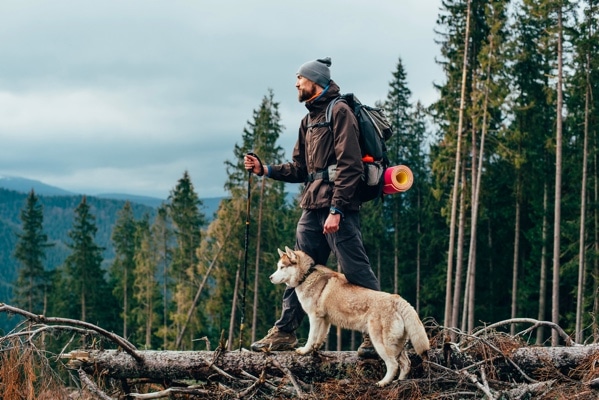 Dogs of all sizes that enjoy a walk will enjoy hiking. Hiking is more physically challenging and mentally engaging than a regular walk, but it is lower impact as well, since the terrain is varied and generally softer than concrete. Your older dog can benefit from a hike to stretch her muscles and engage her senses without stressing her joints too much. Young active dogs benefit from hiking as well, since they can cover more ground on a longer leash, running off more energy than on a regular walk.
Exercise Level: Moderate to high
A good long hike on lots of varied terrain with plenty of obstacles is a good workout for you and your dog. If your dog is allowed to run on a longer leash, she will cover even more ground and get more exercise. If your dog can't be convinced to move faster than a plod, however, and you don't stay out very long, a hike will offer a medium level of exercise.
Owner Engagement: High
You need to be with your dog on the hike, but this is one of the activities that is most enjoyable for owner and dog alike. You will both forget that you are getting exercise as you enjoy the natural surroundings.
6. Take a Walk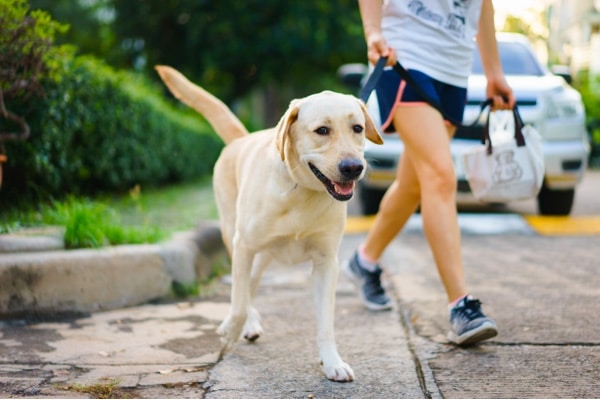 All dogs should go on walks. A daily walk helps to solidify the bond between person and dog and provides mental and physical stimulation. Every dog can benefit from learning to walk nicely on a leash, even if she needs more of an outlet for her energy in addition to the walk. If your dog is older or mobility challenged, a sling can help assist on short walks.
Exercise Level: Low
Even a long neighborhood walk won't be sufficient exercise for all but the smallest and lowest energy dogs. The longer the lead that your dog can safely walk on, the better she will be able to run out her energy, so training your dog to be well-behaved on a long lead can help lead to more exercise on the walk.
Owner Engagement: High
You will need to take your dog on her daily walk. While you won't need to pay much attention to her on the walk, assuming that she is walking nicely on leash, it can be time-consuming to provide a long enough daily walk for your dog.
7. Dog Park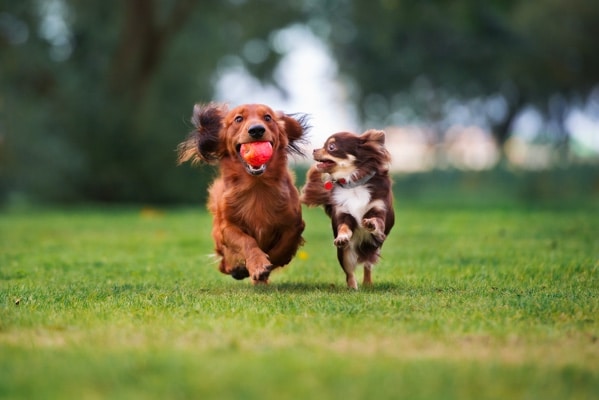 Dog parks have popped up all over America in the past decade, and most towns now have at least one. Urban areas often have not only public dog parks, but also private parks with pools and agility courses. Make sure that the park you go to has a small dog playing area if you have a small dog.
All dogs should go to the dog park, assuming your park is divided into large and small dog sections. The only exception to this rule is dogs who have a history of reactivity to dogs. The perimeters of a dog park can be a great place to work on your dog's behavior, but an aggressive dog should never be taken into the park.
Exercise Level: Low to High
The exercise that your dog gets at the dog park is up to your dog. High energy dogs with playmates who match their energy level can spend hours running at full speed and wrestling. Couch potato pups may spend their time at the park lying in the sun or on the park bench with you.
Owner Engagement: High
Owners should never leave their dogs unattended or unobserved at the park. You should always be watching your dog to observe changes in her behavior and to make sure that she is safe from other dogs at the park. That said, there isn't usually much that you have to do at the park with a well-socialized dog.
8. Weight Pulling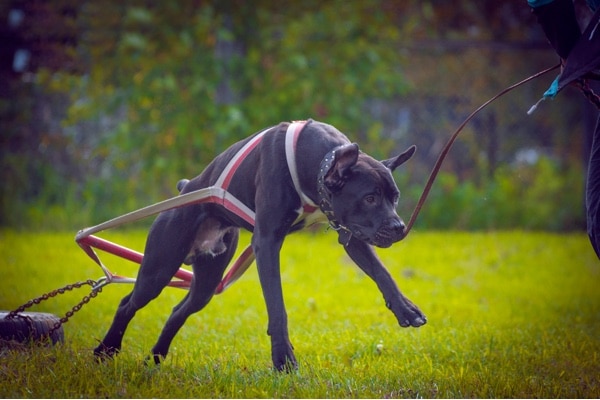 Pulling is a great way to burn energy while giving your dog the satisfaction of doing a job for you. Many breeds have been developed at least in part to pull, and this can be a great activity for bully breeds that may not like to fetch or jog. Whether you want to have your dog pull you on a skateboard, pull a load in your yard, or pull competitively, pulling can be a great activity for both of you.
Dogs that have been bred to pull and other strong dog breeds find pulling to be a deeply satisfying experience. Northern dogs like Huskies and Malamutes love to pull, as do powerful dogs like pit-bull-type dogs, Rottweilers, and Bulldogs. If your dog is pulling you down the street on walks, try giving her something more constructive to pull.
Exercise Level: High
Pulling a load takes much more effort than just walking or running, and pulling is constant, so dogs get heart rates up and work their muscles and stamina.
Owner Engagement: Moderate
You will need to monitor your dog constantly while pulling and make sure that she isn't overdoing it, but the act of pulling will provide most of the stimulus for your dog, so you can walk alongside or be pulled along.
9. Agility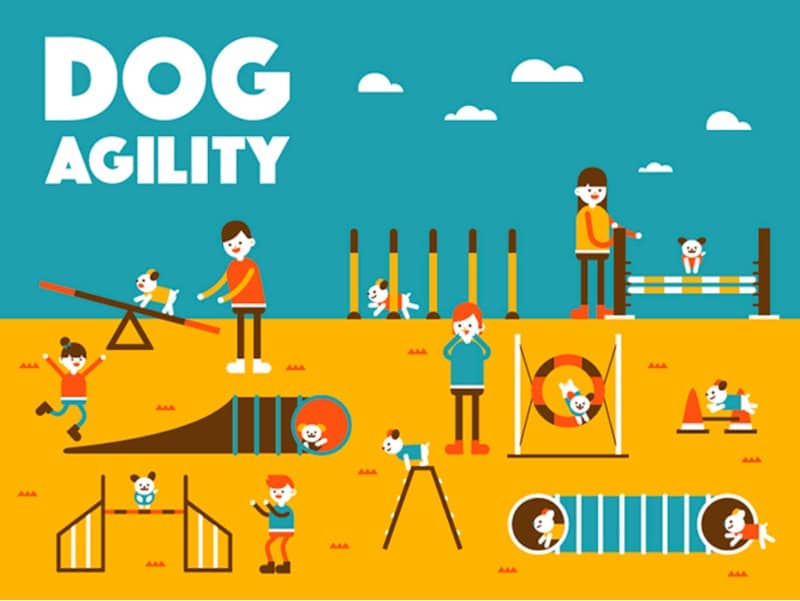 Agility is an amazing competitive discipline that challenges your dog mentally and physically and allows her to stretch herself, for a deeply fulfilling experience. Agility requires that your dog already have the understanding to look to you for cues, so it is best for dogs that already have basic obedience.
All dogs can benefit from a basic agility course that challenges them mentally and physically. For competitive agility, fast, agile dogs who remain engaged with their owners perform best. This means that herding dogs tend to excel, but many retrievers, non-sporting breeds, and terriers do very well also.
Exercise Level: High
Dogs competing in the agility run as quickly as they can around an obstacle course, exhausting themselves mentally and physically, as well as challenging their muscles on jumps and inclines.
Owner Engagement: High
Unless you hire a professional handler, you're the one who will be running around with your dog on the course. Some dogs learn to enjoy a backyard agility course all on their own, running through the course without any engagement. You can encourage your dog to learn the course, then reward her for completing it, but for most dogs, you will need to remain engaged.
10. Flyball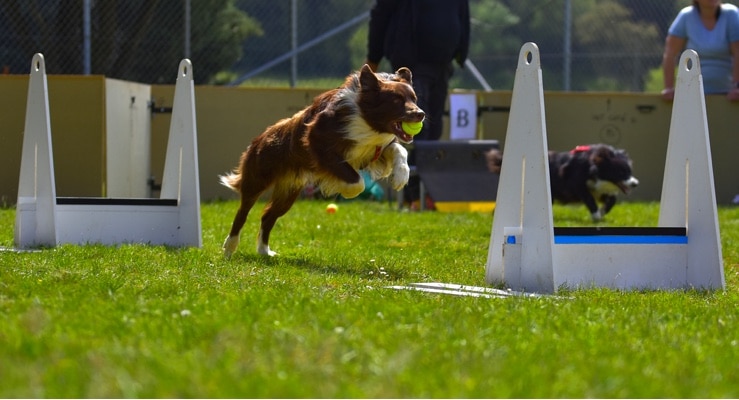 Flyball takes fetch to another level, combining it with agility and teamwork. Dogs work in teams, running one at a time head to head with the other team across a series of hurdles. When she gets to the end, the dog hits a spring-loaded pad and a ball is released, which the dog brings back across the hurdles to the next dog on the team. The first team to get all dogs across the finish line wins.
Athletic dogs of all shapes and sizes love Flyball. It is best for dogs that have some fetch drive, but even dogs without fetch drive can learn to return the ball across the hurdles. The height of the hurdles is based on the height of the smallest dog on the team.
Exercise Level: Moderate to high
Dogs run all out while it is their turn, but they have to take turns, so the amount of exercise depends on how many matches your dog plays.
Owner Engagement: High
This is a cooperative game that requires you to be involved and take your dog to matches. You can set up your own version in your backyard if you want as well.
11. Herding Trials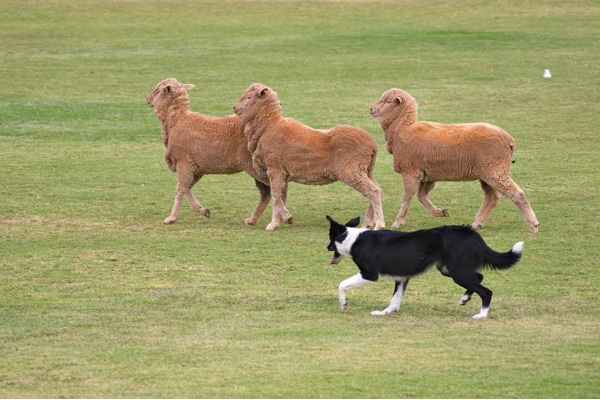 Herding trials allow herding dogs the opportunity to do what they were bred for: herd. Whether your dog is herding chickens, sheep, goats, or cows, she will get the opportunity to feel her instincts kick in and rely on you for cues.
Dogs with herding instinct, not surprisingly, excel at herding trials. You may be surprised by some of the dog breeds that can herd, however. Rottweilers, German Shepherds, and Belgian Malinois can all herd, as well as Collies and Cattle Dogs.
Exercise Level: High
Herding requires great physical stamina and mental acuity. Dogs must continuously look to the handler for cues, as well as reading the body language of the animals that they are herding. Dogs that are herding are practicing continuous self-control, a trait that will translate into their home life with you as well.
Owner Engagement: Low, once trained
Once your dog knows how to herd, asking her to do so is a matter of a few whistles. Just tell your dog where to bring the flock or herd, then watch her exhaust her mental and physical energy.
12. Dock Jumping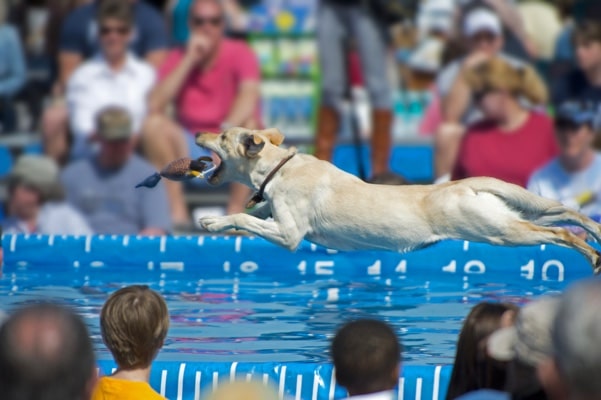 Dock jumping is a fun activity developed in the 1990s to create a new way to enjoy the water with your dog in the fun of competition. The basic premise is that dogs leap off of a dock or other platform into a body of water, generally in pursuit of a toy. Points are given for distance jumped, height jumped, or both.
Dogs that like to fetch and like the water excel at dock jumping. This makes it a natural activity for Labradors, Poodles, Golden Retrievers, and Water Dogs, but any highly athletic, fetch-driven dog can enjoy the activity. Generally, dogs with lighter builds but powerfully muscled hindquarters do best.
Exercise Level: High
Running, jumping, and swimming back, over and over again, is good exercise. It is also a good balance of high and low impact exercise. Be careful not to let your dog keep going if she gets too tired since she could injure herself falling off of the dock or platform, or be unable to swim back.
Owner Engagement: Moderate
You will have to throw something for your dog to retrieve, but it usually takes some time for your dog to swim back to you, so she will get a good amount of exercise for how much effort you invest.
13. Lure Coursing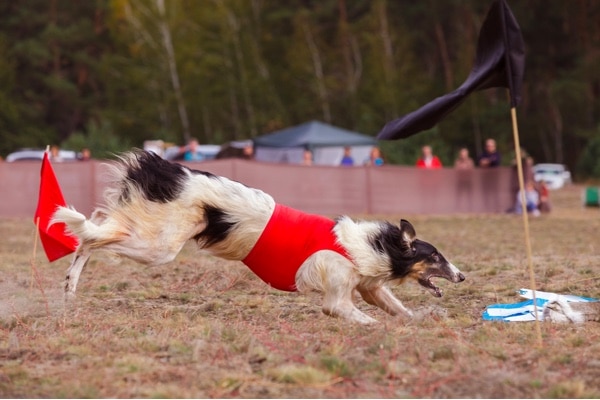 Lure coursing is a great way to let a dog with high prey drive run off extra energy doing what she was bred to do. The idea is simple. A line is laid in a course across a field. A lure is pulled rapidly along the line, replicating some small prey running across the field. Dogs who snub their noses at fetch when the target stops moving will love lure coursing.
Dogs with high visual prey drive take to lure coursing extremely naturally. Sighthounds and terriers are natural candidates for this activity, but any prey driven dog can enjoy it.
Exercise Level: High
Dogs run as fast as they can after the fast-moving lure, getting heart rates up and leaving dogs pleasantly exhausted.
Owner Engagement: Low
All you need is a course, a lure, and a motor to pull the lure, and you can sit back and watch your dog run.
14. Earthdog Trials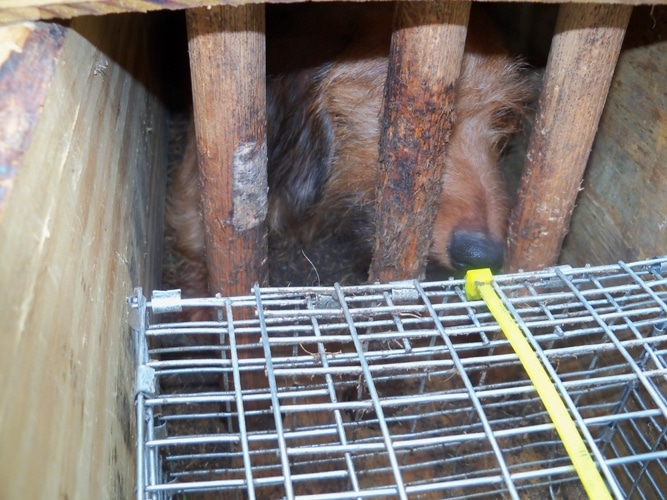 Earthdog trials give your dog the opportunity to burrow underground after prey, as most terriers and several hounds were bred to do. A maze of tunnels is laid out underground with a rat in a cage somewhere at the end of the maze. Dogs are timed and judged on how rapidly they find the prize. Don't worry, no rats are harmed. If your dog loves to dig after prey or search the space under your porch for rats, she may be a great candidate for Earthdog.
Small dogs with high prey drive take to Earthdog, well, like they were bred for it. Rat terriers, Jack Russel Terriers, Dachshunds, Cairn Terriers, Maltese terriers, and many more, all love Earthdog. If your dog has ever dug a mole out of your yard or buries her squeaky toys only to dig them up again, she may be a good candidate for Earthdog.
Exercise Level: High
Dogs run as hard and fast as they can after the prey, and most dogs will do it as many times as they can.
Owner Engagement: Low
Just watch your dog disappear underground and wait as she has a blast finding the goal, then pull her out and do it again.
15. Dog Parkour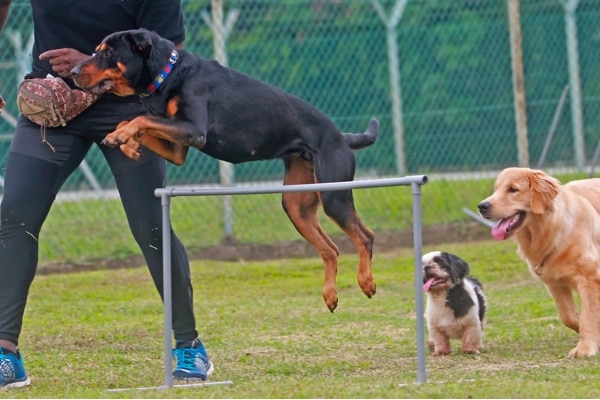 Parkour developed as an attempt to bring spontaneity and play into exercise, and it can do the same for your dog. Your dog can gain confidence by overcoming obstacles, and she will work all kinds of muscle groups as she balances and jumps over whatever is in her way.
All dogs can enjoy Dog Parkour, but athletic dogs will take to it most naturally. If your dog is as likely to climb a tree as lift her leg to it, she may be a natural fit for this activity. Dogs bred to balance on the backs of livestock, like Australian Cattle Dogs, are exceptionally good at this activity, but any athletic dog of any size can excel.
Exercise Level: Moderate
Parkour usually doesn't involve intense activity that can get your dog's heart rate up, but it does encourage your dog to work different muscle groups than she normally uses, as well as helping with balance and providing lots of mental stimulation.
Owner Engagement: High
You will need to stay beside your dog as she participates in dog parkour so that you will be able to help her if she slips and encourage her if she loses confidence.
16. Puppy, Adolescent, Adult Training Classes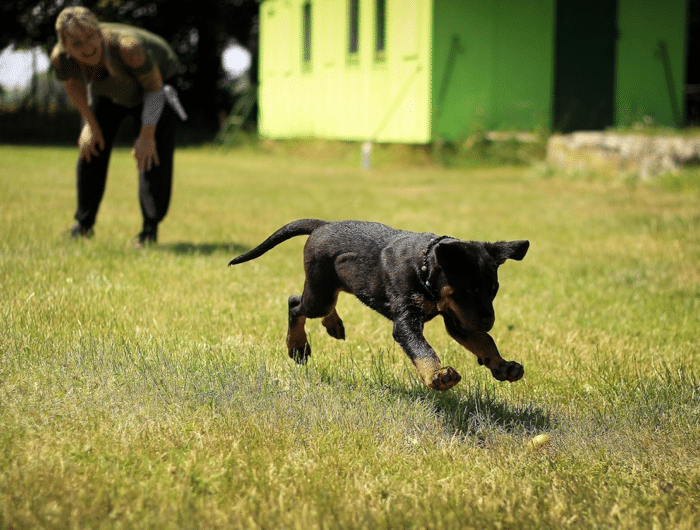 It is essential that your dog receive basic training, whatever kind of dog you have. Basic commands like stay, come and drop it can make the difference between a safe, pleasant companion and a dog who gets herself into trouble and danger. Training classes can help you train and socialize your dog at the same time.
All dogs can benefit from training classes, from the time they are puppies all the way into adulthood. Training can become more specialized as your dog advances. Advanced obedience, agility, protection work, etc. can all follow basic obedience training
Exercise Level: Moderate
Depending on the class, dogs usually don't engage in a whole lot of constant physical activity. Classes work your dog's mind, however, and for clever dogs and dogs that desire a lot of engagement from you, the satisfaction of a mental workout can be even more important than physical exercise.
Owner Engagement: High
You will likely feel as mentally exhausted as your dog after a training class. Repeating training at home may be easier, but the initial class is a tiring experience for both you and your dog.
10 Indoor Dog Exercise Ideas for Rainy Days
1. Hide and Seek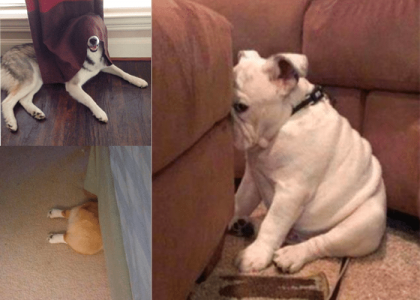 Hide and seek is a fun game to play with your dog, and helps to build recall as well. The premise couldn't be simpler. Sneak off while your dog isn't looking, hide somewhere, and call your dog. Be as still and quiet as you can until she finds you, then reward her enthusiastically.
All dogs benefit from this game. It is especially good for puppies or newly adopted dogs since it helps dogs build an association with finding you and reward. If your dog doesn't care about finding you at first, try hiding with a treat. If your dog is very prone to separation anxiety, this may not be the best game, as it may worsen symptoms.
Exercise Level: Low
This activity is more about mental exercise and bond-building than it is good exercise. Your dog will probably walk from room to room to find you, so unless you have a very small dog and a very big house, this won't be a lot of exercises.
Owner Engagement: Moderate
You have to hide, but that's all that you have to do. Your dog does the activity herself.
2. Nosework
All dogs use their noses to learn more about the world, but since we don't use our noses much except to tell when dinner is ready, we rarely think about our dogs' noses when we exercise or train them. Nosework lets your dog use her nose to find a prize, letting her tap into her instincts and use her brain. Just hide a treat and let your dog find it. If you want to be more advanced, you can teach your dog to associate a smell with a reward and then hide that smell.
All dogs, but scenthounds are especially well suited to this activity and may enjoy it when they refuse most other activities. Any dog can use her nose to seek out goodies, just start easy and work your way up to more difficult hiding places as you determine her skill.
Exercise Level: Low
Your dog will walk, not run, after her nose to find the goal. She may walk around for some time if you've laid an extensive trail, but it will still not be much exercises. Still, for the lazy hound, it is better than lying around.
Owner Engagement: Low to moderate
If all you are doing is hiding a treat for your dog to find, your participation can be minimal, just hide the treat and wait to hear the satisfying munching when your dog finds it. If you are laying more extensive trails and training associations between smells and rewards, your participation may be more intensive.
3. Tug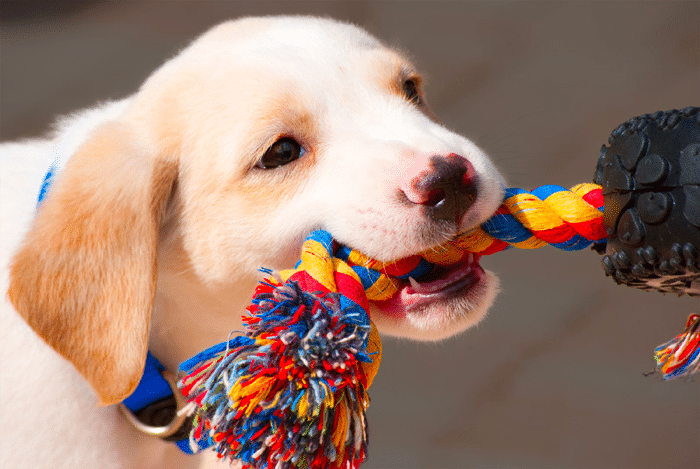 Tug is the most essential of games to play with your dog, and pretty much all dogs love it. Tug and Keep a Way go hand in hand, as most dogs love to run off with the tug toy for you to chase them once they have won it. Be careful that your dog always knows that she is playing when you play tug so she doesn't become possessive with her things.
All dogs love Tug but bully breeds bred to hold on, like Bulldogs and Staffordshire Terriers, really adore this game. Some dogs even love Tug so much that they will play by themselves with a rope hanging from a tree branch, a root, your couch, or some other attached object. It is a good idea to give such dogs an outlet for Tug. The activity is good for building the muscles in the jaw, neck, shoulders, and legs, as well as for helping to clean teeth.
Exercise Level: Moderate to high
Most dogs get into a good game of Tug and can wear themselves out pretty well. Dogs that hang from a tug object or hang on as they are pulled about get an especially good workout with this activity.
Owner Engagement: Moderate to high
Unless you have a dedicated dog who will pull on an attached rope, you will need to be on the other end of the tug toy. Small dogs can sometimes be entertained by tying a rope to your belt while you go about chores.
4. Find It!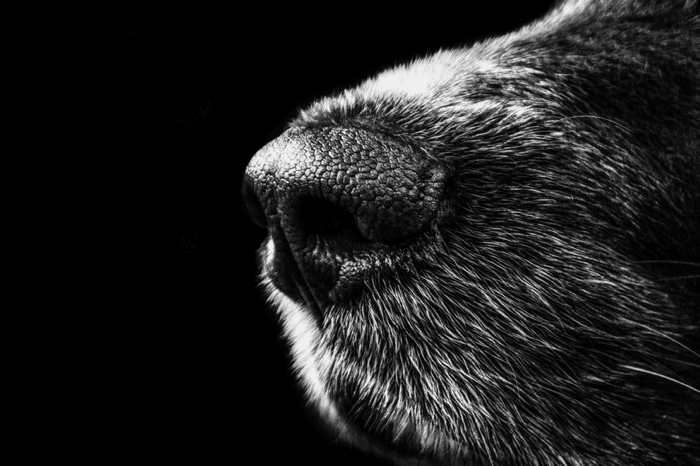 If, like most dogs, your dog likes toys, she will love playing Find It. Simply ask your dog to wait while you hide a favorite toy, then tell your dog to Find it! Your dog will quickly learn to run around looking for the favorite toy, before bringing it back to you for a game of Tug or Fetch.
Bored dogs that like their toys will enjoy playing Find It. Dogs are naturally driven to reclaim a favorite toy that has been taken, so most dogs of all breeds will happily participate in this activity.
Exercise Level: Low
This is a great way to occupy a dog's busy mind when you don't have much time to play, but it doesn't provide a lot of physical exercise.
Owner Engagement: Low to Moderate
Depending on how good your dog is at finding the hidden item and how big your house is, you may spend a lot or a little time hiding the toy. It definitely takes less time on your part than continuous games of Fetch or Tug.
5. Target Practice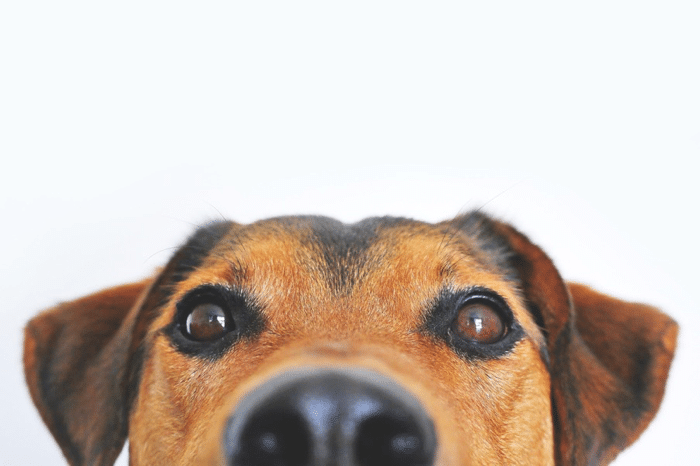 Targeting isn't extremely well known, but it can be a hugely effective tool in teaching your dog more advanced obedience skills in the future, as well as in helping her pay attention to you now. Many of the commands we use with our dogs are vague. For instance, when we tell our dogs to come sometimes we mean to come to our hand to be leashed, and sometimes we just mean to generally come back and walk beside us. Targeting teaches your dog to physically touch something, whether with her nose or paw. You can teach her to touch you or a designated point.
All dogs should learn to target, but it is especially important for timid dogs or dogs with a shaky recall. You can also use this command to tell your dog to go touch a point in your house before doing another activity, which is a good way to get her to run around more during indoor training and play sessions.
Exercise Level: Low
This activity itself won't offer much exercise, but by teaching your dog to touch a point far from you, you can increase her overall activity and running in a play session. It can also give a nervous dog an opportunity to run off some energy in the midst of a training session. For instance, when training down, you could have your dog run to touch her target between downs.
Owner Engagement: High
You will need to teach your dog to target, then tell her when and what to target during training sessions.
6. Obstacle Course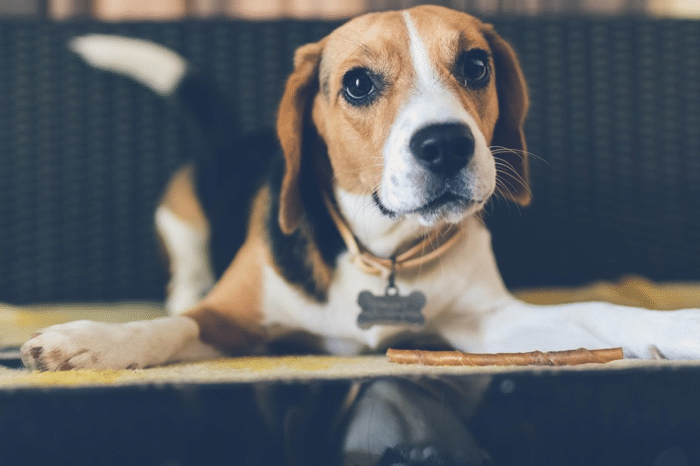 Why limit all of the agility fun to the outdoors? Your dog can jump over, crawl under, or balance upon things just as well inside. By setting up an indoor obstacle course, you can provide your dog with physical and mental stimulation right in your living room.
All dogs can benefit from an obstacle course. Unless you have a lot of space, this activity is best for smaller dogs who can run around comfortably inside. Even larger dogs can crawl under or balance on things indoors, however. You can make an indoor obstacle course that is good for any home and dog.
Exercise Level: Moderate to high
Small dogs running around an obstacle course can get as good of a workout as they could have gotten outside. If your small dog learns to go through the course on her own, she can spend hours amusing herself this way. If you have a larger dog who is doing more low-impact obstacles, she will get less exercise.
Owner Engagement: Moderate to low
It won't take long for you to teach your dog to go through your indoor obstacle course. Once she has learned, you can ask her to go through the course for a reward, or she may go through it on her own.
7. Doggy Play Date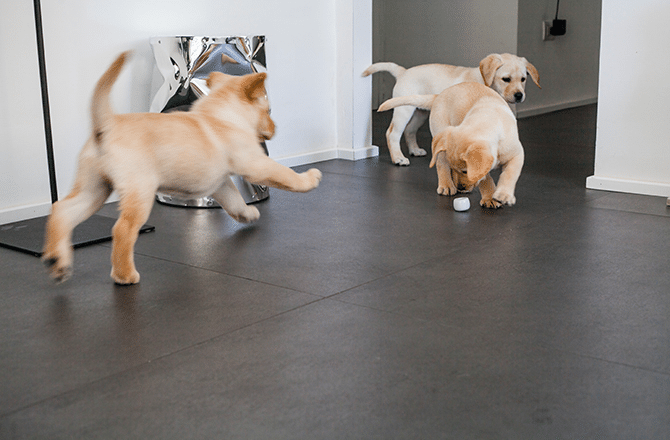 Dogs love to play together, so why should playtime only be outside or at dog parks? Your dog can enjoy playing with her buddies inside, any time, regardless of whether it is raining, hot, or cold.
Small dogs do best with inside playdates unless you have a lot of space or a room that you consider indestructible. This is an especially good idea for dogs with short snouts that can be easily overheated playing outside, like Pugs and Bulldogs.
Exercise Level: Moderate to high
Even mid-size dogs can get a lot of exercise wrestling with each other, and small dogs can run around together a lot in your house, so dogs can get a fair amount of exercise playing together inside, especially if they have been pent up for some time.
Owner Engagement: Low
As long as dogs are playing well together, you have nothing to do but monitor play and throw in a new toy every so often.
8. Treadmill
Sometimes you just don't want to go for a run or bike ride, or perhaps the weather is inclement. You can use a treadmill to give your dog the exercise that she needs, right in your home, with minimal effort on your part.
High energy dogs that you don't always have the energy to exercise appropriately will benefit greatly from the chance to run out their energy on a treadmill. Many dogs will even beg for a treadmill session when they haven't had a run in a while.
Exercise Level: High
You can set the treadmill as high as your dog needs to run comfortably, and keep it going until your dog has had a good workout. If you are trying to get your older dog to exercise, set the treadmill on low and bribe with treats.
Owner Engagement: Low
Once your dog has learned to love the treadmill, you can just sit back and observe while she runs out her energy. Remember that this is not a substitute for mental engagement with you.
9. Blanket Monster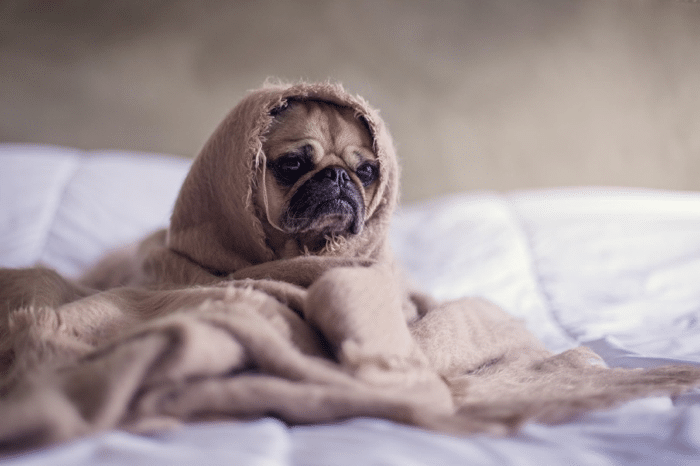 Lots of dogs love playing Blanket Monster. Like kids, dogs seem able to pretend that what you are animating is real. Your dog may respond to your hands moving under the blanket as if the blanket were really something to attack, but she will still play bow and not bite your hands too hard, so you know she knows that you are playing.
Smaller dogs love this game, and it is a favorite game for small dogs to play in bed first thing in the morning. Dachshunds and other burrowing breeds may also wrap themselves in blankets, for a blanket monster on the blanket monster match.
Exercise Level: Low
This is a fun game for random moments throughout the day, not a dedicated exercise regimen.
Owner Engagement: High
This is a game that you are actively playing with your dog, so your engagement will be high, if sleepy.
10. Dog Dancing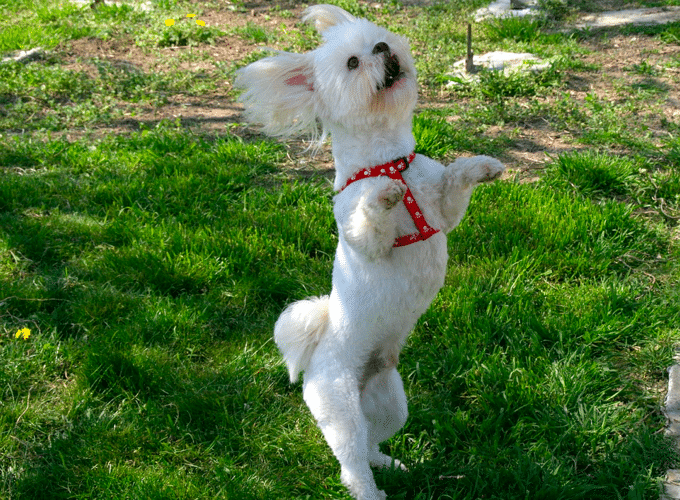 Dancing with your dog? This isn't just an activity for those who didn't get asked to prom. Dogs are very attuned to your slightest physical cue. They communicate with each other using very slight physical gestures, and they can learn to notice your smallest communications as well. Dancing makes the communication between you and your dog constant, deepening your bond as well as offering exercise for both of you.
Highly connected dogs who already look to you constantly for signals are especially good candidates for dog dancing. These dogs will love the opportunity to be even more connected to you. Dogs of all sizes and shapes can enjoy dancing, but mid-size athletic dogs like terriers and collies seem especially good at it.
Exercise Level: Moderate to high
Your dog's part in the dancing involves lots of jumping and running around. Since it takes a lot of repetition to master even a small part of the dance, your dog will have plenty of exercise running and jumping in circles around you.
Owner Engagement: High
You are dancing too, so you will be very engaged with this activity. That said, your dog will do a lot more running and jumping than you.
Are There Types of Exercise You Should Avoid?
In general, exercise is a wonderful, healthy thing for your dog, but you do need to keep your dog's safety in mind and make careful choices for her exercise routine. Older dogs or dogs with joint problems shouldn't have a high-impact exercise like running on asphalt. Choose a low-impact exercise like a balancing ball exercise or swimming instead.
Be careful with Tug a War. Some dogs can get too serious around this game, becoming possessive of toys. Ask your dog to drop the toy periodically during play to make sure that you are still in control.
Whatever kind of exercise you are doing with your dog, make sure that she drinks plenty of water and doesn't overheat. Your dog will work for you until she drops, so it is your responsibility to keep her safe.
Safety When Exercising
Always increase exercise durations slowly so that your dog has time to adjust. Be very careful exercising your dog in hot weather, especially if she has a long coat or short nose. Don't exceed guidelines for exercising puppies, and never push your senior dog too far. Make sure that your dog has plenty of water to drink, and don't feed before or after exercise, especially with large breed dogs.
Useful Tools
Some exercises don't need much more than a toy or a treat, while others may require specialized equipment. Here are some tools that you may find useful when you are working with your dog.
1. Harness
A sturdy harness lets you keep control of your dog from above and even lift her by the handle. This can be very useful when you are doing balancing exercises like balance ball or Parkour, or when your dog is swimming. A harness with a chest lead can keep your dog from pulling on a run or bike ride.
The RABBITGOO Dog Harness is a reliable harness that can safely contain your dog. A chest clip works to distribute pulling pressure across your dog's body and reduce the pressure that you need to exert to control your dog. Furthermore, when your dog pulls, she'll be pulled towards you so she can't lean into the harness.
When you are swimming with your dog or need control from above, a sturdy padded handle lets you lift or stabilize your dog from above. A back clip lets you control your dog from the back. The material of this harness is highly breathable and a reflective trap makes your dog visible in headlights.
2. Treats
Let's face it. Your dog may not want to exercise. Treats can motivate your dog to exercise, but if they are too high-calorie, they will undo all of your hard work. Try feeding your dog her daily kibble as training treats during exercise or use a low-calorie natural treat like green beans or carrots.
If your dog simply won't work for something that isn't high-calorie, use smearable produce like cheese whiz for dogs or peanut butter, and only let your dog have a tiny lick as a reward. Your dog will taste more and swallow less, leading to more motivation and less weight gain.
Kong Cheese Spray is a classic go-to choice for high reward smearable spray. You can squirt just a tiny bit out to reward your dog. A tiny bit goes a long way. This spread is highly digestible, so you won't have to worry about dietary upset. Choose between cheese, peanut butter, liver, pepperoni, and a special formula for puppies.
3. Throwing Aids
If your dog acts like fetch is her job, you may benefit from a ball throwing extension that lets you throw further with less effort. The Chuckit! Dog Ball Launcher has been a standard choice for retriever owners for years. This device lets you throw the ball further with less effort, as well as allowing you to pick up the ball without getting your hands all slobbery. Choose between different lengths to choose just the right tool for you and your dog.
An automatic ball tosser like the iFetch Interactive Ball Launcher lets your dog play by herself. Your dog will quickly learn to drop the ball into the chamber and wait in fervent expectation until the ball is launched out again. If your dog is a truly dedicated fetcher, this tool might save you a lot of effort. Remember that this isn't a replacement for interacting with your dog, but when your dog's fetching instinct is overwhelming, this is a tool to bring some relief. The launcher comes in two sizes, so you can choose balls that fit your small dog or large dog's mouth perfectly.
Final thoughts
Whether your dog is big or small, high or low energy, chubby or skinny, she needs exercise. You can find activities that are perfect for you and your dog and make exercise time a fun time for both of you. Remember to keep safety in mind, match activities to your dog's age and physical condition, and have fun!