It is an exciting moment when you discover your Golden Retriever is pregnant. This article guides you through the various stages until the birth date and how you can help her.
How Long Are Golden Retrievers Pregnant?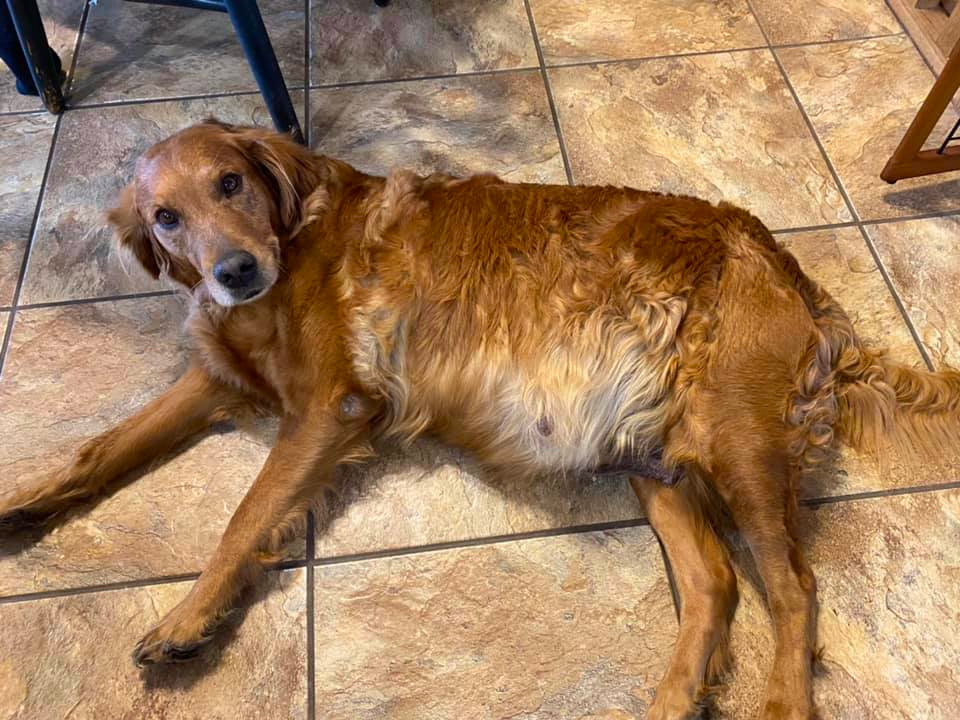 Their pregnancy time frame is about 63 days give or take a few days and the gestation period is nine weeks, or putting it in perspective, it is about just over two months.
By comparison, their pregnancy is shorter by a considerable amount than the 40-week, 280-day gestation of the human birth timeframe.
Of course, there are other factors to consider when your Golden Retriever is pregnant, such as the size of the litter and the health of the mother. Every pregnancy is different, and some may be shorter than others.
The difference in sizes of the various breeds of dogs does impact how long their pregnancy is compared to the Golden Retriever. Small breeds of dogs tend to have slightly longer pregnancies with fewer puppies.
Whether the pregnancy was planned or is a wonderful surprise, your Golden will take it all in her stride, and only in the later stages of her pregnancy will she suffer some discomfort. Be aware of her behavior and closely monitor her to ensure that all is going well. Just keep an eye on her and consult with your vet if you have any concerns.
Is Your Golden Retriever Pregnant?
There are certain signs that your Golden Retriever is pregnant. It would be so much easier if there was a pregnancy test for dogs like there are for humans. But there is not, so you have to determine other ways of finding out whether you are about to hear the pattern of little paws!
For that, we have diagnostic testing.
Palpation – if you know the date that your Golden was bred, your vet can perform abdominal palpation after the 28-30th day approx. They can 'feel' the little puppies which are about the size of a grape. This should not be attempted by yourself, but only with a veterinarian as it could damage the pups. The little sacs the puppies are in lose their distinctive shape after a month, so timing is vital for this test.
Ultrasound testing at 25 -35 days of gestation can be carried out as the ultrasound can usually detect fetal heartbeats. They can give an estimate of the number of puppies so you still must wait and see how many little bundles of mischief your dog will produce.
Hormone test – usually performed at 25 -30 days – your vet can perform a blood test to measure her hormone levels to see if there is a substance called Relaxin present which is only produced during pregnancy.
An X-ray test is a reliable way to test if your Golden Retriever is pregnant. But it is best done at 55 days or more, as the puppy's skeleton systems are still forming and won't show up until that time. But it does give an accurate count of the number of puppies which comes in handy when your dog is delivering her pups.
Other than that, an increase in appetite, weight gain, a dog who tires more easily, affectionate displays, or irritability is another measure of your dog's developing pregnancy.
What are the Various Stages of the Golden Retrievers Pregnancy?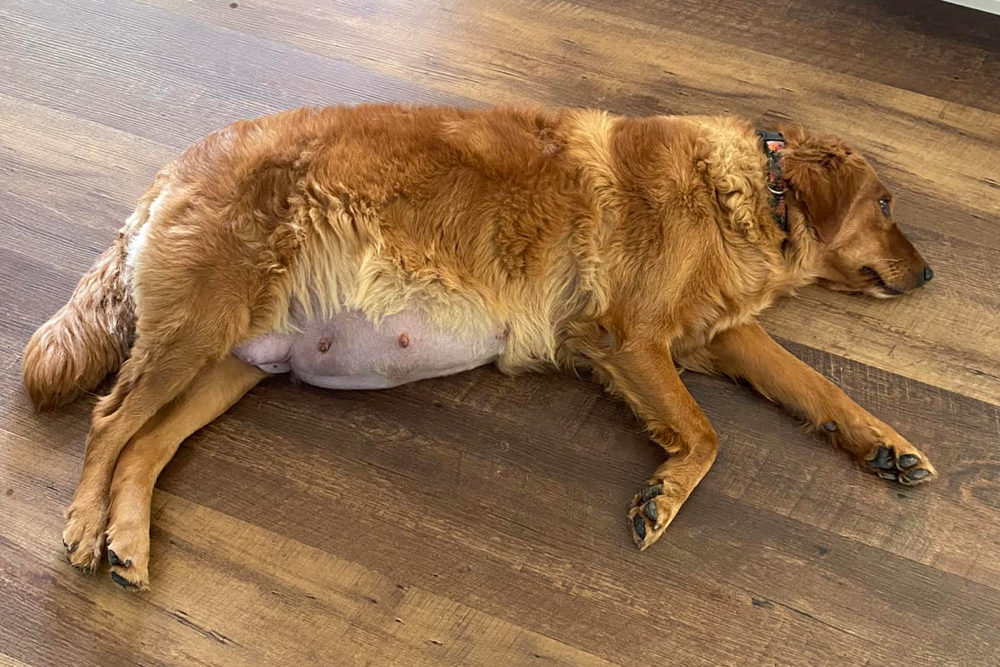 There are three main stages of your Golden Retrievers pregnancy. Be guided by her during her pregnancy – she may want to rest a lot more in the later stages or may need to have smaller meal sizes but more meals throughout the day so that she feels comfortable.
Stage 1
Weeks 1-3 after mating

The first stage of pregnancy

Day 25

The embryos become embedded in your dog's uterus where they will remain and develop until their birth.

Time for a vet check-up for an ultrasound test to confirm pregnancy and the estimated size of the litter.

Stage 2
Week 5 Gestation period
Organs start to form. The embryos are now known as a fetus and can increase in weight by as much as 75%.
Stage 3
Weeks 6-9 of development

Week 7

Week 8 preparing for birth.

Week 9 Ready for birth

The skeleton becomes solid and gains weight.

Vet for a final check-up before the birth

Whelping bed ready for your dog

Don't interfere with your dog – she knows what she is doing.
As a precaution, it pays to have some substitute milk on hand should it be required, and have plenty of blankets, newspaper, and towels available for the day of the birth.
How Long Until the Puppies Heartbeat can be heard?
If you are new to your dog giving birth, you will probably want to know how long it will be before a heartbeat can be heard from your pregnant Golden.
Understandably, you want confirmation of new life developing.
Usually, by the end of the first month, your veterinarian will be able to detect a faint heartbeat. This increases in loudness by the end of the seventh week.
Before you get too excited, it may not distinguish between the individual heartbeats, so you may have to wait another week or two before you can get an estimate of how many puppies your Golden Retriever is carrying.
It makes sense that the larger and more fully developed the puppies get, the more the vet will be able to estimate how many puppies there are.
That is what makes it so exciting! Part of the fun when it comes to the whelping day is counting the puppies as they make their appearance.
Can You Tell How Many Puppies Your Golden Will Have?
As mentioned above, it is hard to estimate with great accuracy how many puppies your Golden Retriever will deliver.
An ultrasound test can give you an approximate idea of whether the litter is large or small but often can't tell how many there will be.
Only in the later stages of your dog's pregnancy, you can count the puppies and that involves an X-ray after 55 days or more. You need to discuss this with your veterinarian if this is best for your dog.
You must do what is best for your dog. If it is her first litter, she may be feeling a bit anxious, and having a lot of tests done will only cause her some serious stress.
And does it matter how many puppies there are? Isn't it more important that they are all born healthy and that your Golden Retriever is relaxed and able to manage the sudden arrival of multiple pups?
What are the Signs that Your Golden Retriever is Ready to Give Birth?
After waiting for all these weeks, suddenly you will notice your dog doing strange things and you realize with shock that she is going into labor.
This is not the time to panic; for your Golden Retrievers' sake, keep calm.
If your dog exhibits the following signs, you can be sure that labor is only a short time away.
Your dog may begin pacing about and be unable to settle.
She may whine, shiver and pant.
Your Golden Retriever may even vomit up her last meal or refuse to eat as labor is easier on an empty tummy.
Your dog may fuss over the nesting box, toss towels out or rip up the newspaper.
Uterine contractions along her belly are an obvious sign.
She may seek your company as she trusts you to care for her at this time.
If you keep calm and talk to her quietly it will give her confidence. Perhaps put on some soft music and just be there for her.
This is an important time for you and your dog, so keep calm, and have the vet's number on speed dial… just in case.
Caring for the Mother Golden Retriever and Her Puppies
After the big event, it is time for everyone to give a collective sigh and settle down to enjoy being part of your Golden's new family.
Try not to disturb the new mother as she fusses over her newborn, but offer her water, and remove some of the soiled towels and paper.
You could use a warm cloth and help her to clean herself up but be guided by her.
The worst thing you could do is to be so excited that you scream or talk loudly. I know how exciting it all is and the relief that the mother and pups are all ok. But for her sake, keep things quiet for a while and allow her to recover from her ordeal.
In the days that follow, make sure your dog is eating and resting properly. You may want to take the mother and newborn puppies to be examined by your vet within 48 hours after the birth, just to make sure the mom and pups are all healthy.
But don't wait if you suspect all is not well. If her delivery has stopped for more than four hours yet she is still straining, get veterinary help.
If she is having trouble going to the toilet, check with the vet.
But if all is well, give her a clean box for her and her brood, some tasty food after all her efforts, and a ton of cuddles and reassurance that she did amazingly well.
Conclusion
It is an exciting time when your Golden Retriever becomes pregnant, and all you can think of is those adorable bundles of cuteness when they finally arrive.
If your dog is a first-time mum, she may need some encouragement from you, and she may demand more attention and cuddles.
But if there is one thing that you can rely on is that your Golden Retriever instinctively will know what to do when the moment arises.
You are just there to give encouragement and to help but only if needed. Some water for her to drink, some clean towels, and paper during the birth, that is all she needs. Leave the puppies up to the mother to clean and care for as she may get stressed at first if you interfere.
Other than that, sit back and look forward to a pile of little puppies who will seem so helpless at first but then they will grow and take over your heart.
Golden Retriever Resources and Tips