There are eight types of dog training collars generally used by trainers and dog owners today. Some, like the pinch collar, used to have more universal popularity but are now fading out in favor of more positive methods. Others are newer on the market, so you may not have heard of them. Consider all of the options for training your dog to choose the best dog training collar to meet your needs.
Types of Dog Training Collars
We feel passionately about our dogs and so discussion around their care and training is likely to elicit passionate argument. We at DevotedToDog encourage a positive training regiment for all dogs, as we believe that it is safest and most effective to train dog's positively, and what our dogs deserve. 
That said, we recognize that a balanced perspective is extremely important, and so we provide thorough and accurate information about all training options available.
1. Pinch Collar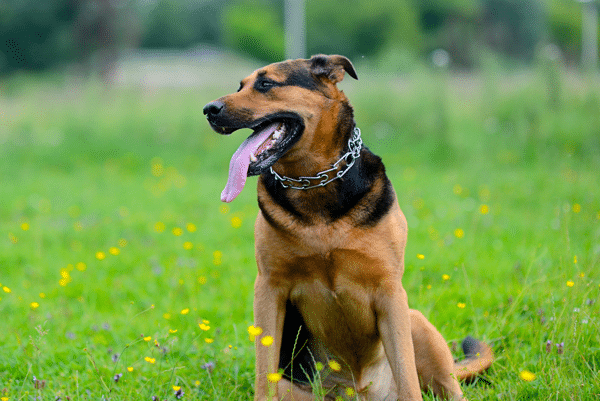 The pinch collar, or prong collar, is composed of metal links that interlock and can be added or removed to adjust the size of the collar. The "prongs" are the blunt inward-facing ends of each metal link. The collar should be fitted so that it lays lightly against the upper part of the dog's neck until pressure is applied. When pressure is applied, the links pull together, creating a pinching sensation all the way around your dog's neck. The smaller the links, the sharper the pinch.
Proponents of pinch or prong collars say that when used properly, the collars are less likely to cause injury and are much more effective than choke collars. Because the links can only tighten to a certain degree, they cannot choke your dog the way a choke collar can.
The pinch created is said to replicate the feel of another dog's teeth, creating a natural correction. Prong collars work by disciplining your dog. They are only useful with training techniques that incorporate correction. If your goal is to train your dog with positive-only techniques, this is not a good tool for you.
Because prong collars cause a sharp correction, they can aggravate aggression in dogs or even redirect aggression onto the person holding the leash. Do not attempt to use a prong collar unless you have the guidance of a professional.
Please consider positive training before considering this kind of training. Positive training can be accomplished at home in most cases, since it is highly unlikely to instigate aggression or fear in your dog.
If you and your trainer have decided to purchase a prong collar for your dog, your trainer is most likely to suggest a collar by Herm Sprenger. These collars are made in Germany to the highest quality and are trusted by trainers worldwide to perform as they are supposed to.
2. Choke Collar
Choke collars are simple chains or nylon/rope slip leads that hang loosely when the dog does not pull but tighten against the windpipe when the dog applies pressure. The idea is similar to that of the prong collar. The dog will not be corrected unless the person intends it.
Choke collars correct either by providing a sharp pinch when pulled tightly, such as when a dog barks tryies to pick something up off the ground, or by tightening and choking the dog when she pulls steadily on a walk or towards another dog.
Proponents of choke collars like that they offer many of the same benefits as prong collars without looking nearly as intense and seeming easier to use. Slip collars are escape-proof ways of handing nervous dogs, rescue dogs or dogs at kennels.
Choke collars have some of the same problems as prong collars, along with some problems of their own. Like prong collars, the correction that is created by a choke collar can aggravate aggression in a dog or direct aggression towards the person holding the leash.
This is especially true when corrections are repeatedly applied, creating frustration and anger in the dog. Furthermore, choke collars tighten without restriction, unlike prong callers. This means that a choke collar can actually choke a dog or cause injury to the delicate organs around the dog's throat when used incorrectly or even when used correctly in some circumstances.
This versatile leash has the correction of a choke collar but looks classic and natural and won't pull hair like chain. This leash is a favorite choice of animal rescues, kennels, and other places where a one fit all, escape-proof leash is necessary.
3. Martingale Collar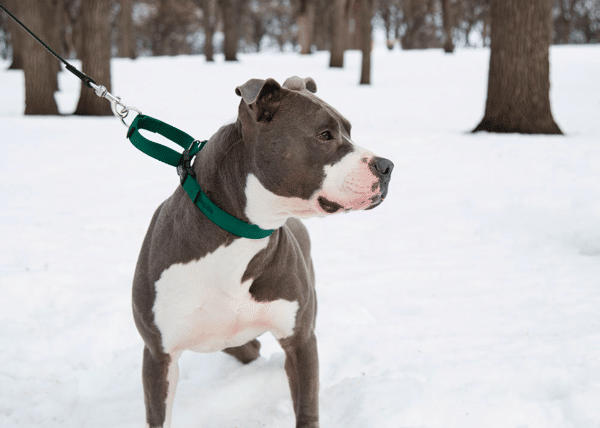 Martingale collars are a combination of a standard buckle collar and a slip lead. The collar slips over your dog's head and fits loosely unless she pulls against it, at which point the second loop tightens, which tightens the collar around your dog's neck, but only to a certain point.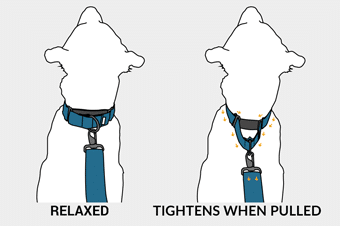 This offers good control and keeps dogs from slipping out of the collar, but also will not choke your dog since it can only tighten to a certain point. Martingale collars are a favorite for any dog in which escape is a concern. They also offer a mild amount of correction when the dog pulls.
Martingale collars are essential for narrow headed dogs like Afghans, Greyhounds, Whippits, Shelties, etc. Such dogs to slip their heads out of a normal buckle collar and can be easily injured by a slip lead. Martingale collars made for such breeds are wider than regular Martingale collars.
If you are considering a Martingale collar for your dog, this is a good one to choose. The company donates a collar to a dog rescue every time they sell a collar. This collar is convenient to put on since it has a sturdy buckle and is adjustable like a normal buckle collar. The sturdy nylon loop prevents a dog from slipping out of the collar and provides gentle correction as well.
4. Anti-Bark Collar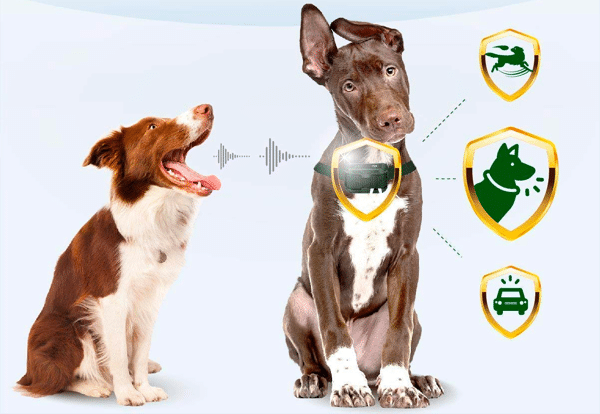 Anti bark collars work by sensing when your dog barks and disciplining her. Some anti-bark collars work using a burst of citronella to aggravate your dog's nose, others use a shock, and still others use an ultrasonic sound wave that will aggravate your dogs but that you will not hear. Still others use only a tone and vibration to control barking.
Your dog is barking for a reason. It is wise to find out and address the underlying issue before using an anti-bark device. Dogs that are barking because they are sincerely afraid or worried about the safety of their family may continue to bark despite the punishment provided by the collar.
For people suffering with chronic barkers who may threatened with the loss of their dogs, an anti-bark device may be the last attempt to keep a dog. Barking is a serious concern in neighborhoods and urban areas and one of the primary reason that dogs are rehomed.
If you know why your dog is barking, you need her to stop, and you have exhausted other training possibilities, consider this collar for your needs. This collar will only be activated when your dog barks, not when a nearby dog barks or she shakes her head or anything else. It only uses tones and vibrations, so your dog will not suffer from shocks or aggravation from citronella. The vibration is annoying enough for most dogs to stop barking after one or two barks.
5. Invisible Fence Collar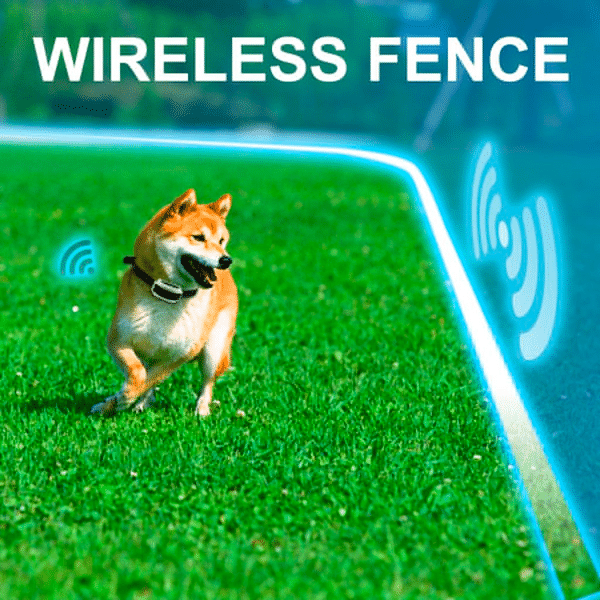 It is essential that your dog get enough exercise but it is also important that she have time outside to sniff around on her own, roll in the grass, and otherwise be a dog. A fenced yard is a solution for some people, but fences are expensive and some dogs are able to quickly jump over or under a fence. Furthermore, a fence that is tall enough to contain your dog may ruin your view.
If you want to give your dog freedom to run around your property but don't want to loose her and don't want to build a fence, an invisible fence may be the right choice for you. The system works by giving your dog a beep, vibration, or static shock when she approaches the barrier. Most invisible fences are very easy to set up, and while not cheap they are much more affordable than building a fence. No invisible fence is foolproof. If a dog really wants to go past the barrier, it will ignore the tone or static shock.
Invisible fences are recommended only for use with supervision and with dogs that do not have high prey drive or aggression towards people or other dogs. Sensitive dogs can be very frightened by the sudden shock, so it is best to use positive training techniques to keep your dog close before trying with just a tone.
If you have decided to invest in an invisible fence for your yard, this might be a good choice for you. This fence is effective for up to half an acre, which is large enough for the average home property. This collar is waterproof and offers five levels of static correction plus a tone.
6. Remote Dog Training Collar
Off-leash training is one of the most challenging parts of training your dog, especially if your dog has high drive that makes her sometimes lose her focus on you. Using a remote collar to train your dog is a modern way to solve an age-old problem. You can use a remote collar to tie the specific tone to a reward so your dog will come to you whenever she hears the tone. This is much more reliable than using a clicker or other specific sound which you must be near the dog to deploy.
If your dog should disobey you and run into danger, a shock can freeze her movements and arrest her flight, giving you time to catch her or causing her to run back to you. While you never want to have to shock your dog, it is certainly better than seeing her run into traffic.
If you are working with your dog on a problem with bolting out of the house or if your dog has gotten away from you before, a remote collar may be a safety mechanism that is worth putting into use.
If you have made the decision to invest in a remote training collar for your dog, this might be a good choice for you. This is a high-quality remote collar that is in the mid range of prices but is durable and waterproof as well as highly customizable. Choose between 1 to 100 levels of customization for vibration and static shock.
7. Chest Harness for Dog Training
It is not necessary to control your dog's neck in order to control her pulling. Specially made harnesses are also highly effective at controlling pulling. Most training harnesses work by attaching the leash to a chest peace. This means that when your dog pulls the pressure will be exerted across her chest and will turn her towards you, tending to eliminate pulling. Chest harnesses are much more effective at controlling pulling than standard buckle collars.
Dogs that continuously lean into the harness can injure their shoulders so the pulling motion should be only a correction. If your dog keeps pulling, stop so that she will relax before you keep going. As long as this harness is used properly, it can control pulling in even powerful dogs with minimal effort from the handler.
Because the correction is not harsh but only prevents the dog from continuing to move in that direction, dogs are unlikely to redirect aggression on the handler. Properly fitted, harnesses are generally difficult to slip out of. Chest harnesses can also be paired with a Martingale collar for added security without putting any pressure on your dog's neck unless the chest harness should fail.
Do you want a safe and easy way to control pulling? The PetSafe easy walk harness is a really good way to go. This harness works right out of the box, so it doesn't take much training to achieve meaningful results with your dog.
This harness is easy to put on, thanks to the color coding. It is highly adjustable so that it can fit your dog correctly. It is very important that the harness fit at exactly the right place in your dog's chest, since too high and it will choke your dog and too low and it can injure the shoulder.
8. Head Harness for Dog Training
Head harnesses control your dog in the same way as as a halter can control a horse. If you control the head, you can control the entire animal, no matter how big it is. Even a very large, powerful dog can be effectively handled using minimal effort with a head harness.
This is a great choice for people with back injuries or those who are not strong enough to control their dogs otherwise. A head harness will not cause injury to your dog when used properly, and it is easy to use once your dog has become acclimated to wearing it.
Many dogs dislike wearing head harnesses and can effectively pull off the muzzle portion with their paws if you give them a chance. It takes some time with treat training and preventing your dog from pulling off the head harness in order for her to get accustomed to wearing it. That said, there is nothing intrinsically uncomfortable or painful about the harness, so once your dog is accustomed to it she will not even notice it.
The Gentle Leader is the best known of all head halters and is a well-known training aid within the dog community. There are sizes for any size dog. It is a good idea to pair the Gentle Leader with a chest harness or Martingale collar for added security when training.
Conclusion
If you have a new dog with whom you are just beginning training, or if you are starting to train your dog for the first time, it is a good idea to use a training aid to help you. Buckle collars with a leash do nothing to help with training, are easy to slip out of, and can injure your dog's neck with repeated pulling.
To find the best dog training collar for your needs, first decide how powerful your dog is and how much control you need over her. A PetSafe Easy Walk Harness is a great pick for most dogs, but very powerful dogs or dogs with reactivity on the leash benefit form a collar that can control their head, like the PetSafe Gentle Leader Head Collar.
If you have an escape artist, pair a Max and Neo Nylon Martingale Collar with the head collar or easy walk harness for escape-proof control.