Hello!, So you recently just moved into North Carolina, or have been living in North Carolina for a while, and are looking for a good breeder in the area that sells strong, well-behaved, and healthy Golden Retriever puppies. Well, I'm about to make your search a lot easier.
When getting a Golden Retriever dog, a lot has to be taken into consideration. The type, gender, temperament, and a whole lot actually. Luckily, we could also help make that decision easy for you.
In this article, I'll be writing about the best Golden Retriever Breeders in North Carolina. And yes, the best according to my research. So without wasting much time, let's get this started.
1. Hyatt Goldens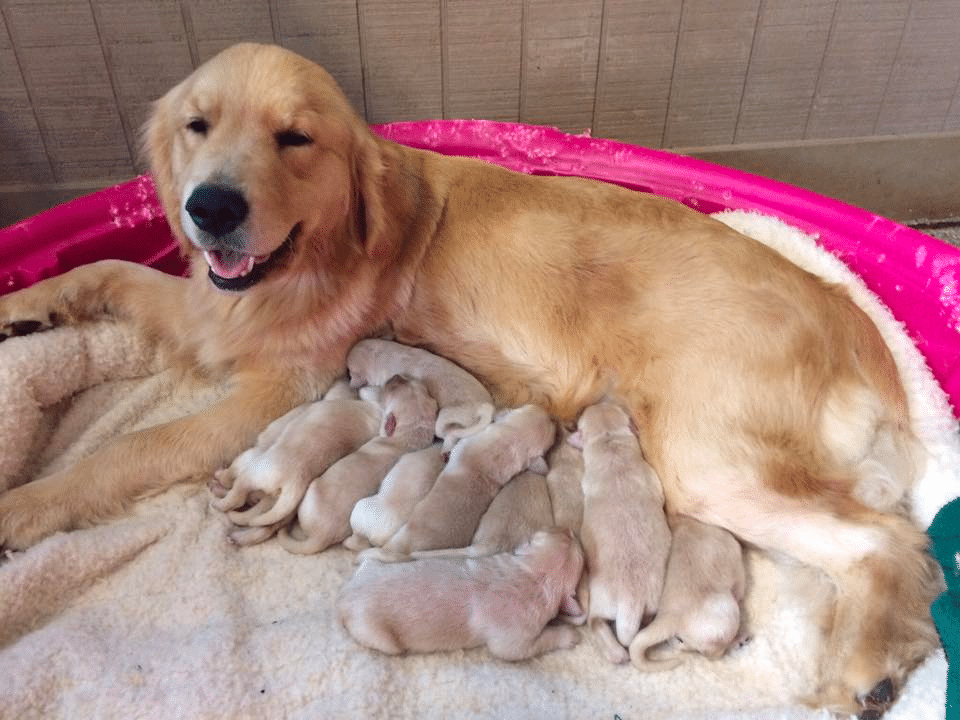 To start our list of the best Golden Retrievers in North Carolina, we have Hyatt Goldens. This is a family farm with a very large 50 acres of land where their Golden retriever pups have enough space to play and run around.
They believe in producing active, strong, and happy Golden Retriever Puppies that bring nothing but joy to your lives. All their dogs are fed with Purina pro plan and Royal Canin Golden Retriever. They are also supplemented with Nuvet Plus from their first day. Only the best for their dogs.
Getting a Hyatt Golden?, well you should know that all Hyatt Goldens come with health Guarantees as well as being checked by the veterinarian, dewormed regularly (at weeks 2, 4, and 6),. Well vaccinated and Microchipped.
They are also AKC registered and come with their OFA clearances as well as eyes and hip clearances. You could check out their websites, or contact them via email or phone to make more inquiries.
Hyatt Goldens contact details:
2. Recherche Goldens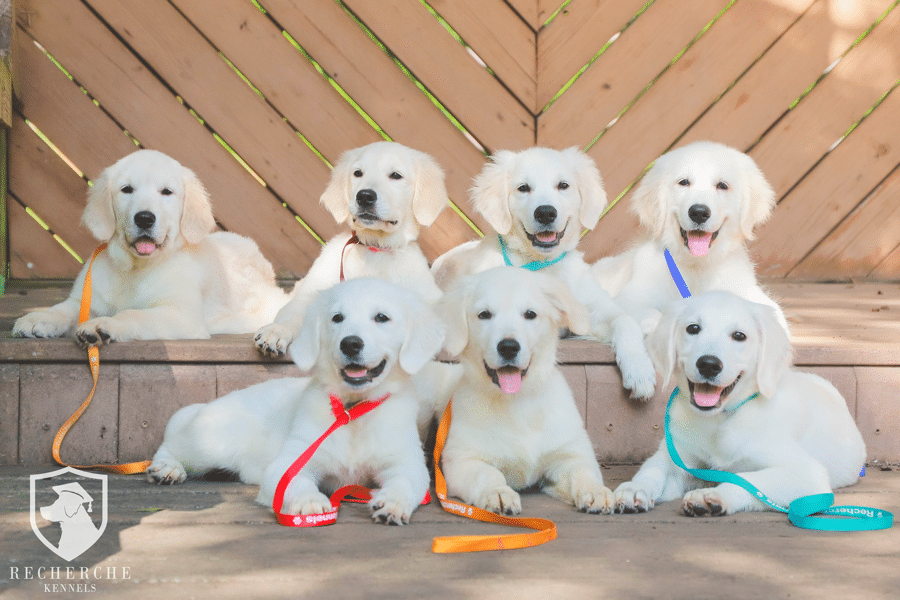 Weird name yeah? Well, it means "rear, sought after, choice" in French. And that's what this breeder is all about. They specialize in breeding and training only European White Golden Retrievers. Founded by Jamel and Charity Hamka in 2008, this breeder boasts a very large 33-acre property in Statesville, North Carolina, where these English Cream Golden retrievers can run and play.
This breeder consists of 21 dedicated and capable employees, all to provide each newly bred puppy with the love and attention they deserve. They claim to have some of the best pedigrees in the world. That's pretty bold. But with so many World, European, International, and Country championships in their dog's pedigree, I can say they are somewhat correct.
All their dogs are registered both in the American Kennel Club (AKC) and the Kennel clubs of each puppy's country of origin. They also have elbows and hips clearances from both the OFA and BVA as well as the recommended eyes and heart certifications.
You can tell that they are very organized and well structured. They strive to get the best litter each year, that's why they spend a lot of their resources on learning and improving their art.
Recherche Goldens contact details:
3. Seasons Gold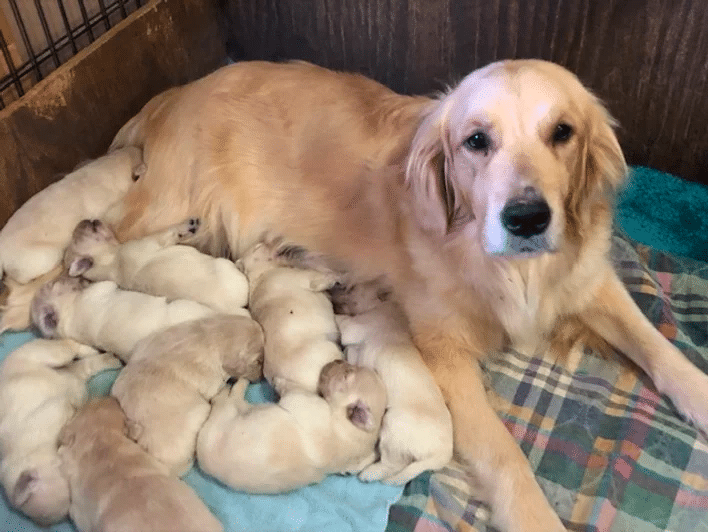 High up on our list of Best Golden Retriever breeders in North Carolina, have Seasons Gold, a reputable breeder in Harrisburg NC. Located on an 11-acre property, all their dogs hail from champion lines and healthy generations.
Their Golden Retriever parents are OFA checked for hip, heart, elbow, and eye problems before they are bred. They also spay and neuter any dogs found with hereditary problems that would affect them or their owners before being placed in pet homes. This is done to improve future litter and breed generations.
They also offer training for your pups, with a fee of $100, your pups, here your pups would undergo crate training for a week to allow them to transition into their new home. All their Pups are AKC registered and have the necessary health certifications, so you can rest easy, knowing your newly adopted companion is healthy.
To get on the waiting list, a non-refundable fee of $300 would be required. The total cost for a Golden Retriever puppy from this breeder is $2000.
Season's Gold contact details:
4. Homeplace Goldens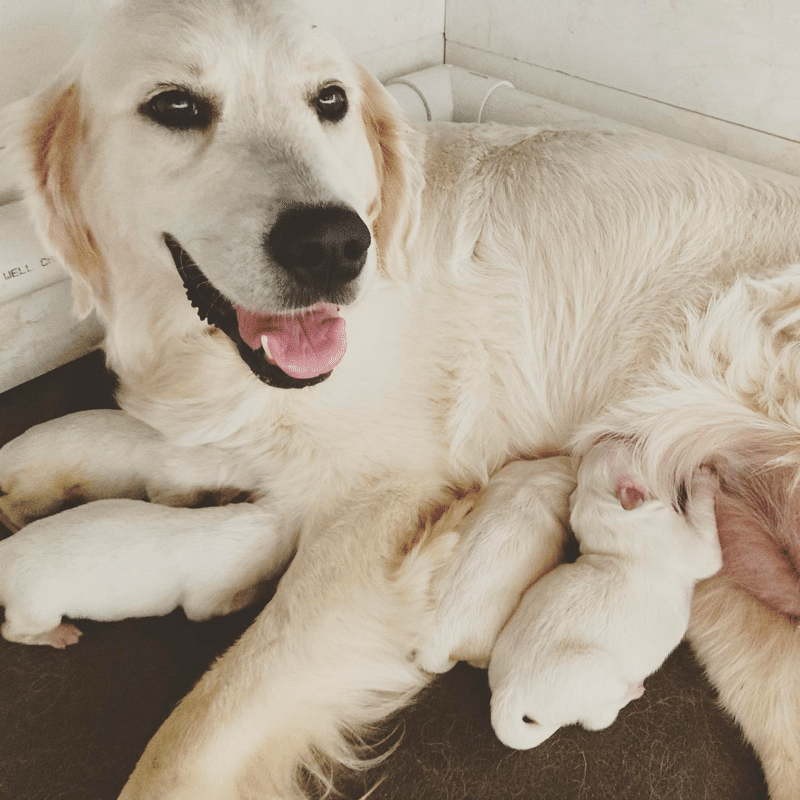 Homeplace Goldens is a family-owned breeder located in North-Central North Carolina, They own a very large 35-acre property where their European Golden Retriever pups can run, chase squirrels, chickens, and basically just be their furry little happy selves.
All their dogs come from champion lines and are AKC registered. Health is a priority for this breeder, that's why each pup produced is OFA cleared for hips, elbows, eyes, and heart. They also undergo regular deworming and are well vaccinated. Each dog also comes with a lifetime guarantee, free of any genetic defects.
They follow a breeding program called 'Puppy Culture' and also a training program used by the military for training their dogs. This program called 'super dogs' comes in three stages and all their pups are trained through these three stages.
To learn more about this very unique training program, visit their website or call. To get on their waiting list, a fee of $100 would be required. Once the puppies are ready, you'll also be required to pay a non-refundable fee of $500 to reserve a puppy. It's all standard procedure but is quite worth it in the end.
Homeplace Goldens contact details:
5. Creekside Goldens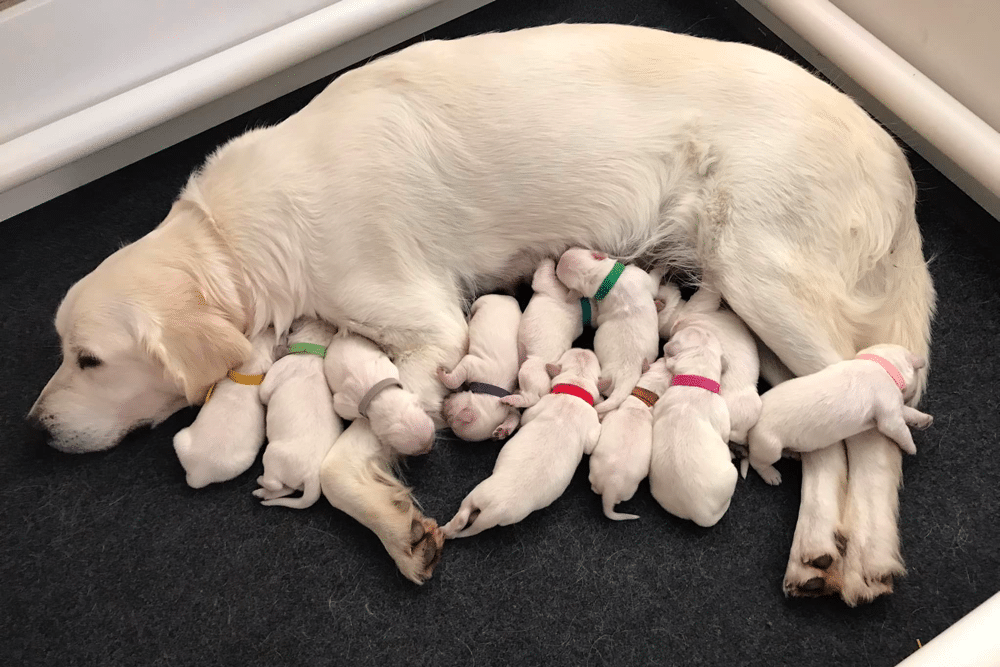 Creekside Goldens is a family-owned breeder in Charlotte, North Carolina. They are a family of 5, and all their goldens live in the same house with them. They hope to provide you and your family with healthy loving companions that bring joy to your everyday lives.
They mainly specialize in breeding Light English Cream colored Golden Retrievers that come from champion lines and are on AKC Limited registrations. All pups come with a one-year health guarantee, having all the necessary health clearances including OFA for elbows, hips, eyes, and heart.
Golden retrievers are generally outdoor dogs and this family breeder enjoys outdoor activities like camping, swimming, making fires and so much more. So you can rest assured that each Golden Retriever is well socialized as they interact with the family daily.
To secure a Creekside Goldens pup, you are required to make a non-refundable deposit of $500 to get on the waiting list. If all spots on the current litter are filled, you'll be placed on the waiting list for the incoming litter.
Creekside Goldens contact details:
6. Golden Hearts Retrievers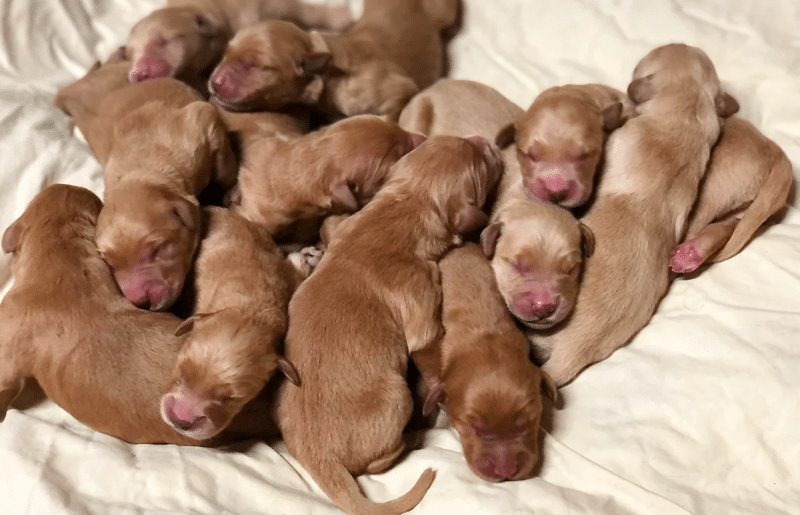 Number #7 on our list of Best Golden Retriever Breeders in North Carolina, we have quite a reputable breeder. Golden Hearts Retrievers is another small breeder but with a lot of passion for the Golden Retriever breeder.
They specialize in American, Field, and English Golden Retrievers and only produce 2-3 litters a year. Every golden is a member of their family and is kept indoors, in a safe, clean, and controlled environment from their birth till they are moved to their new homes.
All puppies regularly undergo a strict deworming and vaccination schedule and are first examined then given their needed shots, by a qualified veterinarian. All puppies come with a 1-year guarantee.
Getting a Golden Retriever from Golden Hearts Retrievers provides you with a beautiful puppy that is AKC registered, is OFA certified, of good temperament and is well trained. So you can best believe that you are getting only the healthiest and most loving puppy for your family.
Golden Hearts Retrievers contact details:
7. Auregrande Golden Retrievers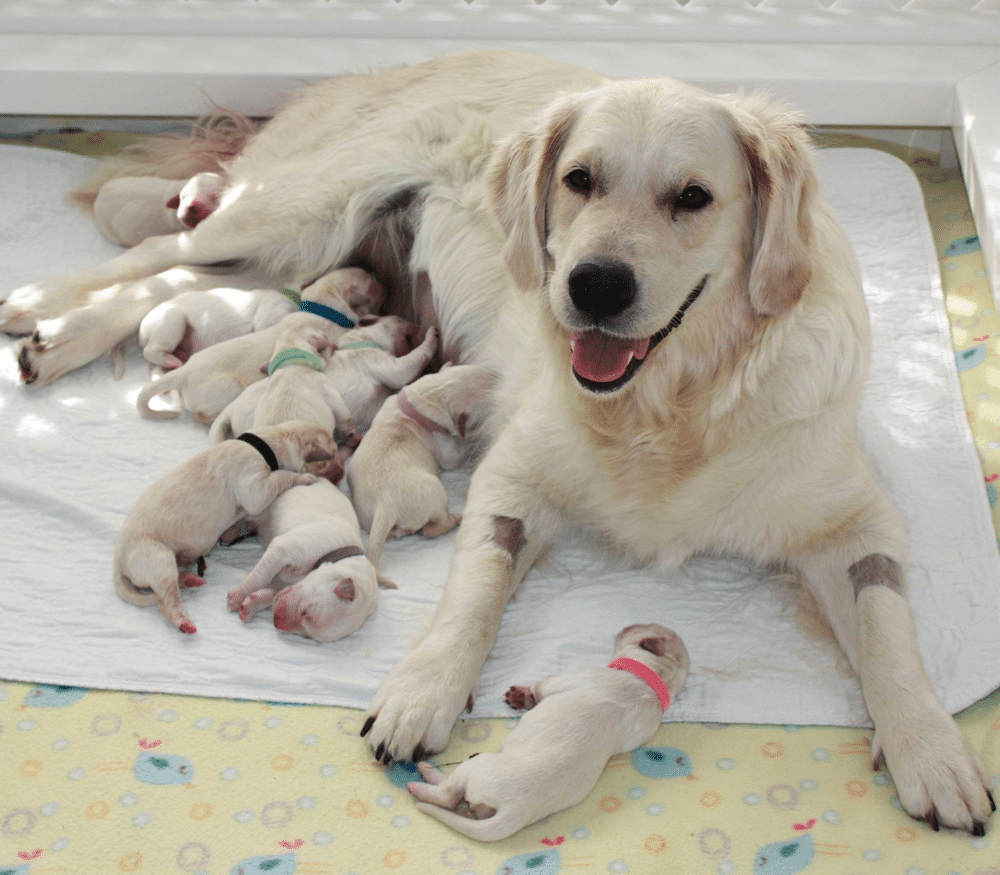 If what you're looking for is a pure breed English Golden Retriever, then this breeder is for you. Auregrande Golden Retrievers is a family-owned breeder that specializes in only English Golden Retrievers. They are located on a 7 acre pastoral property in Foxfire NC, where all their goldens have enough space to play and be their energetic selves.
Also, if what you're looking for is a dog with history, Aurengrande dogs are your best bet, all their dogs have lineages that can be traced back to the golden foundation. Whether you want a loving family member or an ideal companion, Auregrande dogs will surely exceed your expectations.
Auregrande Goldens are currently members of the American Kennel Club, the Golden Retriever Club of America, and current board members of the Tarheel Golden Retriever Club. All their dogs are AKC registered with OFA hip and elbow clearances as well as eye and heart clearances.
Auregrande Golden Retrievers contact details:
8. Golden Rose Kennel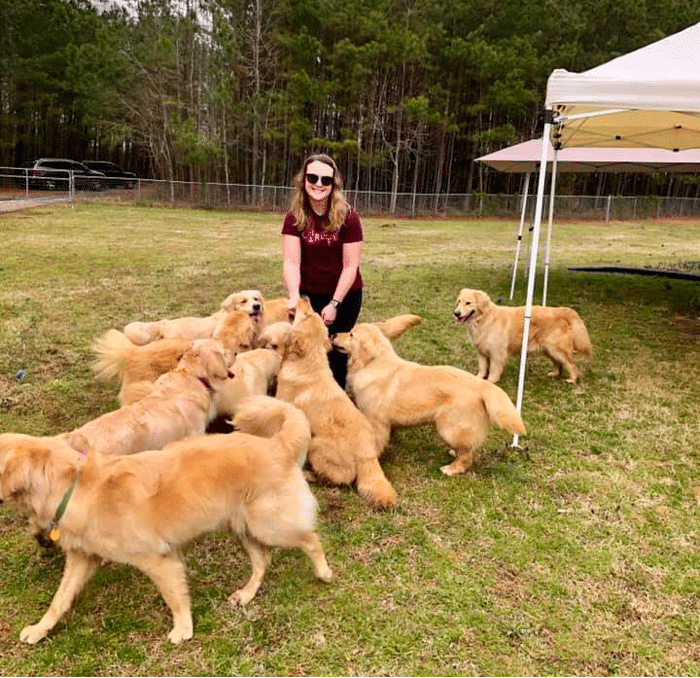 The top #9 on our list is a small-scale breeder in Norlina, North Carolina. Golden Rose Kennel is owned by Julie Cooke and has been in the art of canine breeding since 1996. The kennel is located on a very large 19.5-acre plot of land. Here, all their goldens are given free space to play and be active.
All of their breeding dogs are OFA certified with hip and elbow certifications. They also check their dogs regularly for heart and eye problems. In addition to that, each of their puppies are bred for conformation and temperament.
At a young age, the puppies are allowed to socialize and play with people of different age groups to allow for a well-behaved and friendly litter. Although as a small kennel, they only produce 3-4 litters a year.
Golden Rose Kennel strives to give you the best quality Golden Retriever dogs possible, as they keep researching ways to improve their incoming litter. If you stay in Raleigh and Durham North Carolina or even in Virginia, and you're interested in owning a Golden Rose Kennel's pup, well deliveries to these areas could be arranged.
Golden Rose Kennel contact details:
9. Noble Golden Retrievers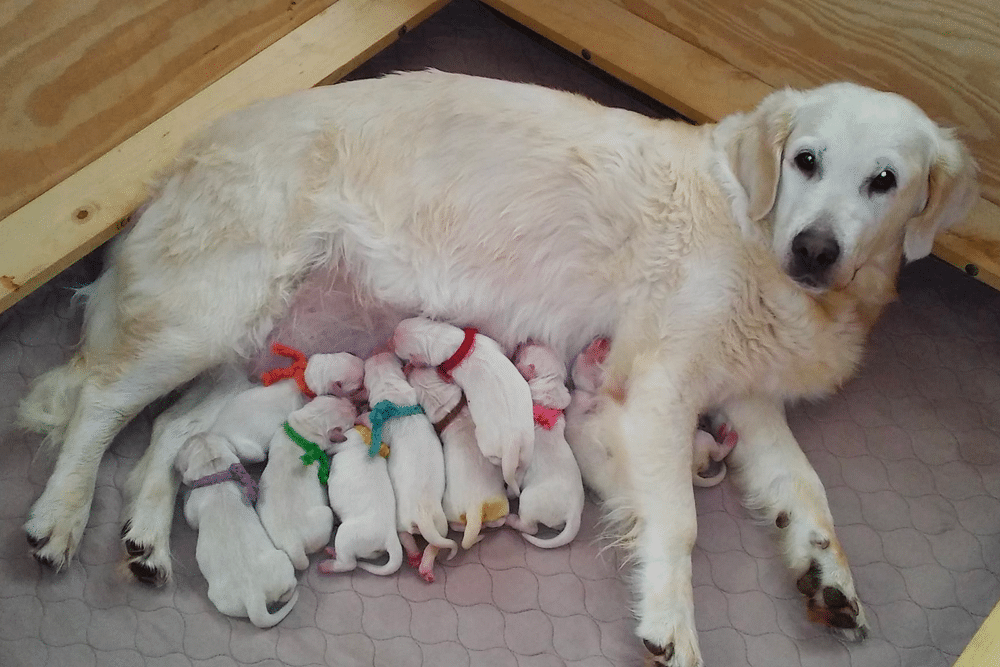 Next on our list, we have Noble Golden Retrievers. Owned by Christine Weis, this breeder specializes in breeding English and American Cream Golden Retrievers. They believe in a breeding program that keeps improving their litter.
All Nobel Golden Retrievers come from champion lines, are AKC registered, and are from healthy backgrounds with OFA clearances in hips, elbows, hearts and CERF eye certificates added to their pedigrees. They produce a couple of liters a year but only after extensive research and planning.
They also offer puppy training for your pups. Potty training, Obedience training, Crate training, and a long list of other training courses are available through their Puppy Academy. Some of their dogs are used as service dogs, assisting at local hospitals and help centers.
If what you're looking for is a multipurpose well trained, socialized, and all-around family companion, then I advise you to visit their website, call or send an email to make inquiries.
Noble Golden Retrievers contact details:
10. Goldens By Beacham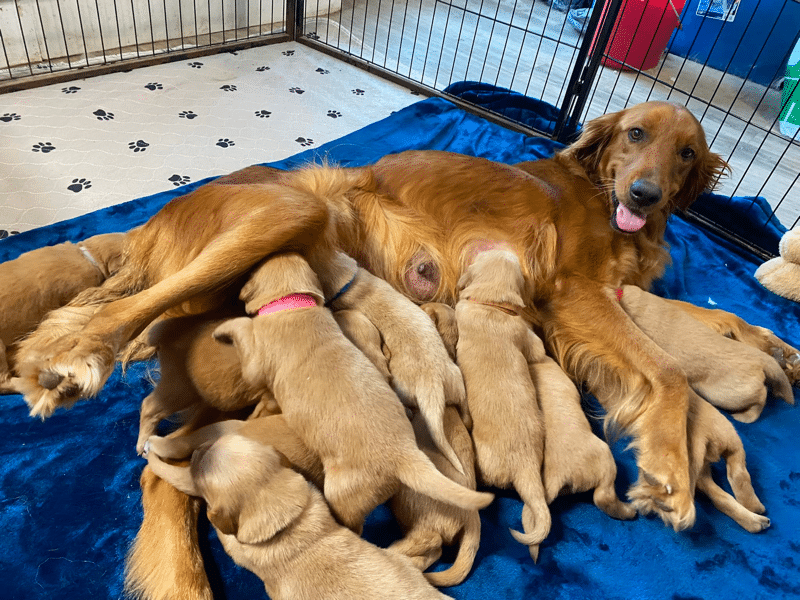 Goldens by Beacham is a family-owned breeder located in Richlands, North Carolina. All their Golden retrievers are home-raised and are a huge part of their family. To ensure that their Goldens become the best companions to their new owners, this breeder works hard, researching new techniques and technologies that are used in the dog breeding world.
All their puppies are introduced to early Neurological Stimulation from the ages of 3 days to 16 days. This is a process introduced by the Military to enable dogs to cope and handle stress. At 3 weeks, they start potty training their pups. This lets them know where to eat, play, sleep, and also where not to potty.
Getting a well-behaved and loving Golden Retriever puppy is super important to this breeder. And that's the reason most of their lines are successful service dogs, helping children and adults with disabilities.
All their dogs have the necessary health certifications and undergo regular visits to the veterinarian. When adopting a Golden Retriever from Beacham, you can be assured that you are getting a healthy, AKC-registered, well-behaved and loving companion.
Goldens by Beacham contact details:
11. Zest Golden Retrievers
Every puppy obtained from this breeder is special because they only produce a puppy litter after extensive planning and research have been done. So expect the waiting list for their puppies to belong. But still, all this is done to ensure that only Golden Retriever pups with incredible temperament and superior genetic soundness are produced.
Founded in 1999, this small-time breeder has had a strong passion for all things in the canine world. Constantly keeping up to date with all new techniques, technologies, and happenings in the canine sector, so as to keep producing high-quality Golden Retriever pups a year.
They also actively participate in obedience, conformation, hunt, and agility events. All their Goldens are a beloved family and basically live with them in their home. They are good-standing members of the GRCA, Sandhills Retriever Club, and Tarheel Golden Retriever Club.
Each puppy comes with a copy of their dam's and sire's health clearances, Vet deworming and vaccination dates, and reading material on housebreaking. All puppies are AKC-registered and OFA certified.
Zest Golden Retriever contact details:
12. Alpine Sky Goldens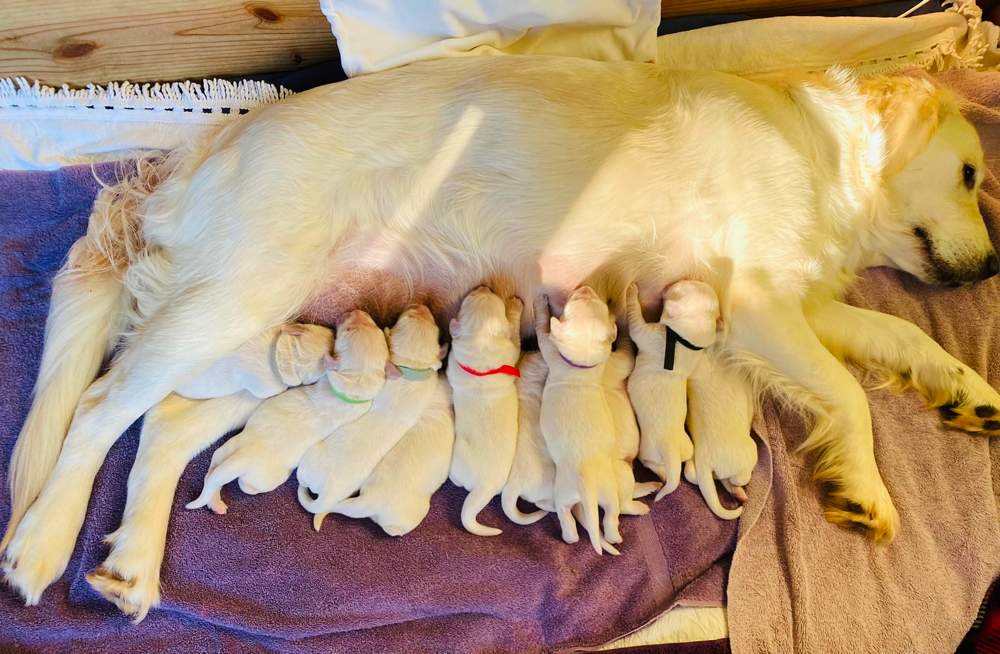 Alpine Sky Goldens are top Golden Retriever breeders that are located in Raleigh, North Carolina. Their breeding program focuses on producing some of the best Golden Retrievers that are obtained from high-quality lines across the world. Their Golden Retrievers are mostly English Cream Golden Retrievers that are bred according to high standards. They are quite passionate about their dogs as they have over 6 years of breeding experience to show.
Alpine Sky Goldens are registered with the American Kennel Club, they were awarded AKC breeders with HEART for their remarkable breeding program. They mainly utilize top European lines from Canada and the Netherlands. All their dogs are genetically health tested before being added to their breeding program. This is quite mandatory for all dogs. They also have their OFA certifications to show that their hips and elbows are indeed healthy.
All their puppies are raised in the family home as they are treated as members of the family. They are properly catered for as they are given the best in puppy food and supplements. Socialization is quite important for their dogs and they each undergo light training that makes them suitable therapy dogs. All in all, you should be getting the complete family dog for you. Your puppy should come with a written health guarantee, they should also have their updated medical records and should each be microchipped to ensure you never lose your beloved companion.
13. Lakeshore English Goldens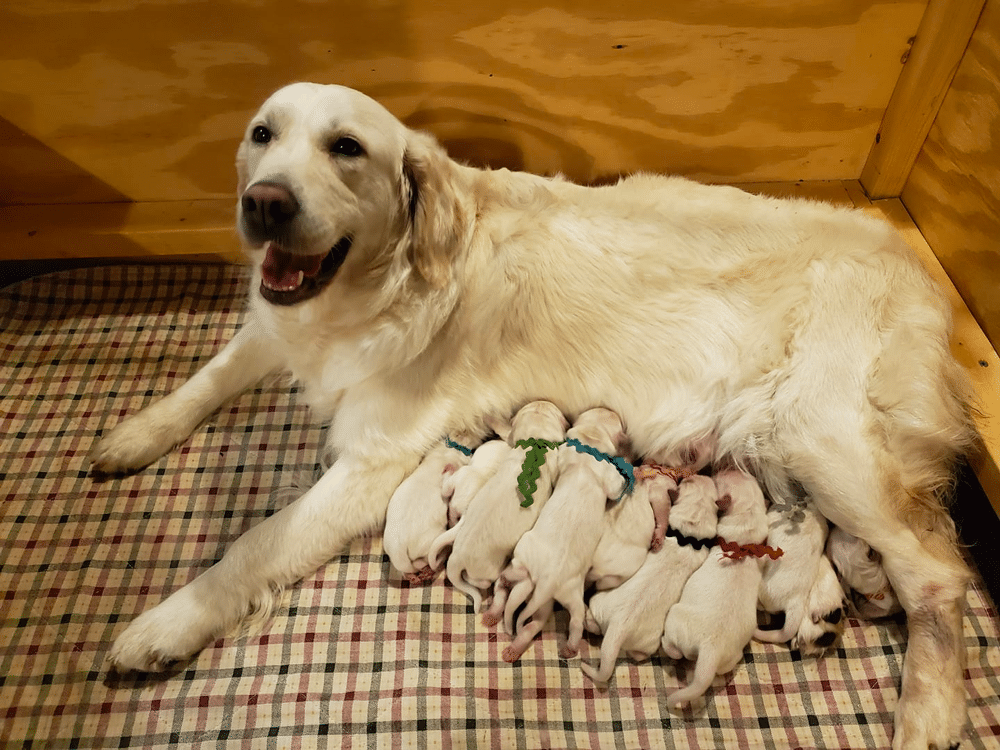 Another great breeder on our list is the Lakeshore English Goldens. Located on a beautiful lakeside property in North Carolina Central, this breeder hasn't been around for too long but has already established itself as a reputable breeder in the North Carolina area of the United States.
Owned by the lovely Cathy, a breeder with over 8 years of experience in breeding high-quality European Golden Retriever dogs. This breeder strives for breeding beautiful furry companions with high-quality temperament, health, and structure.
All their puppies are raised kennel-free, living at home with the rest of the family. This ensures that all their dogs are well socialized, exposing them to people of different age groups, and also, exposing them to different smells and sounds all at very young ages.
They also ensure that each puppy is properly trained, Undergoing special training like; Crate conditioning, Potty Training, and Harness/ Leash training. All their puppies come with regular health checks including; elbows, hips, and heart clearances.
They are AKC registered and also proud members of the Golden Retriever Club of America. You could check out this awesome breeder through the link below.
Lakeshore English Goldens contact details:
14. Furfeathers Goldens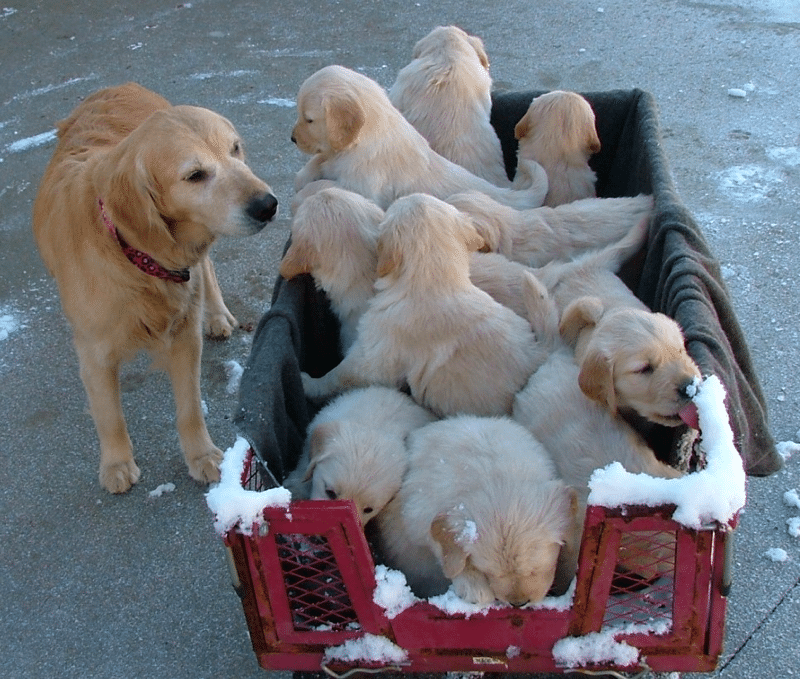 Furfeathers Goldens was established in 2002, by Shannon Cavenaugh. They are one big family and they live with their Goldens in the same house. If what you are looking for is a truly home raised family dog that blends in with the family, then you really should visit this breeder.
All their Goldens are raised in a clean, safe, and comfortable environment where they enjoy playing with their toys and even watching TV with the family. They are truly loved and spoiled.
With Furfeather Goldens you do not need to make any deposits for incoming litters until they are sure there's a puppy available for you. They do not require home inspections, applications, or questionnaires so getting a pup is relatively easy.
You should note though, that they don't breed Goldens for show or for sports only for pets, so you should take that into consideration.
All their puppies are checked by the vet at 6 weeks and have all their vaccines and supplies administered to them by the vet. Each pup has the necessary health checks including OFA hips, elbows, certifications as well as Eyes and Heart clearances. And currently have AKC Limited Registration.
Furfeathers Goldens contact details:
15. Goldensglen Retrievers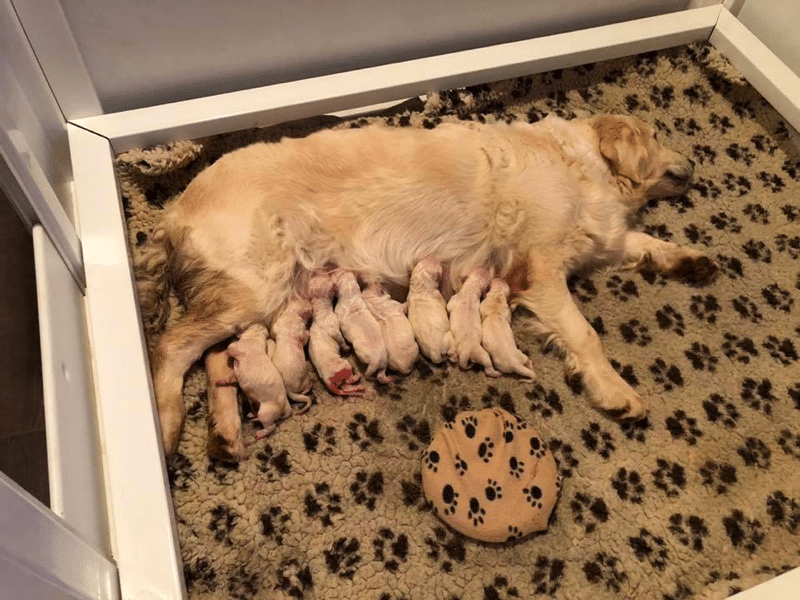 Goldensglen Retrievers is another reputable breeder on our list. They are a small-time hobby breeder that specializes in breeding British Style Golden Retrievers. All their dogs are trained to be wonderful family dogs, with good temperaments and health.
With 5 acres of running space, a freshwater pond, and a family of different age groups to play with the pups, expect that each pup is well socialized and active. They are proud members of the Sandlapper Golden Retriever Club, the Golden Retriever Club of America, and the Golden Retriever Club in the United Kingdom.
Each dog is AKC registered and is cleared of hip and elbow dysplasia by the British Veterinary Association (BVA). They also have their heart clearances from the Orthopedic Foundation of Animals (OFA) and also undergo a regular CERF eye exam yearly. They are also clear of PRA1/PRA2.
Getting a healthy and Loving British Styled Golden Retriever puppy is the goal of this outstanding breeder but you should be prepared to wait, as they don't produce new litters often.
Goldensglen Retrievers contact details:
16. DelaVega Goldens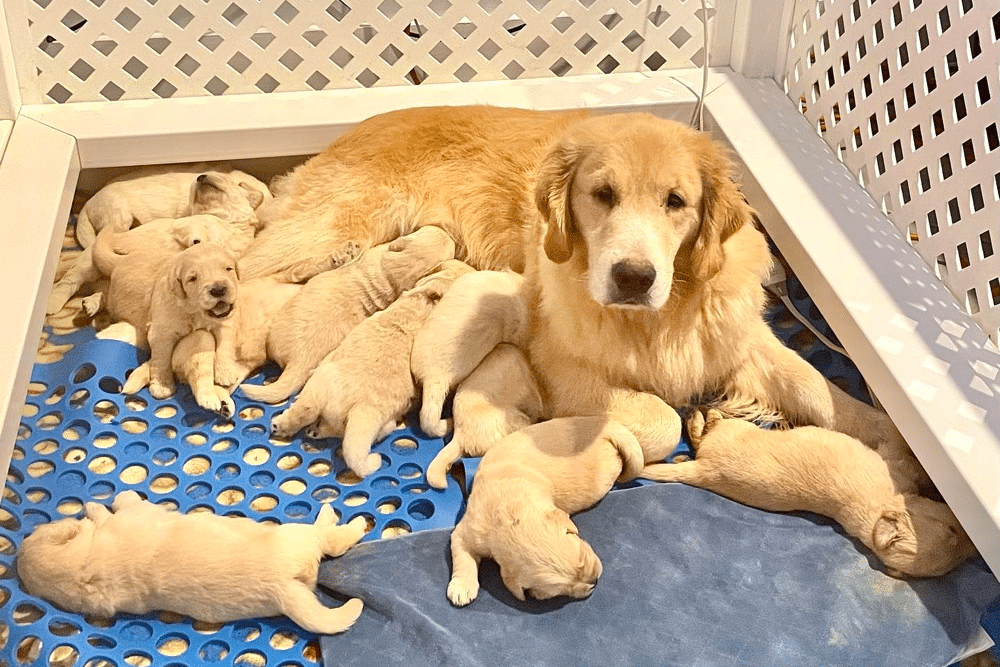 Founded by the dynamic duo of Yvonne Herrera and Erika Bigott Busby. This breeder has dedicated over 18 years into breeding high-quality Golden Retrievers for you and your family. Dela Vega Goldens regularly produces dogs that actively participate in obedience rings, conformation, agility, and field trial events.
Although each puppy does not come with a health guarantee, they do ensure that all puppies go to their new homes with the signed health certificates (Signed by a certified vet) and must have had their first shots.
All their puppies are sold on Limited AKC registrations and are from parents with OFA clearances for elbows, eyes, hip, and heart.
To get on their waiting list you would need to make a deposit of $500. But it's all worth it as you are guaranteed a well-trained and loving new addition to your beautiful homes.
They are very active on social media, so you could easily reach them on their social media platforms.
DelaVega Goldens contact details:
17. Weaver Dairy Goldens
Next on our list, we have this small hobby breeder. Weaver Dairy Goldens is a small family-owned breeder in North Carolina. They produce beautiful Golden Retriever dogs that can be traced to a champion bloodline in 1964. Usually, pups from this bloodline experience longevity with some of their pups living an average of 16-17 years.
All their pups receive early Neurological stimulation from day 1, to enable them to adapt easily to their new surroundings and also boost their immune system. They also undergo examinations by a veterinarian for hermias, cryptorchidism, and any other abnormalities that could be faced by the pup.
All pups are AKC registered and come with their necessary health checks and clearances.
The owners, Ken and Angie Miller are hobby breeders with a strong love and passion for Golden Retrievers. They keep researching new ways to improve their litter and that's why they only produce 1 or 2 litter a year.
Interested in owning a beautiful Weaver Dairy Golden? Check out their Facebook (It's more updated than the website) or call their cell to make inquiries.
Weaver Dairy Goldens contact details:
18. Golden Star Family Puppies
Next on our list of best Golden Retriever breeders in North Carolina, is the Golden Star Family Puppies. They don't run a breeder, they run a family, as all their Goldens are regarded as simply that, Family!
Golden Star puppies are bred on a vast land, where they have enough space to play and be the beautiful energetic furry angels that they naturally are. Breeding Happy Puppies are a priority for this breeder, as they reward their Golden Retriever pups with treats for behaving well. They also offer professional canine training services such as; obedience, Leash, and potty training, amongst others.
All their Goldens are Healthy, having regular checks by a certified veterinarian, de-worn, and vaccinations up to date and the best part is, each puppy comes with a two-year health guarantee.
Before adopting a puppy from this breeder, you are required to share a little personal information about yourself. This ensures that all their puppies are raised in a safe and loving environment.
Golden Star Family contact details:
19. Goodlife Goldens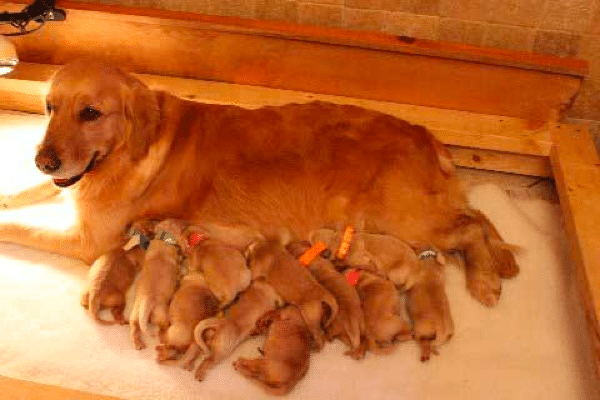 Goodlife Goldens is a small breeder located in Lake Toxaway, North Carolina that breeds exceptional goldens. All their goldens possess natural abilities, soundness, and good- temperaments, as reflected by the Golden Retriever Breeder Standard.
All their dogs come with a health guarantee, are AKC registered, and are well socialized, (Mainly because all their goldens aren't raised in a kennel, but are raised in their family home where they interact with different sounds and people of different age groups).
Goodlife Goldens carefully selects Championed lines as their Sires and Dams, all to produce strong healthy litters. All their pups are OFA cleared with hip, elbow, eye, and heart clearances. They also undergo regular veterinarian visits and are fully vaccinated as well as dewormed.
Their dogs can also be used as therapy dogs as they have gone through special training in obedience, agility and tracking. They also volunteer at the local hospital centers and dental clinics in North Carolina.
Goodlife Goldens contact details:
20. D&D Goldens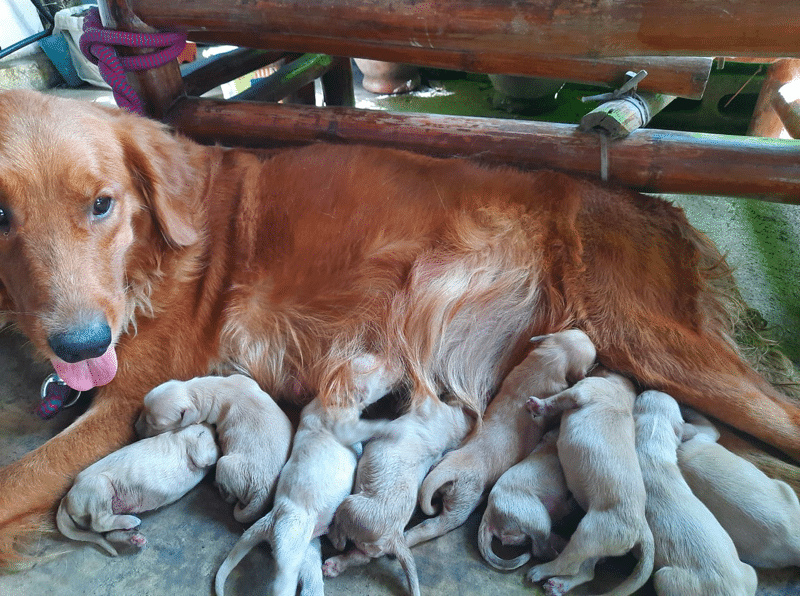 This is another small breeder in the North Carolina area of the United States. Founded in 2007, this breeder might be young but don't rule them out just yet. Their passion for Golden Retrievers through their selective breeding program is truly outstanding.
They also produce high-quality litters, although they only produce 2-3 litters a year and 1 at a time. But that shows that they are only about quality and not about quantity. All their Goldens are bred in their homes and not in a kennel or a cage.
Each one of their Golden Retrievers have CERF, OFA,BVA or Penn hip certifications, which means they've got eyes, hip, heart and elbow clearances. They also offer a two-year health guarantee on all their pups, so you can be sure of getting a very healthy golden retriever from this breeder.
To get a D&D English Golden Retriever puppy, you'll have to be prepared to wait for a while as they only produce 2-3 litters a year. Also, a deposit would be required to get on the waiting list, but I assure you, the wait is worth it.
D&D Goldens contact details:
| | |
| --- | --- |
| Name Of Owner | Darrin & Darlene Smith |
| Breeder Since | 2007 |
| Address | Lincolnton, North Carolina |
| Email | [email protected] |
| Phone number | (704) 813-1414 , (980) 241-6109 |
| Website | ddgoldens.com |
Golden Retriever Breeders in The Other States Near North Carolina
Golden Retriever Resources and Tips
Other Dog breeds for your choice:
Final Thoughts
A golden retriever is a wonderful and delightful breed. Their energetic smiles and playful nature would bring joy to your family, and as a dog lover living in North Carolina, this list of Best Golden Retriever Breeders should get you on the right path towards finding your new furry family companion.