Designer Dogs – just what IS a designer dog? Well, a designer dog, quite simply, is the result when you breed two purebred dogs to create a new breed. What do you get when you mix a dog with one of the friendliest dispositions and is considered brilliant, loyal, and playful (the Golden Retriever) with a dog that is tiny in size but enormous in personality, sassy, and sometimes very stubborn (the Chihuahua)? Enter the Golden Retriever Chihuahua mix or Golden Chi.
A Golden Chi is a unique kind of dog! But precisely what is a "Golden Chi," you ask? Well, sit back, and we will dive into their history, temperament, size, appearance, and more. Be prepared to fall in love with this relatively new designer dog, the Golden Chi.
History and Breeding of the Golden Chi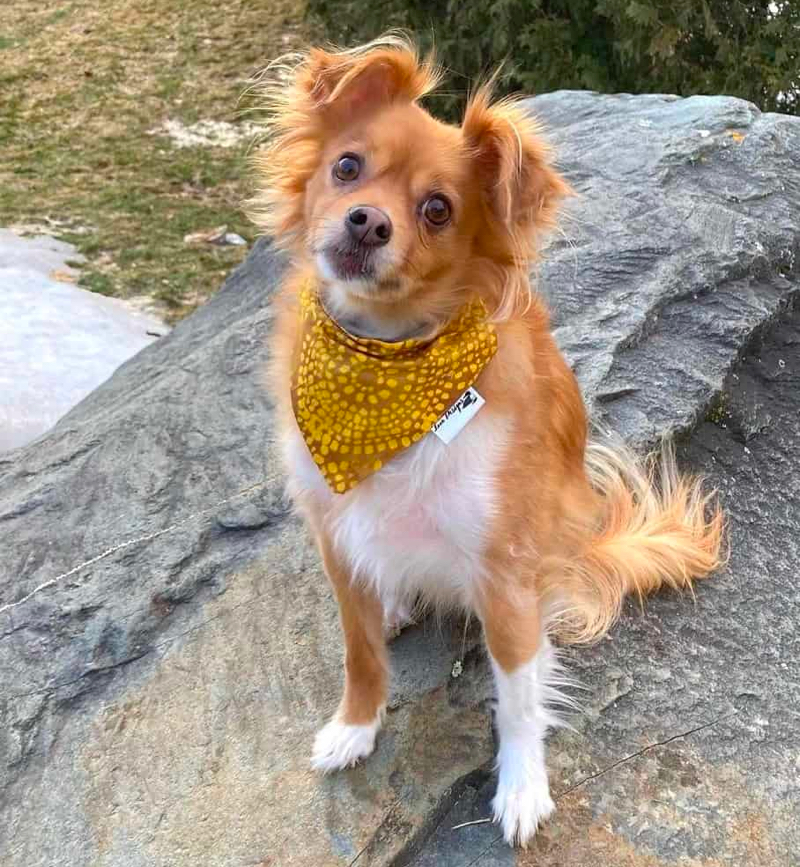 It is believed that the first Golden Chi was bred in 1986. A woman named Lisa Clark coupled her Chihuahua with her father's Golden Retriever.
Because the Chihuahua is the world's tiniest breed of dog, it would be impossible to naturally breed a Chihuahua with a dog as big as the Golden Retriever. Therefore, it must be done through in vitro fertilization (IVF) or artificial insemination to create this dog breed. The mother of the Golden Chi must be the Golden Retriever, and the father, the Chihuahua. Otherwise, if the roles were reversed, the female Chihuahua would likely not survive during the puppy's gestation or birth. Since breeding is not typical, it can be difficult to find breeders. Do your research and make sure you find a reputable dog breeder – one that does it for the love of the animal and not the love of the dollar!
Because creating this hybrid breed of dog is complicated, you can expect to pay between $2,000 and $3,500 USD for a puppy from a reputable breeder.
Questions to Ask to Determine a Reputable Breeder:
Ask for genetic testing results
Ask for pedigree information and veterinary records
Check out the breeding facilities
Ask to interact with the puppies
As a result of the rarity of this breed, you will not find this breed "on sale." If you do, that is the first sign that the breeder is not reputable, and you should walk away and even consider reporting this breeder to the proper authorities!
Golden Retriever Chihuahua Mix Temperament
Having had several dogs throughout my life, I firmly believe your pet will take on the personality of its owner. My father got me a long-haired female Chihuahua when I was 18 months old. Now, Chihuahuas were not customarily considered good pets for children, particularly toddlers. However, this puppy was the most loving gentlest dog in the world. She was my watchdog, my playmate, and most of all, my best friend. We were inseparable, and she never growled or snapped at me. Even when I accidentally broke her leg when I was holding her and running with her in the snow. However, if my mother yelled at me, this dog would growl at my mother for disciplining me. Sometimes my mother had to assert her "alpha dog" position with my Chihuahua!
A Golden Retriever is happiest when they are with people. They crave attention and want to spend every minute with their owner, and can't you picture a Golden lying by the door waiting for his owner to return whenever they leave the house?
A Golden Chi will take on some of its parents' personality traits. The Golden Chi is sure to be loving and loyal as the Golden mother and sassy and bold as the Chihuahua father. Sometimes you will be butting heads with your adorable pup if it tries to be the alpha dog! It is essential right from the start to let this dog know you are the alpha dog, as it is with any breed of dog. Dogs, by nature, are pack animals, and they all want to be the leader, but we all know the dog cannot be the leader in the household!
Chihuahuas can be territorial if left to their defenses and, like a toddler, might not like to share. So it can be with the Golden Chi, and you must make sure it knows the rules right from day one. If you are planning on getting a Golden Chi as a puppy and a family dog, especially if it will be around younger children, make sure you start training from the first day. Remember, you are the alpha dog, as well as the rest of the family. Your dog should learn to take commands from all family members.
Golden Chis can be very confident and playful, and you and your family can relish in and be entertained by all their fun-living and playful antics.
Golden Retriever Chihuahua Mix Size and Appearance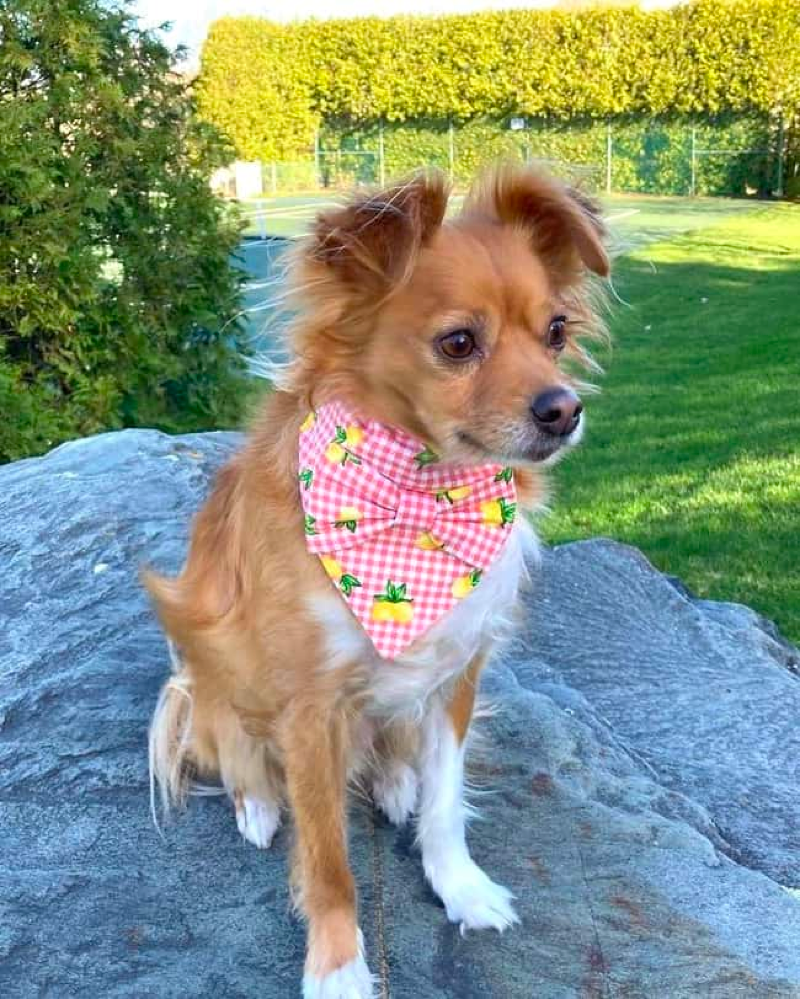 The appearance of the Golden Chi depends on which parent it received the dominant genes from, just as in babies.
The Golden Retriever female, on average, is 55 to 65 pounds and 21–22 inches tall, while the average male Chihuahua is 2 to 6 pounds and about 9 inches tall. You can expect an average Golden Chi to be between 15 to 30 pounds and 9-24 inches tall – a lovely small to a medium-sized dog! A Golden Chi dog will reach its full adult size, usually around a year to a year and a half old.
The coloring of the Golden Chihuahua mix is usually tan or golden. However, they can also be red, chocolate, white, black, fawn, or cream. All thanks to genetics. They almost always have thick fur like the Golden Retriever. And if the father was a long-haired Chihuahua, you can expect your Golden Chi to have an even denser, thicker coat of fur!
Since Golden Chis are considered small to medium breed (depending on their height), they are generally regarded as suitable apartment or condo dogs. However, as with most puppies, you must ensure they get plenty of outdoor exercise. The last thing you want is a bored dog, which usually leads to destructive behavior. So please make sure your dog gets adequate exercise and training.
How Much Exercise does a Golden Retriever Chihuahua Mix need?
Golden Retrievers shed A LOT (emitting many fibers of joy and love in addition to hair) and require regular brushing and grooming. Golden chis require less brushing. While they do shed, you can get away with weekly hair brushings. It may be worthwhile to invest in a robot vacuum cleaner to keep up with any fur that they leave inside.
Dental care of the Golden Chi is a different story, however. Because of the shape of their mouth, their teeth can be overcrowded, leading to plaque buildup. It is recommended to brush their teeth at least every other day. Now, remember, this breed is part Chihuahua. And Chihuahuas are known for their stubbornness. It is best to start brushing and touching their mouth at an early age. If you don't, an older Golden Chi may refuse to let you do this, resulting in costly trips to the vet to have dental cleanings. It is in your best interest to start early and often with brushing their teeth!
Another challenging but necessary grooming item is nail care. Most dogs do not like getting their nails trimmed. Again, it is vital to start this at a young age, do it regularly, and make it a game. This is easier if it is done with two people – one to do the trimming and the other to do the distracting and entertaining. At a minimum, it should be done every three to four weeks. But you can tell if it needs to be done more often. When their nails feel like actual nails being hammered into your body parts, that is a sure sign that nail trimming needs to be done!
It is pretty safe to say your Golden Chi will require regular daily exercise. Remember I mentioned before you do not want to have a bored dog. A bored dog is a destructive dog. A well-exercised dog leads to a happy dog and delighted dog parents! Goldens require at least two hours of daily exercise, and Chihuahuas need about 30 minutes. On average, expect your Golden Chi to require between 30 and 120 minutes of daily exercise. A puppy chi does better with several 15-minute exercise periods, while a mature adult chi would do fine with two 45-minute exercise intervals. Remember, a tired dog from exercise and play is not a bored dog, and an exercised dog is a happy dog with happy parents!
And speaking of exercising your Golden Chi, it is essential to socialize your Golden Chi as it is with any dog. But because Chihuahuas' traits can make them very stubborn, they may tend to be anti-social. Just remember, as I said in the beginning, I am a firm believer that a pet takes on the characteristics of its owner. So, if you are very social, your dog probably will be as well, no matter the breed. But keep in mind socialization is crucial for any dog. Introduce them to strangers, young and old, at an early age. Ensure your dog knows not to snap or snarl at someone they do not know. It is sometimes beneficial to introduce your dog to doggy daycare to learn to interact with other people and dogs. If your Golden Chi is in a household with young children, never leave a child with the dog unattended, no matter the breed. A child must learn to respect the dog, and the dog will appreciate the child. If you plan to have children sometime in the future, you should schedule times when your chi puppy can get used to youngsters. Your Golden Chi should also be taught to take commands from your child/children.
Golden Retriever Chihuahua Mix Food Requirements
It is hard to say precisely what your Golden Chis food requirements will be. Just as with humans, there isn't a one-size-fits-all formula. Several things must be taken into consideration. For example, is your Golden Chi closer to the lower end of nine inches tall or the higher end of twenty-four inches tall? Younger chis need more food than older ones, and more active dogs need more food than less active ones. Do they get a lot of treats throughout the day? More treats equal less food. So be careful with how many treats they get.
On average, you should give your pup between one and two cups of nutritious kibble daily, ideally divided up between two feedings. As they mature, they may prefer only to eat once a day, but in the puppy stage, it is essential to eat twice a day.
Treats are essential during training, but treats should happen less often once trained.
If ever in doubt whether you are feeding your dog enough, consult your vet. Most vets look for a belly that is smaller than their chest, and you may be feeding them too much if they start to lose that clear indentation. Responsible pet owners take their dogs to the vet regularly, and your vet will let you know if your Golden Chi is at a good weight.
Is a

Golden Retriever Chihuahua Mix

right for you?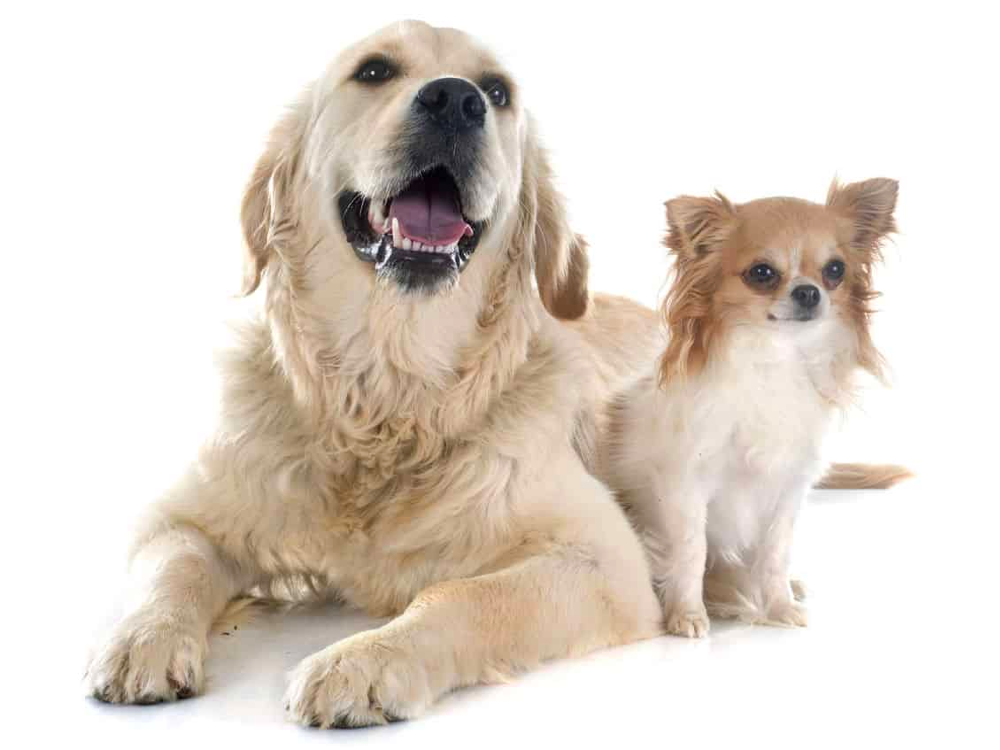 The Golden Chihuahua mix is an amazingly unique dog breed – the best of the Golden Retriever and the Chihuahua. There is not much difference between a female or a male chi, and no two chis are ever precisely the same, but they share some of the best and most challenging characteristics of both breeds.
Some of their best characteristics are that they are intelligent yet sassy, trainable, generally have good health, low to moderate maintenance, and make good family dogs.
Some of the challenges you might encounter are that they are not easy to come by; therefore, they tend to be quite expensive. They can be high-energy dogs, so they must get regular exercise. They can be stubborn, yappy, and can be snappy if not put in their place at an early age, so they must be trained right from the beginning.
The Golden Chi is a designer dog breed you did not know you wanted. Once you look into their eyes, they become irresistible. So, buyer, beware. Do your research, and make sure this breed is the breed for you. They are captivating, lovable, loyal, and deserve the best. If you cannot accommodate their needs, they can become a giant, costly mistake, and they do not deserve this.
However, if this breed is an excellent match for you, they can be one of the best pets you will ever have in your life! Golden Chis can be very loyal companions. Love and train them well, and you will reap the rewards of this unique breed!
Other Golden Retrievers Mixes