This website is for anyone who is, like us, devoted to DOG. Whatever the size, shape, breed, or personality of your dog, she deserves the same devotion that she shows you. On these pages, we strive to see living with humans from DOG's perspective. Using the latest research and information from trusted dog experts, we offer a balanced consideration of issues ranging from training to health and dog products.
Our Team
Alliyah Strange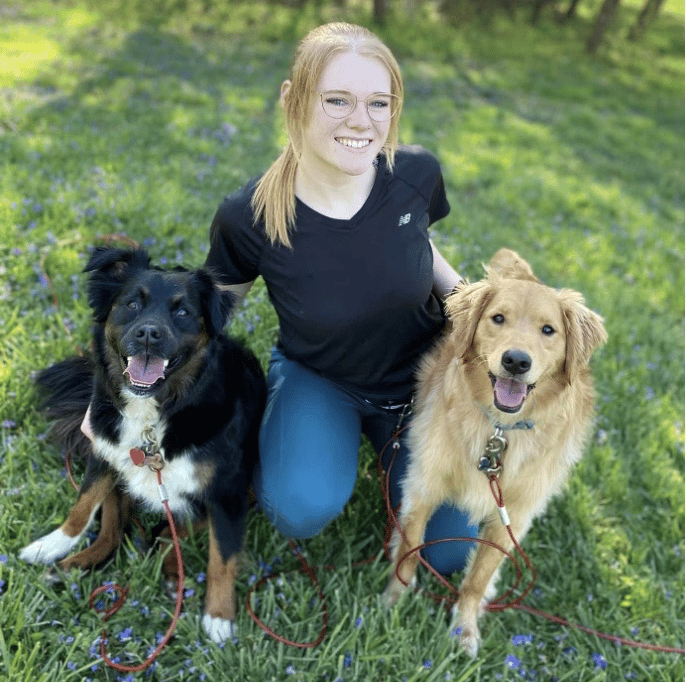 My name is Alliyah Strange and I am a certified dog trainer/instructor and behaviorist. I come from a small town in Virginia, so animals and nature have been a huge part of my upbringing. I am a professional freelance writer for Devoted to Dog and cherish every day I get to wake up and write about what I love! I enjoy hiking and swimming with my two pups at home in the breathtaking scenery of the Blue Ridge Parkway.
My family had many pets growing up from dogs and cats to small rodents like hamsters and bunnies. I even had a beautiful conure bird when I moved in with my now Husband. With me I brought my prized childhood calico cat, she was born into my family when I was 6 years old and I very creatively named her Calico. When I was 17, I began working for my local humane society as an adoption counselor and fell in love with working with dogs! Throughout my time working at the humane society I rescued Scout, my Golden Collie mix, Maya, my Shepherd Pit mix, and Shadow, my sweet gray kitty.
Following that job, I spent some time waiting tables and pet sitting through Rover to attend trade school and acquire my basic obedience training certification. I was given the opportunity to indulge in a hands-on internship with a local canine behaviorist and found my niche!
Since the internship, I have continued to study canine behavior and hope to work and train dogs with behavior issues and make unadoptable dogs adoptable again! Nowadays I am writing to share my knowledge while I am home with my young son who was born in March of 2022.
Brianna York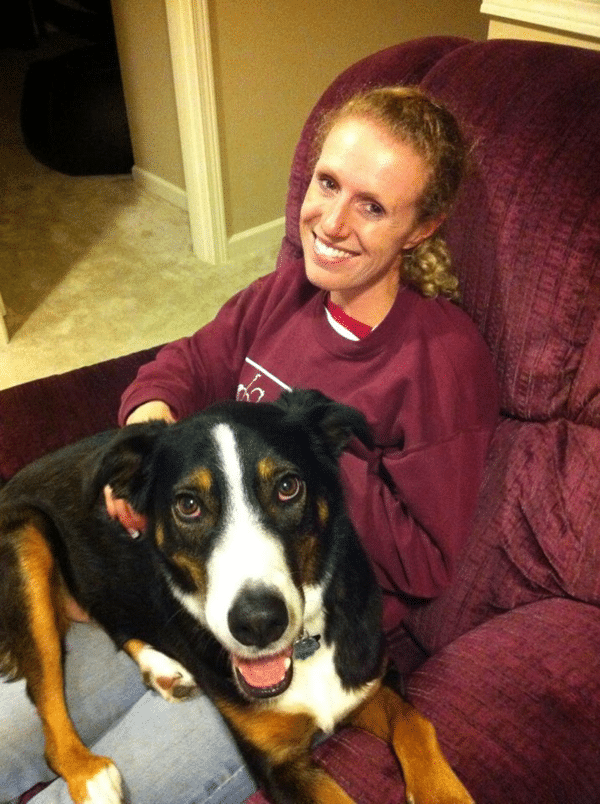 My name is Brianna York and I have been devoted to dogs for most of my life. I have worked with animals in some way for most of my life as well. I come from a family that is devoted to animals and grew up with cats, dogs, and fish in the house. I discovered how much I loved horses when I was 9, and we have owned show horses every since. I compete all over the United States and in Canada with my Arabian and Half-Arabian horses to this day.
For years, I worked as a veterinary technician, both with large animals and small animals. I have always been "devoted to dogs" and most of our clients at one of the clinics that I worked for, were dogs. I cared for them by delivering medications, managing care when they were in the clinic, and helping care for boarded animals as well. Caring for animals is a passion of mine and even though I am no longer a veterinary technician, I still enjoy caring for animals and pet sitting other people's pets when I can.
Today, I am a published author and I have really enjoyed exploring my love of writing for the first time since college. Writing has always been another of my passions and being able to enjoy animals and my craft is very rewarding. I worked hard to get to this point in my life and feel like I have finally found the right niche. Providing advice about care, medical conditions, and management of pet health is a joy to me and I love being able to share my knowledge of animal care with others.
I hope to continue caring for animals for all of my life, and I cannot imagine a better retirement than retiring to someplace in the country with some dogs, a horse or two, and maybe a cat.
Sarah Thacker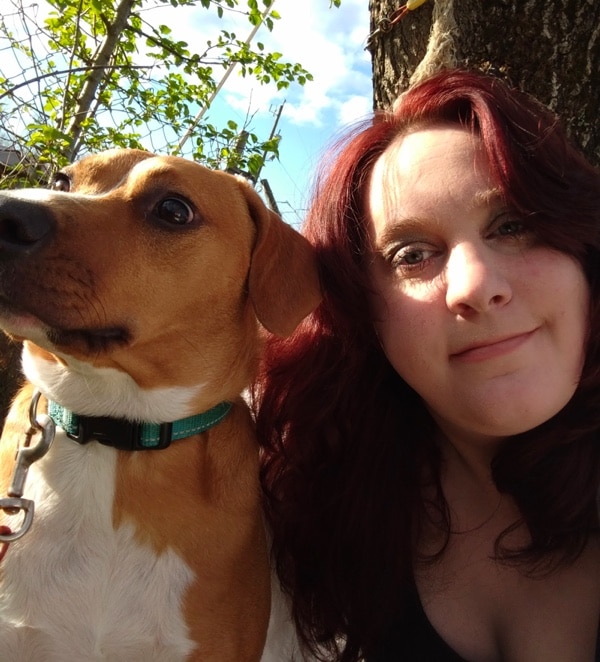 Hi, I'm Sarah. I'm a professional freelance writer for Devoted to Dog and dog lover.
I've owned dogs from the time I was 3 years old. Over the years, I've owned several varieties of dogs, ranging from Golden Retrievers to various types of bulldogs, a rottweiler/German shepherd, and most recently, my dachshund/American bulldog mix, Heidi.
My family has always had a dog or multiple dogs, so it simply doesn't feel like "home" to me without at least one spoiled- rotten, four-legged baby.
Rescues always hold a special place in my heart. Heidi is a rescue. Many of her littermates died, so I've always felt like it was a good thing that I got her out of that situation.
She's a very rambunctious and playful dog, but she's also very caring and sweet. If she detects even the slightest hint of sadness in me, she does her best to come to give me her version of a hug.
It's been good that I found such a sweet dog because I suffer from a handful of autoimmune diseases. I've had Rheumatoid Arthritis since I was 12, and since that's a progressive disease, it's only gone downhill from there. Arthritis coupled with fibromyalgia and Lupus leaves me in extreme pain and some days I have extremely limited mobility.
Along with my mother (who also has Lupus), we run a support group for other people who experience chronic illness and pain and advocate awareness for various autoimmune diseases.
When I'm not writing for Devoted to Dog or raising awareness for Lupus, you can typically find me gardening or playing video games. Well, I say "gardening" as if I haven't started a micro-farm on our one-acre property! Some of the video games I'm into right now are Sims 4, Conan Exiles, and Don't Starve. Heidi loves both of these activities, as well. She'll help me dig in the garden, and she loves to cuddle up next to me while I play video games. Sometimes she even watches.
I had initially got Heidi with the intent of giving her to my mom once she'd returned from a trip. But by the time my mom came home, Heidi and I were already bonded. Now we can't sleep without each other, and I've been known to refer to her as the love of my life!
Sonya Wyrick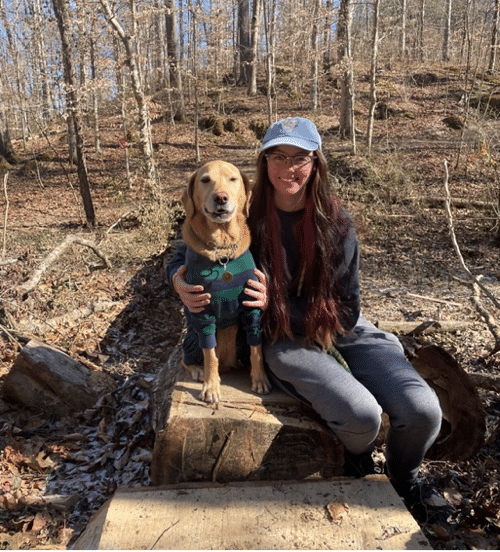 Sonya grew up in Northeast Ohio but now resides in East Tennessee. She shares her home with her three cats and her golden retriever mix: Tillie. Sonya grew up adoring dogs; her first dog was a Labrador Retriever German shepherd mix named Luke. She and Luke had a strong bond as they grew up and he is the reason she chose a career with animals. Sonya now has this bond with Tillie.
Sonya is studying in college to become a veterinary nurse and plans to specialize in canine nutrition. She has worked in veterinary emergency care for five years and has been trained in neonatal care. Now, she works at an integrative veterinary clinic studying preventative care and holistic treatment. Sonya enjoys writing in her spare time when she is not caring for animals. She and Tillie spend their days enjoying the nature that comes with living by the Smoky Mountains!
Lilianna Parker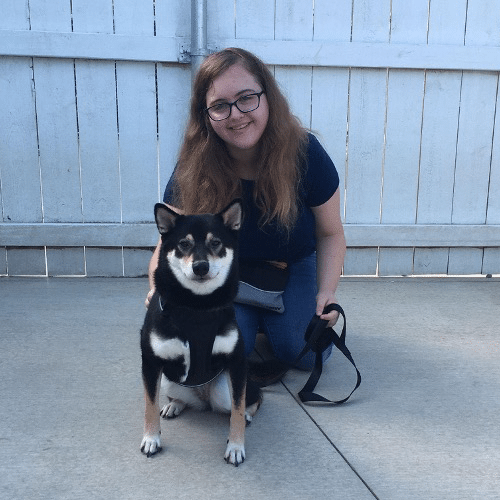 My name is Lilianna Parker and I live in New York with my dog Cleo.
For as long as I can remember, animals have always been my favorite topic to read, learn, and talk about. Dogs have always been the focal point of this, which has led me to eventually start my career that has essentially made my life devoted to dogs. Training dogs has pushed me to be the best dog trainer and owner that I can be.
For the past two years, I have been training dogs and studying with the Animal Behavior College, a trade school that specializes in preparing dog trainers for starting their own dog training business from the ground up. During this time I have been working nonstop training dogs and learning everything, there is to know about science-backed dog training methods. Achieving this certification has allowed me to further my devotion to dogs in a way that is tangible and helpful to other people and their canine companions.
Not to mention, this experience has taught me some helpful tips for training my dog, Cleo. Cleo is a Shiba Inu that I adopted from a local rescue group in 2019. At that time she was just an energetic 11-week-old puppy still learning how to sit and go potty outside. Now, this sweet girl has learned so much that she'll sometimes anticipate what I am going to say before I say it, but she still has that spunky attitude that everyone around her knows and loves.
Needless to say, Cleo and I make a great team. My main goal in dog training is to help others achieve the same kind of connection with their dog as I have with mine. Even though training alongside a dog trainer is the best option for many people, I also believe that reputable and reliable online sources about dog training are also extremely important for people devoted to dogs and providing dogs with the best life possible. After all, with so many more people having dogs, dog training information should be accessible to the average person.
This belief is what has also inspired me to help write articles and blog posts for a variety of different pet-related blogs and websites. I believe that spreading science-backed, tried and true dog training methods will help more people feel that they can get through some of the trials of dog ownership in a positive way.
Staci Hunsinger
Hi, I'm Staci Hunsinger, a proud mother of three, a wonderful wife (At Least that's what he tells me), and an owner of a beautiful Black Labrador Retriever, Nara. Originally from Hazleton Pennsylvania but currently living with my family in Drums, Pennsylvania. I currently work as a Quality Analyst at Troy Marketing inc.
Ever since I was little, I soon realized that I had a strong affinity for dogs. Our family's Golden Retriever pup, Naboo, was my first encounter with these beautiful furry species. Naboo was a standard American Golden Retriever and we did almost everything together. She literally brought a ray of sunshine to my childhood and is the reason I've been devoted to dogs.
Writing for me has been way more than just a hobby. It's my form of release, it's my way of sharing all the beauties that fill my life and the experiences that make it up. I have written a lot of articles on a wide variety of topics, but my penchant for dog articles trumps them all, hence the reason I write for Devoted To Dogs.
Our Black Labrador Retriever dog, Nara, has been a source of joy to my family. And just as I had Naboo while growing up, my kids have built an even stronger relationship with Nara, becoming best of friends.
We've gained a lot of experiences while training Nara, soo much so that my family and I can joke around and call ourselves pet experts. Dogs are very delicate creatures needing proper care to remain active and healthy.
Diane
My name is Diane Fickeria, and I've been training dogs for well over 15 years.
As a young girl, I always wanted to get a dog, but as my mother was allergic the dream seemed very distant. I was determined, however, to make sure I spent most of my days around as many dogs as possible, so I often wandered my neighborhood in New York, asking owners if they would like me to walk their dogs. Walking soon became training as some dogs would lunge at cars, other dogs, or try to destabilize my small self. As a safety precaution, I started inadvertently training the dogs I walked, and the neighbors started to notice.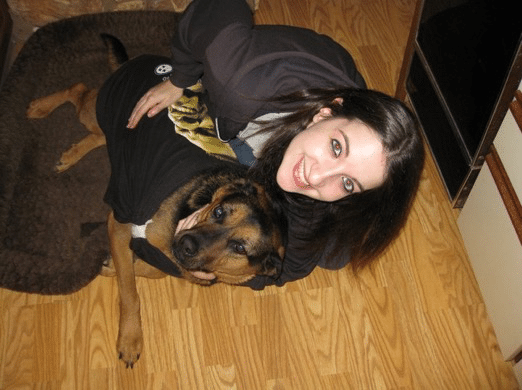 As a teenager and into my twenties, I slowly accrued a client base who referred me to other dog owners. It was a good side business for me, and although I flirted with the idea of going into veterinary medicine, my passion lay in teaching.
Once I entered college, I spent five years receiving my Master of Arts in Education, all the while training dogs on the side. More and more, I came to learn that children and dogs were highly similar. We use bartering systems to get them to do what we want, and often become frustrated by behavior that is either untoward or just plain annoying. I, also, discovered that it was often not the dog I was training, but their humanity. Once I left the dog's presence and gave the owner a few tips and tricks to try with their dog, it was up to them to continue reinforcing the pup.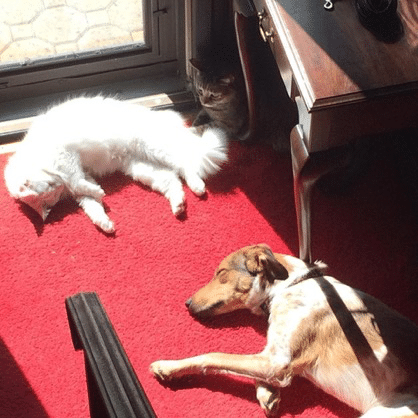 In 2014, I was finally able to get a place of my own where I could have as many pets as I wanted. Two cats entered my life, Stay Puft and Kit Kat, both seven and eight, at the time, and they had never seen a dog in their lives. I was leery of taking them, knowing that I was searching the local shelters for a mutt that needed a home.
Five months after acquiring my cats, I found Sophie in a local shelter: a collie-beagle mix with an incredible amount of food drive, smarts, and separation anxiety. It was a hard road I traveled for a while, calming Sophie's anxiety, and food aggression, all while simultaneously convincing the cats that Sophie was not a terror to be avoided.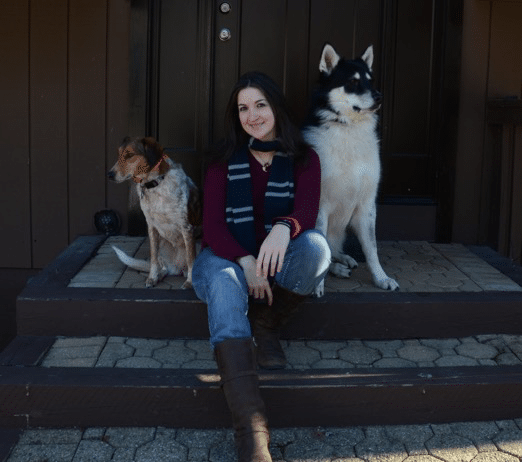 Five months later, I picked up a six-week-old Native American Indian Dog (NAID) who, as a breed, is as stubborn as any Husky and as smart as any German Shepherd. Sagan, I named him, and together we now formed our household. He grew to be 105lbs. (47kg) and towers over my 35lb. (16kg) Sophie. It's been four years together, and I still learn from them every day, and am pleased to say we, even the cats, can all occupy the same room quite peaceably.
My dogs and I have traveled extensively together, exploring the world around us as much as possible. Over the years, I've learned ways to travel with them safely, so everyone has a good time adventuring!
Dogs have as much to teach us as we do them, perhaps more, and although my current job surrounds teaching adults how to be safe out in the field for a utility contractor, I still train dogs on the side. My area of expertise centers around figuring out the best practice for any particular dog and helping the owner to understand their line of thought, their motivations, and tactics for redirecting negative behavior to positive behavior.
I specialize in stubborn dogs that seem to outsmart and outthink most situations, namely those northern breeds such as Huskies, Malamutes, etc, and working breeds such as Shepherds, Collies, etc.; obviously, the larger breeds are in my repertoire. In addition, working with dogs who have specific needs due to energy level, anxieties, or fears is highly satisfying as we can't just ask dogs not to be fearful or to calm down.
Loving and living with our pets is one of the greatest gifts the world can give us, and it is a great joy to keep dogs occupied, happy, stimulated, and healthy. As such, I have devoted myself to dogs and this website to help people out there to better understand their canine companions.