What do you get when you breed a Golden Retriever with a Labrador Retriever? Well, you get a beautiful and loving companion with such a nice temperament and an eagerness to please. The Goldador is quite an interesting breed. and this article is all about the beautiful hybrid.
We'll be covering everything about the Golden Retriever Labrador mix, history, maintenance and grooming, size, and how friendly they can get. We'll also be sharing useful tips on how to train the hybrid, what sort of exercises are good for them, how to get the healthiest breed possible as well as giving you a few tips on picking your breeders, adopting, and feeding each puppy.
Without wasting much time, I highly recommend you get a glass of something chill, relax, and do ensure you read on.
Golden Retriever Lab Mix Overview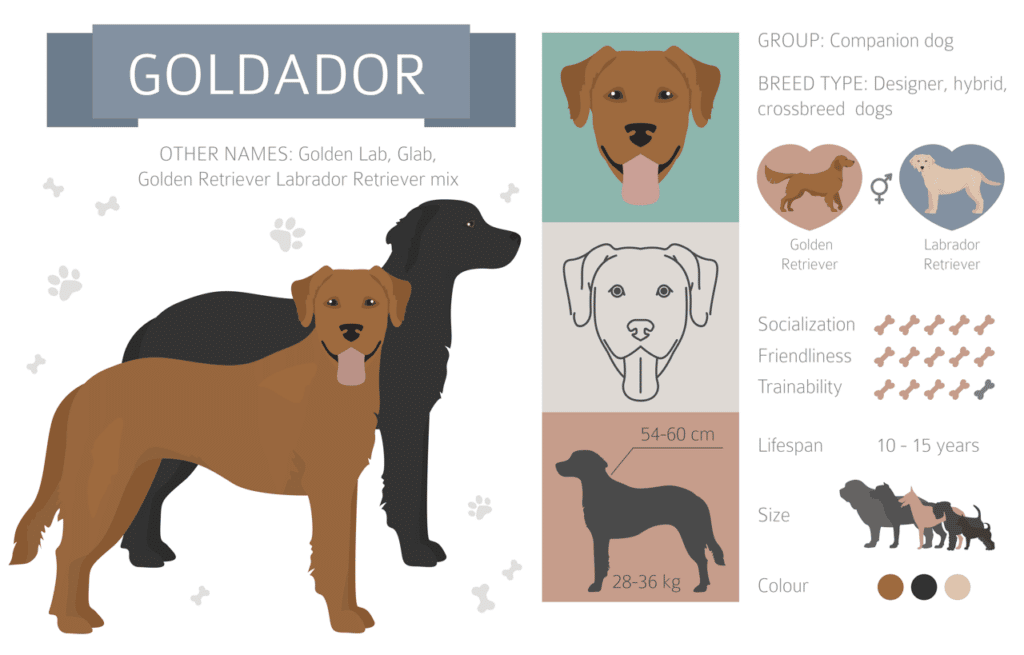 | | |
| --- | --- |
| Weight | 60-80 pounds |
| Height | 21.5-25.6 Inches |
| Coat Type | Dense, Short, or Medium |
| Coat color | Golden, Black, Yellow, Chocolate, Cream, White |
| Amount of Shedding | Moderate |
| Eyes | Golden Brown |
| Nose | Black |
| Ears | Medium length and Floppy |
| Temperament | Loving, Affectionate, Intelligent, Cheerful, Loyal, Playful, Social, Friendly, Outgoing, Sweet |
| Lifespan | 10 – 15 years |
History of Golden Retriever Lab Mix
First off, the Golden Retriever Lab mix is called the Goldador (I feel like I've said that before). They are a crossbreed from both a Golden Retriever and a Labrador Retriever parent. And were originally created to inherit the sweet and sensitive characteristics of the Golden Retriever as well as the high level of tolerance shown by the Labrador Retriever.
Putting all these together we get the Goldador. In helping us understand the history of this designer breed, we would need to do a brief history of its parents, so here we go.
History of Golden Retriever
The Golden Retriever has its roots traced back to the Scottish Highlands. For a long time, these dogs were bred in Scotland to be the perfect Sporting dog.
A few years later, their popularity began to grow and we began to see the healthy breed in hunting circles and show rings held in the United States.
The Golden Retriever is quite friendly and is oftentimes described as very Intelligent, loyal and hardworking.
History of

Labrador Retriever
The Labrador Retriever is the next parent of the Goldador, It hails from Canada (Relax, contrary to your beliefs, they do not originate from Labrador, Canada but rather from Newfoundland, Canada).
They were originally bred as fisherman dogs and possess a high swimming ability. They are quite energetic, outgoing, and friendly and require a lot of exercise to contain their level of energy levels.
The Goldador: Offspring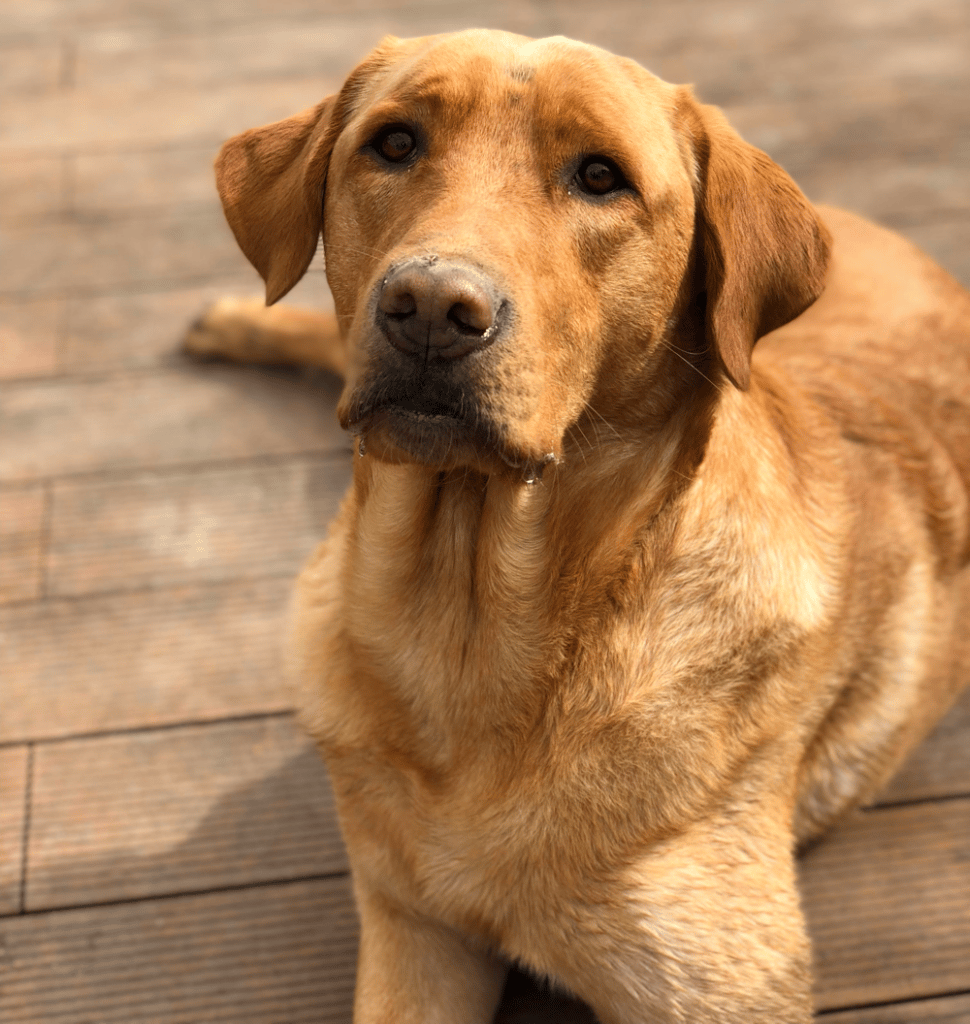 A couple of years ago (let's say a decade), someone felt the need to produce a hybrid that is both sweet and sensitive and possesses a high level of tolerance, making the perfect companion and working dog.
The American Kennel Club (AKC) doesn't recognize the Goldador breed. However, there are some organizations and breed registries that recognize the Labrador Retriever and Golden Retriever breed mix as a dog breed.
Some of these organizations include:
Designer Dogs Kennel Club (DDKC)
Designer Breed Registry (DBR)
American Canine Hybrid Club (ACHC)
International Designer Canine Registry (IDCR)
And although the Goldador isn't as popular as other breeds of dogs (like the Goldendoodle or Labradoodle), we still love and want the designer breed.
Goldador Temperament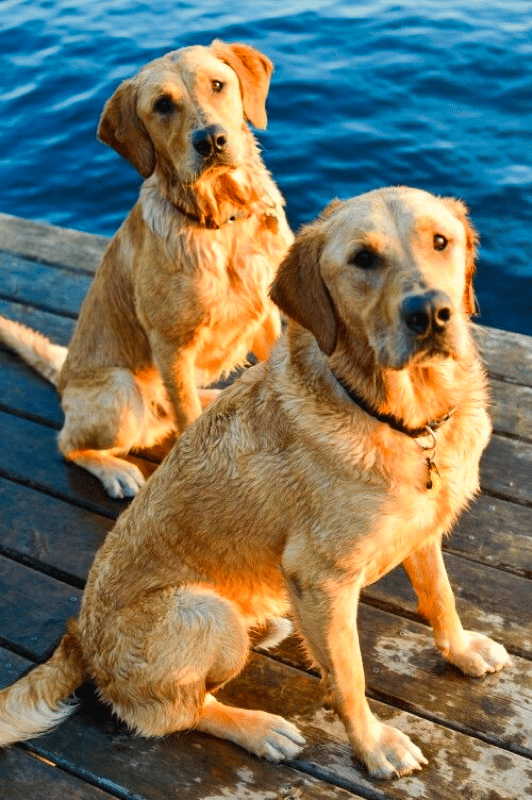 When it comes to temperament, we can truly tell they are the Offspring of the Golden Retriever and Labrador Retriever as they are all excellent family and companion dogs. The Goldador is quite loyal and clingy (so do prepare to spend a lot of your time with your furry little friend).
The Goldador is the kind of breed that could jump on the sofa and snuggle with their owners all day long, they are that sweet. They are also great with visitors and strangers too, so don't expect a guard dog, they most likely would welcome your intruders with a nice smile and expect some doggy treats in return.
Have you ever spotted a dog that is both calm and energetic? Well, you'll spot a lot of those in the Goldador breed. They also require lots of exercises daily to deal with their excess energy. I highly recommend you do this are they could get destructive if you don't. Try mixing the exercises between physical and mental to make for a balanced routine.
Remember their calm nature? This beautiful blend of both calm and energetic makes them very adaptable, so they fit in perfectly with whatever family they are with. Their eagerness to please also serves as an advantage to this breed, as your favorite thing, could easily become theirs too.
Goldador Appearance
Goldador Size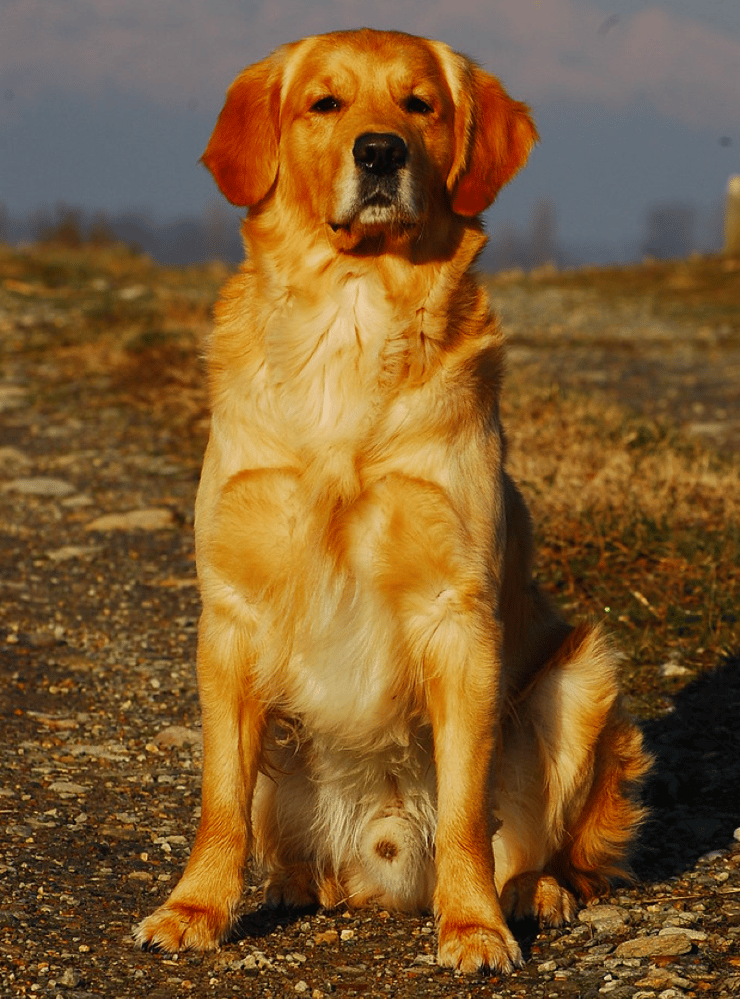 The Goldador is a particularly larger dog than its Golden Retriever and Labrador Retriever parents. It measures a very high 21.5 to 25.6 Inches, all measured from its paw to its shoulder.
The Goldador weighs as much as 60 to 80 pounds (and this is on average). Its coat is quite long, not as long as the Golden Retriever's coat but definitely longer than the Labrador Retriever's coat. You could also check the Goldadors tail, ears, and neck for a little bit of feathering as it does inherit that, although this won't be as much as the Golden Retriever.
The Goldador is also slightly more athletic and stockier than its parents and its shorter coat makes it more pronounced. It has a tail that could both be straight and thick or slender and long like its Labrador a Retriever and Golden Retriever parents.
It has very adorable round large eyes that could easily bait you into getting its own way and a large nose just like its parents. Generally, when it comes to size, it is similar to both its parents.
Goldadors Colors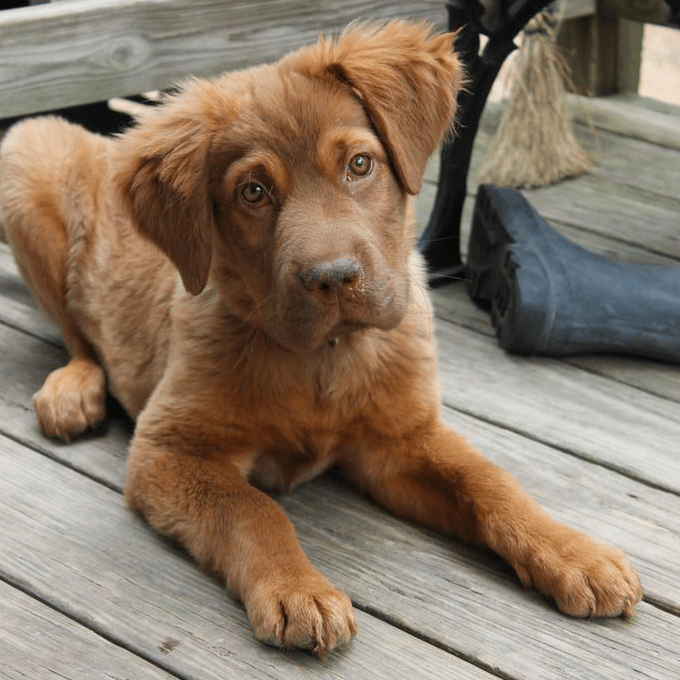 The Goldador like most hybrids could come out looking more like one parent than the other. Now, this heavily affects what kind of color a Goldador would have.
For a Goldador that looks more like its Labrador Retriever parent, the coat color could be either black, yellow, or chocolate (popular Labrador Retriever coat colors). If it's the other way round in which case the Goldador looks more like its Golden Retriever parent, then its coat could most likely be of golden, dark golden, or light golden colors.
Goldadors from unique colored parents like the English Cream Golden Retriever or the Fox red Labrador Retriever or maybe even a Silver Labrador Retriever could come out with a more unique colored coat. However, they all shed the same and should be groomed the same way. Also, this is not a guarantee, as a Goldador offspring can pick a different color from its parents
Goldador Coat Type
As we stated earlier the Goldador coat is usually shorter than the Golden Retriever parent but also longer than the Labrador Retriever parent and also, and it has a texture that is quite dense and that is straight.
The Goldador is blessed with a double coat and is classified as a moderate shedder (don't worry, we'll get into its shedding ln the next section of the article). But generally, he does shed, so if you are allergic t excess dog hair, the Goldador might not be the dog for you.
Something cool about the Goldadors double coat is the fact that it is waterproof and water-resistant, so your Goldador could definitely survive cold climates. Goldadors could also survive warm climates, you just have to provide enough shed for them to remain cool.
Goldador Grooming
As we have already established early in the article, the Goldador has a beautiful double coat that is dense and moderately sheds throughout the year and heavily sheds during the shedding season. In fact, during the shedding season, you probably should expect that your Goldador sheds up to 90% of its coat fur in a very short time (a few weeks). When compared to the Golden Retriever, the Goldador sheds pretty much the same frequency.
So I highly recommend you brush your Goldadors coat at regular intervals (several times a week) throughout the year and during the shedding season, I recommend you brush their coat every day.
The Goldador might look like they shed more than their parent at times, but this is oftentimes not true as they all shed about the same frequency. For your daily brushing, I advise you use a pin brush or a slicker brush for better reach.
For the shedding season, you might need a de-shedding tool. Yes, it does seem a bit of an overkill but you would be spending a lot of time grooming your Goldador during the Shedding season. Not only does it help keep your Goldadors Coat healthy, but It could also help you in saving hours of cleaning and vacuuming plus you and your furry friend could enjoy a lot of bonding time together.
I also recommend you bathe your Goldador Once every 8 to 12 weeks, no more no less as you risk damaging your Goldadors fur coat oils if you bathe him more frequently than that. Also, regularly check your Goldadors for changes in their eyes or bodies. You can check them for lumps or any other irregularities.
Make it a habit to perform other grooming habits such as dental brushings and nail clippings just like you would do any other dog. Clean your Goldadors ears are they are quite prone to ear infections. Try to make the experience of grooming your Goldador a positive one filled with lots of rewards and praise as this could help lay the foundation for easy vet exams in the future.
Is It Easy to Train A Goldador?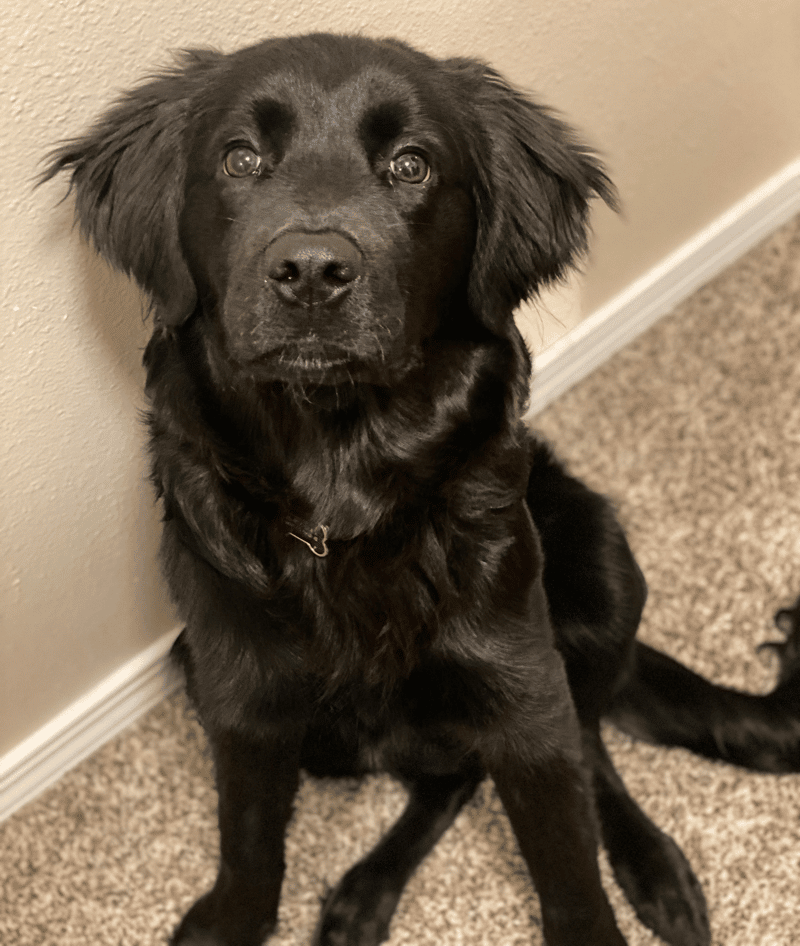 Like its parents, the Goldador is highly trainable. With a perfect mix of high intelligence, incredible loyalty to his owner, and an eagerness to please, the Goldador makes an easy dog to train. This is often why they are considered service and therapy dogs.
Still, just like its Labrador Retriever and Golden Retriever parents, a lot of hard work would be required to get a perfectly trained Goldador pooch.
One of the best and basically the most effective way to get a perfectly trained Goldador would be through positive reinforcement. This would involve setting some basic rules for your Goldador, being consistent with enforcing these rules, and then rewarding your Goldador with its favorite treat as an appraisal for good behavior.
Thinking of what kind of treats to reward your Goldador? Well, it most likely would respond to edible treats, but object rewards like a chew toy or tennis ball could prove to be very effective. Try as much as possible to not shout at your Goldador as it is quite sensitive and doesn't respond well to those. However, opting to ignore or correct its manners in a subtle but firm way does the trick.
Luckily, you do not need to be a professional or expert to train your Goldador, as their natural gentle disposition and high intelligence make training them a lot easier. If what you are looking for is an obedient crossbreed, then the Goldador might be the best breed for you. They are quite loyal (as stated earlier) and could very easily pick up verbal commands.
I recommend you crate train your Goldador while as a pup as they hate to be left all alone. I advise you set up a crate that it could make its own before bringing it to your home. This is quite beneficial to you as it helps your Goldador deal with any anxiety it might have when you eventually have to leave the house, it also helps keep your Goldador away from your furniture, should it ever choose to get revenge for leaving it (wink).
In addition to training your Goldador, I also recommend you properly socialize them. Yes I know, we stated that the Goldador has a nice and sweet temperament, especially around visitors and other strangers, but as we also established, they do get anxious pretty quick leading to them barking for no reason.
So, socializing your Goldadors while as pups are very much required for a wonderful experience with your dog.
How Much Exercise Does A Goldador Need?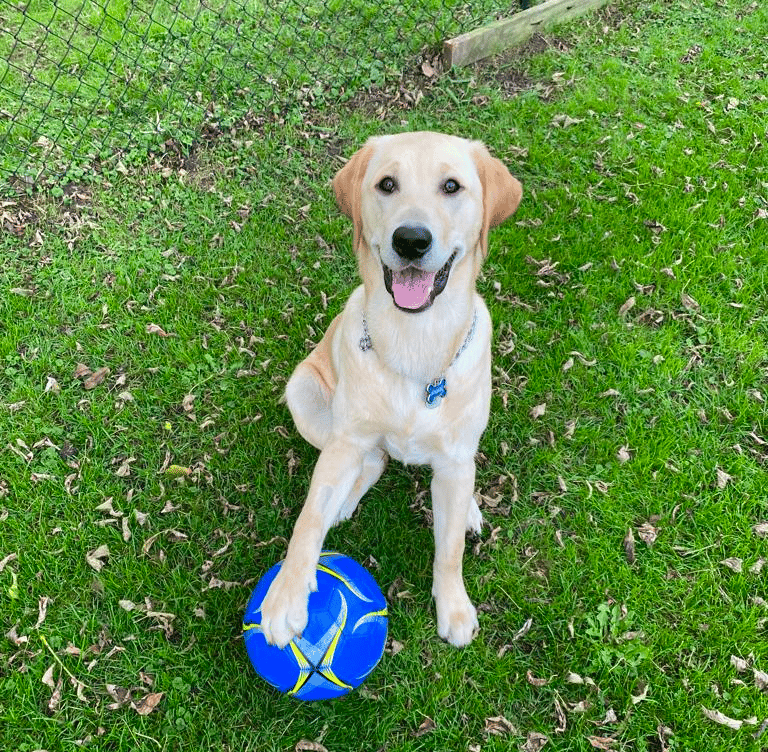 Now that we have established how easy it is to train your Goldador, exercising them is another aspect you definitely should consider as important. This is because the Goldador has high levels of energy which could easily be turned destructive if there isn't a form of release.
The Goldador would require a minimum of 60 minutes dedicated to intense exercises daily. If however, you find that you cannot commit to such a high level of activity, then I advise you a hire a dog walker or get a different breed because exercising your Goldador is non-negotiable.
If a lot of people took this advice seriously, we wouldn't have as many Golden Retrievers and Labrador Retrievers in rescue centers as we do today. These careless owners probably came to a realization that couldn't quite keep up with the Goldador parent's exercise needs. The Doldardo doesn't stay a cuddly and cute friend forever. It matures soon enough to a very energetic pooch.
Puppy Goldadors do not require as much intense exercise as adult Goldadors would. You should try as much as possible to reduce and protect the level of impact on their joints while they develop. So for your pups, I advise you stick to walking your dogs and swimming. Maybe later on, as they get older, they could become excellent frisbee catchers, jogging partners, or participants in an agility course.
The Goldador, as we have stated before is very intelligent, as such, just taking your dog on walks is not enough, as it could easily become boring. So always vary its exercise plan. Taking your dog to the local park to play with its friend or regular swimming could be very advantageous to them.
Your dog would also require lots of doggy playtime in the yard, as it would be helpful in keeping their brain stimulated. Now you could either join your Goldador in this mentally stimulating fun playtime or provide your dog with lots of doggy toys to engage with. 9 out of 10 times, the Goldador would choose you.
As a family dog, the Goldador would most likely be a perfect choice. All you need to do is provide it with enough exercise and company. So whether you are a retired couple or a young and vibrant family, the Goldador would easily adapt and become the best companion for you. The Goldador also gets along with other pets and animals quite easily. Animals such as dogs, cats, and other large animals.
Do not keep your Goldadors close to ducks, they hail from retrievers after all, and ducks are their innate prey. So if you reside near the waters, do keep your Goldadors on a tight leash most especially during duck season.
Feeding Requirements for the Goldador
The Golden Retriever and Lab mix has a very large appetite and can be quite greedy with its kibble so do ensure you control this appetite. Make sure you feed your kibble with only 3 to 4 cups of good quality kibble a day. Feed your Goldador with a small feeding bowl to encourage the eating slowly. Also, add a bowl of water to the side, so your Goldador stays hydrated and fresh.
Ensure that only the best kibble is gotten for your Goldador (but of course, do work with your budget), as this would provide it with just the right amount of nutrients it would require to be a healthy and equally happy dog.
When picking the right kibble, ensure it's the one suited for large breeds as it would be beneficial in controlling the phosphorus and calcium levels that help in managing the rapid growth of bones. This is quite important for a large breed dog like the Goldador as they could grow quickly in a short time frame.
According to research, feeding your Goldador such high-quality kibble can help reduce the chance of getting any joint-related condition like elbow and hips dysplasia which is quite common in the Goldador breed. Also, the Goldador could eat any dog feed made specifically for the Golden Retriever or the Labrador Retriever.
It is also highly important that you feed your Goldador with kibble that is appropriate to their age range. For example, feed a puppy Goldador with puppy suited kibble and an adult Goldador with adult suited kibble. There's a reason why they were created. You see, your Goldador pup would require high-quality kibble that would meet up to its feeding requirement as a pup, and also would an adult Goldador require kibble that wouldn't put such a huge stress on its senior years.
And I know the beautiful large round eyes of the Goldador could be quite adorable to look at, it is highly important you do not overfeed your Goldador. A fat Goldador is both unhealthy and expensive. Keep all human and doggy food away from the reach of your Goldador and if you must then, I advise you to switch to only weight management kibble instead.
In addition, make sure you follow the instructions on the packaging you must feed your Goldador with commercially produced foods. Some of the things I strongly kick against you feeling your kibble would include; Chocolate, tea or coffee, poultry bones, raisins or grapes, onions, garlic, chives, yeast dough, salty foods, unripe fruits, and of course never feed your Goldador beer, wine liquor or alcohol in general.
Goldador Health
Naturally, the Goldador is blessed with good health. However, there are a few health conditions that its Golden Retriever and Labrador Retriever parents suffer from and sadly the Goldador inherits these health concerns. I do recommend you get decent knowledge of these concerns so you could easily be on the lookout for their symptoms.
If you have never heard of Coefficient of Inbreeding COI. It's a measure by which all pedigree dog breeds are inbred. Now if the COI of a dog breed is high then the chances of getting a health risk from inbreeding also get high. Relatively, a high COI of 5% is considered bad as health problems begin to show from that range.
The Goldador luckily has a very low COI (even much lower than most pedigrees), so that's a plus one for the Gpldador.
The Goldador would most likely inherit health risks and conditions that both parents suffer from. These health risks would include eye conditions, hips, and elbows dysplasia, Gastric Torsion, Exercise Induced Collapse, and sadly, cancer.
Eye Conditions
Sadly, the Goldador could inherit a variety of eye conditions from both Golden Retriever and Labrador Retriever parents. Some of these eye conditions include; Cataracts, PRA (Progressive Renal Artropy), and pigmentary Uveitis.
Some of these eye conditions could lead to some serious consequences like permanent sight loss if left untreated
Hip Dysplasia
This condition can be inherited from both of Goldador's parents. It usually occurs when the thighbone of the Goldador doesn't quite fit into its hip joint. Now when this happens, your Goldador would be in severe pain or could experience lameness on one or even both hind legs.
Sadly you might not notice any other signs of discomfort on your Goldador if it suffers from Hip dysplasia. Over time, the Goldador could develop arthritis. I recommend you perform an X-ray screening for detecting hip dysplasia.
The OFA (Orthopedic Foundation for Animals) or PennHIP (Pennsylvania Hip Improvement Program) performs these screenings for Hip dysplasia. As we already established, Hip dysplasia is inherited, but some other factors like environmental factors could worsen the condition. Some factors like injuries from jumping or rapid growth from eating a high-calorie diet.
Elbow Dysplasia
This is another inherited health condition prone to Goldador or other large dog breeds. It happens as a result of the 3 bones that form the dog's elbows growing at different rates. This causes laxity in the bones or bone laxity.
It is also quite painful and can further lead to lameness. If your Goldaddor suffers from Elbow dysplasia, then you might need to take it to a well-trained and licensed vet for surgery so as to correct the health problem. Medication could also be used, but it is only used to reduce the pain, as well as weight loss.
Gastric Torsion
Gastric Torsion or Bloat is quite common in most large dog breeds, it is, however, a life-threatening condition and if you discover your Goldador suffers from bloating, I highly and urgently recommend you take it to a licensed vet.
This condition occurs when the stomach of the Goldador twists and could be avoided by not feeding your Goldador immediately before exercise or immediately after exercise. You are advised to spread their meals across various sittings so as to avoid a large meal.
Exercise-Induced Collapse
This health condition is usually common with the Labrador Retriever parent of the Goldador. It is a condition which causes your Goldador to collapse after an intense exercise section. It is quite common in puppies so do watch out for signs in your Goldador pup.
Cancer
The Golden Retriever parent of the Goldador usually suffers from cancer. It is very severe and brings with it a high mortality rate. Sadly, it is almost impossible to screen for cancer in dogs, and currently can't be cured.
Your best bet would be to work with a breeder whose dogs have had zero experiences with cancer in the past. It might not be a guarantee that your Goldador won't develop cancer but it does reduce the chances of it developing one.
It is highly important that you screen or choose a breeder that screens for these health risks listed above as they could be the deciding factor in the quality of experience you enjoy with your Goldador.
Goldador Lifespan
For a designer breed or hybrid like the Goldador, we generally should expect that they live about as long as their parents do.
The lifespan of the Golden Retriever and Labrador Retriever is expected is estimated to be around 10 to 12 years of age, so naturally, we estimate that a healthy Goldador should be an estimated 10 to 12 years.
Analysis has shown that the chocolate-colored Labrador has a shorter lifespan (Roughly 10%) than other Labrador Retrievers. It has also been said to have a higher rate of skin and ear infections than other Labrador Retrievers.
So with this information, we can as well say that the Chocolate Goldador would possess a shorter lifespan than other color types of the Goldador.
How Much Does A Goldador Cost?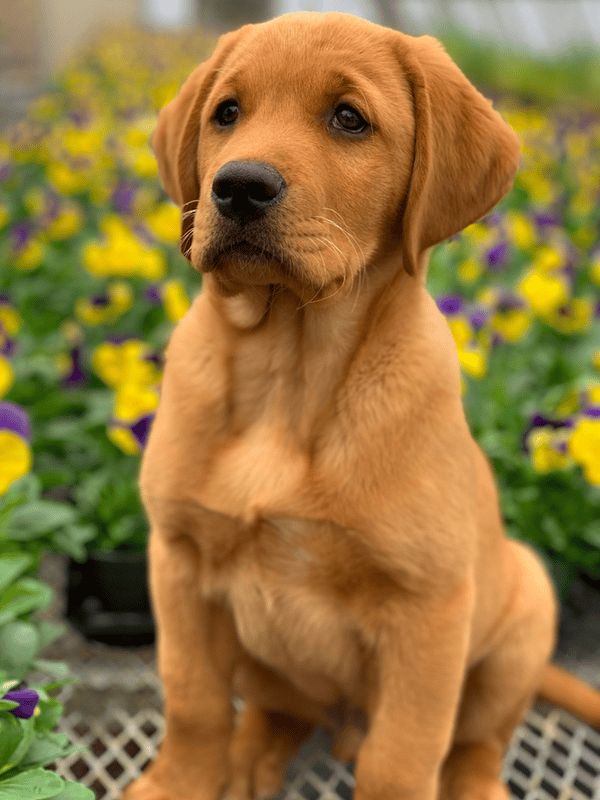 On average, getting a Goldador should cost you from $800 upwards. However, I highly recommend you carefully select the breeder you choose to patronize. Why is this important? Well, the kind of breeder you choose decides the kind of puppy you get.
A reputable breeder cares about the health and well-being of the breed, they carefully select and breed dogs after much testing and screening have been done, thereby reducing the risks of the puppies inheriting such health disorders.
In addition to that, a reputable breeder deeply showers the pup with much love and care, thereby ensuring that each dog grows with a decent temperament.
In all you do, please try as much as possible to avoid puppy mills as they really don't care about the health and well-being of the dog breeds. What they do is pump put as many dogs as possible from the mum without any care for her well-being.
Then trick customers into purchasing a pup at a really low price. And most of the time, these dogs aren't worth it.
Do Goldadors make great family pets?
Yes! The Goldadors are great family dogs. This is because irrespective of their large size, their easy-going and gentle dispositions coupled with their general friendliness and overall level of affection make them the perfect family/ companion dogs.
You'll often find the Goldador wagging its tail, jumping, kissing, and greeting strangers and basically anyone it meets. This particular personality trait is what makes them terrible guard dogs.
The best family suited for the Goldador should be one with a lot of love and care to offer. A family that considers the Goldador to be a lot more than just a family pet, to be a member of the family.
For a family with children, the Goldador would be the perfect family companion as they love and practically cherish children and the company they offer. Their perfect blend of being both calm and active is perfect for kids that love to run and play.
I do however recommend an adult is present to supervise playtime with the Goldador. This is because the Goldador is a large dog, which might be somewhat harmful to toddlers and generally infants.
The Goldador is a Therapy or Service dog
The Goldador also serves as a perfect therapy dog. As I stated earlier, the Goldador is an affectionate breed that is also quite sensitive to various emotions, this is mainly why it fits as a therapy dog.
Its high level of intelligence means it could easily pick up whatever skill required to be an awesome service and working dog like its Labrador Retriever and Golden Retriever parents.
Generally, spend as much time as possible with your Goldador as they are quite clingy and hate to spend any time alone. Shower it with lots of love and it would shower you with a lot more in return.
Is the Goldador Right for you?
With all that has been established about the Goldador, you have to decide if it's the right dog for you. Here is a list of both the pros and the cons of owning a Goldador. Hopefully, this could help you in deciding if it is right for you.
The Pros of owning a Goldador
The Goldador is a loyal Companion.
A gentle and loving family pet.
The Goldador is friendly to both children and small animals.
The Goldador is highly affectionate and Intelligent.
The Goldador is not aggressive
The Goldador can be easily trained.
The Cons of Owning a Goldador
The Goldador is a moderate shedder (not good for people with allergies)
Not a great dog for people living in small spaces (except you regularly exercise your dog),
Would need long walks, stimulation, and basically lots of exercises.
The Goldador is a terrible great guard dog, this is because it likes strangers.
Could be destructive if you leave it alone, and might be too clingy.
Other Golden Retrievers Mixes
Final Thoughts
As we already know, the Goldador is a wonderful breed, a great family dog, and an awesome companion. They deserve a lot of love and strive to get it. You are definitely bound to enjoy your experience with the Goldador, just make sure you meet its exercise requirements and spend as much time as possible with it.
There you have it, all you need to know about the lovable Golden Retriever and Lab mix, and its pros, and cons to help guide your decision when picking the perfect companion for you. As always, do ensure you drink a lot of water, eat healthily and of course, remember to always stay devoted to dogs.