There are many nice things that one can say about the Golden Retriever Husky mix. This is a mixed breed that taps into the best of both of these very different dog breeds to create a lovable and energetic companion animal that loves to exercise and go on adventures. Mixed breed dogs can be healthier than their purebred counterparts in many ways, and the Husky breed is one of the healthiest dog breeds to add to a mixed litter.
There are some things that you should consider about this mixed breed before you decide to get one. The more that you know about this breed, the better educated you will be about your choice. You don't want to get a dog that will not fit into your family, so self-education is always wise when looking into mixed-breed dogs. This guide will help you to decide if a Golden Retriever Husky mix is the right do to join your family.
What is a Golden Retriever Husky Mix Called?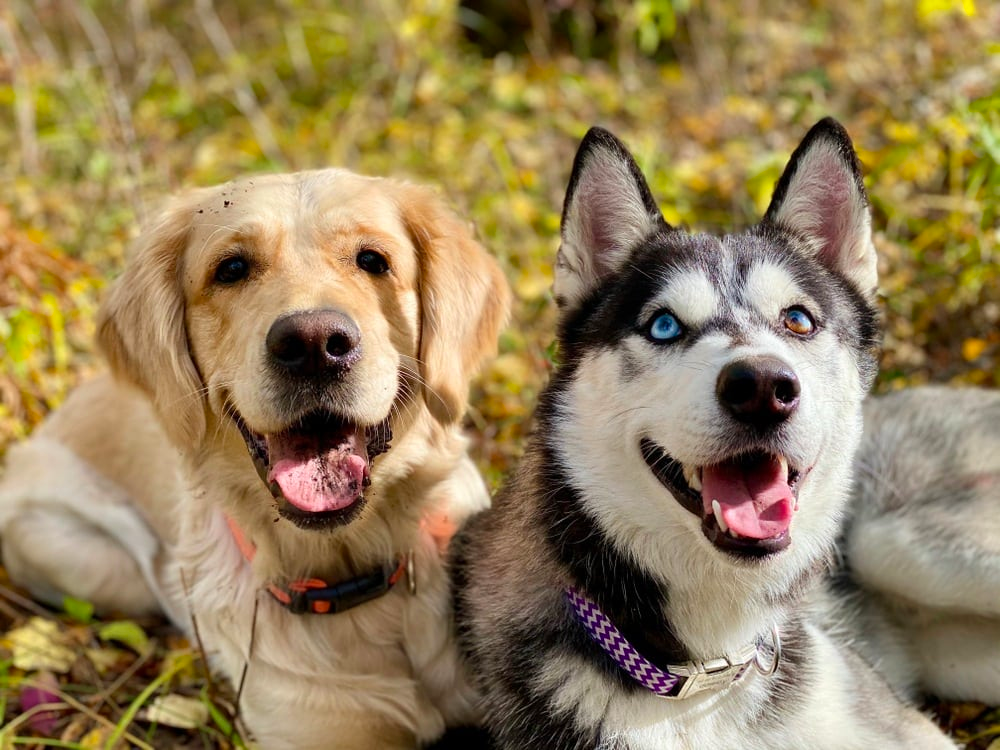 Like most mixed breeds, this dog breed has a specific name. This breeding mix is called the Goberian by most breeders, so if you are looking for this dog breed, you will want to shop for that name when doing online searches. This is not as common of a mixed breed as some other Golden Retriever crosses, so you might have to shop around a little bit to find a breeder that is close to you.
As always, make sure that you are doing your research carefully when looking for this mixed breed. Just because this is not an AKC-recognized breed does not mean that your breeder should not be doing genetic testing and making sure that puppies are healthy before they are sent to new homes. Breeders who care about their dogs will take all the right steps before they deliver your dog to you, even if it is a mixed breed. You should also be cautious about Goberians that cost far more than other dogs with the same breeding in your area. This is always a suspicious sign that a breeder is just trying to make money off unsuspecting people.
Golden Retriever Husky Mix Temperament
This is a kind dog that loves people even if it is high-energy like the Husky. Huskies can be a little stand-offish, but the Golden Retriever breed is the exact opposite. This means that you will get a nice balance of traits when you select a Golden Retriever Husky Mix that leads to a great family dog. Having a family dog is often very important for people looking at mixed breed dogs, and the Golden Retriever Husky Mix can be a perfect choice.
If you love to go running, train your dog to do tricks, or even go on long hikes, the Golden Retriever Husky Mix is the right partner for you. This is a dog that has the energy level and physical ability to do lots of hard work for you, and you will love having a buddy that can accompany you on all kinds of adventures. This breed is also really good with kids, which means that you won't have to worry about adding your Golden Retriever Husky Mix to a home with children in it.
One thing that you do need to be aware of is that the Husky breed can sometimes be aggressive toward cats and other small pets in the home. Be sure that you are cautious about introducing a Golden Retriever Husky Mix into a home with these other kinds of animals living in it.
Golden Retriever Husky Mix Appearance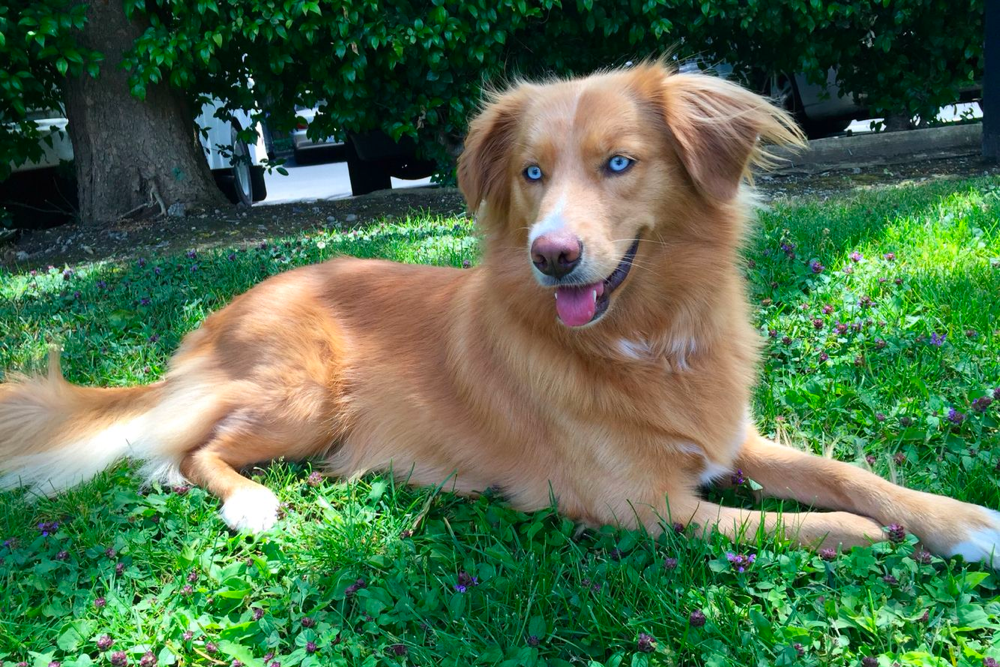 The Husky is one of the few dog breeds that can have blue eyes, so you can expect that your Golden Retriever Husky Mix might have blue eyes or brown eyes like the Golden Retriever side of its breeding. Your dog could also have one eye that is brown and one that is blue. The coats of these dogs are also very different, so you could get a mixed coat that is both thick like the Husky breed and silky and long like the Golden Retriever. Many of these mixed breed dogs have a variable coat that offers you some long and silky areas like the ears and tail with a fluffy and dense coat on the rest of the body.
The colorations of this mixed breed can be really variable as well since Huskies might be black and white or brown and white. You will find that the coat patterning and colorations of your dog could vary widely and that dogs in the same litter might all look very different from one another. Overall, the Husky breed characteristics seem to come to the top of this mix more often, so you might need to be prepared for your dog to look more like a Husky than a Golden Retriever.
How Big Does A Golden Retriever Husky Mix Get?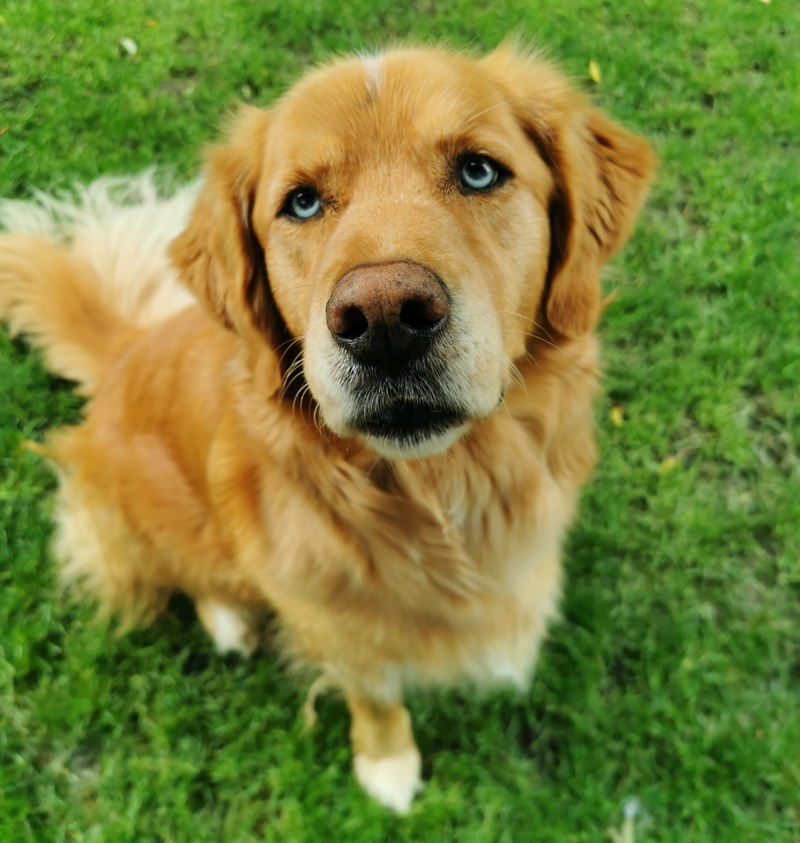 This mixed breed gets to be about 20-24 inches (50-60 cm) tall when they are full grown, and they can weigh between 40 and 80 pounds. There is a lot of variability in the size and build of this dog breed because Huskies can vary widely in height and weight. This is one of the less predictable aspects of this mixed breed, and you will have to accept that you are not going to know for sure how big or how heavy your dog will likely get.
You can use the parents of the dog you are getting as a metric for the expected size of your pet. You might also ask the breeder how big the other dogs they have been breeding tend to get. This can help you to plan for the right size dog so that you can consider the cost of feeding a larger dog and the amount of space that you have for your dog to live in and play in. You need to be sure that you think about the energy needs of this breed and that you have enough space for your Golden Retriever Husky Mix to exercise each day, readily accessible even if you live in a condo or an apartment. This is not a breed that gets too large to fit in most living situations, but it is always wise to be sure that you can handle a dog that is not medium-sized and trends more toward a large breed dog in size.
Golden Retriever Husky Mix Lifespan
The Golden Retriever Husky Mix can live for ten to fifteen years. This is a much longer lifespan than many purebred dogs of this size can enjoy. Huskies tend to be long-lived since they have a high degree of wolfiness in their pedigree, and you will get the benefit of this part of the cross when you choose a Golden Retriever Husky Mix.
You will have to be aware that there is some variability when you are picking a mixed breed dog and considering its potential lifespan. Due to the influences of both breeds on the animal that you have picked to join your family, you might not be sure how long-lived your dog will be. You can expect the average lifespan, but mixed breed dogs might live much longer or have a much shorter lifespan. This is one of the factors of mixed breed dog ownership that can be tough to predict, as much as you might want to be able to do so.
Training the Golden Retriever Husky Mix
This is a very smart breed of dog. Huskies are one of the most intelligent dog breeds, and Golden Retrievers are very trainable. This means that you will have a partner that can learn really quickly and that loves to be included in adventures. Huskies are very high energy, so you will likely need to train your Golden Retriever Husky Mix in a very active way to keep them engaged with your efforts. The Golden Retriever is a high-drive dog as well, so fetching, carrying items, and water training can be very easy to engage your Golden Retriever Husky Mix with.
You will probably have no trouble doing any kind of training venture with a Golden Retriever Husky Mix. This is not a dog that is easy to train for a rank beginner due to the high energy and the high drive of the breed, so get some help from a trainer if you have never trained a dog before. Being sure that you are managing your dog's energy level and high drive can be difficult without a little guidance at first.
Some animals do get the more mellow Golden Retriever temperament, but you might find as well that your dog is much higher energy and more assertive like a Husky. This is also a breed that can tend to struggle with the Husky impulse to run away and explore, so a good recall training plan is very important when you get a Golden Retriever Husky Mix.
Common Golden Retriever Husky Mix Health Problems
There are some common health problems that you need to be aware of when you are selecting a Golden Retriever Husky Mix for your pet. These dogs can tend to get cancer just like the Golden Retriever part of their pedigree, and they can also be prone to hip and elbow dysplasia like the Golden Retriever breed.
Huskies are also prone to issues with their eyes, such as juvenile cataracts, corneal dystrophy, and retinal atrophy. This used to be linked incorrectly with blue eyes, but the Husky breed as a whole can display this genetic issue even in dogs with brown eyes. Huskies can also have trouble with their heart health, just like the Golden Retriever breed. This is not often a concern ins young dogs, but it can be a factor as your dog enter middle age.
One of the biggest risks to the health of a Golden Retriever Husky Mix is that they are very high energy, and they can often get knee injuries or injure other joints due to jumping too high, climbing things, or falling. Make sure that you keep your dog busy so that they do not suffer from accidents that can lead to injuries that could have been avoided. When joints have been made unstable due to injuries, it can be hard to make them healthy again. You do not want to allow your dog to get injured and limit their long-term comfort or activity levels due to this kind of accident.
Grooming Needs of the Golden Retriever Husky Mix
This mixed breed has a double coat because both of the breeds involved in the cross are double-coated dogs. This means that you will have a dense and soft undercoat that lies beneath the top layer of your dog's coat. You might need to invest in regular attention by a groomer to maintain this coat properly to prevent matting and hot spots. You will also want to be sure that you get the right grooming tools for your own needs if you are trying to manage your Golden Retriever Husky Mix's grooming needs on your own at home.
Make sure that you resist the urge to clip or cut off hair that is longer than the undercoat, as you can damage your dog's coat and cause issues with regrowth and ingrown hairs. You will want to be sure that you are providing the right care for your dog's mixed coat type if you want to manage shedding and other kinds of coat care issues. This breed will shed twice a year heavily when the weather changes, but your dog might also shed year-round at some level
You can manage your dog's shedding by being sure that you are grooming them regularly and by making sure that they see the groomer at least twice a year. You will thank yourself for investing in coat care since your home will be much less hairy, and you will not have to deal with fluffy undercoat tumble weeds rolling around your house all day long.
Shedding of the Golden Retriever Husky Mix
This dog breed sheds two times a year when the weather does a seasonable shift, but the mixed coat of this breed can lead to year-round shedding. You can manage your dog's shedding by grooming your dog regularly or providing care yourself on a regular basis. The more that you keep up with your dog's coat care needs, the less likely it will be that you have to contend with large volumes of shedding year-round.
If you are not sure what kinds of grooming tools you need for your dog's mixed coat, a dog groomer or a vet can offer you useful advice. Getting the right tools for mixed coat care can make it much easier to manage your dog's shedding and grooming needs. You might be surprised at just how much of a difference it can make to have your dog groomed regularly.
Is the Golden Retriever Husky Mix AKC Recognized?
This breed is not recognized by the AKC. Most mixed-breed animals cannot be AKC recognized because the AKC wants to promote the breeding of purebred animals as much as possible. While this might mean that you cannot register your Golden Retriever Husky Mix to show, you will not find that there is any other impact on your experience related to a lack of AKC recognition.
Sometimes mixed breeds like the Golden Retriever Husky Mix are recognized in time by the AKC. At this moment, all Golden Retriever mixes are not allowed to be registered with the AKC. You should not believe any breeder who tells you that they have a Golden Retriever Husky Mix that is AKC registered or that asks for additional money claiming that your dog can be registered with the AKC to show.
How Much Does A Golden Retriever Husky Mix Cost?
This dog breed can cost as little as $300 or as much as $1,500. Breeders who spend more time doing genetic testing and careful breeding practices will charge more for their animals. This can sometimes be a helpful indicator of how responsible the breeding process has been at a business. If you are looking at the lower end of the price range, you might not be getting a dog that is 50% Husky and 50% Golden Retriever. It can be common for cheaper animals to have other breeds mixed into their pedigree.
Cheaper dogs might also be coming from a puppy mill, which is never a safe bet for new pet owners. You will want to be very cautious about shopping at the lower end of the price point for this breed because this can lead to animals with lots of health issues or that have not been given the right care before you pick them up. It is an all-too-common story for someone to get a mixed breed dog and find out that the breeder was offering their animals for such low prices due to irresponsible breeding practices.
Checkout this post to know the cost to own and raise a Golden Retriever Puppy.
Feeding the Golden Retriever Husky Mix
This is a dog that can require a lot of food to keep in good weight. Huskies tend to have very high metabolisms, and they can be quite expensive to feed since they often are much healthier when they are fed raw food diets or at least partially raw food diets. You will want to reach out to your vet if you are not sure about how to feed your Golden Retriever Husky Mix.
The Golden Retriever side of the pedigree can sometimes tend to run to fat, but with the Husky genetics mixed into your dog's breeding, you will likely have to feed your dog quite a lot of food to keep them looking their best and feeling good. Consider a partial kibble and partially raw diet a good option for the Golden Retriever Husky Mix, and make sure that you know how much your dog weighs so that you can feed them enough to help them to keep up with their energy demands.
Make sure that you feed high-quality foods that include joint support ingredients. This will help prevent issues with your dog's joints down the road, and these higher-quality foods can also help prevent problems with allergies in your pet. There are many reasons why high-quality foods are much better for your dog, and you should consider a grocery store dog food a no-go for your Golden Retriever Husky Mix.
Many people who have a Golden Retriever Husky Mix make sure to feed added items like cold water fish, blueberries, sweet potatoes, carrots, and eggs to try and keep joints healthier and to prevent issues with sight and cataracts. You can talk to your vet about ways to include these items if your dog will not eat them in their bowl with their kibble. Some dogs are really picky about these kinds of foods, but most pets will happily eat these additional food items when offered.
A Golden Retriever Husky Mix Can be a Great Pet
If you have been wondering if the Golden Retriever Husky Mix was the right dog for you and your family, you should feel more prepared to make the choice to get this kind of dog after reading this guide. There are so many things to love about this cross, but you do need to be aware of the high energy needs and the grooming demands that you will be signing up for. Making sure that you have the time and energy to exercise and groom the Golden Retriever Husky Mix is important so that you are not exposing your dog to the risk of accidental neglect.
Both the Golden Retriever and the Husky bring really nice breed characteristics to the table, which means that you will get a dog that has so much to offer to you and your family.
Other Golden Retrievers Mixes