Golden Retrievers are very friendly, loving, and often make great family pets. There are three types of Golden Retrievers – English, Canadian and American with colors ranging from golden, lightly golden, and dark golden. To bring home the perfect Golden Retriever from a breeder, it is important to find a breeder who focuses on the health, longevity, and temperament of their dogs. The Golden Retriever puppies should also be well socialized before going to their forever home and be screened for genetic hereditary problems including hip and elbow problems.
If you are interested in buying a Golden Retriever puppy in Iowa, here are the top 10 most reputable Golden Retriever breeders.
1. Red Rock English Golden Retrievers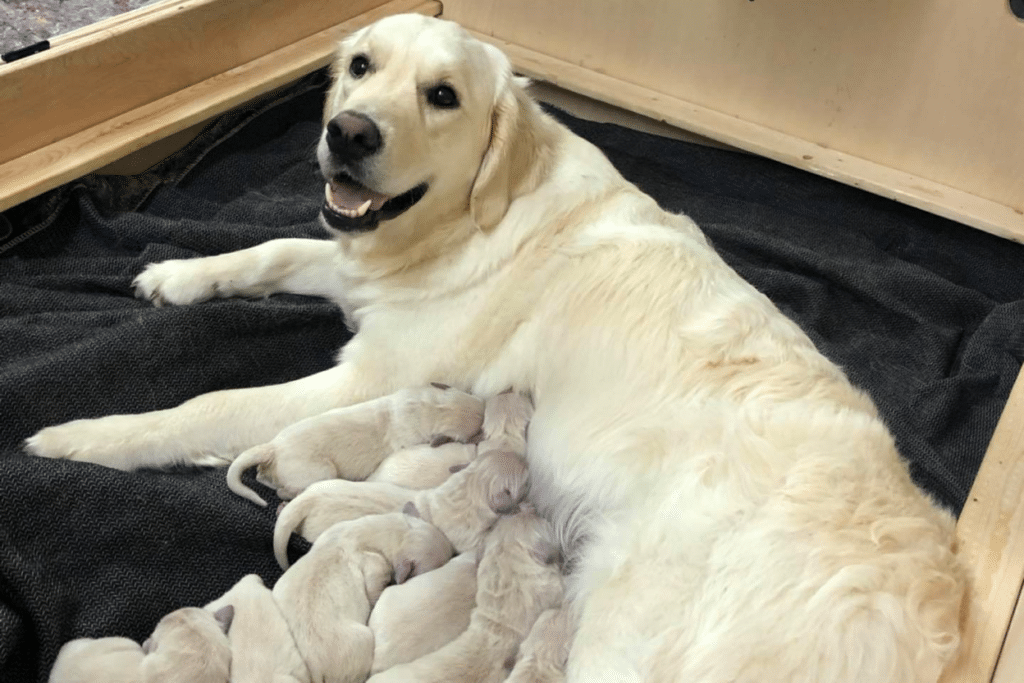 Located on five acres near Lake Red Rock in Pella, Iowa they are a dedicated family breeder of purebred or full English Cream Golden Retrievers. They have imported their dogs from the top European kennels, and they strive to produce high-quality, well-balanced, and wonderful temperament English Cream Golden Retrievers. Their puppies are raised in their home and treated as family members. The puppies are also handled by their children, have ridden in a car, experience plenty of outsides and inside playtime and different sounds and smells before going home with you. They have over ten years of experience so this isn't their first walk in the park!
This breeder offers dogs from championship bloodlines so that you'll get the best puppy possible! They are both calm in nature and have trained them to enjoy new experiences and people. The breeders at Red Rock English Golden Retrievers work in the dairy industry and for a genetics company. Because of their jobs, they want to make sure that genetically you will get the best dog.
2. Walker Hollow Golden Retrievers
The breeders at Walker Hollow Golden Retrievers are a large family that believes that their dogs should be treated like family. Their goal is to fill your home with the same love that has filled theirs through Golden Retrievers. They are in the country, so the dogs are well accustomed to other animals and have plenty of room to run and play. The puppies spend quality time playing with one another and the breeder's grandchildren. The puppies come with a one-year health guarantee, registerable with AKC and ACA, and vaccines that are age-appropriate.
3. Trumpeter's Golden Retrievers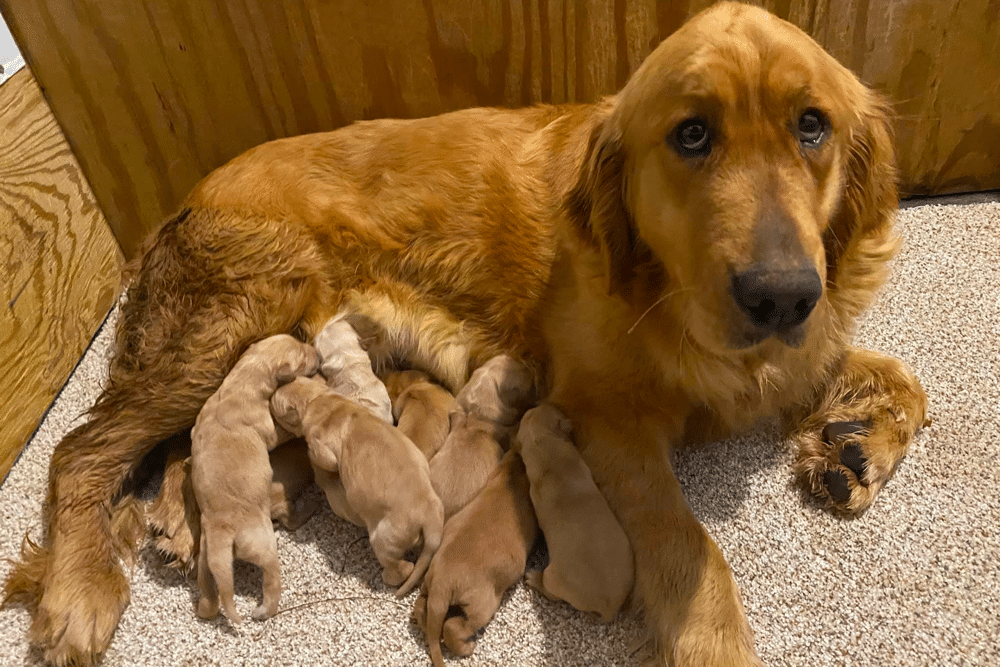 With over 21 years of breeding experience, they make sure to give you the happiest and healthiest puppy possible. They take pride in their work and are now a family-run kennel. They also breed Clumbers as well and from their many years of experience, they believe that Golden Retrievers and Clumbers are the best breeds due to their temperament and loyalty. To ensure you receive a healthy puppy, they make sure to DNA test the parents before breeding and offer a 1–2-year guarantee.
A $200 deposit is required to hold your puppy and the price of a puppy starts at $1,200. Once the puppy is ready to go home with you at 8 weeks of age, you will be given vaccine records, a health certificate from the vet, a dog training bell, a baby blanket, and some toys for your new best friend to play with!
4. PrairieWyn Golden Retrievers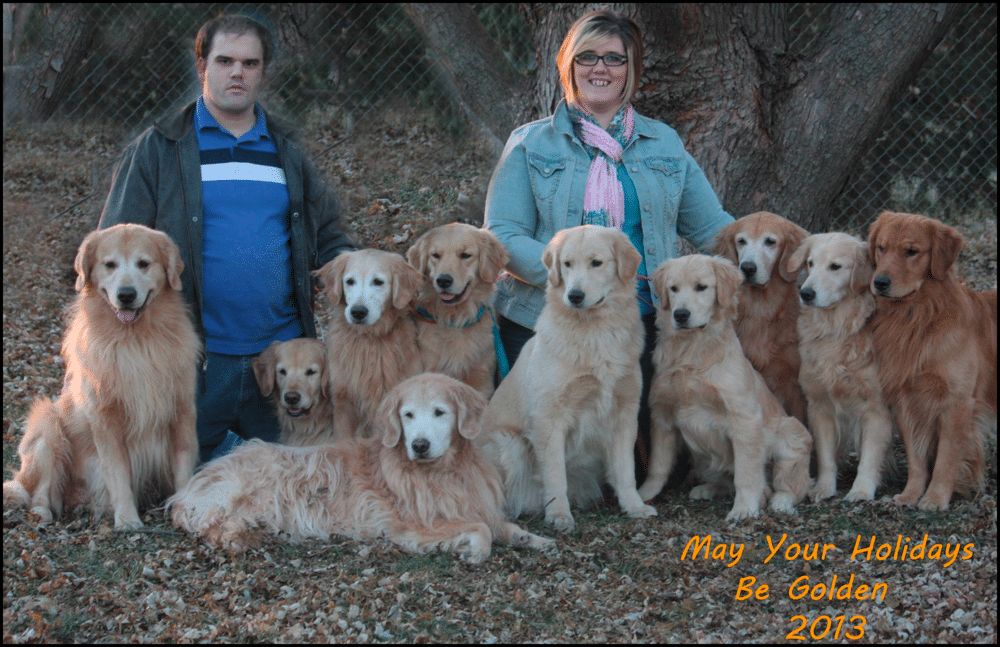 Julie's love for Golden Retrievers started 25 years ago when she first purchased Rhea from a 'backyard' breeder. After doing some research, she decided that her Golden would be her first sporting dog, which was the start of her love affair with Goldens! She spent years competing in obedience with Rhea and from there Julie learned about the breed's wonderful qualities. PrairieWyn Dog Obedience & Golden Retriever Breeders is the place to look for a great dog if you need a trainable and highly driven dog. They offer classes as well if you are interested in training your dog for competitions.
5. Legacy Country Goldens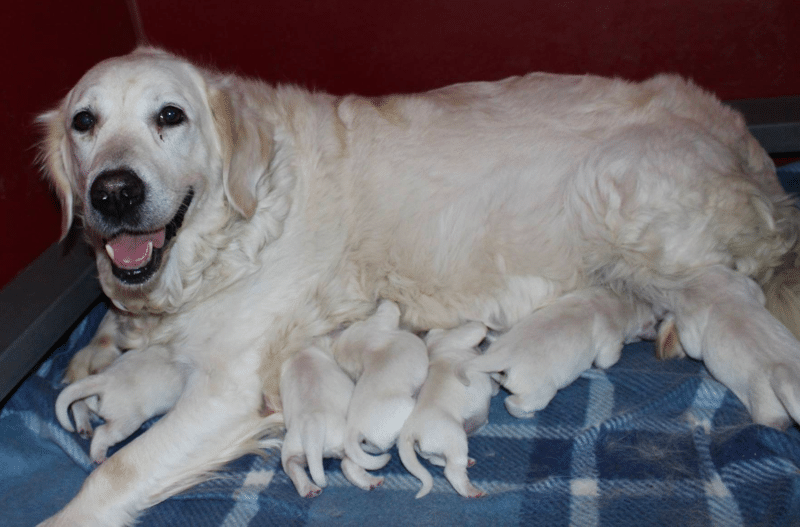 They are a small breeder in the rolling hills of southeast Iowa and their goal is to bring you a healthy, happy puppy that is intelligent and loyal to you and your family. All puppies purchased from them will be sold with AKC limited (pet) registration but they also offer full registration to limited approved homes.
For the puppy, a $500 non-refundable deposit is required to hold a puppy and the rest of the balance is due at 8 weeks of age when you pick up the puppy. When the puppy goes home with you, they would have had their first set of vaccinations, dewormed, vet checked, and a one-year health guarantee. On their website, you can find a list of all the parents and what DNA/genetic testing has been done on them such as elbow dysplasia, hip dysplasia, and so on.
6. Healing Hearts Therapy Goldens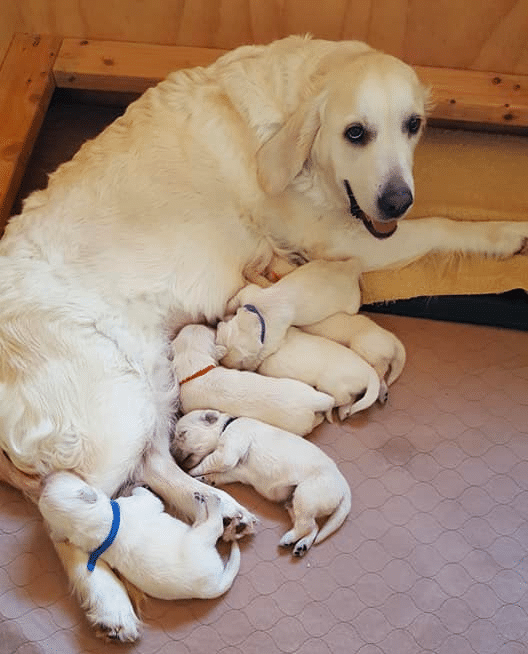 At Healing Hearts Therapy Goldens, they are a very selective breeder and only breed the highest quality of Golden Retrievers with superior health and dispositions, genetic diversity, intelligence, and trainability. Not only do they want to raise amazing Golden Retrievers, but they want to make a dramatic difference in people's lives. They ensure to handle the puppies daily by raising them in their home and following a very specific program to ensure they can handle stress, be attuned to their family's needs, and be well prepared for future therapy work, service work or just to be a great dog.
They use a combination of Puppy Culture protocol, Biosensor (Early Neurological Stimulation), Super Dog Program, and Early Scent Introductions. The puppies range in prices from $2,000 to $2,500 with a $500 non-refundable deposit. They will come with AKC limited registration, meaning they are not allowed to be bred but may be shown in obedience, agility, tracking, and more.
7. Royal Golden Retrievers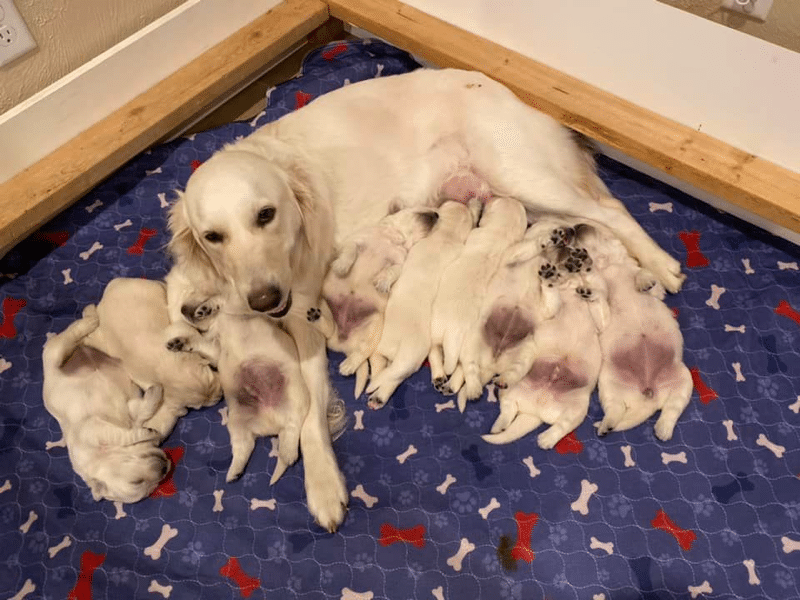 LeAnn, her husband, and her three children are the breeders behind Royal Golden Retrievers! She first fell in love with Golden Retrievers in 2000 but it wasn't until 2009 when she first began her breeding journey. Since then, she has had two litters of puppies every year! They live on a small crop farm with some beef cattle in Northeast Iowa and they make sure the dogs are an integral part of their family. They ensure that the puppies are well socialized to people of all different ages and to be exposed to sounds and smells at a young age. Acclimating the puppies at a young age helps them develop into a well-adjusted, confident, and well-mannered family companion.
8. Fox Ridge English Golden Retrievers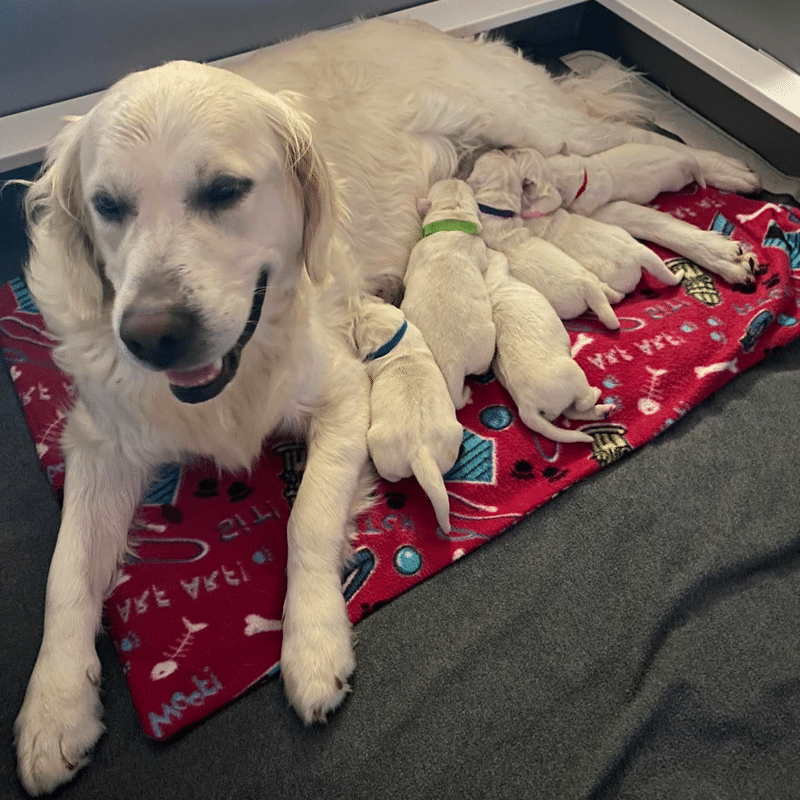 Dindy Wesenberg is the breeder behind Fox Ridge English Golden Retrievers and is in Hawkeye, IA. They are a small hobby breeder dedicated to producing Golden Retrievers with good temperament, loving personality, and loyalty. Their goal is to raise beautiful, healthy, well-adjusted puppies that will bring joy and love to your family. They are striving for genetically clear puppies coming from parents that have outstanding PennHip scores and pass all health testing. They also test for elbow dysplasia and cardiac evaluation.
The puppy goes home with you at 8 weeks old and will be up to date with vaccines and dewormed for their age. They are microchipped as well and come with a health certificate. The price of a puppy ranges from $2,000 to $2,500 with a $300 non-refundable deposit.
9. Loeffelholz Family Golden Retrievers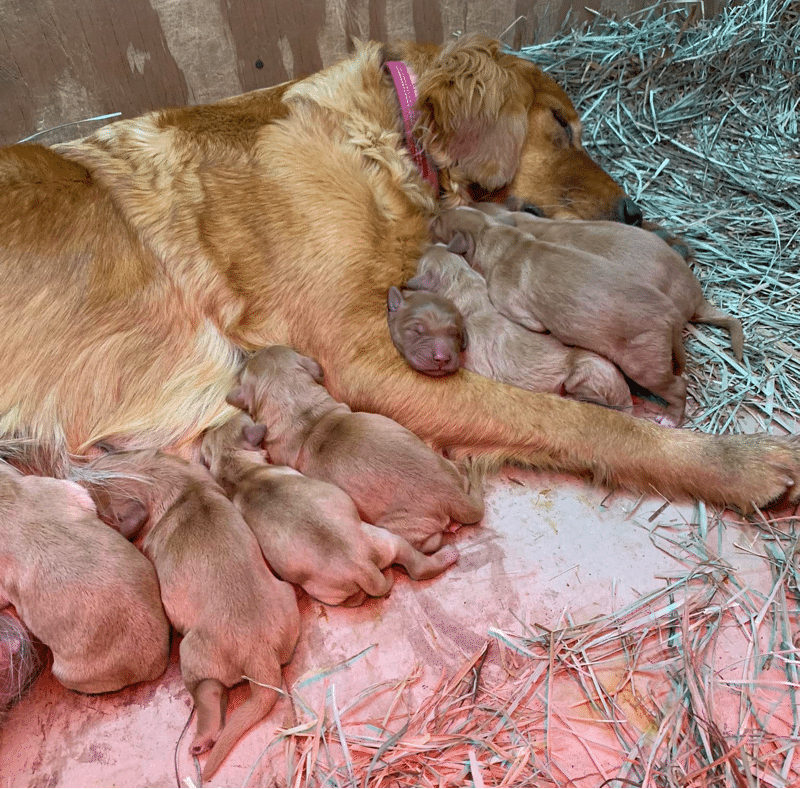 Jill Loeffelholz considers every dog a family member in her home. They cherish their puppies from birth up until they leave their arms into yours. They want to do their part to produce wonderful, healthy dogs that will bring people joy. They strive to give you the best Golden Retriever puppy possible by conducting genetic tests on the parents before breeding. They test for hip dysplasia, elbow dysplasia, and eye certification. The puppy goes home with you at 8 weeks of age, and they cost $1,000 with a $200 non-refundable deposit.
10. Kenland's Golden Retrievers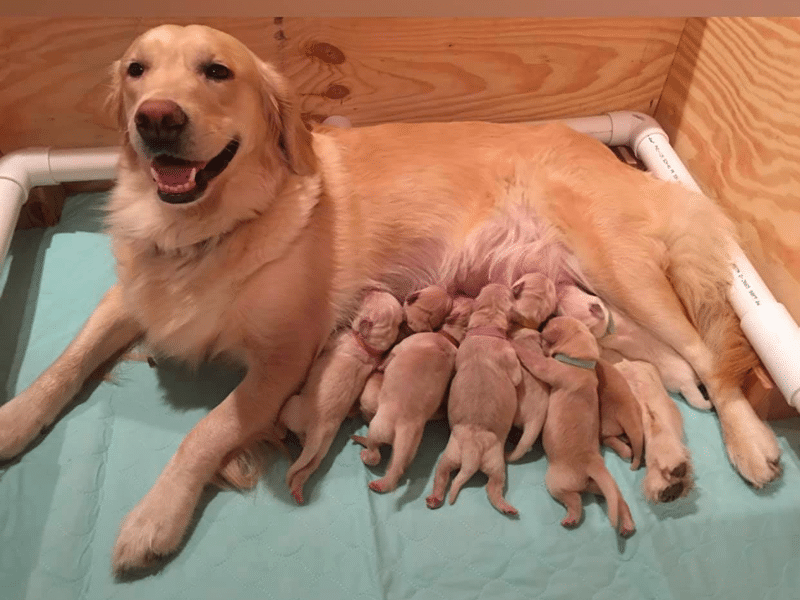 They are a small family breeder, and all their dogs live in the house with them. They love each Golden with all their heart and want the puppies to go to loving homes as well. They take great pride in their Goldens and each of them has great personalities, temperaments, and intelligence. If you are unsure or not ready for the responsibility of a puppy, they are more than willing to take it back.
The price of their puppies is $1,700 with a $200 non-refundable deposit. Cash is required for the final payment when you pick up your new best friend. The deposit is used to hold your place in line since they cannot determine the size of the litter or the sex of the puppies right away. When the puppy goes home with you, it will come with vet health records, an AKC registration packet, some food to help them acclimate to your feeding program, and a goodie bag. They provide a 2-year health guarantee if you agree to put the puppy on a duvet.
Golden Retriever Breeders in The Other States Near Iowa
Golden Retriever Resources and Tips
Other Dog breeds to consider:
Final Thoughts
The Golden Retriever is a great dog to have and is one of the most popular dog breeds in the world. They are loyal, lovable, playful, calm, and just a gorgeous dog to have in your family! They love the outdoors and love to make friends with all creatures. There are plenty of other breeders of Golden Retrievers in Iowa but listed above are who I think are the best breeders in this state. If I had to pick one breeder, I think Healing Hearts Therapy Goldens would be a great breeder to contact first. They are very popular with the public and they also breed Golden Retrievers to act as service animals for the disabled. Before committing to a puppy and breeder, please make sure to do your research on both to make the right decision. It is best to find a breeder that is both ethical and reputable to have the best experience possible.