Golden Retrievers are one of the most friendly and lovely dog breeds that you can pick for yourself and your family. These are kind dogs that love their people and get along well with other animals and with kids. You will never regret picking this breed for your family pet, and you will enjoy years of fun and love from your Golden Retriever.
Like any breed, Golden Retrievers have common ailments that might require management and care by their owners. You will find that there are many breeds with more health risks, but there are some common ailments that you should be aware of before you pick a Golden Retriever for your next pet. If you have been looking at Golden Retrievers, you need to check out this article to find out more about the health conditions that can impact your dog.
If you are ready to learn more about the common health issues that can affect Golden Retrievers, you need to read on!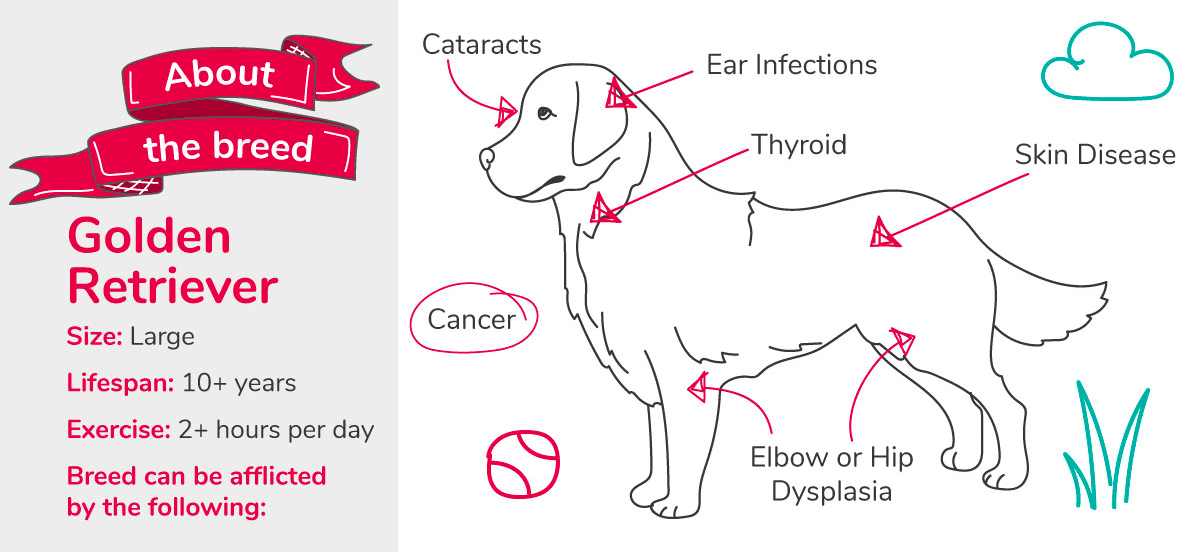 Common Health Issues That Can Be Prevented With Vaccines and Maintenance
There are many health conditions that can impact Golden Retrievers that can be prevented with proper preventative care. Just like any breed of dog, you will want to make sure to keep your dog fully vaccinated to prevent diseases and conditions that vaccines have been developed for. Being able to spare your dog these common health issues is a blessing, and you will not have to break the bank to take care of this part of your dog's health care needs.
The most common diseases and conditions that you can prevent with vaccines are as follows:
1. Rabies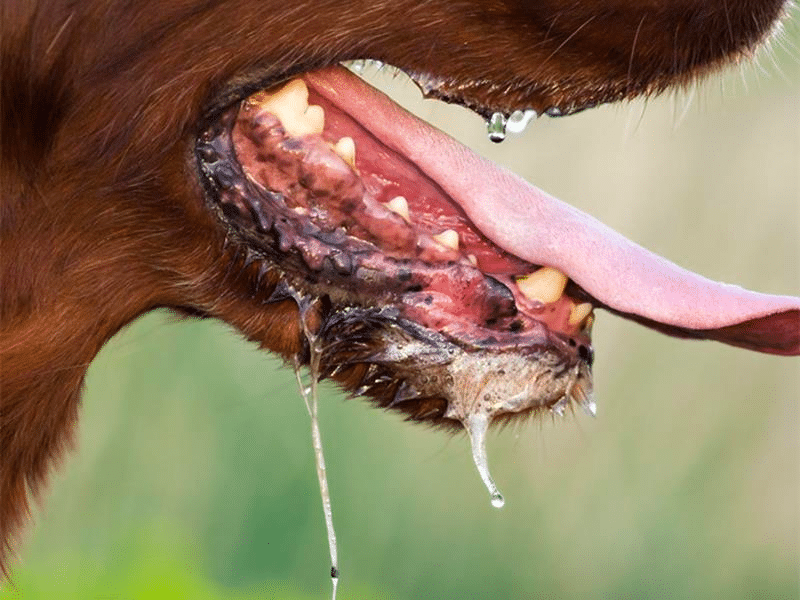 Rabies is an incurable virus that attacks the health of the brain and the spinal cord. This is a disease that is transmitted through a bite from an infected animal. Your dog might contract this disease when it is not vaccinated if a bat or another animal like a possum that is infected bites them.
Dogs that have contracted rabies will often have a fever before they show other symptoms. They will then start to drool and will show signs of having trouble swallowing. They might also simply lay around and act lethargic as they decline. Some dogs also show signs of anxiety-like pacing and panting.
Rabies Prevention & Treatment:
The only way to protect your dog against this disease is to vaccinate it properly as a puppy and to provide boosters as needed in the future. There are very few treatments for this condition, and most dogs that contract rabies will not survive. This is one of the most important diseases to vaccinate for since it is so deadly.
2. Parvovirus
This is a virus that is highly contagious, and that often kills puppies that contract it. While less susceptible, older dogs can also contract parvo and succumb to it despite treatment. This is one of the most serious and contagious dog viruses, and it is one of the most important conditions to vaccinate your Golden Retriever against.
This virus displays serious symptoms right away. Dogs will have a fever and will be listless. They will also show bloating and a lack of appetite. Persistent vomiting and diarrhea are the next symptoms that they will display, and the vomit and feces will often have blood in them. The damage that is done to the GI tract by this condition is often fatal when not treated immediately.
Parvovirus Prevention & Treatment:
Parvovirus can be survived by some animals, but puppies and juvenile dogs are much less likely to survive contracting it. The most common treatment is to provide IV fluids, anti-nausea medication, and antibiotics to stave off secondary infections. These treatments are also accompanied by the dog being moved into isolation so that they cannot infect other animals in the vet clinic.
This virus can be entirely prevented with proper vaccination. This is one of the vaccines that puppies and dogs are required to get before being allowed to be kenneled due to the severity of the risk that parvo can present to dogs that contract it. When one puppy in a litter is diagnosed, all of the puppies will have to be treated, so preventative measures need to be taken for the entire litter and not just for dogs that are about to be delivered to new homes or kenneled.
3. Distemper
This is another contagious viral disease that can be communicated from ferrets, skunks, raccoons, and other animals. This is often a fatal disease, and puppies are much more likely to succumb to this condition than older dogs. This disease attacks the central nervous system as well as the respiratory and gastrointestinal systems.
This disease often shows up with diarrhea and vomiting first, followed by coughing and discharge from the eyes and nose. Dogs that are more seriously ill will show muscular twitches, seizures, and neurological symptoms.
Distemper Prevention & Treatment:
This condition is very hard to treat. Antibiotics are often given to prevent secondary conditions, and dogs that are showing symptoms are treated with IV fluids and treatment for vomiting and diarrhea. Dogs will be put into intensive care and monitored intensively during their treatment.
4. Heartworm Disease
Heartworm is a very serious disease that causes lung disease as well as heart failure and even death. Cats and dogs can both get this condition which is caused by the parasitic worm Dirofilaria immitis. The worm is contracted through a mosquito bite and moves into the heart, where it causes serious damage.
Heartworm causes an initial small cough that can escalate into tiredness and breathlessness. Dogs with heartworm will pant heavily even when doing the smallest amount of activity, and they might also start to display symptoms of heart failure. When the worm burden becomes too significant, chest x-rays will show heart and lung damage, and eventually, the heart can be entirely blocked by worms.
Heartworm Prevention & Treatment:
Heartworm disease can be killed through the use of medications that are dispensed by a vet. Dogs with advanced cases will need to be monitored carefully during the process of killing the worms, as their death can lead to toxic shock. Treatment is done slowly to try to spare the dog's body stress and issues with blood clots and toxicity. Secondary heart damage and lung damage can be much harder to treat, and dogs with these additional health conditions might need lots of other care after the worms have been killed.
Prevention is the best method of treating and caring for this condition. The impact of heartworm on a dog's health can cause lifelong problems that are hard to manage. There are simple treatments that can be delivered at home to prevent this condition. Owners can treat their dogs at home by giving a treat that contains treatment for heartworm and for other gastrointestinal worms.
5. Intestinal Worms
Intestinal worms are one of the most common health conditions that Golden Retrievers can contract, and they are very preventable. The most common worms are roundworms, hookworms, tapeworms, and whipworms. These worms can all eventually cause significant health issues and actually even death. Preventing worms is really easy, however, and you will not break the bank taking care of this care for your Golden Retriever.
Intestinal Worms Symptoms:
The most common symptoms of worms in dogs are diarrhea, vomiting, lethargy, a cough, dehydration, intestinal blockages, and pneumonia. You might also see sores on the dog's skin and issues with lost hair, scratching, and discomfort.
Intestinal Worms Prevention & Treatment:
Dogs can easily be treated for all of these parasites by using oral medications to kill the worm load. Dogs with more serious issues like blockages might need surgery. The best way to prevent these parasites from making your dog sick is to keep up with flea prevention. You will also want to use regular worm treatment protocols. If one pet in the home has worms, then all of the pets in your home are at risk. You will need to treat all of your pets at the same time if one of them has contracted worms.
Common Health Conditions That Cannot Be Prevented With Vaccination
There are other health conditions that your Golden Retriever can suffer from that cannot be prevented through vaccination and maintenance. These conditions vary in severity, and your dog may or may not ever suffer from these issues. It is worth knowing about these conditions, however, just in case your dog starts to show signs of these health problems.
In almost every case, treating your dog for a health condition as soon as you see signs of it is important. There are no health conditions that are not made better by securing treatment as soon as symptoms present themselves.
These conditions can be divided into categories based on what body parts are impacted. We will discuss these health issues in groups based on what part of the body or what body system they impact.
1. Common Golden Retriever Back, Hip, and Elbow Problems (

Hip and Elbow Dysplasia

)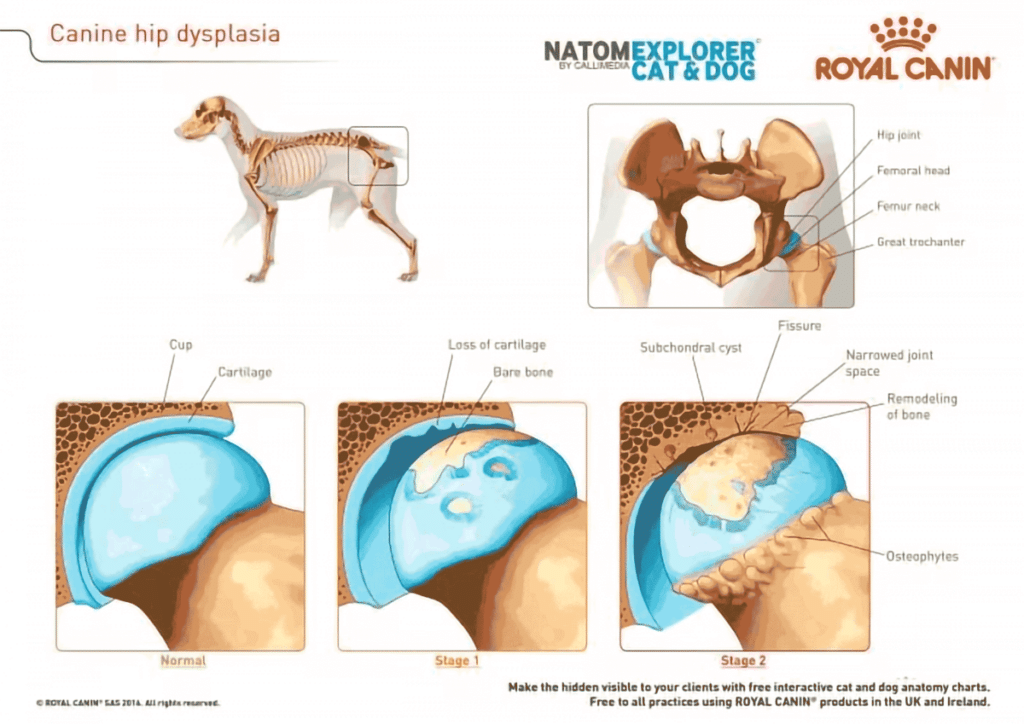 While not actually a back problem, back pain can be connected with issues with your Golden Retriever's hips and elbows. This is one of the most common problems that Golden Retrievers can suffer from. Hip and elbow Dysplasia is ultimately debilitating as it advances, and large dogs of all breeds are at risk of having this problem. Golden Retrievers can suffer from this condition in some cases even when they are not very old, so it is worth knowing what the symptoms and treatment are for this problem.
Hip and Elbow Dysplasia Symptoms:
This condition will originally present as some weakness in the hind end or the front legs and might only show up as instances of tripping or stumbling when playing or jumping. As the condition progresses, hind end weakness, back pain, lack of stability, falling down, and panting can be common symptoms. Dogs with advanced Hip Dysplasia will eventually be unable to walk and might become incontinent.
Hip and Elbow Dysplasia Prevention & Treatment:
This condition can be cared for in part by keeping your dog from jumping onto tall things or into and out of the car. You can also give joint support supplements daily and keep your dog from twisting their legs as they play.
Treatment for this condition is often done by reducing your dog's activity level, adding pain medication to their daily regimen, and adding physical therapy to their routine. There are some more expensive solutions like joint fluid modifiers like Adequan, and you might be able to take your dog for laser treatments and swim therapy at a specialty vet as well.
2. Common Golden Retriever Leg Problems (

Luxating Patella

)
This condition is much more common in large dogs than in smaller dogs. In this condition, the kneecap is dislocated due to ligament damage or a malformation of the leg. This can eventually lead to pain, lack of stability in the legs, and breakdown of the joints.
Luxating Patella Symptoms:
Originally, this condition would make itself known in small ways. Small skips or trips in the step or an unwillingness to run or jump on and off can be related to this issue. You might not realize that the leg is falling out of joint until the condition gets more serious. This condition often progresses slowly, but it can show immediate serious symptoms when a full tear of the ligaments in the leg occurs. Dogs who will not put any weight on the leg might have experienced this advanced change in their patella area due to this condition.
Luxating Patella Prevention & Treatment:
The only effective treatment for this condition is surgery. This is a hard surgery to recover from, and some dogs do not make a full recovery. The best means of preventing this issue is to diagnose the condition early and then manage the activities that your dog is doing each day. When your dog is not straining their legs daily, they will be less likely to end up needing surgery.
3. Golden Retriever Skin Problems
This breed is not actually that prone to skin issues, so the common problems that your Golden Retriever might display are not atypical or rare conditions in most cases. Skin conditions can impact any breed of dog, and you will want to make sure that you do not panic if you see signs of skin conditions in your dog.
These are the most common issues that impact dogs of all breeds, and your dog might scratch, show skin redness, or have bald spots if they are allergic to something in their environment. Allergies can be quite serious and lead to major skin discomfort, but this is not as common as seeing cosmetic symptoms related to their presence.
Treating allergies is usually as simple as adding an antihistamine to your dog's routine and changing to an allergy-friendly food. You might also have to use some allergy-friendly shampoos and make sure to treat hotspots and other skin irritations with ointments.
Hot spots are much more common in long-haired dogs. Golden Retrievers can get these painful sores due to allergies, anxiety, and medication reactions. Hot spots can also be caused by allergies to fleas.
Hot spots are treated by clipping off the hair around the hot spot and washing it and putting ointment on it each day. Dogs with more advanced issues might need antibiotics for their hot spots. You may also have to make your dog wear a collar to prevent them from licking and picking at the spot while it is healing.
These pesky little invaders can be contracted by any dog breed. Long-haired dogs can be a bit harder to treat for fleas because their long hair hides the invading pests until they have really gotten a foothold. Some dogs do not show symptoms when they first get fleas, so this can make it harder to notice them before they have become a bigger issue.
Treating fleas is really easy in most cases. You will simply apply flea treatment to your dog's neck, and the fleas will die off. You can also wash your dog first to make sure that you drown all the fleas that are bothering your dog and remove some of the nits. Applying flea treatment will take care of the rest.
4. Golden Retriever Stomach Problems (Bloat)
Large dogs can often fall victim to a condition called bloat. This is a problem that happens with dogs with deep and narrow chests that get a twist in their intestines. This leads to a blockage and can actually cause intestine tissue death. Dogs with severe bloat sometimes cannot be saved.
Dogs with bloat will actually look exactly like the name suggests. They might also vomit, pant, and get up and down repeatedly. Some dogs will actually be very listless and clearly uncomfortable without symptoms of swelling that are visible on the outside of their body.
Bloat Prevention & Treatment:
Bloat can only be treated with surgery in most cases. During this procedure, your dog's stomach and intestines will be tacked to the side of their body wall so that they cannot twist again. Any dead intestinal tissue will need to be removed. This surgery can be quite complicated, and it is high risk.
Many cases of bloat are not connected with anything and are entirely unpredictable. In some cases, you can reduce your dog's carbohydrates to prevent gas which can lead to bloat. You might also want to be careful about the timing of your dog's meals as well and break them up into smaller meals throughout the day. One large meal a day can lead to bloat in a lot of dogs.
5. Golden Retriever Eye Problems (

Uveitis

)
This condition is common in Golden Retrievers. It is a severe and vision-threatening condition that can lead to blindness in more advanced cases. Purebreds are much more likely to suffer from this condition than part-bred dogs. This is a genetic condition in most cases, and it leads to inflammation of the uveal tract. This inflammation impacts the colored part of the eye.
The early symptoms of this condition are redness and watering of the eyes. Excessive eye drainage can be present as well. More advanced cases will lead to blindness or partial loss of sight and pain within the eye. Dogs might rub at their eyes and cause secondary infection by damaging the tissues near the eye.
Uveitis Prevention & Treatment:
This disease is genetic, so you cannot prevent it per se. What you can do is make sure not to breed any dog that shows this condition. You should also make sure to have your dog's eyes looked at frequently by a vet to make sure that the condition is not missed when it is in its early stages.
There are medications that can be given to your dog to treat and manage this condition. You will want to get corticosteroids to help manage inflammation, and you will also probably be given pain medications for your dog to take to help them be comfortable. Your dog might also be given eye drops to help with moisture since dry eyes can be common with this condition.
6. Golden Retriever Bladder Problems (Incontinence)
This condition is not common in younger dogs, but it can be seen frequently in older Golden Retrievers. This is sometimes a secondary condition that follows hip dysplasia or back issues as well. Incontinence can be really troublesome for owners who want their dog to get to be indoors but are struggling with cleaning up after a dog that is always making messes in the house.
Golden Retrievers can sometimes show symptoms of incontinence only when excited or when they have been indoors for too long. Some people are not aware that incontinence is the culprit behind the accidents that their dog is having. As the condition progresses, your dog might become unable to hold its bladder at all and might need to wear diapers or live outside.
Incontinence Prevention & Treatment:
This condition cannot really be prevented. Female dogs are more prone to the condition, but in most cases, this is just the result of aging. The best way to treat this condition is with medication that can help manage bladder muscle weakness. Dogs with incontinence need to be walked more frequently and might need to wear a diaper. Dogs who leak urine will also need to be bathed often to make sure that they do not suffer from skin issues related to their incontinence.
7. Golden Retriever Weight Problems
Just like any dog breed, your Golden Retriever can get fat if they are fed people food or just fed too much pet food. You will need to be sure to feed based on your dog's size and age. Feeding quality food can make a big difference in your dog's overall health.
Make sure that you get the advice of a vet if you are not sure what to feed your dog or how much to feed your dog. You want to stick to a good feeding protocol for any pet, but especially for a large dog. Keeping your Golden Retriever's weight under control will help with hip, joint, and metabolic conditions as well.
Weight management is mostly about owners managing how many treats they give and how much food they feed each day. Even if your dog tells you that they want snacks, you need to stick to the feeding plan every day.
Other Health Conditions That Can Impact Golden Retrievers
There are some other conditions that can impact your Golden Retriever's health. These conditions are not predictable, and you cannot be sure that your Golden Retriever will suffer from them. You should still be aware of them so that you can catch these problems early.
1. Cancer
Golden Retrievers are actually more prone to cancer than other dog breeds. They are particularly prone to bone cancer. Cancer can present in many ways, from lethargy and lack of appetite to tumors or pain. You will need to be sure that you take your dog to the vet if they are showing an unusual lack of energy or seem painful.
Cancer is hard to treat in dogs, and most of the treatment will be done just to keep them comfortable. Some dogs are a good candidate for chemotherapy or for surgical intervention for their cancer. Your vet can advise you about your options once a diagnosis has been made.
2. Epilepsy
This is actually a common condition that can impact many breeds of dogs. Dogs might show jerky movements, rapid eye blinking, or full-blown seizures. This condition can progress and become quite debilitating for your pet. You might not notice the condition until it is quite advanced because some dogs do not show significant seizure activity until they have been experiencing seizures for years.
Treatment for this condition is usually done with medication, and blood levels are checked regularly to make sure that the medication is not causing secondary issues related to your dog's health.
3. Von Willebrand Disease
This condition can impact some Golden Retrievers. It is a genetic condition and runs in families. Dogs that have this disease have trouble with their blood's clotting factors. This means that small cuts can bleed for hours and that more serious injuries related to falls and severe cuts can actually lead to uncontrolled bleeding and death.
This condition is not preventable, but you can make sure that your dog wears booties when hiking or playing in places that can cause injuries. You might also need to be careful about getting other animals who might play with your dog and cause bleeding issues. When bleeding has started and cannot be stopped, a visit to the vet might be needed to halt the bleeding and to transfuse pets that have lost a lot of blood.
4. Chest Issues
There are some Golden Retrievers that can have narrow and deep chests. This is not an ideal shape for the chest cavity to be, and it can lead to increased risk for bloat and problems with the heart and the lungs. You will not be able to prevent this condition since it is tied to how your dog's body is actually made.
Chest shape issues will often be a non-issue for your pet, but you should be aware that there are some other health conditions that can come from this chest shape. You can take your dog to the vet if you think that there might be a reason to worry about their internal organs related to their chest shape.
5. Ear Infections
Dogs with floppy ears can be prone to ear infections. This is due to the large ear flap trapping water and holding it in the ear for a long time. These dogs are also prone to scratching at their ears when they are not feeling good, which can lead to secondary problems like hematomas on the outside of the ears.
Ear infections are easy to treat because they are easy to recognize. Your dog might shake their head, scratch at its ears, or whine and fuss and pace. Ear infections are treated with antibiotics and ear ointments, and sometimes treatment is needed for the hematoma that might have been caused by scratching.
6. Cataracts
All dog breeds can be prone to this condition as they age. Golden Retrievers are more likely to get cataracts early than other dog breeds, unfortunately. This condition occurs when a cloudy film spreads across the lens of the eye due to the hardening of the lens. Cataracts will eventually cause blindness.
These are genetic conditions, so you cannot really prevent them from happening. You can only be on the lookout for this condition being present in your dog. Some dogs will not show visible cloudiness in the eyes but might bump into things and start to have trouble navigating spaces. Treatment is usually done via surgery. This will only be done in advanced cases, and your dog might only end up having cataract surgery if its case is very advanced.
7. Hypothyroidism
Dogs of all breeds can suffer from Hypothyroidism. This is a condition where the endocrine system slows down and causes weight gain, lethargy, breathing issues, and haircoat and skin changes. This is more common in older dogs, but it can show up in young animals in some cases as well.
Treatment for this condition is easily managed through hormone therapy and thyroid medication in some cases. Your vet will be able to advise you about the right way to treat this condition, and diet and exercise changes might be added to your dog's routine.
How Can I Help My Golden Retriever to Stay Healthy?
There are many ways that you can help your Golden Retriever to be happy and healthy for their whole life. You will want to make sure that you are a well-educated owner who knows all about the various conditions that can impact your Golden Retriever's health. Educated owners are competent owners, and they notice things that might not be taken care of early by owners who are paying less attention.
Daily care like proper feeding and exercise, grooming, and attention can make a big difference in your Golden Retriever's overall health. You will want to make sure that you also take your dog in to see the vet frequently. Dogs that are monitored by a vet will be much more likely to be healthy than dogs that never see the vet.
Make sure that you and your vet talk about the common issues that your dog might struggle with due to their size and their breed. You will want to be sure that you know that you are feeding the right food to your dog and that you are giving them the right joint support as well. Vaccinations and proper flea and worm control are also critical to your pet's health. When you think of all of these things every month, you will provide your dog with a quality life and the chance to be in the best health possible.
The Golden Retriever is a Great Dog Breed?
The Golden Retriever breed is a really enjoyable breed to choose for your family. There are so many things to love about this breed, and you will enjoy a great companion who loves everything that you do and who will want to spend every moment with you. Caring for your Golden Retriever is easy if you take care to consider these health conditions and prevent the ones that you can care for with vaccination and proper health care routines.
If you are thinking of getting a Golden Retriever, you now know everything that you need to know about this wonderful breed. Being aware of the possible health conditions that this breed can suffer from makes it easy to be sure of what you are getting into and help you to spot health problems in the future. You can be a well-educated Golden Retriever owner with ease if you use this guide to care for your dog.