Congratulations! You added a new member to the family and brought home a Golden Retriever puppy! This might be your first puppy ever or it might have just been a while since the last one, but it's time to start back at the beginning. We are going to talk about teaching your Golden Retriever puppy to stop pulling, or to "walk nice."
We are going to discuss different tools to use and methods to try with your puppy in order to find what works best for you and your dog! All of the tools and methods mentioned are forms of positive reinforcement which is the rewarding of a requested behavior. We will also discuss the "do"s and "do not"s of leash training.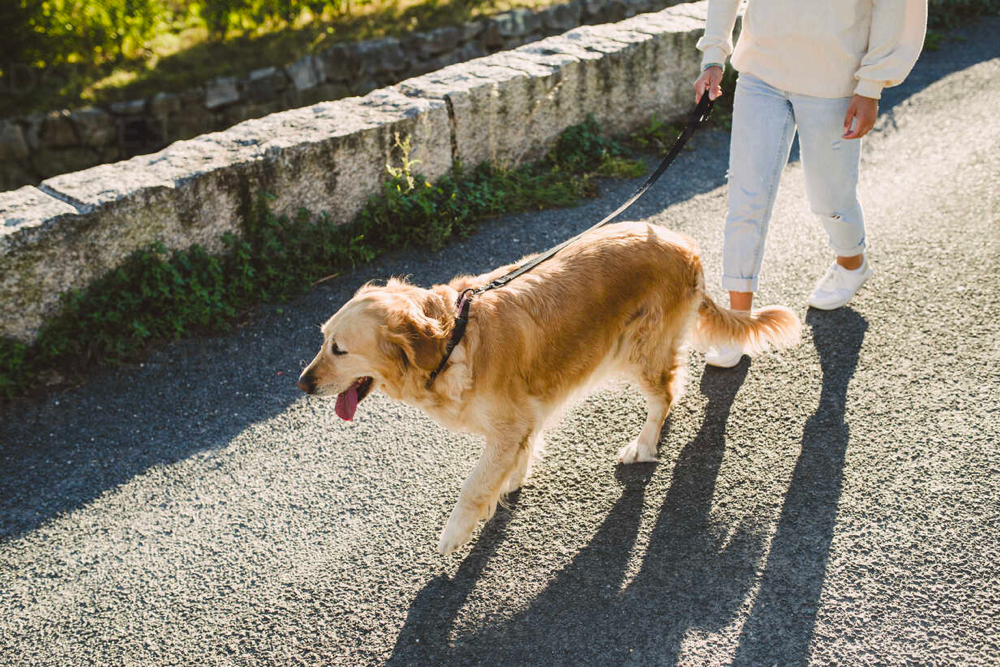 Before You Get Started
Please remember that all dogs are not the same. Not even all Golden Retrievers are the same, though they do exhibit some of the same traits.
The first thing to note before training your new puppy to walk nicely on a leash is to know what motivates them. Not all puppies will work for treats. Some dogs are motivated by verbal praise, physical attention like petting, or access to toys. Training should be a fun and engaging experience for both you and your dog; it should be something that your puppy wants to do because they enjoy it.
Make sure you know what "reward" your dog will work for. If your dog is food-motivated, as many Golden Retrievers are, treats that have a stronger smell will typically entice them more. Also, you do not have to give them a full-sized treat each time. Break your training treats into small pieces so that you aren't over-feeding your dog.
The second thing to know before leash-training your Golden Retriever puppy is what you, as the trainer, are capable of. Training is extremely time-consuming so make sure that you have enough time to train your puppy thoroughly. Also, leash training can sometimes be physically exhausting, especially since Golden Retrievers grow very quickly.
Training requires a hefty amount of movement, quite a bit of arm strength, and the stamina to keep up with your puppy. Know your own physical limits and pick the tools or methods that will help you rather than hurt you. If you feel like you aren't up to the task, or learn this in the midst of training, be honest with yourself and seek out someone who can help.
A third thing to know before you begin leash training is how dogs respond to pressure. Unlike prey animals that yield to pressure (like a horse on a lead line), predatory animals like dogs will typically rail against pressure, such as the pull on a leash. Use your dog's response to pressure to your advantage. Give your dog slack on the leash when they stop pulling. This is a form of reward in itself since the "scary" pressure is gone.
The fourth thing that you should know before starting to leash-train a puppy is that training never stops. There will always be something or someone new that interests your dog on a walk. Maybe you decided to go to the beach instead of walking around your neighborhood. The tools and methods that we are going to talk about can be pulled out of your "training toolbox" whenever your Golden Retriever needs a refresher.
You may also need to incorporate other types of training (such as obedience or task training) into your leash training to keep your dog stimulated mentally. If you take the same five-block walk every day, twice a day, your Golden Retriever might get bored and act out more while on their walk. Changing up your routine or sprinkling commands into your walk will benefit you and your puppy.
There is one final thing that you should know before you embark (pardon the pun) on your journey of leash-training your Golden Retriever: the reason that a dog pulls. The base reason for pulling on the leash is excitement: excitement to be moving and exploring, excitement to reach something or someone that is ahead of them, excitement because they have seen another dog or excitement as the base of reactivity.
Leash-training is a transfer of energy between yourself and your puppy via the tether between you. If you act with high energy (such as frustration or anxiety), your dog will feel this and respond in kind. On the other hand, if you respond with quiet, firm energy, your dog will react accordingly and their energy level will decrease. Granted, it's a Golden Retriever. Low-energy Golden Retrievers are still high-energy dogs. Remaining calm and collected while leash-training your puppy will not eradicate the need for said training but it will make the training process easier.
Tools for Your Training "Toolbox"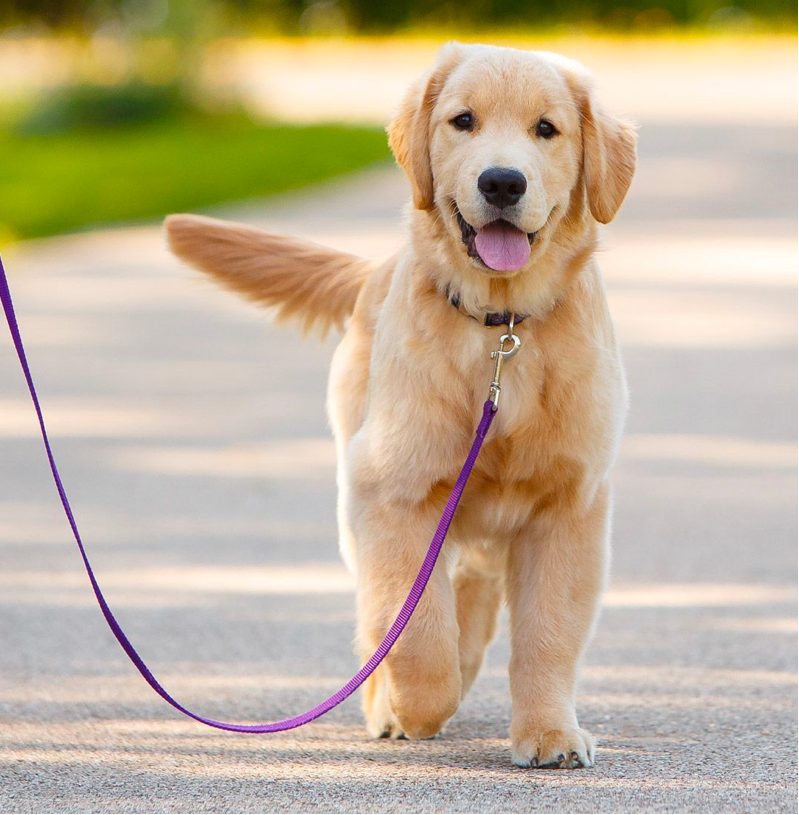 1. Rewards
Now, let's get into some of the tools that can be helpful. Firstly (like we already talked about), have your rewards handy. If that is a specific type of treat or toy, have it accessible. Dogs have a very short window of association, meaning that you have to reward behavior in under 3 seconds so they understand what they are receiving a reward for. If the reward is verbal praise ("Good boy!") or physical attention, limit those to when you are rewarding a behavior only.
If you use rewards outside of when your puppy performs a behavior that you asked for, the rewards can become obsolete. Your Golden Retriever might fail to associate the reward with the behavior. Do not reward for behaviors that your puppy performs on their own. For example, if they "sit" and you did not ask for a "sit" behavior, do not reward them. They need to learn that just performing the behavior does not guarantee a reward, they have to be listening for verbal commands and watching for physical cues.
2. Short Leash
A set-length leash (the average leash is about 5 feet long) is your friend. Not only does a short leash give you more control but it keeps your dog within your space. This close proximity allows you to reward your pup in that 3-second period and keeps them from getting too far ahead of you. Retractable leashes give your puppy too much space away from you and that can be dangerous even for a fully trained dog. A leash that has an extra loop at the attachment can also be helpful in maintaining control and keeping the dog next to you instead of pulling ahead of you.
Dogs, in theory, should walk beside you on a loose leash rather than in front of you. When a dog walks in front of their owner, they consider themselves higher in the pack hierarchy. Keeping your puppy at your side while using the methods offered in this article will be more effective than allowing them to walk ahead. As your Golden Retriever learns not to pull, you can get longer leashes to give them increased slack in the line.
3. Front Clip Harness
Another tool that can keep your Golden Retriever from pulling ahead of you is a front clip harness. When the leash attaches to the harness at the chest instead of between the shoulder blades, it changes the movement of the dog. If the puppy pulls, the front clip harness will cause them to turn because the leash is pulling them around. This tool is most effective when the person walking them is able to hold their ground if the dog pulls and won't work as well if the dog is physically able to pull you anyway.
4. Gentle Leader Headcollar
Similarly, a Gentle Leader changes the trajectory of the dog's body when they pull. The headcollar loops loosely around the snout and around the back of the head/neck, sitting a bit higher than a collar does. The two loops attach under the puppy's throat where the leash clips. When your Golden Retriever pulls, this tool will pull their head to the side. Since the body follows the nose, this will make your dog turn with their head. When they realize that pulling turns them around and away from the direction that they wanted to go, they will be less likely to forge ahead.
Methods for Leash-Training Your Dog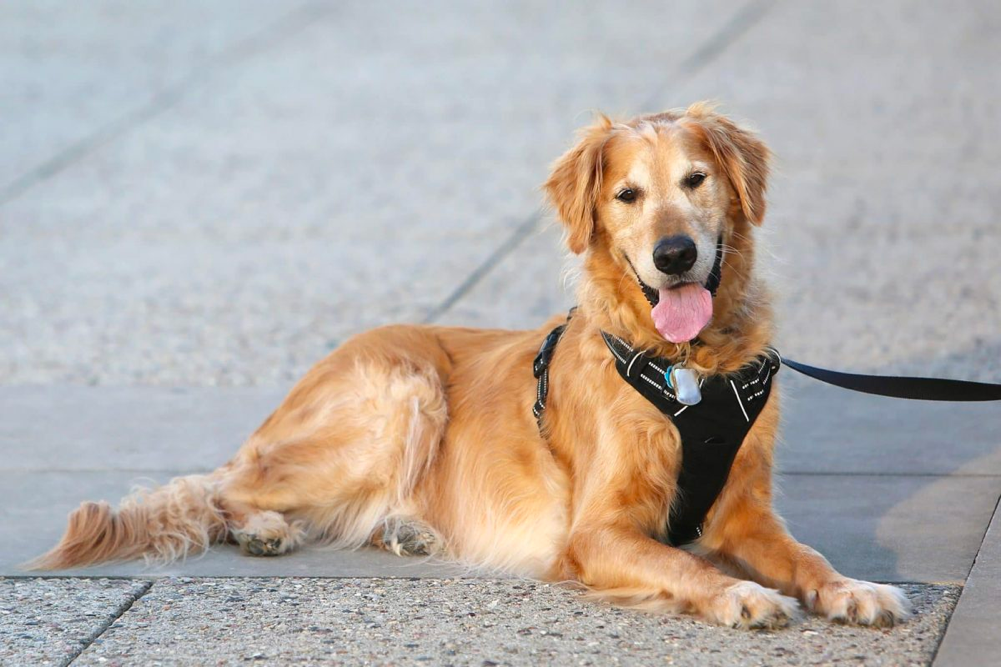 All of these tools can be used in conjunction with one another (except for the Gentle Leader® Headcollar and the Front Clip Harness since the leash attaches in different places) or with any of the following methods. These methods, just like the tools, can be used all together or individually. Find the mix that works best for you and your Golden Retriever.
1. Two Hands
From experience, using two hands on the leash is the best way to go. Eventually, you will work your way to one-handed dog-walking but two hands is better in the beginning. Keep your dominant hand on the leash handle. This hand is your main control. Place your non-dominant hand on the leash closer to your puppy. Use this hand for more subtle directions such as "slow down" or "heel." Keep your Golden Retriever on your non-dominant side at your hip.
Apply pressure on the leash (holding them back or holding them in place) and release the pressure the moment that your dog gives you what you were asking for. You can pair this release of pressure with the verbal command "walk nice." However, you do not have to pair walking nicely on a leash with a verbal command if you do not want to continually ask for the behavior on a walk later on. The release of pressure is a non-verbal cue that has the same effect.
2. Stop and Start
If your puppy starts to pull (and you are physically able to do so), stop in your tracks and wait. The moment that there is slack in the leash or your puppy turns toward you to check in with you, start moving again. This method is effective if you're able to plant your feet but is also really annoying in practice. It can seem like you aren't actually out for a walk because of the number of times you stop. You may only go fifty feet altogether. However, if you continue to stop when your dog pulls, they will eventually associate the stop with the pulling.
3. Turn About
If your golden is on the bigger side and is able to bowl you over with one pull, the Turn About method might be easier for you. Instead of stopping when your puppy pulls, turn on your heel and immediately march in the other direction. Whenever they pull, turn. Again, this can be an irritating way to train and you might feel like you aren't getting a good walk-in. They will eventually understand that if they pull, they will be made to turn away from who or what they are pulling to get to. This can also be an effective tactic for reactive or aggressive dogs.
4. Redirect
This last one is a good method for Golden Retrievers specifically because they are so endearingly distractible. Compared to scent-seeking hounds or other hunting dogs, the concentration of these dogs will waver more easily. If you see another person approaching or you notice that something catches your puppy's eye, get their attention and ask for a behavior that they know really well. When they perform the correct behavior, reward them.
The easiest way to get their attention is to call their name in an over-the-top happy voice. While the "dog voice" might seem silly, dogs respond to the higher pitch better than they do to your regular vocal tone. Two of the simplest behaviors to ask for are "look at me" and "sit." The "look at me" behavior is when your puppy meets your eyes for a brief moment. This is a great way to distract your dog and redirect their attention.
What to Do and What Not to Do
DO: Start early. Not only will it be easier to leash-train a smaller puppy but leash training can be a bonding experience for you and your dog. Also, start in a familiar area like your backyard or your neighborhood block. Sometimes, puppies can be overwhelmed by new environments so constantly going to new places while leash training might start you back at square one each time.
DO: Focus on your dog while you are training them. If you are distracted, they will sense it and respond in kind. Why should they listen to you if you can't be bothered to stay engaged in the activity? Communication is a two-way street and training is a form of communication. Give your pup your full attention and your training will be more effective.
DO: Tire out your puppy before walking out the door. Eventually, walks will become their primary form of exercise and an outlet for restlessness. Right now, as a puppy, they have boundless energy. You will find it a bit easier to leash-train when there isn't an Energizer bunny at the other end of your leash. Play with a toy or do some obedience training before you start your walk (if possible) to decrease that energy and make your Golden Retriever focus on you.
DO: End on a positive note. If you have a walk that went terribly wrong, end with something that you can reward for. Even if asking for a "sit" at the end of the walk was the only behavior that your puppy gave you. Dogs will remember the positive interactions more quickly than negative interactions. Make the training and the walk a good experience.
DO: Ask for extra help if you need it. There is nothing wrong with seeking further resources. If you feel like you've hit a wall with your Golden Retriever, seek out a professional dog trainer. Make sure that they have experience with energetic, large-breed dogs. If they only work with small breeds or competition dogs, they might not be the best fit for you and your golden.
DO NOT: Expect immediate results. None of these tools or methods are going to work on the first try. Your Golden Retriever puppy is a baby and you are quite literally teaching them how to communicate with you. This is similar to teaching an infant how to talk or learning a new language. This will take patience and a healthy dose of trial and error. Some dogs pick it up quicker than others and that is okay. Also, there is no such thing as a perfect dog. Don't strive for perfection in your Golden Retriever. Aim towards clear lines of communication between yourself and your dog.
DO NOT: Be discouraged when one tool or method doesn't work for your dog. Dogs are like children and they all learn their own way at their own pace. Some dogs are not food-motivated or attention-seeking at all so you won't be able to use traditional rewards. Some dogs need constant repetition of these methods because they "forget" everything the moment they see a new person approaching. Your puppy is an individual, just like you are.
Also, these tools and methods may only work so much on their own but will build on each other. If using a Gentle Leader® helps you 10%, Rewards help you 20%, and the Redirect method helps you 70%, then they have done their job. The efficacy of these tools and methods will differ between dogs and even between different Golden Retrievers.
DO NOT: Take your frustration out on your dog. Negative attention is still attention and they will not discern the difference. Yelling, shouting, or saying "no" to your puppy when they perform the wrong behavior does not help you. They don't get it; it is just a harsh, loud noise to them. Dogs are insanely smart and can understand thousands of English words but they have to learn them first.
This also includes yelling if they get off leash. You wouldn't voluntarily approach someone who was yelling at you and your dog won't either. Keep your tone happy and high-pitched and you will get better results. For gentlemen who think it is "unmanly" to speak in a high tone to their puppy: just do it. You will have better communication and a better relationship with your dog because of it.
DO NOT: Walk your food-motivated dog with treats in your hand. Keep them in a fanny pack or a treat bag. Keeping treats in your hand encourages your Golden Retriever to try to get them from you. Firstly, you want to be able to get to a point where you can walk without rewarding. The experiences on the walk should eventually become the reward – the things they are able to sniff, the other people or animals that they meet, et cetera. Rewards should be linked with behavior not just for walking beside you.
Secondly, a food-motivated dog will see your hand as an obstacle between them and treats. They will chew or bite your hand to get to them. Or, in extreme cases, they can associate closed hands with treats. This can be dangerous if you have guests or children. Set yourself up for success by only rewarding for correctly performed behaviors.
DO NOT: Walk a dog that pulls on its leash in only a collar. There are two major issues with this. The first is that puppies rarely wear collars that are tight enough on them since they are constantly growing. If they continue to pull, there is nothing stopping them from slipping their collar and bolting.
The second issue is that pulling non-stop on a collar can do damage to a dog's throat. Think about it, they have a strap around their neck that digs in when they pull. Over time, this exerts pressure on the trachea (the windpipe) and the esophagus (the tube from the mouth to the stomach). Collars on their own are not a safe or functional way to walk your dog. Use a harness when walking your dog even if you don't use a front clip harness.
Final Thoughts
We discussed several tools and methods to assist you in leash-training your golden retriever puppy. These are all usable on adult dogs and other breeds, as well. Find what method, tool, or combination works best for you. Keep in mind the "do"s and "do not"s of leash training and teach your new puppy to "walk nice".
Other Training Tips