The Golden Retriever is a very popular and lovable breed in the United States. Why? well, because these lovely creatures are quite knowledgeable, friendly, and loyal. But choosing a breeder is not an easy task, there are a few things to consider, such as; Will the puppies be available soon? Does your dog have a well-documented pedigree? Are all parent dogs and puppies healthy? Do you like the dog's appearance?
The Golden Retrievers breeders in the United States do a lot to reach the top spot. This article reveals the best Golden Retriever breeders in Massachusetts and explains why they made the list.
Read more: Top 3 Best Golden Retriever Rescues in Massachusetts
When looking for good golden retriever breeders in Massachusetts, a lot has to be taken into consideration such as breeding methods, health checks, etc.
1. Daisy-Gold Goldens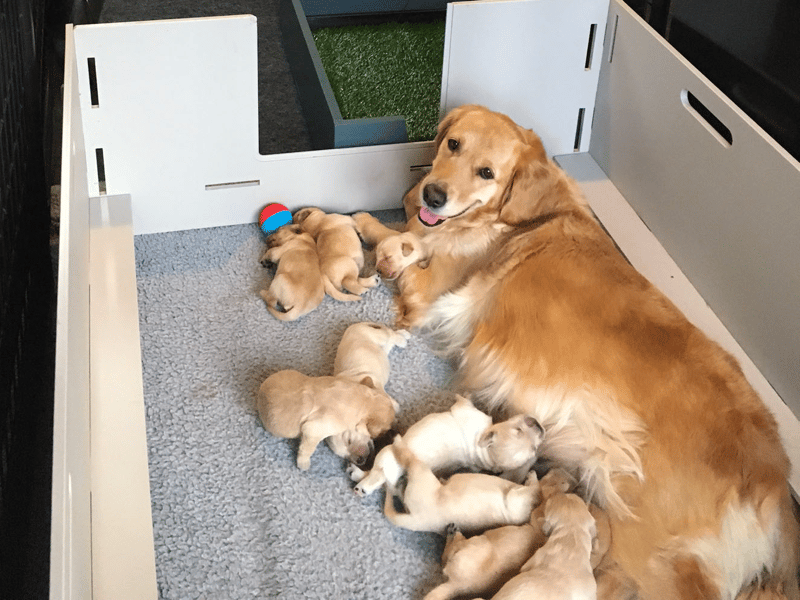 These Family Owned Golden retrievers hail from a champion lineage but are trained to be loving family dogs. Producing healthy breeds is a priority for these breeders as all their goldens are OFA certified, having passed all necessary health checks including heart clearances and yearly eye exams. All their puppies are sold on AKC limited registration status which thereby shows their commitment to the art of breeding. Daisy Gold Goldens are bred for temperament and health.
Daisy-Gold Goldens is owned by certified breeder Lizbeth Barrows. She Named the breeders after her first Golden 'Daisy', a beautiful European golden retriever which led her to become a hobbyist/breeder truly dedicated and in love with her craft, and it's no wonder that Daisy-Gold Goldens are on this list.
2. Millstone Kennel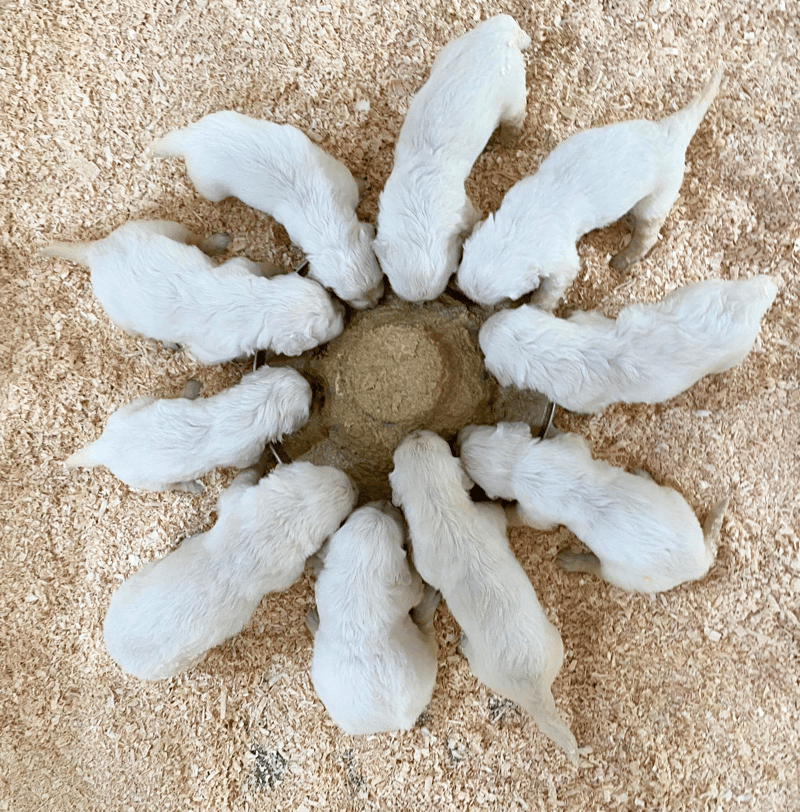 This is another top breeder on the list run by Dylan Goguen and his family, they raise AKC registered Golden Retrievers and are a family-owned breeder. Each retriever puppy comes with a health guarantee as they are regularly checked by trusted veterinarians and are exposed to loud noises of children playing or large social gatherings, just to make the puppies more outgoing, happy, and playful.
Millstone Kennel makes it a point to maintain a close relationship with every family that gets a Millstone pup, simply because they care about you, the client, and the experience you enjoy with their dogs.
If what you are looking for a family companion and an all-around friendly dog, then Millstone Kennel is your best bet.
3. Astar Golden Retrievers
A reputable breeder with quite some history. Established in 1994, Astar golden retrievers have produced multiple AKC champions, being equally obedient and agile, winning multiple specialties, these dogs come with quite the pedigree. All their dogs have hips, eyes, elbows, and heart clearances, giving you the best of breeds.
Some of Astar's notable achievements include CH Mainsail Nautilus Hurricane 'Glory' winning the 2001 Westminster Kennel Club Golden Retriever Best of Breed, also CH Mainsail Racing 'The Wind' winning the Best Veteran in Show in 2009. Astar Golden Retrievers truly are reputable.
4. Platinum Goldens
Platinum Goldens are dedicated to producing a high-quality line of "American Standard" Golden Retrievers. This means they have studied the definition and specific qualities of an American Golden based on the A.K.C. breed standards. They take pride in the training, care, and dedication needed to raise healthy and sociable family dogs and puppies.
Owned by the Kauranen Family, these goldens are bred in a large house with 6 acres of woods providing plenty of room for the dogs to run and play with the kids. Treated like family, these retrievers engage in regular exercises like playing fetch and swimming, just to keep them healthy and active
All their Sires and Dams have their hips registered with the OFA and are free from any genetic diseases, undergoing regular eye exams and passing heart clearance, and don't sell their dogs for breeding purposes. So, if you're looking for well home-raised golden retriever dogs in Massachusetts, check out Platinum goldens.
| | |
| --- | --- |
| Name of Owner | Kauranen Family |
| Breeder Since | 2018 |
| Address | Lakeville Massachusetts |
| Email | N/A |
| Phone Number | (508) 947-0820 |
| Website | Platinum Golden Retrievers MA |
5. Heartstone Goldens Retrievers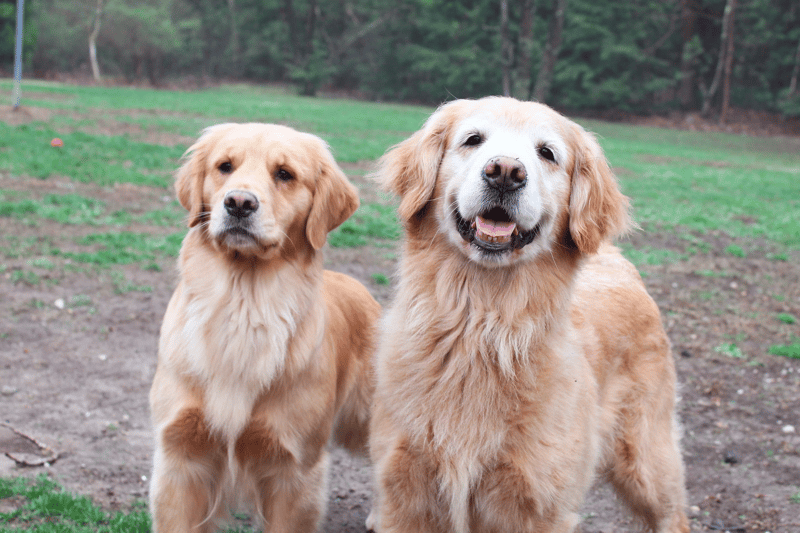 Founded by Nancy Engelbrecht, Heartstone Goldens is a small hobby-based kennel. Strongly believing in their 'Share-the-bed-share-the-couch-cuddling' policy, all their goldens are members of their home and a strong part of their family.
Producing Obedient, well-trained dogs shouldn't be a chore, and this breeder place makes it a goal to have fun with their dogs through engaging activities like walking, swimming, hiking, and playing, along with agility, rally, conformation, and obedience.
All Heartstone's goldens come with health clearances for hips, heart, elbows, and eyes, ensuring that you receive healthy puppies that are both active and are wonderful companions for your family, and that's why this beautiful breeder place is on this list.
6. Rocking O Alpacas And Golden Retrievers, LLC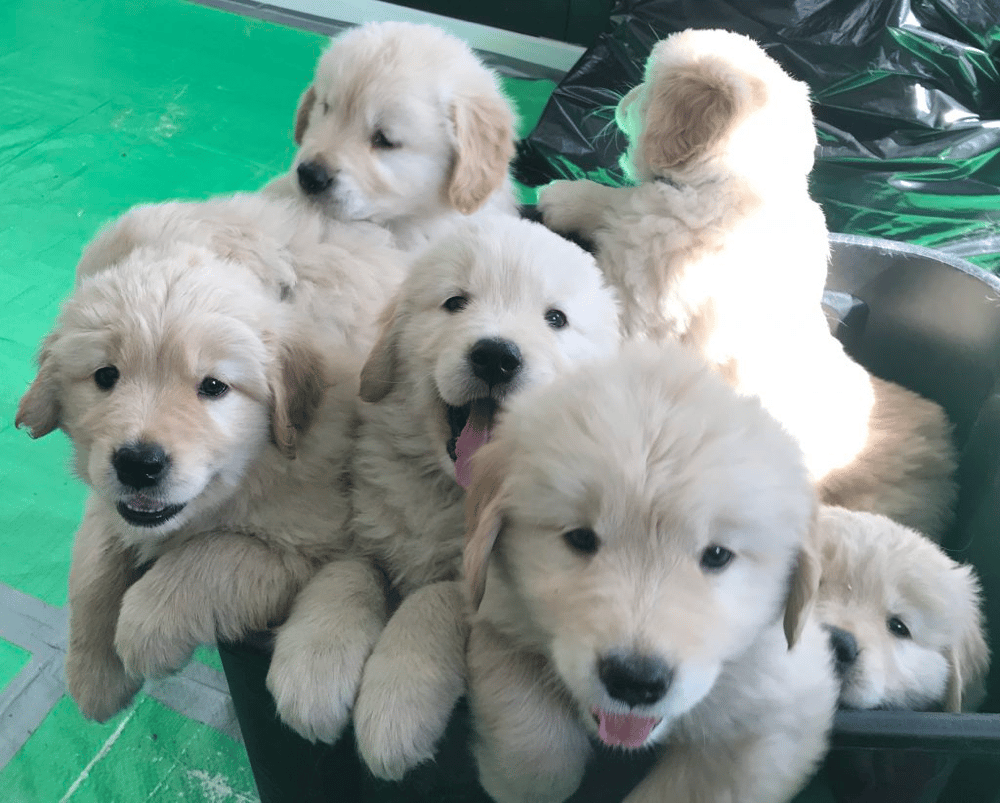 This breeder's place is a family-owned facility that is set on a farm in a rural town in Massachusetts. The farmhouses a large pack of golden retrievers and also alpacas(if that's what you're looking for), used for breeding and shows. Getting golden from this breeder place is actually quite easy as the waiting time is not too long and they are open 24 hours a day, 7 days a week.
All Goldens are AKC registered and are healthy, passing regular eye exams, elbow and hip clearances as well as heart clearances. Maintaining regular visits to the available veterinarians.
Rocking O is truly dedicated to raising healthy quality breeds of both Alpacas and Golden Retrievers for you and your family as they treat their animals with the utmost care and love.
7. Starhill Golden Retrievers
Another reputable breeder on the list, Starhill Golden Retrievers is owned by Gregg and Margaret Von Stemberg, good standing members of the Yankee Golden Retriever Club and Golden Retriever of America, Gregg himself once held the position as the president of Yankee Golden Retrievers Club back in 2014 and 2015.
But what's truly remarkable is their dedication and goal to foster the natural abilities of their dogs through active conformation and obedience training, producing good, healthy, and truly multipurpose golden retrievers.
All their dogs are AKC registered, having passed all necessary health checks including; eyes, hips, elbows, and heart clearances. Best believe that if you're getting a pup from Starhill Golden Retrievers, you are getting a truly well-trained, obedient, and active companion for your family and you.
8. Cressida Golden Retrievers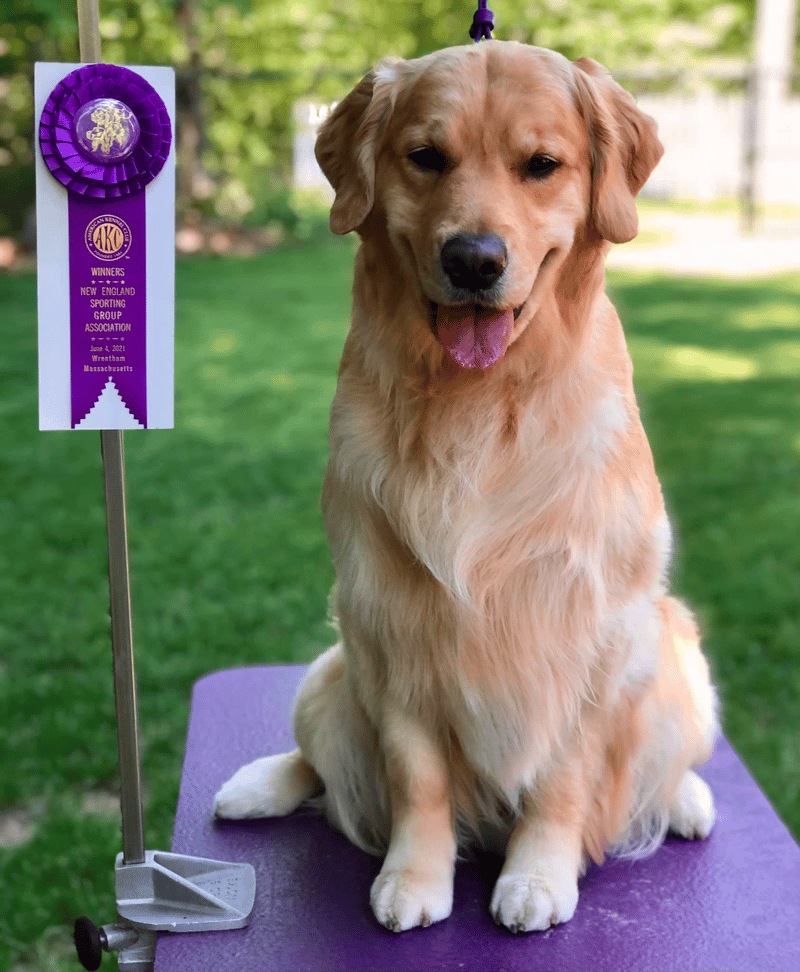 Another member of the Yankee Golden Retriever Club and Golden Retriever of America, Cressida Golden Retrievers, is owned by Heather Donelly. Their goldens are pets first and foremost, but they also actively engage them in AKC competitive events such as; conformation, obedience, and agility since far back in 1981.
Their main focus when breeding their goldens is on the breed type, temperament, and talents, ensuring that each year, a good litter is produced. All their dogs are OFC certified, and all their puppies receive Early Neurological Stimulation (Bio Sensor) exercises between three-sixteen days.
Each puppy is house and clicker trained, and also undergoes temperament testing at 7 weeks to help determine which puppies are placed in which homes. The client also undergoes puppy kindergarten basic manners class, which helps build effective communication with her new companion. A well-developed breeder's place to check out.
9. Cantabrian Golden Retrievers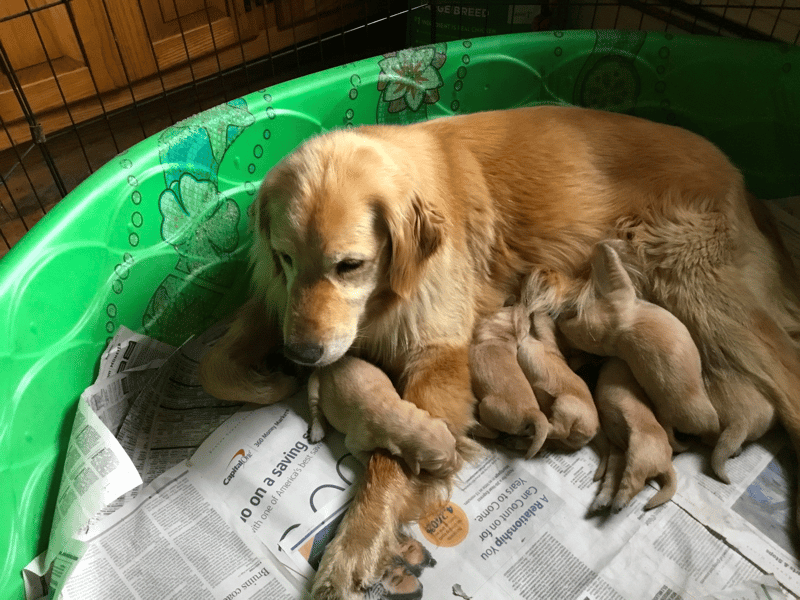 This breeder place has been in existence since 1994 and has produced a few high-quality litters using highly qualified sires and dams with impressive championship pedigrees. All their goldens are bred as loving, healthy family pets, so you can expect a well-trained furry addition to the family when you adopt a Cantabrian Golden Retriever pup.
All their dogs are clear of any hip dysplasia, eye problems, and heart disease and are very well socialized. They also enjoy the puppy playgrounds provided as they continue to vary by age and as their personalities develop. Their puppies are known for their incredibly gentle temperament and intelligence.
Cantabrian Goldens also make it a point to maintain a close relationship with every family that adopts one of their puppies, all to monitor the pups development and compatibility with its new family.
It's worth noting that they are also registered with the American Kennel Club (AKC) and are also members of the Yankee Golden Retriever Club.
10. Sapphire Goldens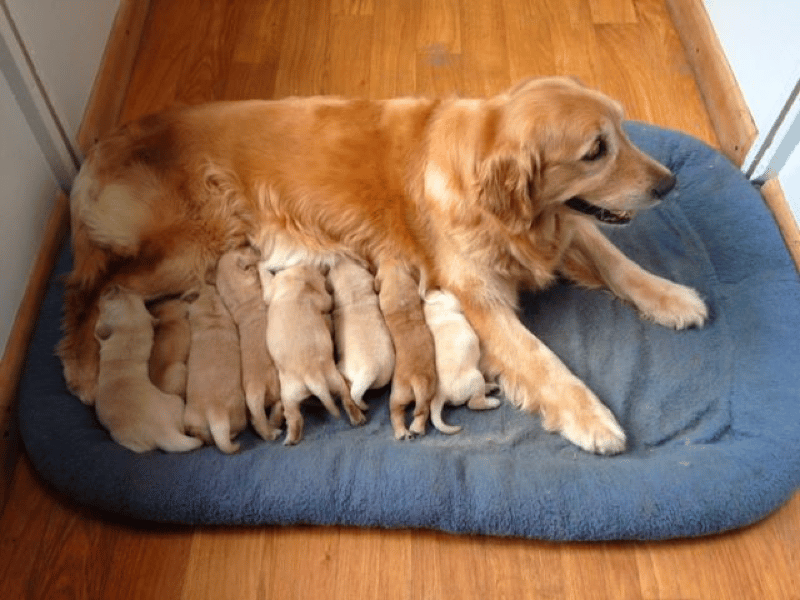 Located in southeastern Massachusetts, Sapphire Golden is home to great-quality golden retrievers. The Sapphire team is made up of a group of individuals with a great passion for golden retriever varieties. Aiming to keep beautiful and healthy dogs, this breeder is arguably one of the best golden retriever breeders in Massachusetts.
Their Massachusetts Golden Retriever puppies make excellent companions and bring joy to many families. Their first Golden "Shadow" placed them under "The Golden Spell" and they fell in love with the breed. Sapphire's Golden Retrievers remain happy and healthy thanks to the team's constant testing efforts. They had their first litter of puppies in 1994, and today they produce roughly three litters each year.
Although the Sapphire Goldens use champions from local performance kennels, their daughters come from champions. They aim to produce their own champions in the near future. Sapphire Goldens ensure that all dogs have hip, heart, elbow, and eye clearances. With this breeder, you are sure to get a healthy Massachusetts Golden Retriever puppy with a great personality. Sapphire Goldens are proud members of the American Kennel Club, Golden Retriever Club of America, and Yankee Golden Retriever Club.
11. Halcyon Golden Kennels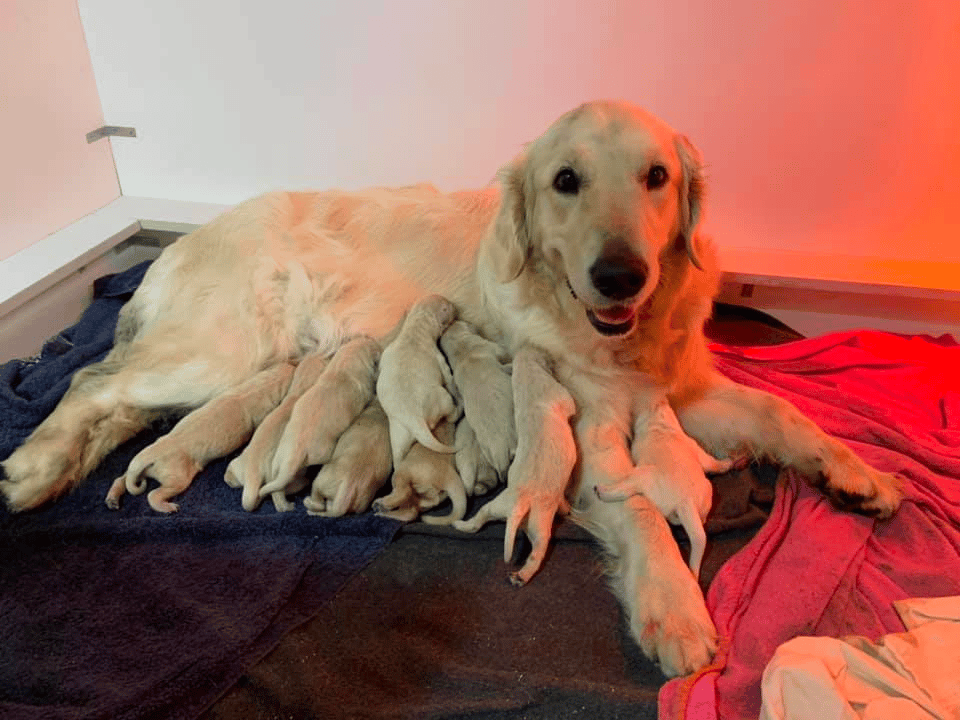 Halcyon Golden Kennels is a father-daughter-owned team, a truly beautiful combination. The father, Peter, has loved and bred goldens since 1979, while his daughter, Bridget, is a practicing veterinarian in southern Massachusetts. Both share an intense love for dogs and choose to become breeders to improve their breed.
Each mating is done with sufficient research on the bloodlines, the health clearances, and noting and complementing the sire and dam characteristics. All this is done to ensure the litters produced are stronger and healthier than the previous generation.
Their lines contain champions with outstanding hunting, agility, and service titles, with their primary focus being to produce healthy litters with good temperaments. All their dogs are registered with the American Kennel Club(AKC) and are OFA certified, passing all health checks and coming with a health guarantee ensuring that you are getting a purebred healthy dog.
12. JRS Goldens
Another on the list is JRS Goldens. If you live in New England and are interested in adopting a new Golden Retriever, you will need to contact JRS Golden. They carefully select and breed AKC Golden Retriever puppies, including British, English, Light Golden, or European Golden Retrievers. JRS Golden is known for its English and soft golden retriever production and is ethical in its breeding practices.
Quality is a top priority for JRS Golden Retrievers. They breed with the aim of improving the quality of golden retrievers in terms of conformation, temperament, soundness, and health. It's easy to keep the coat attractive and ignore everything in it. However, JRS focuses on everything under the coat, not it's color or charm.
To have a healthy, high-quality Massachusetts Golden Retriever puppy, you need a healthy parent. Goldens love attention and thrive when they get it. To stay healthy, they need daily exercise and a nutritious diet. JRS Golden is a kennel-free facility where puppies have been raised since they were born and are lovingly and carefully showered with attention.
13. Brookshire Goldens
Brookshire Goldens, located in Northborough, Massachusetts, it's known for breeding healthy Golden Retriever puppies. you should consider getting your golden retriever pups from them. Like other great breeders on this list, Brookshire is proud to produce some of the healthiest golden retriever puppies for sale.
It's not the color of a dog's coat. Brookshire takes quality seriously and is confident that it produces golden retriever puppies that can measure up to the AKC Golden Standards. Their puppies enjoy undivided attention in a loving environment. When it's time for the puppy to leave, Brookshire begins training and socializing. A well-behaved dog is a happy dog ​​and can bring joy to any family. If you adopt a puppy, Brookshire Goldens offers lifelong support. So your dog is and will always be in good hands.
14. Lazydaze Farms
Last on our list is Lazydaze Farms. Although located in Boston, near Massachusetts, this little show kennel is about 45 minutes from Massachusetts. They are known for breeding beautiful and intelligent family members. Lazydaze Farm is a team of respected breeders who put quality first. If you live near Boston and need a well-trained Golden Retriever, you should rely on him. They specialize in training, showing, and breeding high-quality puppies.
Lazydaze Farm is a proud member of the Yankee Golden Retriever Club, Golden Retriever Club of America, and Connecticut River Valley GRC. You can join these clubs to meet and enjoy the company of other dog lovers. Joining one of these clubs is a great experience for dog lovers and anyone looking for a good breeder.
Golden Retriever Breeders in The Other States Near Massachusetts
Golden Retriever Resources and Tips
Other Dog breeds for your choice:
Conclusion
The Golden Retriever is the most popular dog breed in the United States. This is mainly because Americans love the charm, temperament, and energy of this beautiful breed. A good breeder is fundamental to the kind of dog that you will get, and this is why as a dog lover in the Massachusetts area of the United States, the above-compiled list of the most reputable Golden Retriever breeders in Massachusetts should be a great start for you. Visit any of the breeder places on this list if you are ready and be sure of a top-quality, well-trained, and healthy dog.