Some people might think that Show Golden Retrievers and Field Golden Retrievers are the same exact dogs. While it is true that they are both members of the same breed, the differences between Field Retrievers and Show Golden Retrievers are numerous. This is a lot like the differences between show Labradors and hunting Labradors.
If you have been considering getting a Golden Retriever for you or your family, you might not be sure which of these two styles of this breed is the right choice for you. There are various pros and cons to both of these choices and you might want to pick one over the other for your own unique reasons. While it is true that both of these kinds of Golden Retrievers will make excellent family pets, you will find that some of the breeding choices behind each type can change the experience of owning them.
If you are ready to learn more about the Field Golden Retriever vs the Show Golden Retriever, you need to keep reading.
Field Golden Retriever vs. Show Golden Retriever: The Purpose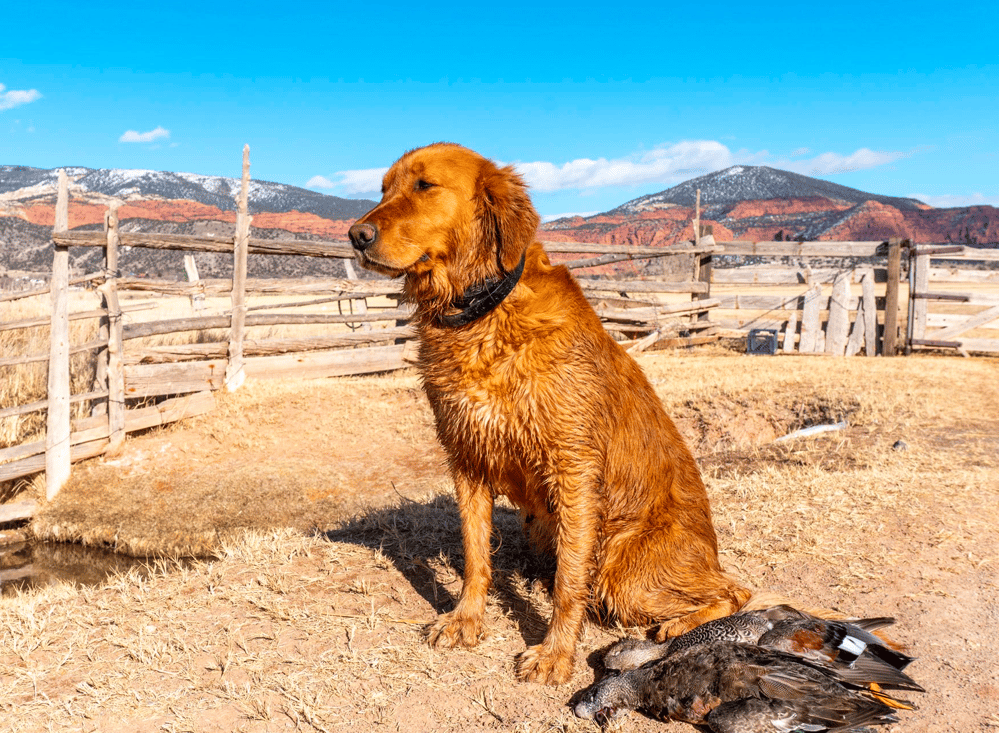 A Field Golden Retriever is bred for hunting. These dogs are intended to help their owners to fetch birds that have been shot down. These birds are frequently in water, or they might be in the tall brush, so the Field Golden Retriever has been bred to handle fetching in both kinds of conditions. The Field Golden Retriever will almost always show a higher drive to play, be active, and find things than a show Golden Retriever. The difference in energy level between the two kinds of retrievers can be significant as well due to the different purposes behind their breeding.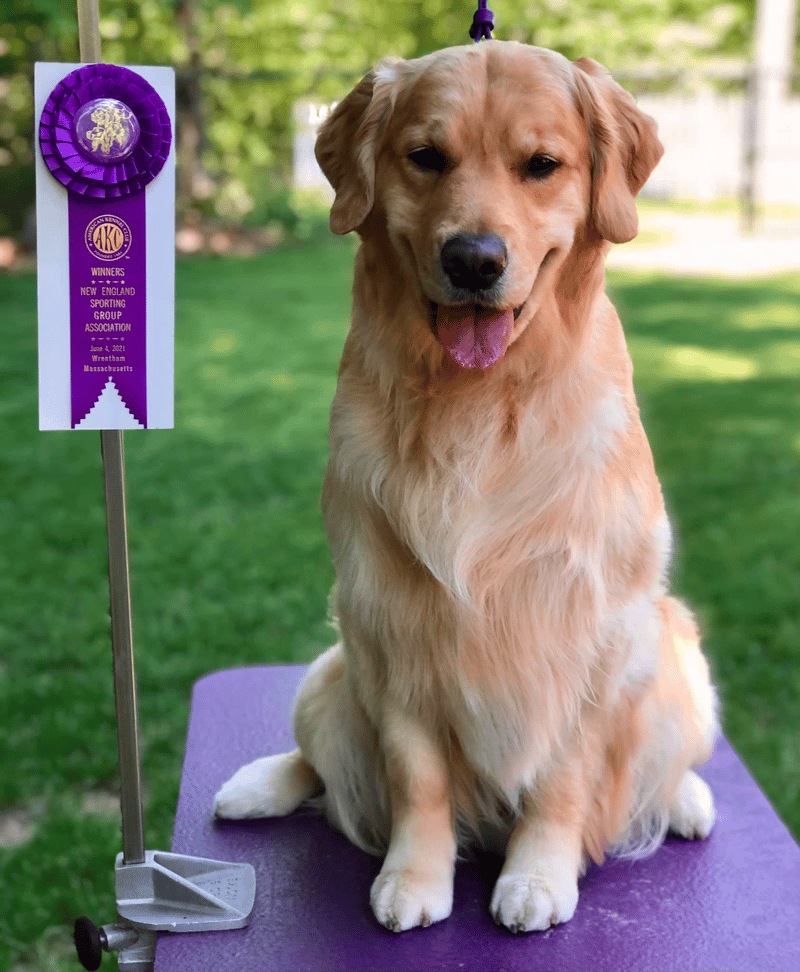 A Show Golden Retriever is bred to meet the standards of the breed for beauty, functionality, and personality. Show dog breeders will often be known for certain characteristics in their breeding program. You might be working with a breeder who breeds for coat texture or color, or a breeder who is interested in creating dogs with excellent gaits. There are various ways that breeders can create unique show dogs. Show dogs are usually less intense and lower-energy than Field Retrievers because of the difference in their breeding. Show dogs need to be able to handle waiting their turn, being around other dogs and traveling all the time. Field dogs will have a higher drive to play and be active due to their intended purposes while a show Golden Retriever will be more likely to be suited for a more laid-back lifestyle.
Both Field Goldens and Show Goldens are kind, sweet, and loving towards people. These dogs can be turned into service dogs with ease because of their kind nature and their love of people. No matter which kind of Golden Retriever you choose, you will be getting a lifelong companion that loves everyone that they meet almost without exception. These are dogs that are easy to feed, simple to exercise overall, and very loving and gentle. It can be hard to find a large dog breed with all of these characteristics and you will be so glad that you chose the Golden Retriever if personality is at the very top of your want list.
Field Golden Retriever vs. Show Golden Retriever: Size and Body Type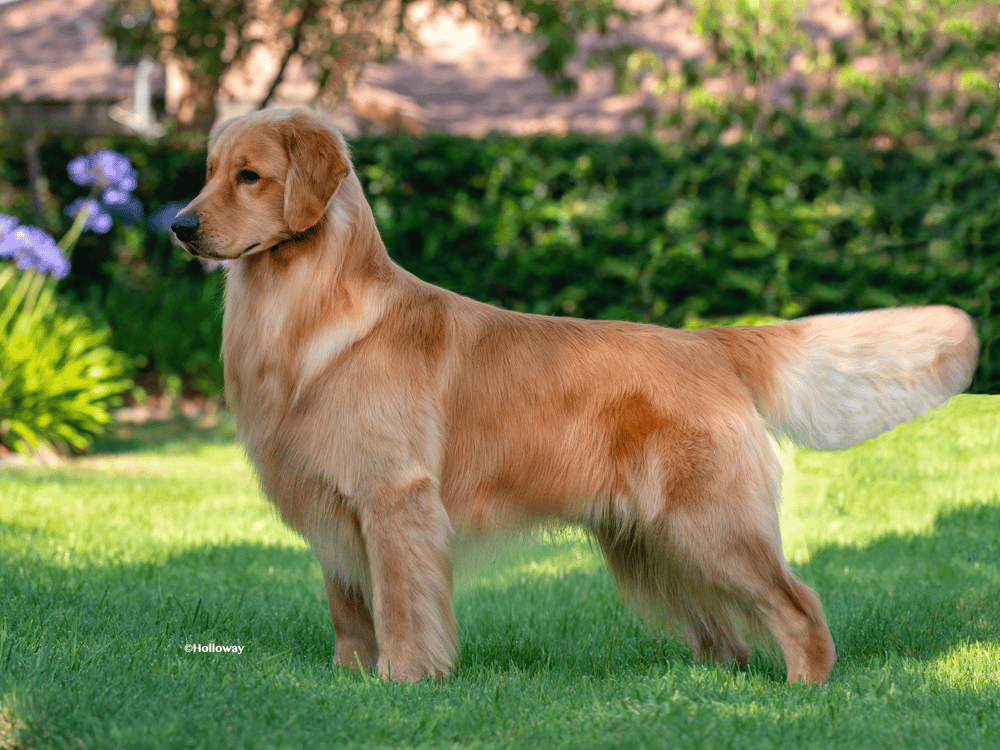 Show Golden Retrievers are usually bigger, stockier, and thicker in the body. They are also more likely to have a blocky head and to be built less for work and more for balance in their overall body composition. Male Show Golden Retrievers are usually about 20-22 inches tall and about 75 pounds.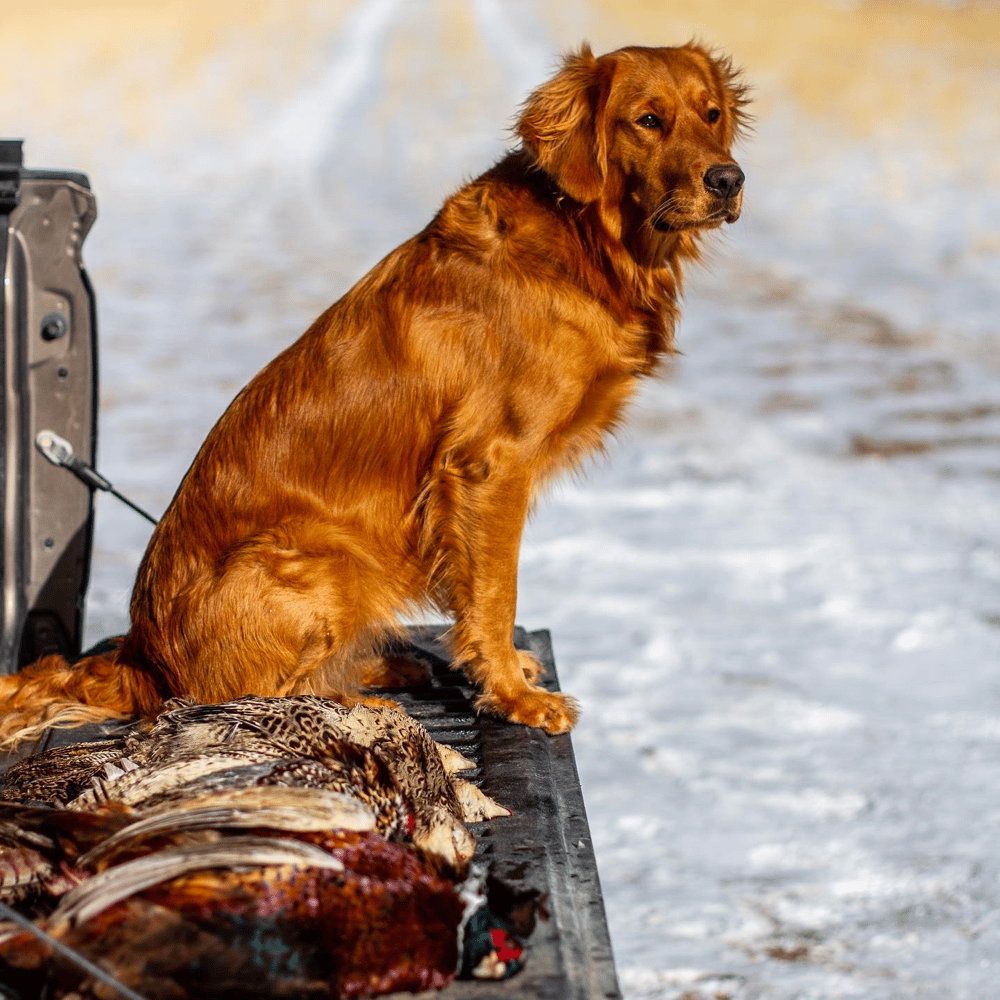 Field Golden Retrievers are made to be sturdy, strong, and athletic. They are usually slim and have leaner body structures that are better for jumping, running, and swimming. Their heads are usually more wedge-shaped as well. Male Field Golden Retrievers are usually about 21-23 inches in size and they will weigh about 60 or 70 pounds.
As you can see, there are no significant differences in the size of the two different styles of Golden Retriever, but they will appear very different when you see them side-by-side. You might even think that they are different dog breeds when you see them standing next to one another. This is all due to the purpose that these dogs will be used for and the physical demands of working dog life versus show dog life can make a big difference in the appearance of any dog breed.
Field Golden Retriever vs. Show Golden Retriever: Personality
If you were not sure which of these dog breeds is the right choice for your needs because you are looking for a family dog, you can rest easy. Both of these kinds of Golden Retrievers make great pets and love people. The overall personality of these two versions of this dog breed is excellent. You will have just as much fun with your Field Retriever as your Show Golden Retriever and they each are kind and gentle enough to be around children.
The major differences in the personalities of these two versions of this lovely breed are related to the ways in which they are intended to be used. Show dogs will be more mellow, less energetic, and not as motivated to find things or get into things. A field dog might be motivated to look for things to chew on or pick up and they can sometimes be driven to get into things in your home and possibly chew them up. A Field Retriever will be more energetic and need more time to run and play each day.
Field Retrievers are also more likely to need mental stimulation to be happy. Some owners have to invest time into the training of their Field Retriever each day to keep them from being anxious or stressed. Not every Field Retriever will require this much mental stimulation but this can be a common shortcoming of the Field Retriever as a pet when compared to the Show Golden Retriever.
Field Golden Retriever vs. Show Golden Retriever: Coat Differences
The Show Golden Retriever tends to have a very long coat that is feathery and fluffy and silky. This can mean that the coat of a show dog is a lot more work than the coat of a field dog. Pet owners who get puppies from show Golden Retriever breeders will want to be sure that they are ready for the maintenance that is needed for this kind of coat. Most people who get a Golden Retriever will just take their dog to the groomer to have maintenance performed for them. You can learn to do this care yourself, but not everyone wants to make time for this need. Golden Retrievers have high maintenance coats and this is just part of owning this breed.
If you want to have a less difficult coat management experience, you will need to select a Field Golden Retriever for your pet. The coats of Field Golden are shorter and wirier and they will not have as many feathers. They also tend to have hair that is not as fluffy overall which is more practical when the dog is out in the brush or swimming to get a bird. Field dogs also shed far less than show dogs which is a big comfort to people who are neat freaks and really don't want clumps of dog hair blowing around their home every day.
No matter which kind of dog you select, you will have to commit more effort to grooming than you would with another short-coated breed. Making sure that you are ready to handle the coat care of your Golden Retriever is important for their health and comfort as well as your enjoyment of time spent with your dog. Avoiding mats, tangles, and issues with skin irritation require that your Golden Retriever is groomed regularly.
Field Golden Retriever vs. Show Golden Retriever: Training
Both kinds of this dog are easy to train. They are personable and they love people. This means that they are always eager to please and are willing to do things with their owners every day. Field golden retrievers are much easier to teach complex tricks and tasks to. They need to be able to learn a lot of complex training items for their jobs and are more likely to be able to take on other skills like agility training or hunting competition training.
Your Show Golden Retriever will be very trainable as well, but they are less likely to enjoy complex training tasks. They will be happier just learning some simple tricks and spending time running or hiking with their owners. They do love fetch, just like a Field Retriever but they are not as driven to find things or to learn complicated tricks and games.
Both of these retriever dogs are always happy to please their owners and they are willing to make a big effort even if all they are getting out of the deal is your affection. While the intentions behind the breeding plans for each of their retrievers are different, the fundamental personality of the breed is always the same. This makes training a Golden Retriever really fun, no matter which kind of pedigree your dog has.
Field Golden Retriever vs. Show Golden Retriever: Attitude Toward Family and Kids
Golden Retrievers of both kinds love people and they are well-known for being great with kids. The thing that people should be aware of that can be different when picking a Field Retriever, is the difference in mouthing behavior. Because Field Golden Retrievers are bred to fetch things and bring them back in their mouths, they are more likely to want to put their mouths on things. This can seem like it would be an issue when there are kids in the home, but actually, the Field Golden Retriever will usually only place their mouth around things without biting down. This is because of the nature of fetching downed birds and the need for the dog to bring the bird back unharmed.
Show Golden Retrievers are calmer and they might be lazier but they can also sometimes want to put their mouths on things. This is much more typical in hunting dogs, but some show dogs can also display this behavior. Some people will grow concerned that their Golden Retriever is biting but they are typically just showing this behavior as part of their hunting breeding instinct.
Field Golden Retrievers can be a little high-energy for a home with small kids, but both of these dogs try very hard to look out for children and to play carefully with smaller humans. They are a very trustworthy dog that rarely shows any signs of aggression and that will put up with kids pulling on their ears, hair, or feet without complaint.
Field Golden Retriever vs. Show Golden Retriever: Breeders Matter
If you are worried about getting a dog that is too high energy for your family, you will just need to look into the information that you can find about each breeder you want to buy from. Reviews online as well as information about the kind of breeding that a business is doing will tell you a lot about the kind of dog that you are going to be getting. You might need to pick from a breeder that is interested in creating puppies with really great personalities if you have small kids in the house, or maybe you want a dog with a really nice coat because you love feathers and silky hair. Whatever traits and personality you are looking for, there is a breeder that will offer you access to these things.
If you are trying to get a show dog, you will of course need to buy from a reputable breeder with winning pedigrees. For hunting purposes, you will have to get a dog that is bred just for hunting and ready for this kind of task from birth. There are many reasons that it can be beneficial to look into a breeder, and getting a dog that is suited for your ultimate plans is much easier when you do some research into the dogs that a breeder is creating.
Working with the right breeder can also improve the odds that you will get a healthy dog. Quality breeders will make sure that their dogs are certified for healthy hips, elbows, and eyes and they will usually also certify heart health. A good breeder will also test their mature dogs frequently for issues that can lead to poor health in their puppies. You will want to shy away from breeders who do not do these certifications. You cannot be sure that you are getting a healthy dog when you work with a breeder who skips these essential steps.
Common Health Issues For Field Golden Retriever and Show Golden Retriever
Both show and field dogs of this breed can experience some of the same health issues. This is why working with a skilled breeder who certifies their dogs is critical. When you are not buying from a known and experienced breeder, your dog might have genetic issues that could have been avoided through responsible breeding.
1. Hip and Elbow Dysplasia
This is one of the most common Golden Retriever health issues and it can be very detrimental to the longevity of your dog. Hip problems can lead to arthritis, soft tissue damage, weakness in the hind limbs, and pain. Your dog might only have a mild case of this problem, but this can still lead to ligament tears that require surgery and other more severe problems.
Hip and elbow problems are common in this breed, and most well-known breeders will make sure to certify their dogs as free from these defects. Even young dogs can become unable to run, walk, or live without pain when they have hip dysplasia. You will want to make sure that you ask about this concern when you are shopping for a Golden Retriever puppy.
Both field and show goldens can be impacted by this problem. This is an issue that is present in all of the dogs of this breed without careful selective breeding to prevent it. Make sure that you are not one of the many people who have young dogs with crippling joint issues by asking about this issue and certifications proving that your dog will be free of it.
2. Cancer
Unfortunately, this is not a thing that breeders can certify their dogs for. Bone cancer is a big problem in this breed and responsible breeders are always trying to avoid this issue in their litters. That being said, this is one of the risks that either kind of Golden Retriever could face in the future. You will find that the worry over cancer is just part of owning a Golden Retriever, whether it is a field dog or a show dog.
If you are worried about this problem in your puppy, you can ask the breeders that you are thinking of buying from about any dogs that they have bred that ended up with cancer. This can be a good way to determine the likelihood of your dog having this health problem in the future. Neither the Field dog nor the Show dog is exempt from the risk of cancer, unfortunately.
3. Cardio Issues
Large dog breeds can have heart problems in higher numbers than small dogs. This is just part of big dog ownership, but Golden Retrievers are more likely to have heart problems than other big dog breeds. Quality breeders of either show dogs or field dogs will take the time to certify their dogs and puppies for heart health. This is a genetic issue in many cases and dogs with these kinds of heart conditions can have much shorter lifespans and major health issues throughout their life.
When you are looking into either a Field Retriever or a Show Retriever, you will need to ask about certifications for heart health. This is an important consideration, especially if you want to use your dog for agility, hunting competitions, or actual field hunting. Dogs with heart conditions will not be able to exert under these kinds of conditions and you will need to know if you have picked a healthy dog or not before you start training them in these active pursuits.
There are some other mild issues that any Golden Retriever can experience such as skin issues, matting of the coat, and problems with cataracts as they age. These are not specifically Golden Retriever issues and you just need to know that both Field dogs and Show dogs can have these health issues. Caring for a dog with a long coat will always mean that skin issues and coat concerns can happen. You should not worry too much about the chances that your dog will have skin problems, cataracts, or allergies. These things are not always consistent, even within breeding families, and your dog might never show any symptoms of these issues whether they are a Field dog or a Show dog.
Both Show and Field Golden Retrievers Make Excellent Pets and Companions
No matter what you are planning to do with your Golden Retriever, you will find that the personality of this breed is superior to many other breeds. These are kind and gentle dogs that love people and are simple to train and care for. If you are prepared to care for a longer coat and to make sure that you take time to research the breeder that you get your puppy from, you will have a great experience with your new Golden Retriever.
When choosing between the Field Retriever or a Show Golden Retriever, you will need to remember that the Field dog will have more energy and be more likely to get into things or put their mouths on things. You will end up with a mellow companion when you pick a Show Golden Retriever but you will need to be prepared to care for a long and silky coat that will need lots of work.
Both kinds of Golden Retrievers make great family dogs and if you buy from a responsible breeder, both kinds of dogs will be healthy and happy for years to come. This breed is a really great choice for so many reasons and either kind of Golden Retriever can be a great companion for you and your family.
Other Types of Golden Retriever