If you love Golden Retrievers and are thinking about getting one for yourself, you might have seen that there are Golden Retrievers that are sold near you with blue eyes. If you have been paying attention to the breed standard for the Golden Retriever, you might be confused about how there can be Golden Retrievers with blue eyes. This is a very good thing to have questions about, and you should be well-informed before you pick up a dog that has this eye color. When you know more about these kinds of genetic changes to a breed with a set standard, it can help you to make an educated choice about whether or not to get one.
If you are ready to learn some more about Golden Retrievers with blue eyes and what the truth is about this eye color in this breed, you need to keep reading!
Can Golden Retrievers Have Blue Eye Color?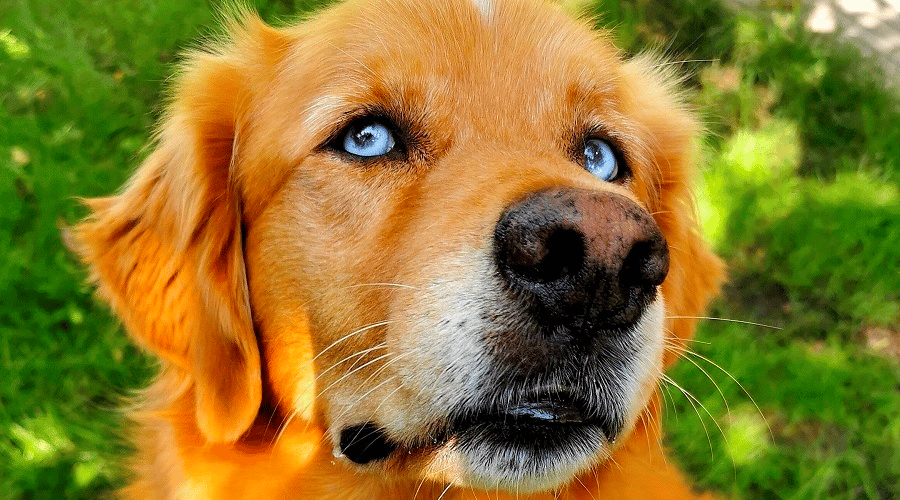 Your first question is probably whether or not Golden Retrievers can actually have blue eyes. The answer is, YES, Golden Retrievers can have blue eyes, but these are not purebred dogs. This is different than Golden Retrievers with cataracts, which will just appear to have blue eyes due to this eye condition. Even young Golden Retrievers can get cataracts, so you will need to be aware of what this condition looks like so you do not confuse this health condition for blue eyes.
Golden Retrievers that have blue eyes will not be purebred, so the question that you need to ask the breeder about what the cross is that made the blue eyes possible. There are various breeds that can be crossed with a Golden Retriever to cause this blue-eyed trait. Some of these dogs will look 100% purebred until you see their eyes.
Stay away from breeders who state that their dogs are purebred or who will not disclose what the other part of the pedigree is. This is very unethical, and you should not do business with a breeder that lies to you. Sadly, there are many breeders who pretend to sell purebred animals with "special" eyes, and they take in all kinds of unsuspecting people each year. This is usually used as an excuse to call the dogs "rare" so that they will cost more too.
While the dog might look just like a Golden Retriever, the blue eye color is a dead giveaway that there is another breed mixed into the pedigree. This can be fine if the other dog used for the litter was healthy and a good example of its own breed, but you might not be able to find out this information if the breeder is not willing, to be honest about the cross that created the blue eyes in the litter of Golden Retriever puppies they are offering for sale.
The AKC standard for the breed states that this breed can have dark brown or medium brown eyes. There is also an extensive list of characteristics that the dog must meet in order to be registered to show or as a breeding animal. You will find that even the rims of the eye color are described, and Golden Retriever should have "dark rims" around their dark eyes.
If you are noticing that the dogs that you are looking at with blue eyes also don't look quite like a Golden Retriever in a few other ways, that is likely due to the genetics of the other breed coming through beyond their blue eyes. You can look at the attached AKC standard in detail to see all of the various traits and appearance qualifications that Golden Retrievers must meet to be registered as breeding animals. Dogs with blue eyes will also likely have other traits that do not meet the set standard.
What if a Golden Retriever Is A Light Cream or Red Color?
Some people get suspicious of the Golden Retriever puppies that they are looking at because of their color. You need to be aware that Golden Retrievers can come in English Cream, which is very light in color, or they might also be very red, which is common in Field Retriever families. The color of the coat should not be a concern unless you see spots or some other kind of white markings that Golden Retrievers should not show.
Golden Retrievers of all three colors will always have a consistent color pattern, and they will not display spots, white feet, white chest patches, or light-colored spots on the head or neck. You need to be sure that you think carefully about getting a Golden Retriever with an incorrect coat color as well. Blue eyes are not the only sign of cross-breeding, which is why it is so important to read the AKC standard before your go shopping.
When you know what your Golden Retriever puppy should look like before you start to shop, you will be much less likely to end up with a dog that does not meet AKC standards, and that might not be healthy. Consider all pet-level breeders and unregistered breeders as a possible source of dogs with health concerns that you might not want to tackle.
Many breeders who have puppies with spotted coats or some other color pattern that is not allowed per the AKC are cross-breeding, but they could also be line-breeding. When dogs are bred back to relatives that are too closely related to them, lots of genetic aberrations can present themselves. It is a good idea to ask to see the breeding lines of the dogs that you are looking at so that you can verify that the puppies are not line-bred either. Line breeding is not allowed, but some unscrupulous breeders have been known to engage in this practice to try and present puppies that have very specific traits.
What Color Are Golden Retriever Eyes Supposed to be?
Golden Retrievers are supposed to have warm brown eyes. There can be some variation in the tone of brown that your dog might display, but overall, most breeders are quite picky about this, and they will even avoid breeding a dog again if they get lighter brown eyes than they are looking for. This is partially due to breed health standards, but it is also related to the demands of the AKC for show dogs.
Golden Retriever breeders who are loyal to the standard and who sell AKC quality dogs are often very upset that there are dogs that are being called Golden Retrievers that are blue-eyed. They are right to be upset in most cases since this is a very unethical breeding practice, and it can lead to people buying dogs that have come from what is essentially a puppy mill. Dog breeding is done with care for good reason, and mixing in other dog breeds on purpose to create Golden Retrievers with blue eyes can lead to all kinds of defects and health problems within the breed.
What Breeds Might Caught Blue Eyes in Golden Retrievers?
The common breeds that are used to create blue-eyed Golden Retrievers are as follows:
Husky
Weimaraner
Aussie
German Shepherd
Australian Cattle Dog
Border Collie
Great Dane
Cocker Spaniel
Old English Sheepdog
Boxer
Pitbull
You can see just how many dog breeds have the blue-eyed gene in their makeup, and some of these breeds even allow this genetic presentation in registered dogs. You will need to make sure that the breeder can provide you with accurate information about the blue-eyed dogs that they are selling so you can look into the possible health concerns that your dog might show later on. Golden Retrievers have their own common breed health issues, but you need to be aware of the risks related to the other parent as well.
Remember also that these other breeds have their own specific temperaments that they were bred with for purposes like hunting, protection, and so forth. This can impact the attitude and temperament of the dog that you are getting from this breeder. The differences in your Golden Retriever from breed standard might be more significant than just the blue eyes.
If you are looking for a kind, sweet, loyal family dog, you might still get this kind of pet from a breeder making blue-eyed Golden Retrievers, but it is less likely. There can be many changes to the way that your dog acts, the way they feel about kids and cats in your home, and more just related to the other breed that is mixed with the Golden Retriever. These are the considerations that many people forget about when they are attracted to an unusual color or breed characteristic in a litter of puppies.
Can Puppies Have Blue Eyes That Change to Brown?
Yes, many puppies have what look like dark blue eyes when they are born. As they get more mature, the blue color will turn to brown in purebred dogs. If you had felt a sense of panic when you went to look at your purebred puppy because its eyes appeared blue, there is no reason to be concerned. This is totally normal in very young puppies.
However, if the dog that you have picked out has very blue eyes when it is approaching a few months old, this dog will likely have blue eyes for life. This is one of the things that many people have concerns about when they see pictures of a purebred litter. Rest assured that a breeder who is AKC certified will never breed blue-eyed dogs, and they will be able to prove that none of their animals has ever had blue eyes.
The important thing to remember when you are dog shopping is that you should ask as many questions as it takes for you to be comfortable with your purchase. Responsible breeders will be willing to answer all the questions that you have. You should be concerned about a breeder that will not reply to questions or who seems to be cagey about answering questions about their litters. This is often a sign that something is not right, and you should consider looking for another breeder if this is the way that the breeder you are looking into is behaving.
What Are Some Other Causes of Blue Eyes in Golden Retrievers?
There are other reasons that a Golden Retriever might have blue eyes, and these are more concerning than just irresponsible breeding practices. You should be aware of the other reasons that this eye color might be present in a litter so that you can decide if you are interested in carrying on with getting a puppy from the litter in question.
This is not common in the Golden Retriever breed, but there are albino genes in all animal populations. Responsible breeders will not sell puppies with albinism, and they will never breed the parents again that made this defect come to the forefront. This is very rare in dogs, but you might have heard about breeders selling "white" labs and "white" Dobermans. These are all albino animals, and they often suffer from significant health issues throughout their life.
Albino animals will have pink around their eyes in most cases, but they do not have to appear this way. Some albino dogs will just have blue eyes. Another dead giveaway, however, is the pink nose that often comes along with the albino gene. If the dog that you are looking at has blue eyes but a dark nose, it is just not purebred. If the nose is pink, it is an albino animal.
Brown eyes genes are dominant, so they should be expressed first when two purebred dogs are crossed. There is the chance that a dog that should not have been registered as purebred can land in the gene pool and create a recessive litter, but this is very uncommon. Most dog breeds that have been accepted by the AKC with the standard for brown eyes have been so carefully bred that this is not a concern.
Again, just as with albino animals, responsible breeders will never allow these animals with recessive genes to be sold to new homes. They will also never advertise these animals as "rare" or blue-eyed and special in some way. It is always a red flag when a breeder is offering a blue-eyed litter of Golden Retrievers for sale because of the health risks associated with animals with recessive genes.
This was mentioned earlier, but it is worth some more discussion. Golden Retrievers are a breed that is prone to eye issues, and there are some unethical breeders that might offer litters of puppies for sale that have eye defects. These usually become worse over time, and they can lead to a cloudy, bluish eye appearance. This is not the same as a husky's blue eyes, and it is fairly easy to tell the difference between the two eye presentations. Make sure that you do not look at young puppies who are showing signs of an eye defect and think that they are blue-eyed.
A good way to check the difference between blue eyes and eyes with health issues is to take the dog over to the light and look at their eyes. Blue eyes will look clear and normal, while eyes with health issues will appear cloudy and dull and without sheen. This is a great way to check this claim by a breeder to make sure that you are not being given an animal that will actually be blind early in life.
What if I Don't Want a Show Dog? Is it Okay To Buy a Blue-Eyed Golden Retriever?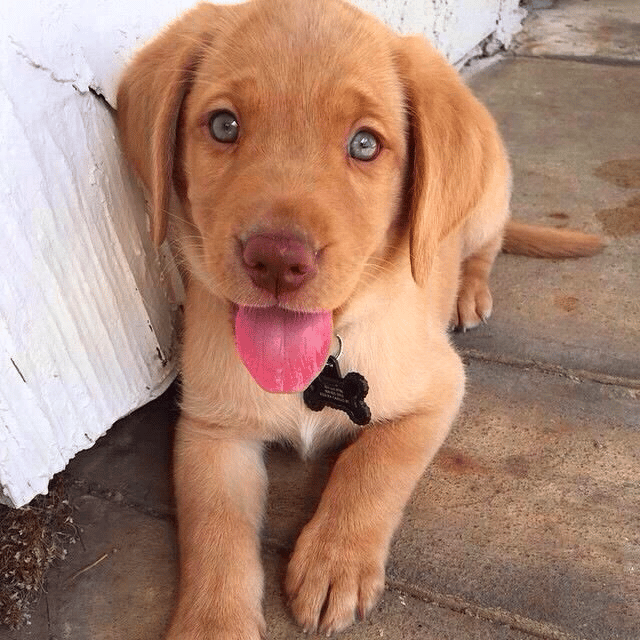 This is a complicated question. Sometimes people do buy these dogs because they feel bad for them or because they think that the blue eyes are cute and they don't want a show dog. This can be all right, but you need to be aware that when you support irresponsible breeders, they continue to make more of the same litters with the same potential health concerns. Your dog will also likely have more health problems during its life, and you should be prepared for a pet that might not have a normal lifespan.
There are many reasons that supporting irresponsible breeders are bad, and your own animal's well-being is not the only reason to have concerns. When you choose not to engage with breeders who are not responsible, you will also be helping to preserve these carefully-bred animals that are created with care by other breeders. While a Golden Retriever puppy from a skilled breeder will never have blue eyes, you will be getting a dog who represents the breed, and that was created with care.
Responsible breeders will also take the time to certify their dogs for all kinds of health conditions, and they will stand by their pet animals if something happens that makes your dog a poor fit for your needs. A breeder that is creating blue-eyed Golden Retrievers will almost certainly offer no puppy guarantee, and they will likely be unresponsive if you reach out to them later for help with your dog's health problems. The protections and benefits of shopping with a skilled breeder are numerous, and you will always be better served by paying a little more and avoiding dogs that have blue eyes.
If you are really sold on having a dog that has blue eyes, there are so many breeds that can have blue eyes without having questionable breeding. Huskies, Aussies, and Border Collies can have blue eyes and still be purebred. There are many other options as well for this kind of trait if you want to have a blue-eyed dog that you can trust the breeder to have created with care. While a lot of these breeds will not offer you the same sweet, kind, and gentle temperament that a Golden Retriever can offer, you will still have a loving companion in your home that has the blue eyes that you were looking for.
Golden Retrievers That Are Purebred Cannot Have Blue Eyes
If you have been struggling to decide if you want to go pick up a blue-eyed Golden Retriever puppy, you should always resist this urge. There is nothing good to be gained by supporting unethical breeders, and you will find that your puppy might not be very healthy either. While it can be tempting to just get one anyhow because you think that they are cute or because you feel bad for them, be sure that you are prepared for what this purchase might mean. Your dog could enjoy a healthy and full life with you, or they might be very sickly and have lots of problems that a dog that comes from a quality breeder will not.
It is usually worth reaching out to some other recognized breeders if you notice that there is someone offering blue-eyed Golden Retrievers for sale. These breeders are very motivated to help regulate their own breeding community, and they can reach out to the breeder. Sometimes local breeders who are not registered with the AKC do not realize that this is a no-no. This is a better method of handling this issue than telling the breeder yourself that they are not providing puppies that will be healthy.
Taking on a dog with a genetic defect can be a really tough process, which is why there are rescues that are devoted to this process. If you really want to get a blue-eyed Golden Retriever, you should contact shelters that specialize in these kinds of dogs and get a puppy from a shelter. This will support the effort to end this kind of irresponsible breeding, and you will get the blue-eyed dog that you have been wanting.
Golden Retriever Recommendations and Resources