There are many reputable Golden Retriever breeders in New York. You must consider important elements like social and living conditions when choosing a Golden Retriever breeder. The way your Golden Retriever is raised will have a significant impact on their lives. Evaluate the conditions of the breeder and the treatment of every puppy.
The Best Golden Retriever Breeders in New York
When choosing a Golden Retriever breeder in New York, choose reputable breeders. The type of dog breeder you choose is important, so consider different factors like the acreage, reputation, and pedigree. Considering how your New York dog breeder raised them is very important to their health and learning curve. If they raise your golden retriever in a positive environment, they should have an obedient and loving personality.
As you select your puppy, consider the appearance, age, size, and gender. For instance, the gender of the Golden Retriever has a large impact on its personality. Choose a puppy compatible with your personality.
Golden Retrievers can be outrageously disobedient without early training and socialization from their breeders. Without training from breeders, your puppy will certainly require professional training later in life to receive the required discipline that a Golden Retriever needs. Training in puppyhood can instill obedience in your dog, preparing them for a bright future of good behavior.
1. Adirondac Golden Retrievers
Adirondac Golden Retrievers is a certified dog breeder who only raises every type of Golden Retriever, from active companions who excel in their athleticism to compassionate companions. All puppies are raised in a loving environment with plenty of social interaction, allowing them to flourish in any home.
In addition to raising healthy puppies, Adirondac Golden Retrievers trains their puppies in various therapies, professions, and hunting techniques. Many of the puppies that come from this breeder become professional work dogs like K9 units and assistants.
2. Bounderhill Goldens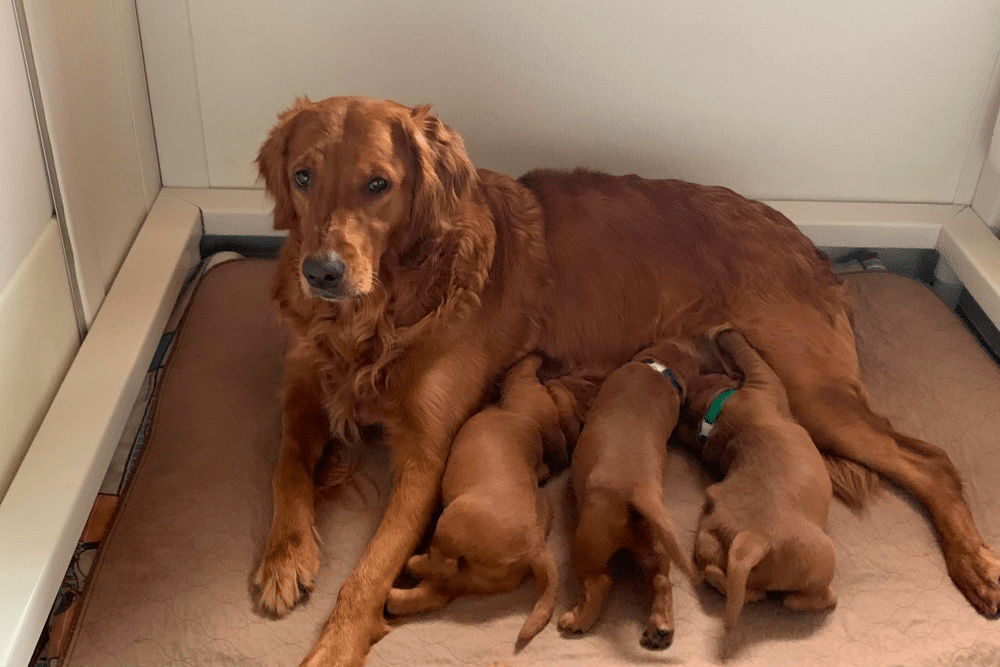 The pups of Bounderhill Goldens are raised on a massive piece of property, including plenty of space to roam and a large pond to swim. The puppies have ample space to play as they grow between birth and adoption.
Look at the Bounderhill Goldens website to see the advisory resources, which recommend training, regular vaccinations, and proper housing. The website showcases litter information like photographs and birthday announcements so you can view each litter individually. Seeing each litter helps you plan for your upcoming puppy since each dog mates with the same dogs.
3.

Buck Family Farm Golden Retrievers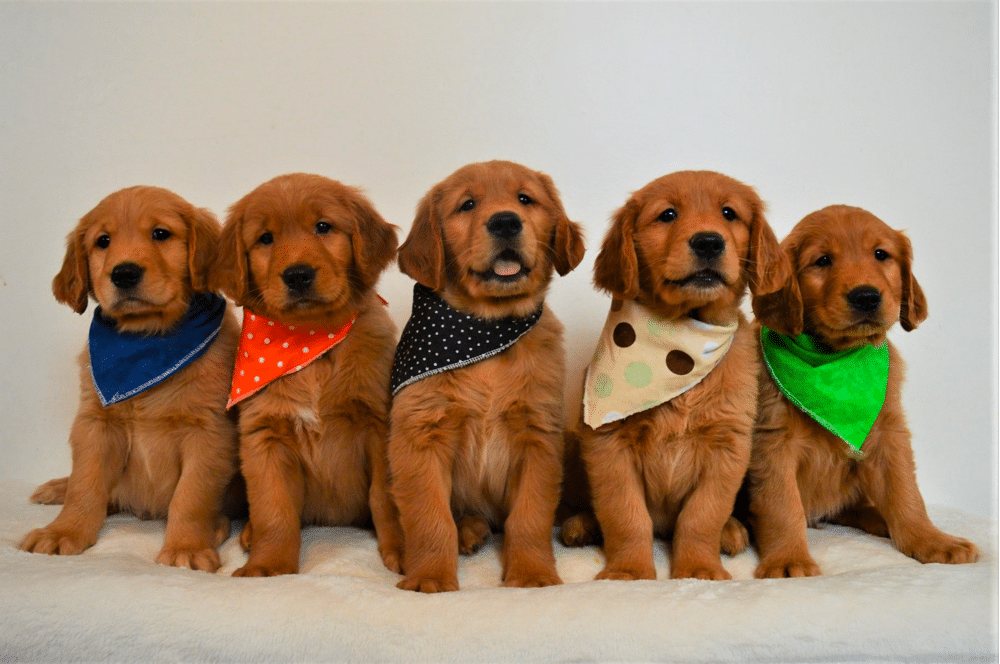 Buck Family Farm is a small 20-acre golden retriever breeder owned by the Buck family. The New York golden retrievers from Buck Family Farm receive constant socialization from the family, with the freedom to roam and play daily. They are fed a fresh, organic diet and bred with H.E.A.R.T., (the Health, Education, Accountability, Responsibility, and Tradition), a certified American Kennel Club Program trusted for its reliability.
The puppies at Buck Family Farm are some of the healthiest golden retriever puppies in New York. Buck Family Farm performs genetic testing on all litters to guarantee they meet all OFA standards. These healthy puppies are ready for visitation at five weeks old. The Buck Farm is one of the few breeders in New York that allow people to visit their puppies before adoption. You may also visit their website and view each litter for individual pictures of the puppies.
4. Gaylan's Golden Retrievers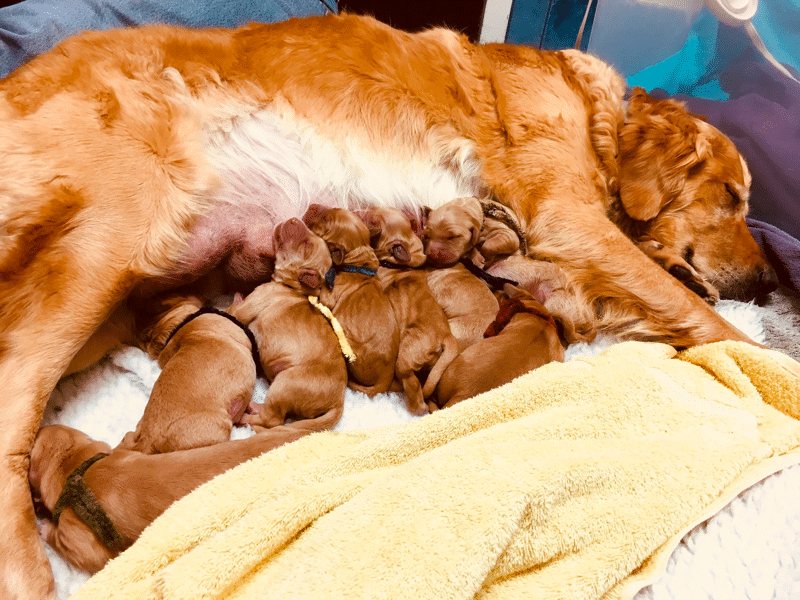 If you are looking for an obedient hunting dog, look no further. Gaylan's Golden Retrievers is a breeder and puppy development program that develops your golden retriever's hunting skills at an early age. Whether you want an amateur companion or a professional competitor, Gaylan's Golden Retrievers produces them all. The owner, Gaylan Watkins, only accepts limited reservations and is highly selective about their adoption process because of their puppies' significant training.
The early training makes these golden retrievers elite competitors who can succeed in multiple fields. Several dogs from this reputable breeder have proceeded to become award-winning Champions in fields like Agility, Tracking, and Obedience trials. Since they have such high energy, they are expected to find homes that are suitable for their needs.
| | |
| --- | --- |
| Name of Owner | Gayle Watkins |
| Breeder since | 1979 |
| Address | Cold Spring, New York |
| Email | [email protected] |
| Phone Number | (234) 567-8910 |
| Website | gaylans.com |
5. Golden Haven Golden Retrievers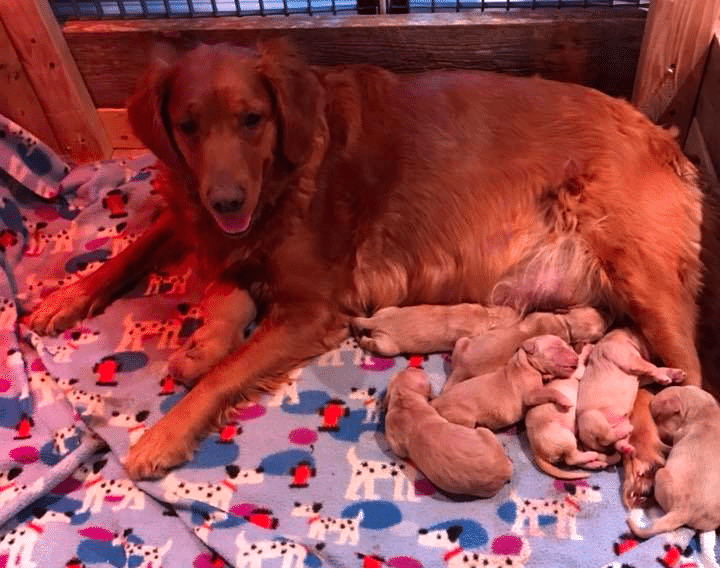 Golden Haven Golden Retrievers was inspired by the two owners' love for golden retrievers. It was established in 2017 after the two dog lovers followed their dreams of raising goldens full-time.
The puppies of Golden Haven Golden Retrievers are raised on a real family farm. The walking trails, ponds, and massive fields on their 14-acre property mean that the puppies enjoy plenty of freedom as they grow within their first few weeks of life.
6. Golden Puppy Dreams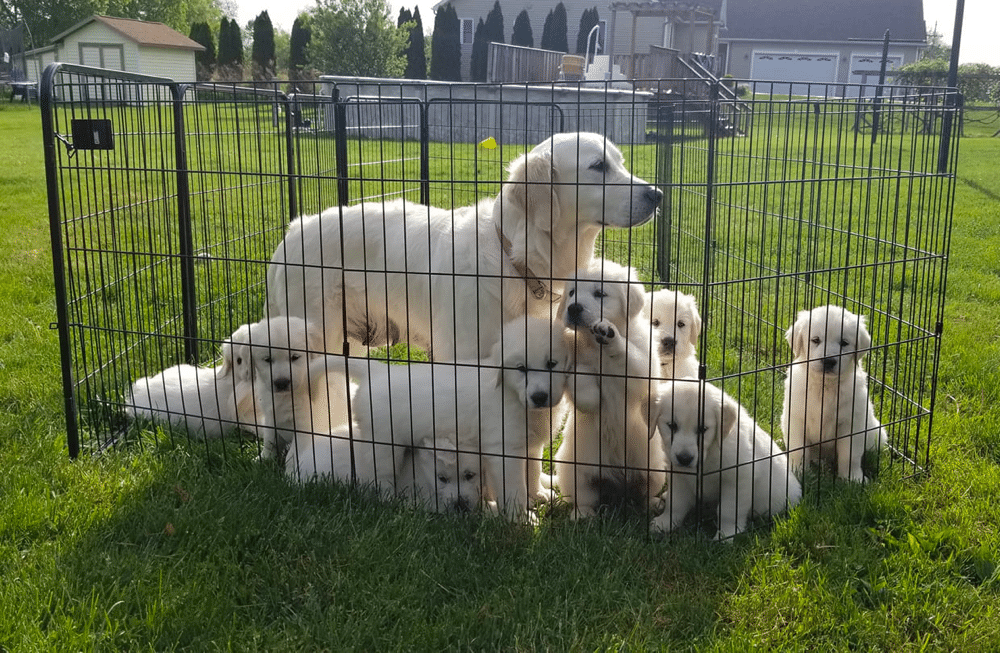 Golden Puppy Dreams is a small family breeder from Rochester, New York, who raises their puppies in natural environments. Their wholesome upbringing exposes them to common household noises, so your puppy is never fearful of the small things. They were established in 2021 and immediately recognized for their ethical breeding practices.
Every good breeder should be credited and recognized by large organizations, like the American Kennel Club and Golden Puppy Dreams is no exception. This reliable breeder is approved by the American Kennel Club, with every puppy registered before adoption, so you can guarantee they are of the highest pedigree.
7. Hilltop Golden Retriever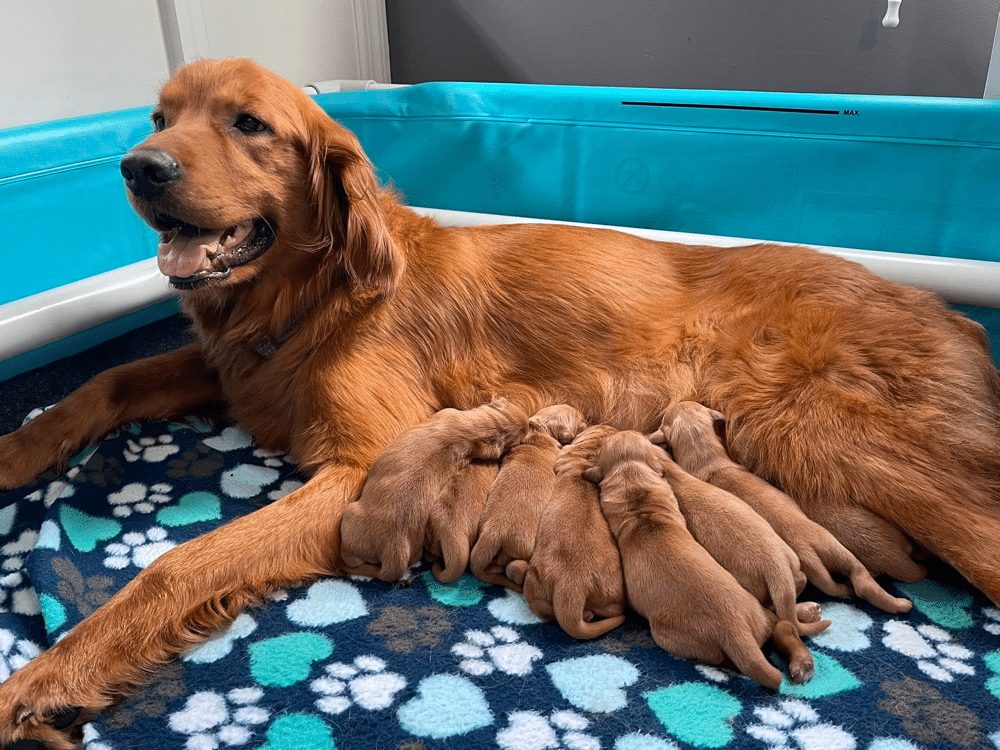 The family-owned fifty-acre property of Hilltop Golden Retriever is a breeder that has brought healthy, high-pedigree goldens for generations. Hilltop Golden Retriever's prime objective is top health. So, throughout the breeding process, dogs undergo regular health evaluations to remain happy and maintain their AKC/OFA standard. You must pay $500 in non-refundable fees to adopt a puppy from Hilltop Golden Retriever New York. Golden retriever puppies will have all immunizations and will be de-wormed before adoption.
The puppies at Hilltop Golden Retriever New York are raised in a family-based environment, exposing pups to the natural sounds of the household. That way the transition between Hilltop Golden Retriever and their forever home is as smooth as possible. This family environment makes your future family member very social.
8. Keuka Country Golden Retrievers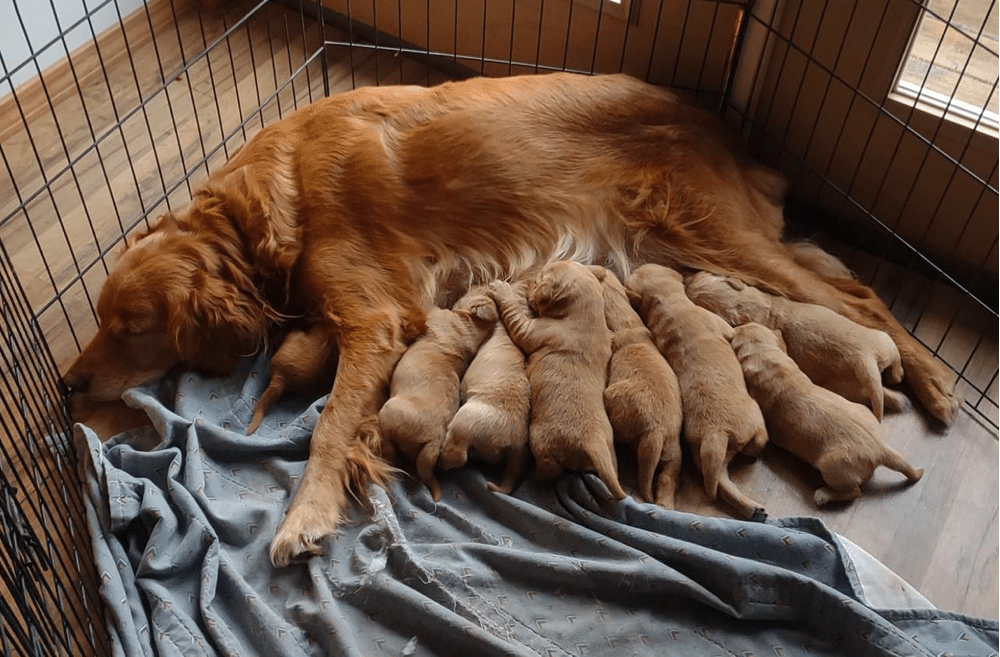 Keuka Country Golden Retrievers is a family breeder located in the Finger Lakes Region of New York. The golden retrievers of this New York golden retriever breeder are AKC-registered, and veterinarian certified. Puppies have their health monitors from birth until the day you pick them up.
Through their website, you can view upcoming litters and their available puppies. To reserve a puppy from an upcoming litter, you may place a $200 non-refundable deposit. Once they have weaned from their mothers at eight weeks, you can come to pick your family member up! All puppies come with litter pedigree, AKC paperwork, vet health certificates, and a one-year health guarantee. The price of a puppy is $1500, including the non-refundable deposit.
9. Life Is Golden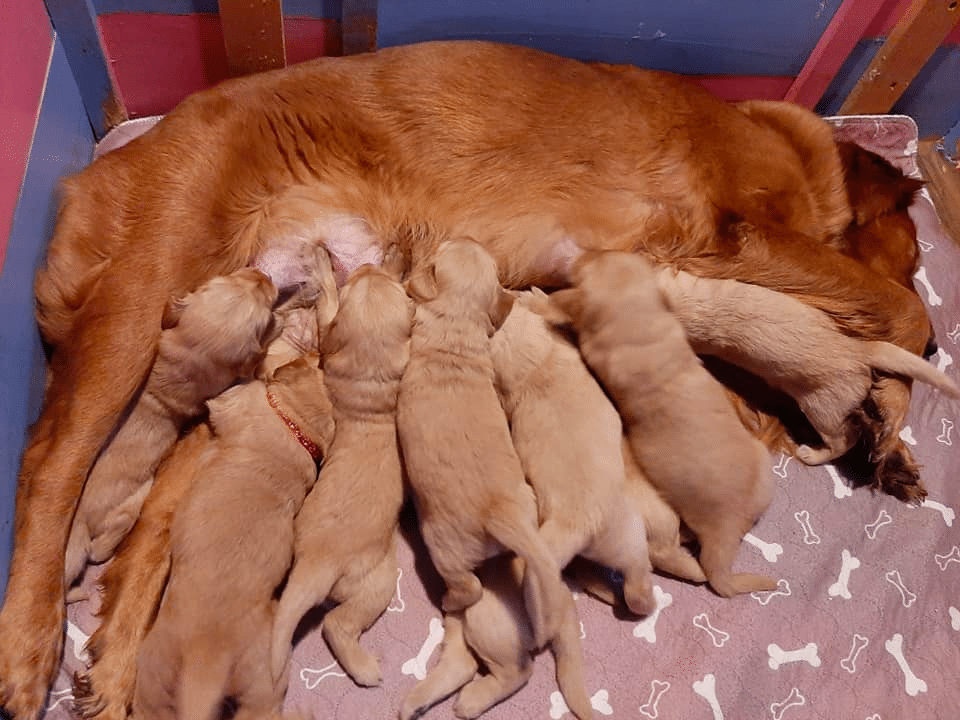 The Golden Retrievers at Life is Golden are raised in-home with plenty of social interaction. They are exposed to daily noises like closing doors, vacuums, and telephones. The daily exposure helps puppies establish the skills they need to cope with noises so they can be a great companion.
Life Is Golden has a health guarantee for their dogs, ensuring that every puppy is healthy at adoption. In accordance with their health guarantee, if your puppy is deemed to have bad health after thirty days of sale then you may get a refund, a new puppy, or reimbursement for veterinary fees.
10. Nevani Goldens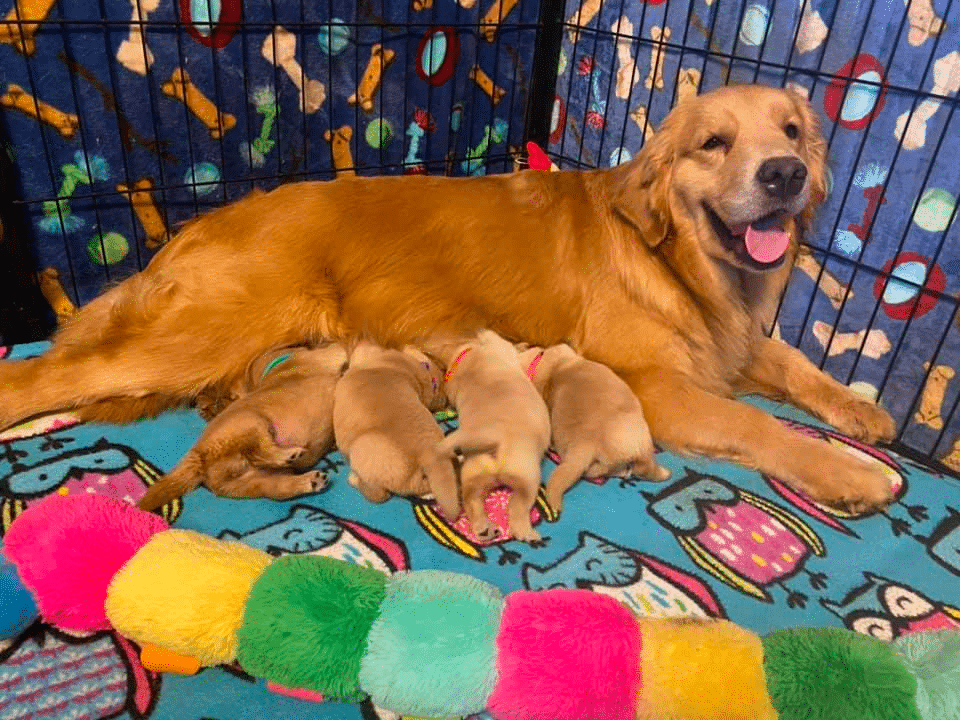 Nevani Goldens is a reputable breeder known for its association with many accredited organizations including OFA, AKC, and the Golden Retriever Club of America. The puppies at Nevani Goldens are raised with compassion in a family environment so they are fully socialized by the time you adopt them. Their health and attitudes are fully monitored throughout the whole breeding process. Any changes in their emotions or behaviors are immediately addressed.
The Nevani Goldens website provides insight on the girls and boys, showcasing which dogs will be bred for future litters. Since healthy temperament dogs get adopted so quickly, you will want to reserve your puppy.
11. River Valley English Cream Golden Retrievers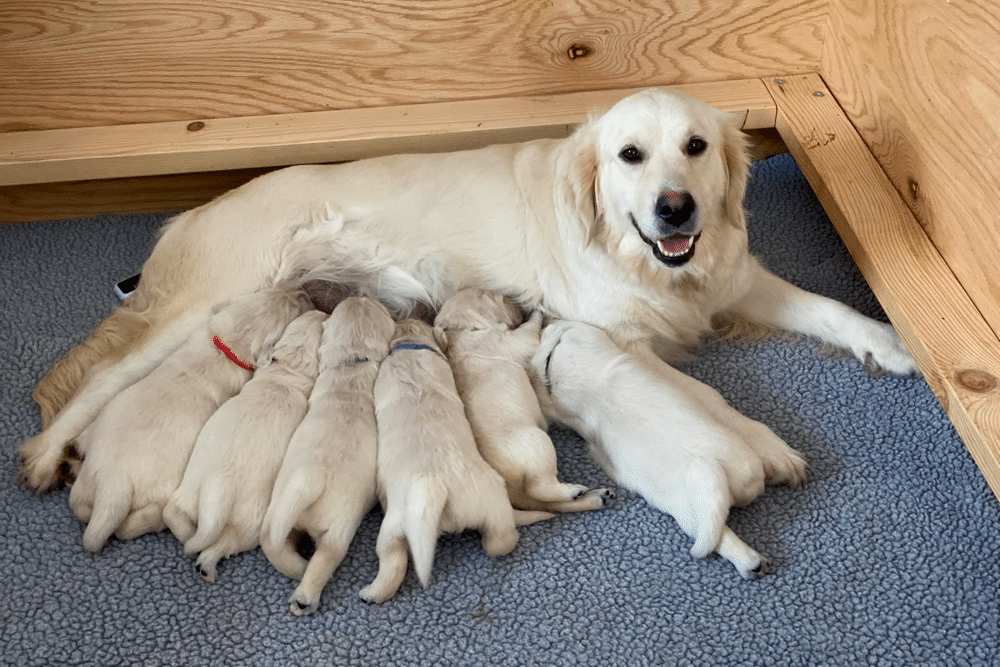 River Valley Goldens is a World Class English cream golden retriever breeder in Norwich, New York. The dogs of River Valley Goldens consist of 17 private acres with much of this space dedicated to roaming and playing. The free space means they do not lock their goldens in a kennel. They let their puppies exercise and grow.
Interested owners can view the planned litters through the website. You can view the planned litters by observing the two parents. River Valley Goldens requires a 7-step adoption process, including a 50% deposit when the puppies reach six weeks old. At this age, you may also take your pick of the litter. Until you pick the name of your puppy, they will have a default name starting with "River Valley".
12. Springvale Goldens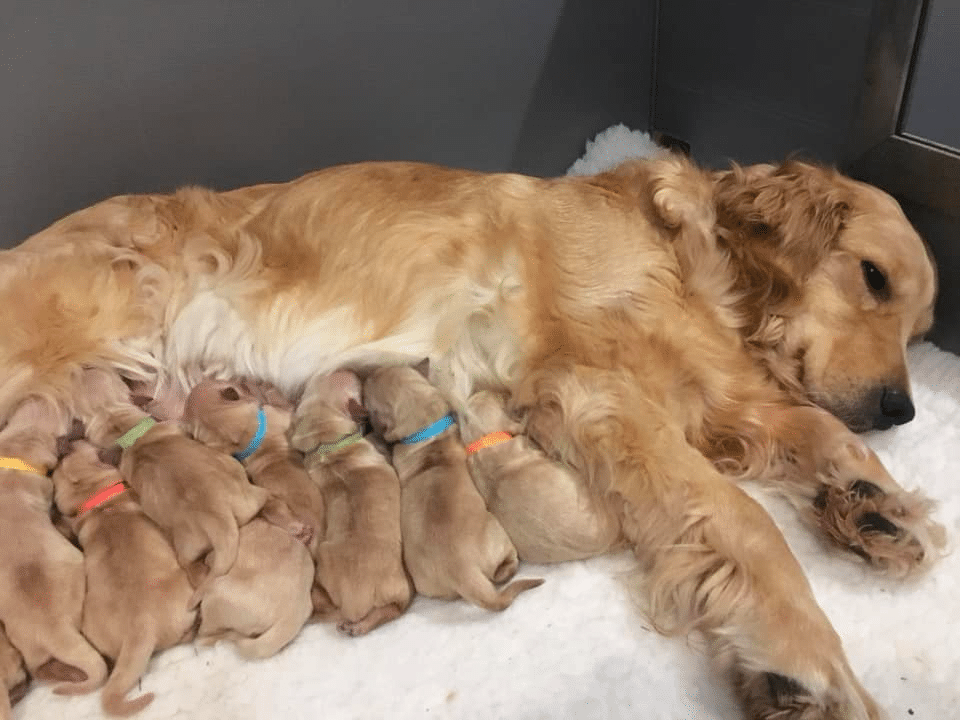 Springvale Goldens is a family breeder in the beautiful New York countryside. The top priority of this breeder is the temperament and health of their goldens. Springvale Goldens raises AKC-certified golden retrievers. They satisfy OFA hip, elbow, eye, and heart clearances. In addition, they are members of the Golden Retriever Club of America and the Northeastern New York Golden Retriever Club.
The luxury pups of Springvale Goldens are purebred and of premium lineage. Adopting a puppy from Springvale Goldens is a perfect way to bring a healthy puppy into your home. Because of their early socialization and training, they easily learn new things later. Many puppies from Springvale Goldens become service dogs after attending obedience or specialty schools.
13. Super Goldens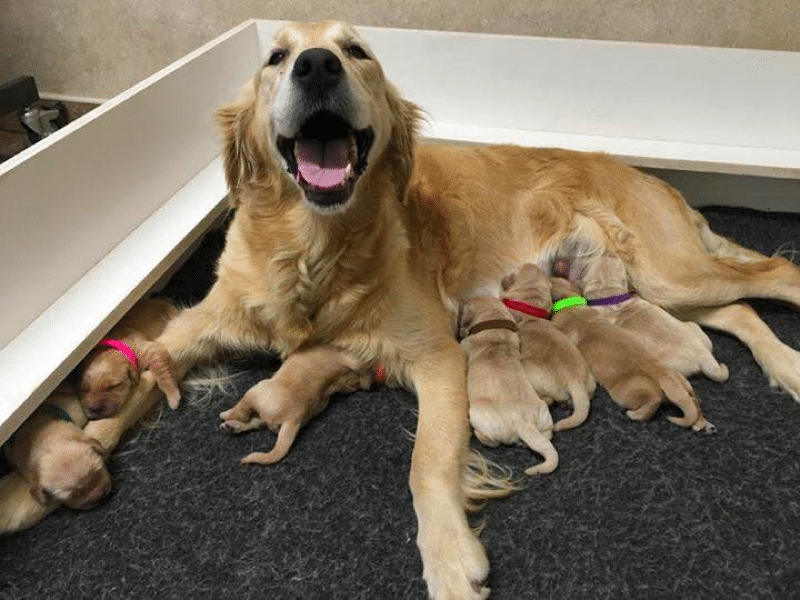 Super Goldens is a high-quality breeder located in Fort Ann, New York. They prioritize the health of your pup, which is why they feed your puppy quality food with essential vitamins and minerals. All puppies receive regular health examinations to ensure good health. Puppies are raised in a science-based environment, providing pups with plenty of scientific evaluations and training to guarantee they have optimal health and cognitive development. Many dogs from Super Goldens proceed to become a
The owner of Super Goldens, Don Graves, provides their customers with the planet of information after adoption. There are dozens of articles, including tips for communicating with your puppies and types of human foods dangerous to your dog's health.
14. Timberscombe Golden Retrievers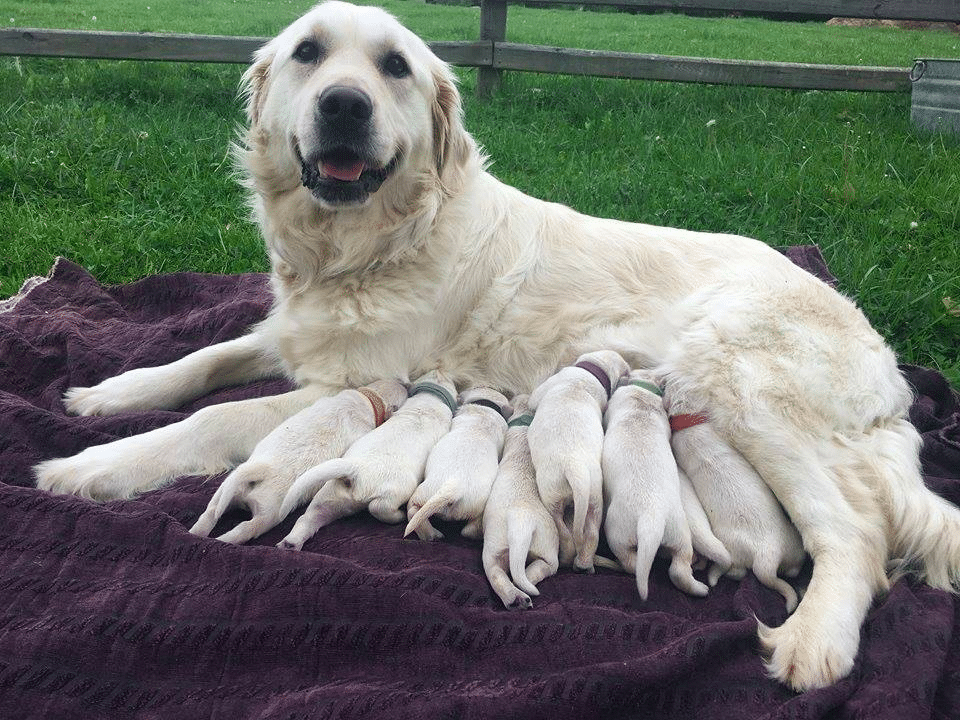 Timberscombe Golden Retrievers is an AKC registered golden retriever breeder selling puppies. They are health certified, and health tested from birth until adoption to guarantee they are in their best health. The puppies at Timberscombe Golden Retrievers are regularly socialized, resulting in high social dogs that make great family members and companions.
To adopt a puppy from Timberscombe Golden Retrievers, you must place a non-refundable $200 deposit. The remainder of the bill must be paid in cash when you adopt your puppy at eight weeks old. If you do not place your deposit within 4 weeks, you will not be placed on the reservation list.
15. Gotta Be Golden Retrievers
Gotta Be Golden Retrievers is a reputable breeder whose number one priority is raising happy, healthy puppies. All golden retriever puppies come with their first round of vaccinations and a limited AKC registration. This New York golden retriever breeder is in Ontario, New York on a large piece of property. However, the puppies are raised in a home-based environment, making them great for people with children and pets. Puppies experience socialization from birth until adoption so they are ready for a lifetime of companionship. Since their dogs are raised in family-based environments, Gotta Be Golden Retrievers prioritizes family environments. To reserve a puppy, you can place a non-refundable $500 deposit.
The breeder is a proud member of the Golden Retriever Club of America, a prestigious group recognized for their strict breeding code of ethics. Their membership in this program guarantees each golden retriever from Gotta Be Golden Retrievers is in optimal health. It also guarantees these companion dogs can also be trained for service, making them perfect for people with disability.
16. Tranquility Goldens
Tranquility Goldens has been a reputable breeder for over 30 years. They believe each puppy is a member of the family which is why they raise them with love. Tranquility Goldens offers full transparency about their breeding process. The breeder is a member of the American Kennel Club and member of the Orthopedic Foundation for Animals. They take health into major consideration when raising their golden retriever puppies.
They post many photographs on their website of the large, open grounds and available puppies. This way, you can view your puppy and stay updated until adoption. You may also view updated litter information on the website.
17. JMS Goldens
JMS Goldens is a small family-oriented breeder from New York. They breed English and American golden retrievers, so you have a great selection of golden retrievers!
Interested parties must undergo a phone interview with JMS Goldens in addition to a nonrefundable $500 deposit to reserve your puppy. When they become six weeks old, you can take your pick of the litter (in order of your reservation). Within these first six weeks, your puppies' health is closely observed, and they are socialized extensively.
18. White Stone Goldens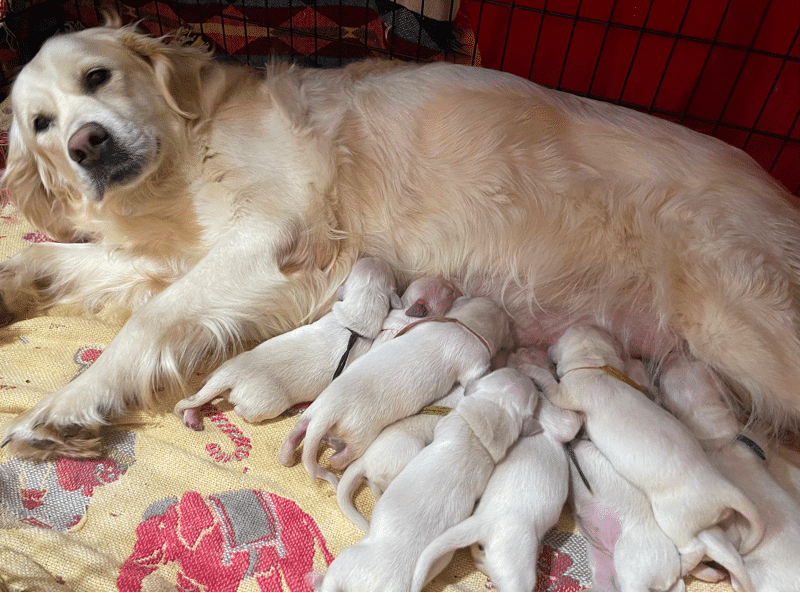 White Stone Goldens is a reputable English golden retriever breeder. It is one of the few English golden breeders in New York. The fluffy white golden retrievers of White Stone Goldens are perfect for anyone who wants one of New York's snowy white bundles of joy. In addition to producing gorgeous pups, these AKC-accredited dogs are healthy. All dogs undergo extensive health examinations throughout the gestation period until adoption.
If you are interested in adopting one of these fluffy white puppies, you can place a $550 deposit. After the litter is born, you will receive frequent pictures as they grow. At six weeks old you will select your choice and then take your new puppy home at eight weeks old. All puppies will have their AKC registration and immunizations.
19. Nitro Golden Retrievers
As one of the most reputable breeders in New York, Nitro Golden Retrievers often has a waitlist of a year or more. This breeder produces some of the best golden retrievers in New York. As members of the AKC and GRCA, they uphold health standards and rigorously test all puppies for health defects throughout their early life. In addition, they offer a first-year health guarantee.
The temperament of the pups is so outstanding they can retain training easily. Many of the pups at Nitro Golden Retrievers proceed to fulfill service and work roles, like K-9, Search and Rescue, and therapy work.
20. Painting Golden Retriever
Painting Golden Retriever is a golden retriever breeder in the Rochester area who cares deeply about the health of their dogs. The reliable breeder is one of the most trustworthy in the state, associated with OFFA to guarantee they adhere to breeding and show requirements. All golden retrievers from Painting Golden Retriever are healthy, meeting strict hip and joint standards set by leading organizations like OFFA and more.
In addition to breeding healthy puppies, Painting Golden Retrievers provides ample information on their website about raising your golden retriever.
21. Golden Beauties
Do you want a loyal house dog? You've found the perfect golden retriever breeder. The golden retrievers of Golden Beauties are raised in a wholesome home environment. Every puppy gets the attention they deserve in a place that feels just like home.
Golden Beauties puppies have a health guarantee. All puppies get evaluated by vets twice before adoption to guarantee they are healthy before heading to their new homes. Puppies receive all shots and are dewormed before joining your family. Prospective owners may bring clothing or blankets from their homes to use during crate training so puppies may familiarize themselves with their owners' new scent. This technique is very special to Golden Beauties and is not utilized by every breeder.
22. Chestnut Goldens
Chestnut Goldens is a reliable breeder known for breeding high pedigree puppies. Chestnut Goldens has several awards, including the AKC Breeder of Merit award. They are also a member of the Golden Retriever Club of America, marking them as one of the most prestigious breeders in New York.
The golden retrievers from Chestnut Goldens are bred for perfection. In addition to being man's best friend, puppies from Chestnut Goldens have obedience training so they may excel in multiple professions, like service and military.
| | |
| --- | --- |
| Name of Owner | Mary Beth and Katie Konesky |
| Breeder since | 1992 |
| Address | Grand Island, New York |
| Phone Number | 716-912-4220 |
| Website | chestnutgoldens.com |
23. Corbec Farm
Corbec Farm is a Golden Retriever breeder in Nineveh, New York. They use the AKC standard to achieve the model Golden Retriever with excellent athleticism and temperament. Each dog receives basic house training and socialization so it can acclimate to any setting. The owners, Phyllis, and James Walsh have been studying and training Golden Retrievers for over fifteen years, giving them an edge in their ability to raise well-mannered Goldens.
The Walsh family prides themselves on raising well-trained puppies who come from a place of love. All puppies from Corbec Farm have distinct personalities that adapt well to change.
| | |
| --- | --- |
| Name of Owner | Phyllis and James Walsh |
| Breeder since | 1982 |
| Address | Nineveh, New York |
| Phone Number | 607-693-2682 |
| Wesite | corbecgold.com/index.html |
24. Life-With-Goldens
Life With Goldens is a wholesome family breeder who treats every dog like a member of the family. Puppies are given real-life noise exposure, so they adjust well to any environment, transitioning from adoption center to home flawlessly. In addition to exposure, puppies go through basic obedience training at Life-with-Goldens to prepare them for the next stage of life.
You may view available puppies online to prepare for your upcoming adoption. If no puppies are available, puppies are typically expected in late summer and early fall. Any deposit for your puppy is non-refundable.
25. Moonlit Meadows Golden Retrievers
Moonlit Meadows Golden Retrievers prioritize temperament. They certify dogs for pet therapy and maintain ethical breeding practices. The esteemed breeder hosts an annual OFA Heart/Eye Clinic. All dogs are tested rigorously for OFA Heart, Eyes, Hips, and Elbows. Additionally, John Post is a certified AKC Evaluator, making him qualified to evaluate dogs' health.
Use the contact form on the website to get in touch with Moonlit Meadows Golden Retrievers.
26. Famn Damily Farm New York
If Famn Damily Farm's name brought a smile to your face, they're doing their job already. Every puppy brings joy to the world and are sure to bring endless smiles. The puppies at Famn Damily Farm are great for families. The founder Melodie Hammond raises every pup near humans, exposing them to the noises of basic life in puppyhood.
The high-grade facility is certified with the AKC, guaranteeing ethical breeding practices for pinnacle health. Famn Damily Farm is transparent about their breeding practices, providing copies of every Dam and Sire's pedigrees and health records so you can rest assured your puppy comes from a healthy lineage. If you are interested in contacting the facility, using phone or email are the only methods. In addition to leaving their breeding facility address unlisted, the Famn Damily Farm forbids people from visiting the farm before making a reservation.
Golden Retriever Breeders in The Other States Near New York
Golden Retriever Resources and Tips
We provide all the necessary information on everything about Golden Retriever breed profile, and what would be needed in raising a Golden Retriever puppy. You also get to learn in detail, the 5 stages of Golden Retriever Puppy Growth (from baby to adult), and what to expect with your pup in each stage of its growth.
Other Dog breeds for your choice:
Final Thoughts
Choose a Golden Retriever breeder in New York who breeds a high pedigree dog variety. Breeders partnered with prestigious organizations like the AKC are excellent options because these reputable breeders must be completely transparent about their breeding process. You want a puppy whose health is taken into consideration throughout pregnancy and until weeks or even months after you bring them home. The right breeder will supply you with the tools, information, and supplies necessary to keep your dog healthy from the start!