When it comes to adopting a dog the best way to go is through a rescue. Not any rescue will suffice though as they aren't always ethical or don't always have the best intentions. This makes it very important to find trustworthy and reliable rescues to adopt through. The best rescues for adopting a Golden Retriever are Golden Retriever-specific rescues. These rescues are knowledgeable in the breed and spend their time completely understanding how to care for them to ensure that each new owner is educated on the breed as well.
If you're in the market for a Golden Retriever and are looking for the best rescues to use then you're in the right place. We've compiled the absolute best Golden Retriever rescues in Michigan to help you know where to start when it comes to adopting your Golden Retriever pal.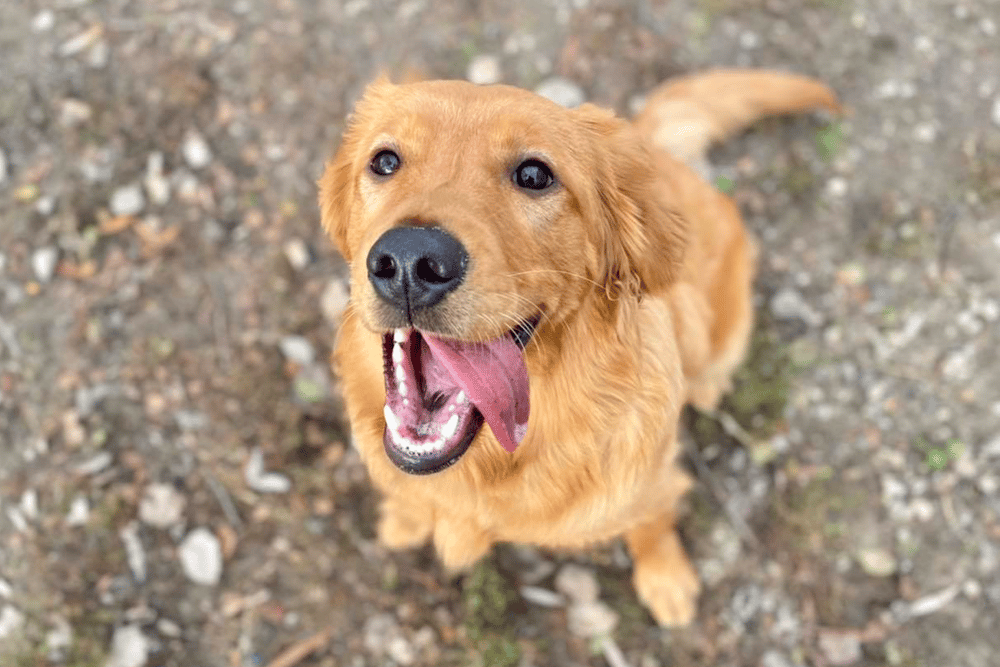 1. Great Lakes Golden Retriever Rescue
The Great Lakes Golden Retriever Rescue is a trusted rescue that works in the Michigan area and surrounding states to help get as many Golden Retrievers into loving homes as possible. This particular rescue typically gets their Goldens from shelters or surrendered pets. This organization is a completely non-profit organization that works with foster families to help care for these Goldens until they find their forever home. They provide any vet care needed for the Golden Retriever and also any behavioral training that may be needed to ensure the dog is completely healthy and ready to be adopted.
Why People Love This Rescue
There are many different reasons that people love this rescue but some of the main reasons are because it's a well-known and trusted rescue. They have an amazing track record for saving many Golden Retrievers all over Michigan and surrounding states. They also truly care for the animals and it's quite apparent whenever the owner comes in to adopt them. Anyone who's looking for a trustworthy rescue in the Michigan area that's looking specifically for Golden Retrievers will love working with this rescue.
Contact details:
2. Michele's Rescue
Michele's Rescue is a non-profit organization that is located in Michigan and provides a place for Golden Retrievers to stay and be cared for up until adoption time. They provide all the necessary care for the animal while they remain at the rescue including being microchipped, vaccinated, heartworm tested, treated for fleas, and also neutered or spayed. This organization runs on donations and relies on volunteers and foster homes to keep everything in line and care for these animals.
Why People Love This Rescue
We particularly love this rescue because they take care of everything that's needed up until adoption day. There's a lot of peace in knowing that the dog you get from Michele's Rescue will be completely healthy and taken care of. This rescue also specializes in finding Golden Retrievers that are about to be put down and need a loving place to stay to keep them alive and healthy. These are the most important dogs to bring in because they're counting on this rescue to literally save their lives.
If you're looking to contact Michele's Rescue to inquire about adoption, volunteering, or being in a foster home then you can do so by checking out the information we've listed below.
Contact details:
3. Golden Retriever Rescue Of Michigan
The Golden Retriever Rescue of Michigan is one of the top rescues known in Michigan for having adoptable Golden Retrievers. This rescue is known for its ability to educate its new owners and overall provide the best care for Goldens while they're in their foster homes. The Golden Retriever Rescue Of Michigan makes it its priority to keep as many displaced and sheltered Golden Retrievers in their foster care while providing veterinary care, shelter, food, and companionship.
Why People Love This Rescue
This rescue is popular and known because of the many services they provide and its education about Golden Retrievers. When you adopt through this rescue you can guarantee that you'll know everything that there is to know about your particular Golden while also learning about all things caregiving, breeding control, and proper diet and exercise. Overall, this rescue is well-loved because they take the time to get to know and care for their Golden Retrievers while being able to pass that knowledge onto every new owner that adopts through them.
If you're looking to see what services they offer or if you want to contact them then you can use the information we've listed below.
Contact details:
Where Else Can I Find Golden Retrievers To Adopt In Michigan?
Sometimes you might not want to limit yourself to just Golden Retriever specific or you might want to broaden your search a little bit and that's why we've also added some other Michigan pet rescues that also carry Golden retriever breeds. Here are a couple more rescues to consider.
4. Humane Society Of West Michigan
The Humane Society Of West Michigan is a huge well-known organization in Michigan that works with Golden Retrievers and many other animal breeds in order to find them a forever home. This rescue makes it its mission to promote the humane treatment and responsible care for all animals including Golden Retrievers. They've been in the animal rescue business since 1883 and their first rescue was built in 1944. This rescue takes precautions to ensure that every animal is treated with the care they deserve. This means not taking in too many animals for the shelter, collaborating with other organizations, and educating themselves and owners of animal care.
Why People Love This Rescue
People love this rescue because of its long track record of successful rehoming of animals. People also love the education, partnership, and overall knowledge behind the rescue which allows them to adopt full-heartedly without being worried about anything having to do with the animals. They're a huge organization filled with volunteers, foster homes, and paid employees to help operate the rescue and live out their mission.
Contact details:
5. Michigan Animal Rescue League
The Michigan Animal Rescue League is yet another rescue that works with both Golden retrievers and other breeds throughout the state of Michigan. Its mission is to provide the highest quality of life for the animals they take in. They focus on rehabilitation, medical care, socialization, and behavioral support. This rescue takes pride in the time they spend with these animals while they wait to be adopted.
Why People Love This Rescue
People love this rescue because it's clear that this particular rescue takes time and spends time getting to know and love the animals that are in their care. They aren't just another number and they genuinely try to provide the best life for these animals even before they're adopted. They are an experienced rescue as they've been around since 1953 and they have no problem learning and adjusting as breeds grow and change.
Contact details:
Conclusion
When it comes to Golden Retriever rescues in Michigan there are a few different trustworthy rescues that you can choose from. However, it's important to remember the mission and promise of each rescue to help choose a trustworthy rescue that aligns with your own values. All of these rescues are amazing and many people have adopted them over many years. If you're looking for a Golden Retriever Rescue in Michigan then we hope you found one that caught your eye so you can start the process of adopting your new Golden Retriever.