The breed is a sleek yet strong dog, that can work tirelessly all day. The Golden Retriever loves to work, they have a lot of energy and form strong bonds with their owners, and they are at their best when working alongside their humans.
But many people don't realize just how fast the Golden Retriever actually is. They look at the dog's cute personality and think they are just a friend. But did you know that you can train a Golden Retriever and they will become your best running or working companion that you will ever have?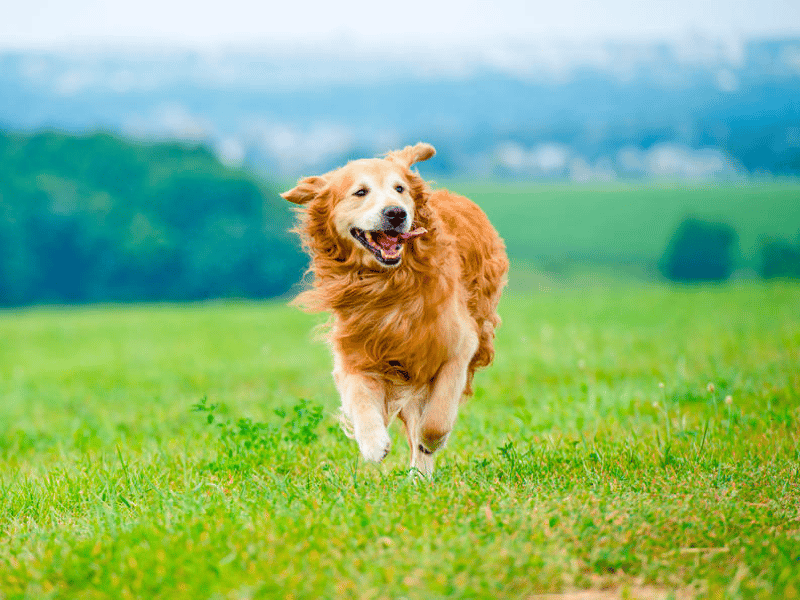 So by now, you will be wondering, how fast can Golden Retrievers run? The Golden Retriever loves to run and can run a comfortable 20-25 mph, but many fit and well-trained goldens can reach a staggering 35 mph displaying both speed and endurance, depending on their age.
The breed originated from the need for a top hunting dog, one that wouldn't tire easily when out in the field. And what they got was the Golden Retriever, the ideal working, running, companion dog.
In this article, you will find out all about the speed of the Golden Retriever, how good an athlete they are, and what you can do through training to help your dog become the best running partner you have ever had.
We will discuss the following factors that will influence the Golden Retriever:
We will compare the Golden Retriever with the speeds other breeds and animals can obtain.
Discuss the factors that make the Golden Retrievers such good runners.
The distance that a Golden Retriever can run.
At what age you can start running with your Golden Retriever.
Training your Golden Retriever to run alongside you.
And much more.
What is the Top Speed of a Golden Retriever?
The comparison chart below shows the Golden Retriever's top speed in comparison to other dog breeds, animals, and humans! The speeds quoted are for a well-trained, healthy, and fit animal or human.
| | |
| --- | --- |
| Cheetahs – have amazing speed and are at the top of the list. | 75 mph |
| Horse | 55 mph |
| Lion | 50 mph |
| Golden Retriever | 35 mph |
| Rabbit | 35 mph |
| House cat | 30 mph |
| Human – an exceptional athlete can run at this speed. | 28 mph |
| Squirrel | 20 mph |
| Raccoon | 15 mph |
| Greyhound, Salukis, deerhounds, and vizslas – race speed sprinters | 45 mph |
| German Shepherd – not all can obtain this speed – more of a sprinter | 30 mph |
The speeds quoted above are for an animal or person in their prime, and how long the runner can hold this top speed depends on their fitness, motivation, and age.
Many a race dog breed such as the Greyhound can reach higher speeds than a Golden Retriever, but they can only hold that speed for a specific length of the track, they are not bred to run all day which is where the Golden Retriever endurance excels.
What Makes Golden Retrievers Good Runners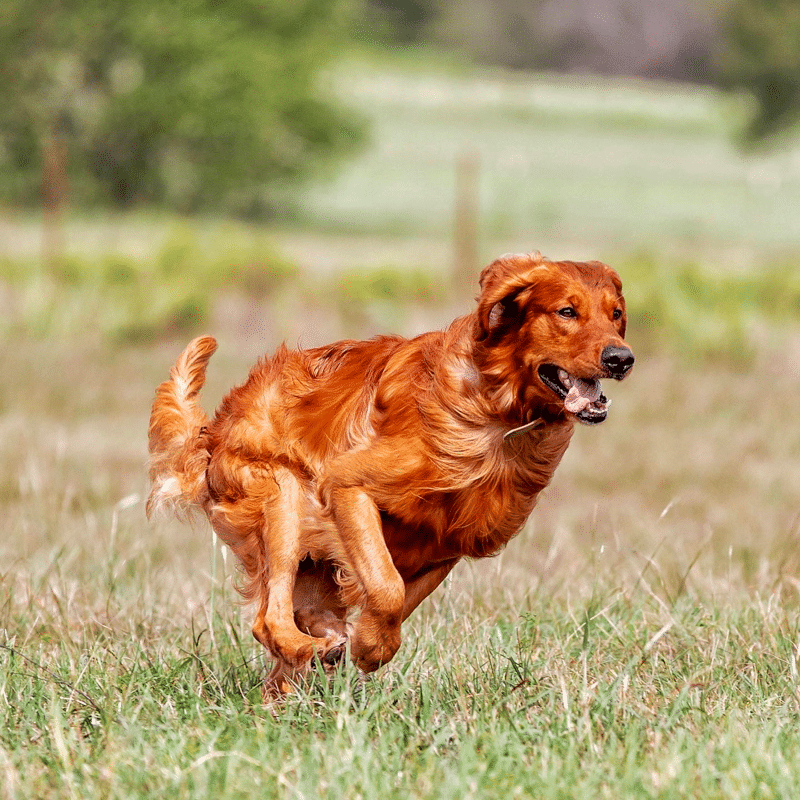 The Golden Retrievers are good running dogs as they were bred to help their owners in retrieving waterfowl. The dog needed to be fast to retrieve the game and get back to the owner quickly so that the owner could continue with the shoot.
While their top speed is 35 mph, most Goldens can run a more comfortable 20 – 25 mph which means they can keep that speed up for longer periods of time.
As with us all, the Golden Retriever needs to be fit and healthy to achieve maximum speed. You can't take your dog out and expect them to run at 35 mph when they have been lazing around home most of the day for the last month.
Fitness and optimal speed require your Golden to be regularly active, and every day they must have a good run and be trained to reach higher speeds.
But what factors make the Golden Retriever a great athlete?
Age is the number one factor in your dog that will determine their speed and agility. You don't want to force them to run when they are too young, or they may injure themselves. If they are heading for their golden years, they will slow down, and depending on their health, they will lose their speed as they look forward to less activity and more cuddles.
Weight is another factor. Golden Retrievers love food, and they will eat as much as you will give them… and more if they can find tasty stuff within their reach. Too much food and not enough exercise make them a slower pooch who could find it hard to get into a trot, let alone a full-blown run! A healthy weight is important to all dogs, including the Golden Retriever.
Health is important to a Golden Retriever. Underlying factors such as heart disease or arthritis will probably limit your dog's ability to run far. Joint problems can cause them intolerable pain, so treatment and a quieter routine during the day will help. But if they are unwell, don't push them to run or to perform because that could cause some serious side effects.
Training is essential for your Golden, as it builds them up slowly and steadily. Increase the distance you run as your dog adapts to the exercise. Like a human training for a marathon, training is a must to get your dog used to the distances. Start at an easy distance, and slowly increase the distance once they have adapted to the exercise. And once they are in great shape, keep up the exercise, even if you must use a bike to keep up with them. Fitness gained should be retained – and that goes for both you and your dog.
Lopping alongside your Golden Retriever is not only a great workout for the body and soul, but it is the ideal activity to bond with your dog. The Goldens love activity, they love to please. Just make sure that you cover obedience when you are training your dog as you don't want them to take off into the bush after some enticing small critter.
The many States by law require a dog to be on a lead when out walking a public walkway, so keep that in mind. And a lead will prevent you from spending all your time looking for your dog instead of enjoying a walk!
How Far Can a Golden Retriever Run?
A healthy, fit Golden Retriever has a lot of high energy to get rid of. Most Goldens can run for approximately 4-5 miles in one go, but a dog who has had some training can easily run for 10 miles just in one outing.
With intense training, they can run up to 26 miles as they are high-energy, athletic dogs.
As we have noted already, your Golden Retriever will slow down at the approach of their senior years. They will still be good for an outing but skip the marathon miles and let them enjoy a comfortable jog at your side. Pushing an older dog to run long and often can begin to do more harm than good. As we age, our bones are slower in keeping up the repairs, and dogs are no different.
In their young to mid-years enjoy long rambling outings with your golden. In fact, they will probably sulk and get mischievous causing all sorts of problems at home if you don't wear off that high energy that your Golden Retriever has.
These dogs have tons of energy, they love to help you around the home, and mention 'walkies' and they will almost run you over to get to the gate first. The Golden Retriever is a strong breed, they have firm leg muscles and an athletic build, although they are not as light as some of the professional racing dogs. But they do have an absolute love of running, and therefore are very motivated to go out and explore the countryside with you at their side.
Your dog will remind you to walk daily, they are better than any fitness reminder that you may set up. If you don't run with them, expect to be followed around by a sad dog with soulful eyes. Trust me, it is far easier to go running with your Golden than suffer the reproachful looks they will direct your way.
When Can You Start Running with Your Golden Retriever?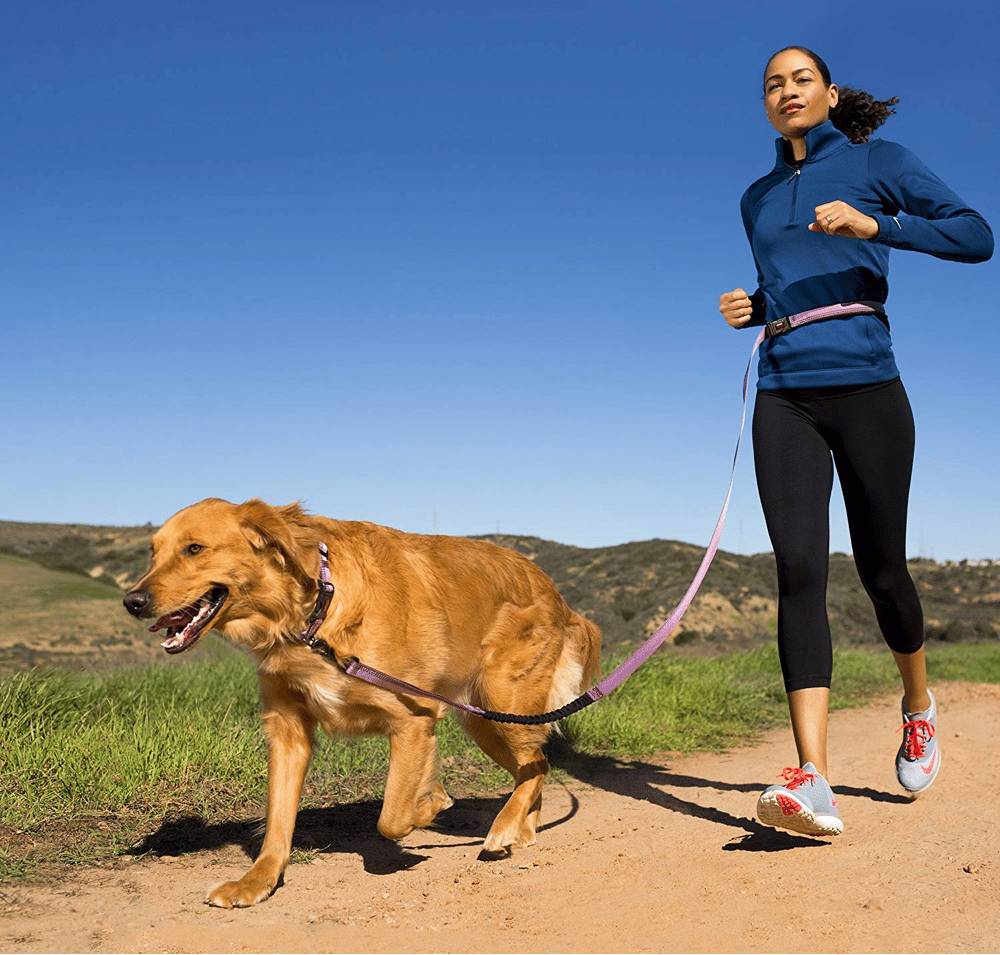 Like any new dog owner, you may wonder when you can take your new Golden Retriever puppy out for a run. They seem to have a ton of energy and are excited when you put your jogging shoes on. But long runs need to wait as you need to give them time for all their bone plates to get strong and ready for running.
If you start running with your puppy, you risk the cause of joint disorders such as hip dysplasia.
Most people are familiar with hip joints, and how the head of the femur which looks like a rounded ball shape, and how it fits into a socket in the hip bone. Held in by muscles, the dogs' bones are covered by cartilage and fluid which cushions any movement such as walking, running, and jumping that your dog makes.
But in hip dysplasia the ball is too shallow to fit snuggly within the joint and allows a lot of movement which can cause intense pain, and, in some cases, the hip ball will slide out of the joint and become dislocated. This condition is caused mostly by genetics, but excess movement when a Golden Retriever is young can aggravate the bones.
Start slowly with your golden puppy, take investigative walks, and let them meander around, while safety held from taking off and chasing rabbits with a canine walking leash. Train them not to pull on the leash; getting towed around on a walk doesn't have much enjoyment to it. Use the 'Heel' command to get your puppy to return to your side.
Restrict your puppy from jumping up or down from high places which are also hard on newly formed joints.
For a puppy, you can start increasing their exercise at 12 to 18 months. The caveat that I would add to this includes that your puppy is at a healthy weight and has been socialized well and taught to walk and sit when commanded. That way everyone will enjoy the walk, including the new people your puppy will meet on your journey.
If you have adopted a new older dog, take the time to bond with them first. If they are a healthy weight then start training them to walk then run for short distances first, and slowly increase the distance and intensity of the walk. Being fit to walk or run is of vital importance.
How to Train Your Golden Retriever to Run With You
Before you decide to go out running with your dog, there are a few things you need to know before you hit the pavement.
Ideally, you need to teach your Golden Retriever to master the loose leash walking style. This means that instead of racing away and pulling on the leash, your dog needs to learn to walk by your side.
To do this, you need to hold the leash with it hanging in a J shape. This means your dog will be at your side, but not pulling you along. Reward them with a treat when they get it right. Persuade your golden to keep the leash slack, by rewarding them often with yummy treats and a ton of praise so they get the message.
This entails keeping your dog to one side of your body. If they are allowed to roam, they may trip you up. Reward them when they walk to the side you prefer, use a verbal command to go back to that side if they roam.
Once you master walking on a loose leash, you can up the stakes and start running. If they weave across you stop and go back to walking. It takes a while to get this right, but it is well worth the effort. Use specific command words so your dog doesn't get confused.
Now that your Golden Retriever is walking politely on the side of your choice, you can go back to speed things up again. Try to make your commands clear and ensure your dog can understand the commands you use.
Give them commands to run, and don't forget to command them to stop or they may keep going, hit the end of the leash, and suffer from whiplash when they are unceremoniously hauled to a rapid stop.
Once you and your dog understand each other, you can work on building endurance. Don't expect them to go from naught to superior champion in one day. GRADUALLY build up their endurance over time.
Remember to warm up and cool down at the end of a run and be aware of the weather when you are out running. Dogs can suffer from heatstroke or from freezing winds too.
And obey the signs on any track you run on. Some only allow dogs on a leash, and you may be fined if you break the rules.
Carry a water bottle for your dog, or they can be trained to carry it themselves in a doggy backpack. But don't overload them.
Being out and running with your dog is so much fun. Your dog will always be in the mood to go for a run, and the bond between owner and dog becomes so much stronger.
Safety Tips for Running with Your Golden
It would be amiss of me if I didn't mention some basic, common-sense safety tips to ensure safety when you are out running with your Golden Retriever.
Dedicated runners will go out regardless of the rain, snow, or heat. But remember that your dog has different needs and extreme heat (or cold) can affect them severely.
Stay at home in extreme heat or cold. You can still exercise your golden by running down a long hall or utilizing the stairs for running up and down.
Warm-up with your dog before beginning any run.
Give your dog frequent breaks during a run. Let them stop and smell the daisies.
Frequent water breaks will be welcomed by your pooch, it helps them to regulate their body temperature as they don't 'sweat' as we do.
Keep them on the leash so that they don't take off after small animals and get lost.
Pick up your dog's poop in respect of others.
Watch your dog for signs that they have had enough such as excessive panting or if they begin to lag. Stop and let them rest and have a drink then proceed to go home at a slower pace, stopping often.
Conclusion
Your Golden Retriever is an all-around athlete in the dog world. They enjoy running which is why they will happily go with you whatever the time of day.
Their physique is strong and agile, and their breeding traits as a working dog is well ingrained within them. At peak physical state they can run at a staggering 35 mph. But normally they can lope along at a comfortable 25 mph stopping only to investigate some enticing smell.
Your Golden is the complete companion; they will happily match your pace or sit quietly in the shade of a tree while you rest.
There is never a time when they will decline your offer to join them for a run. If they do, they must be ill, so a check-over is in order.
But the Golden Retriever is like your coach, your best friend, your backup, and your confidence all rolled into one. And if you want a race, be prepared to lose because they won't hold back – the golden loves to run.
Golden Retriever Recommendations and Sources