Both the Bernese Mountain Dog and the Golden Retriever are well-known for being breeds of dogs that love people and are great with kids. This makes them both a good choice for your family, particularly if you have small children. This fact might have led you to wonder if a cross between these two loving breeds might be an even better choice for your family pet.
There are breeders that do cross the Bernese Mountain Dog and the Golden Retriever with good results. This is a unique cross that might not be found in every part of the country, but if you have a breeder near you, it could be your best choice for a family dog. If you learn some more about the cross, you can make a more educated decision about buying this kind of dog. There are lots of interesting facts to know about this breed that might help you to make a more informed decision when shopping for a pet with this breed.
What is a Golden Retriever Bernese Mountain Dog Mix Called?
This cross is called the Golden Mountain Dog, and it really is a great choice for so many reasons. This is one of the nicest Golden Retriever mixes and not just for their excellent name. There are lots of really nice benefits that come from mixing these two breeds and you will get the best family pet that you have ever owned when you choose this crossbreed. You should know more about the breed before you select it, but being sure that you will get a great dog that has an easy-to-explain breed name is a big benefit.
If you are ready to learn some more about Golden Mountain Dog, you need to keep reading!
Golden Mountain Dog Temperament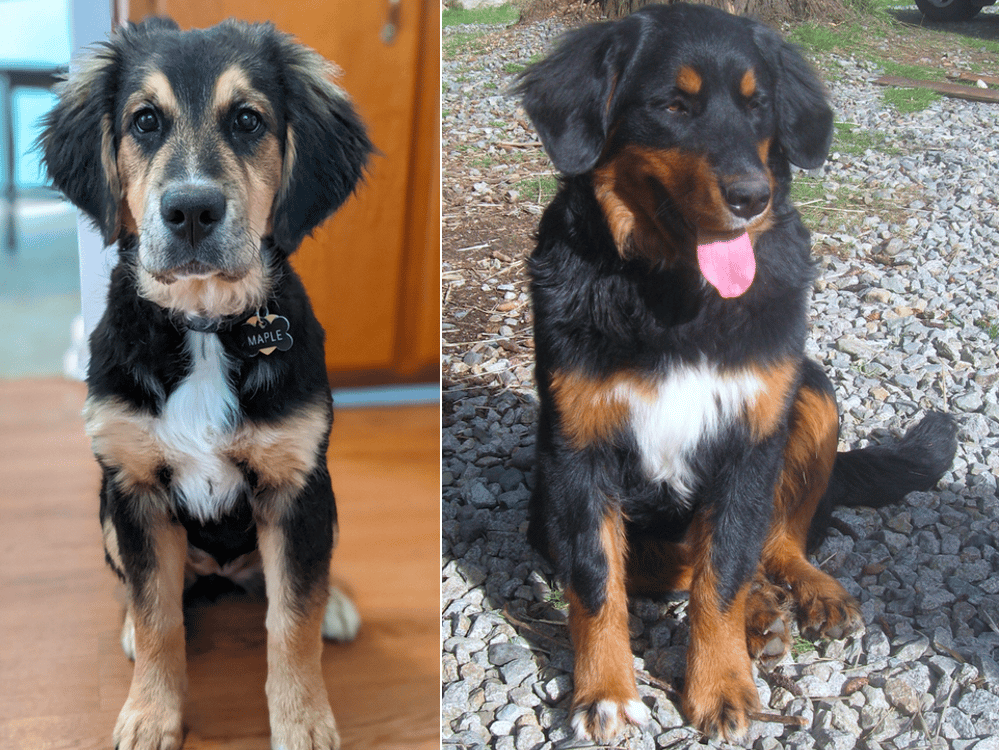 The temperament of Golden Mountain Dog is second to none, and you will only have to compromise a little when you pick this breed if you hate having to pay for the groomer. This is a very trainable and sweet dog that will love to accompany you to do anything that you love doing. This is a breed cross that can require a lot of affection as they love to be touched and petted, but that is not a hardship if you love your dog!
Golden Retrievers can be really high energy when they are younger, but the Bernese Mountain Dog is a much more mellow pet to have in your home. This means that the cross between these two breeds can be really mellow and kind. This might not be a high-energy partner for those who love high-powered training sessions, but they can still learn a wide array of tricks if you have some patience while you teach them.
Due to the Bernese Mountain Dog DNA in the mix, this is the kind of dog that will be just as happy to rest and hang out peacefully as they are to play. Even puppies of this cross are pretty laidback overall. If you are not the kind of owner who has time to take their dog running every day or to work with a dog with a busy mind, this is a great breed choice for your needs.
Make sure as well that you are prepared to exercise this dog breed more gently than a purebred Golden Retriever. The Bernese Mountain Dog breed is prone to overheating and usually is just as happy to walk with you as to do anything else. While the added DNA from the Golden Retriever breed can make these dogs a bit higher energy than a purebred Berner, they might still be prone to getting too hot quite rapidly when they exert.
What Does A Golden Mountain Dog Look Like?
This is a dog that can take more traits from either side of the pedigree, which means that you could get a wide array of different traits. Ideally, the dogs will have the Bernese Mountain Dog coloring with a longer and fluffier coat like a Golden Retriever. This is not always the combination of traits that come through, but puppies with the ideal mixture of appearance traits will always have the black and tan and white coloring of the Berner and the more ideal coat of the Golden Retriever.
These dogs might also be a little stockier than a Golden Retriever, and they will almost always have a larger and blockier head like the Berner. Shopping for this kind of dog offers you the chance to get a lighter-bodied Berner that has a coat that is easier to care for and that fares a little better in the summer weather than a purebred one. There are instances where the lean and lanky body type comes through, but that can be nice if you are a more active owner and you want a dog that will keep up a bit better than a purebred Bernese Mountain Dog would be able to.
Both of these breeds are beautiful dogs, but they do have very different backgrounds in breeding. They were made for different tasks, and they have different builds. A blend of the two kinds of pedigrees usually creates a middling build, a longish coat, and darker coloring with some more ideal variations that look more like one parent or the other.
Is A

Golden Mountain Dog

Easy to Train?
As mentioned in the temperament section, this breed can be a little less energetic than the purebred Golden Retriever. This can be a net benefit overall since Golden Retrievers can be very high maintenance as far as exercise goes when they are young. This is one of the primary reasons to cross the Golden Retriever with other breeds, and having a puppy that is part Berne can make training much more relaxed and much easier overall.
While these will probably not be dogs that will go out and do intense working dog tasks or who will want to go out for a run with their owners every day, they are going to be biddable and happy to learn new things. You will need to have a bit more patience in your training sessions as the Bernese Mountain Dog can be prone to being a bit lazy when they get tired or frustrated. Shorter training sessions are often best, and being a bit cautious about working hard in the heat can be important as well.
Berners are very sweet and do love to learn new things, but they move at a much slower mental pace than the Golden Retriever. This can be perfect if you are a first-time dog owner and need to work with a dog that will be very patient. This is also a great breed if your child wants to train their own dog since both of these breeds are very forgiving and will happily do almost anything with their favorite people.
How Big Can A Golden Mountain Dog

Get?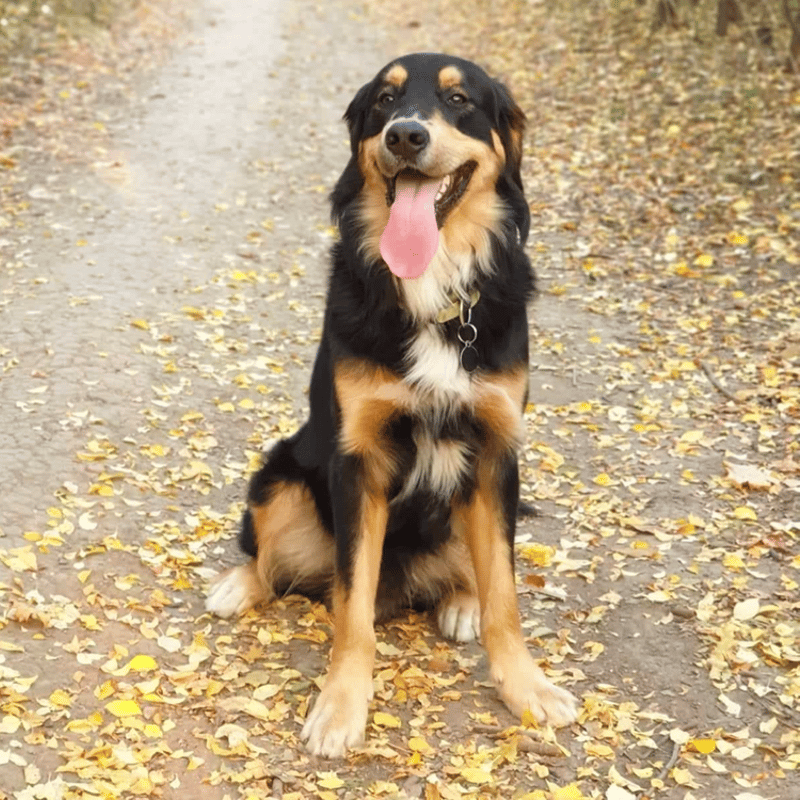 Males of this cross get to be about 115 lbs, and they are about 28 inches tall. Females are about 95 lbs and about 26 inches tall. This is a bit bigger overall than the average Golden Retriever, but it is not so big that you will have issues with your large dog taking up too much space in your home or apartment. These are also such gentle breeds that you will not have to deal with accidental escapes or problems with your dog pulling on the leash too hard for you to control them.
Many people who get large dogs feel bad about having to use pinch collars or other kinds of leash devices to maintain control of the dog, but this is not an issue with this larger breed. You will love how simple it is to handle this breed, and they will not feel like a big dog to you at all due to their soft and sweet nature.
Show Golden Retrievers can actually get quite big in some cases, so this size dog might be close to the size of your purebred dogs. This is not the same size as the average Berner that is purebred, but that also means that some of the common big dog problems are not an issue for owners of this mix.
How Long Does A Golden Mountain Dog Live?
One of the key benefits to getting a Golden Retriever that is crossed with a Bernese Mountain Dog is that they will have a longer lifespan. The Bernese Mountain Dog has a very short lifespan overall, but combining these two breeds means that your dog will probably live for about 10 to 15 years. The average purebred Berner would be very old at 8.
This cross also helps improve some of the common health issues that both breeds can suffer from. In some cases, your dog might be unlucky and might get all the bad genetic traits and have a short life, but this is not common. You will need to be aware that most breeders of this cross are not required to certify their dogs for health like AKC registered breeders. This means that you could be walking into a situation where your dog will be very unhealthy, and you will not know.
Make sure that you talk with the breeder about the health of the other animals in their breeding program and look at some reviews before you decide to shop there. This is one of the common downfalls of buying from a mixed-breed dog breeder, as they are not held to the same standards that AKC-recognized breeders are. While you should not have immediate fears that your dog will not be healthy, you should be wary of a breeder that does not seem to be taking much care of the crosses that they are breeding.
Common Health Problems of Golden Mountain Dog
Mixed breed dogs can be much less prone to health risks than purebred dogs, but there are health risks that come with the parent breeds that could crop up. Hybrid vigor can reduce the chances for some of these problems, but the breeds that go together to make a crossbreed dog do have their own flaws that can come through in the puppies. There are risks associated with both the Bernese Mountain Dog and the Golden Retriever that might be expressed in your puppy.
Common health risks associated with the Golden Mountain Dog are:
Hip and elbow dysplasia
Back problems
Arthritis
Eye conditions
Early blindness
Heart and lung issues
Increased risk of cancer
Von Willebrand's Disease
While your dog might not have any of these problems, it can be worth knowing what genetic flaws come through from both sides of the pedigree. Neither the Golden Retriever nor the Bernese Mountain Dog is known for being healthy breeds for the long haul, but most big dog breeds are not really considered a safe bet if you want to avoid joint issues and things like heart problems.
The good news is that these issues are usually not a factor until dogs are getting older, and many of these problems can be managed with current medical advances quite easily. Joint care and surgery can help with many of the bone-related issues that these dogs might run into, and you can actually treat cancer in dogs these days as well. Being aware of the common health risks within each breed is just part of looking at the full picture of ownership of this dog breed but should not discourage you from bringing this kind of dog into your home.
One of the best ways to be sure that these things are not going to be a major risk for your dog is to look at the information on the breeder's website or talk to them about it on the phone or via email. You will want to ask these kinds of questions to make sure that you get a sense that the breeder is taking this part of their job seriously. All responsible breeders will be aware of the potential health concerns of the breeds that they are using to make this cross. If they are not acting as if they know about these critical parts of the health of their dogs, you should steer clear of working with this breeder for your next pet.
Golden Mountain Dog

Grooming Needs
You might have thought that this cross would give you some relief from the need to groom your dog all the time, but the answer is that you will still have to groom your Bernese Mountain Dog Golden Retriever Cross regularly. Both of these breeds have high-maintenance coats, and you will need to be prepared to work hard on keeping your dog's coat healthy.
This means that you will need to brush your Bernese Mountain Dog Golden Retriever Cross regularly at home, and you will want to be sure that they see the groomer at least twice a year. You might get any length coat from this cross as well, so you will need to invest in the right grooming tools and products that are specific to the kind of coat that your dog ended up getting from the cross. Longer hair requires different brushes than shorter coats.
You will also want to be sure that you speak with the groomer about the fact that your dog is a cross. They should sound familiar with grooming this kind of dog since the coat type might be a mixed type and could require extra care to attend to it. Often, mobile groomers will not be the right choice for this need, and you will want to work with a groomer that has some expertise either in the two parent breeds or in grooming the Bernese Mountain Dog Golden Retriever Cross itself.
Does

Golden Mountain Dog

Shed A Lot?
Golden Mountain Dog will likely be shed year-round. This can be the one big downside of picking this breed for your home, especially if you hate vacuuming and cleaning up dog hair. You can cut down on the amount of hair that your dog sheds each week by brushing them and keeping them clean and mat-free, but you will definitely need to plan to attend to lots of grooming needs and lots of shedding clean-up.
Thankfully, this is a coat type that generates long, silky hair rather than short, spiky hairs. It is often much easier to clean up after a long-coated dog than you might think. Sweeping can be the best way to handle these messes, or maybe you will want to invest in a vacuum cleaner that is right for pet debris. When you stay on top of grooming your dog, you should not see clumpy or uneven shedding every often until your dog gets older.
This breed will shed the most at the end of Summer and in the spring, so you will need to plan on clean-up being more intensive at these times. If this is the only cross that you have to bear for getting this dog, it is not that big a penalty. Most people view the shedding as the one downside to this cross since there are so many other lovely things to say about them as a breed.
Is the Bernese Mountain Dog Golden Retriever Mix AKC Recognized?
No, this is not an AKC-recognized breed. Most crosses like this take a long time to get recognized, and many never actually do get signed off on by the AKC. The AKC has to be careful about which breeds it will allow being considered show dogs. There are so many possible breeding combinations out there, and not all of them can be managed by this organization. New breeds have to be around for a while and create their own standard in most cases before the AKC will consider including them in the various allowed breeds.
While this might not be a breed to select if you are going to be showing or you want to compete in various kinds of dog trials, you will have the best pet experience possible with this breed. Many people are not looking to get a dog that can be used for these other needs anyway, but it is something to be informed about if you wanted to take your dog to dog shows. Not every cross can be registered with the AKC, and this is not a recognized breed at this time.
How Much Does A

Golden Mountain Dog

Cost?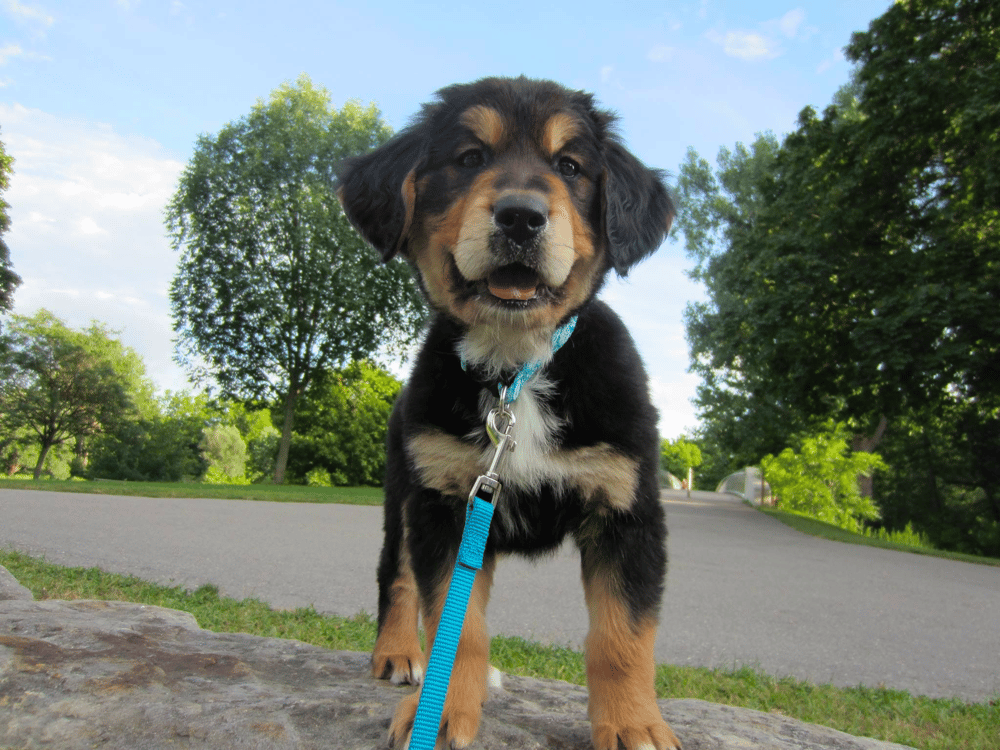 This dog breed will usually cost you about $800-$1200. This is not a purebred dog, and you will not be able to register them with the AKC, so you will save some money when you are shopping for this kind of dog. Make sure that you are not sold on a breeder just because of good prices, though. Cheaper dogs might not have been bred as carefully, and you will be wise to do your research before you buy, no matter how good the price point is for the litter.
How to Feed

Golden Mountain Dog
This is a good-sized dog in most cases, which means that you will need to be sure to feed your dog the right amount of food each day. They should not get fat, and you should be sure that you feed a high-quality food that supports healthy joints as well as good healthy growth. Most grocery store dog food will not be good for this large of a dog, and you can ask your vet for some recommendations if you are not sure which kind of food to get. The breeder might also be able to offer some advice about feeding a Bernese Mountain Dog Golden Retriever mix.
All big dog breeds require extra attention to detail when they are being fed, so make sure that you look for expert advice if you are not quite sure how to care for this part of your new dog's needs. Big dogs do best when they are fed the right food and are kept at a proper weight. This helps to prevent bone issues like arthritis and soft tissue damage as well.
Is A Golden Mountain Dog

Excellent Family Friend?
There are few dogs as loving and kind as the Bernese Mountain Dog Golden Retriever mix. The Golden Mountain Dog is a favorite of people who have kids or who want a kind and fun dog that will love to spend time with them. Shopping for this kind of dog can take some time since you might not have a breeder in your area, but it can be worth the effort to go and get one if you have wanted this kind of sweet and gentle companion for years.
Other Golden Retrievers Mixes