Everyone knows what a Golden Retriever is and how adorable they are! They are one of the most popular breeds of dogs in the USA and are known to be loyal, loving, caring, and just a bundle of joy! There are three types of Golden Retrievers – English, Canadian and American with colors ranging from golden, lightly golden, and dark golden. Besides different types of Goldens and their colors, there are also some differences between how male acts and a female acts. Also, the size and temperament of the two can differ slightly. I have linked an article about the differences between a male and female Golden if you are interested in checking it out.
To bring home the perfect Golden Retrieve means that you need the perfect breeder. It is important to find a breeder who focuses on the health, longevity, and temperament of their dogs. The Golden Retriever puppies should also be well socialized before going to their forever home and be screened for genetic hereditary problems including hip and elbow problems. Make sure their Goldens are also AKC registered as well! If you are interested in buying a Golden Retriever puppy in Alabama, here are the most reputable Golden Retriever breeders in this state.
1. Silkspun Golden Retrievers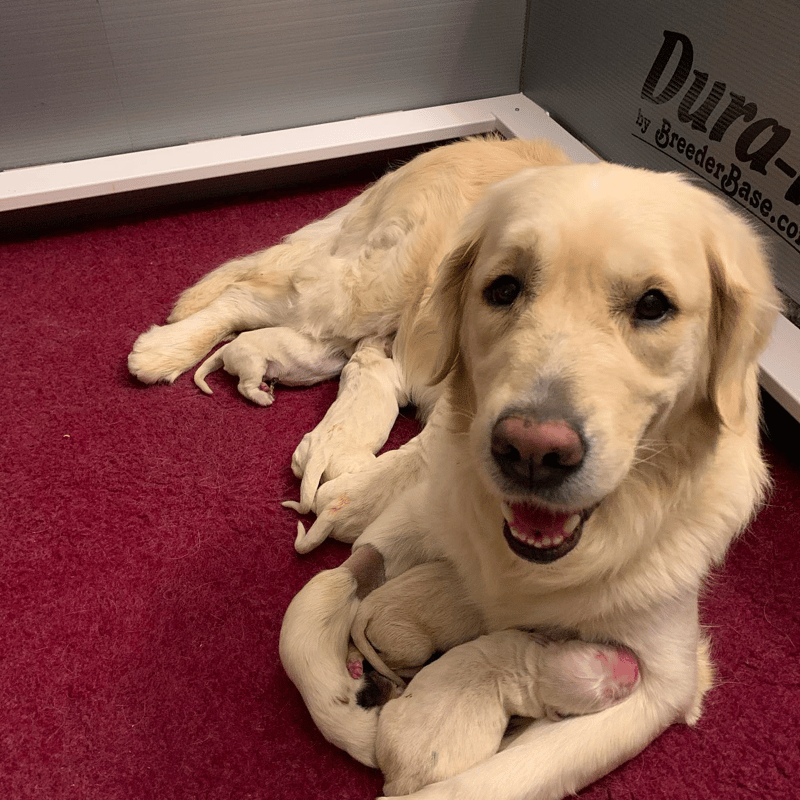 Laurie is a member of the GRCA (Golden Retriever Club of America) and loves to train and show her dogs as well as train them for therapy opportunities. She first started breeding in 2003 with a very beautiful French import, Touch of Silk (thus Silkspun) who lived on to the ripe age of 14.5 years old. Since then, she has been fortunate enough to be able to import, show and breed lovely examples of English-type Goldens with great temperaments. Because of this, she has some of the best Silkspun families all over the United States!
Each litter is bred with great intention, with regards to health, temperament, and pedigree for healthy future bloodlines! All dogs are tested for health defects including DNA testing. She welcomes calls and home visits when set up in advance and there is a screening process to ensure proper homes for future pups that include a questionnaire, and phone calls (and visits, if possible).
There are loved by the community and have 5-star reviews on Facebook! One owner loves Laurie and her dogs so much that she bought two at the same time and is looking for a third puppy soon! She is very helpful and will walk you through the steps of becoming a new parent and is dedicated to making sure the puppies are well behaved and loved.
2. Allday Golden Retrievers (Allday LLC)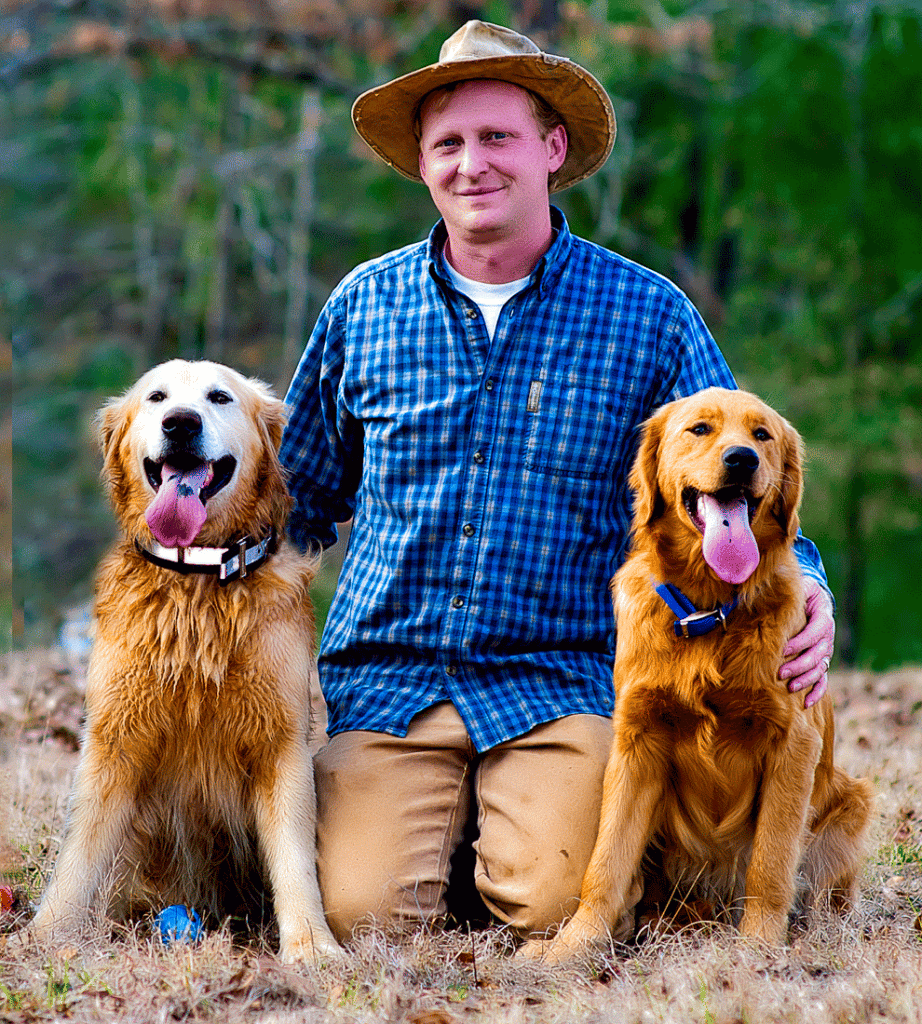 Beginning around 20 years or so, they began breeding Golden Retrievers because of their dog Mickey. They loved him so much and he loved them back and they want to give that experience of unconditional love from a Golden Retriever to you! These puppies are AKC registered and will bring you years of happiness and joy.
They have transported their Golden Retrievers far and wide across the country and even to England! Their website also has a spot where celebrities have purchased Goldens from them as well. They offer AKC registered puppies through their AKC registered sire, Solomon. They will also offer to crate train your puppy before picking it up for an additional fee if interested. Head over to their website for more information on the puppies and when to know if puppies are available!
3. Summer Brook: English Golden Retriever Breeder
They breed from parents from lines that are heavily titled in either conformation or obedience, so you know you are getting a great Golden! The parents are health tested before breeding and have great pedigrees and fantastic temperaments. The use of positive reinforcement to train the puppies which produces an incredible amount of focus in every Golden Retriever puppy.
The puppies live on their 14-acre property and are treated as a family first and foremost. They are raised in a home environment where someone is home with them most of the time. They have four key areas that they focus on; cleanliness and preparing their puppies for house training and crate training, providing an enriching environment, providing beneficial human interactions, preparing them for their Focused Puppy Training Program which many owners wish to participate in after receiving their puppy.
The puppies are wormed at 3, 5, and 9 weeks of age. They receive a vet check at around 8 weeks of age and will receive their first DPv vaccine at 9 weeks of age. They don't like sending puppies home prior to 10 weeks of age due to not having at least one vaccine. They also will provide you with pictures at different ages of the puppy's life as you wait for them to be old enough to pick up!
Their website has a ton of information that will help you understand them better and a lot of basic knowledge on what owning a Golden Retriever will be like. Go check their page out!
4. White Sand English Golden Retrievers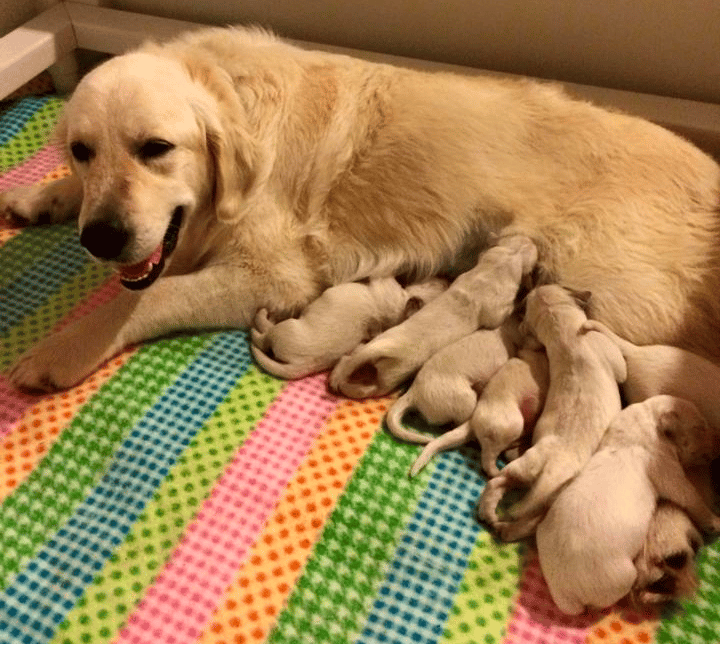 They breed AKC English-type Golden Retrievers with Cream colored coats since 2004. They only purchase from the best lineages available in Europe to breed from and they import their English type of Golden Retrievers from well-respected kennels. Their breeding focuses on health, temperament, and structure and they have established professional relationships with many champion breeders and at prominent dog shows.
The parents are health tested for hips, elbows, heart, eyes and now PRA-1 and Ichthyosis tests are added to the health scheme. The puppies are born in a whelping box in the living room, so the mom feels that she has some privacy with her puppies. The puppies are exposed to household noises which helps with socialization, and they have a doggy door off their kitchen for the puppies to go in and out of by the age of 4 weeks old.
Their website is full of good information so I would check there first to see what their puppy application looks like and what are some good supplies to get for your new furry friend! They also have great reviews on Facebook and are constantly posting photos of their dogs.
5. Southland Goldens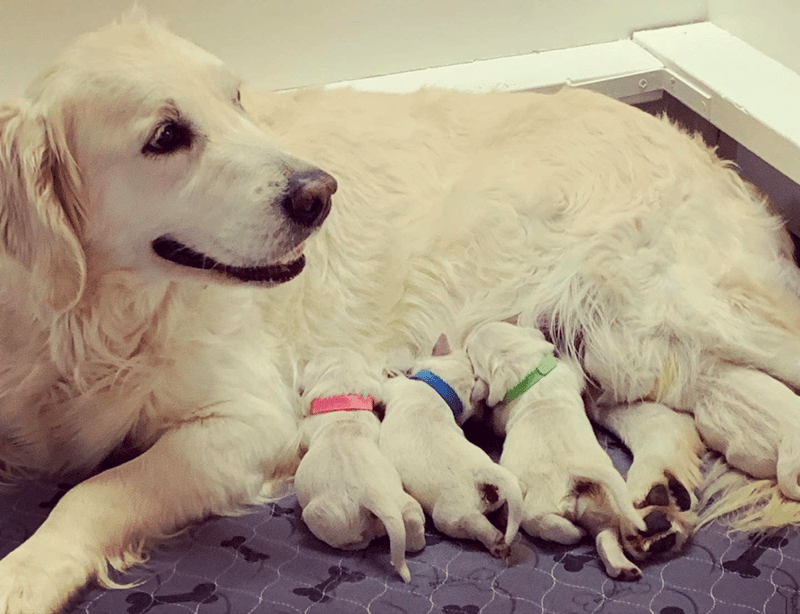 Drew and Alyson Stuart first started Southland Goldens in 2012 and never looked back! They are breeders of top-quality champion bloodline English Golden Retrievers. All their dogs are part of their family and are exercised daily for a full and fun day! The parents are tested to make sure they are clear of hip dysplasia, heart, and eye conditions. They also perform a coefficient of inbreeding test on all potential litters.
The puppies come with a warranty, but you must email them a copy of the contract for further information. The puppy will go home with you at 8 weeks of age. They also offer training lessons for your puppy and have varying length courses if you are interested.
When you purchase a dog from them, they make sure to be there for you throughout your dogs' life! They make sure to help you with any questions you may have about care, training, feeding, or anything else. They will also send you videos weekly of your puppy so that you can start building a connection with them the minute you lay your eyes on them. They have 5-star reviews on Facebook and great Google reviews as well! People have said they are very responsive, and their videos are super informative. They were willing to help prepare them for the new addition to the family they care tremendously about their animals.
6. Kathy's Golden Retrievers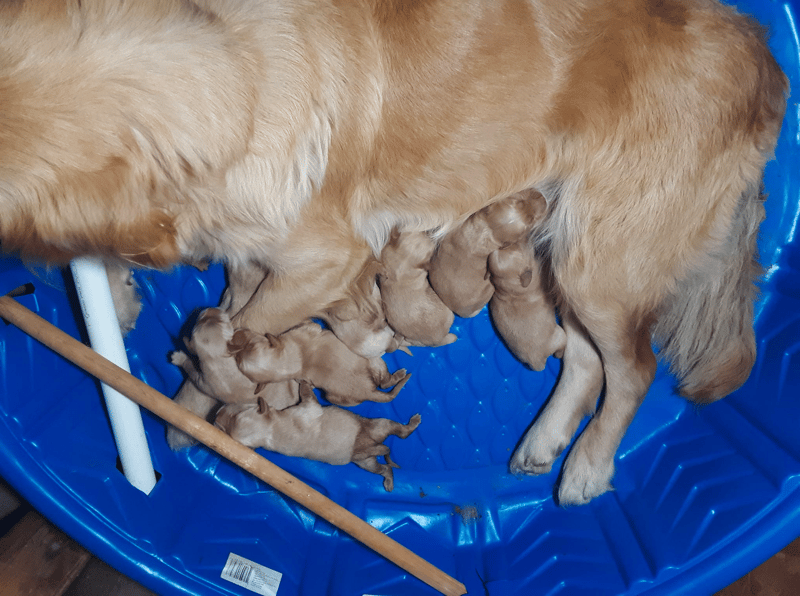 Located in Jones, AL just 35 minutes northwest of Prattville, they are the Champion family that just absolutely loves Goldens! They live on 6 acres of land, and they see their Goldens as their family pets. They fell in love with the Goldens sweet eyes, gentle disposition, and of course, they are the perfect family pet.
They make sure to socialize their puppies with both adults and children from birth! Their website has information on the parents and what they look like. Most of their dogs are AKC registered.
7. The Golden Court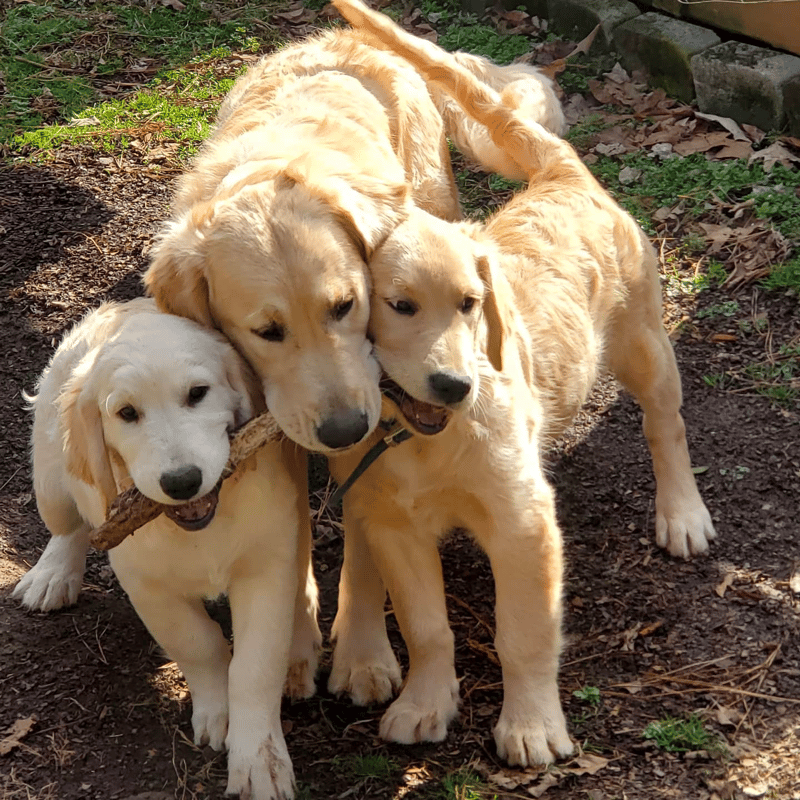 They first started their breeding program to be able to share the greatness of having a Golden Retriever in your life. Their litters are unique due to the fact that the puppies have the best of both English and Golden lines. They are gentle by nature, have soft coats, and happy hearts, and are eager to learn with devoted attentiveness. Their goal is to breed healthy puppies that exceed all expectations of the Golden Retriever Standards.
They are AKC registered and in their agreement state that the puppy will be in good health on the delivery date. They will provide a veterinary check prior to the delivery date as well as dewormed for parasites and vaccinate (two vaccines). They will be filed for AKC limited registration, and the paperwork will be sent to you.
8. D&J Golden Retriever Puppies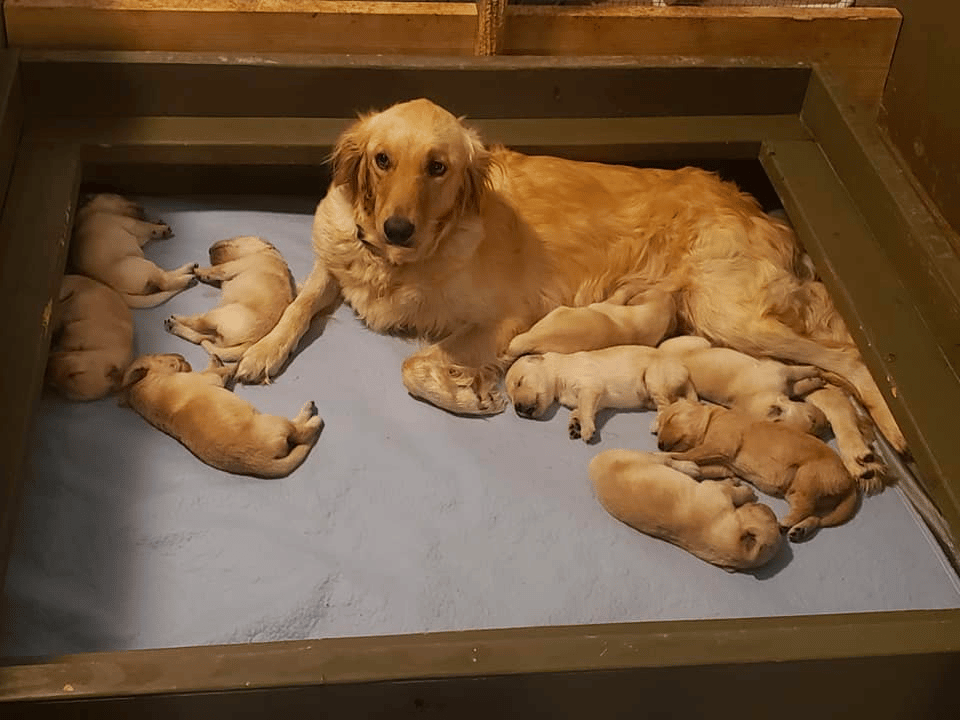 At D&J Golden Retriever Puppies, they have been breeding for over 15 years! Originally breeding toy breeds such as Yorkies, they fell in love with the Golden Retriever and never looked back. They believe that Golden Retrievers are hands down the best family dog. They make sure that the Goldens are not inbred, and they do not run a puppy mill.
They strive to breed the perfect family pet and make sure to genetically test the parents before breeding. Their two stud males are OFA certified hips and elbows and DNA certified as well. All are registered with the AKC, and all puppies will come with a vet transferable vaccine at 6 weeks, vet checked, and dewormed.
They have 5-star reviews on Facebook and the Alabama community just loves them. They are said to have great communication and a very responsive to every question you have. They are also super friendly and only want the best for you and your puppy.
9. Eastern Shore Goldens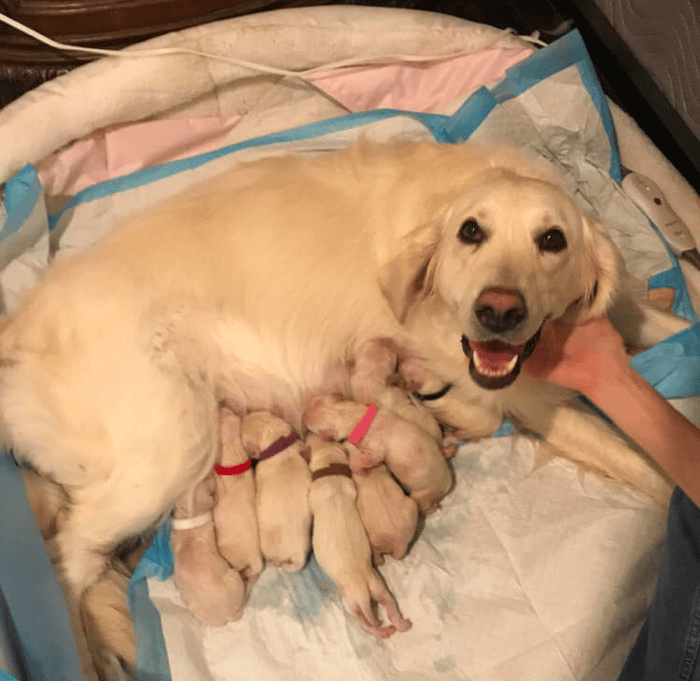 It is the passion of Alissa Johnson to breed, raise, and socialize healthy and happy Golden Retriever puppies so that others can enjoy the gift of having a Golden in their life! They are a small family hobby breeder that focuses on a few litters each year to produce quality puppies. They breed for health, temperament, and standard form. All dogs are health tested before breeding which includes elbow and hip dysplasia, eyes, cardiac evaluation (registered with OFA), and more.
Alissa first got her training from Alyson Stuart of Southland Goldens who first mentored her. With so much experience between the two of them, they make great breeders and friends.
All puppies are AKC registered with a one-year health guarantee. Before going home with you, they are vet checked for health clearance and receive their first set of vaccines. The puppy will also be microchipped and sent home with a blanket with littermates' scent.
10. Creekstone Retrievers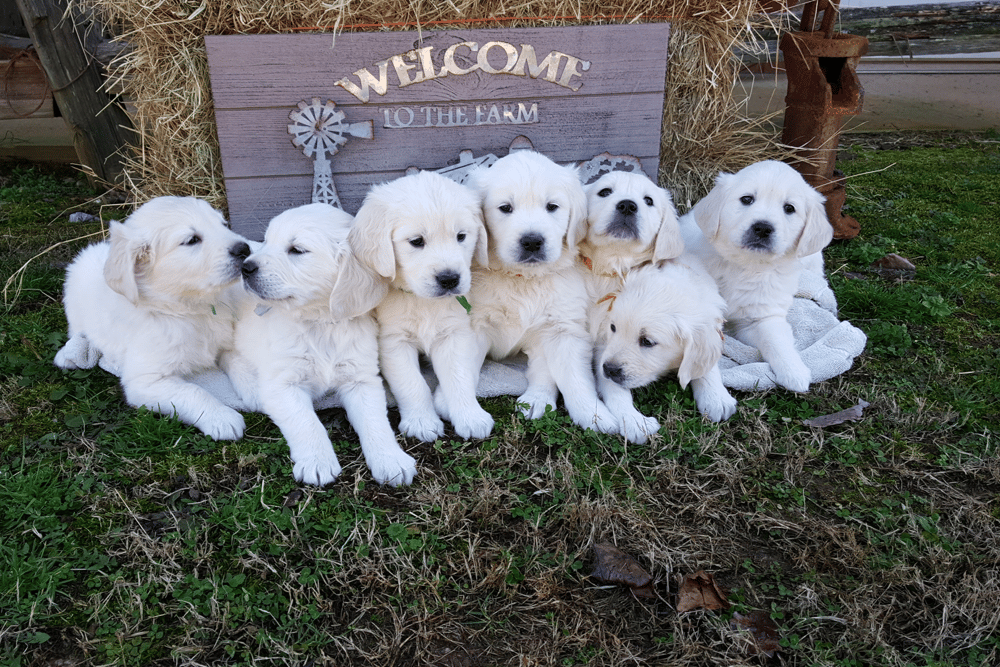 Located on a beautiful country farm, they have a large lake with lots of room for their Goldens to run and play. Not only are they dedicated to raising beautiful Golden puppies, but they also give them a well-socialized beginning in life. All their Goldens have great temperaments and make great companions for all ages. All the puppies are raised indoors with heat for the winter and air conditioning for the summer. They take pride in their clean and sanitary facilities which is beneficial to the puppies.
All puppies come with limited AKC registration and will have been microchipped, dewormed, vet checked, dewclaws removed, and come with hip, eye, and heart certificates. Their website is full of information to help find the best puppy possible so go and check them out!
11. Golden Memories Kennels
Larry and Lola are in Central Alabama and breed the best Goldens around! They inherited this kennel from Larry's father in 2009 and have never looked back. They see these dogs as a bundle of joy, and they are a real pleasure to raise and give to loving families. They believe Golden Retrievers are the perfect family dogs because of their temperament and ease of training. All dogs are AKC registered, and you will have a lifetime of joy with one of their dogs.
On their website, you will be able to find a section on the parents and be able to see what they look like. Right now, it seems their website is in development so the best way to ask specific questions is to contact them through email or give them a call!
12. Stay Gold Kennels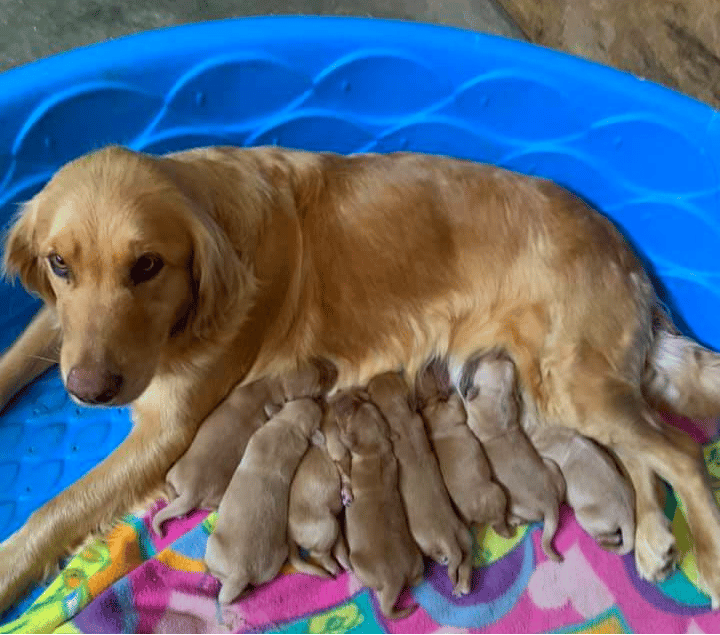 They are a family-owned and operated kennel breeding Golden Retrievers. Located in Fyffe, Alabama, their Goldens are raised in a loving and caring environment and get lots of attention and love from the family. They are treated like family and are AKC registered and up to date with vaccines when they leave the facilities and into their new and forever home.
While they only have a Facebook page, they are very good at keeping everyone up to date with the puppies and what is going on in the kennel! They have almost 40 reviews on Facebook, and all of them are 5-stars! One owner says that Anthony really cares for his dogs deeply and they make sure the puppies are going to great homes. Another review states that Anthony raises the most beautiful, healthy, intelligent, and loving Goldens ever. If interested, check out their Facebook page and message them today!
| | |
| --- | --- |
| Name of Owner | Anthony Richey |
| Address | Fyffe, Alabama |
| Phone Number | (256) 717-3540 |
| Facebook | Stay Gold Kennels |
13. The Golden Life Retrievers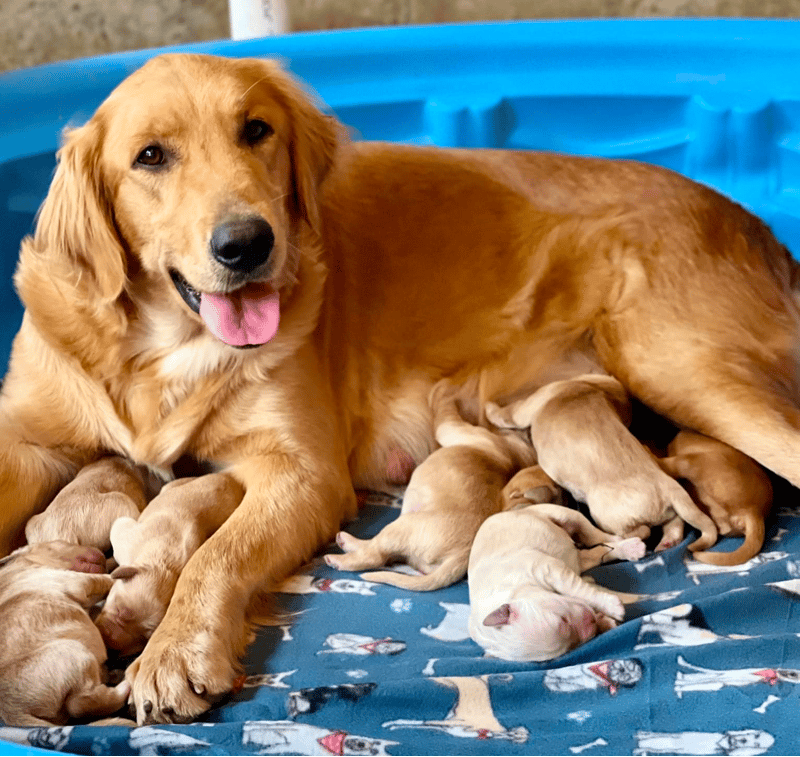 They are a small, family-owned breeder in Ohatchee, Alabama. They are extremely passionate about the breed, and they want to share their love for Goldens with you! They only breed for the best with a focus on health, beauty, and well-socialized skills. All their dogs are 100% purebred, AKC registered Golden Retrievers and they are sold with limited AKC registration. They have about 3-4 litters per year which give you many chances to get your hands on one of their lovely Goldens.
All parents are genetically tested by Embark and by clicking the Photos tab on their Facebook page, you can find information on previous litters and the parents. The puppies can go to their new homes at around 7-8 weeks of age and before leaving they are dewormed, coccidia prevention, and first set of vaccines and a wellness exam by their vet. They also send home some food, a blanket with the littermate's smell, 30 days of free pet insurance, and more!
After sending in your deposit, you will be invited to an exclusive Facebook group for your litter so they can keep you up to date with photos of your new best friend before going home with you. They have 5-star reviews on Facebook and seem to be a great breeder overall. The best way to contact them is through Facebook messenger as they do not have a website or any other form of contact.
Golden Retriever Breeders in The Other States Near Alabama
Golden Retriever Resources and Tips
We provide all the necessary information on everything about Golden Retriever breed profile, and what would be needed in raising a Golden Retriever puppy. You also get to learn in detail, the 5 stages of Golden Retriever Puppy Growth (from baby to adult), and what to expect with your pup in each stage of its growth.
Other Dog breeds for your choice:
Final Thoughts
I just adore Golden Retrievers and obviously, you do as well if you are here reading this list! They are loyal, lovable, and make great pets for a growing family or a party of one. To make sure you are getting the perfect puppy do your research on which breeder will suit you best. They should be AKC registered as well as health tested before breeding. Out of all the breeders on this list, I believe that Southland Goldens is the perfect breeder to contact first. The public absolutely loves them, and they seem to be raising ethical, beautiful, and healthy puppies. To find the best breeder, reach out to them and see if they answer all your burning questions. You can also message previous buyers and see what the process was for them.