Golden retrievers consistently rank as the number one or two most popular dog breeds in the United States. This is due to the breed's friendliness, playfulness, and overall sweet nature. A goldie is a great family dog with the energy and love to keep up with active children and adults. They're intelligent, affectionate dogs with an eagerness to please which make them relatively easy to train.
To keep your golden retriever active and healthy for as long as possible, it's vital to make sure they're receiving the proper nutrition for their age and activity level. Although they're generally active dogs, they're also highly food-motivated, which means they can begin to gain weight if you don't keep an eye on their treat and calorie intake. Thus, you'll need to monitor how much your golden retriever eats and ensure that they're getting the proper nutrition without extra calories.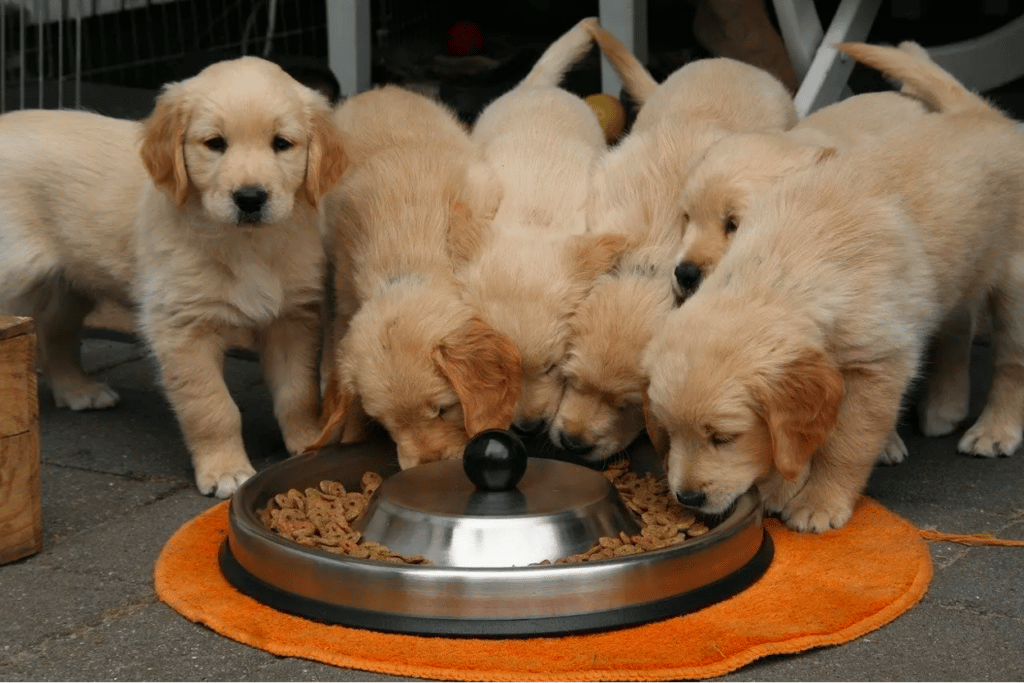 Top 10 Best Dog Foods for Golden Retrievers
With all this in mind, here are the best golden retriever dog food varieties for different ages, needs, and activity levels.
| | | |
| --- | --- | --- |
| Dog Food Brands | Best For | Descriptions |
| Taste of the Wild Wetlands Grain-Free | Overall top choice | This high-protein, grain-free food represents a great value for money when it comes to quality dry dog food for golden retrievers. |
| Hill's Science Diet Large Breed Puppy | Golden retriever puppies | This reasonably-priced food is nevertheless formulated with exactly what growing golden retriever puppies need to develop properly. |
| Canidae Pure Limited Ingredient Adult | Dogs with allergies | With only eight key ingredients, this limited-ingredient dog food will make it easy to identify and eliminate potential allergens from your dog's diet. |
| Wellness Simple Limited Ingredient | Dogs with sensitive stomachs | This simple dry food contains protein from a single animal source to reduce possible irritants and aid digestion. |
| Natural Balance Fat Dogs Low-Calorie Dry Dog Food | Losing weight | With reduced calories but extra fiber to help your dog feel full, this dog food will help your golden achieve or maintain a healthy weight. |
| Dr. Tim's Highly Athletic Momentum Formula | Gaining weight | This high-protein, high-fat formula is made for highly active dogs and can help an underweight golden retriever gain muscle. |
| Weruva Wet Dog Food | Wet dog food | If your dog needs or prefers wet food, Weruva gives you plenty of flavors and options to choose from. |
| Tender & True Organic Grain-Free | Organic dog food | Containing humanely-raised chicken and no grains, this dry dog food is one of the few that can truly claim to be certified organic. |
| Purina Pro Plan Complete Essentials | Tight budgets | This tasty, nutritious food comes in three flavors, all of which are very reasonably priced. |
| Wellness Core Grain-Free Senior | Senior Golden Retrievers | Specially formulated for healthy joints and digestion, this poultry-flavored food is perfect for aging golden retrievers. |
1. Taste of the Wild Wetlands Grain-Free
The ideal dog food is the perfect balance of quality, value, and size, particularly when it comes to large breeds like golden retrievers. While there's perhaps no perfect golden retriever food, Taste of the Wild's Wetlands Grain-Free dry dog food is about as close as you can get. The company is family-owned and manufactures its dog food in the US from local and sustainable ingredients. There's no corn, wheat, grain, artificial flavors, or artificial colors in this kibble.
What you'll get instead is 32% protein primarily from duck and chicken, but also from quail, turkey, and fish. Sweet potatoes, peas, and potatoes provide nutrients and 4% fiber, and the food is at least 18% fat. There are proprietary probiotics and antioxidants added to support overall health. At 425 calories a cup, your adult golden retriever will probably need 2.5-3.5 cups per day. Customers report that their dogs love the flavor, and you'll love how easy it is on your wallet.
Flavors: roasted fowl
Sizes: 5 lbs., 14 lbs., 28 lbs.
Grains: none
2. Hill's Science Diet Large Breed Puppy
Hill's Science Diet puppy foods represent an excellent balance between value for money and quality ingredients. There are no artificial colors, flavors, or preservatives in this food, which derives its protein from either chicken or lamb meal, depending on the flavor. It's formulated to give growing large-breed puppies the calcium they need to form strong bones and DHA to support brain and eye development. The company sources all its ingredients from countries with reliable safety protocols, and the food itself is manufactured in the US.
This puppy food contains 24% protein, 11% fat, and 3% fiber, all of which are well within the standards for puppy food. It also contains small amounts of apples, broccoli, carrots, cranberries, and green peas. One cup contains 394 calories, and a 10-pound puppy should eat about 1 2/3 cup per day.
Flavors: chicken meal & oats, lamb & brown rice
Sizes: 15.5 lbs., 30 lbs., and 33 lbs.
Grains: oats, brown rice, wheat, sorghum, whole grain corn
3. Canidae Pure Limited Ingredient Adult Dry Dog Food
Although a fairly low proportion of dogs with itchy skin actually has food allergies – fleas, ticks, and other environmental factors are far more likely to cause itchiness – if you suspect your dog has an allergy, dog food with limited ingredients is the way to go. Canidae Pure dry dog food has just eight major ingredients, plus all the micronutrients and vitamins your adult golden retriever needs to stay healthy. Additionally, since chicken is a fairly common food allergen for dogs, this fish-based formula derives its animal protein from salmon and salmon meals.
Each cup of this food contains 459 calories, as well as 32% protein, 14% fat, and 4.5% fiber. Canidae Pure also mixes in a blend of probiotics, antioxidants, and fatty acids to support healthy digestion. Although grains aren't common allergens for dogs, this food is grain-free, which is one less potential allergen to worry about.
Flavor: salmon and sweet potato
Sizes: 4 lbs., 12 lbs., 24 lbs.
Grains: none
4. Wellness Simple Limited Ingredient Dry Dog Food
Another limited-ingredient dog food, Wellness Simple kibbles have only one animal protein source per flavor. This makes them easier to digest and less likely to irritate tender tummies. Although they're manufactured in a facility that also produces grains, the foods themselves don't contain any grains, artificial colors, or artificial flavors. Unlike many other specialty dry dog foods, it's available in a large 40-lb. size – perfect for one or more golden retrievers in your home.
Each flavor contains 26% protein, 12% fat, and 5.5% fiber, with 430 calories per cup. An adult golden retriever is likely to need about 3-3.5 cups per day. Wellness Simple also contains glucosamine, omega fatty acids, antioxidants, and prebiotics for overall health and wellness.
Flavors: Turkey & potato, salmon & potato
Sizes: 26 lbs., 40 lbs.
Grains: none
5. Natural Balance Fat Dogs Low-Calorie Dry Dog Food
Since golden retrievers are highly food-motivated, they'll do almost anything for a treat. Unfortunately, this also means that they will pig out when given the chance, and over time, this can mean weight gain. In addition to limiting treats, you can also choose a high-fiber, low-calorie dog food to help your golden retriever lose weight safely while also feeling full after mealtimes. Natural Balance Fat Dogs food is a great choice for this purpose.
This food contains only 310 calories per cup, and a golden retriever should eat about 3.25-4.25 cups of it a day for weight loss or 4-5 cups for weight loss. There's at least 26% protein, which comes from chicken and salmon meals, along with 7.5% fat and 10.5% fiber. Omega-3 and omega-6 fatty acids will help ensure heart health as well as a smooth, shiny coat.
Flavor: chicken and salmon
Sizes: 5 lbs., 15 lbs., 28 lbs.
Grains: oat groats, barley
6. Dr. Tim's Highly Athletic Momentum Formula
Although golden retrievers are prone to becoming overweight, there are some circumstances under which your golden might end up underweight. If this is the case, simply feeding them more of their regular food usually isn't the best idea. You want to find dog food that's rich in protein rather than fat. It should be high-calorie, yes, but also high-quality. Dr. Tim's Highly Athletic Momentum Formula is a calorie-rich dry food made for extremely active working dogs, but it can also help an underweight golden retriever put on more muscle.
This food clocks in at a whopping 518 calories per cup with 35% protein, 32% fat, and 3% fiber. Your dog may need about 2.5-3 cups a day. If you want to increase your dog's weight, make sure you do so under the guidance of a veterinarian. It's important to go about it the right way to ensure your golden retriever remains healthy.
Flavors: chicken
Sizes: 18 lbs., 40 lbs.
Grains: brown rice
7. Weruva Wet Dog Food
Perhaps your dog's sensitive stomach means that digesting dry food is just too difficult, or perhaps your golden retriever just doesn't find kibble appealing. You may also need wet food temporarily if your dog has, for example, dental issues. Wet food is easier to chew and digest, and it helps keep your dog hydrated with extra water content. Weruva makes so many varieties of wet dog food that you're sure to find something that's to your pooch's taste. All its foods are made in a human-grade facility, and it's more expensive than dry food, but it might be just what your dog wants.
As you might expect, wet dog food has slightly different nutrition standards than its dry equivalent. Additionally, the different flavors of Weruva differ substantially when it comes to the nutrients they contain. It may have as little as 43% protein or as much as 73%. However, all varieties have at least the minimum nutrients as required by AAFCO.
Flavors: chicken, beef, lamb, fish
Size(s): 5.5 oz. x 24 cans, 14 oz. x 12 cans
Grains: none
8. Tender & True Organic Grain-Free Dry Dog Food
To receive the certified "USDA Organic" label, a food must contain at least 95% organic ingredients. If they don't have that label – and most "organic" dog foods don't – they're only partially organic. Out of the few actual certified organic foods, Tender & True's dry dog food is the best balance of value and quality. Although it's expensive for dry dog food, it's actually one of the least expensive certified organic dog foods out there. The company even claims it is climate pledge friendly.
Its protein comes from chicken and chicken meals, and it contains no grains. The chickens are humanely raised without antibiotics. At 350 calories a cup, Tender & True contains 26% protein, 16% fat, and 7% fiber. An adult golden retriever will probably need 2-3 cups a day.
Flavors: Chicken & liver
Sizes: 4 lbs., 20 lbs.
Grains: none
9. Purina Pro Plan Complete Essentials
While we'd all love to give our pooches the best of the best, most of us don't have the means to buy lots of top-shelf dog food. Golden retrievers are big, active dogs, which means buying a lot of dog food over the years, and so it's important to find a food that fits into your budget. Purina Pro Plan Complete Essentials is an adult dry dog food that maximizes nutrition and minimizes costs. This food combines hard kibble with softer shredded pieces to create a texture that dogs love to eat, and there are three flavors to choose from.
With 26% protein, 16% fat, and 3% fiber, along with living probiotics, Purina Pro Plan is a complete, highly digestible nutrition for your golden retriever. The chicken & rice formula is also good for all life stages, puppy through senior, so if your dog loves it, you won't need to switch as they age. An adult golden will probably need about 3-3.75 cups per day, each of which contains 387 calories.
Flavors: salmon & rice, lamb & rice, beef & rice
Sizes: 6 lbs., 18 lbs., 35 lbs., 47 lbs.
Grains: rice, whole grain wheat, corn gluten meal, whole grain corn
10. Wellness Core Grain Free Senior Dry Dog Food
A portion of good senior dog food has extra nutrients to help protect joint health as well as healthy digestion. Wellness Core's senior dog food is available in formulas with or without grain, and we've chosen grain-free food as our best pick for senior golden retrievers. In addition to glucosamine and chondroitin for joint health, Wellness Core has both prebiotics and probiotics. And because senior dogs often have slower metabolisms, it's a little less calorie-rich than other adult dog foods.
Each cup contains 359 calories, as well as 32% protein, 6.5% fat, and 12% fiber to help maintain a healthy weight. The protein comes from deboned turkey as well as chicken meal, and it's full of the antioxidants and taurine that your golden retriever needs. Remember to adjust meal size to your senior dog's activity levels, but most golden retrievers will need about 3-4 cups a day.
Flavor: turkey and chicken
Sizes: 4 lbs., 12 lbs., 24 lbs.
Grains: none
Golden Retriever Nutrition Requirements
Unfortunately, it's difficult to find unbiased information about any dog breed's nutritional needs. Reading the scientific literature will only give you a formula that takes into account the dog's age and activity levels, the digestibility of the food, and even the environmental temperature where the dog lives. And even these formulas can give you widely varying results. For instance, the 2007 update to the National Research Council's Nutrient Requirements of Dogs and Cats is 424 pages long. If you're not a vet, you probably haven't got the time to read all of that.
In short, there's no quick answer to the question of what, exactly, your golden retriever should eat. However, here are some rough estimates. Adult dogs should eat at least 20 grams of protein for every 1,000 calories, but 25 grams is preferable. Similarly, dogs should eat about 13.8 grams of fat per 1,000 calories, but definitely no more than 82.5 grams. There's also a long list of recommended amino acids, fatty acids, fat and water-soluble vitamins, macro and micro minerals
To further complicate matters, food labels rarely list ingredients by grams. Instead, they state the minimum and maximum percentages of these ingredients. An organization called AAFCO has set the minimum and maximum percentages of certain nutrients that a dog food must meet in order to have the words "complete and balanced nutrition" on the label. As long as the packaging contains those words, it meets the following AAFCO standards.
| | | | |
| --- | --- | --- | --- |
| Nutrients | Puppy | Adult | Senior |
| Protein | 22.5+% | 18+% | 18+% |
| Fat | 8.5% | 5.5% | 5% |
| Calcium | 1% | 0.6% | 0.6% |
| Phosphorus | 0.8%-1.3% | 0.5% | 0.5% |
| Other important ingredients | DHA | Taurine | High fiber, glucosamine, chondroitin |
Feeding Puppies, Adults, and Senior Dogs
As you can see in the chart, nutrition requirements are broken down by a dog's life stages: puppy, adult, and senior. Although AAFCO doesn't make separate requirements for adult and senior dog foods, most food marketed for senior dogs contains additional nutrients to aid digestion and keep joints healthy. Here are some specific caloric requirements published by the National Resource Council, but keep in mind these are just starting guidelines. You'll need to pay attention to your dog's needs and activity levels to fine-tune their meals.
How many calories does a golden retriever puppy need?
When puppies are younger, they need about twice the calories per pound of bodyweight of an adult dog. They should also start eating solid foods about four weeks out from birth when their mother's milk is no longer sufficient. A 10-pound puppy needs about 990 calories a day, spaced out over four meals.
How many calories does an adult golden retriever need?
The caloric needs of an adult golden retriever – that is, from about one to seven years of age – depends on their size and activity levels. Fully-grown golden retrievers can weigh anywhere from 55 to 75 pounds, and obviously, the larger the dog, the more food they typically need each day. Also, dogs that are active in terms of exercise and play with other dogs will need more calories than inactive dogs. You'll need to do some adjustments based on your dog's individual needs, but active, young adult (age 1-4 or so) golden retrievers typically need between 1,451 and 1,876 calories per day. Active adults need between 1,353 and 1,740 calories per day, but inactive adult dogs typically don't need more than 989-1,272 calories per day.
How many calories does a senior golden retriever need?
Finally, golden retrievers are typically considered senior dogs after the age of 6 or 7. Active seniors need between 1,093 and 1,407 calories per day. However, if your senior dog is fairly inactive, stick with the more conservative 989-1,272 calories.
How to Choose the Best Dog Food for a Golden Retriever
There are a lot of different brands and types of food that meet basic AAFCO requirements, and each brand claims it's the best for keeping your dog happy and healthy. There's also a lot of marketing language on the packaging. For example, dog food may claim that it contains a lot of vitamin C to boost your dog's immune systems, but it doesn't tell you that dogs, unlike humans, don't need to eat vitamin C in their food. Their bodies produce it from other sources, so extra vitamin C just gets excreted in their urine.
Instead of simply buying the cheapest food or the one with the most appealing pictures on the packaging, take the following factors into consideration when choosing a food. And remember, if it says "complete and balanced" and your dog will happily eat it, they're getting the nutrition they need.
Stage of Life
As we've already discussed, the most important factor in determining the nutrition your dog needs is whether they're a puppy, an adult, or a senior. Some foods are made for specific stages of life, while others are designed to meet the nutritional needs of dogs of all ages.
Dog Breed and Size
Since we're talking specifically about golden retrievers, food designed for large breed dogs is a good choice. While it might not be very different from small breed foods when it comes to nutrition, dry food for large breeds typically has larger kibble pieces, which may be more satisfying for your dog to chew.
Royal Canin and some other brands do produce breed-specific food that says they're specifically designed for golden retrievers. But what do golden retrievers need that's different from what other dogs of the same size need? You won't find much of an answer to this question, and the brands don't want to share their formulas. Breed-specific foods are usually more of a marketing ploy that allows the company to charge more for the food while making it sound more special than its competitors.
Special Health Conditions
Here's where you really do need to pay attention to food types. Some dogs will have health issues that can be either helped or harmed by the food they eat. Usually, if this is the case, your vet will inform you that your dog has special dietary needs. They may need wet food, which is easier to digest, or food with limited ingredients, which has fewer things they might be allergic to. Additionally, high-fiber, low-calorie foods can help a golden retriever lose or maintain body weight. However, always consult your vet before changing your dog's diet.
Ingredients
The type and quality of dog food ingredients can be a controversial topic. After all, golden retriever owners love their dogs, so they want to give them the best foods their budget can handle. However, these dog owners may end up paying too much for fashionable food that doesn't actually have any benefits for their dog over traditional, lower-cost food. Remember that dog food is marketed to the people who buy it, not to the dogs themselves.
For example, it's fashionable to have "human-grade" or "whole foods" inexpensive dog foods. That means real chicken meat instead of chicken byproducts. However, meat byproducts can have up to 300% more protein than whole meats, which contain a lot of water that gets taken out when the food is dehydrated. Just because an ingredient sounds good to you doesn't mean it's necessarily good for your dog. Remember that all foods marketed with the phrase "complete and balanced" contain the nutrients that your dog needs, so don't get swept up in misleading advertisements.
Final Thoughts
There's a lot of information to take into account when it comes to choosing dog food, so here are some questions to ask yourself when looking at different brands.
Does it say the words "complete and balanced" on the packaging?
Is it made for the right stage of life for your dog (puppy, adult, or senior)?
Does it leave out any ingredients that your dog is allergic to?
Will your dog eat it?
If you can answer yes to all of these questions, then you've found an acceptable food for your dog. Of course, if you have concerns about allergies or other health conditions, it's a good idea to talk to your vet. They may have specific recommendations about the right food for your dog.
Overall, remember that golden retrievers are smart, energetic, playful dogs. It's more important to keep them active and engaged than it is to find the absolute perfect food. Do a little bit of research, do your best to pick, and then find the right amount to feed your dog without overfeeding them. It may take a little trial and error, but it doesn't take an advanced degree in nutrition.