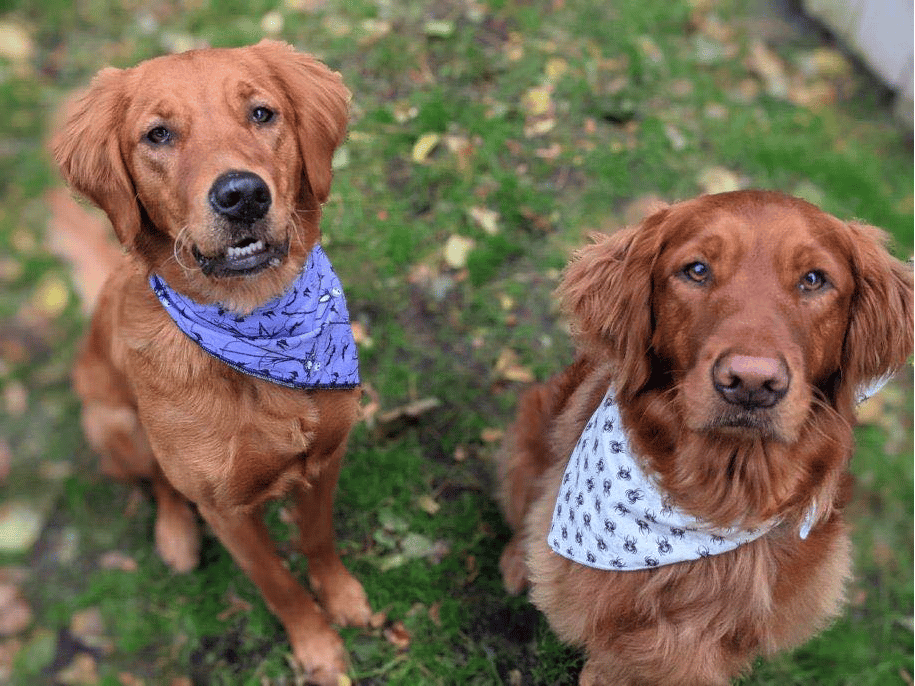 Have you thought about purchasing or adopting a red Golden Retriever? Are you simply interested in learning the difference between red Golden Retrievers and other types of goldens?
Good news: reading this article will provide you with all that information and more!
It's important to remember that most red goldens are bred to hunt, which means they have a lot of energy. Because of this, they're not as tall, or as hefty as other Golden Retrievers, and they're more sporty than other goldens. Red goldens are the most uncommon color for Golden Retrievers, falling behind both gold and light golden colors.
Red Golden Retrievers are multi-faceted and enjoy a storied history, so there's a lot to learn about them. In this article you'll learn:
What does a red Golden Retriever look like?
What are differences between red Goldens and other types of Golden Retrievers?
History of Red Golden Retrievers
Red Golden Retriever Temperament
Common health issues that red Golden Retriever are prone to have.
How much does it cost to buy and raise a red Golden Retriever puppy?
Is it easy to train a Red Golden Retriever?
How to find a reputable Red Golden Retriever Breeders
And lots more!
Let's dig into learning all about red Golden Retrievers!
Red Golden Retrievers at a Glance
There's a lot of information out there about red Golden Retrievers and it can be confusing to comb through. So to make it more simple to read, here's a table to tell you all of the important information about red goldens:
| | |
| --- | --- |
| Height | 20- 25'' |
| Weight | 55-80 lbs |
| Life Expectancy | 10-13 years |
| Temperament/ Personality | Fun, loyal, protective, loving, strong, excitable, energetic, athletic, easy to train, affectionate, people pleasers. |
| Shedding | Heavy shedders compared to other breeds but shed less than other goldens because of their short coats. |
| Chewing? | They're bred to retrieve waterfowl, so they use their mouths a lot and you should pick up lots of chew toys to satisfy their oral fixation. |
| Energy Levels | Highly active |
| Easy to Train? | Very easy to train because they're people pleasers. |
| Health Problems | Cancers that are common among goldens, joint problems like hip and elbow dysplasia which can limit their mobility later in life, eye problems like cataracts and retinal atrophy, hyperthyroidism (a hormonal disorder), myasthenia gravis (disease-causing muscular fatigue), and subaortic stenosis (a blockage of a ventricle in the heart). |
| Yearly Costs | $2,000- $3,000 the first year, and around $2,000 per year each subsequent year for things like vet bills, grooming, toys, treats, food, etc. |
The Difference Between Red Golden Retrievers and Other Goldens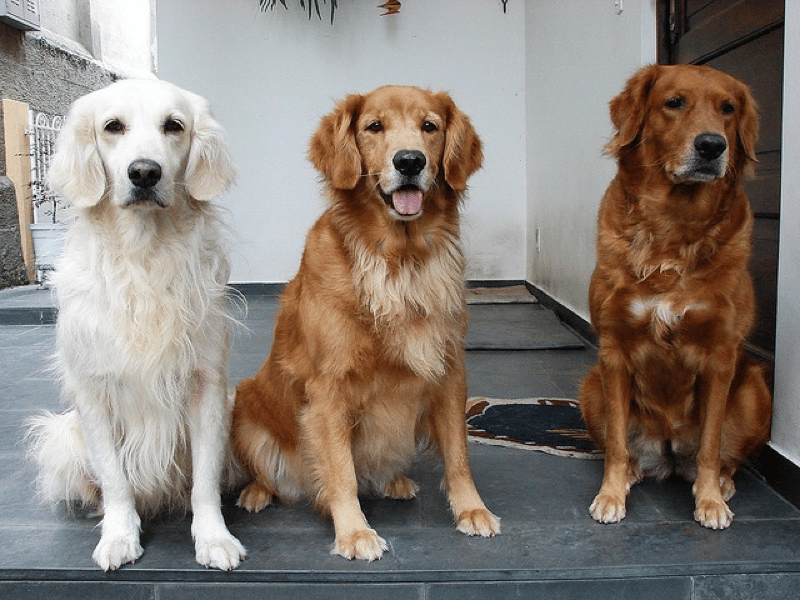 Of course, it's obvious that red Golden Retrievers are different in color than other types of Golden Retrievers. But, there are several other distinctions that make red Golden Retrievers different.
These differences don't come from the genes that give them their red coats but instead come from the fact that they're bred to be hunting dogs. Other types of Golden Retrievers are bred to be show dogs, service dogs, or pets.
Red goldens are a little shorter and weigh less than other golden types.
They typically weigh between 55- 80 lbs and stand 20- 25'' tall. Most other goldens are a little heavier and are a couple of inches taller.
A red Golden Retriever's frame is more sleek, athletic, and streamlined than other goldens.
Red goldens have a shorter coat than other goldens, so they don't shed as much as other goldens. However, they're still heavy shedders compared to other breeds.
Here are some differences between red Golden Retrievers compared to other Golden Retrievers:
They're smaller in stature and weigh less than other Golden Retrievers.
Their coats are shorter so they don't shed as much as other goldens.
They're great hunting dogs.
Red Golden Retriever History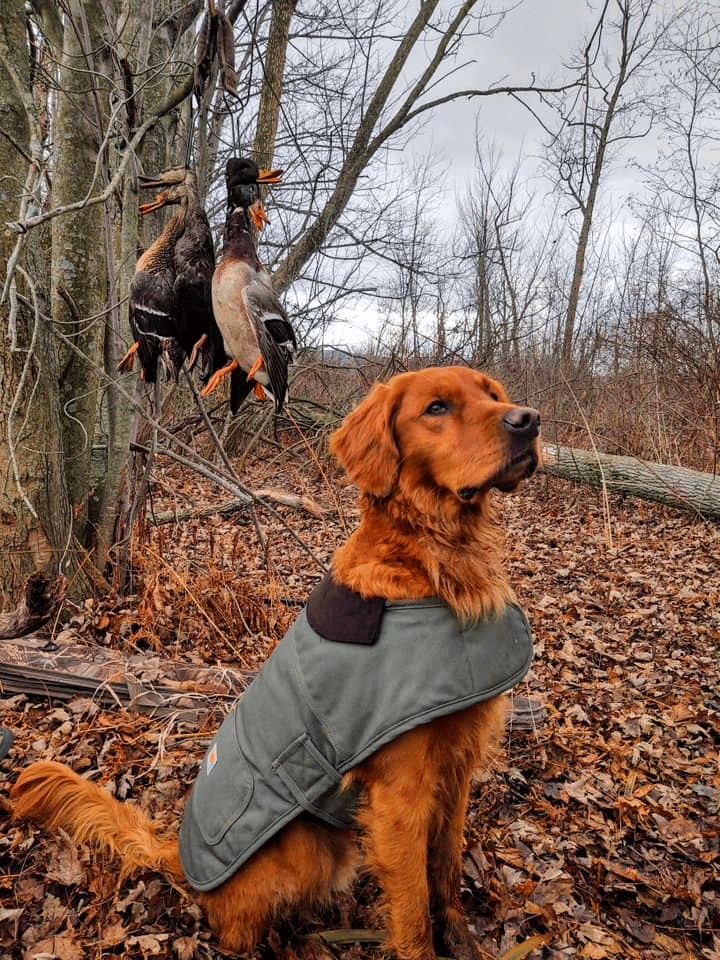 The history of red Golden Retrievers is tied with the history of all Golden Retrievers.
Golden Retrievers originated in the Scottish Highlands in the mid 19th century. A nobleman named Dudley Marjoribanks (also known as Lord Tweedmouth) wanted to create the ultimate hunting dog. So over the course of 50 years of dog breeding, the Golden Retriever was carefully engineered.
One of the most appealing traits of the Golden Retriever to hunters of that time period is what is known as a "soft mouth", which means that they won't maul or eat the prey once the hunter has shot it and the dog has retrieved it. This characteristic delighted hunters.
In 1908, the first Golden Retriever was featured in a dog show in Great Britain, shortly after Marjoribanks's death. His sons loved the breed so much that they brought them with them to America, and Americans soon fell in love with them, too. In fact, the Golden Retriever is the third-most popular dog breed in the U.S. currently.
There's little known about the red Golden Retriever's origins. We don't know when or where they were first bred. However, it is believed that they get their gorgeous red or mahogany coats due to cross-breeding Golden Retrievers with Irish Red Setters.
One interesting aspect of the red Golden Retriever's history is that other Golden Retriever types have experienced a change in their temperaments over the years, being bred to be therapy, show, or search and rescue dogs. But, this isn't the case for the red Golden Retriever. They're still best suited for exactly what they were originally bred for: hunting or fieldwork.
Red Golden Retriever Temperament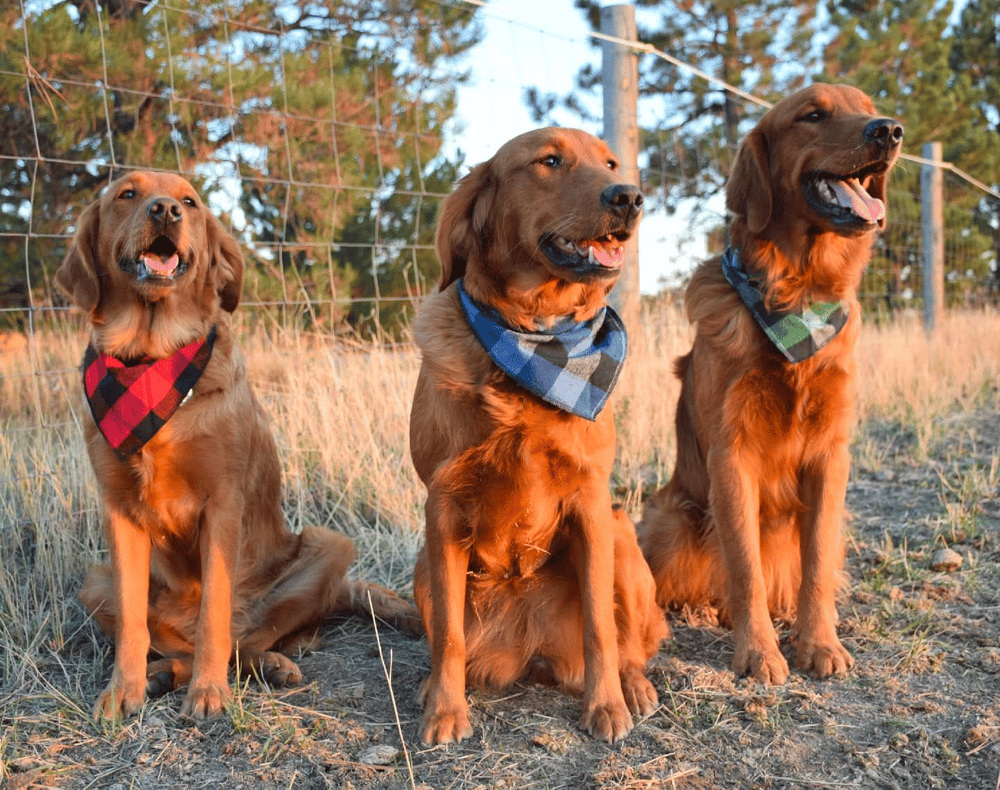 All goldens are energetic, but red Goldens in particular are full of energy. They're also quite friendly and sociable dogs, which makes them great for families.
Red Goldens are quite intelligent, which makes them easy to train. They're intuitive, too, being able to figure out what's required of them without someone spelling it out for them. This characteristic makes them perfect choices for therapy dogs.
All goldens, red goldens included, love food. This means that they're food-motivated and it contributes to how quickly they're trained. However, because they'll do anything for a treat, they have a tendency to become overweight if you don't watch it.
Goldens find it easy to bond with humans, and because of this, they need to be treated as one of the family. You can't just leave a Golden Retriever on its own for hours on end every day because they can quickly develop separation anxiety. They need to be kept as "inside" dogs because of their need to be where their people are, as well.
Goldens may look like big, clumsy dogs, but they're actually really gentle. Even though they pick up lots of things in their mouth, they're very careful and they typically won't hurt small children because of it. This makes them good choices for family dogs.
Goldens are NOT good guard dogs. They're so friendly that they get along with other dogs, and kids, and will make friends with perfect strangers. While it's cute, it's definitely not what you want in a guard dog.
You need to give your red golden at least an hour of exercise a day, and lots of mental stimulation. If they don't get enough exercise and mental stimulation, they're smart enough to cause all sorts of mischief. Puzzle toys and chew toys are good to stimulate their minds and keep their mouths occupied.
Many red Golden Retrievers are well-suited to be trained as therapy dogs. As with any dog breed, whether a puppy is chosen to be a therapy dog is determined by their temperament. Reputable breeders perform extensive tests on the pups that take hours and a lot of preparation. Training involves a specialized curriculum that changes at various stages of their development. Breeders test a puppy's touch tolerance, confidence, sensitivity to sight and noises, prey drive and energy level, among other things. There are classes that breeders can take to become certified in training service dogs.
When it comes to temperament, it's a good idea to talk to the breeder about your needs. Every red golden is unique and has a unique personality. So if you want a service dog, it's not going to do to adopt a dog that's been specially trained to hunt and has that personality type. And the same is true if you want a hunting dog, rather than a therapy or service dog.
How Big Do Red Golden Retrievers Get?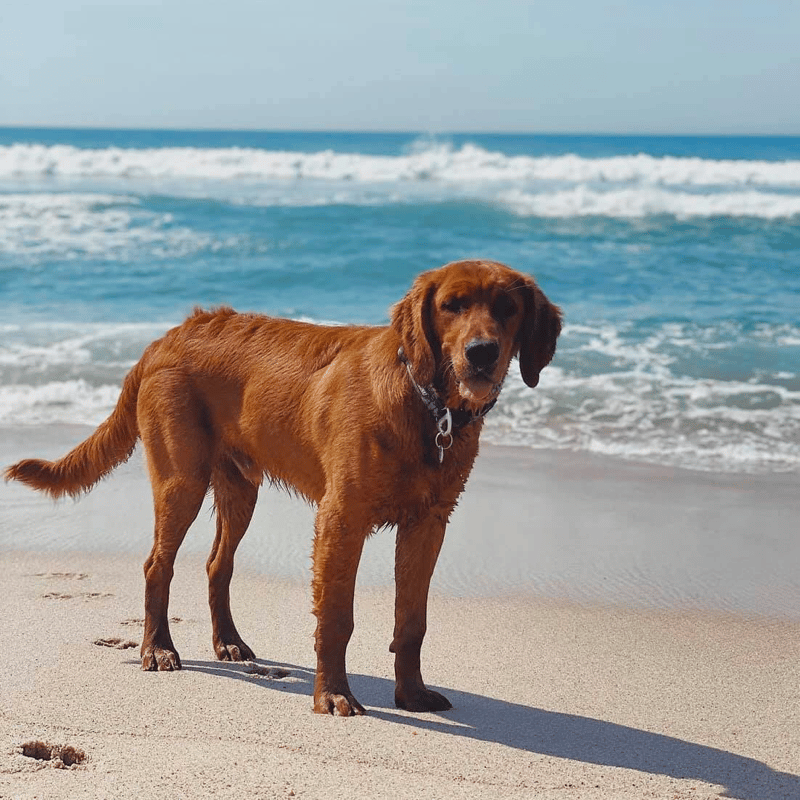 As we've mentioned before, red Golden Retrievers are shorter in stature than most other members of the Golden Retriever family, and they weigh less.
Adult male red Golden Retrievers typically stand somewhere between 22-23 inches tall and will weigh somewhere on the lighter side of the 65- 75 lbs range that is typical of other Golden Retrievers.
Females will typically stand 20- 21 inches tall and weigh 55-65 lbs.
When you add all these factors together, it makes the red Golden Retriever the smallest type of Golden Retriever, aside from mini goldens.
How Long Do Red Golden Retrievers Live?
If you're considering adopting or purchasing a red Golden Retriever, you should plan on caring for this pet for the long haul.
Red Golden Retrievers have a lifespan of between 10- 12 years. So, you'll have this pet for at least a decade. It's a serious commitment, especially when you take into account how many Golden Retrievers love to be around their families, so you shouldn't take this decision lightly.
Read more about: 5 Tips to Extend Your Golden Retrievers' Life
Red Golden Retrievers

Common Health Issues
As with any dog breed, red Golden Retrievers have common health issues that you should know about before you make the decision to get one.
Red goldens, like all Golden Retrievers, are very prone to cancer in their old age. There's some evidence that neutering goldens before they reach one year old contributes to this and increases the chances of them developing hemangiosarcoma or lymphoma. You can mitigate some of your dog's cancer risk by avoiding the use of pesticides and other chemicals on your lawn.
Red goldens are prone to hypothyroidism, which can contribute to weight gain. This is another reason that red golden owners should monitor their feedings vigilantly.
Other conditions that red Golden Retrievers commonly experience include joint conditions like hip and elbow dysplasia, as well as Hock Osteochrondosis. They're also prone to getting Myasthenia Gravis, which is a muscle fatigue condition. All of these problems can cause red goldens to experience limited mobility later in life.
Red goldens are also at risk for Subaortic Stenosis, which is a heart condition that causes obstruction in a heart valve. They can also get Progressive Retinal Atrophy, which is a degenerative eye condition it can cause blindness.
Is it easy to Train Red Golden Retrievers?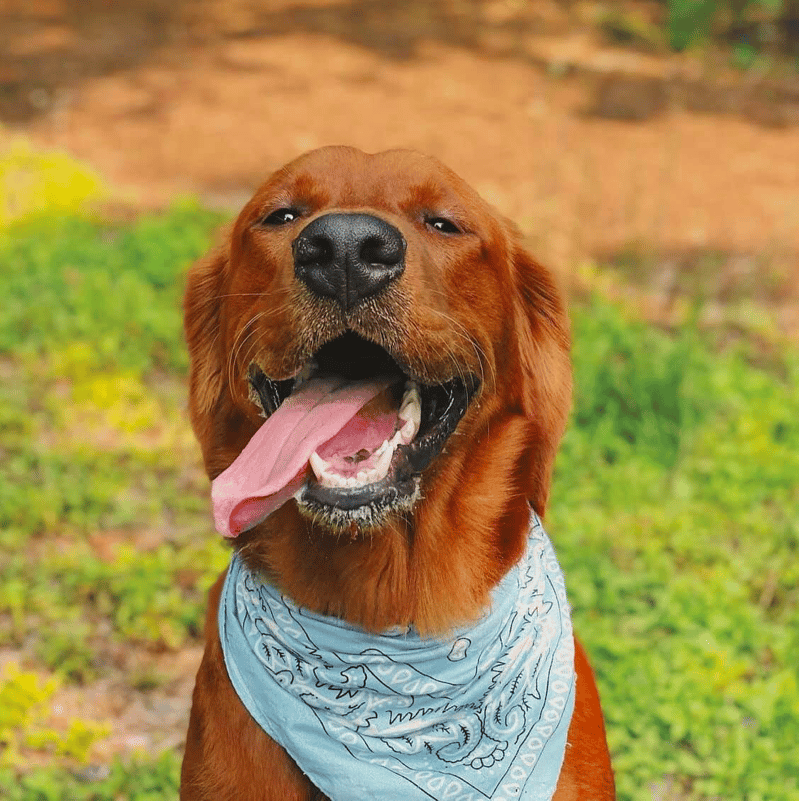 These funny, lovable dogs may have you wrapped around their paws, and they may have angelic demeanors, but you need to remember that they were bred for hunting. It's absolutely imperative that you put your pup through obedience training so that it grows into a happy, well-adjusted adult.
The good news is that, like all Golden Retrievers, red Golden Retrievers are incredibly easy to train. This is mostly because they like to make their owners happy, and their people-pleasing nature coupled with their intelligence means that you can begin training them from a young age, and they respond well to it.
You can start training your red golden from the time that they're about three months old.
Here are some tips for training red Golden Retrievers:
Red Golden Retrievers respond best to positive reinforcement. Every time that they do something you want them to, give them lots of praise and keep treats on hand.
Socialization is important for red Golden Retrievers, so it's important that you start the process almost immediately once they've been fully vaccinated. Take them out and introduce them to new people, places, and other animals. This can keep them from either turning aggressive or scared.
Every puppy has a tendency to chew on things when they're teething, and red Golden Retrievers are no different. They may chew a bit more than other breeds, due to the fact that all golden retrievers are "mouthy" and like to put things in their mouths. So, you'll need to invest in a lot of chew toys so that they'll be able to get through their chewing phase without destroying the things you love.
Read more on: Training Golden Retriever Puppy: A Complete Beginner's Guide
How Much Do Red Golden Retrievers Cost?
It can be difficult to find a breeder that sells red Golden Retrievers, as they're rarer than other types of Golden Retrievers.
When you do find a reputable red Golden Retriever breeder, then a red Golden pup will typically cost you between $500- $2,000
Backyard breeders that don't perform genetic testing on their dogs, don't take their puppies for regular veterinary checkups, don't perform temperament evaluations, or provide health certificates typically charge somewhere between $800- $1,500.
Reputable breeders typically charge more money for their pups due to vet bills, education costs, and testing. You're basically paying for a puppy that has been better-taken care of. These breeders charge somewhere between $2,000- $3,000.
You really get what you pay for when you pay to adopt a red Golden Retriever puppy. Because they're pre-disposed to so many health issues, it pays to spend the extra money and buy a puppy from a reputable breeder that has vetted the puppy to ensure that it won't wind up with a ton of health problems early on.
But this is only their initial cost. You'll pay around $2,000- $3,000 on your pup in its first year, and around $2,000 in expenses each subsequent year you own your red Golden Retriever. This includes necessities such as vet bills, food, toys, grooming, treats, and other expenses.
In the first year, you'll need to buy loads of new puppy items, which is part of why their first-year cost is so high. You'll need to purchase a crate, toys, dishes for food and water, a collar or harness, a leash, a bed, etc. You'll also need to make vet visits to get your puppy vaccinated, get your pup spayed or neutered, and pay for any socialization or training classes your pup needs.
Food is a cost that many people are blind-sided by when it comes to feeding a red Golden Retriever. Retrievers are big dogs, so they eat a lot, so you'll need to monitor their feedings so that they don't become overweight. Because they eat so much, you'll spend a fair amount of money on food. On average, don't be surprised if you go through more than 30 lbs of dog food in a month.
Vet bills are another thing that people typically forget to account for. Puppies, much like babies, get sick more often than adults. This is because their immune system isn't fully developed. Between minor illnesses like stomach bugs and infections, you could spend around $1,000 in vet bills your first year. After that, barring any serious conditions or emergencies, you can expect to pay between $300- $1,000 per year in vet bills for your red Golden.
Read more: How Much Does A Golden Retrievers Cost? Full Breakdown Cost to Buy and Raise A Golden Retriever
Best Red Golden Retriever Breeders
It's important that you choose a reputable breeder to ensure the health of your dog, and make sure you aren't scammed. Here's a list of reputable breeders with red Golden Retrievers, as well as reviews and contact info:
1. Ridley's Red Retrievers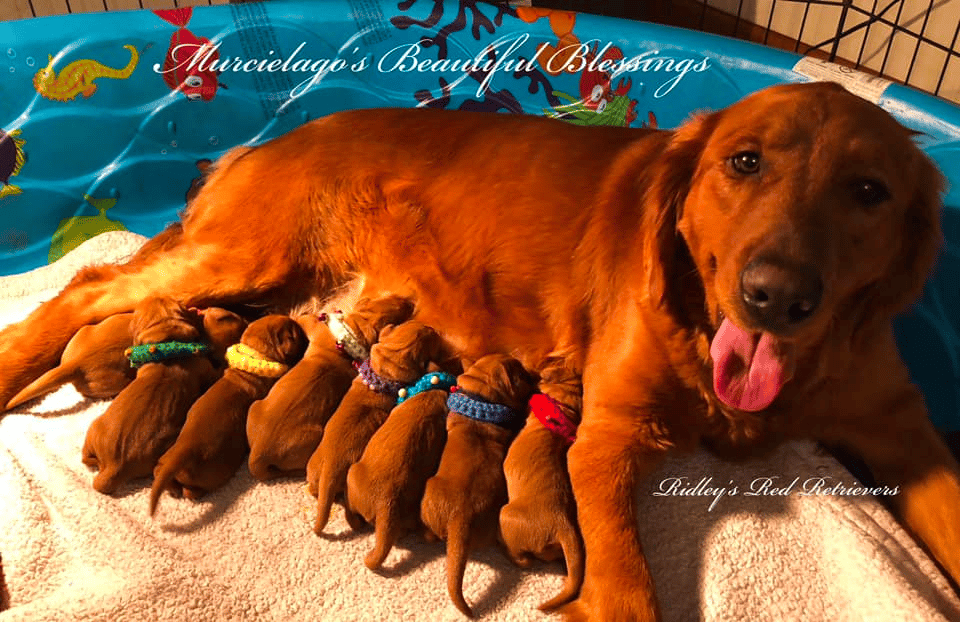 Ridley's Red Retrievers breeds red Golden Retrievers specifically designed to be therapy dogs and to help people with disabilities. This doesn't mean that you have to have a condition to purchase a red Golden Retriever from them, just that their red goldens will have all of the qualities sought out in therapy dogs.
This breeder has ingeniously started adding Goldendoodles to the red Golden Retriever bloodline so that their red goldens will be more hypoallergenic, which is great for anyone who has allergies.
They provide lots of information for new pet parents on their site and even make suggestions about the brands of food you should purchase for your pup.
They have all sorts of Kennel Club approvals, with the American Kennel Club (AKC), Continental Kennel Club, and Nuvet Labs among them.
Any puppy that comes from Ridley's Red Retrievers is fully vetted, micro-chipped has their dewclaws removed, and comes with a health certificate from a veterinarian. They also have a 2- year health guarantee and provide you with a puppy starter kit, food, and lots of other goodies to take home.
One of the most uplifting parts about this breeder's website is all of the testimonials from customers who have purchased red goldens from them as therapy dogs. Their page is full of pictures of children who have been helped by these extraordinary animals.
2. Red Canyon Retrievers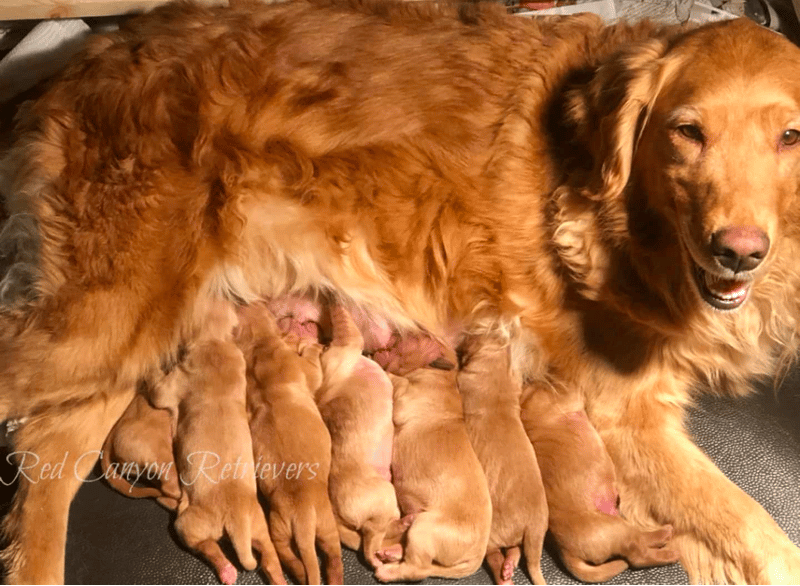 The owners of Red Canyon Retrievers, Paul, and Janie, are both in the healthcare field (he's a therapist and she's in the medical field), and they've used their nurturing skills to make sure their litters have felt safe and secure for more than 24 years.
This is very much a family business, with the dogs living either with Paul and Janie or with their daughters and their families, which is heartwarming.
Puppies from Red Canyon Retrievers have their first round of vaccinations, are wormed, have their dewclaws removed, and come with both papers to document your puppy's pedigree and AKC registration papers.
The one real drawback of their services is that they don't offer a true health guarantee. Instead, you're required to call them if your vet finds some sort of hereditary condition. They'll then call their veterinarian and give you recommendations for treatment based on what their veterinarian says. If you follow their instructions, then they specify that you won't be compensated for the medical bills or treatment costs and that the most you'll be compensated for is the price of the puppy. So, that's worth noting if you're considering getting a red Golden from them.
3. Goldens on the Rocks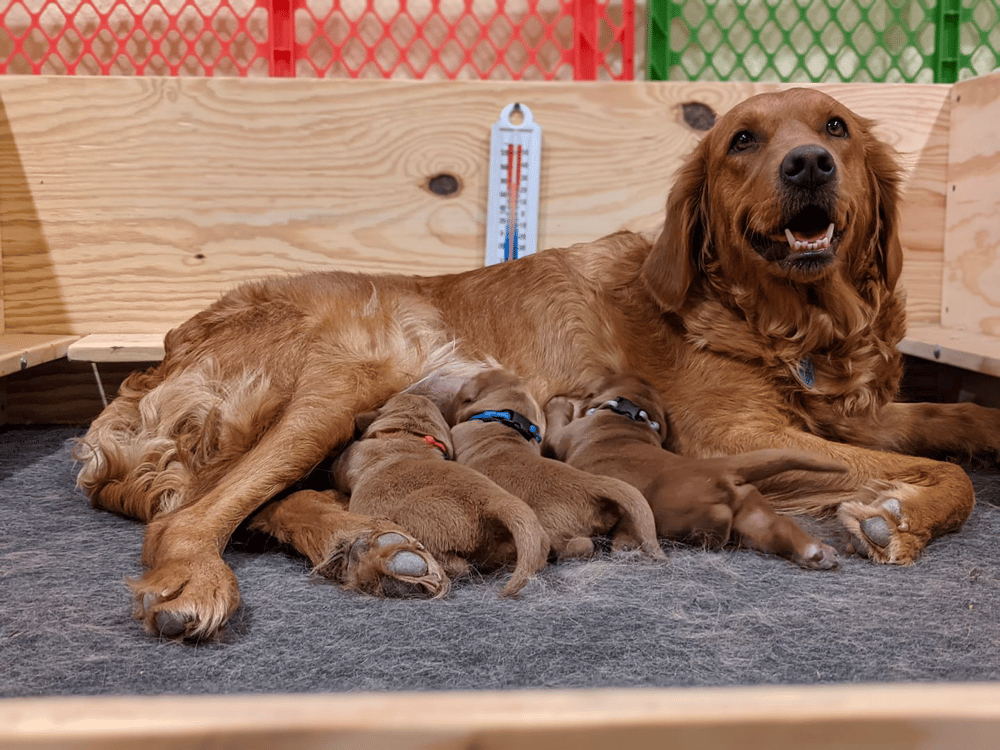 If you're looking for a breeder with picturesque property and the wholesome feeling of watching red goldens roam around their sprawling ranch, then Goldens on the Rocks is a good choice for you.
They own a massive 20- acre ranch in Colorado, and the dogs stay inside by night and run around the property by day.
What we love about this breeder (besides the wholesome imagery of red goldens having fun on a ranch) is the fact that they're AKC approved, and they submit their pups to extensive genetic testing. They're tested for more than 180 different genetic conditions, as well as brucellosis, and they follow the Orthopedic Foundation for Animals (OFA)'s testing recommendations for red goldens, which include eyes, elbows, heart, and hips.
One of the owners, Stephanie, is a nurse and she's dedicated to ensuring that the dogs are trained for therapy. The other owner, Jace, says he's been around dogs his entire life and used to enjoy making obstacle courses for his dog as a child, which eventually led him to become a breeder.
4. Snowy Ridge Goldens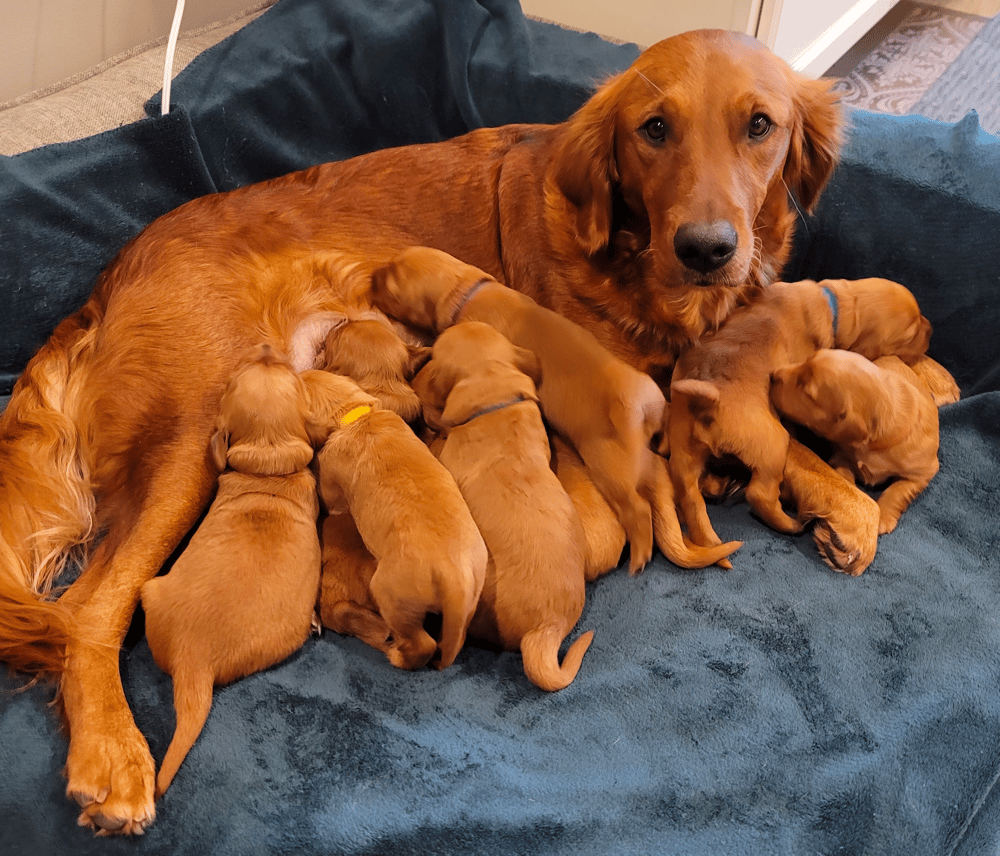 The best thing about Snowy Ridge Goldens is that they put so much time and thought into stimulating, training, and socializing their goldens.
Their pups are handled from birth, and they're exposed to bird hunting early. In addition to that, they get neurological stimulation from day 3 to day 16, daily stimulation for each individual pup until it goes to its forever home, scent introduction, a written health guarantee, as well as worming, and vaccinations. You can get your pup microchipped for an additional fee.
Snowy Ridge Goldens offers a great guarantee, as well. If you aren't satisfied with your pup, you can return it within the first week for either a new pup or a full refund. As far as guarantees for health concerns, they have guarantees for that, as well. If your dog is suspected to have a hereditary defect or has some sort of hereditary issue that prevents it from breeding, you can follow procedures laid out on their website for a refund, and check out the requirements your pup has to meet to qualify.
Their red golden champions are Tana and Copper, two beautiful dogs who have been tested and found to have a low COI (Coefficient of Inbreeding). Theirs is only 4.19%, compared to the industry standard of 8.63%.
5. Bounderhill Goldens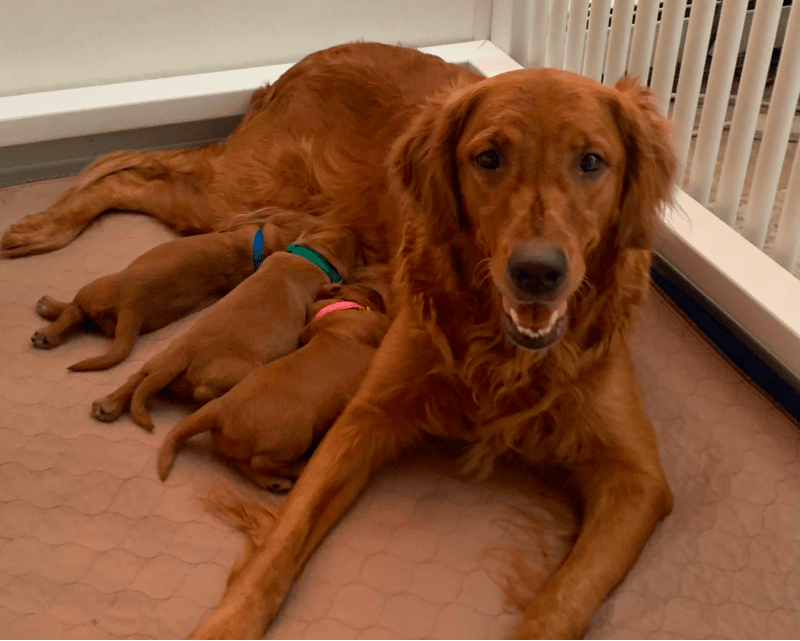 Bounderhill Goldens is another great breeder option if you're looking for a red Golden Retriever.
They test their dogs to ensure they aren't predisposed to any health conditions and guarantee that their puppies will mature into healthy dogs.
This breeder from Stuyvesant, New York has a Facebook page full of pictures of their pups. There are updates on their pups and owners, such as how they've grown and awards they've gone on to win with their new owners. It's worth scrolling through if you want to kill some time drooling over some adorable dogs.
Bounderhill Goldens reports on their website that they're not currently accepting applications for puppies, but that they'll announce when they are on their Facebook page, so it's worth following them for updates (and not just a daily dose of wholesome puppy pictures).
6. Kathy's Golden Retrievers
Kathy raises and breeds Golden Retrievers, and she has a selection of red goldens.
On the website for Kathy's Golden Retrievers, she explains that since her children are grown she spends time on her dogs. One adorable aspect of this breeder's services is that all of the puppies are socialized with the owner's grandchildren.
A couple of their gorgeous red golden champions are Sophie and Bella, which you can check out on their website.
Kathy appears to be really devoted to spending time with her goldens and breeding them but doesn't have much experience in telling people about her services and guarantees. But, she knows what she's doing when it comes to breeding, and overall I love the wholesome family aspect of her business, and I'm sure you'll love it, too.
7. Zomarick Golden Retrievers Rustiques
If you're looking for a good red Golden Retriever for hunting, then Zomarick's Golden Retrievers Rustiques may be the best choice for you.
In addition to their breeder services, they provide training for red goldens, and they write about hunting with red Golden Retrievers. Their dogs are given the Canadian Kennel Club's hunting test each year and are taken out for both waterfowl and field hunting.
Each of Zomarick's puppies is micro-chipped, house trained, the gun proved, and introduced to feathers and birds.
They're located in Quebec, Canada, which is a drive if you live in the States, but well worth it if you want a quality hunting dog.
All of the pups from Zomarick Golden Retrievers come from another breeder with the last name of "Hobson", which is what Zomarick calls their line of red goldens. This lineage is 35 years old.
Is A Red Golden Retriever Right for You?
Red Golden Retrievers are fantastic dogs with equal amounts of energy and love to give.
Here are some of the types of people who are well-suited to adopt a red Golden Retriever:
People who are outdoorsy and active. Anyone who would love to take their dog on hikes or long nature walks frequently.
People who have time to exercise and play with their dog for at least an hour a day.
People who have yards for their dog to run some of its energy off in.
People who hunt or fish frequently.
People who do a lot of fieldwork that their dog can help with.
Here are the people who should really think twice about adopting a red Golden Retriever:
Anyone who lives in a small apartment works long hours and would leave their dog at home by itself for the majority of the day. These dogs will quickly experience separation anxiety in this sort of environment.
Anyone who doesn't take part in outdoor activities or doesn't take their dogs out to exercise much. Red Golden Retrievers need lots of mental stimulation and at least an hour of exercise per day.
Other Golden Retriever Types