The Golden Retriever and the Border Collie are both two active, loyal, and friendly breeds. Although they seem eerily similar up front, there are drastic differences between the two. How do you compare the temperament, care, and physical appearance of the Golden Retriever and Border Collie? We are going to note the differences as well as similarities in hopes to find the perfect fit for you!
Golden Retriever vs. Border Collie Overview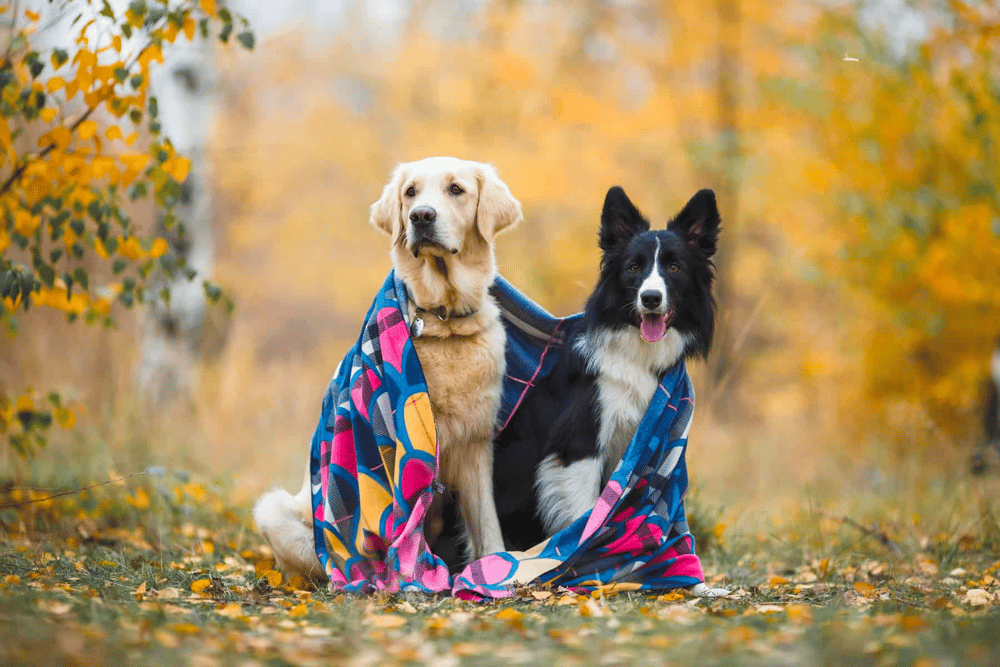 | | | |
| --- | --- | --- |
| Breed | Golden Retriever | Border Collie |
| Weight | 55-80 Pounds | 30-55 Pounds |
| Height | 20-24 Inches | 18-22 Inches |
| Coat Type | Silky, Wavy, Shiny, or Straight | Dense, Straight, Feathered, Short, or Moderately Long |
| Coat Color | Golden, Light, or Cream | Black, White, Tri-Color, Tan, Blue Merle, Brindle, Gold, Lilac, Red, Sable, Seal, Slate, or a Mix of Any Listed |
| Amount of Shedding | Moderate | Moderate |
| Temperament | Friendly, Reliable, Loyal, Trustworthy, Kind, Cuddly, and Intelligent | Tenacious, Protective, Intelligent, Alert, Energetic, Responsive, and Loyal |
| Lifespan | 10-12 Years | 10-17 Years |
Golden Retriever vs. Border Collie: Temperament
Border Collies are primarily working dogs who are only ready to snuggle and cuddle when the active day is done. Since these dogs need so much exercise they are bouncy and excitable. They are so intelligent making them wonderful for agility and long athletic hobbies like running or hiking. Most Border Collies are friendly with well-known people but are more reserved around strangers. Since they are herding dogs, they are advised to be in homes with older children if any.
Golden Retrievers on the other hand typically know no stranger. The Golden Retriever is very affectionate and gentle, especially with children and other pets. Since they need less exercise they are more inclined to want to snuggle during most hours of the day! They are very eager to please, making them highly trainable.
Golden Retriever vs. Border Collie: Appearance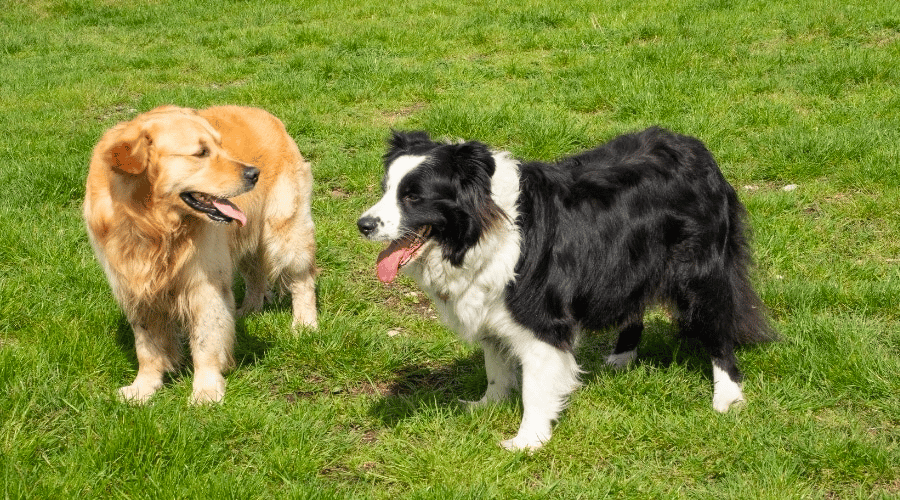 Obviously, there is a huge difference between the golden yellow of a Retriever and the black, white, and brown brindle colors you are used to seeing in a Border Collie, but there are far more differences than meets the eye.
The Golden Retriever has a water-repellent top coat and a temperature-regulating second coat. The top coat is typically straight or wavy and gold to cream color. Goldens also exhibit beautiful feathering in their tail, neck, thighs, and underside. They have a broad head, short but floppy ears, a long straight muzzle, and triangular-shaped eyes. Golden Retrievers average fifty-five to eighty pounds and have stoic, sturdy body makeup.
The coat of the Border Collie is also dual layered for water-proofing and temperature regulating. The overall look of the Border Collie is muscular but nimble and stealthy, weighing in between thirty and fifty-five pounds. They too have smaller floppy ears and a straight muzzle, but their head is more slender and their eyes have an almond shape. They either have a rough, medium-length coat or a smooth, shorter coat.
Golden Retriever vs. Border Collie: Energy Level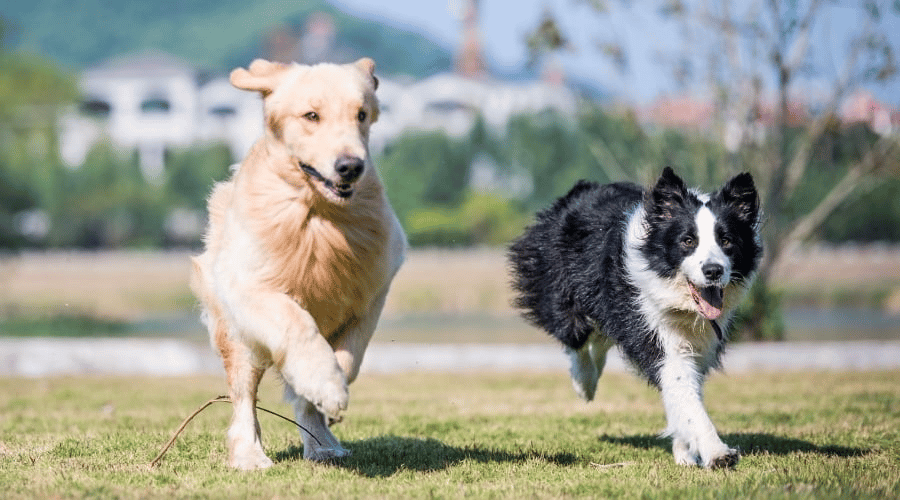 Both the Golden Retriever and Border Collie were bred for athletic work, but who was bred to need more exercise? Border Collies need a minimum of two hours of exercise a day. These dogs thrive when they have a designated daily job to do. A non-working Border Collie must be provided with vigorous exercise every day.
Golden Retrievers were bred more so for hunting sport, and although they are remarkably athletic, they only require about twenty to thirty minutes of exercise a day in comparison to the Border Collie. Many families make the mistake of adopting a Golden Retriever as a calm house pet which is possible but only if they are given the appropriate amount of exercise.
In hindsight, both breeds have varying activity levels and whichever one is better in your eyes just depends on what works best in your home.
Golden Retriever vs. Border Collie: Grooming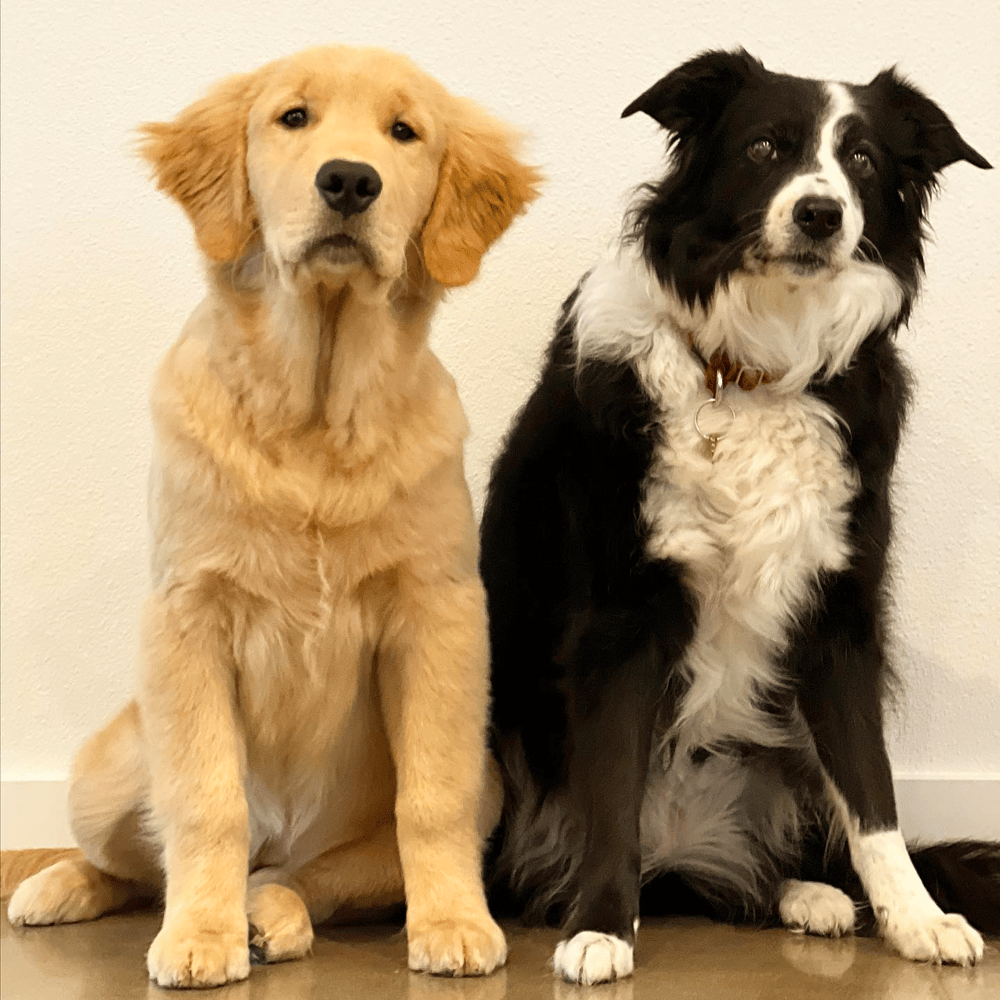 Grooming is still an absolute must between both breeds in question. Golden Retrievers typically shed a moderate amount consequently meaning they need frequent brushing, about three to five times per week. They also require bathing once a month and professional grooming every eight to ten weeks.
Border Collies need professional grooming about every four to six weeks, and also need brushing about two to three times a week. The undercoat of the Border Collie typically sheds away twice a year, causing them to shed a much larger amount during that time. Although the Golden Retriever sheds more often, the Border Collie typically sheds less throughout the year but makes up for that lost time by shedding more during the season change.
READ MORE: Top 10 Best and Most Convenient Brushes for Golden Retrievers
Golden Retriever vs. Border Collie: Potential Health Risks
Unfortunately, potential health risks are possessed between both the Golden Retriever and the Border Collie primarily due to interbreeding in attempts to keep the purebred line "pure". Since the Golden Retriever has been bred so wildly amongst backyard breeders trying to keep up with the increasing demand for the breed, the health risks involved in adopting a Golden Retriever are higher. Golden Retrievers are prone to diseases like hip and elbow dysplasia, heart issues such as aortic stenosis, allergies, skin conditions, ear infections, hypothyroidism, and cancer. Many of these conditions set in later on during the golden's lifetime making their life expectancy roughly 10-12 years. Luckily conditions such as ear infections and allergies can be maintained, but it is very important to remember that will come with more frequent vet visits and medical intervention.
Border Collies are not free from risk, but do statistically pose less of a health threat throughout their lifetime. The Border Collie has a lifespan of 10-17 years. The large range in the lifespan is primarily due to how the dog is cared for throughout their life, especially regarding whether or not they receive preemptive medical care. Although the Border Collie is not prone to as many health risks, they are still at risk for quite a few such as hip dysplasia, epilepsy, Patent Ductus Arteriosus, and Hypothyroidism.
Luckily none of these conditions are guaranteed for either breed, but it is important to note how your dog can be affected by various ailments and budget accordingly ahead of time.
Golden Retriever vs. Border Collie: Trainability
This question has no clear answer, seeing how they both train remarkably well since they are so intelligent. The only clear way to decipher who is more trainable is by deciding what you are looking to teach them. Golden Retrievers are highly trainable due to their eagerness to please. They love mental stimulation like tricks, dog sports, and various activities such as hunting and of course retrieving.
The Border Collies are superstars at agility and work such as herding. Basic obedience comes very naturally to both dogs therefore teaching either breed things like sit, stay, and roll-over would not pose much of a challenge. Overall, both breeds are wonderful students in most subjects, they just both have their own unique niche.
Where do Both Breeds Thrive the Most?
Since both the breeds in question are highly active, it is recommended that neither breed goes home to an apartment. The Golden Retriever and Border Collie alike need a ton of space to run, jump and play their days away. When cooped up either breed can become destructive since they have no other outlet for their extra energy.
The obvious choice for a young family would be the Golden Retriever. These dogs are extremely gentle with children and smaller animals such as cats since they lack the innate need to herd and chase. While the Goldens do have dual coats for swimming and temperature regulation, they can comfortably withstand temperatures between 50 degrees Fahrenheit and 85 degrees Fahrenheit. Any temperatures colder or hotter are not safe or comfortable for the Golden Retrievers.
Border Collies need lots of space to stretch their legs at all hours of the day when need be. The optimal location for a Border Collie would be on a farm or with a family that owns plenty of land and space for activities. Unless you can be completely dedicated to the lifestyle needed to exercise these dogs, it is best not to keep them in a small home. They also possess the instinct to herd, making homes with small children and small animals difficult for them to adjust to without chasing everyone around.
Between 32 degrees Fahrenheit and 85 degrees Fahrenheit are comfortable temperatures for the Border Collie, but cooler weather is advised since they are constantly moving.
Golden Retriever vs. Border Collie: Diet and Nutrition
Despite their size difference, the Border Collie actually eats slightly more on average than the Golden Retriever due to their higher energy level. Golden Retrievers typically eat about 2 cups of food a day, while the Border Collie eats about 3 cups a day. Both breeds require high-value food whether it be raw, wet, or dry kibble. It is crucial as a pet owner to always note the ingredients list when choosing food for your pet to guarantee the quality as well as the amount recommended.
Which Breed is Noisier?
It is seldom discussed how important it is to consider the noise level of your beloved pets. Do you have close neighbors that need peace and quiet even when your pup is outside playing? Or do you need a dog that will alert and guide others with their voice?
Keep in mind that all dogs bark, it is a part of their nature, but some bark far less than others. The Golden Retriever has on record the loudest bark recorded, according to Guinness World Records. Luckily they do seldom bark without necessity, and if well trained Goldens make excellent watchdogs.
Border Collies on the other hand bark a lot. They are considered a barking breed and anything that catches their eye hears their voice. If you live somewhere with a lot of cars, bikes, people, or anything of the like, expect to hear your Border Collie announce their presence with any chance they get.
Golden Retriever vs. Border Collie: Price
Typically a Golden Retriever puppy can be priced between $1,000 to $3,000 while an adult is found on average between $200 to $500 to rescue. The average Border Collie can be found between $800 to $1,800 but can be bought for as high as $4,000. The general upkeep of the two dogs will not have a very large range, but it is important to keep in mind the slight difference you will see throughout the years.
The Golden Retriever does have more associated health risks, which makes higher vet bills a large possibility. They are also less active dogs which consequently means throughout their lifetime they will eat slightly less than the Border Collie.
On the flip side, the Border Collie has a longer life expectancy which prolongs long-term costs. Also, the Border Collie requires more professional grooming upkeep which may also accumulate costs quickly. There is also the matter of lifestyle, the Border Collie may require more exercise making the cost of dog sports and agility trainers or doggy daycare higher. The Golden Retriever on the other hand is more apt to suffer separation anxiety and allergies which may also call for doggy daycare and the cost of consistent medication and more expensive special shampoos.
All in all, both dogs will potentially have a close to equal cost of living near the end of the day, it all narrows down to what you think is worth paying for. Always be sure to have the cost of owning any dog planned for before bringing your new friend into the home!
Which Breed is Better?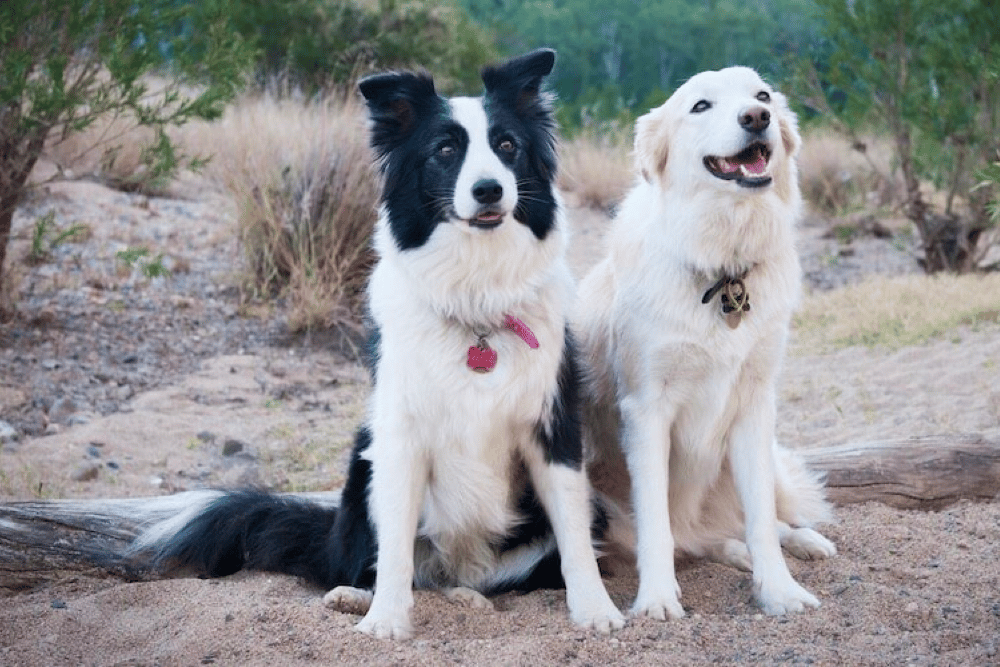 Ultimately, the answer to that question depends on what you are looking for! The Golden Retriever and Border Collie are both beautiful, loyal breeds that would make wonderful pets for the right person.
Golden Retrievers are typically best for younger families with busier lifestyles but room to run. The Border Collie is typically best for older families or young adults with plenty of space and energy to keep up! If you still can not decide, that is very understandable, choosing the right dog is a huge decision that should be considered thoroughly. Maybe you would even be the perfect match for the Golden Collie, a mix between the two for the best of both worlds!