Awesomeness is the one word that comes to mind when describing the Golden Retriever Beagle Mix. This breed is also known as the Beago and the Beago Retriever.
You might think you already know everything there is to know about this hybrid dog breed since their parents, the Golden Retriever and the Beagle, are in the top ten most favorite dogs of all time! But I'll bet after reading this, there are bound to be a few things you will have learned.
So, if you are looking to add this beloved hybrid breed to your family, sit back and be prepared to become more familiar with this great mixed breed. You just might have to go out and adopt a Golden Retriever Beagle Mix for your family to love and enjoy! This had to be the breed they were talking about when they coined the phrase "man's best friend!"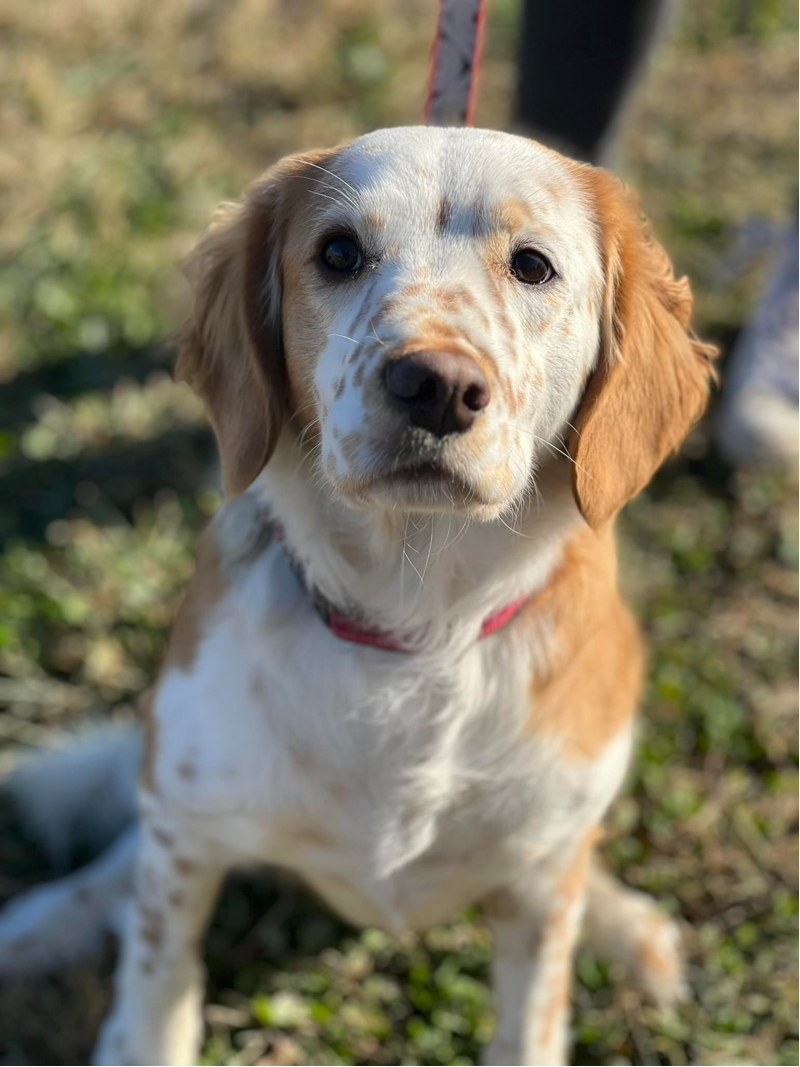 Golden Retriever Beagle Mix at a Glance
Parental Breed
Golden Retriever & Beagle
Breed Group
Hybrid, hunting breed
Other Names
Beago, Beago Retriever
Height
14 to 20 inches
Weight
30 to 60 pounds
Size
Medium build
Temperament
Intelligent, trusting, loyal, affectionate, happy, friendly, excitable
Coat Type
Sleek & shiny coat or long & thick goat
Coat Color
Black, brown, white, red, fawn, cream, brindle, pied
Eyes
Brown
Ears
Floppy
Nose
Black
Eyebrows
Expressive
Amount of Shedding
Usually moderate
Hypoallergenic
Can be
Child Friendly
Yes
Dog Friendly
Yes
New Owners Friendly
Yes
Life Expectancy
12 to 17 years
Daily Exercise
45 to 60 minutes of physical exercise plus some mental activity as well daily
Food Requirements
1 ½ cups to 2 ½ cups daily
Easy to Train
Very easy to train
Breed Recognition
American Canine Hybrid Club (ACHC)

Designer Breed Registry (DBR)

Designer Dogs Kennel Club (DDKC)

Dog Registry of America, Inc. (DRA)

International Designer Canine Registry (IDCR)
History of the Golden Retriever Beagle Mix
The Golden Retriever Beagle mix is a cross between the ever-popular Golden Retriever and the Beagle.
The Beagle was originally bred in England during the 16th century, where well-to-do Englishmen owned smaller hounds (beagles) which were used for hunting small prey like rabbits.
While the Golden Retriever was first bred in 1868 by Lord Tweedmouth when he mated a yellow wavy-coated retriever with a water spaniel and then crossed their offspring with bloodhounds, Irish Setters, and other Retrievers.
So, considering how long both of their parental breeds have been around, the Beago Retriever is considered to be a relatively new crossbreed created in the 1980s in the United States. This dog breed has participated in several dog sports, like competitive obedience and agility. Because of their high intelligence level and keen sense of smell, they have been widely used for search and rescue operations and the detection of narcotics.
Naturally, not all designer hybrid dogs being bred are 50% purebred to 50% purebred. It is not uncommon for breeders to breed multi-generation crosses. Therefore, it is not easy to say which breed your dog will take after more, the Golden or the Beagle. But what can be said is that this breed will surely be one awesome, great dog to add to your family!
Golden Retriever Beagle Mix A

ppearance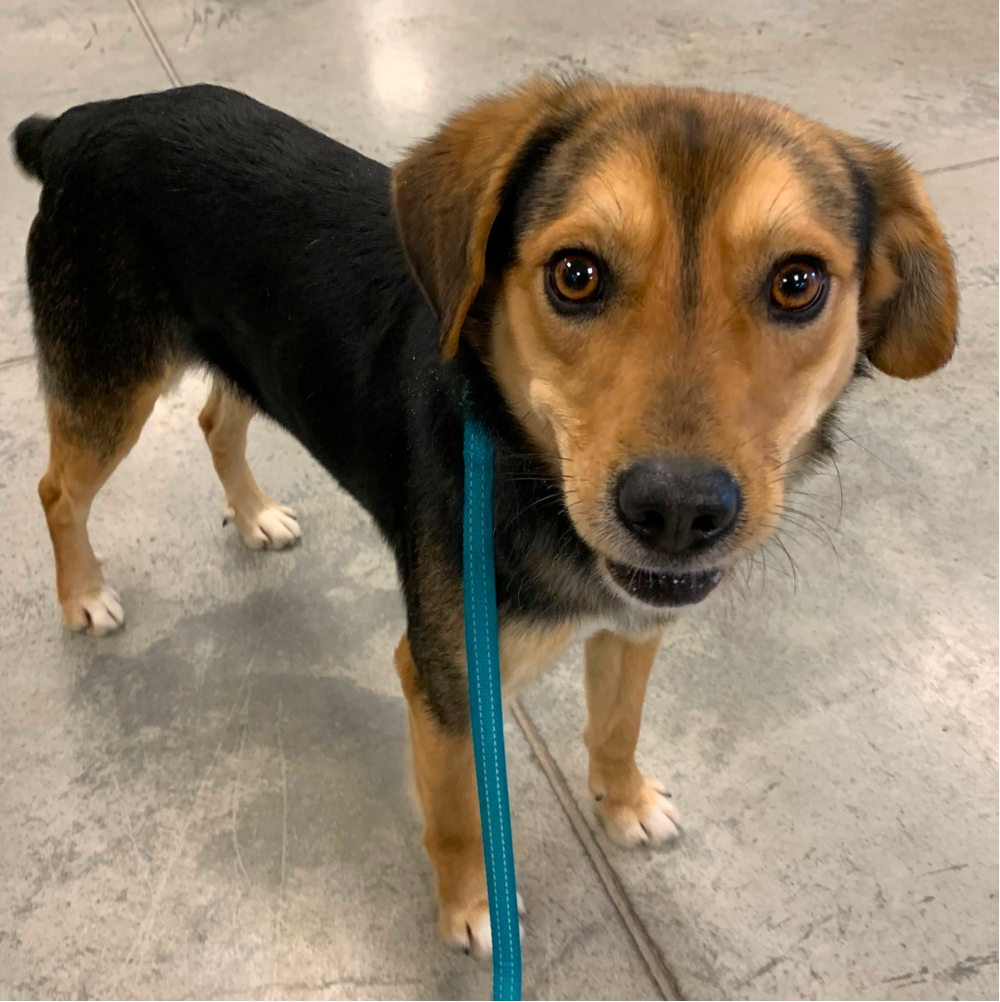 Because this breed is mixed, it is difficult to predict precisely what the puppy will look like. Just like with humans, all the children in the family can look different based on how many genes come from the mother versus the father. Same with puppies!
If the puppy takes after the Golden Retriever parent more, then the puppy will be bigger in size and weight. The hybrid breed could be between 21 and 24 inches tall and weigh 55 to 75 pounds. Male dogs tend to be on the higher side, while females are on the lower side.
If the puppy takes after the Beagle parent more, then the puppy will be a bit smaller in size and weight. Then it will probably be between 13 to 24 inches tall and weigh between 20 to 75 pounds. Again, the male leans toward the heavier end and the female toward the lighter end.
When it comes to the coat texture of the dog, it could be sleek and shiny like that of the beagle parent or long and thick like that of the Golden parent. With the coat texture, you usually get the middle ground and can expect medium-length hair. This mixed breed is generally more hypoallergenic than the parental breeds. If you are allergic to other dogs, this could be the breed for you. However, the Golden Retriever Beagle is known to be a medium to heavy shedder.
Now color is a whole different story. There are so many options for color, and it is pretty much anyone's guess what the color will be! The color can range from black, brown, white, red, fawn, or cream, brindle (usually implies some striping), to pied (means light-colored skin with several dark patches.) So, the golden retriever beagle can be a single color to a mix with some striping or dark patches!! But no matter the color, they all are adorable!
Golden Retriever Beagle Mix Temperament
The disposition of this mixed breed is the best you could want from a pet! This particular breed loves people of all ages and loves to be with other pets in the family as well. Because of this, they make the best family pet addition.
One of the most likable characteristics of the Beago is how friendly they are. Don't count on them to be a watchdog, but they will alert you when someone comes merely by their barking for attention. The barking is more of a "here I am, come pet me bark" versus an "I am here protecting my surroundings, and you do not belong" bark!
This breed is very affectionate. They have a huge desire to be petted and to lick you. They want to be close to their family, whether to play or just lay beside you while you are resting. They are not the type of dog that will stay quietly in a crate for an extended period of time alone. They love to be in social interactions and especially at the center of attention.
Beagos are extremely smart, and they understand the social situations they may be in and their human expectations of them.
While Beagos are high-energy dogs, they are usually calmer than their parental breeds. Be prepared though, because Beagos are high-energy dogs and crave attention, they do not like to be left home alone all day. If you leave your Beago alone to their own defenses too often, they could become quite destructive because of their boredom. They can also become quite anxious whenever they know you are leaving the house without them.
How Much Exercise Does A Golden Retriever Beagle Mix Need?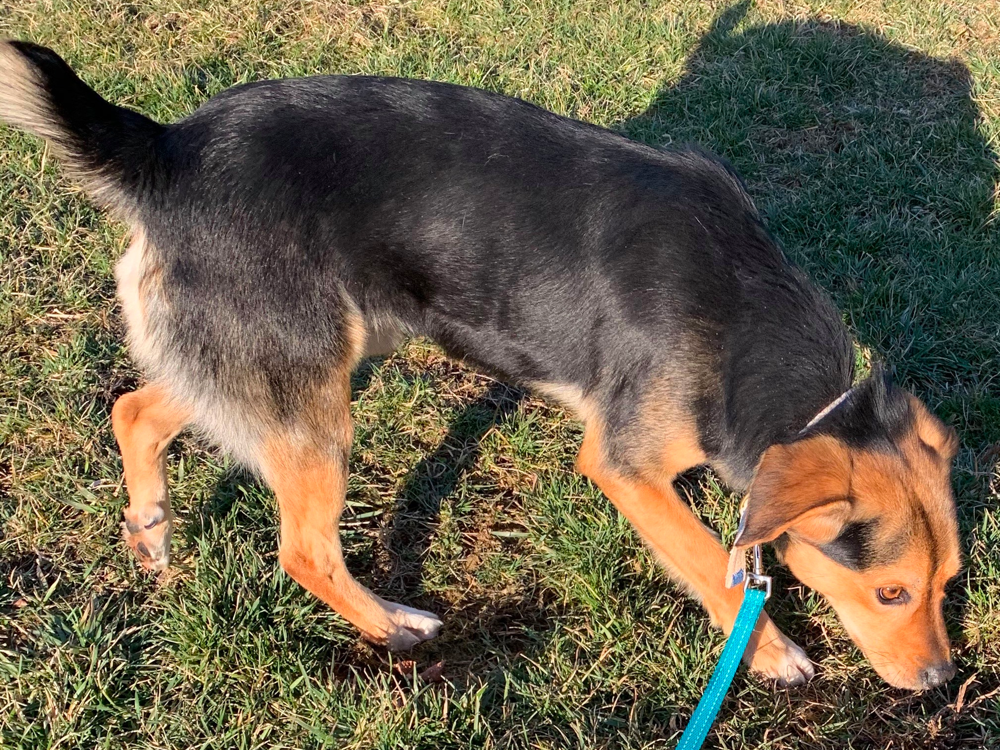 As mentioned before, the Beago is a highly active breed. At a minimum, they will require 45 to 60 minutes of running around time daily. That means rainy days, snowy days, and sunny days! This breed acts like a puppy even in their senior years when you are talking about their energy level!
And because of their high intelligence level, you must also include mental activities.
It is a plus to have a fenced-in yard for your Beago. Having a nice-sized fenced-in yard will allow them some run-around playtime on their own throughout the day. Taking them for two 30-minute daily walks is also a good idea.
Some other ideas for physical activity could be taking them to a doggie park to run around and socialize with other people and dogs. If you jog, hike, or run, take your Beago with you. Play ball or frisbee with your Beago. Of if you have children, let your Beago play with your children. But please, never leave any dog unattended with a young child.
Some ideas for mental stimulation for your Beago include: playing hide and seek, using food puzzles, creating obstacle courses for your Beago, and teaching them dog tricks, to name a few. After mental stimulation play time, put their toys away. You might even want to teach your Beago to put their own toys away. They love to please you, so make sure you praise and treat them with special snacks when they listen!
Training Your Golden Retriever Beagle
In view of the fact that this breed is very intelligent, it should go without saying that they are easily trainable. However, as with most breeds, it is essential that training is started when the pups are young, and it is consistent.
The Beago lives to please their owners. So, make sure you give plenty of positive reinforcement and yummy treats when training. Never yell or use harsh corrections when training unless it is to avoid serious harm to your pup.
Beagos are very sensitive. Yelling or hitting your pup when they do not listen will not work well when training. This kind of behavior will alienate your pet and cause the opposite effect.
Instead, redirect and reward them immediately when they follow instructions. Always use positive accolades when they listen, such as "great job, girl," "good boy," or "yeah, you did it!"
Since their parental breeds, the Golden Retriever and the Beagle, are very food oriented, it goes without saying that the Beago would respond well to yummy treats during training.
However, as with the parental breeds, the Beagos are prone to obesity. So, while giving yummy treats is almost necessary during training, ensure you follow up all those treats with some extra exercise.
Make sure you teach your pup all the usual commands, such as sit, stay, come, wait, and leave it. And you can teach them cool tricks like roll over, give me a paw or shake, play dead, and walk on their hind legs.
Part of your training should include socialization around new people and other pets. It should also include outdoor social interactions. Introduce your pup to new people and pets early, and take them to outdoor pet-friendly restaurants and pet-friendly stores so they learn what is expected from them at a young age.
To keep your Beago engaged and wanting to learn more, you will need to make training exciting and fun to keep their desire to learn what you are teaching ongoing. Remember, they live to please you, their owner.
Grooming and Care of the Golden Retriever Beago
The grooming of your Beago will depend on which parental breed it takes after the most. If your Beago's coat is more like the Beagle parent, they will require little upkeep since Beagles have short coats. However, they will require more maintenance if they resemble the Golden Retriever parent with a longer coat. Beagles only need to be brushed about once a week, while Goldens require a minimum of every other day.
It is wise to start nail care early on. If you do not like using nail clippers on your pet, try introducing them to a Dremel early on. A Dremel is less traumatic to your pet than nail clippers. To properly introduce your pup to the Dremel, just touch it to their paws. If they are ok with that, praise them and treat them. Next, follow this by rubbing the Dremel against their nails, still with the Dremel off. Again, praise and treat. Let your pet smell it while you are praising and treating them. They will associate the Dremel as being good and them getting treats. Next, offer peanut butter on a toy (sometimes this is best done with two people), then turn the Dremel on. Let them get used to the noise and then rub it against their nails. Next thing you know, you will be filing down their nails like a pro – all the while, your Beago loves it because you are praising and treating, and they love to make you happy!
You will want to trim their nails before they get too long. Long nails become painful for your dog, and they tend to break off. Depending on how the nail breaks, it can create an opening that leads to infection. Plus, using a Dremel on shorter nails is much easier for you and your Beago.
You will want to bathe your Beago probably once a month. More if they are super active and get into a lot of dirt or mud. Bathing too frequently leads to dry skin. And always use shampoos made for dogs. Dish soap or human shampoo is too harsh for a dog's skin.
Your Beago's ears should be cleaned regularly to prevent infections caused by waxy buildup. Since they have floppy ears, they tend to be prone to yeast infections in their ears. Clean their ears weekly to prevent this.
Your Beago's teeth should also be cleaned weekly. Again, use toothpaste that is meant for dogs. Giving your dog a dental cleaning treat (such as Greenies) daily is also a good idea; Greenies will keep plaque buildup to a minimum and keep their breath smelling fresh.
Lastly, proper feeding is crucial to the health of your Beago. Your pup will require between 1 ½ cup to 2 ½ cups of dry dog food daily of age-appropriate kibble, and it is best to divide this between two feedings. In addition, you can add a bit of canned dog food, cottage cheese, plain Greek yogurt, or some cooked or raw egg to mix into the dry dog food to add some exciting flavor to the kibble to keep your dog happy.
You might prefer to feed your dog a raw diet or homemade food, which is fine. But please check with your vet to ensure you meet your pup's nutritional needs. You might have to add some supplements to this kind of diet and adjust the amount of food given.
Health Issues of the Golden Retriever Beagle Mix
One of the main reasons breeders crossbreed dogs is to avoid the health concerns that the parental breeds are susceptible to. While Beagos are less vulnerable to the health issues of their parental breeds, that isn't to say they do not have health issues you should be on the lookout for.
Some minor conditions that you should be aware of:
Entropion
Cataracts
Retinal Dysplasia
These eye conditions could reduce your pup's ability to see correctly and possibly lead to blindness, especially if left untreated.
Some serious conditions that you should be aware of:
Pulmonic Stenosis
Hip Dysplasia
Elbow Dysplasia
Von Willebrand's Disease
While these conditions can be serious and/or life-threatening, your pup's vet is aware of them and would be looking for them. Also, if you get your Beago from a breeder, you should ask for the health certificate of the parents so you can be aware if the parents had any of these conditions and alert your vet to the fact.
Interesting Tidbits About the Golden Retriever Beagle Mix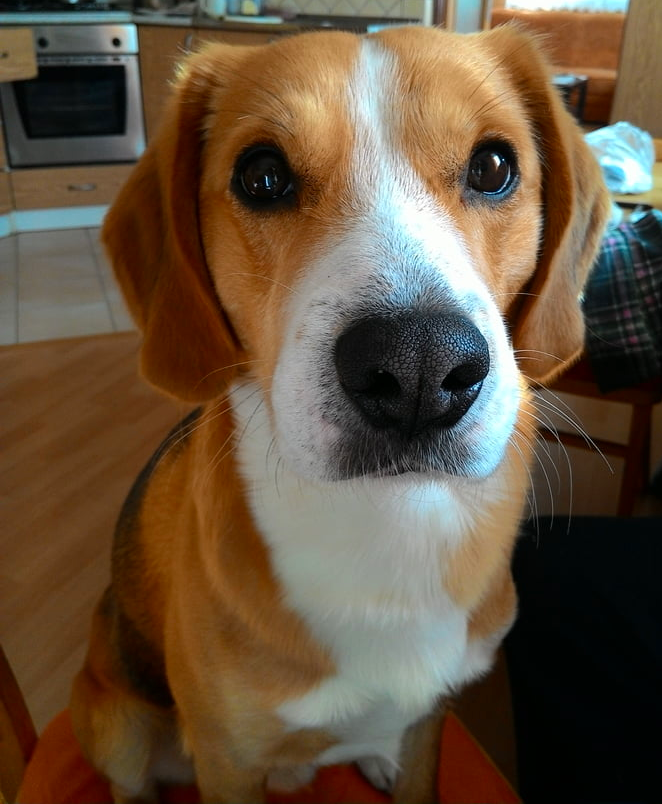 The Beago are wonderful with children and make great playmates for children of all ages. But that said, do not leave toddlers unattended with your Beago.
Beagos can be stubborn as puppies, especially when you are training them. Establish yourself as the alpha dog early on, and you won't have any problems later.
They are extremely friendly, so do not depend on them to be a watchdog. While their barking will alert you to strangers, their barking is more of a request to be petted by the stranger than an attempt to scare the visitor away.
While the Beago is a high-energy dog, Beagos tend to be calmer than either of their parental breeds.
Beagos can have large, almost pleading adorable eyes. You can almost tell what your pet is thinking by looking at their expressive eyebrows. And you swear, when they look at you, they are looking deep into your soul. Don't let their pleading eyes get to you, though, or your Beago will have you wrapped around their paw, and you will no longer be the alpha dog in charge! They will learn very quickly how to melt your heart and get their way – remember they are very smart!
Beagos can be nosier than most dogs. Beagles tend to howl and bark more than any other dog breed, and the apple doesn't fall far from the tree when talking about Beagos. However, because they are so easy to train, you can quickly teach them not to bark so much. Just be consistent in your training.
Hunting is in the Beago's genes. Both parental breeds were hunters and retrievers. Beagos have tons of energy because their parents were trained to hunt all day. Hunting is in the Beago's blood, so do not be surprised if your Beago exhibits a strong prey drive.
Final Thoughts
The Golden Retriever Beagle Mix is a very popular and entertaining dog breed. They are known to be funny and, at times, maybe a little eccentric.
The Golden Retriever Beagle Mix is very curious, and this natural curiosity can, at times, get them into trouble. But this curious, adventurous nature makes them perfect for families with children, especially when they live in a nice size fenced-in yard that leads to many opportunities for safe exploration.
The Golden Retriever Beagle Mix is a people-person dog. They want to be with family. Do not get this particular breed if you do not plan on bringing them everywhere you go. They want to be with their loved ones, not at home alone.
Since this particular crossbreed has very few health problems, it is one of the least costly breeds to own. And since they could live to be seventeen years old, they are a long-term commitment, not to be taken lightly. This dog breed is a loving sweet-natured dog whose main goal in their life is to please their owner, to love and be loved.
What better dog could you want for your family?
Other Golden Retrievers Mixes