Once you have decided that a Golden Retriever is the right fit for you and your family, the next step is deciding the where and how of adopting. The search can be daunting. Do you purchase from a breeder or do you look for a rescue? Opting to rescue is a great option and with a little research, you can find the Golden Retriever that's right for you. There are only two Golden Retriever rescues in Maryland, however, there are several in nearby states.
Read more: Top 10 Golden Retriever Rescues In Oklahoma
1. Goldheart Golden Retriever Rescue
Goldheart was started in 1999 by volunteers who were members of Golden Retriever Rescue Education and Training (also known as GRREAT).
Goldheart concentrates its rescue efforts in Maryland, Delaware, and south-central Pennsylvania. Its mission is to provide Goldens with temporary foster homes where they can receive food, grooming, medical treatment, training, and love. The goal is to move each Golden to a loving forever home. Goldheart encourages and promotes responsible pet ownership and gentleness towards Golden Retrievers. Some Goldens are from local shelters.
The majority of Goldens in Goldheart's care are dogs who have been surrendered by their owners. Goldens can be surrendered for many reasons including, the owner being unable to financially care for the dog, elderly owners no longer being able to physically care for the Golden, new babies, or the owners being unable to pay for necessary medical treatment.
Behavioral problems are rarely an issue when it comes to rescue. Each dog spends a minimum of two weeks in a foster home experienced in dealing with dogs. While in foster care their behavior and personality are observed. Additionally, Goldheart has an experienced trainer/behaviorist that works with them.
Since 1999 Goldheart has successfully placed over 1060 Golden Retrievers in homes. They take in between 45-50 Golden Retrievers and Golden mixes per year and approve 150 new applications. An application with Goldheart is good for two years once approved, provided there are no major changes in your home.
2. GRREAT: Golden Retriever Rescue, Education, and Training
GRREAT serves Delaware, Virginia, eastern Virginia, the District of Columbia, Maryland, and south-central Pennsylvania. They strive to educate about the characteristics of the Golden Retriever breed and the rewards of owning rescued dogs. It is staffed entirely by volunteers, the majority of which are not dog professionals, but genuine dog lovers who want to aid in finding good homes for Golden Retrievers.
GRREAT is a non-profit that relies on donations to cover the often expensive medical needs of the Golden Retrievers they rescue. The majority of Goldens under GRREAT's care have been surrendered by their owners. They also work with local shelters and animal welfare organizations. Each Golden that comes into GRREAT's care is placed in a foster home and evaluated for temperament, energy levels, habits, and medical needs. All dogs are spayed and neutered, updated on vaccinations, and tested for heartworms and intestinal parasites.
GRREAT does occasionally receive puppies, but most Goldens are under the age of five. And are usually surrendered due to owners being unprepared to live with a large, active, puppy-like breed that Golden Retrievers can often display well into adulthood.
3. DVGRR – Delaware Valley Golden Retriever Rescue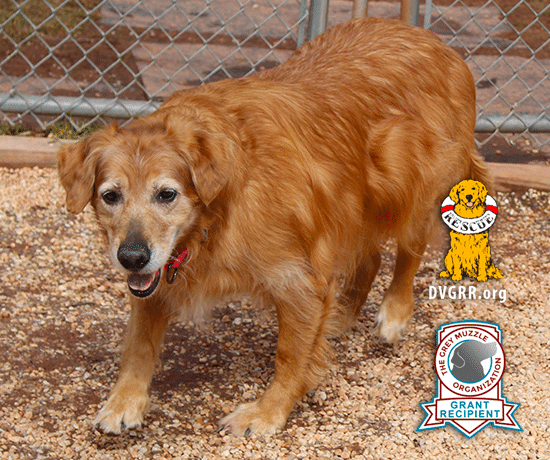 DVGRR has been rescuing and adopting Golden Retrievers since 1993. In that time they have placed over 6,000 Golden Retrievers in new homes. A non-profit organization, DVGRR has placed Goldens in new homes throughout Maryland, Delaware, Virginia, New Jersey, and eastern Pennsylvania.
In 2009 DVGRR implemented the Project Home Life program, which works with puppy mills survivors and helps them transition into homes with families. DVGRR has multiple events throughout the year, including monthly open houses which include snacks and a tour of their facility.
The monthly open houses are a great way for adopters to meet and interact with the dogs available for adoption. DVGRR is a multi-structure campus, which includes Buddy's Animal Rescue Klinic (BARK), the Lynne Glennon Sanctuary for Senior Goldens, and Puppy Mill Survivors.
As well as the Thomas & Marianne Ludwig Adoption and Activity Center where open houses are held. Check out the calendar on their website for other events, such as their Annual Gala, and golf outings. Proceeds go to supporting their rescue efforts.
The DVGRR website is also a great resource for continuing education in regards to training, puppies, senior dogs, and dog breed information.
4. YGRR – Yankee Golden Retriever Rescue, Inc.
YGRR was founded in 1985 and in 37 years has placed over 5,000 Goldens in new homes throughout New England. YGRR started as a primarily Golden Retriever Rescue but now also rescues other dog breeds as well. YGRR has a 21-acre property known as Riverview in Hudson Massachusetts is a centralized rescue, resource, and adoption center.
The Riverview property contains general kennels with indoor and outdoor runs and heated flooring. It also contains medical isolation kennels, a senior & special needs center, a grooming room, outdoor play yards, and a home simulation room. The home simulation room is used to give dogs individualized attention as they would receive in a real home. Open during the spring and summer months only, YGRR also has an in-ground swimming pool.
5. Golden Retriever Rescue of Southern Maryland
Golden Retriever Rescue of Southern Maryland is a newer rescue operation. Located in Great Mills, there is not a lot of information about them online. They are a non-profit 501(c)(3) and volunteer organization. They have a website coming soon (URL below), as well as a phone number, email, and mailing address.
Adopting a rescue Golden Retriever can be a rewarding experience. With the resources above the opportunity of finding your forever fur friend is not limited and you can soon bring home the newest addition to your family.
Golden Retriever Rescues in The Other States
You might want to read the following posts before and after adopting a Golden Retriever: