The Golden Retriever is a fun and loving breed that many people have as beloved members of their families. This breed has consistently been in the American Kennel Club's most popular breeds and has increased in popularity since the 1940s. For the past seven years, the Golden Retriever has been in the top five most popular dog breeds.
When Should You Spay or Neuter a Golden Retriever?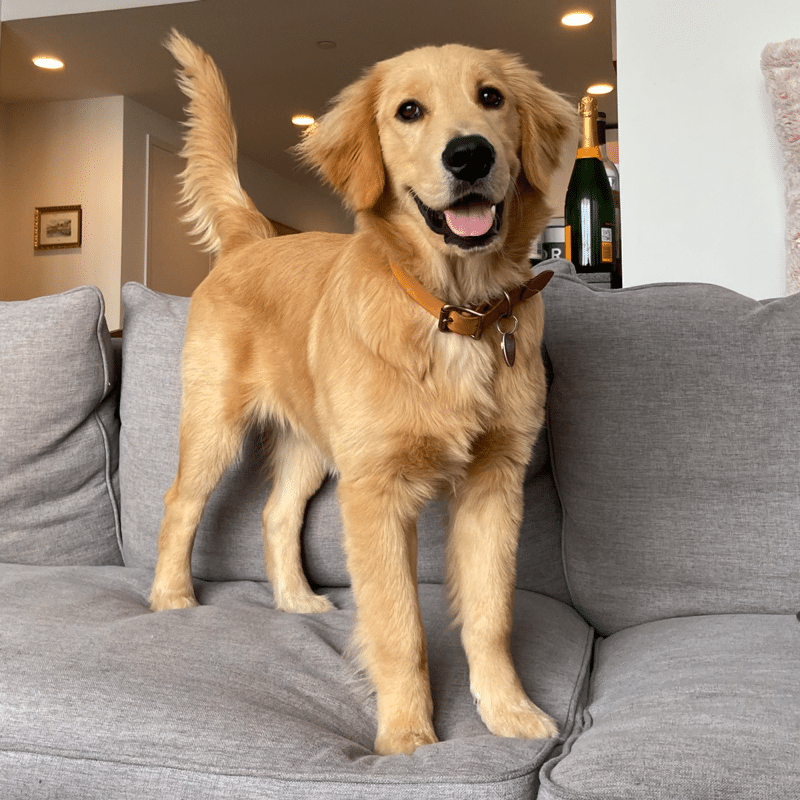 If you are one of the lucky people to own a beautiful, intelligent, and personable golden, you know that there is plenty of work and research involved in giving your pet the best and healthiest life possible. One very common question is when to get your golden retriever spayed or neutered. This is a question that has a variety of answers, and one should seek a trusted veterinarian. Many people say between nine months and a year of age, others say to wait until after a year, others say after two years.
So, which of these is the right answer?
The standard for years for veterinarians has been between six months and a year. However, newer research has shown that larger dogs should be altered after one year of age. This age is when puppies become adults and their joints, bones, and hormones are matured.
Newer studies suggest waiting even longer to spay or neuter, or not spay or neuter at all. So, what is the right choice to make?
Consult a trusted veterinarian and talk with them about spaying or neutering; they treat the dog in front of them. No two golden retrievers are alike and they all have different needs.
What is the Process for Spays and Neuters?
Spaying and neutering are the terms for sterilizing a pet.
"Spay" is the descriptive term for removing a female dog's ovaries, medically titled ovariohysterectomy.
"Neuter" is the term for removing a male dog's testicles, medically titled orchiectomy.
Both procedures are done under anesthesia and are very common in veterinary clinics. There are many clinics that solely do spays and neuters and can do five to fifteen spays or neuters in a single day.
This is done under general anesthesia and some male castrations can be finished in minutes. While there are complications to every surgery, spays and neuters are generally low risks.
What are the Health Risks and Benefits?
There are many reasons to spay or neuter your pet; the most common being to prevent unwanted litter. But, like many medical procedures, there are cons as well. Here are the risks and benefits involved in spays and neuters.
Pros of Spaying or Neutering your Golden Retriever
The most traditional reason for spaying and neutering is that it prevents unwanted pregnancies. As cute as Golden retriever puppies are, they have been overbred to have many genetic disorders such as hip dysplasia, and are a very common breed for many types of cancer.
There are many overbred and overpopulated dogs, and only those who have been genetically tested and purposely bred should continue the lineage. This will strengthen the breed over time so that we can give our loving dogs a longer and healthier life.
Golden retrievers are also prone to Canine Maternal Hydrops (CMH). This is an excess amount of amniotic and abdominal fluid in the pregnant dog. The fluid sacs around each puppy are unusually large, putting stress on vital arteries and veins. While this is a relatively uncommon diagnosis, it is often found in the Golden retriever breed. This can lead to heart failure in the mother and the death of the puppies.
Spaying your female dog reduces the chance of mammary cancer and prevents uterine and ovarian cancer.
Neutering your male dog reduces the risk of prostate cancer later in life and prevents testicular cancer.
It also completely eliminates the chance of your female dog developing pyometra: an infection of the uterus. This occurs following the dog's estrus cycle (heat cycle). The hormone progesterone continues to stay elevated and can cause the lining of the uterus to thicken in preparation for pregnancy. When the pregnancy does not occur, the uterine lining continues to thicken until cysts form, and those cysts release a liquid that causes bacterial growth, leading to infection. Pyometra can sneak up on your pet quickly, and it does not take long to lead to emergency surgery. Without medical treatment, your pet can become septic and lead to death.
Cons of Spaying or Neutering your Golden Retriever
It is a permanent procedure! Make sure it is the right decision for you and your pet, as once it is done there is no going back.
Spaying or neutering your pet may slow down their metabolism and cause weight gain. This should not be a problem if your pet is eating a healthy diet and is active. Golden retrievers are bred to do just that: retrieve! They love to play fetch and are easy to keep trim, even after being spayed or neutered.
It may cause orthopedic and joint issues in the future. This is a major reason why veterinarians recommend waiting until larger breed dogs are a year old or older before the altercation.
The Effects of Spays and Neuters
In addition to pros and cons, it is important to understand the effects that spaying and/or neutering have on long term health.
A study done by the Veterinary Medical Hospital, University of California showed the correlation of Golden retrievers, the age they were spayed or neutered, and which of the following ages were diagnosed with different types of cancers and different types of orthopedic disorders.
The graph pictured represents the percentage of Golden retrievers who were diagnosed with hemangiosarcoma. The graph compares the pets diagnosed by what age they were spayed or neutered. Male Golden retrievers who were neutered prior to six month of age have a much higher chance of developing hemangiosarcoma than those neutered later on, or left intact.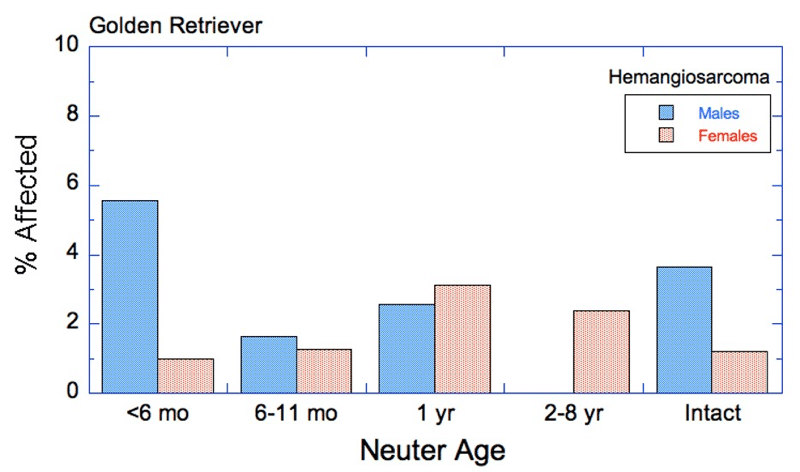 The graph pictured below represents Golden retrievers affected with hip dysplasia. Much like hemangiosarcoma, dogs altered prior to six months of age have a significantly higher chance than those who were altered at one year. Those spayed or neutered at one year of age have a lower chance of developing hip dysplasia than those Golden retrievers left intact.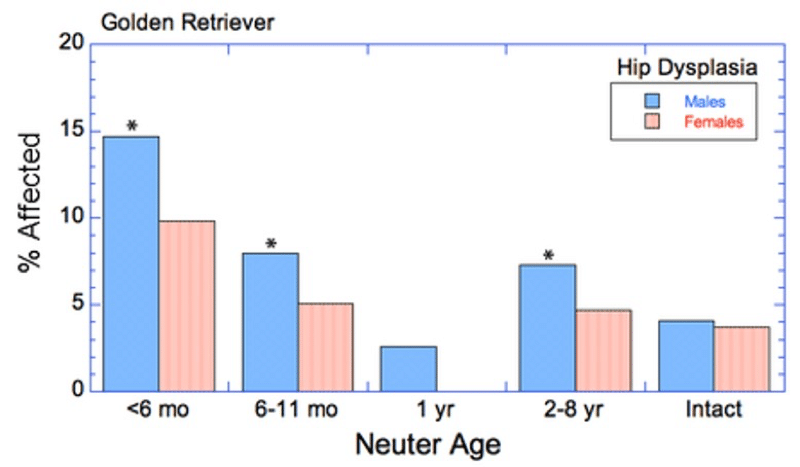 How much does a Spay or Neuter Cost?
There are many different ways to sterilize dogs and each one has their own cost.
Each hospital will set their own prices based on materials and drugs used, the weight of the dog, and the recovery period.
There are many local altercation clinics that offer traditional spays or neuters for as low as fifty dollars per patient.
Privately owned hospitals or those who use high-quality equipment can charge anywhere from three hundred to a thousand dollars.
The cost will vary from patient to patient, ask your veterinarian what type of sterilizations they offer, choose what you and the doctor think is best suited for your retriever, and ask for a printed estimate for the cost.
What to Expect After Surgery?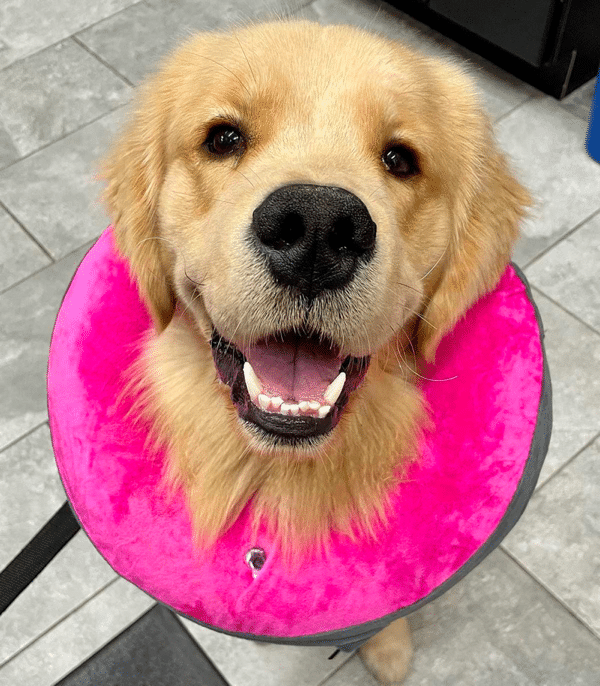 Most veterinary hospitals will send their spay and neuter patients home the same day as their surgery, although some will keep them overnight for monitoring and intravenous fluids.
When you bring your Golden retriever home, make sure to keep them quiet and comfortable. The recovery time takes up to two weeks, but your Golden retriever may be feeling back to normal after a day or two.
An Elizabethan collar, also known as an E collar or a cone, may be necessary to keep your dog from licking their incision.
The male's incision will be on their scrotum, and the female's will be an incision in their midline abdomen. Both should be kept clean and dry.
The sutures will either dissolve or be removed by your veterinary team anywhere from ten to fourteen days after their procedure.
During this time, you will need to keep your Golden retriever's activity level at a minimum. This is to prevent their incision from tearing. If your dog does try to lick at their incision, it is dire that the E collar stays on them any time they are not monitored.
Some dogs may be distressed wearing the E collar, but it is a necessary part to certify a safe and fast recovery.
Many veterinarians will prescribe pain medications or antibiotics for your pet to ensure a safe and comfortable recovery.
Spay and Neuter Myths
Some people think their pets will become depressed after being spayed or neutered. This is not true, as your dog's happiness comes from playing and spending time with you! Your pet may not feel their best immediately after surgery, but it is certainly not because they are sad.
Spaying and neutering are not necessarily going to change your pet's behavior and personality. While neutering occasionally stops males from marking with urine, it should not be used as a training procedure.
Altercation will not make your dog overweight. While it can affect your pet's metabolism, the true cause of obesity comes from overfeeding and lack of exercise. Make sure you are providing your dog with a good diet, freshwater, and lots of mental and physical stimulation.
Your female dog does not need to have a litter before being spayed. There are no medical benefits to doing this and it typically results in backyard bred puppies.
While puppies are cute and seen to be an "easy" way to make money, doing so correctly is very expensive. Breeding spontaneously can cause trouble for your female Golden retriever and her puppies.
Final Thoughts
Any surgical procedure can be nerve-wracking for dog owners. Find a veterinarian that you trust and discuss your research with them.
Many veterinarians offer pre-anesthetic blood work that includes a complete blood count and a chemistry panel to make sure that your Golden retriever is healthy before being placed under anesthesia.
Spaying and neutering are safe, thoroughly practiced surgery that benefits millions of dogs around the globe. However, research advances every day, and what was right for your last dog may not be right for your current dog.
Discuss your options, do your research, and find a veterinary team that you trust. Doing so will help you give your Golden retriever the best life you can!