Golden Retrievers are one of the most popular dog breeds and have been for many years. This makes the demand for puppies high, and that makes the price of a puppy high. This makes it worthwhile to find a reliable breeder with quality dogs.
Health and temperament are passed down from litter to litter; it is important to choose the right breeder to make sure your Golden retriever is healthy and happy for their new life adventure with you.
In this article, you will find what is needed to know about finding the right Golden retriever breeder for you and your lifestyle!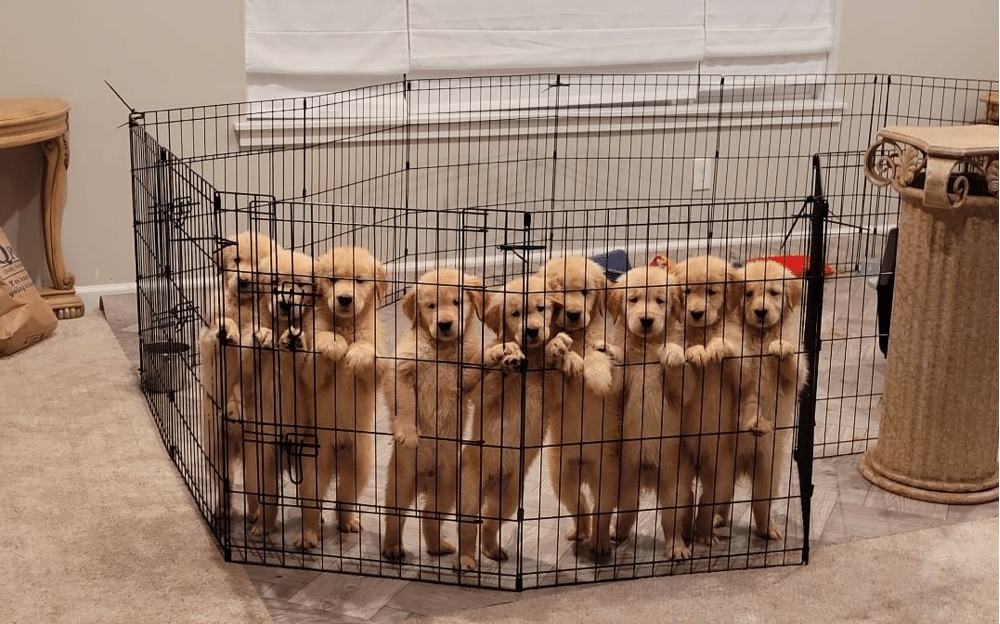 Types of Golden Retriever Breeders
There are four types of dog breeders: the backyard breeder, commercial breeder, hobby breeder, and professional breeder. What are the differences between them?
1. Backyard Golden Retriever Breeders
The backyard breeder is simply defined as someone who breeds their pet for other pets. The dogs are often not registered with any kennel clubs. The dogs are most likely not health tested prior to breeding. Backyard breeders are often the least knowledgeable and experienced breeders and may be ignorant of standard breeding practices. The puppies are priced much cheaper than other breeders, and likely do not come with any contract or registration.
2. Commercial Golden Retriever Breeders
The commercial breeder is more commonly known as puppy farms or puppy mills. These breeders turn out puppies with little to no regard for the health of the dogs they are breeding. The dogs are often left in cages with no comfort or socialization. These puppies are mostly sold to pet shops. Puppies that come from commercial breeders often have health issues and behavioral issues from lack of socialization. This can lead to major defects in the puppy. Commercial breeders breed dogs for the profit and have little to no care for the dogs or puppies in their care.
3. Hobby Golden Retriever Breeders
The hobby breeder is someone who breeds their dogs because they enjoy their pets are want to continue the lineage. They do not rely on breeding dogs are their income and often produce puppies in low volume. Hobby breeders often health test their dogs before breeding and stay informed on anything new with their breed. Puppies produced by hobby breeders often come home with a round of vaccines, dew claws clipped, and something that reminds them of home, like a blanket that smells like their mom. This can make the puppies more expensive, due to the amount of time and care put into them.
4. Professional Golden Retriever Breeders
The professional breeder is one who made a small business producing puppies. Professional breeders often breed more than one type of dog, making them possibly less knowledgeable than a breeder who focuses on one breed. Professional breeders often rely on dogs as their income and may run a boarding kennel or other related dog business. Professional breeders are knowledgeable about dogs, and their prices may be similar to the hobby breeders'. Like the hobby breeder, these puppies will likely come home with vaccines and dewclaws clipped if requested.
Why You Should Choose a Reputable Golden Retriever Breeder
Health and temperament are inherited, making it just as important to pick a reliable breeder as it is to choose a dog breed that suits you. Golden retrievers are prone to cancers, joint issues, and anxiety. It is important to find a reputable breeder to ensure that these health concerns are not in direct lineage with your puppy.
Reputable breeders often want to help buyers with their puppies. A reputable breeder should be a good resource for you if anything were to happen to your puppy.
You should never buy a Golden retriever puppy from a pet store or from an online website. Online puppy sales websites are often scams. It is important to meet both the breeder and the puppy before purchasing.
What to Look for in a Reputable Golden Retriever Breeder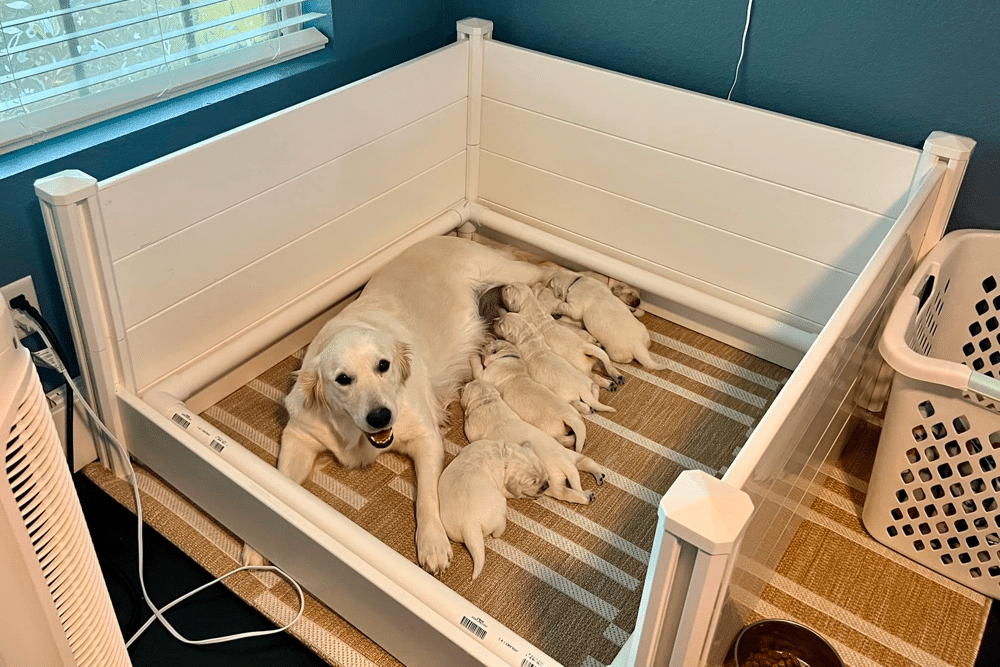 There are plenty of characteristics to look for in a Golden retriever breeder. A good breeder will have tests done on their animals. The most common is the OFA test: The Orthopedic Foundation for Animals. This is a database of genetic tests used by dog breeders to produce the healthiest puppies possible.
These tests can be radiographs for hip, elbow, and other joints, blood work for genetic testing, eye exams, and hearing tests. Many breeders will have their breeding dogs' OFAs public on their website, but can also be found on the OFA website.
Reputable breeders will have their dogs registered with kennel clubs

, and many will "prove" their dogs in shows and competitions. Reputable breeders love their animals and what they do and are more than happy to discuss their dogs' accomplishments.

A reputable breeder will allow prospective buyers to visit their home or kennel.

A breeder that discourages a home visit may not have an ethical living space for their dogs or puppies.
The first visit should be at home with the mother. It is important to see the mom with her puppies to ensure that the breeder is not someone taking puppies from mills and selling them from their own home. Meeting the mom will also help determine the size of the full-grown dog, and ensure the overall health of the litter. It is important to check and see that not only are the dogs and puppies healthy but that their living area is clean and appropriate.
Puppies are weaned from their mother around six weeks of age but are not ready to go home until they are eight weeks old. A reputable breeder will want to keep the puppies until they are a minimum of eight weeks old. A puppy mill often sends their puppies out at six weeks. The last two weeks are critical for the puppies, and learn to be a dog from their mother and littermates. This period of time is when they are taught social skills.
A reputable breeder will also socialize the puppies while they are young.

This may include running a vacuum cleaner by the pen, letting children interact with the puppies, touching their ears and paws, and giving them different environmental stimuli like rearranging their pen or giving them different types of material to walk on. This will help reduce anxiety and help the handling of the puppy as they get older and bigger.

A good breeder will prioritize the homes their puppies may be placed in

. The breeder should ask you questions about your home and lifestyle, as well as about children or other animals in the house. Some breeders will require a contract that says if the dog needs to be rehomed in the future they can be returned to the breeder.
If the breeder gives the puppies their first round of

vaccinations and dewormer

, they should send a proper sheet of the veterinary care provided, vaccine identification, and dewormer identification. The breeder's name, veterinary name, and dates should all be provided.
At a minimum, a bill of sale and health records should be given to you at the time of purchasing your puppy. Some breeders will have their own personal contract with spay/neuter information, breeding rights, and a return/refund policy.
How to Find a Reputable Golden Retriever Breeder
One great way to find a reliable breeder is through word of mouth. Ask people you know where they bought their Golden retriever, and search the breeder from there. Asking your local veterinarian if they know of any reliable breeders is a great source, and is extra peace of mind if the breeder has a good relationship with the veterinarian.
Researching breeders online can be a great option. Many kennel clubs will have a list of breeders recognized by the club. This can make research easy by finding a list on the kennel club's website. If a breeder is found there, search reviews from people that have purchased puppies from them. This confirms that the breeder is registered and not a puppy mill or backyard breeder.
The Orthopedic Foundation of Animals is another great resource for finding breeders. On the OFA website, there is a database to search for genetic test results from specific dogs or breeders. Many breeders will have their dogs' OFA tests directly on their website, but it is always worthwhile to confirm on the OFA website itself.
How to Buy a Golden Retriever Puppy From Reputable Breeder
When you have found a reputable and trustworthy breeder, the next step would be to get placed with a puppy!
Many breeders have planned litters and will accept only a certain amount of people to place deposits on puppies. This can create a long waitlist. It is important to reach out to your breeder early to ensure your placement of a puppy. A reputable breeder may only have one to two litters of puppies per year.
From there, the breeder will compile their own process with you on what steps are needed to take to move forward. Set up a meeting or two to meet the litter and pick your puppy out if applicable.
What Questions to Ask a Golden Retriever Breeder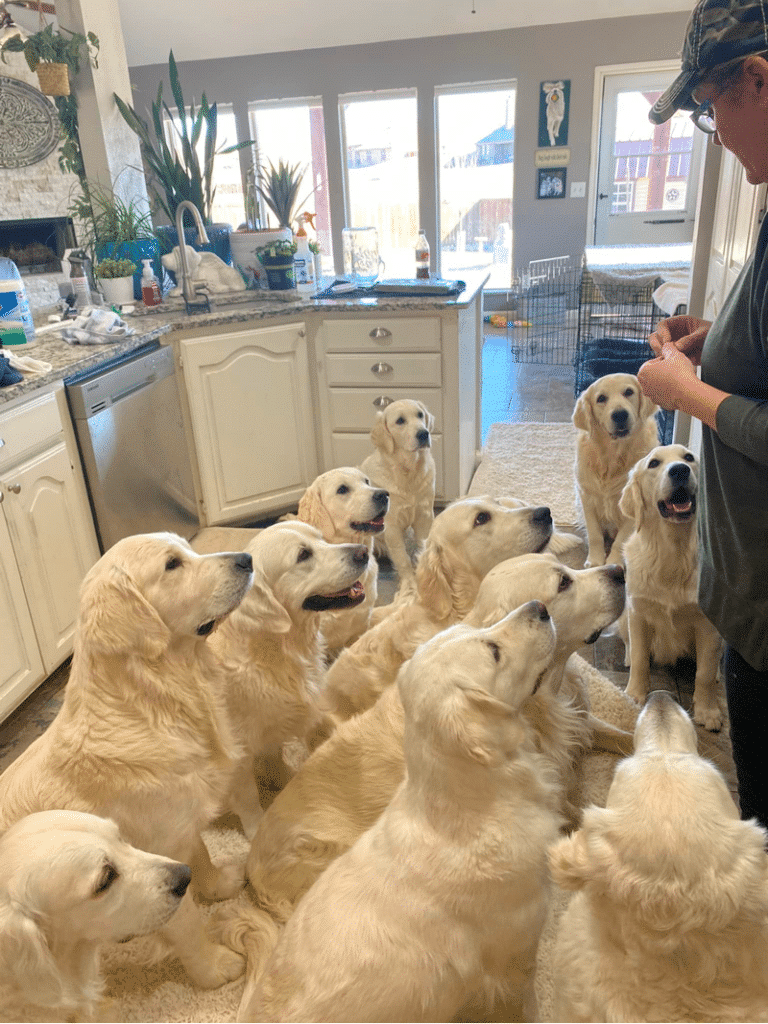 A respected breeder will have knowledge and passion for their dogs and breeding program. Asking questions about the breed and their program will help you not only learn more about the breed but give you a head start when you take your puppy home. Here are some examples to ask:
What made you want to breed Golden retrievers? Simply knowing why this person chose to breed dogs is an excellent judge of character. For money? To better the breed? To bring companions to families?
How long have you been breeding Golden retrievers? We all start somewhere, but those who have been breeding longer likely have more information and healthy lines.
At what age do you breed your dogs? How often do you breed your dogs? Dogs should be at least two years old before breeding, to ensure they are fully developed. Reputable breeders will only breed their females once a year.
What made you decide to breed this pair together? Respected breeders that want to better the lineage of the Golden retriever breed will have specific reasons to breed a specific male to a specific female. Are they breeding for cute puppies, or for healthy puppies?
What health tests have you performed on your breeding dogs? Look for a breeder that proudly has their dogs' cardiac, joint, orthopedic, and BAER test (an audiometry, or hearing test) results. Healthy dogs produce healthy puppies!
How do you socialize your puppies? A respectable breeder should have no problems answering these questions; lots of physical handling, mental and environmental stimulation, and different puppy-safe foods all help them better handle the unknown world. A well-socialized puppy makes for a well-behaved dog.
When can I bring my Golden retriever puppy home? Once more, a good breeder will keep their litters with the mother for a minimum of eight weeks. Puppy mills often sell puppies at six weeks of age, which can lead to social trouble and mental stress.
Will the puppies be examined by a veterinarian prior to coming home? The answer should be yes. It is important to make sure the puppies are in good health.
The breeder should also ask you questions. A breeder that cares about their puppies will want to make sure they are going to a good home. Questions the breeder may ask you could be:
What type of home do you live in? Some breeders require a fenced-in yard, some may not sell to people that live in apartments.
Have you owned dogs before? Have you rehomed a dog before, and why? Many respectable breeders have contracts stating if a dog needs to be rehomed for any reason that the pet must be returned to them.
What does your day-to-day lifestyle look like? Are you active enough at home to have a Golden retriever?
Do any children live in the home? Do you have other animals? Ensuring the safety of both young children and a puppy can be hard to manage at times.
Warning Signs of a Bad Breeder
A dishonorable breeder can be spotted through several red flags.
If the breeder will not allow you to meet the mother, visit the litter prior to choosing a puppy, or come see the living conditions, that likely means they have something to hide. The living conditions may be dirty, and the puppies may not be receiving the level of attention or care they need.
If they always have puppies available, that means they are consistently overbreeding and likely producing puppies they cannot properly care for.
They don't ask you questions about your home and lifestyle, they don't care where their puppies end up. This could also be said about a breeder that has no contract.
Breeding for size or color rather than health and temperament is a sign of a breeder who is only in it for the money. They will set aside health to produce what they can charge the most for.
Top Golden Retriever Breeders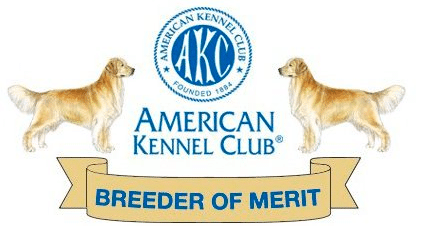 The American Kennel Club has a Breeder of Merit Program, where breeders who meet specific expectations can be represented this way.
To be a part of the Breeder of Merit Program breeders must: be a member of the AKC, have a minimum of five years of involvement with AKC events, earned AKC Performance, Conformation, or Companion titles on a minimum of four dogs from AKC litters bred or co-bred by them, commitment to registering every puppy produced in the AKC club, and have applicable health screenings.
The Breeder of Merit Program has 5 different levels, as well. Each level has to meet the above requirements, but with a higher number of dogs.
Standard:

minimum of four dogs earning titles.

Bronze:

ten dogs earning titles, at least five of those dogs earning prefix titles.

Silver:

twenty-five dogs earning titles, at least fifteen of those dogs earning prefix titles

Gold:

fifty dogs earning titles, at least thirty earning prefix titles.

Platinum:

one hundred dogs earning titles, at least sixty earning prefix titles.
Note that this does not mean one person owning over a hundred dogs, but the puppies they produced and co-produced earning said titles, under different owners.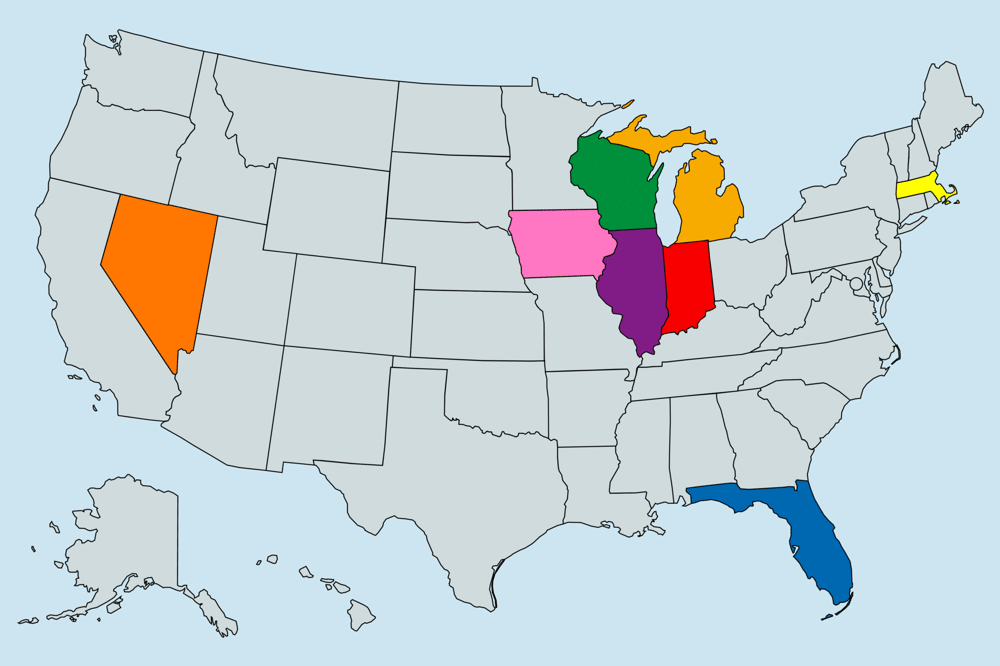 One of the best ways is to check out the following list of responsible Golden Retriever breeders by location:
What's next: If you have already done the due diligence and selected a good breeder to patronize, now you can learn about How to pick a Golden Retriever Puppy From The Litter
Final Thoughts
There is a lot of information to know and a lot of responsibility to find a reputable Golden retriever breeder.
It is just as important to remember what negatives to look out for as it is to find a positive and healthy breeder.
Puppy mills can make themselves look happy, clean, and responsible over the Internet and through advertising. It is important to never buy a dog from a pet store or an online pet store.
There should be a lot of communication between you and your chosen breeder. You should be able to visit the location where the mom and her puppies live in. You should be able to use your breeder as a resource!
Remember to check both the American Kennel Club and the Orthopedic Foundation for Animals to find health testing and standards on selected breeders. Use your knowledge and resources!