If you own a Golden Retriever puppy, then consider yourself lucky. They're one of the most friendly, loyal dogs you could choose! But even the most angelic puppies eventually find themselves getting into trouble, and that's one of the reasons many pet owners choose to crate train their Golden Retrievers.
If you're considering crate training your Golden, you've come to the right place. In this article you'll learn:
Reasons for crate training your Golden Retriever puppy
When you should start training your Golden Retriever
Step-by-step instructions for crate training your Golden Retriever
Mistakes to avoid when crate training your Golden Retriever
And more!
Why You Should Crate Train Your Golden Retriever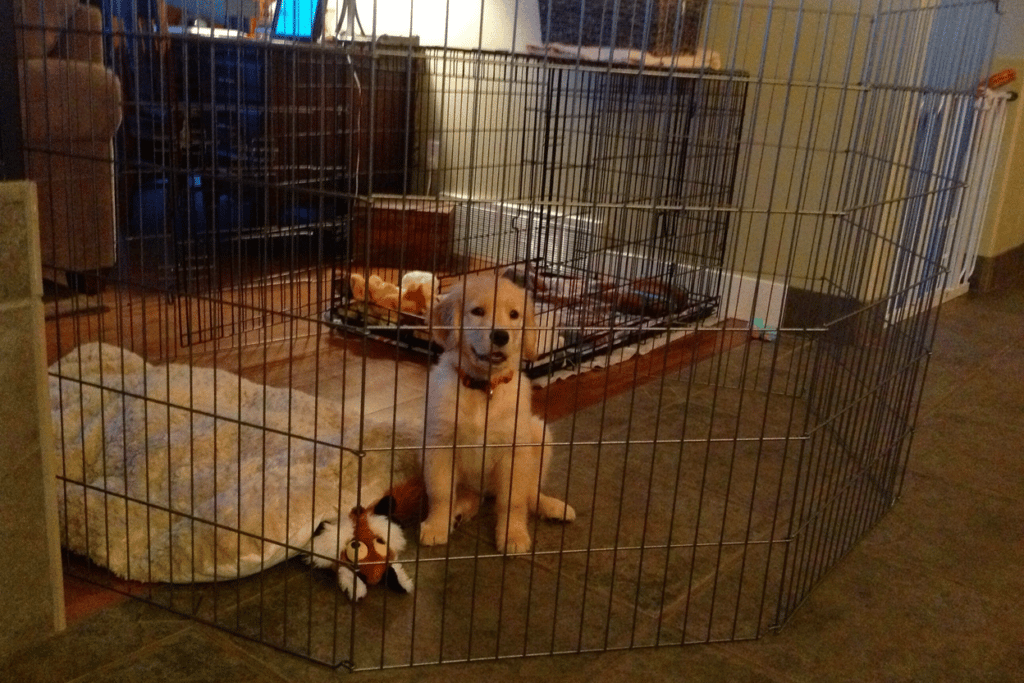 If you find that your puppy is a perfect angel while you're watching them, but a terror when you take your eyes off them, you're not alone.
Golden Retriever puppies are little balls of energy. Sometimes that energy is misdirected, which leads to mischief, destruction, and ultimately trouble.
Another reason to crate train your puppy is because Golden Retrievers are quite prone to separation anxiety. They're most comfortable around their family, so when you leave they don't know what to do with themselves and they become distressed.
Separation anxiety can cause a number of problems, like barking and howling, potty accidents, nervous chewing, and other forms of destruction. This means it's a good idea to crate train your pooch when you're not around.
If you don't want your furniture and valuables chewed up, or for your puppy to have accidents all over the house when they're not supervised, you should learn to crate train them.
Crate training your puppy can also keep them safe because they can't chew up or eat anything that could poison or otherwise harm them from their crate.
When You Should Start Crate Training Your Golden
So, you've brought your Golden Retriever puppy home and played with them, and found them to be perfectly adorable. How long after you bring them home should you start crate training them?
You really shouldn't until problems start to crate train your puppy. It's a lot easier to get ahead of the problems and attempt to stop them before they start.
You should start crate training your pup pretty immediately once you bring them home.
This doesn't mean that you can't have time to cuddle and bond with them. Of course you both need that time. But, you should also start their crate training as soon as you can.
Which Type of Crate Should You Use?
If you've already performed an online search for puppy crates, then you already know there are a number of different crate types.
Typically there are:
Soft-sided crates
Plastic crates
Heavy-duty metal crates
Wooden crates
Wire crates
There are advantages and disadvantages to each crate type.
It would do you some good to read about them before you buy them, and check out the reviews before you make a decision on any crate.
I personally recommend that you start with a wire crate.
You can typically find wire crates for a low price, they aren't hard to clean, they're well-ventilated, and they're collapsible so that you can easily store them or move them.
The Best Crate Size to Get for a Golden Retriever
There are as many crate sizes on the market as there are crate types, so it can be a little confusing when you're shopping.
Many people mistakenly buy a large crate size thinking that their Golden puppy will grow into it. And though they will, this isn't the best way to go.
Your puppy typically won't go potty where they sleep, but there's a caveat to that. They'll go potty in one area and sleep in another if the space is too big.
So, you should get a crate that gives your pup room to:
Stand-in, without their ears or head bumping the roof
Lie down and stretch all the way out without their feet being up against the sides of the crate
Sit without their head or ears touching the roof
Turn around without touching the sides
This means you should see the most positive results with a 42 inches crate.
You should also invest in a crate that has a divider panel. When your puppy is too small to need all 42 inches of the crate, you can section it off. This will prevent them from going potty in their crate. You can move the panel as your puppy grows, and remove it completely when your Golden reaches adulthood.
Step-by-Step Guide to Crate Training Your Golden Retriever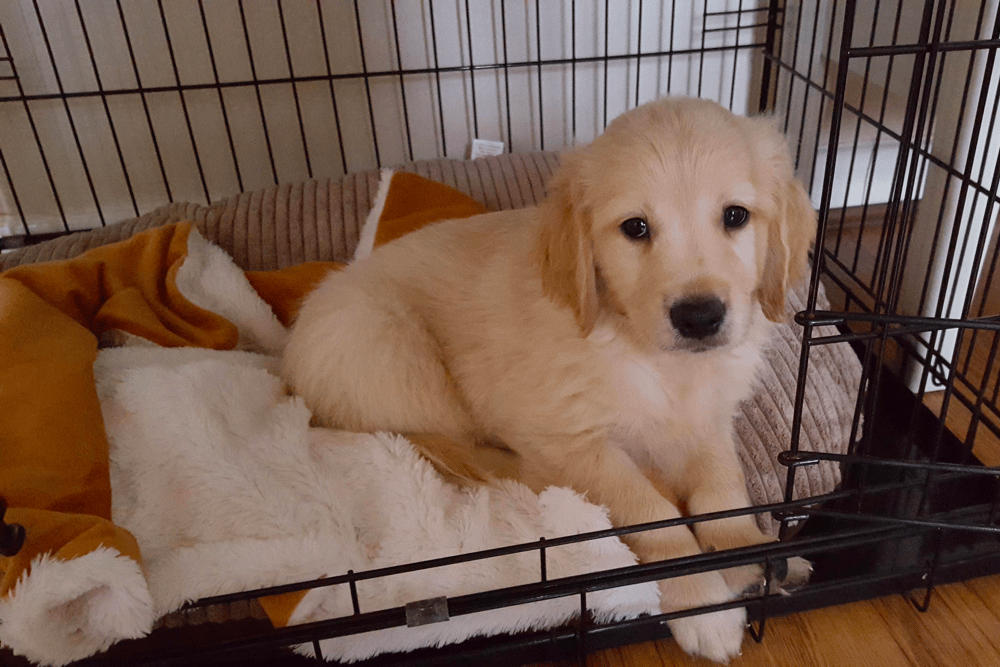 Now we get to the real meat-and-potatoes of this article: the instructions for crate training your Golden Retriever.
Crate training your puppy may seem like an impossible task, but it's really not if you've to go the proper equipment and you follow the steps I provide you with.
Here are some of the supplies you'll need to crate train your puppy:
A crate (of course)
Non-slip liner
Crate mat or pad that's washable
Mother's blanket (or something that smells like your pup's mom)
Crate cover
Treats
Crate water bottle
Food bowl
Here's a step-by-step guide for crate training your Golden Retriever puppy:
Step 1: Introduce the Crate
The best way to start the crate training process is to get your puppy familiar with the crate.
Keep the crate door open and let your puppy explore it at his leisure. If your puppy isn't curious enough about the crate, you can always throw a treat into it and then praise them and give them another treat for going inside.
Put toys or comfort items like a favorite blanket in the crate that will entice your pup to go inside. Do whatever it takes to make the crate comfortable and fun for your pup.
Praise your pup any time they go into the crate.
During this phase, you shouldn't force your pup into the crate. You can pick them up and bring them to the crate if they're reluctant, but don't shove them inside and close it at this point. You're trying to get them comfortable with it, not traumatize them.
Step 2: Close the Door
After your puppy is comfortable with the crate (they should be going inside it and at least not afraid of it at this point), then you can start with sessions inside the crate.
Before attempting to try a crate session with your pup, make sure they've played and romped around for a bit and had a potty break outside. This helps them get sleepy and ready for the crate.
Give them a soft toy to play with inside the crate. Puppies typically enjoy chewing on soft toys as they fall asleep.
Stay near the crate to comfort your pup.
Close the door with your pup, their toys, and treats inside.
Let your pup out after they've finished eating their treats, or if they start whining, barking, or pawing at the crate. Basically, if they seem distressed or freaked out, let them out.
Practice and repeat this step until your puppy is comfortable and relaxed in the crate and they don't show signs of distress from being in the crate.
Step 3: Walk Away, Briefly
After you've had a few closed-door crate sessions with your pup, you can move on to the next step.
While your puppy is inside the crate with a closed-door playing with their toys and enjoying their treats, walk away. The idea is to do this while they're sort of distracted and not as likely to notice that you're gone.
Listen and when your puppy starts whining or barking, come let them out of the crate.
However, if you've given your puppy a play session, lunch break, and potty break then you might find that they'll settle into the crate for a nap with little to no whining or barking. This is not only because they'll be tired and ready for a nap, but also because you've been working with them to get used to the crate.
Step 4: Work Towards Longer Crate Sessions
Once your puppy becomes comfortable with you stepping away from their crate, you should slowly increase the amount of time you're away.
You could start at one minute, then five minutes, then ten, and eventually half an hour.
After your puppy has proven that they're contained inside the crate, you can try leaving the house for a short period of time. Maybe go outside and work in your garden for a few minutes, go to get the mail, chat with a neighbor, or go down the block to pick up some food or coffee. Don't stay gone for long.
You can use a pet camera for this step to check in on your puppy and determine if you need to cut your trip short or if you can stay out a few moments longer.
Here's a fairly inexpensive pet camera you can buy on Amazon.
It's a little different to crate train your puppy at night. The first thing you should know is that your puppy can only hold their bladder for approximately an hour per their age in months.
This means that even if they're in the crate, you're going to have to wake up during the night and take them outside to potty.
Here are 5 tips to help crate train your puppy at night:
Keep their crate near your bed. This will ensure that your puppy won't get lonely or scared because they can see you. If they can't see you, then you should consider placing the crate on a small table or bench so they can. They need to see, smell, and hear you, otherwise, they'll be in distress.
Remove their water bowl 2 or 3 hours before bedtime. This allows your puppy to fully empty their bladder for the night without refilling it, which will make for more restful sleep for both of you.
Make sure your puppy gets enough exercise throughout the day. Play tug-of-war, chase them or play fetch. (Golden Retrievers are expert fetch players! Plus it helps to wear them down.) And give them mental exercise by giving them things like puzzle toys to put their big brains to use.
Set alarms so that you'll wake up before your puppy does. The last thing you want is for your puppy to get into the habit of waking up before you and barking to wake you up because they have to go potty. That's not going to make for a pleasant day for either of you!
If your puppy starts barking because they have to go potty, then take them outside, let them potty, then immediately take them back to their crate. Make it clear that this doesn't playtime.
Mistakes to Avoid When Crate Training Your Golden Retriever
Here are several mistakes you should avoid for success when crate training your Golden Retriever:
Don't use the crate as punishment. The crate should be a positive, comfortable place. The second that you let your pup associate the crate with punishment, the less they'll want to go in there.
Don't rush crate training. Any sort of training takes time and practice. If you came to a new house and someone tried to make your stay in a box, would you want to? No. So, be patient and let your pup get used to the process.
Don't let your pup out every time they bark or whine. If they're barking because they need to potty, then sure let them out. But if they're doing it for attention, then you need to learn to ignore them.
Don't punish your Golden Retriever for crying because they're in the crate. If you yell at your puppy, then they may assume that's a type of attention, which is what they were trying to get in the first place. And even if you're yelling at them, they'll figure that's better than nothing. Even if it's hard, don't react.
Don't set them up to fail. You need to make sure your pup has had enough exercise, has went potty and emptied their bladder, that they've had mealtime, and gotten enough water.
Don't use the crate too much. If you've got your Golden Retriever pinned up all day while you're at work and then also all night while you're sleeping, then it's pretty likely that they'll start acting up (like any kid in that situation would). They could also develop emotional or behavioral issues, which you don't want.
Conclusion
Crate training is crucial to ensure you've got a well-trained puppy.
It will avoid a lot of mischief and trouble, accidents inside, and keep your puppy safe from eating or chewing on things that could hurt them.
Once you've taught your puppy that the crate is a fun, comfortable place, and then follow the steps in this guide, you should have no problems training your Golden Retriever pup. Just remain calm and patient, and eventually, your pup will get used to it.
For more information about training your Golden Retriever puppy, check out our guides: